Cobbold Gorge. Heard of it? If you're like everyone else we've asked, probably not—but this incredible gorge hidden away in the vast outback is right here in our own state of Queensland, and it's not even hard to get to. So why does no one know about it? Well, it might have something to do with the lengthy road trip you need to take to get there, but trust us when we say that taking a stand-up paddling boarding trip through this insanely beautiful gorge is so worth the drive—in fact, we would have driven twice as far.
About six hours drive west of Cairns, Cobbold Gorge was found on a cattle grazing property in the early 90s. It was formed just 10,000 years ago, making it the youngest gorge in Queensland—but it's still the most spectacular. A deep creek cuts through a narrow sandstone gorge that is as serene as it is jaw-dropping, with cliffs towering 10 metres above. Sold on a trip? Read on for everything you need to know about planning a visit.
How To Get To Cobbold Gorge
You'll find Cobbold Gorge along the Savannah Way in Far North Queensland. We flew into Cairns and hired a car to drive the six hours west, but you can also fly into Townsville, from where it is a seven hour drive. Once you get past Ravenshoe, there's not a lot of towns, so we'd recommend packing plenty of snacks and water. Be warned, the last 80 odd kilometres of the drive is also mostly gravel, including a small creek crossing or two, so a 4WD might be a good idea, although it is doable in a small car (speaking from experience). And make sure you take the route that heads south from Georgetown, as while there is another route, it involves a lot more rough gravel roads.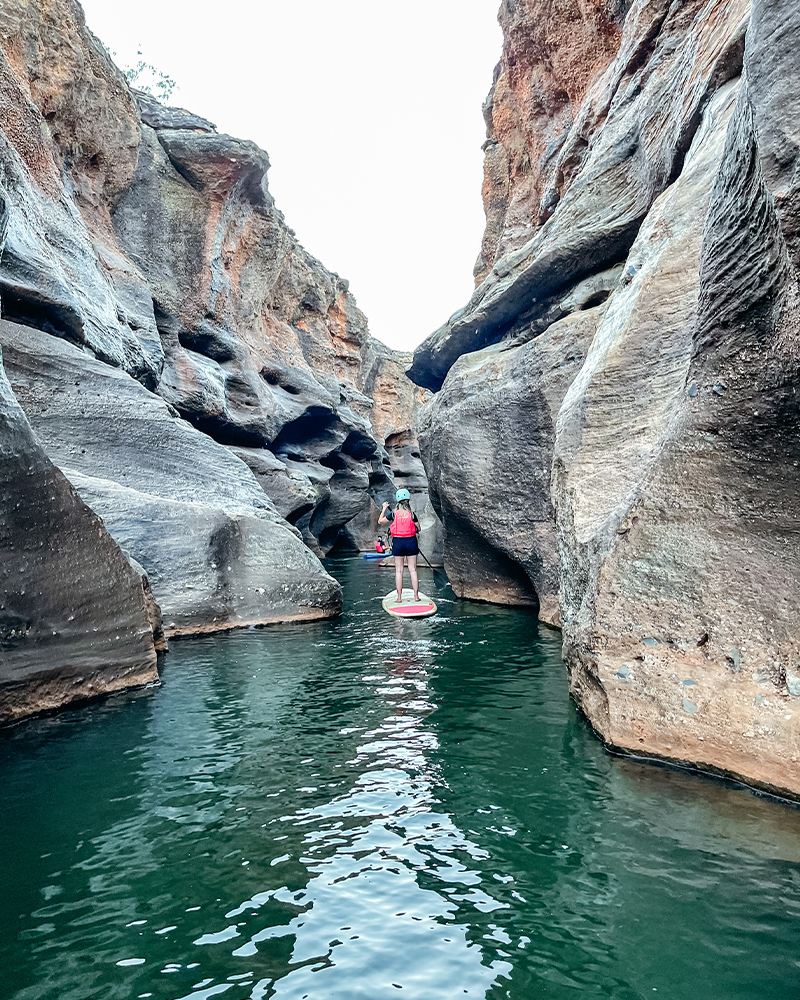 Where To Stay At Cobbold Gorge
Your best option is to stay at the gorge village itself—the nearest other accommodation is an hour away along that dirt road. Cobbold Gorge has plenty of options for you, from fully equipped cabins (at a reasonable $160 a night) to caravan and camping sites if you prefer to do it rough. There's barbecues and a camp kitchen if you've remembered to pack enough food, but if not, the bistro and bar on the grounds is open for breakfast, lunch and dinner and dishes up homestyle meals (and a damn good coffee). There's even an infinity pool with a swim up bar—talk about luxe.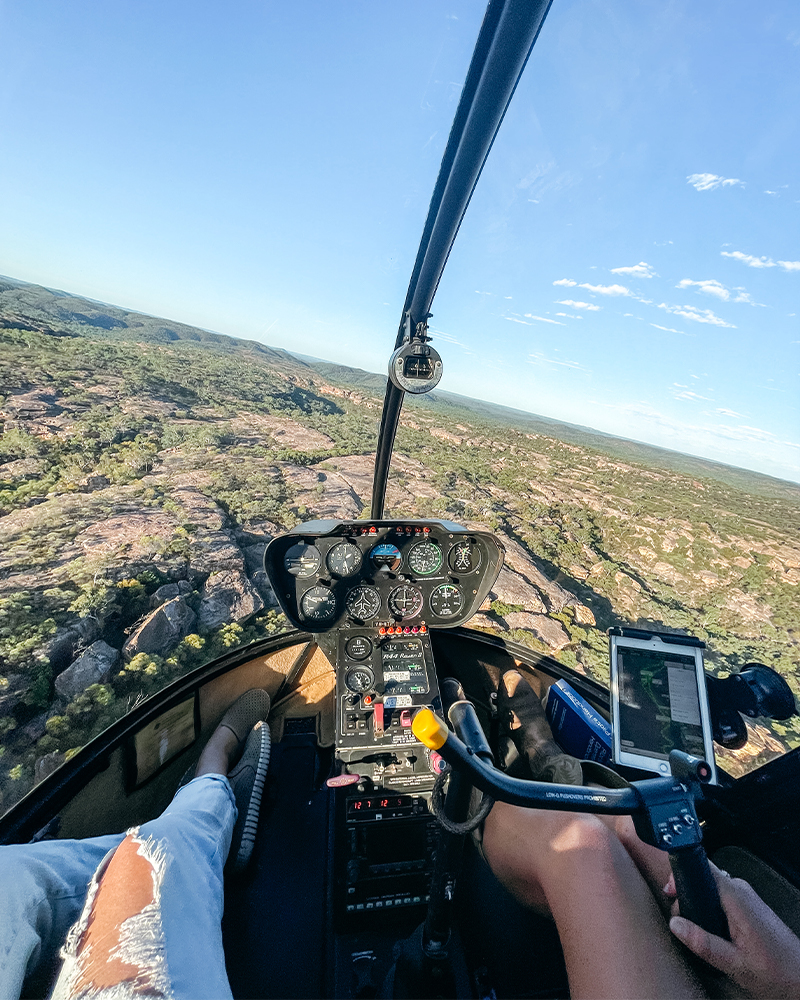 How To See Cobbold Gorge
The only way to see the gorge itself is by guided tour, with both SUP and boat tours on offer (but you really should do both). The SUP tour was our favourite part of the trip—nothing compares to paddling slowly through the gorge, taking it all in—the tours are limited to just six people, so at times you'll have sections of the gorge all to yourself (take a camera). And before you ask, yes, there are freshwater crocodiles, but they're more scared of you than you are of them and swim off at the slightest disturbance, so you've got nothing to fear.
The boat tours will get you the same view from a narrow, flat-bottomed boat, and you'll get to hear all about how the gorge was formed, when it was found and how deep that water really is. The real reason you need to do the boat tour as well though, is that it includes a walk up to the new glass-bottomed bridge over the gorge, which offers prime views of the curving sandstone passageway from above. Take some water—it may be the cooler season, but it still gets mighty hot out here.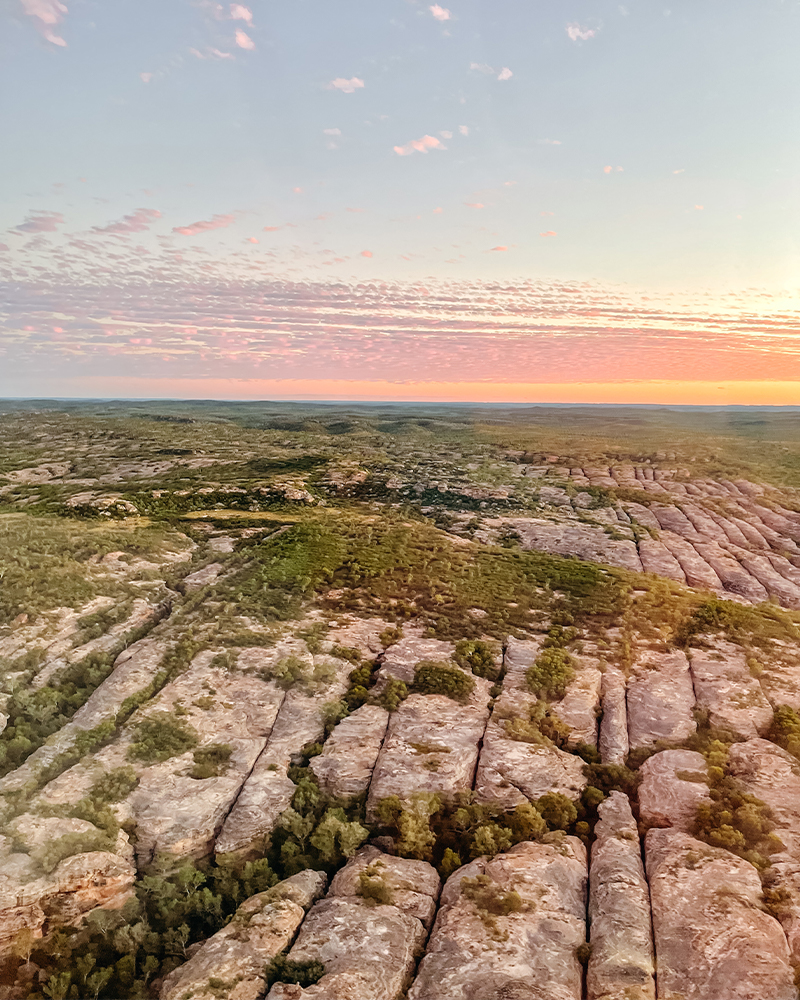 Seeing The Gorge From Above
This is a once-in-a-lifetime kind of place—so don't skimp out and not take a helicopter ride to see it from above. While you can do short 15 and 30 minute scenic flights with Cobbold Gorge's helicopter pilot, we highly recommend the Sunset Heli-Picnic. You'll jump in the helicopter (after drawing straws to see who gets the prime front seat) and zoom over the gorge for a quick look before setting down on a nearby bluff to watch the sunset in a camp chair, drink in hand. They'll even supply a cheese platter to nibble while you take in the view—trust us, you've never done a sunset like this before. Once the last rays have slipped below the horizon, it's time to see the landscape from above again on your way back to the village, only now, by the soft light of golden hour. Marvel at the perfect rows of sandstone formations so perfectly uniform that they look almost man-made, and of course, peek down into the gorge from above.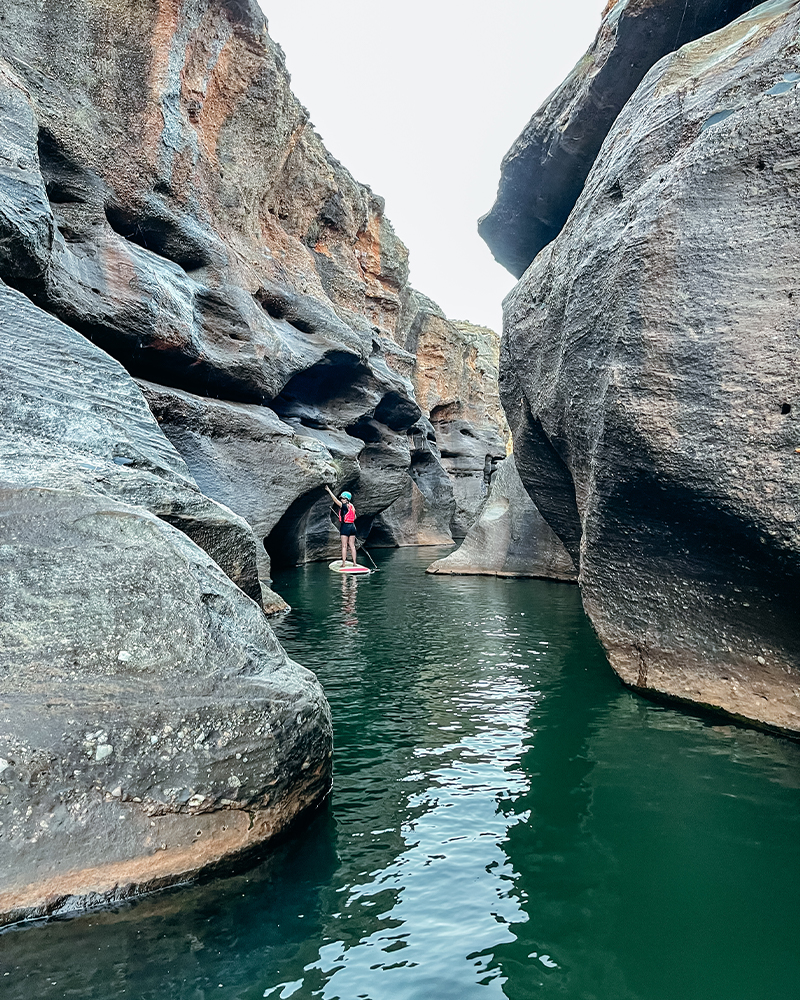 Things You Need To Know
Firstly, Cobbold Gorge is only open from April to October, during the dry season, as it is inaccessible during the wet season, so plan your trip accordingly. Secondly, don't expect to find good phone reception, well, anywhere. We left 4G behind once we hit the Savannah Way, and didn't pick it up again until we got back to Ravenshoe. Cobbold Village does have free wifi, but only around the reception building and bistro, so save the Instagramming until you get home and warn your family they won't be able to reach you. Also, though Cobbold Gorge is a popular tourist spot, you are heading into the outback people—pack plenty of water and snacks, plan your trip so you're not driving after dusk or before dawn (when you're more at risk of hitting wildlife or cattle on the roads) and let someone know your itinerary just in case. And lastly, you absolutely must stop for chips at the Georgetown Roadhouse, because they are the best chips you will ever eat. Not kidding.
If you're flying into Cairns, here are the best hotels to spend the night in.
Image credit: Ranyhyn Laine