Indoor plants are the most critical element in the transformation from house to home. Any space can be made infinitely more delightful with a few green leaves in a well-selected pot. Turning your home into a lush urban jungle is all the rage in 2022 and we're the first to admit that we're totally here for it.
Thankfully, the Sunshine Coast region abounds in blossoming garden centres and plant shops, so here are nine of our favourite spots to buy indoor plants on the Sunshine Coast.
Acres Garden Centre
Noosaville
This stunning lifestyle centre has it all. Not only can you stop by for a latte and breakfast at Acres Garden Centre, you can also pick up a fiddle leaf (or two) and then grab a beautiful piece of artwork or throw rug for your home on the way out. It's one-stop shopping at its finest and if you're looking for garden and design inspiration, this special place has you covered, and then some. By way of indoor plants, they have on offer fiddle leaf figs, ferns, philodendron totems, palms, hanging plants, succulents, monsteras and more.
Aloe Flora
Maroochydore
Looking to step back and slow down? Then head to Aloe Flora, Maroochydore's lush indoor plant studio. Captained by Lauren Byers and Henry Norton, Aloe Flora specialises in all things botanical, ceramic and homeware-related. From local pottery to epic coffee from Slide Coffee Roasters, as well as plenty of mindful workshops to keep those idle hands busy, you'll definitely want to head to Aloe Flora and get your weekly dose of botanical goodness.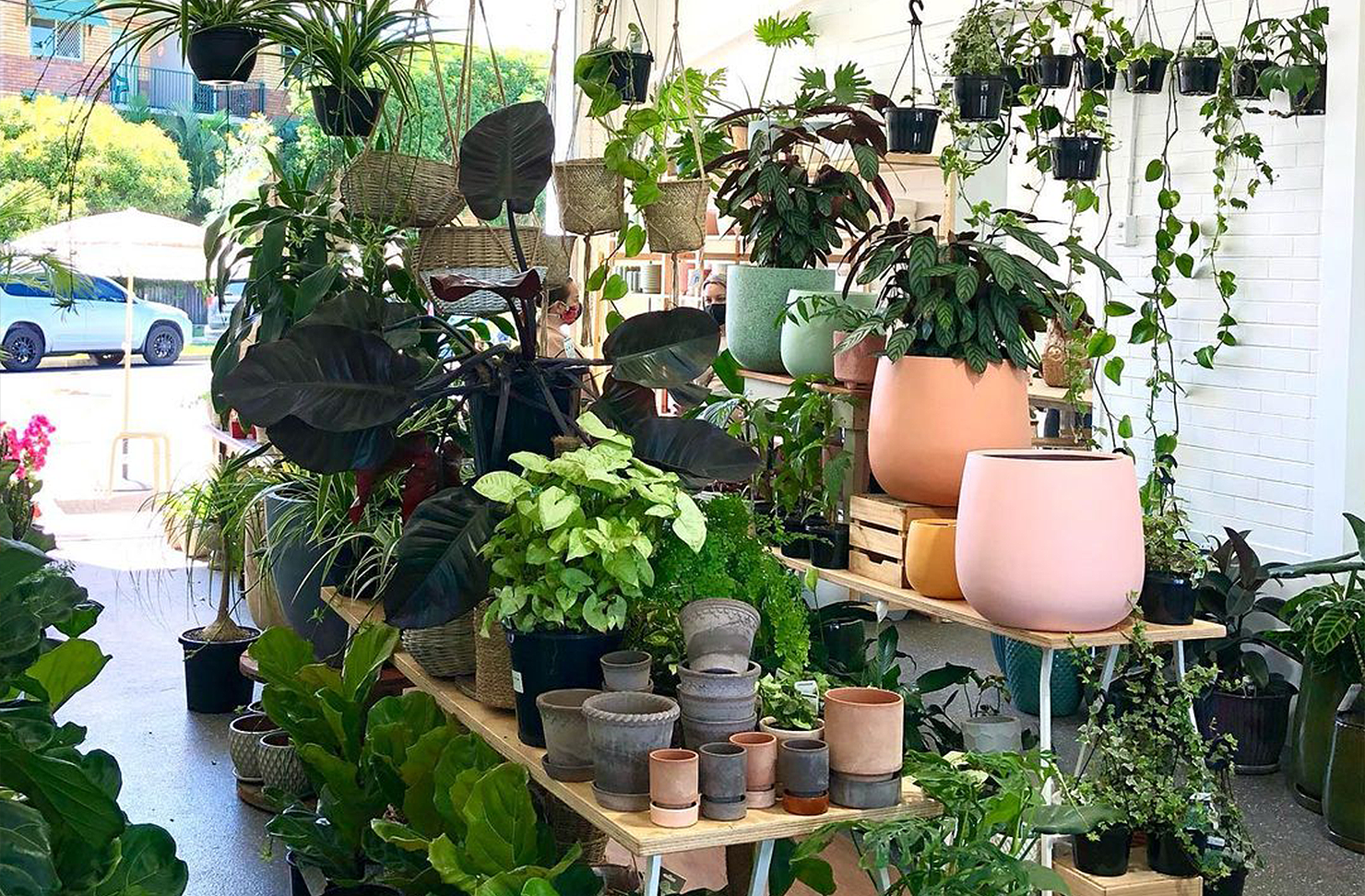 Grow Indoor Plants
Maroochydore
If the name didn't already give you a clue, Grow Indoor Plants is on a mission to add more gree goodness to your home, work space...everywhere really. Whether you're just a budding plant parent or you're a hardcore green thumb, you'll find something here to turn your indoor space into an urban jungle. Grow Indoor Plants boasts an extensive collection of indoor plants, a gorgeous collection of pots and vessels, plant accessories and plant care, so you don't need to worry about killing your new plant baby.
E-Plants
Doonan
E-Plants is the jungle of Sunshine Coast nurseries. Nestled amongst towering trees in Doonan, it's no secret that these guys really dig plants. They may be best known for bulk-buy outdoor landscaping projects, but the indoor plant range is still hefty. The standout though, is their size range. You can grab yourself an itty bitty beauty, like a benchtop appropriate Philodendron, or a giant gem, like a fiddle leaf fig that's actually taller than you are.
Manawee Garden Centre
Buderim
Instant relaxation. That's what you feel when you step into Manawee Garden Centre. This beautiful familly owned nursery is home to many hard-to-find and unusual plants, and the cute-as-a-button gift shop is, well, cute as a goddamn button. Not only do they have you sorted for your personal plant needs, they also cover your plant's needs—stylish pots, matching water catchment trays, dandy little watering cans—they've got it all.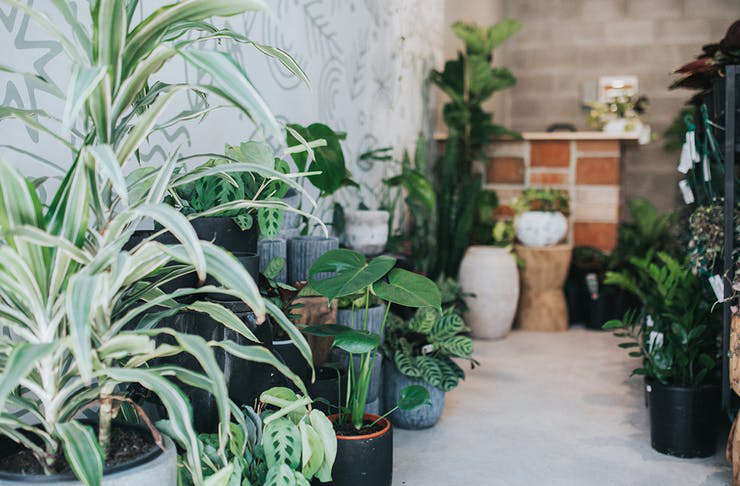 Noosa Pots & Plants
Noosaville
Nestled in the heart of Noosa, Noosa Pots & Plants is quite literally home to 50 shades of green, brimming with a thriving range of indoor plants you'll want to take home. Offering unique pots and plants that branch a variety of budgets, there's something here for everyone. And, if your green thumb is looking a little black after your last plant death, don't be embarrassed to pick the minds of this plant-loving crew. They'll even pop by for an in-house consultation. Talk about quality service. If you're unsure of where to buy indoor plants on the Sunshine Coast, make Noosa Pots & Plants a definite pit stop.
Flax Flower Collective
Coolum Beach
When you enter this floral design house siutation in Coolum Beach, there's no escaping the "ooohhh I love it" that is bound to tumble out of your mouth. Say hello to Flax Flower Collective. With a baby pink roller door, buckets of grab-and-go country flowers, tables of succulents and giant fiddle leaf figs sitting out front, this is one scenario where you can definitely judge a book by its cover. Or, in this case, a florist and plant shop by its exterior. While these guys obvs specialise in flowers, they also have some of the cutest indoor plants on the Sunshine Coast, like giant fiddle leaf figs, waiting for you to take them home.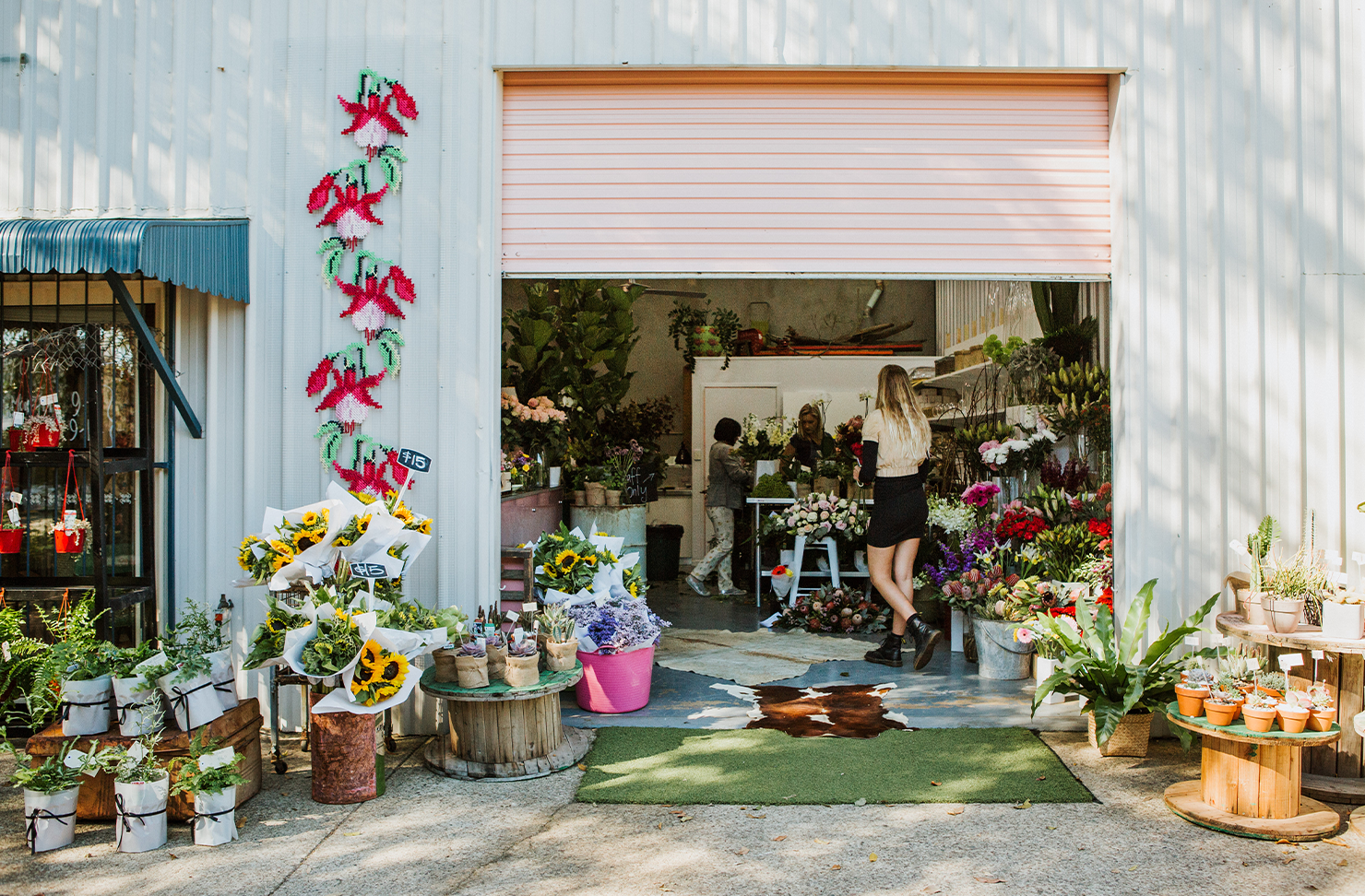 STEPS Nursery
Caloundra
STEPS Nursery is all about giving back to the Sunshine Coast community and we're here for it. In addition to their huge array of quality plants and gardening supplies, this sweet nursery provides a space for students, volunteers and people with a disability to work and learn new skills. We dig it. As a not-for-profit organisation, the nursery sales go back to projects that make a difference in the local community, so you can rest easy knowing your plant purchase is making an positive impact. Located in Caloundra, hit up STEPS Nursery for all your outdoor plant and gardening needs.
Yandina Markets
Yandina
Yes, okay this one isn't technicallyyyyy a plant shop but we would doing you an injustice if we didnt include Yandina Markets as one of the best spots to buy plants on the Sunshine Coast. From succulents to ferns to a damn fine selection of growing herbs for your kitchen, Yandina Markets has stalls upon stalls upon stalls of houseplants that are ever-changing. Week after week, you'll find new treasures and it certainly doesn't hurt to mention that they're all at market prices too. Don't forget, the markets are only on Saturdays from 6am to 12pm.
Now you've got your indoor plants sorted, spruce up your space with the best homewares stores on the Sunshine Coast.
Image credit: Chevaune Hindley & Lumea Photo for Urban List & Aloe Flora