The fun on the Sunshine Coast doesn't stop in winter! Sure, the average temp's a few degrees cooler than last month, but we're still sporting some of the best weather in the country…hell, if not the world!
We're here to help keep those winter blues at bay—here are 17 of the hottest things to do on the Sunshine Coast this June.
Busby Marou At The Brewery | Friday 1 June
For a chilled yet fun Friday night, head out to Eumundi's Imperial Hotel to witness the amazing musical talent that is Busby Marou. Playing in The Brewery, their show has already received rave reviews around the country—we're lucky to have them here!
Time: 7:30pm
Where: The Brewery, The Imperial Hotel, 1 Etheridge Street, Eumundi
Cost: $34.00
For more information, click here.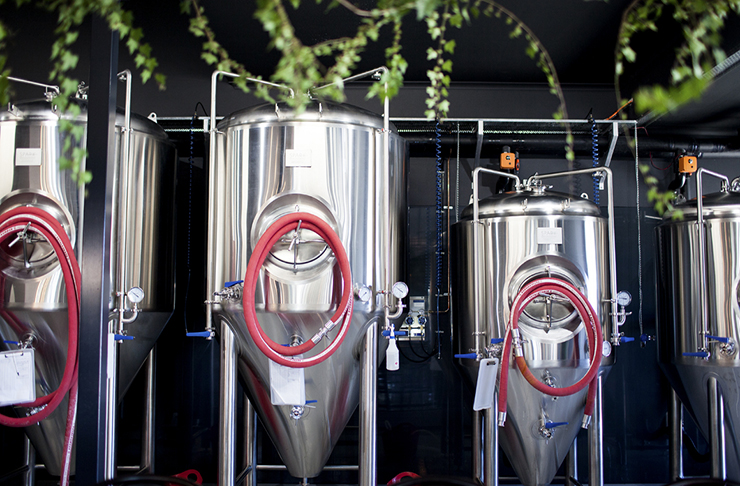 Friday Night Social | Friday 1 June and Friday 15 June
Say goodbye to the week and helloooo weekend aboard the M.V. Catalina! Enjoy international street food, Japanese cuisine and Aussie BBQ classics, all with eclectic live music acts playing as you sail along the Noosa River. The perfect way to wind down after a big week, or get the party started!
Time: boarding commences at 5pm for a 5:30pm departure.
Where: M.V. Catalina, 172 Gympie Terrace, Noosaville
Cost: From $16.33
For more information, click here and here.
Two Point Oh! Pop-Up Nights | Friday 1 June
One of our fave vegetarian spots on the Coast, Two Point Oh! is hosting an epic pop-up dinner during winter and we're absolutely thrilled! The menu is completely vegetarian and can be vegan. There will also be lots of drinks specials on the night to pair with your favourite curry. Nom nom. Nothing like a yummy curry to keep you warm this winter.
Time: 5pm till 10pm
Where: Two Point Oh!, Tower 1, 55 Plaza Parade, Maroochydore
Cost: From $10
For more information check here.
Ladies Oaks Day | Friday 1 June
Grab the girls, splurge on a fancy new frock and fascinator and get your tickets to Ladies Oaks Day! Day One of the Sunny Coast Race Fest is shaping up to be one of the hottest events of the year and it hasn't even started yet! Not to mention the fact that Sheppard are playing…yep, you really don't want to miss this one!
Time: Gates open 10:30am
Where: Sunshine Coast Turf Club, Caloundra
Cost: From $25.00
For more information, click here.
Paint And Sip Social | Saturday 2 June
Paint and sip sessions are sahhh 'in' right now! We just can't get enough, and if you haven't tried it yet, you're in luck—there are a HEAP of paint and sip social classes this month at The Art Hub Sunshine Coast! From flora and fauna to people and local scenery, try your hand at painting various different subjects over a glass of vino. Artists of all skill levels (or lack thereof) welcome!
Time: 7:00pm
Where: Art Hub Sunshine Coast, 19B, 11 Bulcock Street, Caloundra
Cost: $45.00
For more information, click here.
Sunshine Coast Vegan Markets | Sunday 3 June
Sun-YAY! The Sunshine Coast Vegan Markets take place on the first Sunday of every month, and man, they are going off! Supporting local ethical businesses and enjoying some of the most delicious plant-based foods around the place are what these markets are all about. We'll see ya there!
Time: 10:00am
Where: C-Square Nambour, 52-64 Currie Street, Nambour
Cost: Free entry.
For more information, click here.
LOLBar At Solbar | Tuesday 5 June
Introducing a brand spankin' new comedy night at Solbar! LOLbar's headliner, Jasmine Fairbairn, recently sold out her debut show in both Canada and Brisbane—a sure-fire sign of many lols to come! Come along for a night of laughs and support our local comedic talent.
Time: 7:00pm
Where: Solbar, 10/12-20 Ocean Street, Maroochydore
Cost: $20.40
For more information, click here.
Soft Fresh Cheese Making Workshop | Thursday 7 June
Ohhhmagawddddd, we've died and gone to event heaven. You guys know we're obsessed with cheese (who isn't? #sorrynotsorry lactose-intolerant friends…) so how cool would it be to learn to make your own? Learn how to make feta, mascarpone and mozzarella quickly and easily in this intimate course by Queensland Cheese Artisan. BYO apron and headscarf/chef's hat. Yep, it's legit!
Time: 10:00am
Where: The J Noosa, 60 Noosa Drive, Noosa Heads
Cost: $80.00
For more information, click here.
Sea N Sound Festival | Saturday 9 June
When it comes to live music, June is really bringing the goods! Featuring a smorgasbord of live music acts—most notably Paul Kelly, Kingswood and the Pierce Brothers—and the Coast's best craft beer, cider and seafood offerings, Sea N Sound is all about celebrating our coastal lifestyle. Really, why would you want to live anywhere else?
Time: 12:00pm
Where: The Wharf Tavern, The Helm, River Esplanade and Parkyn Parade, Mooloolaba
Cost: From $90.80
For more information, click here.
Food Styling And Photography Workshop | Wednesday 13 June
Learn how to seriously up your Insta game with this fab styling and photography workshop! Sophie Hansen, founder of My Open Kitchen and Local is Lovely, will show you the basics of food and lifestyle photography and dish out pro tips! And as if this wasn't cool enough already, the lovely folk at Kandanga Kitchen are putting on a beautiful spread of local produce for morning tea. Amaze!
Time: 9:15am
Where: Kandanga Farm Store, 93 Main Street, Kandanga
Cost: From $60.00
For more information, click here.
Show Holiday On The Pier | Friday 15 June
Finally, another long weekend—yahoo! Kick off the public holiday celebrations in style at Pier 33. With DJs spinning tunes in the waterfront bar and grassy knoll, bevvies from our mates at Your Mates and yummy snacks straight from the kitchen, it's gonna be a real good time! They're also taking bookings in the restaurant for lunch and dinner.
Time: 11:30am
Where: Pier 33, 33-45 Parkyn Parade, Mooloolaba
Cost: Free entry.
For more information, click here.
Sunshine Coast Show | Friday 15 June to Sunday 17 June
Yay for show day! Taking place over three huge days, the Sunshine Coast Show truly has something for everyone. From live entertainment to agricultural shows, and of course, the rides, we're pretty excited to take it all in! But we gotta say, Craft Beer Alley is where it's at…a whole section of the food pavilion dedicated to beer education. Lurrrve it!
Time: Gates open at 8:00am
Where: Nambour Showgrounds, Coronation Avenue, Nambour
Cost: From $5.00
For more information, click here.
Sunshine Coast Solstice Swim | Sunday 24 June
We're blessed with much milder winters than many parts of our country, so why not take advantage AND support a great cause? This charity event is an Ocean Swim open to all levels of experience, with all funds raised going towards supporting young veterans.
Time: Check-in from 7:45am.
Where: Alex Surf Club, 167 Alexandra Parade, Alexandra Headland
Cost: From $35.00
For more information, click here.
Sunshine Coast Collective Markets | Sunday 24 June
Taking place on the fourth Sunday of each month, the Sunshine Coast Collective Markets are a great place to pick up beautiful, unique gifts and trinkets made by Sunny Coast locals. But no market is complete without food and drink, so there's a coffee van, street food stalls and plenty of sweet treats to ensure you start your Sunday off on the right foot.
Time: 8:30am
Where: Coolum State School Junior Oval, Barns Lane, Coolum Beach
Cost: Free entry
For more information, click here.
Brouhaha Beer-gustation | Thursday 28 June
Not your average degustation, we're praising the geniuses at Brouhaha Brewery for inventing this beer degustation. (We're not sure if they're actually the first peeps ever to do it, but we're just gonna roll with it.) Think four beers, four courses and two cooking styles—all these things combined make for one epic night on the Coast, if you ask us!
Time: 6:00pm
Where: Brouhaha Brewery, 6/39 Coral Street, Maleny
Cost: $70.00 + booking fee
For more information, click here.
Hinterland Craft Beer Festival | Saturday 30 June
The Imperial Hotel is playing host to the inaugural Hinterland Craft Beer Festival! If you love everything about beer, you'd better add this one to your calendar stat. Showcasing brews crafted by the Coast's top craft beer teams, you'll learn from the pros what makes their beers so damn tasty, and better yet, you'll get to try 'em for yourself!
Time: 12:00pm
Where: The Imperial Hotel, 1 Etheridge Street, Eumundi
Cost: Free entry
For more information, click here.
Barre At The Bar | Saturday June 30
Um yeah so you DID hear right. Our faves over at SC Pilates are hosting a barre class at an actual FREAKING BAR! And which bar you might ask? Corbins!
The fun all begins with barre instructor extraordinaire, Elisha. She's gonna put you through your paces during an intense 30 minute booty burning, thigh shaking workout all the while you do get to nurse a glass of vino in hand! Detox and retox all at the same time! After your epic workout and delicious glass of wine, all attendees are being encouraged to stick around for lunch at Corbins for a chance to drink wine, eat yourself silly and make new friends….all the while 'in your active wear'!
Time: 10.45am till 12pm
Where: Corbins Restaurant, 34 Duporth Avenue, Maroochydore
Cost: $35 per person
For more information, click here.
Pssst! Did you hear we've just scored an epic glamping ground at Noosa called Habitat Noosa. You can check it out here. We've also just scored an epic burger for the month of June called 'Finger Lickin' and it's freaking amazing. You can read all about it here.
Image credit: Amy Higg for The Urban List and SC Pilates