Blue linguini, vegan egg carbonara—this might not sound like the Italian your Nonna makes, but Mark + Vinny's has firmly established a name for itself as one of the best Italian eateries around. Fresh from the Mark + Vinny's legends, comes a brand-new sister eatery in Byron Bay and we're ready to start fulfilling our spaghetti slurping dreams.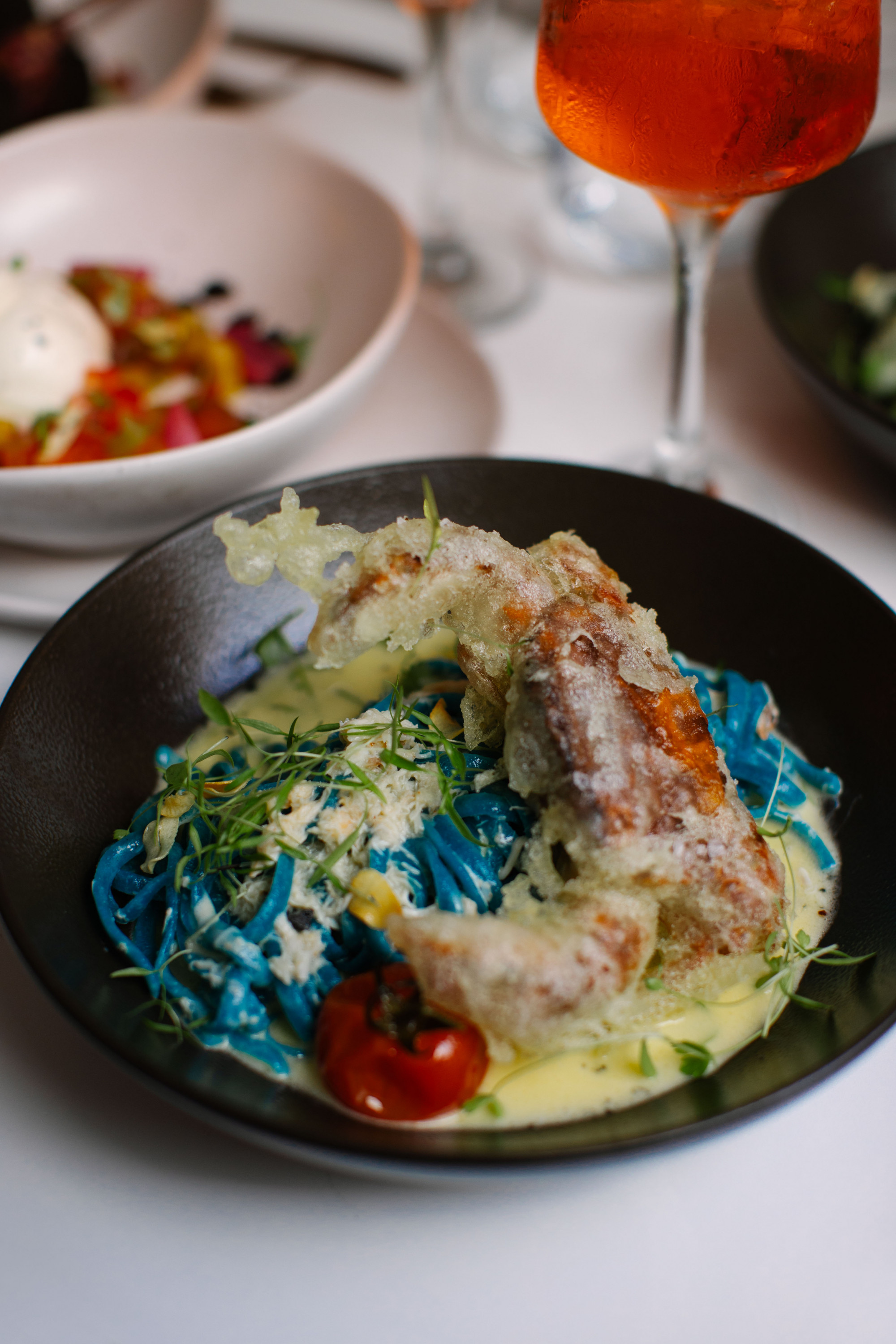 Mark + Vinny's Place, or as the locals call it, MVP, is the evolution of the much-loved Surry Hills restaurant and is the latest stroke of genius from culinary co-conspirators Mark Filippelli and Vince Pizzinga. Serving top-notch Italian to their devoted fans for many years, MVP grabbed Australia's attention last year with their now-legendary blue pasta and we've been hooked ever since. The concept is simple—spaghetti and spritz—but when vegan eggs, rainbow pasta and mushroom caps are involved, you know it's going to be anything but.
One of the first things you'll notice about the funky space is the people—it's full of them, which is a solid testament to the food they're dishing up. The intimate interior oozes casual yet sophisticated vibes, with neon lighting, Aperol bottles lining the walls, an eclectic chandelier and relaxed vibes all in one. The rattan chairs and clusters of tables spilling out onto the pavement capture the quintessential Byron charm, while the refined menu reminds you that MVP is something truly special.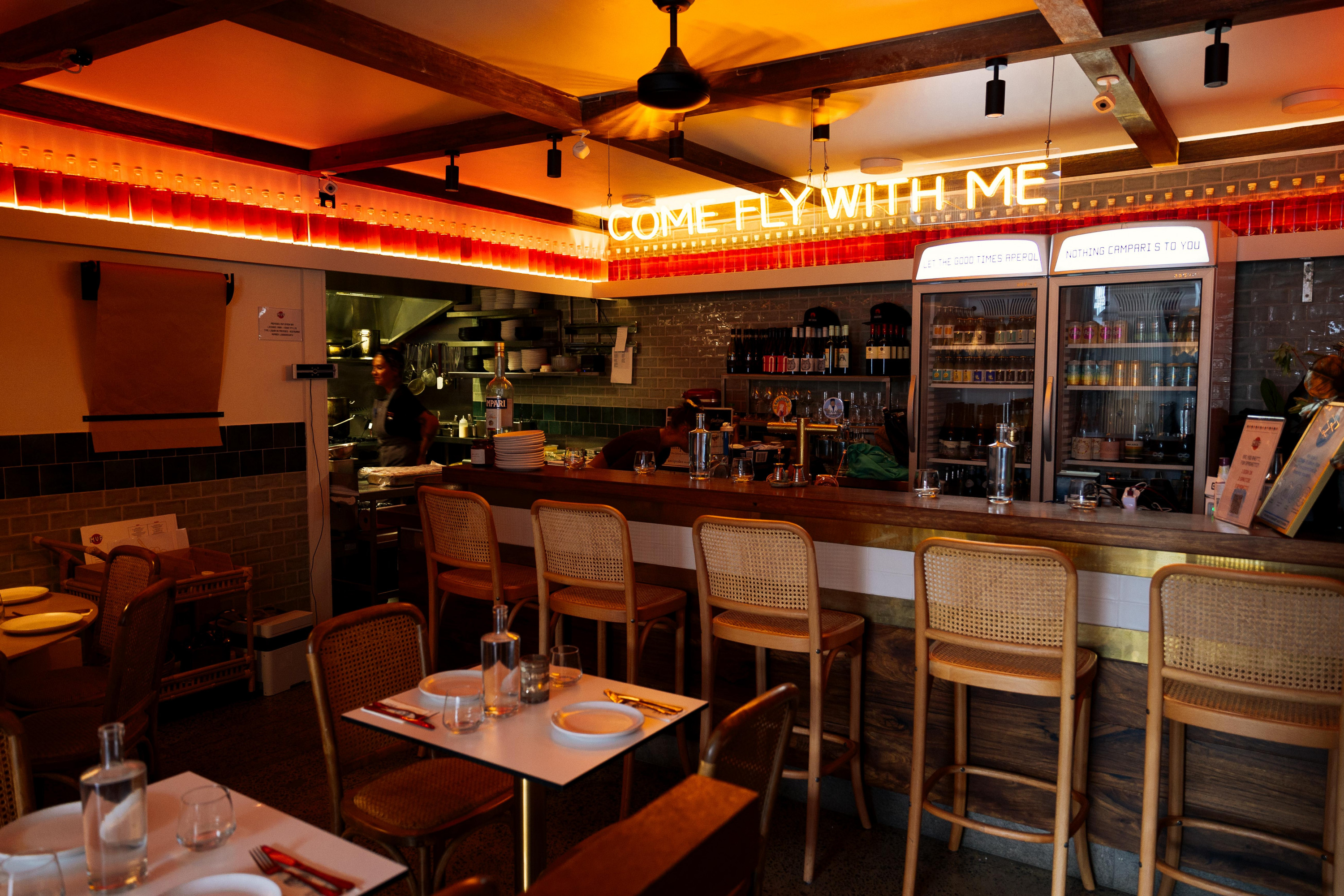 MVP is a chilled-out, fun space, but it has a serious ethos backing it up. It is dedicated to the real MVPs—the 'most valuable producers' of Byron Bay—the growers and artisans who are pioneering the way and demonstrating what more sustainable eating can look like. All of the food served at MVP is sourced sustainably and locally and over 50% of the menu is plant-based, following Mark and Vince's belief that a less meat-heavy diet is crucial for sustainability and the longevity of our health. Head chef, Brett Luckens is heading up the new venture and brings with him over thirty years of experience working in Michelin and Hatted restaurants so you know the food is going to be finger-lickingly good.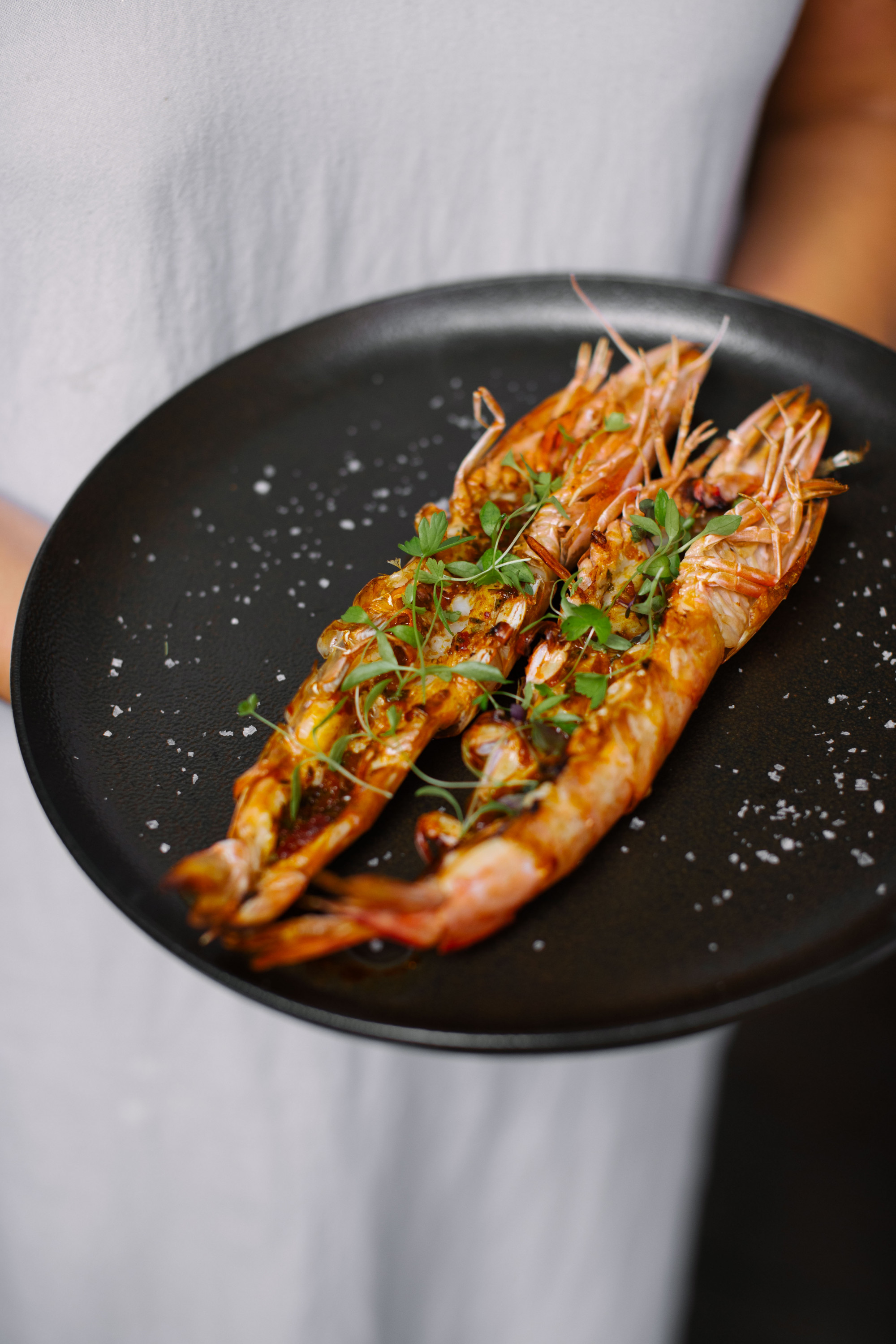 It's hard to choose where to start, so we recommend just diving in and keep ordering (wear your stretchy pants). Start with roasted beetroot and macadamia goats cheese arancini, followed by lemon ricotta-stuffed zucchini flowers with green chilli romesco. Pay homage to Byron's abundance of fresh seafood and slurp down freshly shucked oysters with grapefruit mignonette or just enjoy them au naturale.
Now, for the stars of the menu. The bucatini carbonara is an MVP signature that has travelled across from the Surry Hills venue, which expertly combines vegan egg yolk (made from local heirloom tomatoes), cashew parmesan, smoked mushroom pancetta and charcoal bucatini for an epic flavour explosion in your mouth. You can't leave without trying the legendary blue spirulina linguini with blue swimmer crab, white bisque, confit cherry tomatoes and soft shell crab, served on bright blue linguini. Bonus: blue pasta makes for some quality Insta-worthy content. Spice it up with the wild mushroom ragu, served with a mushroom capsule filled with forest mushroom powder and medicinal mushrooms, to sprinkle over your pasta. Ahhhh, Byron, we love you.
The impressive drinks lineup showcases over 15 gins, including the iconic Brookie's Byron Gin and the quirky Cannabis Co. Mycene Hemp Gin. If you're chasing those authentic Italian summer vibes, sip on MVP's signature Campari's or spritzes, perfect for pairing with a bowl of spaghetti. The Gin Sling Spritz, muddling gin, elderflower liquor, cucumber, mint, lime and prosecco might just be our new favourite cocktail.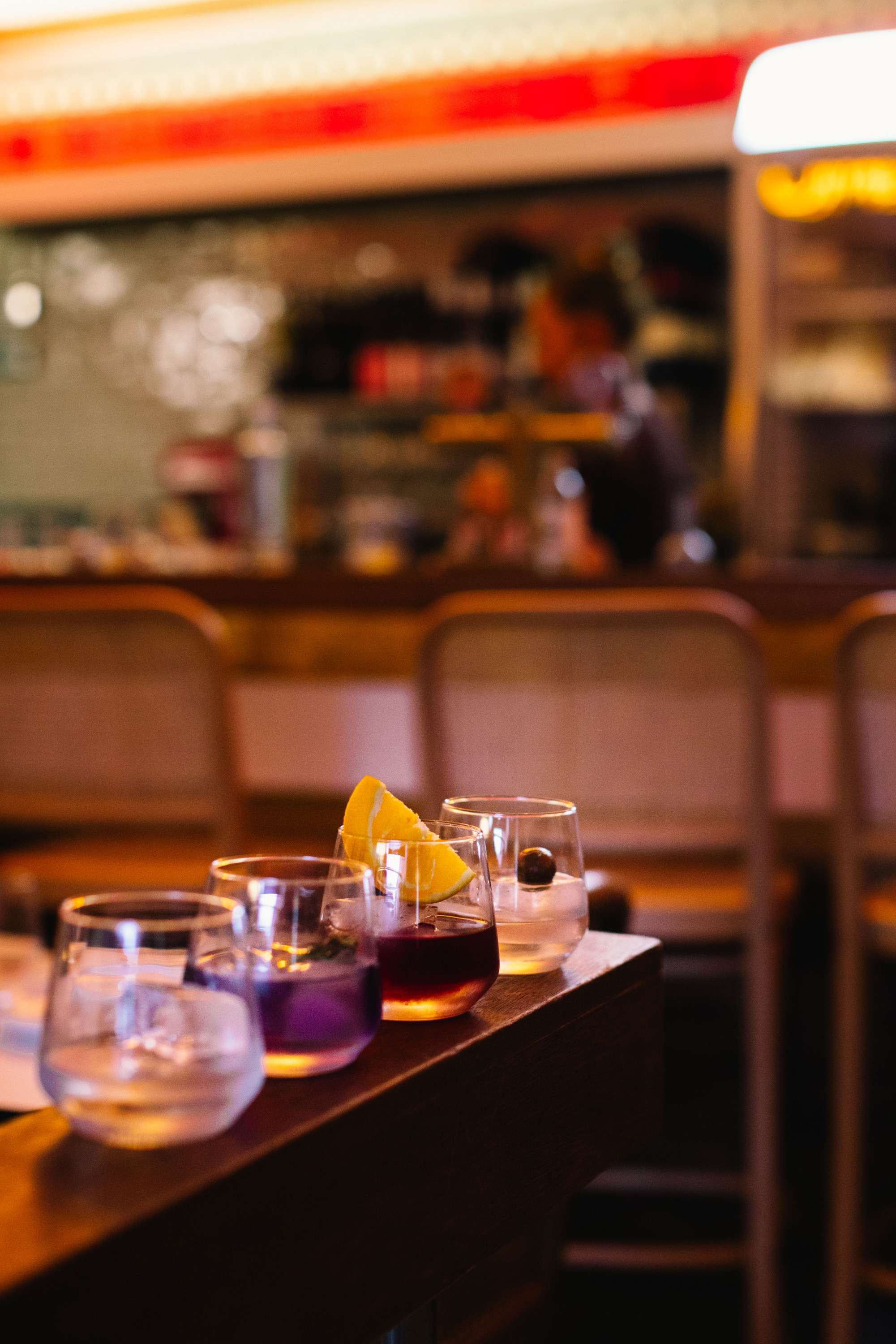 If you weren't already obsessed with this Italian gem, a rooftop pizza bar is scheduled to open above MVP later this year, just in time to welcome in summer. Rooftop spaghetti and spritzes are a big yes from us. If you haven't checked yourself into Byron's spaghetti mecca, Mark + Vinny's Place, it's time to up your game and take your pasta slurping and spritz sipping antics to a whole new level.
THE DETAILS
What: Mark + Vinny's Place
Where: U7, 7 Lawson Street, Byron Bay, NSW
When: Open Monday to Saturday
First sitting: 6pm or 6:30pm to 7:45pm
Second sitting: 8pm or 8:30pm
For more information, click here.
Inspired by all this talk of beachfront Byron? Satisfy your wanderlust, cast your net further afield and check out Australia's best under-the-radar beach towns.
Image credit: Supplied