From lush rainforest landscapes to windswept coastlines, hinterlands and beyond, there's no doubt that the humble road trip is one of the greatest ways to explore our glorious southern land from the Sunshine Coast.
Armed with a loose itinerary, old-school tunes and the freedom to stop and start whenever you please, road trips are our fave way to travel. The only firm decision to be made, is which direction you're gonna head.
So, if you've been dreaming of hitting the road and getting your adventure on, here's seven more beautiful road trips to take from the Sunshine Coast.
Angourie, NSW
If nature is calling, Angourie is answering! The shy sibling of nearby Yamba, Angourie is located along the Clarence Coast of northern NSW. A National Surfing Reserve since 2007, Angourie is a pristine environment protected by the Yuraygir National Park. Surfers gather from all around to visit this slice of paradise, but if surfing isn't your thing, you can easily lose hours to wandering the rugged coast, spotting pods of dolphins or whales or jumping in for a quick dip. When hunger strikes, steer yourself towards Café Angourie's locally-sourced meals or Barbarescue's scrumptious Italian fare. Can't decide? Toss a coin, you'll be satisfied whichever way it lands.
How far from the Sunshine Coast? Approx. 4.5-hour drive
Springbrook, QLD
If it's waterfalls you're chasing, prepare your hands for a decent steering wheel-clenching as you hit the highway en route to Springbrook National Park. It's an absolute walker's wonderland, and following a three-hour stint in the car, you'll want to stretch those legs as you absorb the serenity of 6725 hectares of subtropical rainforest. Take your pick of attraction with Purling Brook Falls, Twin Falls, Best of All Lookout, or a combination of all three. If that's not enough to satisfy your adventuring spirit, or Instagram account, venture towards the famed natural bridge. By day, it's a dramatic waterfall, and by night, it's home to the park's resident glow worms.
How far from the Sunshine Coast? Approx. 3-hour drive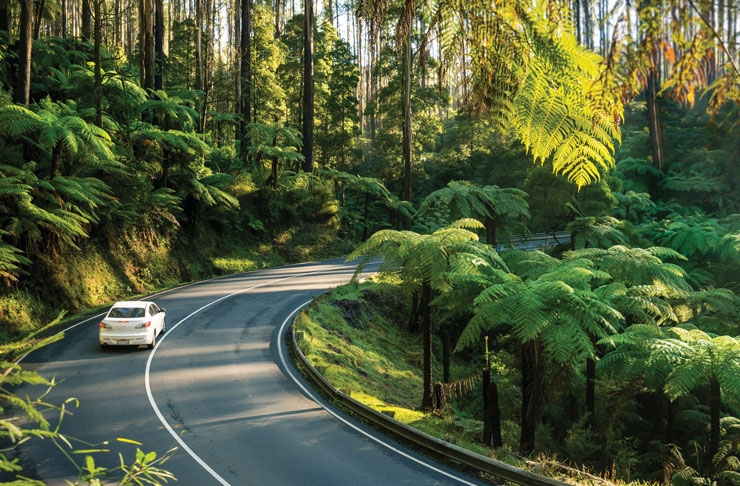 Toowoomba, QLD
Travelling three hours south-west from the Sunshine Coast, you'll arrive at Toowoomba via the range, and what a glorious range it is. Flourishing green pastures, and views that endlessly surpass the sight of your eyes, instantly you'll realise that the countryside is a point of pride for this region. In no time at all, your RDI of nature will be reached, and you'll crave further offerings of this thriving city. For starters, there's the First Coat street art festival; a collection of large-scale murals within the CBD laneway—the fun lies in trying to seek and capture them all. The Cobb and Co Museum is a history buff's dream, hosting workshops and tours, as well as the National Carriage exhibition, operational all year around. And, once the sun goes down, visit Walton Stores for some bustling laneway dining before checking in for a show at the Art-Deco Empire Theatre.
How far from the Sunshine Coast? Approx. 3-hour drive
Brooms Head, NSW
One for the campers among us, or those looking for a trip with intention to reward the senses with all that nature has to offer. Natural landscapes aside, the town of Brooms Head consists of three main parts; the hybrid gas station-general store, the bowls club and the beachfront campground. The campground is the obvious, and only, choice for your weekend stay, and gosh you're in for a treat when you first lay eyes on the beachfront campsites. Many five-star hotels couldn't boast a finer view. Once you've set up camp, the place is yours to explore; gather the rods for a spot of fishing, check out Sandon River or create your own trail from the breathtaking Brooms Head lookout. It's all about quality time when you visit the sleepy town of Brooms Head, and when you spend a weekend crossing paths with more kangaroos than humans, you just know you're doing life right.
How far from the Sunshine Coast? Approx. 5-hour drive
Scenic Rim, QLD
It takes a special type of environment to transform a state of mind into calm, and the Scenic Rim achieves exactly that. Driving through the countryside, you'll be overwhelmed with pastel hues, mountain views and pit-stops aplenty! Aratula hosts a gorgeous main street selection of stores, plus the grocer for your picnic supplies and the bakery for a good old-fashioned chunky beef pie. Hold out for 15 minutes to enjoy outdoor dining at Moogerah Dam, then burn those calories with your watersport of choice—kayaks, paddleboards and tinnies are available for hire nearby. Trading water for bitumen, head to Kooroomba Vineyard and Lavender Farm, an established restaurant and cellar door overlooking six acres of vineyards and spectacular Scenic Rim mountain views. Lastly, be sure to check out the family-owned Scenic Rim Brewery of Mt Alford where the beers are a direct by-product of their natural surroundings; clean, fresh and guaranteed to make you grin.
How far from the Sunshine Coast? Approx. 2.5-hour drive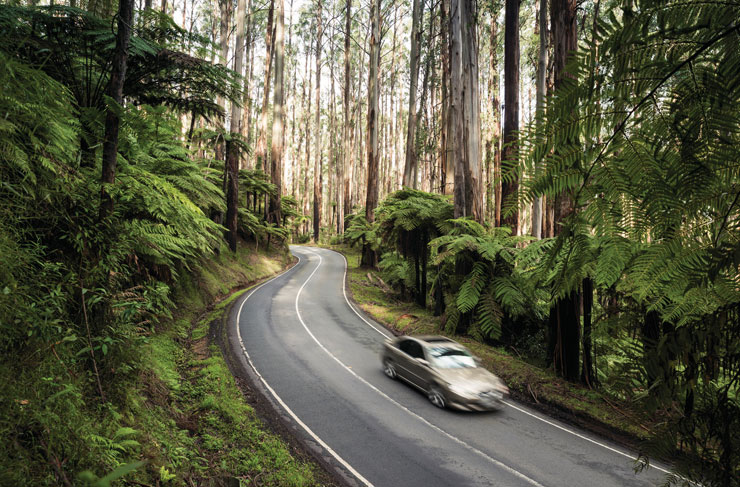 Rainbow Beach, QLD
North of the Sunshine Coast you'll find Rainbow Beach, a laidback township that'll have you intoxicated with its unspoiled coastline and vastly coloured sandstone cliffs. At the top of your to-do list, Carlo Sand Blow is an expansive 15 hectares of moon-like sand mass suitable for tobogganing or hang-gliding. For the less adventurous, plan a visit at sunrise or sunset, for those picture-perfect panoramic views. If you're feeling the vibe of views on the move, horse-riding tours are available or pick up the pace in a 4WD through the remote highway of sand. If travel plans permit, stay a little longer so you can explore a little further with a trip to Fraser Island, only a short ferry trip away.
How far from the Sunshine Coast? Approx. 1.45-hour drive
Tenterfield, NSW
Immerse yourself in the charm of the bush lands as you embark on a 376km drive to Tenterfield, New South Wales. Along the way, stop in at Ballandean, an area known for its award-winning wineries and granite pyramid, before setting off on an adventure through neighbouring Girraween National Park, where granite landscapes play the lead role. When you're ready to rest your feet, Tenterfield will become your BFF as you settle in for a fire-side meal at Commercial Boutique Hotel and casually browse the range of main-street boutique shops.
How far from the Sunshine Coast? Approx. 4.5-hour drive
Looking for a getaway that's a bit closer to home? Check out our favourite camping spots on the Sunshine Coast.
Image credit: Brooke Darling for The Urban List and Visit Australia