Sometimes, the hustle and bustle of modern living can all be a bit...much. You need a getaway, somewhere laid-back, relaxed, yet totally on trend. Somewhere that's completely off-grid, but still gives you all the vibes of a luxury vacay.
What you're looking for is a tiny house.
It's exactly what you need to escape from big city life. Everything is in one (small) space, so you can kick back, relax, and enjoy some me-time. And just to make life easy for you, we've rounded up nine of the tiniest houses South East Queensland has to offer. Get that bookmarks bar ready—you'll want to save these.
Hale Douglas
SUNSHINE BEACH
If you're looking for an island getaway on a budget, set your sights on Hale Douglas, an adorable little home in Noosa that has truly embraced its retro Hawaiian surf theme. Inspired by the hosts' trip to the soulful surfer town of Hanalei Bay, this tiny house features a skylight, floor-to-ceiling louvred windows and a deck that opens onto a tropical garden. You'll be sleeping upstairs (or should we say, upladder) in a queen-size bed that screams comfort, so you can catch some z's before hitting the beach. Even better, the home was built using reclaimed and repurposed materials, so you can rest assured knowing your Airbnb is doing its part for the environment.
The Bower
MALENY
Just 10 minutes' drive from Maleny, The Bower is a beautiful rustic rainforest retreat. Nestled between the trees, the pavilion is one of three in the area, spaced out around the crystal clear pool. The trees provide plenty of privacy, so you can relax undisturbed on your own private deck, or sit outside by the fire. Despite its size, the house is roomy and modern, and acts as a sanctuary to submerge yourself in the natural world around you. Be sure to pay a visit to Maleny Dairies while you're there, for the best darn yoghurt in town.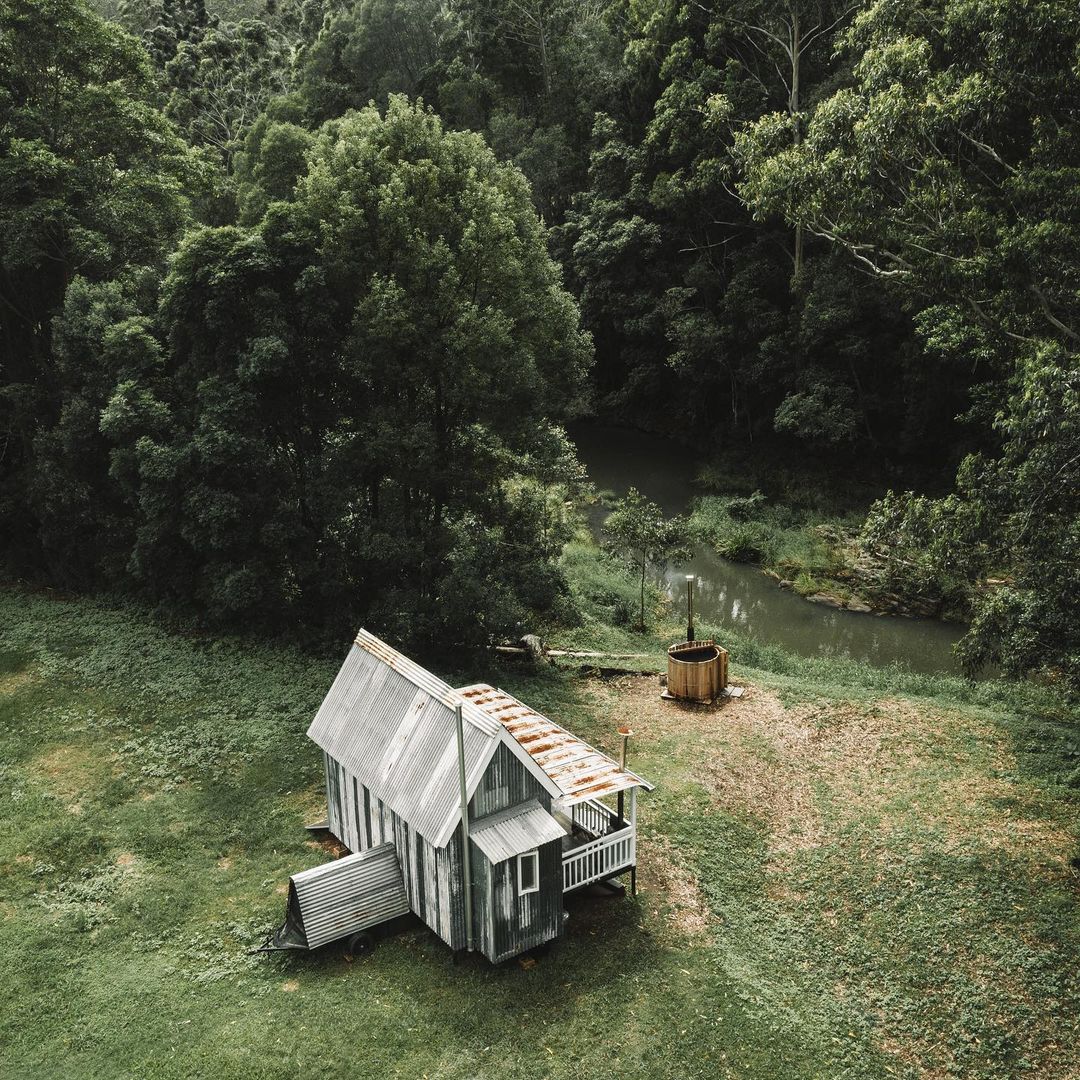 Palmer & Gunn
Gold Coast Hinterland
So, you want to experience a sustainable, tiny house vacation, but you're not quite ready to give up the hot tub and the air-con? No problem. Soak your stresses away at Palmer & Gunn, a hidden gem tucked away in the Gold Coast hinterland just outside Springbrook National Park. Outdoor hot tub: check. Luxurious bedding: check. A burbling creek as your only background noise: check. Soaking in the aforementioned hot-tub under the stars right next to said creek: now we're talking, and we're packing our bags already.
Blackwattle Farm
Beerwah
Do miniature pigs set you squealing? Always wanted to hug an alpaca? Then book yourself in for a farm stay at Blackwattle Farm. Set against the picturesque backdrop of the Glasshouse Mountains, this tiny house is the perfect base to explore all the Sunshine Coast has to offer. The home is just five minutes from Australia Zoo, but comes with its own menagerie of animals, including miniature goats, Dexter cows, and plenty of pooches. Whilst some tiny houses take the minimalist approach, Blackwattle comes with everything you could possibly need, including a TV, washing machine, and a microwave. The hosts even provide homemade honey and jams, so you know you're in for a treat.
Kookaburra Cabin
Sunshine Coast Hinterland
Created by Tiny Away, a tiny home booking company, this pint-sized house can be found on a 17-acre farm that is only an hour and a half drive from Brisbane and a stone's throw away from the Sunshine Coast in Palmwoods. While the house may be tiny, it has everything that you could need for a weekend getaway (and you'll definitely get a few Instagram pictures out of it). If you're staying true to your off the grid commitment (for the weekend that is), the cabin comes complete with a stove and fridge, ready for you to put your cooking skills to the test.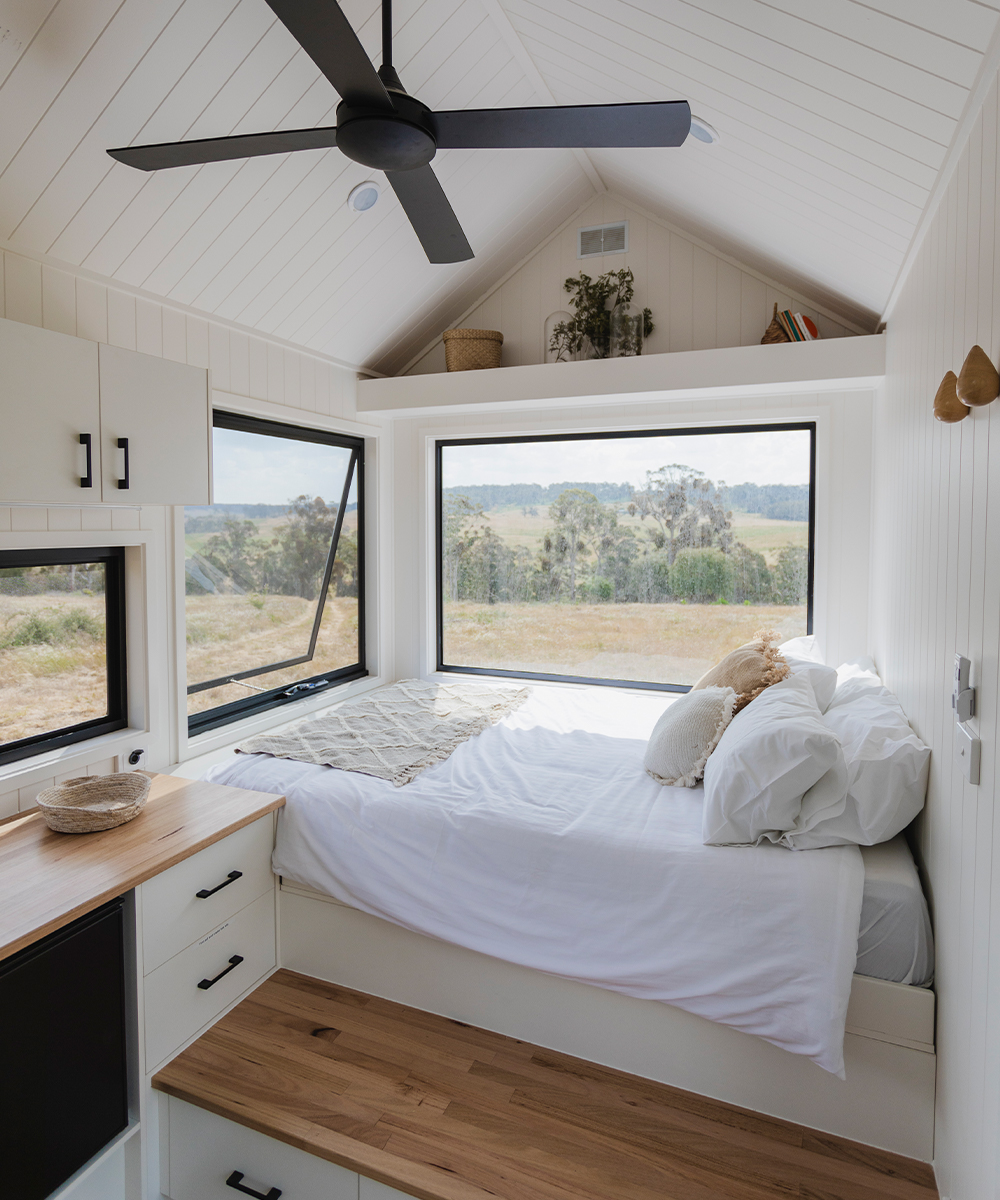 Norah
TOOWOOMBA
Hidden on a property in the Toowoomba region lies Norah, a tiny haven named after a character brought to life by acclaimed Aussie author Mary Grant Bruce. The trip to Norah will take you through plenty of small towns with fresh and flavoursome produce, so be sure to stock up for a major feast when you arrive. This tiny house has all the comforts of home, including air-con for those sweltering Queensland summers, but if you're heading there in the cooler months, don't forget to bring some s'mores to toast over the firepit. The house runs on gas and solar power, so pack your portable charger, or better yet, ditch the tech for the ultimate weekend getaway.
The Surf Shack
SUFFOLK PARK
If it just isn't a vacay without the wind in your hair and sand between your toes, you can't go wrong with a stay at The Surf Shack. Located just south of Byron Bay, you're guaranteed all the chilled out vibes of the surfer town, minus the crowds. The shack is just five minutes' walk to the beach, bakery, restaurants and cafes, so there's no need to stress about getting sand in the car. The space sleeps up to four guests, and comes with all the essentials so you can zone out and make the most of your holiday. Kick back at the shack and treat yourself to some laid back living by the sea.
Baya
Scenic Rim
Always wanted to gaze at endless rolling hills from the comfort of four solid walls? Meet Baya, where you can do just that. Perched atop a grassy plateau not far from Boona, this tiny house offers a pretty spectacular view of the surrounding hillsides, which you can enjoy either out on the shady wooden deck or inside through the glass window that makes up one entire wall of your weekend oasis. Despite the tiny size, you'll find every modcon you need, like a queen size loft bed with a window to the sky just above your pillows for stargazing, a bathroom with gas hot water and a (flushing) toilet, and a kitchenette with a BBQ so you won't go hungry. And it gets better—if you don't want to have to worry about anything during your stay, you can add BBQ platters and breakfast hampers to your booking, which come stocked with local goodies ready for you to whip up some feasts to go with all that fresh air.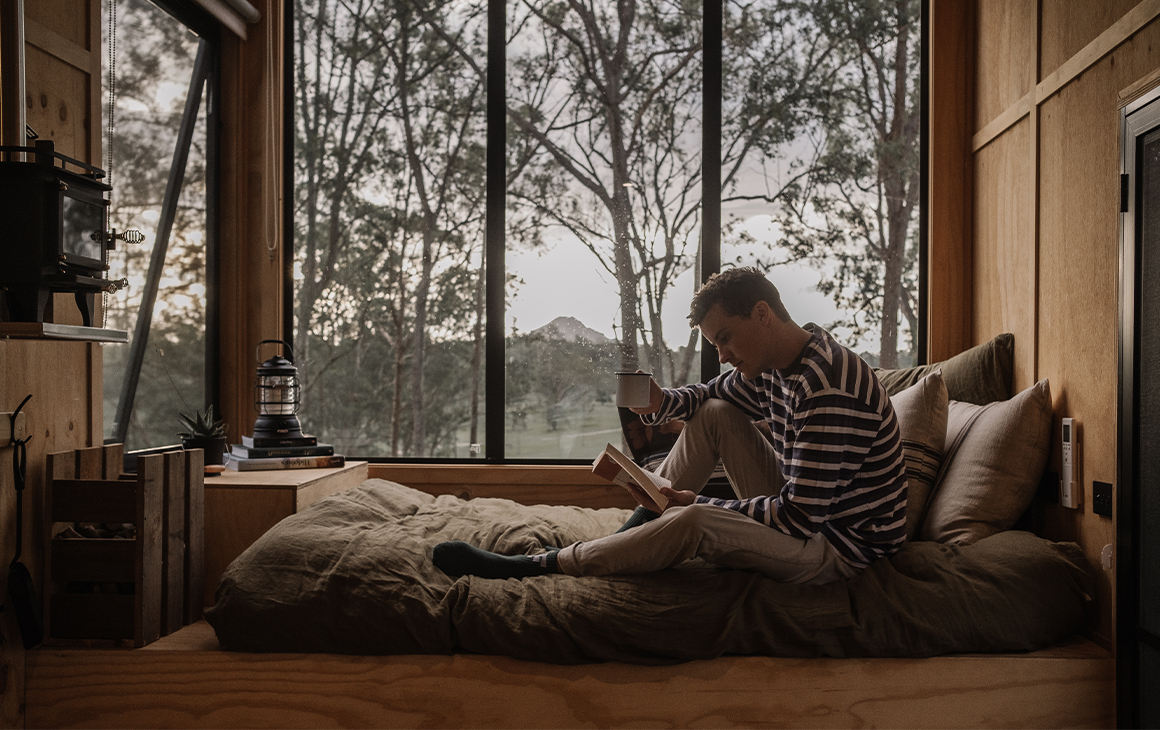 Unyoked
Kagaru
After taking New South Wales and Victoria by storm, Unyoked has set its sights on the Sunshine State; and we couldn't be happier. Although the exact location of the cabin is being kept on the DL (guests are sent coordinates just days before their stay), we know it's just over an hour's drive south of Brisbane. And judging by the photos on their Insta page, it's well worth the trip. We're talking cabin-porn style glamping in the middle of Queensland's bushland. Regain your sense of adventure and disconnect from the daily grind; Unyoked provides everything you need to relax and unwind. But be sure book soon—these cabins are in high demand, and you don't want to miss out.
Charlie
TOOWOOMBA
Been hankering for an excuse to tell your boss you'll be uncontactable for a while? We've got one word—Charlie. About two hours west of Brisbane, and 45 minutes north of Toowoomba, this tiny house is so far out of town you'll forget what a city even feels like, with nothing but koalas and incred views of the Blackall Ranges to keep you company. Ditch the phone, the tablet and the Insta, because one of the things we love the most about Charlie, apart from the super comfy queen bed, stylish interiors and outdoor firepit, is the ability to totally switch off, with almost zero phone reception and no wi-fi. Emails? What emails?
The Stable
Ma Ma Creek
For a tiny house with big views, set your GPS to Ma Ma Creek. The rural town lies in the Lockyer Valley Region, and is home to a 50 acre property housing The Stable. This tiny home promises an escape from the stresses of everyday life, surrounding guests with bushland, native wildlife, and a sense of tranquility. The house sleeps two, and while you're welcome to use the solar lights, the hosts provide candles to transform your stay into a romantic getaway. If you can bear to tear yourself away from bed in the early hours of the morning, you'll be treated to a sunrise that is sure to take your breath away.
Looking for something a bit more down-to-earth? Check out 10 of the most beautiful free camping spots in Queensland.
Image credit: Hale Douglas (Airbnb), As We Wander, Unyoked, In2theWild
Editor's note: Urban List editors independently select and write about stuff we love and think you'll like too. Urban List has affiliate partnerships, so we get revenue from your purchases.