In case you missed it—Afterpay Australian Fashion Week has descended upon Sydney, unleashing a new era of style mayhem at Carriageworks and all-around the city.
This year's packed schedule covers Australian design icons—like the forever-charming Romance Was Born and otherworldly Akira, as well as the up-and-coming labels redefining Australian style, like Anna Quan, Albus Lumen, St Agni, and Jordan Dalah.
With the 2020 edition of Fashion Week unceremoniously cancelled, there's some big, bold fashion energy encircling the city this year with relative newcomers like COMMAS, Daniel Avakian, and Yousef Akbar all hitting the runway.
This year will also see dreamy sustainably-centred NZ label Maggie Marilyn show her latest drop from within the green gardens of Centennial Park. Being a tech company, Afterpay has brought some tech magic into the fold with a little digital couture from Toni Maticevski—a silvery virtual coat that's available to "try on" all week long.
Whether you've planned to hit the front row (tickets to runway shows are available here), or you're tuning in from home via your favourite fashion influencers' feeds—there's plenty of style action to get in on in Sydney this week.
Here, we chat with seasoned Fashion Week pro, buyer, and director at Sydney's legendary Parlour X, Eva Galambos to talk fashion in Australia right now, why fashion week still matters, and her top picks for the week ahead.
What Do You Think About The State Of Fashion In Australia Right Now?
It's a really exciting time for Australian designers right now. Over the past few years, we have seen some great success for Australian brands operating on the international stage with a greater degree of sophistication than we've seen for some time. Australian designers, now more than ever, are representing and developing their own identities—moving away from appropriating international trends and highlighting what the Australian fashion identity is really about.
The World Of Fashion Is Changing Quickly—Why Are Fashion Weeks Still Important?
Fashion Week remains an invaluable source of exposure for emerging and established brands. This unparalleled convergence of designers, media, buyers, mentors and other industry representatives gives brands the platform to showcase their talents and amplify their collections to the widest possible audience. For one week, traditional publishers, with their digital and social counterparts, will catapult fashion week into the collective mainstream consciousness where the benefits should flow for the remainder of the year.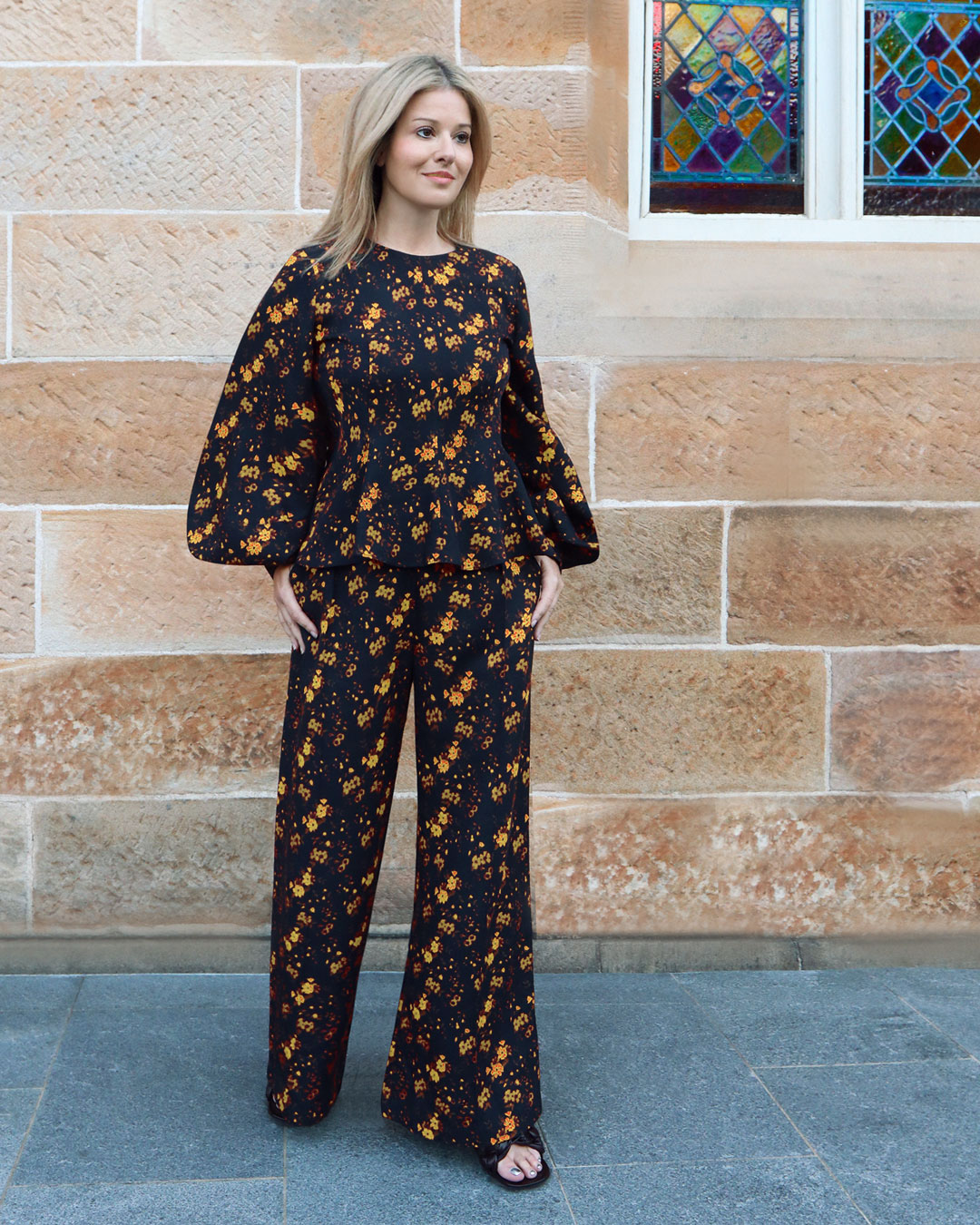 Galambos wears Mother of Pearl top and pants. Shop similar styles here and here.
OK—Tell Us Your Top Picks For AAFW 2021?
I am perennially excited about Romance Was Born and their "performances", which tantalise all the creative senses. Fashion is the premise but their theatrical collections are pure art.
Christopher Esber because I have been buying his collections since the brand's inception. Over the last few years his brand has developed an emphatic signature look and style. Chris is a wonderful, innovative ambassador for Australian fashion.
Finally, one of the brightest emerging talents seems to be Jordan Dalah. He is clearly a fine craftsman and I am curious to see how his creativity can translate into a commercial success.
Fashion Week Can Be Full On. What Are Your Favourite Cafes And Bars to Refuel At During The Shows?
My tight schedule, between running Parlour X and seeing shows, leaves little time to chill out. However, it's highly likely you may find me at one of my favourite spots, such as Fratelli Paradiso in Potts Point, Fred's in Paddington, and Icebergs in Bondi Beach.
Check out more of what's happening at this year's AAFW right here. Or, up your style game with the Parlour X sale happening right now.
Image credit: Parlour X
Editor's note: Urban List editors independently select and write about stuff we love and think you'll like too. Urban List has affiliate partnerships, so we get revenue from your purchase.