Fashion isn't known for its green credentials. It's an industry largely driven by hype, trends, and, in the case of fast fashion, throw away culture.
According to the Global Fashion Agenda—a sustainability forum supported by the likes of Nike, H&M, Kering, and ASOS—across the next decade the fashion industry's carbon footprint will increase to 2,791 million tonnes and it looks set to create something like 148 million tonnes of waste.
But it's not all bad news. These days, established brands that haven't thought sustainably before are implementing deep changes, while new brands, initiatives, and store sections are advocating, producing and promoting sustainable style that's good for the planet and good for people. Think consignment and resale concepts, the rise of archival fashion and charity-led collections, eco sneakers, and global summits championing a circular economy—it's all happening.
However, a sustainable future relies on a collective effort, and this couldn't be more spot-on when it comes to fashion. The real power to reduce that hefty carbon footprint, the insane amount of waste, water use, and irreversible environmental damage lies with the consumer: the style choices you make can really make a difference, and we have the power to choose what we buy and how much we buy.
Your style thirst doesn't have to cost the Earth, so now's the time to adopt a new mantra: buy less and choose well.
Here are 15 of our favourite sustainable fashion labels.
REBORN By HoMie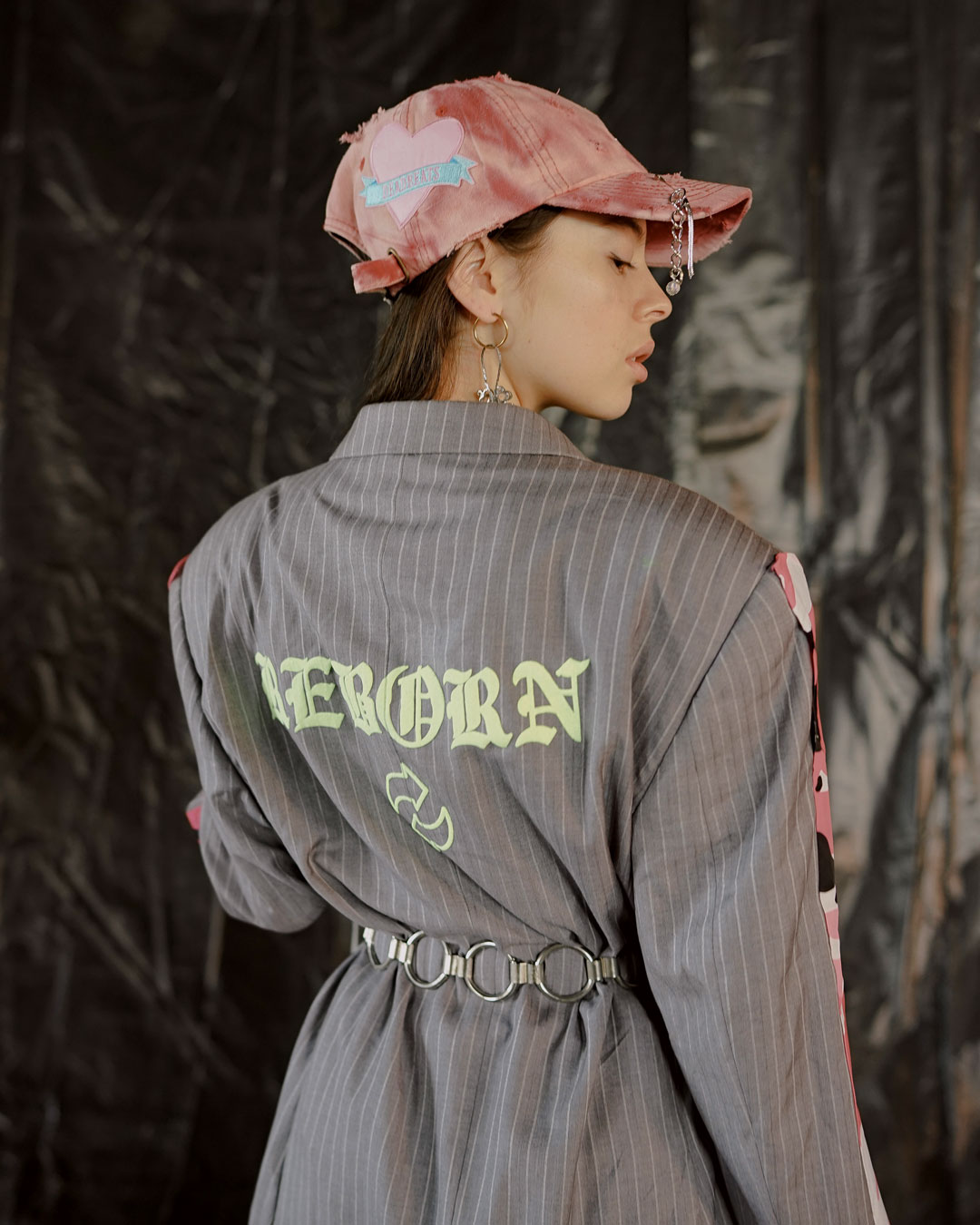 Part social enterprise, part sought-after streetwear label, HoMie's core range is made up of effortless oversized tees and 80s and 90s-style sweats and hoodies. The key difference is that it's fashion for a purpose—100 percent of HoMie's profits go to providing brand-new clothing, training and job opportunities for young people affected by homelessness or hardship.
REBORN is HoMie's first-ever repurposed line. The sustainably-minded series is made up of one-off, upcycled tees, sweaters, blazers and more that have each been constructed from preloved garments and excess materials. And true to HoMie's typical style code, each piece is a collector's item—almost a piece of art.
MaisonCléo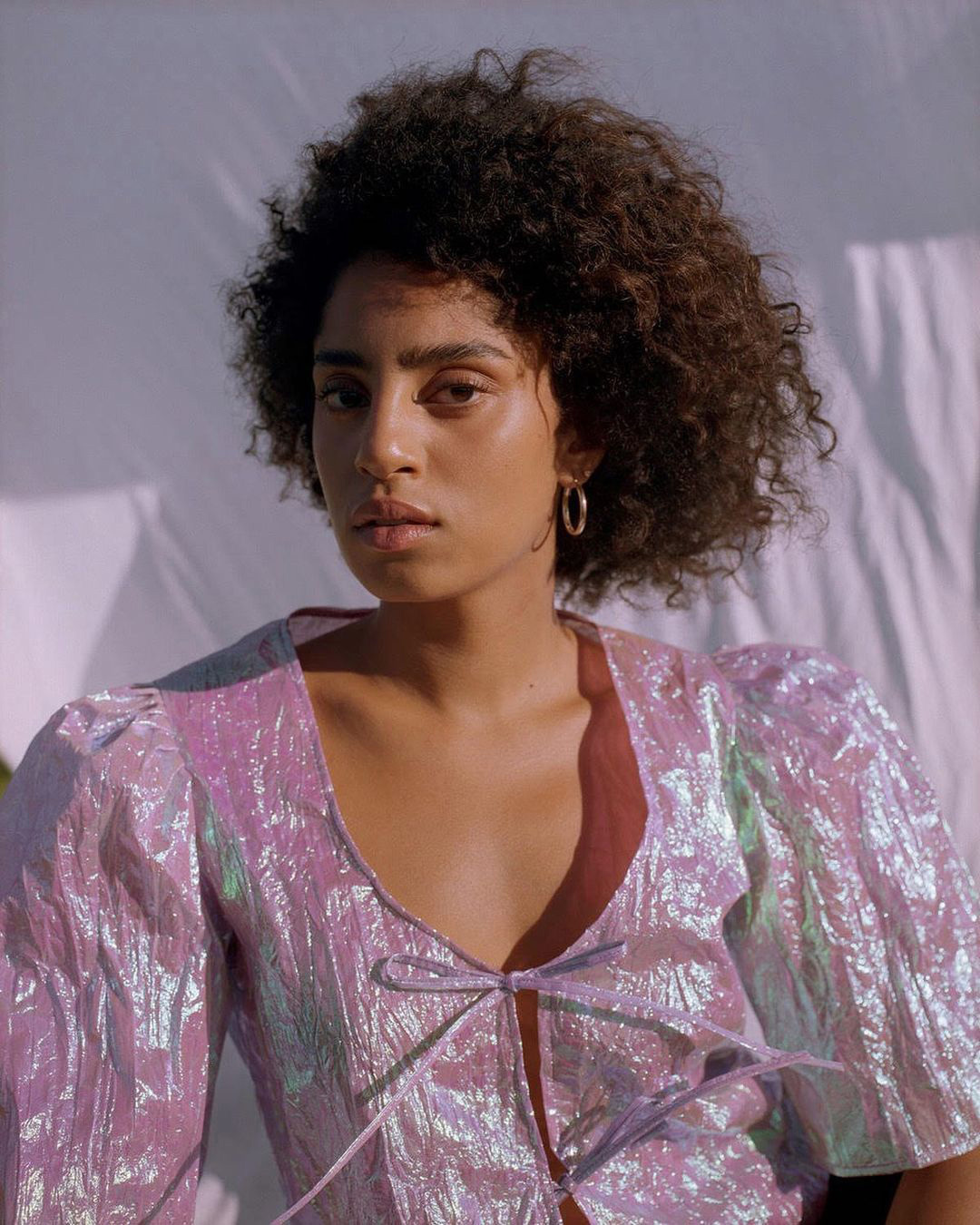 If you've been coveting big collars on pretty blouses this year—you have MaisonCléo to thank for this romantic micro trend. Created by French mother-daughter duo, Marie and Nathalie Dewet, MaisonCléo is the "it" label in the slow fashion world right now. With fashion patience front-of-mind, rather than speed, Marie designs each piece, and her mum, Nathalie crafts them together using deadstock. Each piece is made to order and typically sold via Instagram, though a small collection is now available on Net-A-Porter.
Maggie Marilyn
Growing up on the pristine, beautiful coast of rural New Zealand—it's really not surprising that fashion designer Maggie Hewit has made a brand that is deeply rooted in both beauty and care for the environment. The Maggie Marilyn mission is to "use fashion to create a better world" and to create a fashion industry that is transparent, circular, regenerative and inclusive. The brand recognises too that sustainability is a process and a journey, not a badge or a tagline, and they list both their successes and their challenges in working towards greener style on their website. Maggie Marilyn is available to shop at The Iconic.
Girlfriend Collective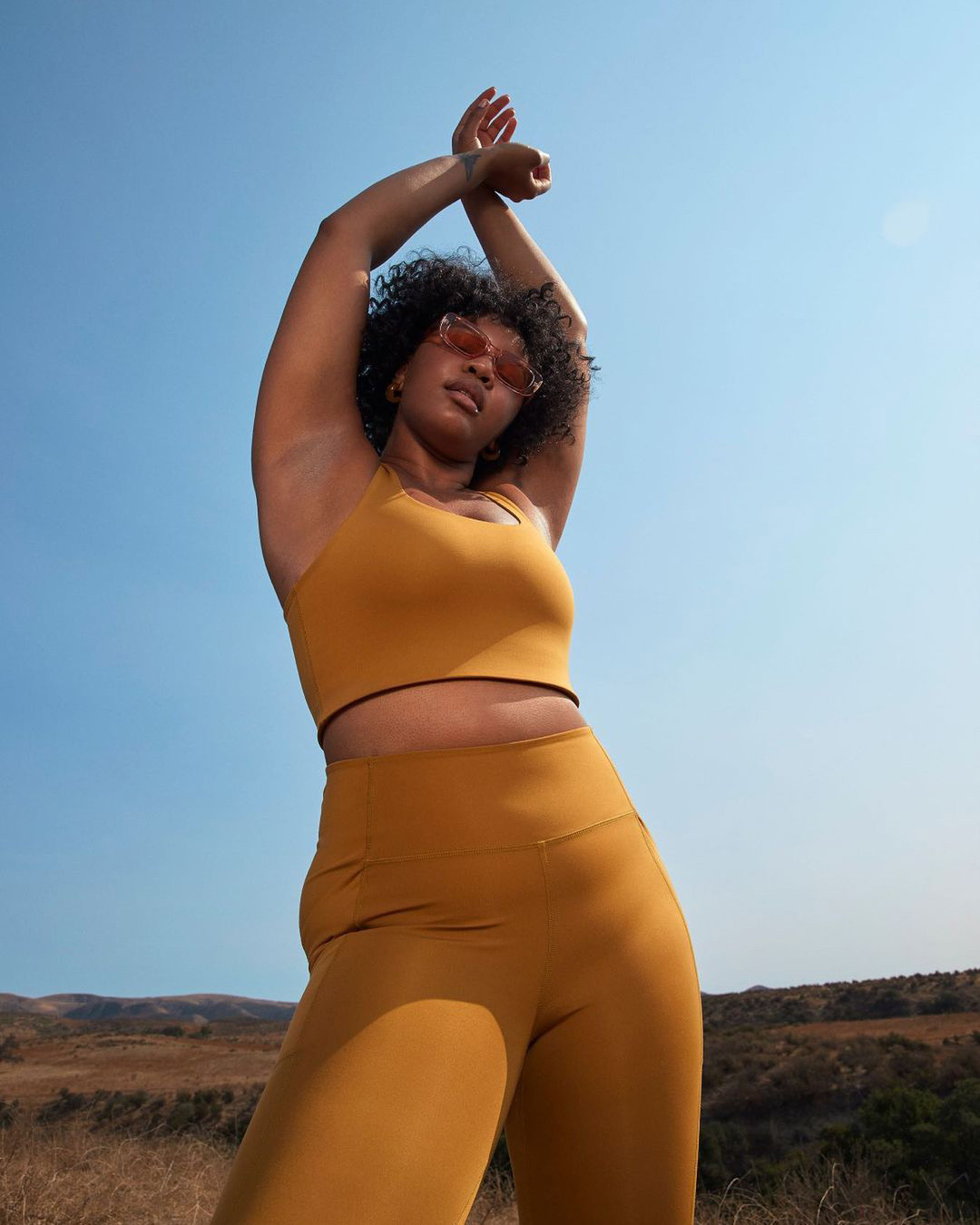 We love Girlfriend for being so fiercely and unashamedly inclusive. While Girlfriend is dedicated to slow fashion and ethical and environmentally friendly manufacturing, their on-point, luxurious sets come in a huge range of sizes to fit any body size and shape—and they flaunt it just like they should.
As for their eco-credentials, Girlfriend discovered that as far as activewear is concerned, high end fit and feel is not a matter of cost, it's a matter of time. Fabrics are made from a combination of recycled nylon, cupro, ECONYL (a fabric made from recycled fishing nets, and other waste), or RPET (recycled polyester). You can shop Girlfriend Collective at Net-A-Porter.
Reformation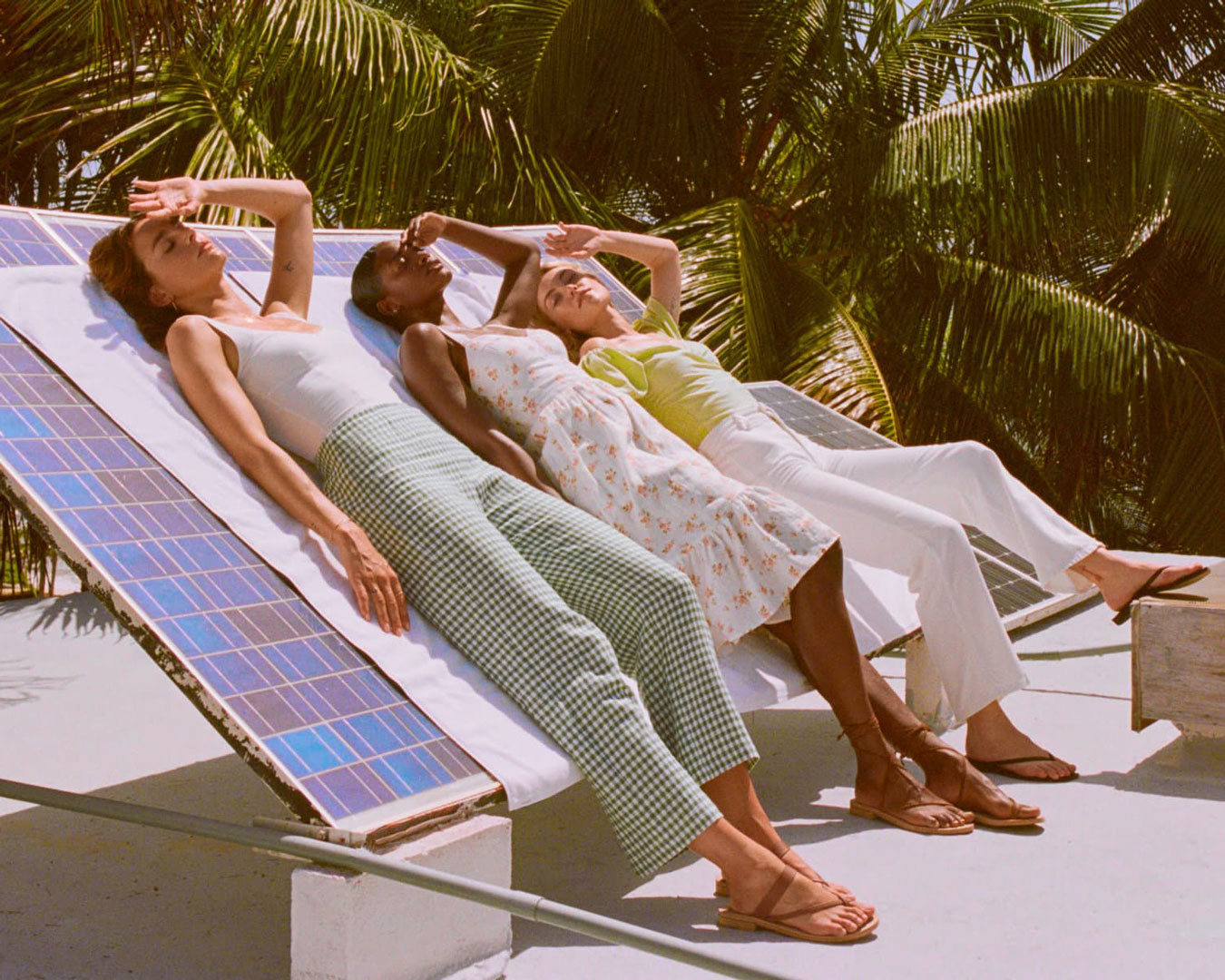 This cult LA-label is a major favourite in the deadstock world. And if feminine, flattering silhouettes in last-forever, sustainable fabrics are your jam, you need to add it to your wishlist. Like MaisonCléo, Reformation is another label behind fashion's current obsession with pretty, femme vibes (the label is known for its pretty dresses), and sustainable style is at the core of everything they design and create. Reformation has been carbon neutral since 2015, and they reckon it's so easy for you to do it too, they will actually reward you for trying. For example, you can get $160 store credit for switching to renewables (um, amazing). Oh, and keep an eye out for their Black Friday sale—word on the street is there will be a sitewide 30% discount.
Yasmina Q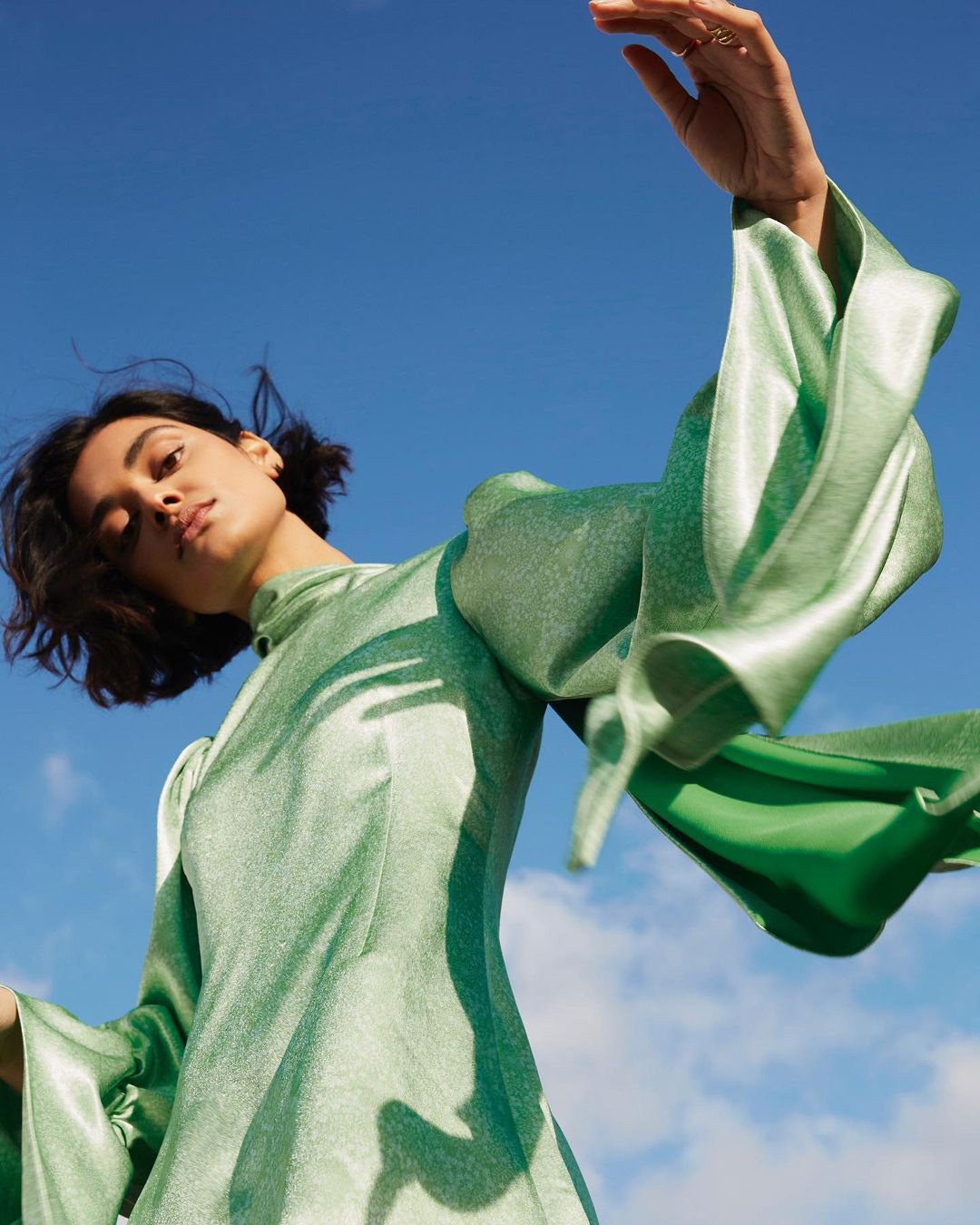 We are slightly obsessed with the debut collection from Saudi-born, UK-based designer Yasmina Qanzal. As well as being beautiful with plenty of on-trend but always in vogue jade green throughout, Yasmina Q's collection uses low-impact fabrics like organic cotton, FSC-certified viscose, recycled polyester, deadstock, and recycled packaging. We also love that kindness is at the heart of her concept of sustainability—kindness to the planet and to people.
Pangaia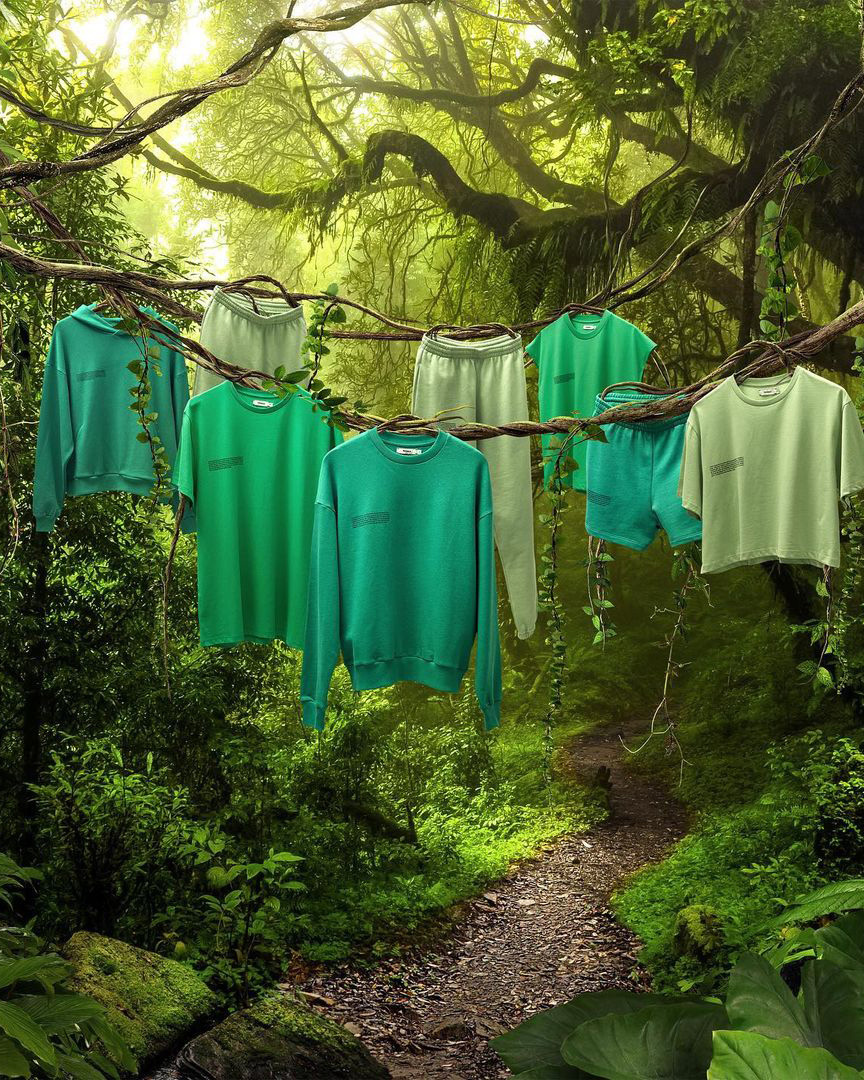 Pangaia has a super long list of environmentally-friendly, technology-forward qualities to rave about. The Moscow, NYC and London-based initiative launched in late 2018 at ComplexCon and currently features wardrobe essentials like tees, hoodies and track pants. Everything is made from bio-based and post-consumer-based materials and plastic bottles— for example, t-shirts are made from harvested seaweed from waters surrounding Iceland, and that seaweed is only harvested every four years to allow for full replenishment in between. Pangaia also uses vegan-friendly flower down over regular goose down, which is made from natural dried flowers.
The brand is committed to developing new tech by buddying up with scientists and researchers, and each piece has been made so you don't have to wash it every day. Lastly, 1% of every purchase price is donated to 5 Gyres, a non-profit organisation that empowers action against the global health crisis of plastic pollution through science, art, education and adventure. Did we mention Pangaia also offers free worldwide delivery?
Holly Ryan
"Sustainability has always been at the core of [my] jewellery," explains Sydney-based artist and jewellery designer, Holly Ryan of her eponymous jewellery label. If you're already a fan of Ryan's stunning minimalist and art deco silver and gold, you'll be happy to know she is big on using both recycled metals and found materials.
In 2018, she revealed the Holly Ryan Recycling Initiative, which encourages owners of Holly Ryan pieces to return items they no longer wear, so that they can be fashioned into something new.
CHNGE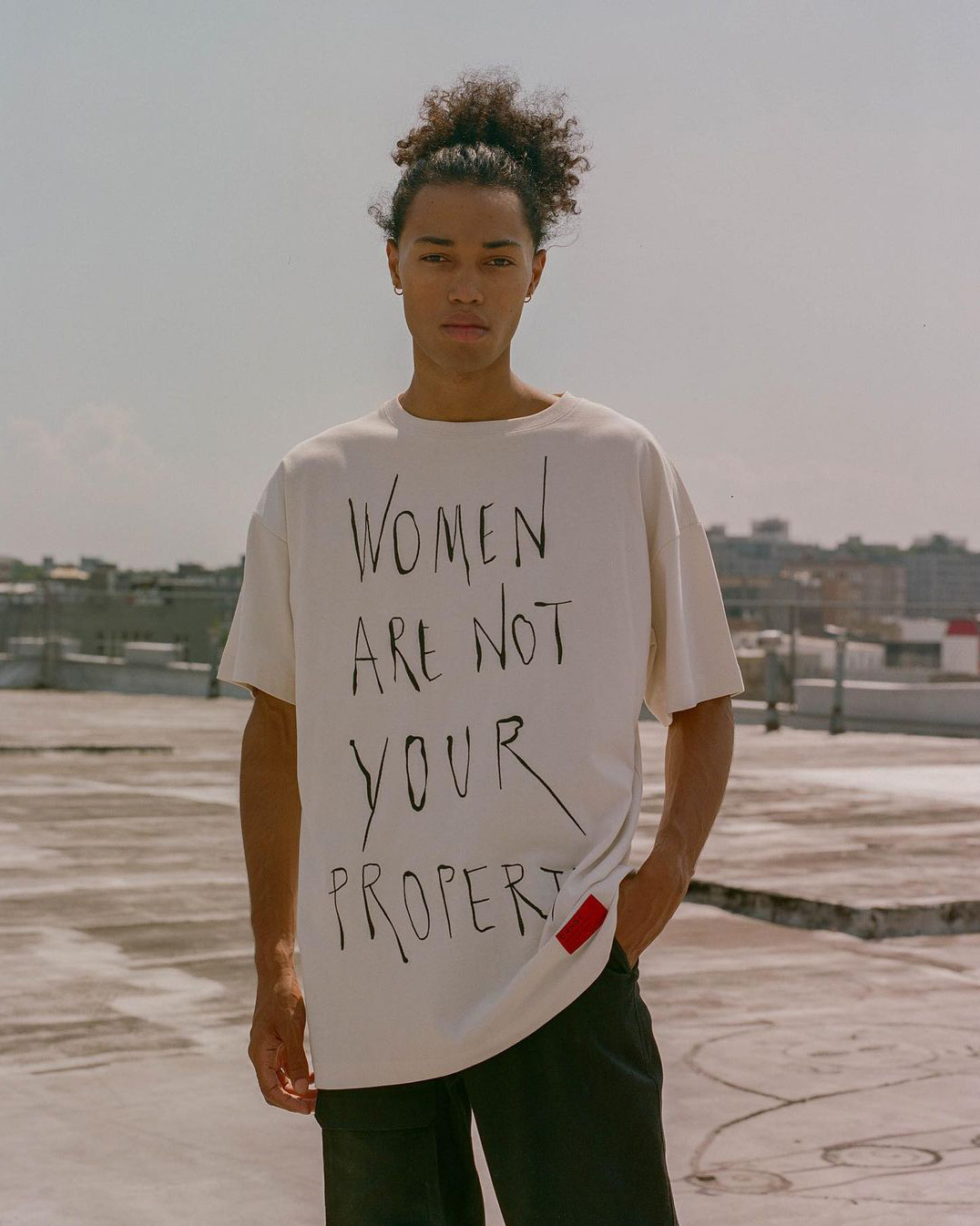 This incredibly cute, gender-neutral line of streetwear, tees, and basics is made entirely from 100% organic cotton, because the brand believes "conventional cotton sucks." Founded by New York City-based designer Jacob Castaldi, t-shirts feature empowering positive graphics and slogans like "Teach Peace", "Love Your Mother", and "Believe Women".
Each factory CHNGE works with is listed on their website, with everyone in the supply chain being fairly paid and working in comfortable conditions. And to top it all off, 50% of the label's profits are donated to charity.
Patagonia
It would be remiss of us to skip Patagonia on this list. A label for the ages—sustainability and respect for the environment are deeply woven into the threads of this iconic brand. It was created very organically by a band of American rock climbers and surfers back in the 1950s and became a label of choice, slashed in bright colourways in the 80s.
Its retro appeal is strong, but these guys have been making deep inroads when it comes to realising their place in a better future. They've been organic since 1996—and even now, they are still working on a picture of the perfect sustainable company. Their company mission statement concludes: "In the end, Patagonia may never be completely responsible. We have a long way to go and we don't have a map—but we do have a way to read the terrain and to take the next step, and then the next."
Arnsdorf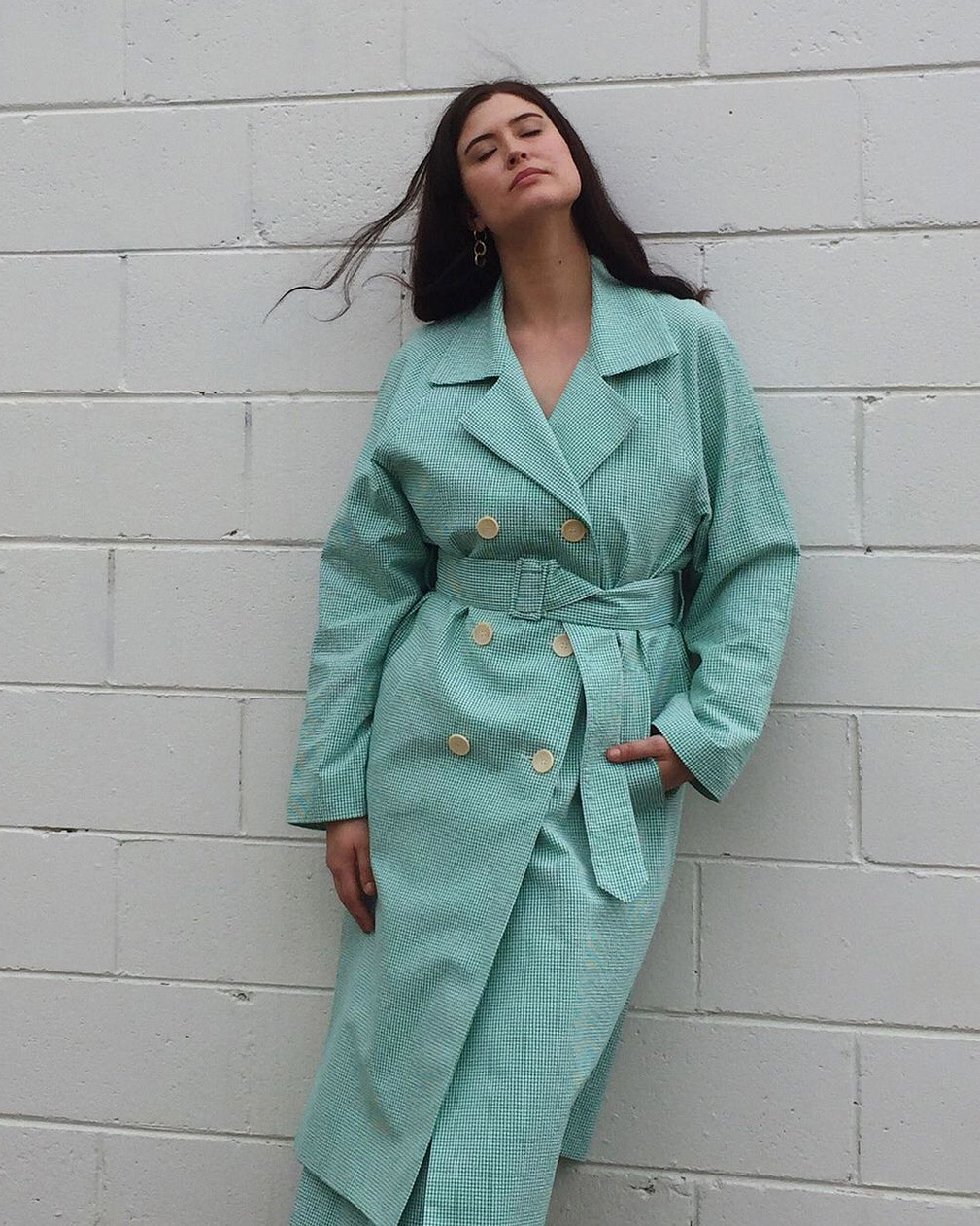 Melbourne-based designer Jade Sarita-Arnott put her label on hold in 2012—she was fed up and disheartened by the relentless cycle of the fashion industry. After some time out, she relaunched Arnsdorf in 2017 with a totally sustainable framework, doing away with excessive waste and business centred on mass production.
Basically, Sarita-Arnott designs about 15 pieces every 10 or so weeks, instead of full seasonal collections. Everything is made in Melbourne using bio-degradable fabrics like organic cotton, hemp, linens, wool, silk and bamboo. Designs are considered, trans-seasonal, effortless, and beautiful limited runs. Transparency is key in the brand's new ethos too: each product features a list of its makers alongside fabric and care instructions, as well as full transparency on the cost of making it, step by step. This year, the label became one of a few Australian womenswear labels to hold B Corp status, a certification awarded to businesses successfully balancing profit and purpose.
Artclub
Artclub is a far cry from Sass & Bide co-founder Heidi Middleton's earlier ventures in fashion. Launched in 2019 and housed in a Sydney warehouse that's home to eco-friendly businesses like Koskela and Three Blue Ducks, Artclub is not about mass-produced, trend-based denim. Instead, it's a hub for atelier-made art, environmentally-conscious fashion, and vintage designer pieces.
Middleton wanted to flip the industry framework on its head, and through Artclub she's peddling slow fashion that's centred on creative freedom, longevity, and respect for the planet. As for the clothes, expect billowing gowns made from remnant taffeta, pleated metallic skirts made with remnant lame—it's an elegant Italian summer vibe and we are very into it.
Boyish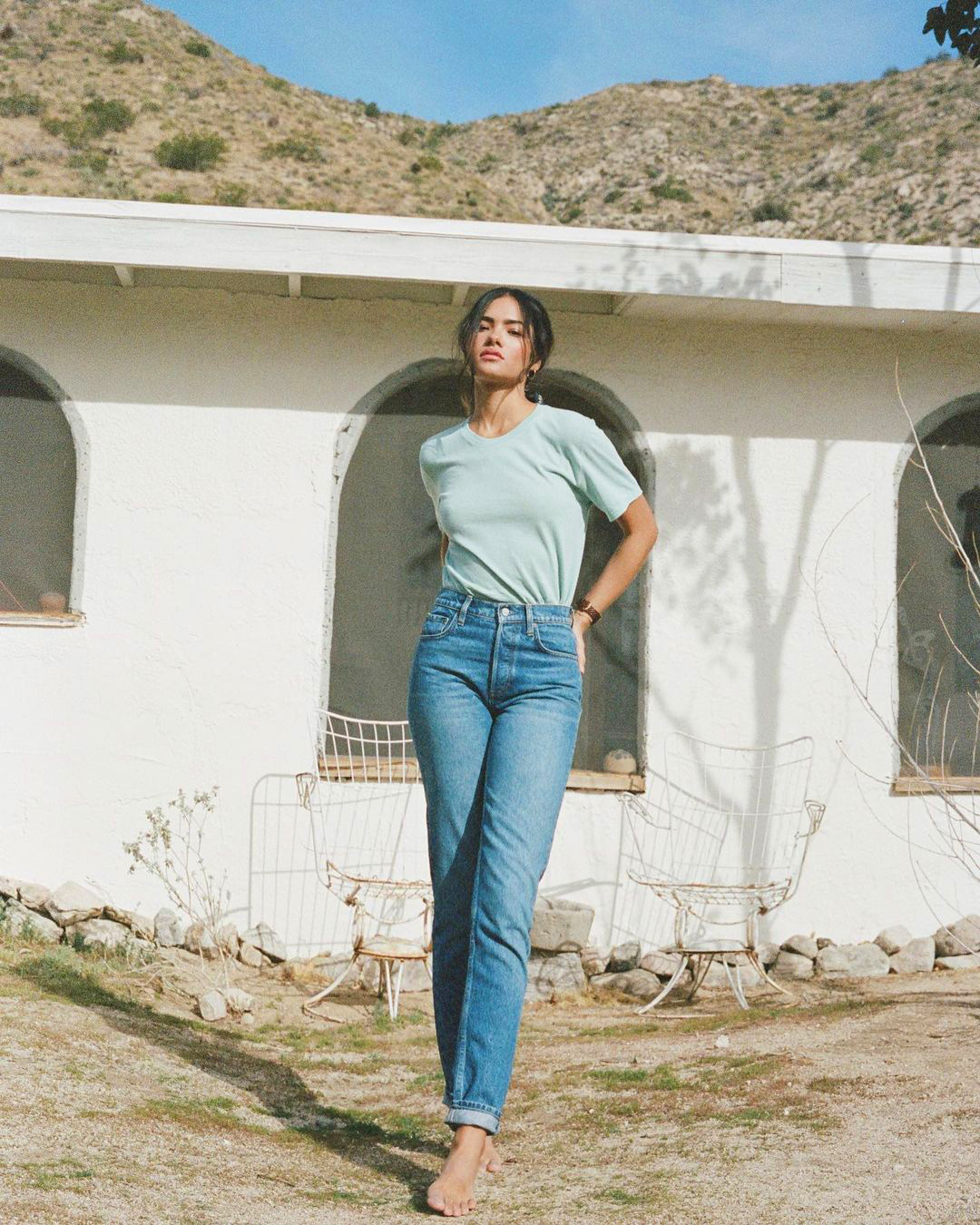 If you're after denim that's not going to destroy the planet, LA-based label Boyish should be your go-to. Specialising in vintage silhouettes (that cropped denim bomber jacket, for example), Boyish use about one-third of the water typically used to produce a pair of jeans, and they recycle all the water they do use. They have a zero-waste policy and use Intertek to ensure their factory partners use safe practices. Boyish also uses recycled cotton, recycled metals for buttons and clasps; their hangtags are made with recycled paper and care labels are made from recycled plastic bottles.
Empire Rose
Perth-based brand Empire Rose has managed to grow a cult following in Australia thanks to their signature pants, jaw-dropping collections and owner Kath's passion for sustainable, locally made fashion. Every single piece in any given Empire Rose collection is designed, made and sold in their North Fremantle studio and store by local designers and seamstresses. Kath has always been an advocate of the slow fashion movement as it means she can listen to her clientele and adapt based on their feedback, all while supporting the next generation of fashion superstars through their internship program.
Frankie Collective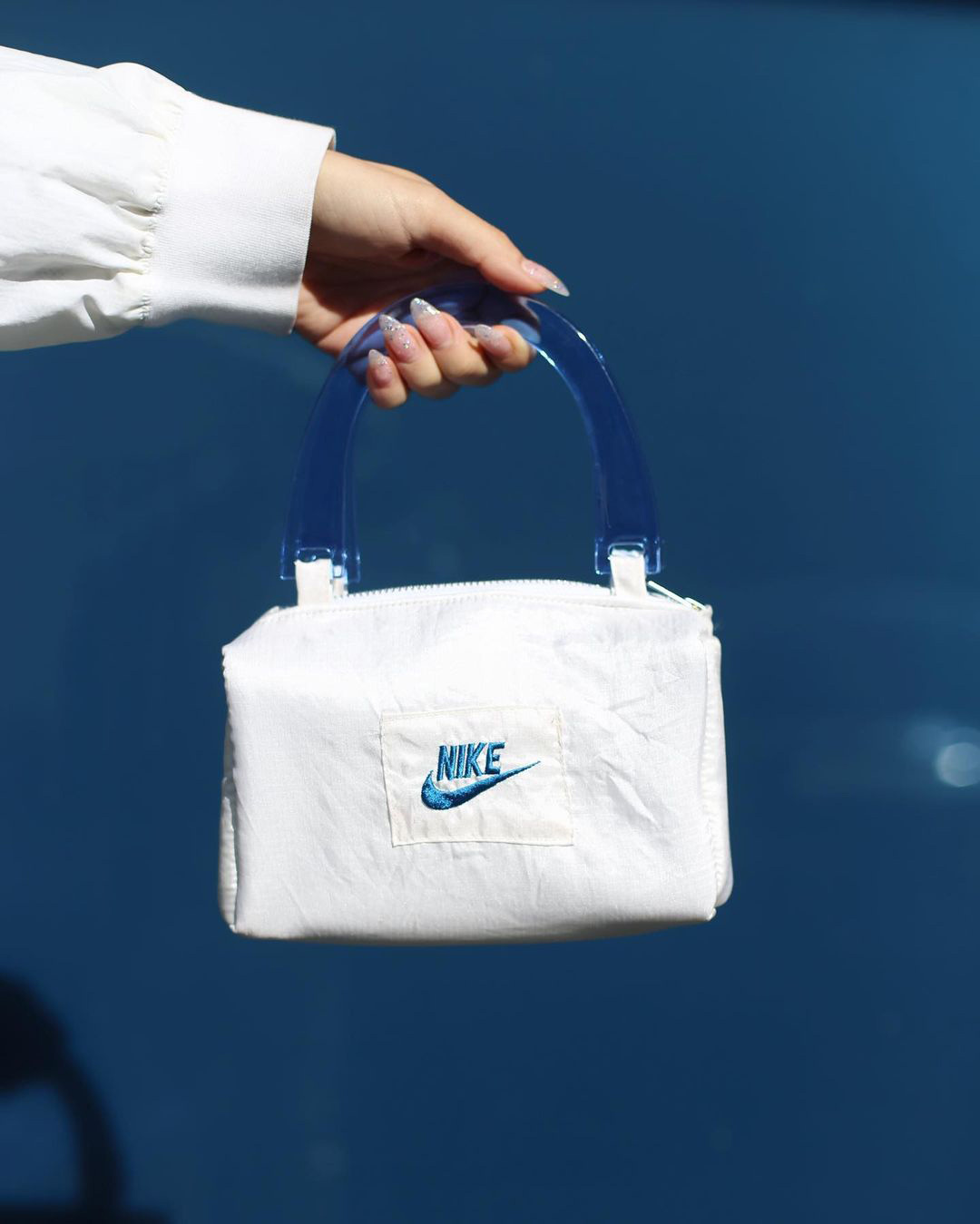 This one is for all you 90s style fiends out there. In a fashion world fuelled by hype and drop culture, Frankie Collective has an equally inspired, sustainable alternative. The Vancouver-based label repurposes and reworks 90s streetwear—adidas, Nike, Champion, Fila, Tommy Hilfiger and more into new, covetable styles. With a very much outside-the-box, boundary-pushing approach to fashion design, they've reworked vintage Supreme and Glossier makeup bags. All scraps are recycled through Fabcycle and production is kept entirely local. We are currently coveting their reworked mini bags.
Keen to make more sustainable choices in your day-to-day? Jump over to our sustainability section.
Image credit: REBORN, REBORN, MaisonCleo, Girlfriend Collective, Reformation, Yasmina Q, Pangaia, CHNGE, Arnsdorf, Frankie Collective
Editor's note: Urban List editors independently select and write about stuff we love and think you'll like too. Urban List has affiliate partnerships, so we get revenue from your purchase.