Australia is home to the oldest living human culture on Earth. There's still so much to be learned from this country's traditional owners, from their passing down of knowledge, respect for the all-encompassing way of nature, and their incredible ways of healing the land.
We have a long way to go in Australia, but a great way to begin to embrace Australia's First Nations people is to learn from the people themselves and support their businesses when you can. That means the next time you opt for a weekend road trip, fill your adventuring with some cultural immersion, take a walking tour, learn the Indigenous language of the land you're visiting, and understand the significance of the First Nations country of whose land you live on, work on, or visit.
Here are the best indigenous travel experiences in NSW.
Sand Dune Adventures
Worimi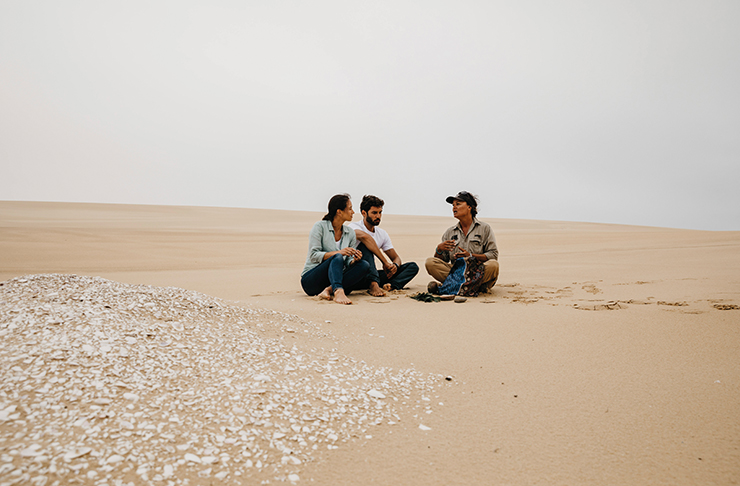 Stockton Sand Dunes holds the title for the largest coastal dunes in the southern hemisphere, which sounds big—but its size isn't truly recognised until you're there in the flesh, standing at the base of these moving monoliths that reach up to 30m high. As a place of cultural significance to the Worimi people, there are plenty of ways to enjoy the dunes respectfully and one of our favourites is via the First Nations owned and guided Sand Dune Adventures.
There are two main tours you take here. The first is a sand boarding quad bike tour, where you'll be guided from bush to beach. Your tour guide will take you through Worimi culture and you'll do everything from dig for freshwater and learn about bush resources to riding past ancient campsites (also known as middens), and sandboard down the largest sand dunes on the beach.
The second is a dedicated quad bike adventure tour which goes for one hour. This one will have you zooming all over the sand dunes and you'll have a suite of sweeping coastal views to take in while you take a number of pit stops to learn about the history of the land.
Wajaana Yaam Adventure Tours
Coffs Harbour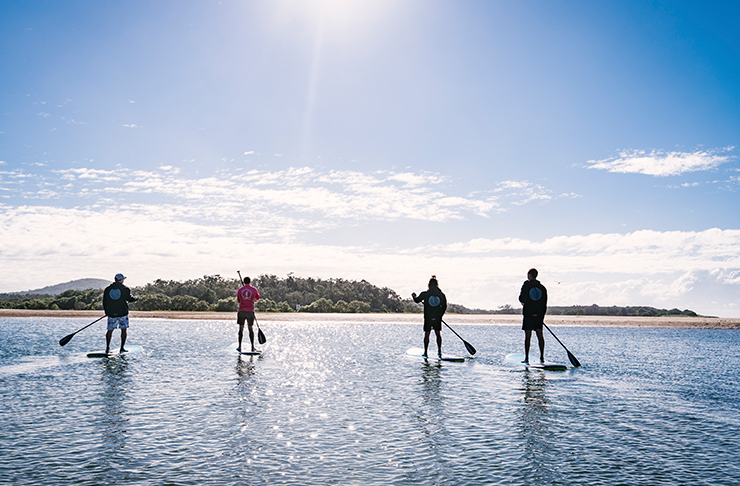 This is eco-tourism at its finest. Wajaana Yaam Adventure Tours operate stand up paddleboarding tours in some of the most picturesque waterways of NSW including Coffs Creek, Moonee Creek, Corindi Old Camp, and Red Rock Creek. At the start of your tour you'll be taken through a short safety briefing and then have a full two-and-a-half hours to paddle and take in all the know-how of the Gumbaynggir tribal nation—there'll be many points to stop and your guide will take you through important traditional stories with some part in the Gumbaynggir language too.
A portion of Wajaana Yaam Adventure Tours' profits also get invested into the Bularri Muurlay Nyanggan (which translates to "two path strong") Corporation, which gives weekly after school learning centres, cultural camps, and helps with a heap of Gumbaynggirr language revitalisation initiatives. All the guides at Wajaana Yaam Adventure Tours are also either Gumbaynggir people themselves or First Nations people who have strong family ties to Gumbaynggirr country.
Tri State Safaris Outback Tours
Broken Hill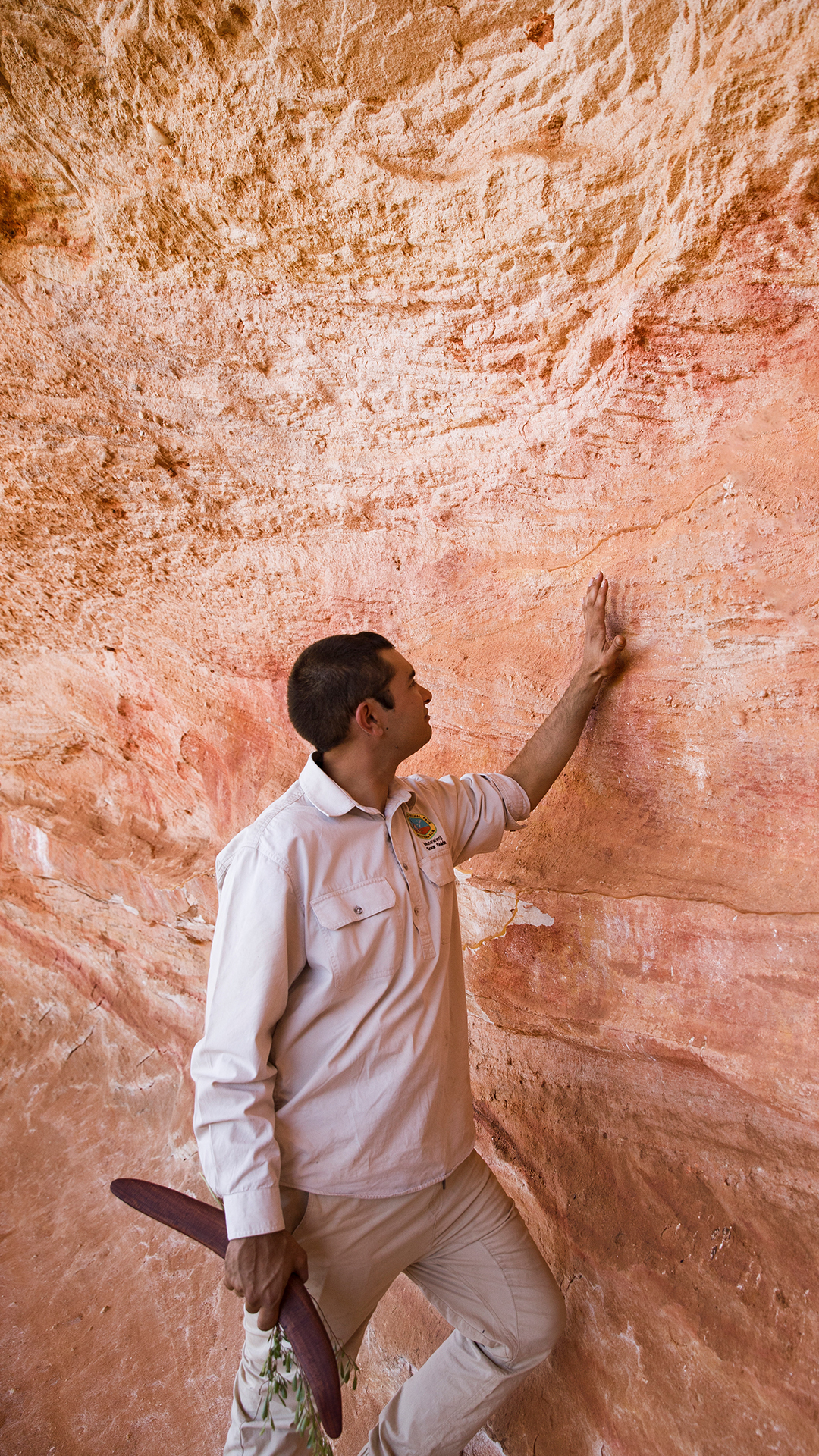 One of the most unforgettable experiences you can give yourself is taking on the guided First Nation heritage tours at Mutawintji National Park, home to the Wilyakali (who are joint managers of the national park) or Wiljaali tribe. This park holds a heap of significance because it was actually one of the first national parks in NSW to be handed back to its traditional owners.
Operated by Tri State Safaris, this guided tour will see you soaking up a whole heap of First Nations art and take you through some of Australia's most sacred sites with guides trained and accredited by the Local Aboriginal Land Council. Kickstarting from Broken Hill, you'll travel to Mutawintji National Park through a whole lot of red sand country and gorges, taking a short and refreshing stop for some morning tea under the shade of gum trees.
After this, your day will be filled with a visit to Mutawintji Historic Site, an area rich with First Nations rock art. You'll even get to lap up Dreamtime stories about the ancient mythology of Mutawintji, load up on a hearty outback lunch and then set off on a bushwalk to explore rock engravings, stencils, ancient fireplaces and sites that were used for toolmaking.
Aboriginal Discovery Tours
Mungo National Park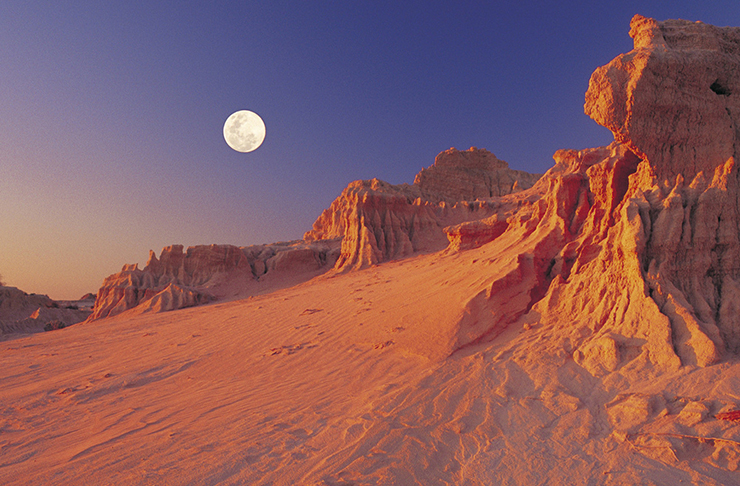 Mungo National Park is one of the most magical places in Australia (you can read our full guide to this semi-arid landscape right here). The park lies partly inside the Willandra Lakes World Heritage Area, an extensive area that contains an intricate system of ancient lakes formed over the last two million years however all of these lakes are now dried up and now contains a sea of impressive crescent-shaped dunes, called "lunettes" formed by winds over time.
The UNESCO World Heritage-listed park is known for its seriously significant archaeological discoveries but these are not without controversy—these major digs occurred without permission from the traditional owners of the land, the Ngyiampaa, Mutthi Mutthi and Southern Paakantyi people—which is just another reason why it's so incredibly important that you explore this area respectfully.
Guides conducted by Aboriginal Discovery Tours are operated by rangers from the aforementioned tribal groups of the Willandra Lakes region. The Walls Of China is, just quietly, one of the most incredible natural wonders in Australia and a huge must in Mungo National Park and you'll only be able to fully explore this site with a tour guide from the discovery tours. The day will consist of tagging along in your own car and you'll hear a world of Dreamtime stories, geological facts about the Walls Of China and the cultural history of Willandra lakes.
Ngaran Ngaran Culture Awareness
Narooma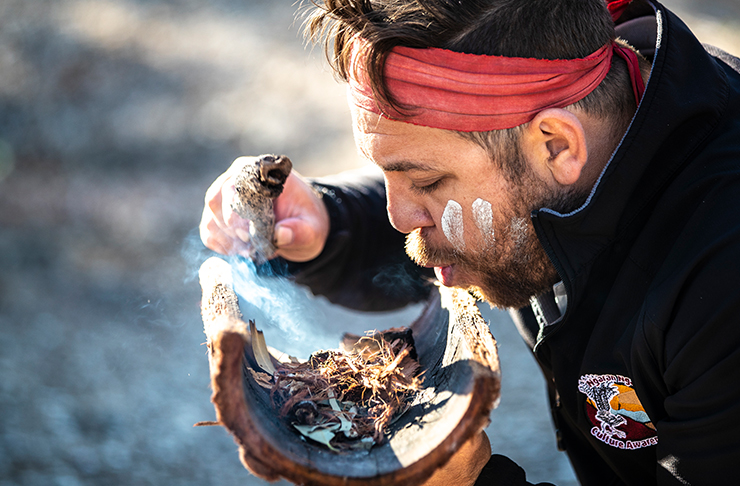 Established back in 2011, Ngaran Ngaran Culture Awareness (NNCA) is a First Nations-owned and operated tour service on the far south coast of NSW in Yuin country. Run by Dwayne Bannon-Harrison, he shares his knowledge and cultural teachings over 17 years from his elders through a series of multi-day tours. On the Gulaga Creation Experience, you'll experience a sunrise beach ceremony, before checking out sacred Gulaga Mountain. You'll also join a traditional reflection yarning circle and unwind with an Indigenous dinner including fresh seafood and kangaroo while listening to Yidaki (didgeridoo). There's also the Djirringanj Dreaming Tour, which involves a walking tour of the sacred dreaming of Djirringanj country, the heartland of the Yuin people, as well as traditional forage and cooking demonstrations and sound healing meditation.
Bundyi Aboriginal Cultural Tours
Wagga Wagga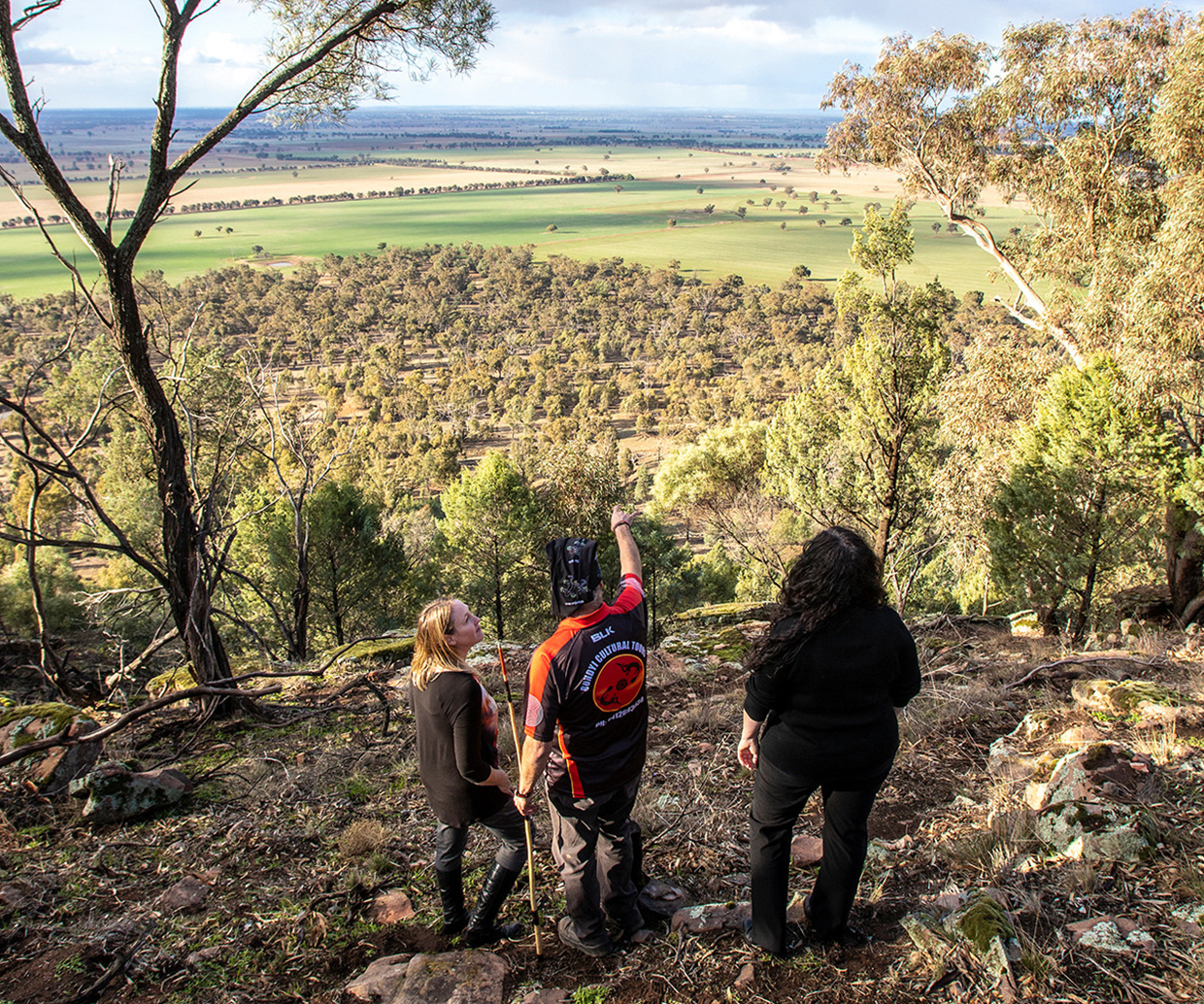 Run by Wiradjuri man Mark Saddler, Bundyi (which means "share") Cultural Tours offers up a full suite of incredible guides ranging from full, half-day, and overnight tours, all of which have been operating for over 12 years. Mark has created everything from special on-the-ground walking tours to bus tours, which take you all across Wiradjuri Country.
You'll have about seven different tours to choose from with motorcycle guides and bus tours but one of the absolute best has to be "Taste Of Wiradjuri". This tour takes you to visit Kengal, Murrumbidgee River, and the Wagga Wetlands and you'll learn various parts of the Wiradjuri language, get to take in the art of traditional Wiradjuri toolmaking, and see and learn about the lands special places, and trees.
For larger groups (from 10 to 20 guests), we can't recommend the Wiradjuri Culture And Winery Bus Tour more. Spanning an entire day, Mark will drive you through open land into inland forests to school you on Wiradjuri heritage and you'll then get to traverse the area on foot, learn more about the ancient history and then fuel your body with morning tea, coffee, fruit, and biscuits. On the wine side of things, this private tour will take a pit stop at Courabyra Wines for a wine tasting session and lunch. Courabyra Wines is a family-owned and operated vineyard nestled in the foothills of the Snowy Mountains, producing some of the finest cool-climate wines and you'll be absolutely smitten with your surrounds when you're here.
Now, check out our complete guide to Ngambagabaga (Nambucca Heads).
Image credit: Destination NSW