There is absolutely no doubt in the world that the dish of the season is a wholesome, cheesy tray of lasagne. Lucky for you, there are a few Sydney venues creating some fine lasagne that's made for savouring those cosy nights in.
If it's layers and layers of flat pasta filled with creamy bechamel and ragu you're after, look no further. Below you'll find one-kilogram ready-to-bake lasagne, trays packed with organic beef, and veggie lasagne loaded with four different kinds of cheese.
Read on for where to find Sydney's best lasagne.
Caminetto Italian Restaurant
The Rocks
Not all Italian restaurants are created equal, but when they sport a courtyard setting and red and white gingham tablecloths, the menu will be pretty reminiscent of heaven on earth. The lasagne at Caminetto Italian Restaurant is a silky tower of deliciousness, something co-owner Dinesh Shrestha puts down to the fresh pasta and slow-cooked beef sauce.
"You can feel the difference when you taste it," he says. "Our pasta is made in house, the bechamel sauce and slow-cooked beef are cooked alongside. Then we layer upon layer the pasta, sauce and meat one after the other."
D.O.C Pizza
Surry Hills
While D.O.C is known as a mecca of all things mozzarella (shipped directly from Italy) and doughy pizza bases, this carb haven knows a thing or two about plating up some of the best lasagne creations in Sydney.
First up is the OG organic pork and beef slice of goodness made with grass-fed beef ragu, bechamel and San Marzano tomatoes. On top of this D.O.C Pizza also does a cranking gluten-free vegetarian lasagne worthy of your time.
Peppe's
Bondi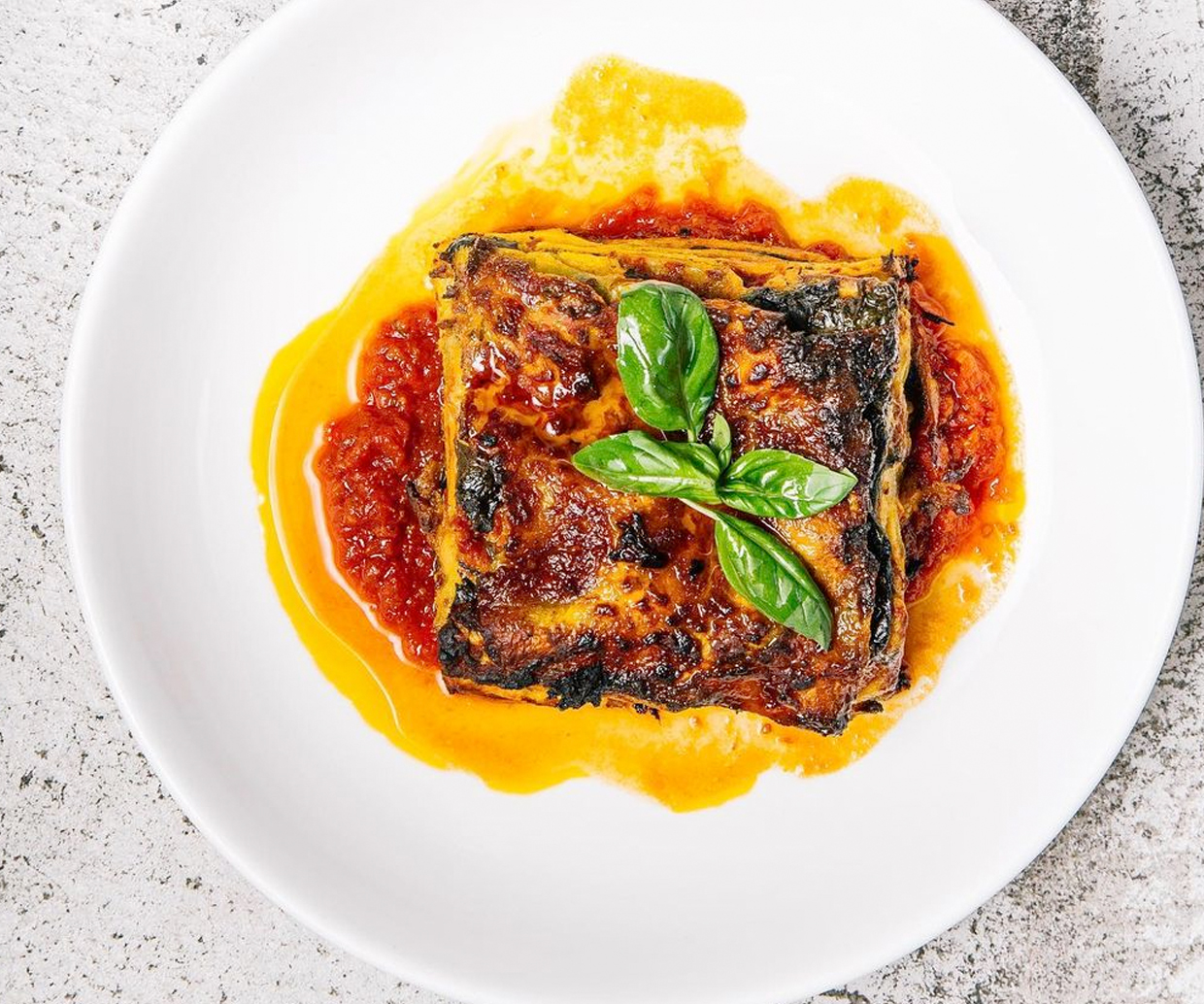 The team at Peppe's plates up a classic lasagne made from 100% vegan and organic ingredients. Here, it's all about using a plant-based bechamel and lots of love (of course). This bad boy went off during isolation times in Sydney, becoming Peppe's top dish.
The classic lasagne is handmade with five layers of fresh pasta and a Pomodoro sauce that gets lightly reduced after being baked—enhancing the umami flavour. The plant-based bechamel is made with organic soy milk, flour and some very good quality EVOO from South Australia, adding to the fresh organic spinach.
Piccolina Hunters Hill
Hunters Hill
If it's a proper homely lasagne you're after—the sort that nonna would make—add Piccolina Hunters Hill to your feasting hit list. Not only do they deliver big trays of tiramisu for when the sweet tooth hits, but the team here, led by sister-act Montana and Madisson Agostino, know how to create an incredible classic beef lasagne too.
"It all starts with a homemade Napoletana sauce, a family recipe from Panarea, a tiny Aeolian Island off the coast of Sicily," says Montana. "We use fresh sheets of egg pasta, and a 12-hour cooked pork and beef ragu. There are many ways to make lasagne, our family recipe has luscious layers of bechamel and three Italian cheeses, it's rich yet so light. Our family tray is generous serving six to eight people."
Montana says Piccolina's lasagne is a big labour of love but in the end, that's what makes it so wholesome to eat. "For us, it's our favourite childhood food memory and it's always so special watching our mother make it. We make it just like her."
The Grounds Of Alexandria
Alexandria
The Grounds' beef lasagne is a wintery must-do. This guy comes ready to heat up at home and is made with organic beef. It comes in both a small portion for one or two, and a large serving that feeds up to size people. You'll also get an heirloom tomato salad and garlic bread with your order, but if you're really hungry, you can add sides to your spaghetti cake, like green beans, caramelised sweet potato or even roast pumpkin pieces. Check it out here.
Still hungry? Check out 19 of the best spots for pasta in Sydney right now.
Image credit: Piccolina Hunters Hill, Caminetto Iliatn Restaurant, D.O.C, Peppe's, Piccolina Hunters Hill, Malcolm P Chapman