There is absolutely no doubt in the world that the dish of the season is a wholesome, cheesy tray of lasagne. Lucky for you, there are a few Sydney venues creating some fine lasagne that's made for savouring cosy nights in.
If it's layers and layers of flat pasta filled with creamy bechamel or ragu you're after, look no further. Below you'll find one-kilogram ready-to-bake lasagne, trays packed with organic beef, and veggie lasagna loaded with four different kinds of cheese.
These are five of Sydney's best lasagne.
Peppe's
Bondi
Using only organic ingredients, this year the team at Peppe's created a massive 1kg tray of lasagna. Like all of Peppe's fare, it's 100 percent vegan, made using a plant-based bechamel and lots of love (of course). This bad boy went off during isolation-times in Sydney, becoming Peppe's top dish. Appearing in a rotation of weekly specials, you can expect everything from a classic filling to an "almost like bolognese" and "almond ricotta and pumpkin" packed with Tuscan kale and walnut mix too.
The classic lasagne is handmade with five layers of fresh pasta and a Pomodoro sauce which gets lightly reduced after being baked—giving it that subtle umami flavour. The plant-based bechamel is made with organic soy milk, flour and some very good quality EVOO from South Australia, adding to the fresh organic spinach. You can nab up these trays of lasagna in two different serving sizes, including the one-kilogram beast made for two.
You can keep updated with the different fillings on Peppe's Insta. Order online here.
Prince Of York
CBD
Not only does Prince of York whip up one of the best "date-night" dinner kits around, but it's also home to one of Sydney's tastiest family-sized lasagna feeds.
"Our lasagne is made with some serious love and passion. It always takes me back to cold lazy days where Mum would sweat all day to make a huge lasagna that would feed our whole family" says Sam Bull, head chef of Prince Of York.
The recipe is inspired by Bull's mum's recipe and it is "big enough to feed a large family," he says. "It will easily feed a family of six, weighing in at over 1.5kg."
Prince of York's lasagne is made with eight-hour San Marzano sauce, fontina fonduta (bechamel made with fontina), braised spinach and silverbeet, four different cheese (ricotta, goats chèvre, Grana Padano, pecorino), dried pasta sheets, salt and pepper and with a little extra "love and passion" adds Bull. Prince of York's veggie lasagna is available again through the venue's "cook at home packs", delivery is on Saturdays and you can pick up at any time. Order yours here.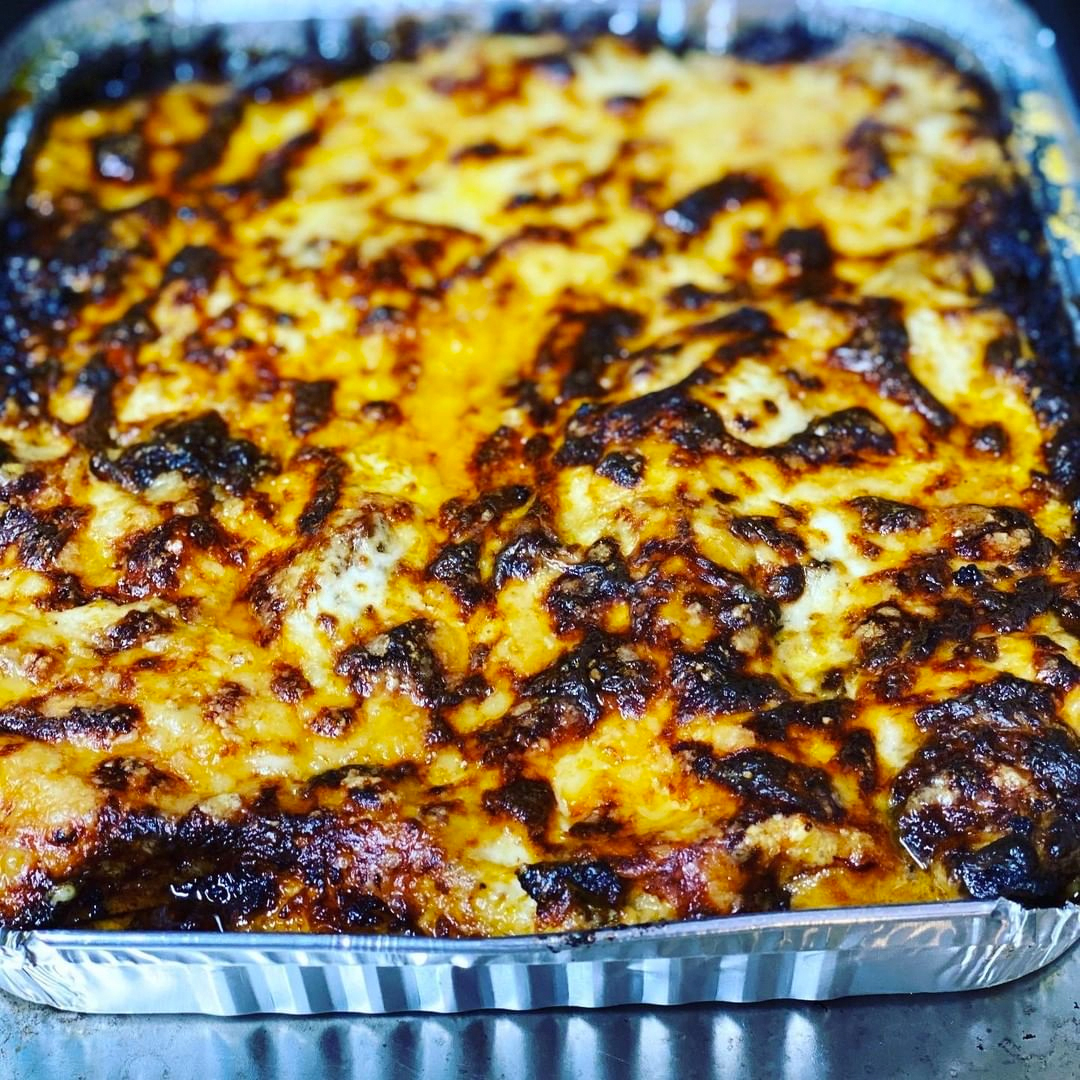 Piccolina Hunters Hill
Hunters Hill
If it's a proper homey lasagne you're after—the sort that nonna would make—add Piccolina Hunters Hill to your feasting hit list. Not only do they deliver big trays of tiramisu for when the sweet tooth hits, but the team here, led by sister-act Montana and Madisson Agostino, know how to create an incredible classic beef lasagne too.
"It all starts with a homemade Napoletana sauce, a family recipe from Panarea, a tiny Aeolian Island off the coast of Sicily," says Montana.
"We use fresh sheets of egg pasta, and a 12-hour cooked pork and beef ragu. There are many ways to make lasagne, our family recipe has luscious layers of bechamel and three Italian cheeses, it's rich yet so light. Our family tray is generous serving six to eight people."
Montana says Piccolina's lasagne is a big labour of love but in the end, that's what makes it so wholesome to eat.
"You have to allow time for the ragu to slow cook, and the Napoletana sauce is only as good as the tomatoes you use. "
"We only use the best and that's San Marzano tomatoes. For us, it's our favourite childhood food memory and it's always so special watching our Mother make it. We make it just like her. Our signature Piccolina Hunters Hill lasagne exudes warmth and no matter where you are, you just feel at home" she says.
There are two serving sizes to try— big or small, and there's a cheesy vegetable lasagne available also. Order here.
The Grounds Of Alexandria
Alexandria
"We thought we were onto an iso brainstorm gem when someone suggested a spaghetti cake," The Grounds recently wrote on their Instagram. "Then we realised that's just lasagna." Shout out to all the people out there who refer to lasagne as spaghetti cake.
Anyway, The Grounds' brand new beef lasagna is a wintery must-do. This guy comes ready to heat up at home and is made with organic beef. It comes in a small (for one to two people) and large serving (which can feed up to six people). You'll also get an heirloom tomato salad and garlic bread with your order, but if you're really hungry, you can add sides to your spaghetti cake, like green beans, caramelised sweet potato or even roast pumpkin pieces. Check it out here.
Buon Ricordo
Paddington
Paddington's Buon Ricordo has long been at the top of the Italian food game in Sydney. This iconic Italian eatery has been feeding lucky diners in Sydney since 1987, with a steady string of A-listers coming through the doors over the years.
Despite witnessing three decades of change (including now), Buon Ricordo is a rare gem that remains dedicated to tradition, unphased by our city's steady tide of food fads and trends. And while they're known for the famous truffled egg pasta, Buon Ricordo's lasagne also deserves a little celebrity too. You'll find it on their new "heat and serve menu" and it'll serve around two people—but we guarantee you'll want to keep the full tray to yourself. Head here for more.
To wash everything down, check out Sydney's best sustainable bottle shops.
Image credit: Piccolina Hunters Hill, Peppe's, Prince of York, Piccolina Hunters Hill, Malcolm P Chapman