It's a big job choosing the best schnitzels in Sydney. Our glorious city is packed with some of the crunchiest, crumbiest and greasiest (in the best way) slabs of the good stuff.
From schnitzels soaked in buttermilk for subtle sweetness, to mammoth servings as heavy as two kilograms and golden beauties that will only set you back a mere $12, Sydney is a schnitty paradise. And fear not, we've taken the best of the best criteria very seriously based on texture, size, variety and succulence. Someone had to do it.
Here are 13 of the best schnitzels in Sydney.
North
The Park House
Mona Vale
If it's Hampton's vibes and an epic crumbed feed you're after—make your way over to Mona Vale's Park House. The menu here is inspired by the classic Aussie pub feast and you can bet your bottom dollar that there's a schnitzel here to keep you crawling back for more. Served up alongside chunky chips, sweet gravy and a crunchy salad, the crumb crunch to juicy chicken ratio is one of the best we've tried. And you'll probably need a minute to decide which of the 40 beers on tap to pair it with too.
The Vicar
Dural
This mega pub is made up of three separate bars and two "districts", but if it's an epic crumbed feed you're searching for, take yourself into the beautiful sports bar (which also serves vino on tap). The "Vicar Chicken Schnitzel" is the way to go, plated up with house slaw, lemon, thin slices of pickles and fries.
The Buena
Mosman
Located on Middle Head Road, The Buena is a lower north shore pub steeped in Sydney history. It recently underwent a mammoth refurbishment, which takes in a refreshed public bar, bistro and brand new gin and whisky bar called Juniper Lane. The Buena is also home to what is, in our opinion, one of the most beautiful schnitzels in Sydney. Why "beautiful," you ask? The house-made schnitty takes things up a notch or three with a herb and parmesan-crusted crumb and trimmings like chewy slaw (which basically melts into your chicken), woodfired gravy and half a lemon to squeeze as you see fit.
East
The Unicorn
Paddington
The schnitzel at The Unicorn has been famed as one of the very best in Sydney—and we'd have to agree. Firstly, your taste buds are in good hands as the same dream team that brought you Mary's is in charge. Here, you'll be able to get your mitts on a Bannockburn chook breast and wing (one of this schnitzel's most defining elements) all served on top of gooey mashed potato that's swimming in a pool of gravy. Should you be more veggie-inclined, choose the panko-crumbed celeriac, mash and veg gravy combo. We recommend ordering a side of potato scallops served up with smoked tomato ketchup to really seal the deal.
Una's
Darlinghurst
If you're ready to step beyond pub schnitzel and into the world of traditional, European style crumbed cuts—Una's should be top of your list. This nostalgic Darlinghurst fixture first opened its doors back in the late 1960s and still plates up a menu that dips its toe into the best flavours of Austria, Germany, Switzerland and Hungary.
The menu features authentic German Jägerschnitzel, a pork cutlet-style schnitty that's drenched with creamy mushroom sauce, rosti and cabbage salad. There's a "gypsy" schnitzel with spicy tomato sauce and all the trimmings and, of course, a good old staple chicken schnitzel for anyone wanting to stick to their guns. And yes, expect the crumbed goodness here to fill the entirety of your plate.
Harpoon Harry
Surry Hills
For old-school feels and an all-day schnitzel feed, your best bet is hitting up Surry Hills' vibrant Harpoon Harry. This heritage-listed hotel boasts speakeasy vibes, which if you ask us, is the perfect atmosphere for downing some crumby goodness. On that front, Harpoon Harry churns out a solid free-range chicken schnitzel served with fresh slaw, crispy fries, a sliver of lemon (of course) and some tangy mustard. You can also step things up a notch and overload your schnitty dish with Harry's iconic peppercorn sauce—it's drinkable.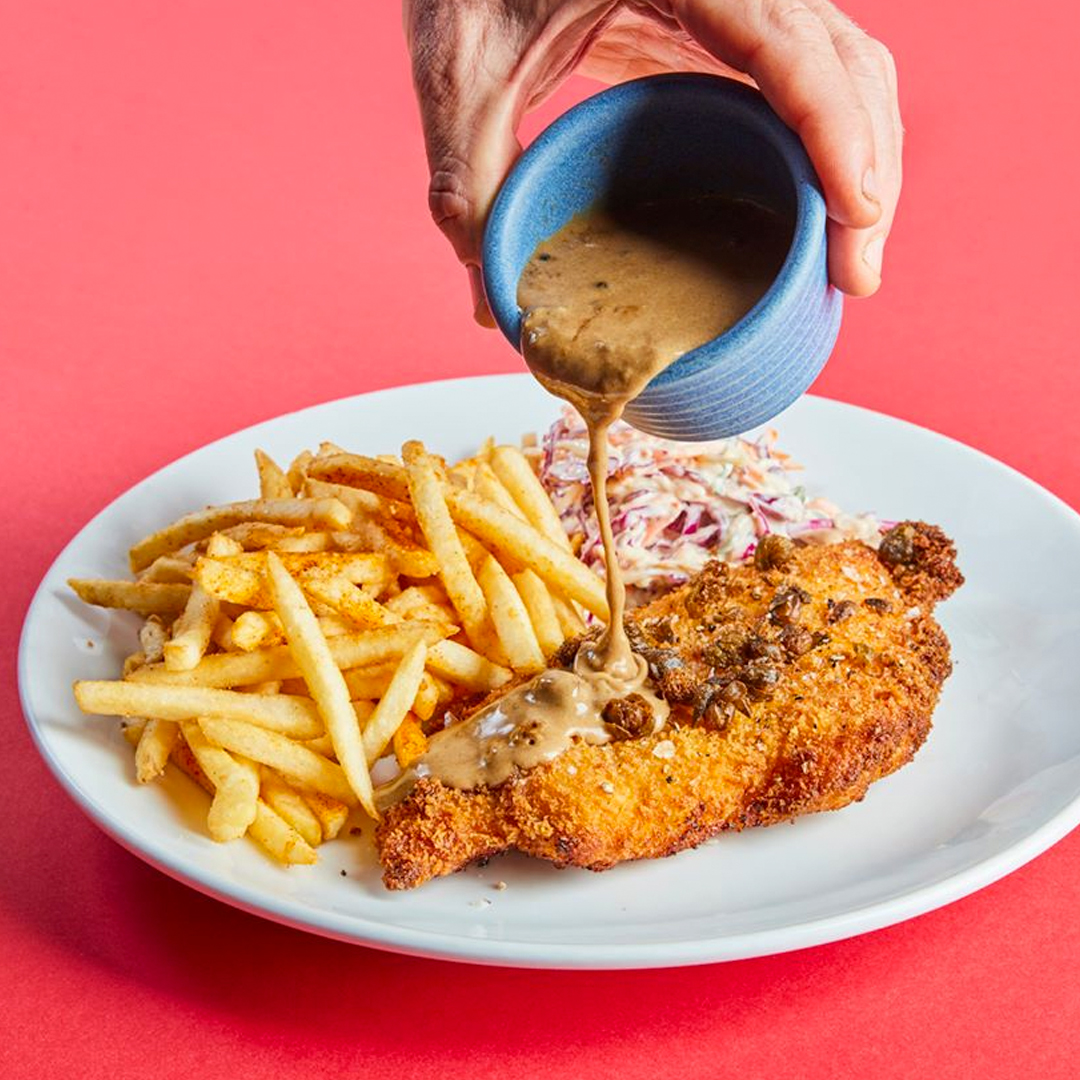 Bund
Barangaroo
Bund is currently closed due to COVID-19 restrictions. Check here for updates.
Bund is quite literally one of Sydney's best-kept secrets and what's better is that the team here whip up a super delicious chicken schnitzel inspired by Shanghai's street food scene. The kung pao chicken schnitzel is a crowd favourite—crunchy to the max and flavoursome, packed with spicy sauce and topped with peanuts. Plus if you hit up Bund between 5pm and 7pm, you'll also score some serious happy hour drinks too (think $12 cocktails and $6 beers and wine).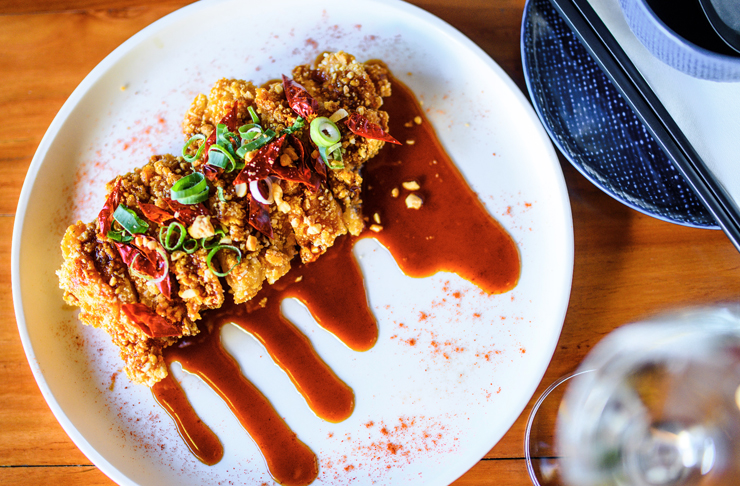 South
Banksia Bistro
Banksia
Heading up the kitchen at Banksia Bistro is Dublin-born chef, Colin Fassnidge (previously at Four In Hand). He's returned to his pub pedigree at Banksia, which means you're in for his brand of hearty, seasonally driven dishes. As for the schnitzel, Fassnidge soaks his chicken in buttermilk, making it extra sweet in the best way possible. It then gets served up with extra silk Paris mash and mushroom gravy.
Ambarvale Hotel
Ambarvale
The Ambarvale Hotel is home to a microbrewery, a lush garden-style atrium, a modern bistro and grill, a sports bar, and one hell of a schnitzel feast. Naturally, the pub classics program here is epic (there's a beer-battered fish and a 1.6kg Tomahawk, for example) but for the holy grail of all chicken affairs, indulge yourself in the Ambarvale's schnitzel. This guy is a tenderly cooked chicken breast and the salty, crumbed coating trickles off like confetti. It's served on a bed of chips, salad and gravy, like all good schnitzels should be.
West
The Toxteth
Glebe
Kickstart your schnitzel safari in Sydney's west, you can't go past the mighty Toxteth (or, "Tocky" if you're here on the regular). Famed for trivia nights, kegs of espresso, classic pub feels, meat raffles and pub feeds, it'll come as no surprise that this institution is home to one of Sydney's best schnitzels. The Tocky takes a no-frills approach with a perfectly crumbed chicken plated over fresh salad, salty chips and a pot of aioli. The real win though? You can score this bad boy for a mere $15 every weekday for lunch.
Pioneer Tavern
Penrith
If you're not here to go light on your schnitzel-induced food coma, then the servings of crumbed goodness at Pioneer Tavern in Penrith are the way to go. It's a go-hard-or-go-home state of mind you'll need with the hand crumbed chicken breast (plated up with big chips and salad) served up in 250g, 350g, or 400g sizes. And take it from us, you'll want to order the gravy and creamy garlic sauce—it's a combo everyone needs to try at least once in their lives.
The Oxford Tavern
Petersham
The good times are always rolling at The Oxford Tavern, especially since the crew here whip up an epic $12 schnitty feed every single Tuesday (all day and all night). Usually the "Oxy Chicken Schnitzel" is built with browned fries (salty to the max), the creamiest slaw around and your choice of gravy, but the changing Tuesday special menu means you could score something along the lines of an Oxy chicken schnitzel topped with American beercan chilli, liquid cheese, onion rings and chives. On top of this, the taps are ever-changing so craft brew fans can wash down their schnitty with local faves and limited releases.
Goni's Schitzeleria
Marrickville
The legends over at Goni's Schnitzelria know how to pack a solid feed. The team here churns out some of the biggest schnitzels in Sydney. Enter the two-kilogram mammoth schnitzel. Yep, that's a hefty serving of crumbed goodness but let's be real, your body is more than ready. You can choose from a plain schnitzel with your choice of meat or veggie add-ons, or (for the more serious schnitty-aficionados) go for the loaded plateful. There's also a classic Aussie take on the good stuff with fried eggs and parsley, a Greek schnitzel with herbed tomato salsa and a Mexican recreation packed with beans, guac and sweet chilli.
Still hungry? Check out the best places to score yum cha in Sydney.
Image credit: The Vicar, The Park House, The Buena, The Unicorn, Harpoon Harry's, Bund, Ambarvale, The Toxteth, The Oxford Tavern