To celebrate our 10th birthday here at Urban List, we're asking you to tell us your top 10 lists over on our Instagram—this week, we turned up to a pub classic and asked you where to find Sydney's best schnitzel.
It's a big job choosing the best schnitzels in Sydney. Our glorious city is packed with some of the crunchiest, crumbiest, and greasiest (in the best way) slabs of the good stuff.
From golden beauties at your local pub to mammoth two-kilo schnitzel stacks, there are many fine schnitties in this city. So, we passed the mic to you guys to tell us where you reckon does the best one.
Here's where to find the best schnitzels in Sydney.
The 10 Best Schnitzels In Sydney, According To You
The Unicorn
Paddington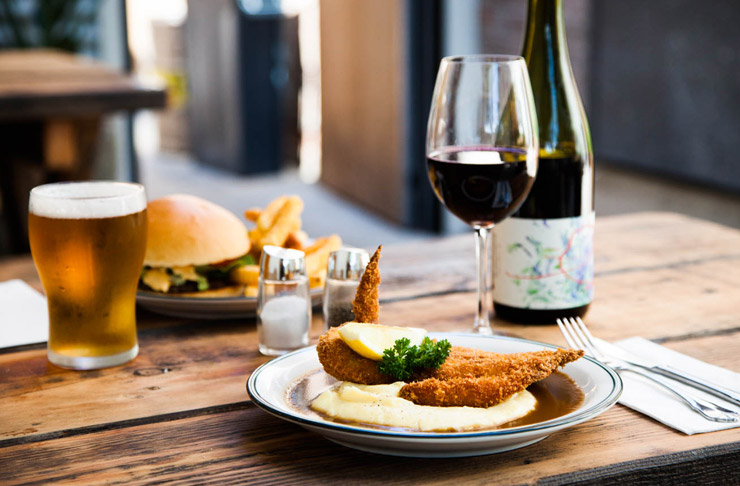 The schnitzel at The Unicorn has been famed as one of the very best in Sydney—and it got a whopping ten votes from you guys (@tara.gasior, @max_porter, @manishahemasingh, @fran_0202, @tothybrothersdeli, @1sya, @katemc6666, @mrpanchy, @jesrkane, and @ttttttiiiiia). And we'd have to agree. Firstly, your tastebuds are in good hands as the same dream team that brought you Mary's is in charge. Here, you'll be able to get your mitts on a Bannockburn chook breast and wing—one of this schnitzel's most defining elements—which come served on top of gooey mashed potato that's swimming in a pool of gravy. The 80s Australiana-themed pub now also serves parmis, too, with the same crunchy crumbed schnit but loaded with ham, a tomato sauce, and cheese and served with chips instead of mash. Book here.
Una's
Darlinghurst
Second on your guys' list is Darlinghurst institution Una's—shout out to @timpiccione, @remiegallian, @raegatmaitan, @jordanprosko, @mandaceru, @spaggy_k @hustlegrit84, and @katherine.fu for picking this German gem. The Victoria Street hole-in-the-wall has been serving Euro-style schnitzels since the late 60s. So if you're ready to step beyond pub schnitzel and into the world of traditional European crumbed cuts, head here. The menu features authentic German Jägerschnitzel, a pork cutlet-style schnitty that's drenched with creamy mushroom sauce, rosti and cabbage salad. There's the Gyspy Schnitzel with spicy tomato sauce and all the trimmings and, of course, a good old staple chicken schnitzel for anyone wanting to stick to their guns. No matter what you order, expect the crumbed goodness to fill the entirety of your plate. Walk in or call 02 9360 6885.
The Oaks Hotel
Neutral Bay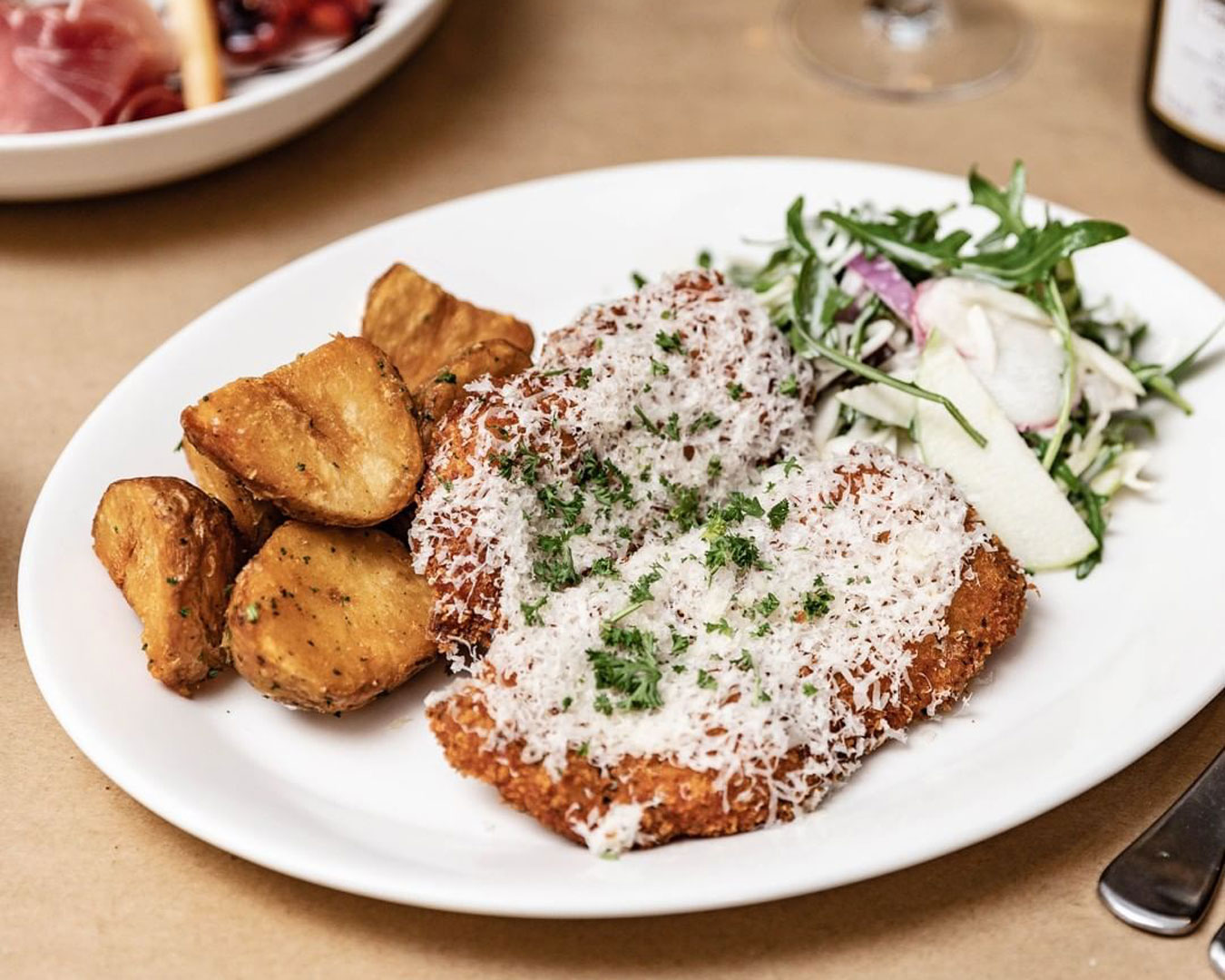 This beautiful Lower North Shore pub is famed for its incredible oak tree, which creates a stunning canopy across the outdoor beer garden, replete with fairy lights. But it's not just the establishment's swish refurb and leafy courtyard that draws the crowds—the pub grub here is worth its salt. And @jordanzdavies and @kurt_alan101 reckon it serves up the best schnitzel in town. The fried delight is a herb-crumbed chicken breast that's dusted with parmesan and served with roasted potatoes, slaw and gravy. Winner winner chicken dinner. Book here.
East Village
Darlinghurst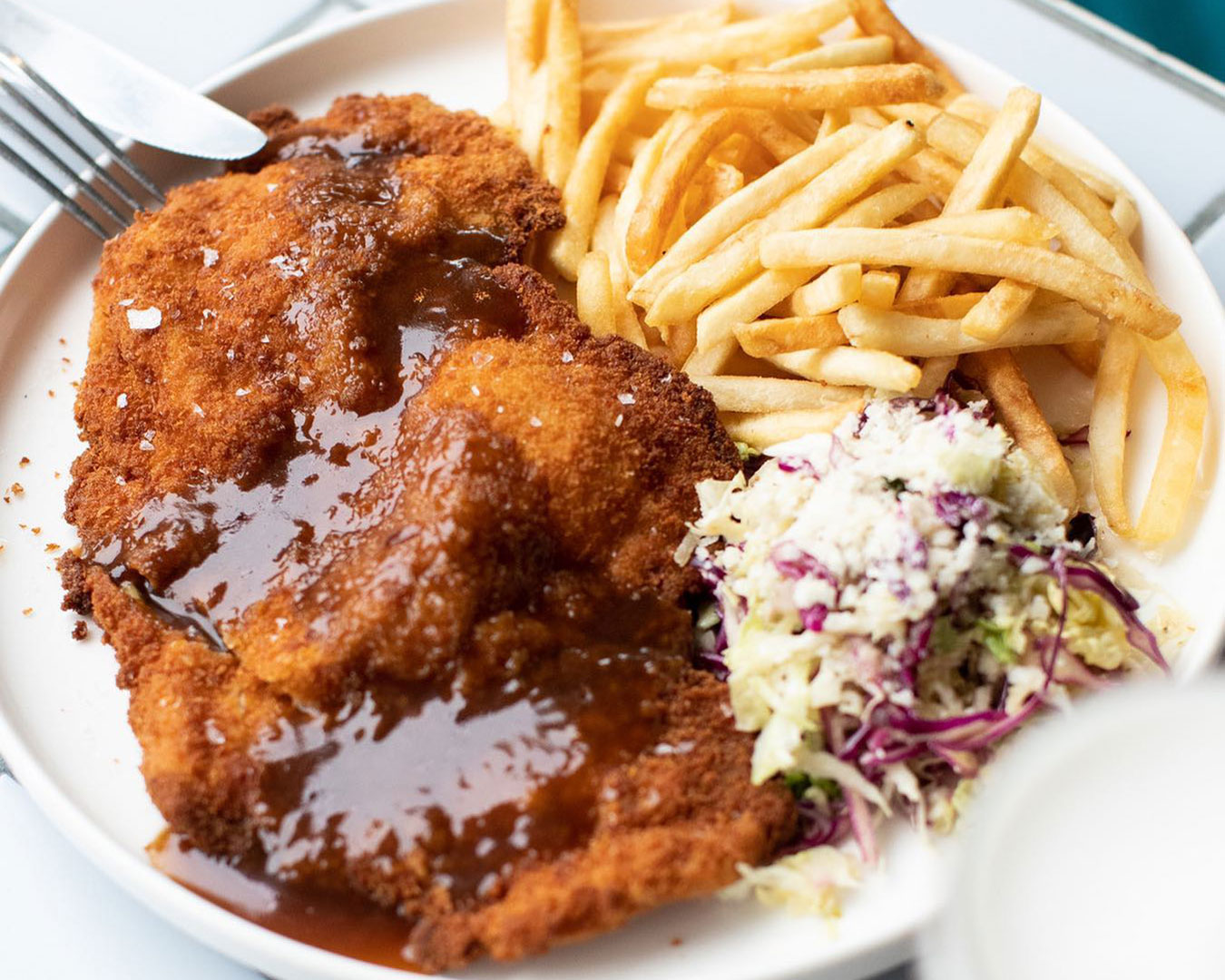 East Village is a 100-year old Darlinghurst watering hole that spans over four levels—and knows how to cook up a good, golden chook according to @luke.warl0w, @cassie.the.cook, @cassiemckechnie_, @alixmurray24, and @snoop.ft.nala. You can get the schnitzel (or parmi if you're that way inclined) wherever you are in the pub, too, whether that's downstairs in the public, sky-high on the rooftop terrace, or settled in at the luxe Athletic Club level. The schnitzel is a parmesan-crusted chook served with coleslaw, shoestring fries and your choice of sauce (gravy, red wine jus, mushroom, green peppercorn, and chimichurri). Book here.
The Nelson Hotel
Bondi Junction
One pub that takes the sauce game to a whole new level is The Nelson in Bondi Junction. Not only do you get a choice of gravy, mushroom, or pepper sauces, but you also get to ladle your own straight onto your plate. No stingy sauce serves or having to stick to one flavour here. And we all know that a schnit isn't the same without being smothered in gravy (or mushroom! or pepper!), which may be why both @tamarasox and @sollylong reckon The Nelson is the top spot for a schnitty. It also helps that the schnitzels here come with a generous serve of chips and fresh salad. Plus, the covered courtyard bistro with a roaring fire is a great spot to settle in for a winter lunch. Book here.
The Erko
Erskineville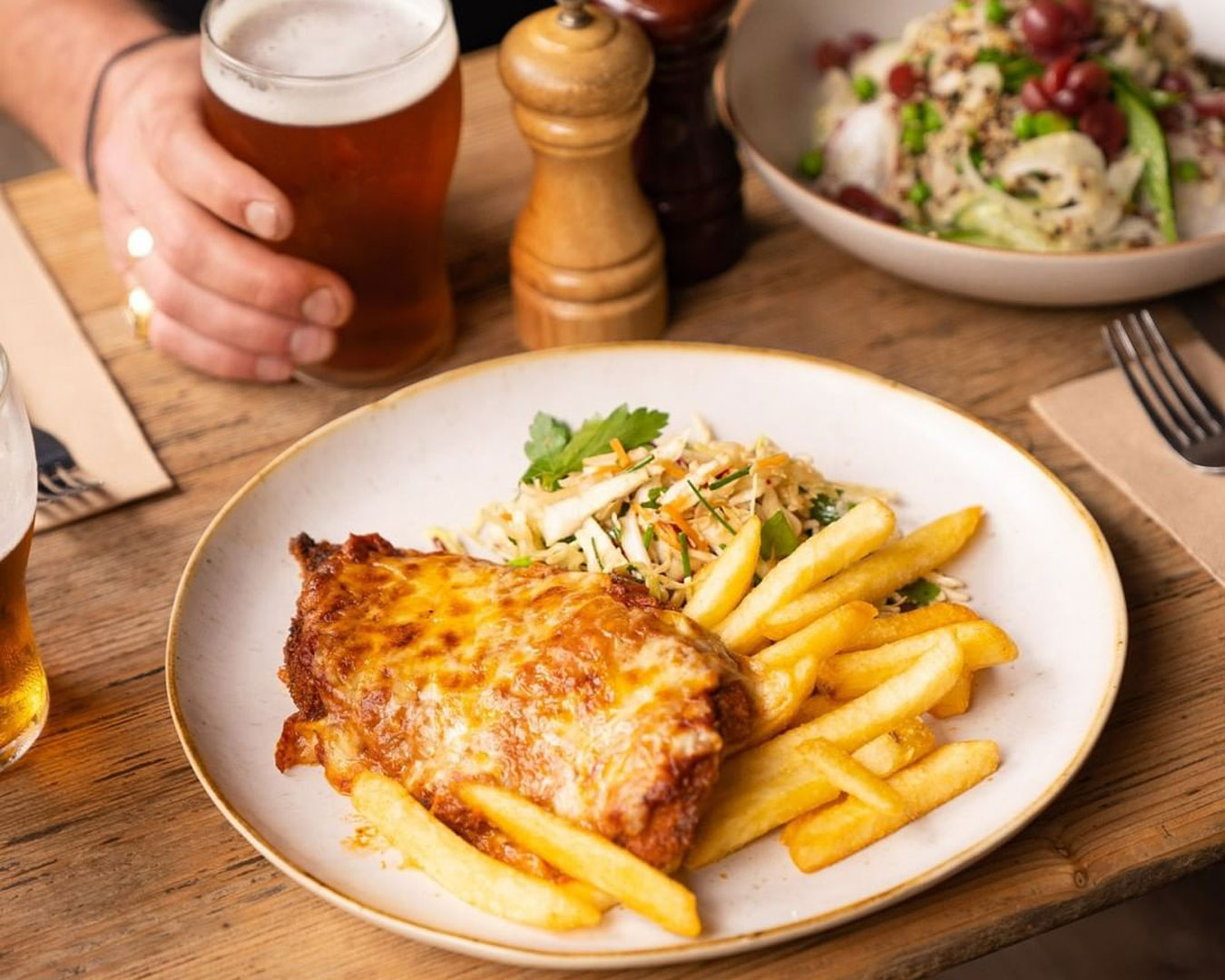 This neighbourhood pub might be known for its epic rotating list of craft brews on tap, but we reckon its pub classics are up there too (and so does @sbrodie15). The Erko's schnitzel is a staple. There's nothing fancy about it, but it delivers with its crispy crumb, salty chips, tangy slaw and a sauce of your choice. Oh, and it's dog-friendly, so you can bring your best friend along—or pat all the cute pooches hanging out there. Book here.
White Cockatoo Hotel
Petersham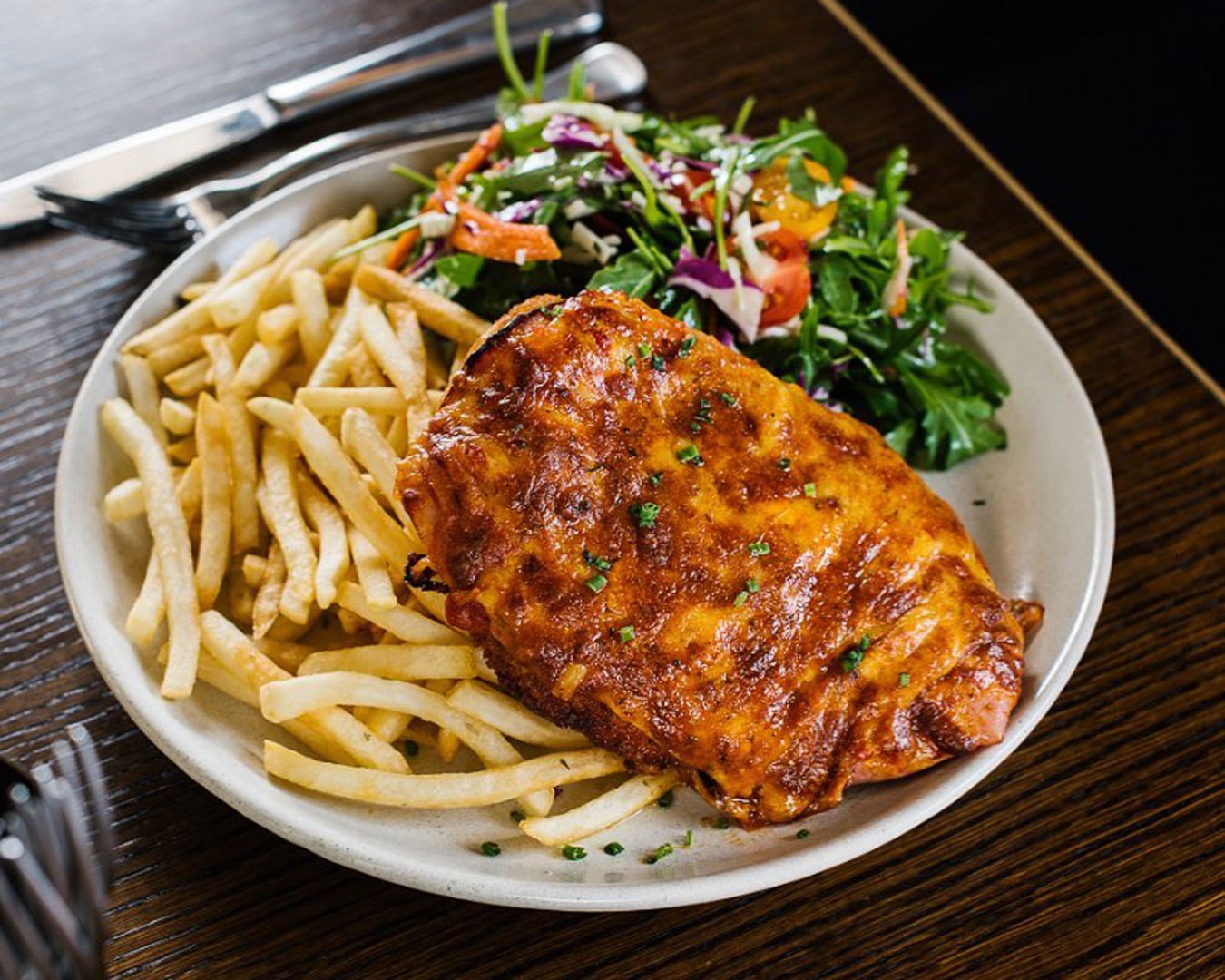 This Inner West local dishes up good ol' fashioned pub grub in its corner location right by Petersham train station. And while you could order the grilled sirloin, cheesy brisket lasagne, or a stacked buttermilk chicken burger, @abbyvdv reckons the go is the schnitty. The no-nonsense chicken schnit comes with fries and salad or veggies and your choice of gravy or peppercorn sauce on the side. We love them options. Don't eat meat? No dramas, because The White Cockatoo also does an eggplant parmi loaded with tomato sugo, creamy fior di latte, and parmesan. Book here.
The Goni's Schnitzelria
Ramsgate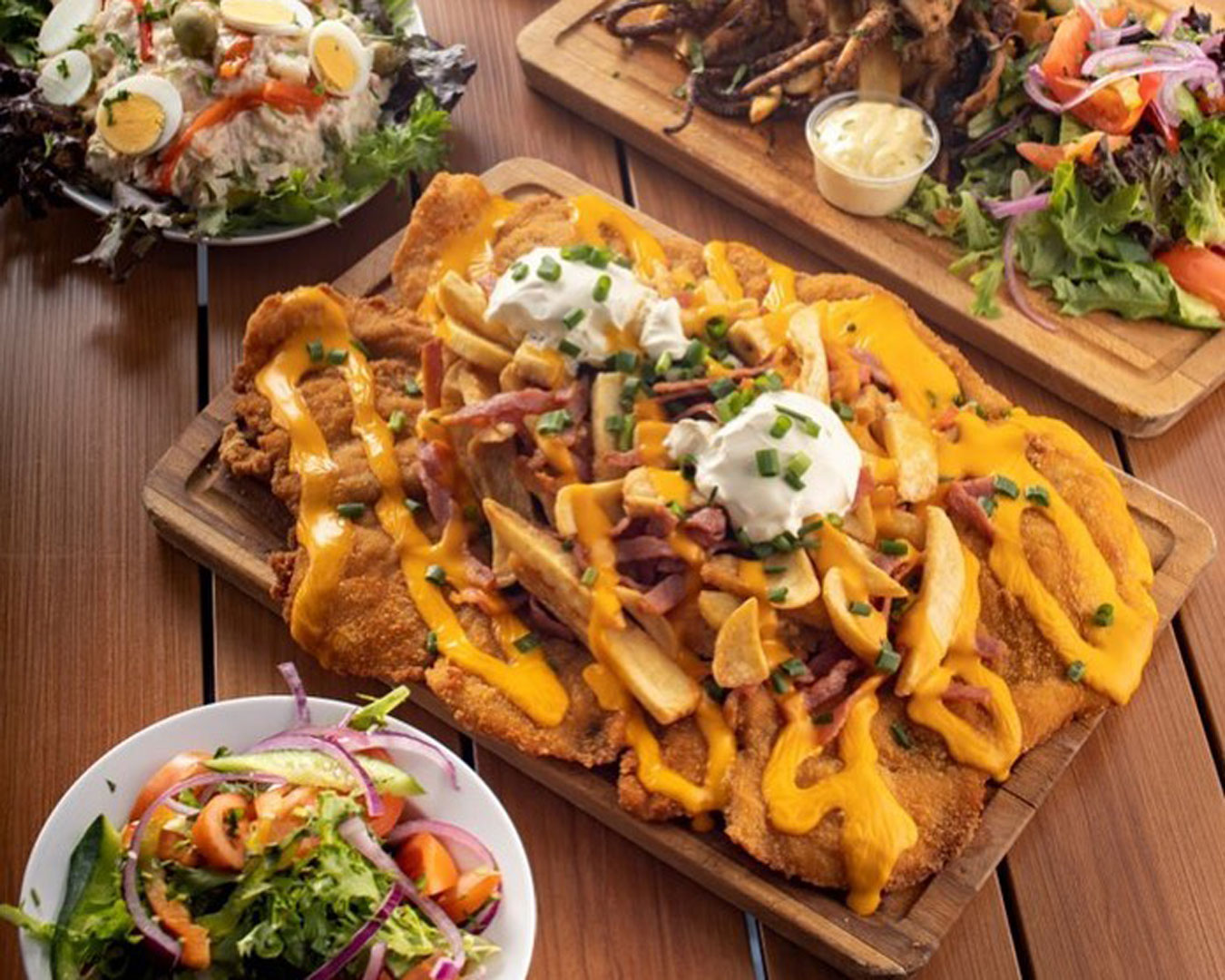 The legends over at The Goni's Schnitzelria know how to pack a solid feed. The team here churns out some of the biggest schnitzels in Sydney. Enter the two-kilogram mammoth schnitzel. Yep, that's a hefty serving of crumbed goodness but let's be real, your body is more than ready. You can choose from a plain schnitzel with your choice of meat or veggie add-ons, or (for the more serious schnitty-aficionados) go for the loaded plateful. There's also a classic Aussie take on the good stuff with fried eggs and parsley, a Greek schnitzel with herbed tomato salsa and a Mexican recreation packed with beans, guac and sweet chilli. Cheers to @evey_almeida for giving this one some love. Book here.
Redoak Boutique Beer Cafe
CBD
Love a good craft brew? Then head on down Redoak Brewery's beer cafe in the CBD for an ice-cold schooner paired with a crunchy schnitzel. Yep, @sallywalshh reckons it doesn't get much better than that and they're not wrong. There are more than 20 beers to choose from, including pale ales, lagers, stouts, and bitters. And as for the schnitzel? It comes with salad and just. Yep, you read that right—no chippies. And while we reckon sans chips is controversial, you can order a side of the rustic-style chips that come with a beer-infused aioli. Book here.
21 Espresso
Double Bay
This family-run Hungarian and Euro-centric restaurant first opened its doors way back in 1958. Yep, this place is old school—and @jacquiprl, @thebbguide, and @jack_weinert reckon the schnitzels here are second to none. If you can never decide between chicken or veal, have both at 21 Espresso (especially since they're both so tender). Warning for the indecisive though: there's a long list of sides to choose from, and it's pretty tough to pick. Book here.
More Of The Best Schnitzels In Sydney
The Vicar
Dural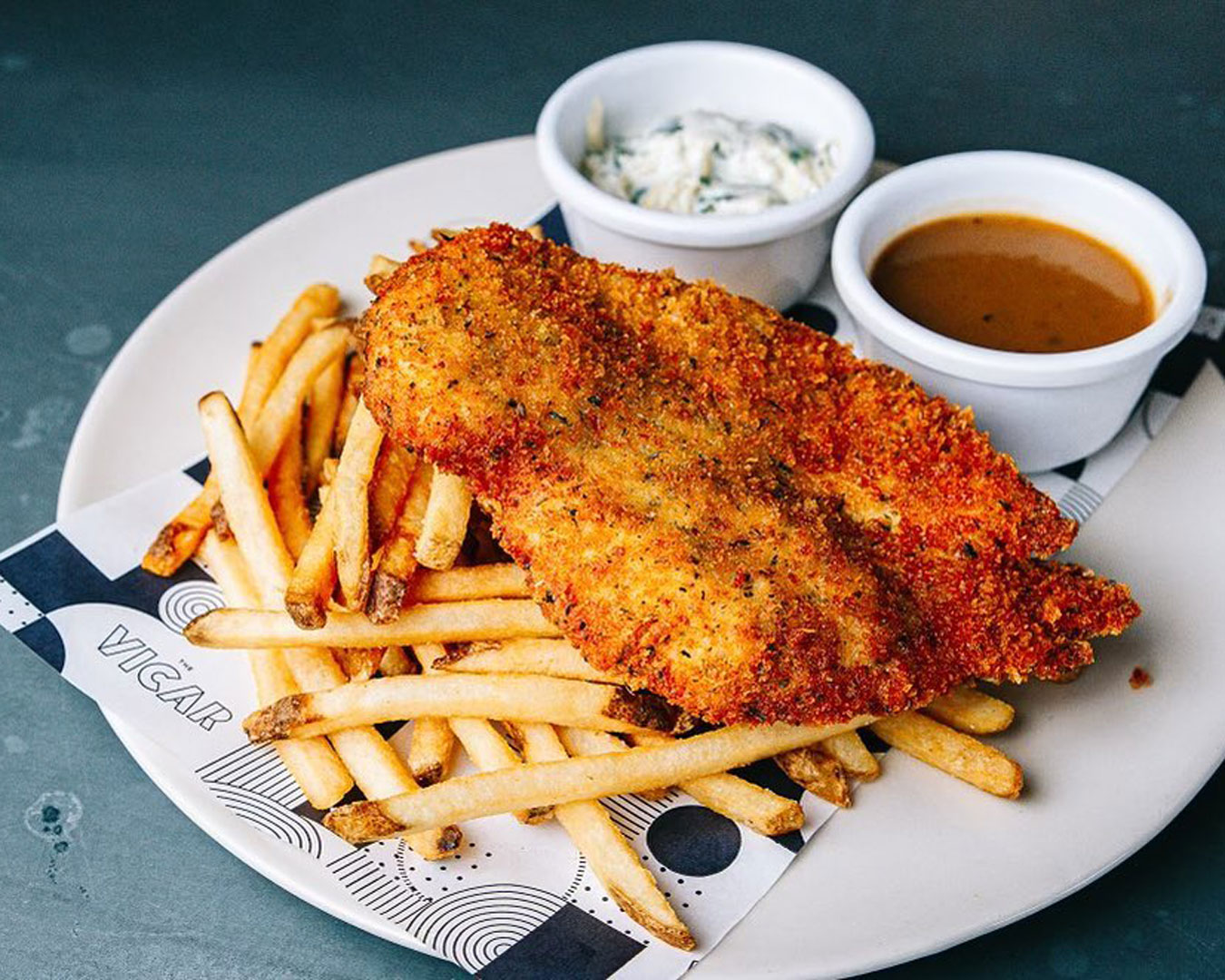 This mega-pub is made up of three separate bars and two "districts", but if it's an epic crumbed feed you're searching for, take yourself into the beautiful sports bar (which also serves vino on tap). The "Vicar Chicken Schnitzel" is the way to go, plated up with house slaw, lemon, thin slices of pickles and fries. Book here.
Park House
Mona Vale
If it's Hampton's vibes and an epic crumbed feed you're after—make your way over to Mona Vale's Park House. The menu here is inspired by the classic Aussie pub feast and you can bet your bottom dollar that there's a schnitzel here to keep you crawling back for more. Served up alongside chunky chips and a herb and fennel salad, the crumb crunch to juicy chicken ratio is one of the best we've tried. And you'll probably need a minute to decide which of the 40-odd beers on tap to pair it with too. Book here.
The Buena
Mosman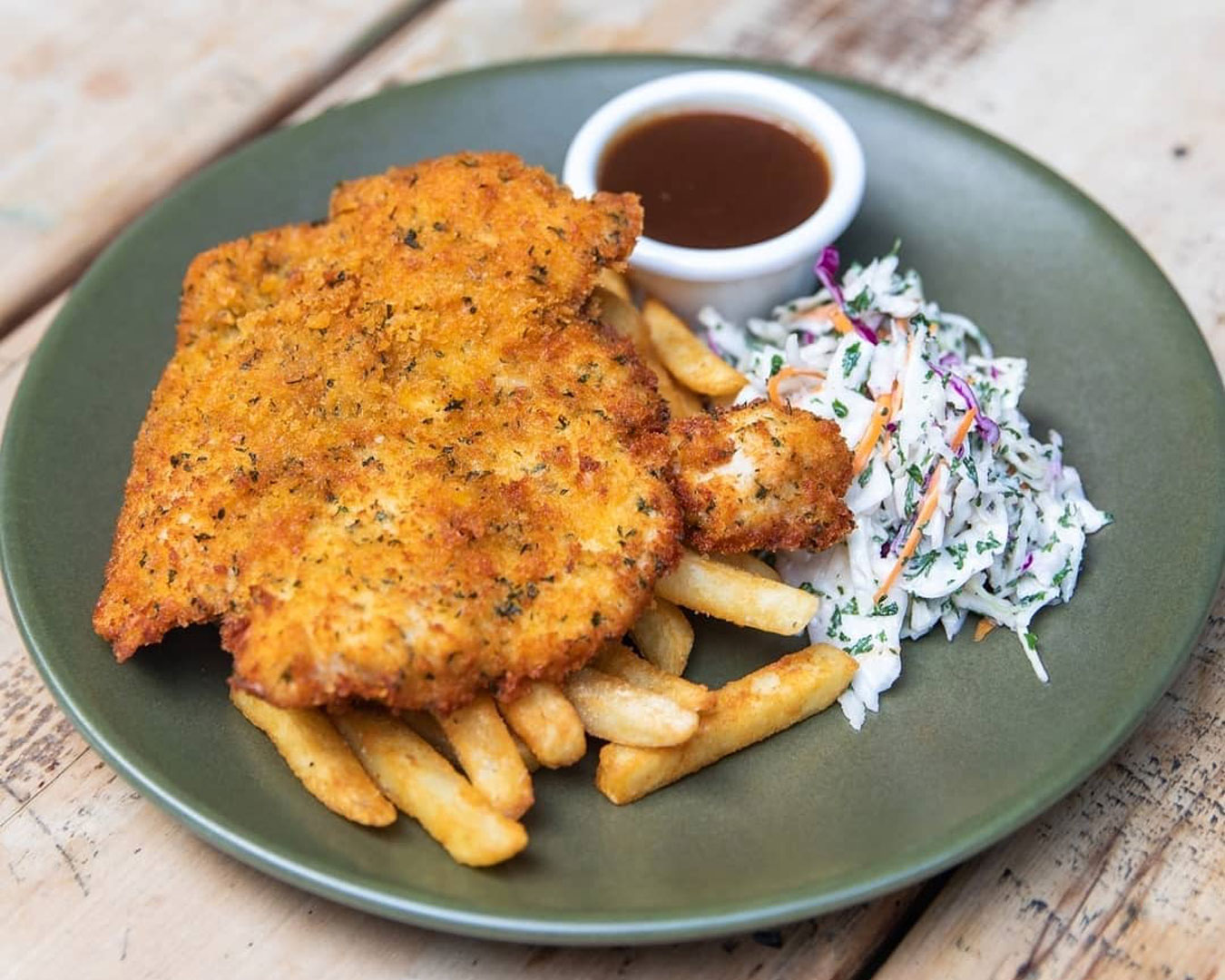 Located on Middle Head Road, The Buena is a Lower North Shore pub steeped in Sydney history. It underwent a mammoth refurbishment, which takes in a refreshed public bar, bistro and brand new gin and whisky bar called Juniper Lane. The Buena is also home to what is, in our opinion, one of the most beautiful schnitzels in Sydney. Why "beautiful," you ask? The house-made schnitty takes things up a notch or three with a herb and parmesan-crusted crumb and trimmings like crunchy slaw (which basically melts into your chicken), woodfired gravy and half a lemon to squeeze as you see fit. Book here.
Hotel Harry
Surry Hills
For old-school feels and an all-day schnitzel feed, your best bet is hitting up Surry Hills' vibrant Hotel Harry. This heritage-listed hotel boasts speakeasy vibes, which if you ask us, is the perfect atmosphere for downing some crumby goodness. On that front, it churns out a solid free-range chicken schnitzel served with fresh slaw, crispy fries, and a wedge of lemon (of course). You can also step things up a notch with gravy or overload your schnitty and make it a parmi. Book here.
Banksia Bistro
Banksia
Heading up the kitchen at Banksia Bistro is Dublin-born chef, Colin Fassnidge (previously at Four In Hand). He's returned to his pub pedigree at Banksia, which means you're in for his brand of hearty, seasonally driven dishes. As for the schnitzel, Fassnidge soaks his chicken in buttermilk, making it extra sweet in the best way possible. It then gets served up with chips, slaw, and mushroom gravy. Walk in or call the bistro at 02 9567 6389.
Ambarvale Hotel
Ambarvale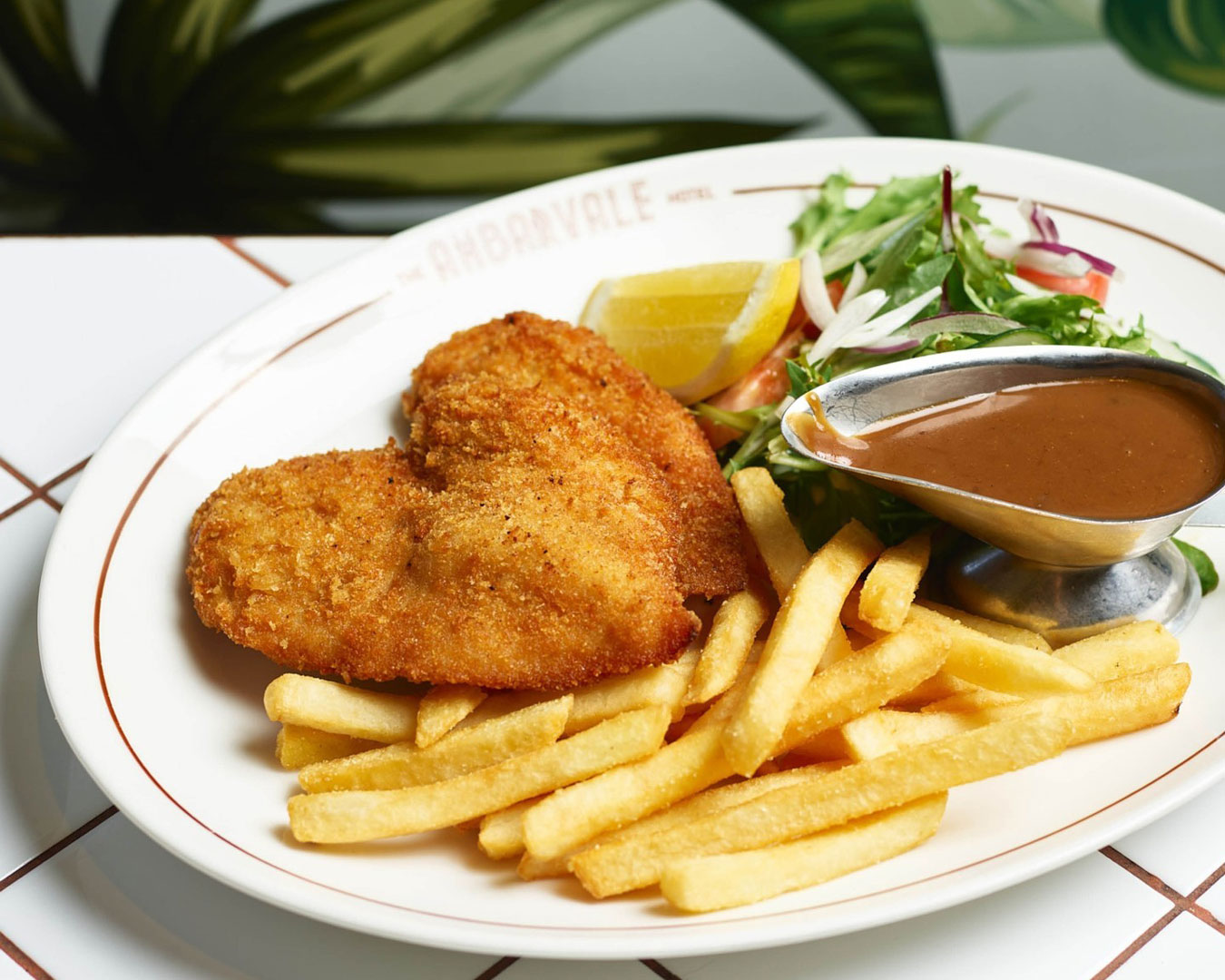 The Ambarvale Hotel is home to a microbrewery, a lush garden-style atrium, a modern bistro and grill, a sports bar, and one hell of a schnitzel feast. Naturally, the pub classics program here is epic (there are six different steaks, for example) but for the holy grail of all chicken affairs, indulge yourself in the Ambarvale's schnitzel. And there are two to choose from—the chicken schnit and the pork one, both of which come with a parmesan and herb crumb. Book here.
The Toxteth
Glebe
Kickstart your schnitzel safari in Sydney's west and you can't go past the mighty Toxteth (or, "Tocky" if you're here on the regular). Famed for trivia nights, kegs of espresso, classic pub feels, meat raffles and pub feeds, it'll come as no surprise that this institution is home to a great schnitzel. The Tocky takes a no-frills approach with a perfectly crumbed chicken plated over your choice of mash, salad, fries, or veg. Plus, you can smother it in jus, mushroom sauce, pepper sauce, or a drool-worthy bistro butter. Book here.
Pioneer Tavern
Penrith
If you're not here to go light on your schnitzel-induced food coma, then the servings of crumbed goodness at Pioneer Tavern in Penrith are the way to go. It's a go-hard-or-go-home state of mind you'll need with the crumbed chicken breast (plated up with big chips and salad) served up in 250g, 250g, or 400g sizes. And take it from us, you'll want to order the gravy and creamy garlic sauce—it's a combo everyone needs to try at least once in their lives. Book here.
The Oxford Tavern
Petersham
The good times are always rolling at The Oxford Tavern, especially since the crew here whip up an epic $12 schnitty feed every single Tuesday (all day and all night). The Oxy Chicken Schnitzel is built with browned fries (salty to the max), the creamiest slaw around and your choice of sauce. Or, you can opt for the veg-friendly eggplant version. On top of this, the taps are ever-changing so craft brew fans can wash down their schnitty with local faves and limited releases. Book here.
Still hungry? Check out the best places to score yum cha in Sydney.
Image credit: The Vicar, The Unicorn, The Oaks, The Erko, White Cockatoo Hotel, Goni's Schnitzelria, The Vicar, The Buena, Ambervale Hotel