Dessert. There's no denying our affection towards it. So, here's to another run of Sydney's best of the good stuff and this time, we're coming in (flamin') hot with the dessert that puts all other desserts to rest, the craking crème brûlée.
Creamy, crunchy, silky, and sweet—this burnt pot of deliciousness (crème brûlée quite literally meaning "burnt cream") is everything you could want in a sweet fix and more. Rarely the tip-off to put you in a food-coma, this little guy has had quite a journey rising to fame in the hospitality world, only really slinging to the forefront of white-tablecloth restaurants as early as the 80s and marking a new era of fine (dessert) dining.
Here's where to find the best crème brûlée in Sydney.
Bistro Papillon
CBD
Bistro Papillon is the brainchild of two Frenchmen who, about 10 years ago, were knocking back glasses of vino in Bath and decided it was their absolute destiny to open a French restaurant in Sydney like no one had seen before. Fast forward to now and Bistro Papillon is a Clarence Street staple paying homage to the classic and simple cuisine of la République Française. Without a doubt, these guys whip up a crème brûlée just as the universe intended it—creamy, crisp and tasting like absolute luxury.
Bistro Papillon is open for takeaway and delivery. You can order here.
La Guillotine French Restaurant
CBD
For your dose of time travel back to the likes of the Kingdom of the Franks, La Guillotine French Restaurant is up there as one of the oldest French restaurants in Sydney. Having opened back in the 60s as a traditional French omelette house, this little slice of Paris has been known to play Edith Piaf and Charles Aznavour on repeat (as is expected). The menu is full of French favourites like pâté, onion soup, escargot, moules marinieres and, you guessed it, a crème brûlée that's hard to beat. The caramelised pot of gold here is made with Grand Marnier, an orange-flavoured liqueur, giving the dessert a bitter kick.
La Guillotine French Restaurant is open for curbside pick-up. You can order here.
Bistro Cocotte
Haberfield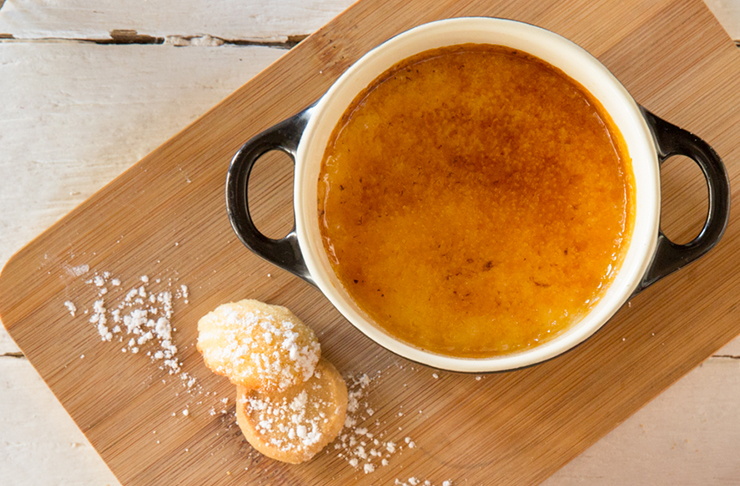 If there are two words that go hand in hand to describe Bistro Cocotte, they would be elegant and rustic. Owned by Jay Kim (who doubles as Bistro Cocotte's head chef and also has a casual Cordon Bleu degree), you'll find a delectable range of French desserts here including tarte tatin, soufflé, and fondant au chocolat. On the crème brûlée side of things, you'll find a seasonal twist on the enduring staple.
"Our crème brûlée recipe is a very classic recipe," says Kim. "But to enhance the flavour, we add some fruit jam, seasonally changing paste, nuts or even liquor."​ Vanilla bean gets used to make the silky custard which lies beneath an ombre cast of caramelised sugar crust. The "crack" factor on this one is unbelievably delicate, with shards of sugar practically melting instantly into the dessert's pearly body. Take it from us, you'll want to order two of these.
Bistro Cocotte is currently open for takeaway. You can order here.
Felix
CBD
It's the one place in Sydney that could absolutely pass as the backstreets of Saint-Germain or Canal Saint-Martin. Before we crack into the flawless crème brûlée at Merivale's Felix, it has to be said—the decor here is tres magnifique. From the imported French chandeliers and the bone subway tiles to the full-blown pewter bar and blush antique-style tassel lamps, no stone has gone unturned. While we could continue on our appreciation spree for the interiors of Felix (there's also a glorious bread rack filled with baguettes and sourdough), we know you're particularly excited for the crème brûlée. The pudding-like beauty here is a vanilla take with pistachio crumble and mandarin sorbet and it will just change your life.
Felix is temporarily closed.
Mordeo Bistro & Bar
CBD
The brief was the best of eats of the Mediterranean and Mordeo Bistro & Bar knows a thing or two about plating up tapas, hand-stretched pizza, and fresh pasta made daily. While the pasta and panini bar are deservedly a rite of passage, so too is the crunchy crème brûlée. Made with vanilla and cantuccini (Italian almond biscuits), this guy is a major contender in the line-up of Sydney's best crème brûlée.
Mordeo Bistro Bar & Bar is temporarily closed.
Here's where you can find Sydney's best cannoli too.
Image credit: Mordeo Bistro & Bar, Bistro Papillon, Bistro Cocoette