Doughnuts (or donuts, if you're being lazy) are available in many forms and sizes around the world. In our opinion, these sweet fried bread delicacies are definitely one of the best desserts out there.
As for where to find Sydney's best doughnuts, well—naturally we've done the hard work for you. From classic Simpsons-style pink-iced doughnuts to totally outrageous and wild flavour pairings, Greek doughnuts, vegan doughnuts and even gluten-free doughnuts, we've found the tastiest this city has to offer.
Here are the best doughnuts in Sydney right now,.
Don't Doughnuts
Darlinghurst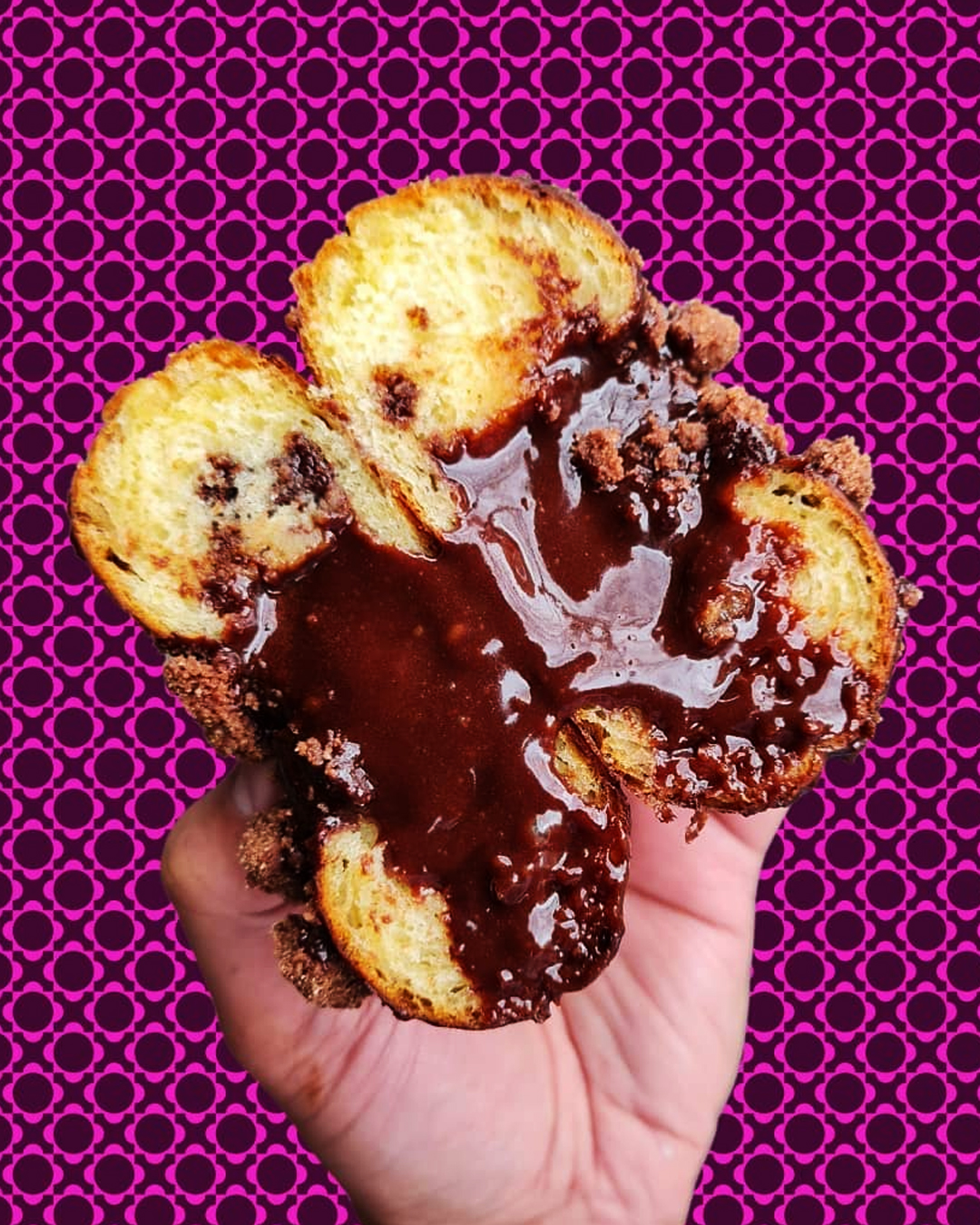 It goes without saying that Sydney has a major obsession with doughnuts of all shapes, sizes and flavours, which is why it's always good news that a new doughnut joint has opened. Don't Doughnuts is one of the newer kids on the block here, setting up shop on Victoria Street in Darlinghurst. The idea here is small-batch doughnuts, but not just any kind of doughnuts—a tasty halo hybrid of sourdough and brioche. The result is fluffy rings topped with Madagascar vanilla bean glaze, Iranian pistachio, macadamia caramel, and dulce de leche with salty cream.
If that hasn't already got you wiping the drool from the side of your face, Don't Doughnuts also specialises in a sling of whacky doughnuts for the brave and hungry. You'll also find a Vegemite and butterscotch combo, a doughnut stuffed with Basque burnt cheesecake filling, and a coconut charcoal meringue creation. There are limited-run doughnuts every week.
Grumpy Donuts
Camperdown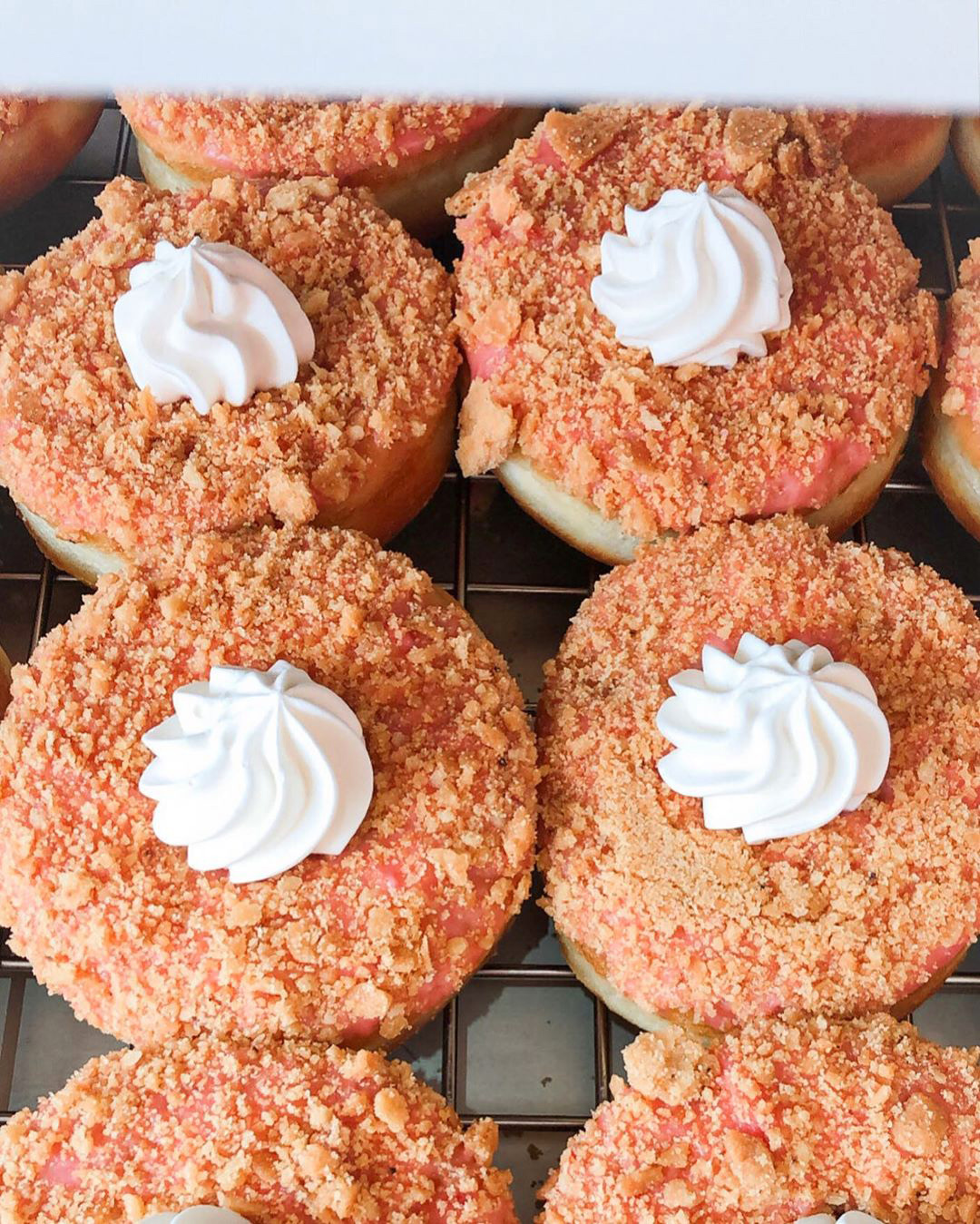 Elise Honeybrook and her partner Scott Clark named Grumpy Donuts after two very special members of their family: their adorable Brussels Griffon dogs and their very grumpy faces.
"Our drive to provide consistent quality and solid flavours are the secret ingredients that go into making our doughnuts so special," Honeybrook explains. Don't be surprised if you find that the cookie toppings and custard fillings are made entirely from scratch by the talented team.
Currently working on their upcoming September birthday specials, doughnut lovers can expect limited merch, exciting new flavours and a party to commemorate the day Grumpy Donuts came into being.
Donut Papi
Redfern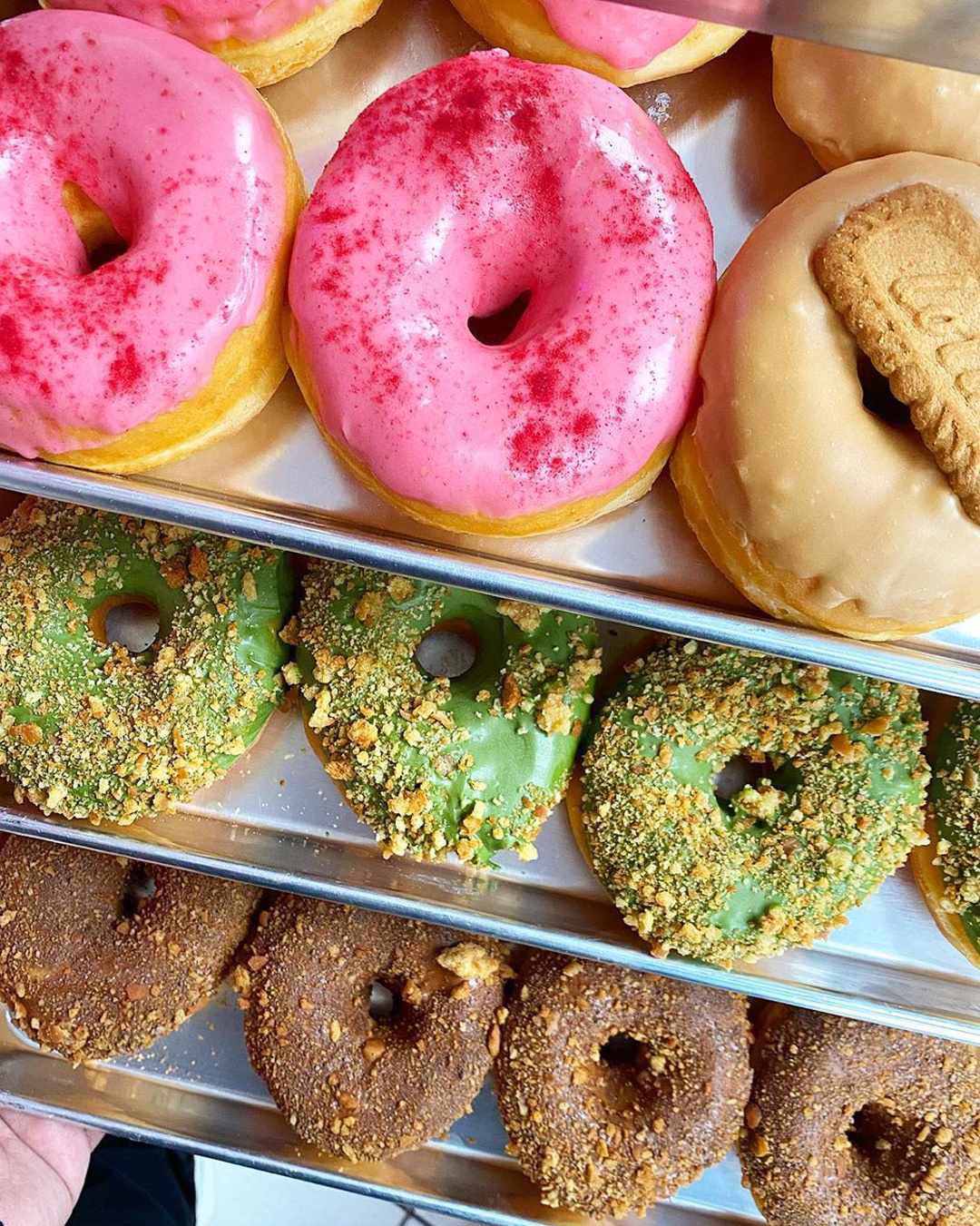 This Filipino-inspired doughnut shop is an homage to owner Kenneth Rodrigueza's dad, who bought him doughnuts almost every day growing up. In 2015, feeling like he was unable to find any amazing dedicated doughnut stores, Rodrigueza decided this was a problem that he could solve. Playing around with the recipes and changing his Instagram name to Donut Papi (inspired by Drake's Insta handle @champagnepapi) was the first step. With a new concept store and multiple collaborations, Donut Papi shows no signs of slowing down.
When asked what makes his donuts so special, Rodrigueza tells us that they are always excited to try new things which makes them so unique. "We have crazy ideas in our head and we want to execute it in a way where it's relatable and something new for people to try. Sydney-siders are a diverse bunch of people and are adventurous enough to try new things. Filipino flavours are a reflex for me and I love sharing my traditional food knowledge and pairing them with new doughnut flavours."
Keep an eye out for Donut Papi's new and upcoming projects too—like Pudgy Is Vegan, a 100 percent vegan version of Donut Papi. It's currently popped up at the Redfern shop, Wednesday through Sunday and flavours on the menu include things like Lotus Biscoff glaze, glazed apple fritter and matcha and vegan white choc.
Rodrigueza also gave us the lowdown on his latest doughnut concept store called Donut Papito. Here, the focus is on filled doughnuts or "bombos". Inspired by Italian bombolonis, these doughnuts have Filipino-inspired fillings including our classic ube cream custards, pandan, Biscoff, matcha, Leche flan and more.
Nutie
Balmain And Surry Hills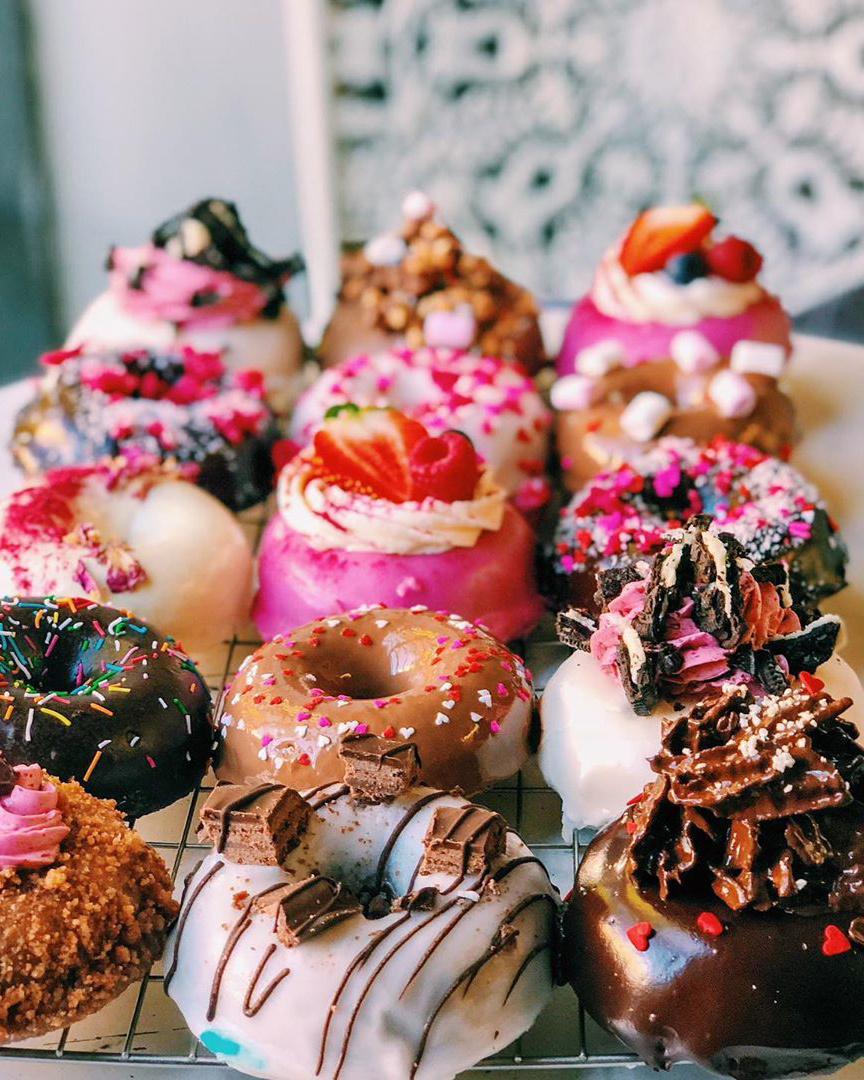 Taking hole foods to another level (see what we did there), these baked, fluffy cake-like doughnuts are fun and allergy-friendly, making it easy for everyone to eat, love and enjoy together.
Nutie's doughnuts are mostly gluten-free and completely vegan, made from high-quality ingredients and nut flours, which led to the name Nutie. From homemade vegan white chocolate to shiny meringue made from chickpea water and their signature fluffy marshmallows, the team knows how to have fun in the kitchen.
"We've become really good at challenging ourselves and our team and feel like there are no restrictions [when it comes to] making plant-based treats. Baking gluten-free can be a bit harder and limiting sometimes, but we have a huge amount of baking tricks up our chef jacket sleeve by now," explains owner and chef at Nutie, Sina Klug.
If you're looking for something more indulgent, try Nutie's newly launched gluten-free and vegan, traditional yeast-raised doughnut. These guys are fried to order and served hot every Friday and Saturday from 11 am at their Balmain shop until sold out. We also love the sneaky doughnut ball cups topped with mountains of caramel sauce, banana and other sweet, sticky treats.
Shortstop
Barangaroo And Darling Square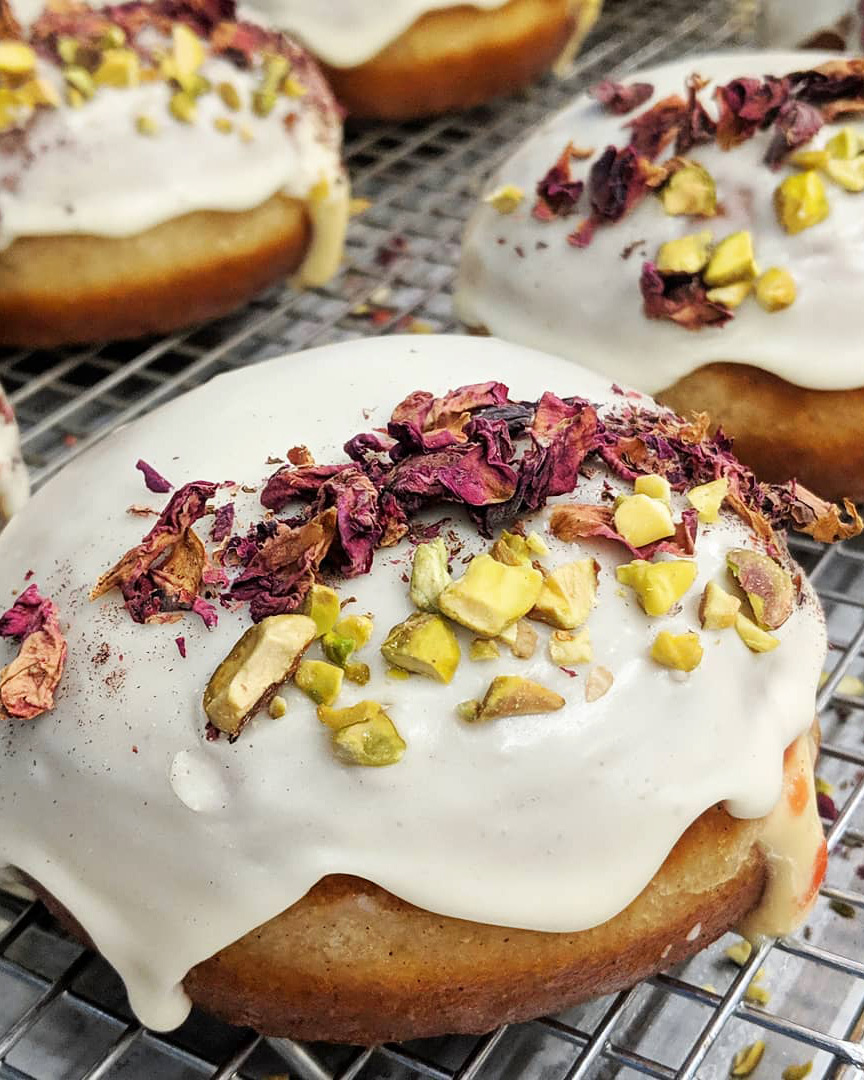 This cult Melbourne-based doughnut store drifted up to Sydney in 2016 and thank goodness it did. Using beautiful, local ingredients like pure vanilla bean, cultured butter and seasonal fruit, Shortstop doughnuts are made from scratch and in small batches throughout the day so you'll always get to sample them fresh.
"Shortstop" is a baseball reference—the captain of the infield and the player that guards the all-important spot between the third baseman and the second base bag. The name is both a nod to the origin of the North American style doughnuts.
In terms of the flavours, Owner Anthony Ivey says the decisions are purely selfish. "The reason Shortstop exists is because we wanted to create our ideal coffee and doughnut bar. The same goes for our doughnut flavours—we create doughnuts that we want to eat. Every doughnut goes through weeks of trials and iterations until we get it to a point that it is ready to be shared with our guests".
As well as some supremely inventive flavours, Shortstop prides itself on service and the people behind the scenes. Ivey says he is blessed to have such an amazing team of hospitality professionals in each of his stores and credits everyone's love for Shortstop as a reflection of the care and dedication of the Shortstop crew.
A little COVID-19-inspired innovation led the team to start doughnut deliveries and there's also a new subscription service in the works called "The Donut Tasters Club". Club members will get their sweet tooth vibing with the chance to try new flavours first, with a six-pack on the first Friday of every month. Sign. Us. Up.
Comeco Foods
Newtown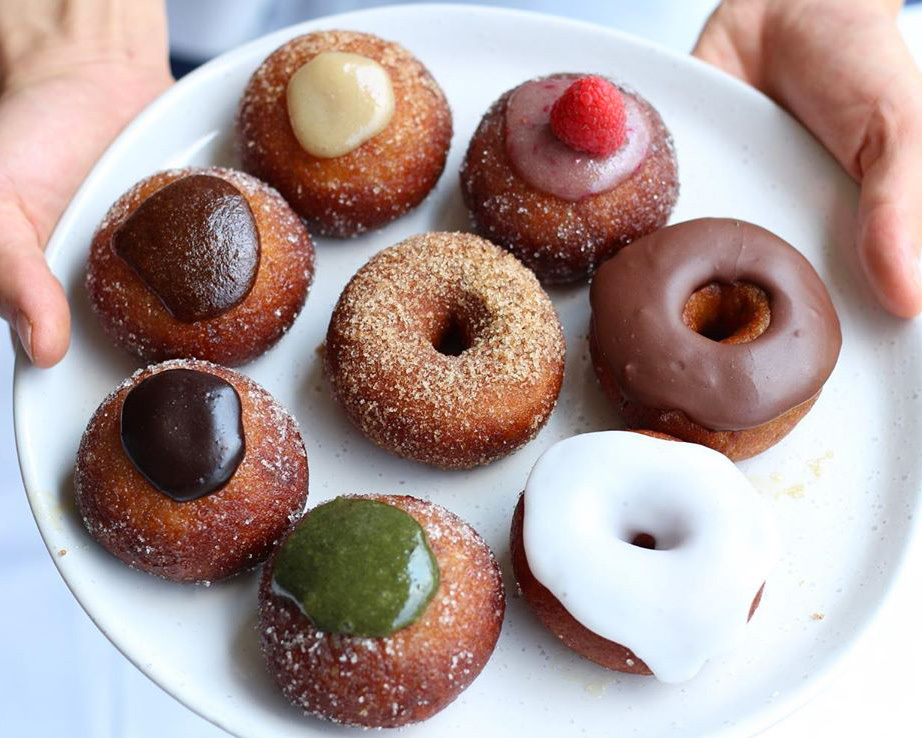 When big-time foodie Yu Ozone found out she was allergic to gluten, eggs, milk and other additives found in various products, she had to change her lifestyle entirely. Stemming from this personal experience and a burning desire to create food that everyone could eat, irrespective of their intolerances or allergies, she created Comeco Foods.
"Vegan food doesn't have to be bland," Ozone explains. "We consider food miles, local suppliers and plastic-free packaging too".
Comeco Foods opened in 2020 and it is the new kid on the block making sourdough doughnuts that are fermented for 48-hours using a sourdough starter made with organic brown rice, kneaded with rice flour and fried in rice bran oil. The fluffy yet crispy doughnuts are fried to order and filled with a variety of flavoured custards and toppings like adzuki red beans, mocha coffee, matcha, passionfruit curd and more—all made with organic, locally sourced ingredients free of chemicals and food additives.
Comeco Foods also offers its popular gluten-free rice bread, vegan sushi on the weekend and other gluten and dairy-free treats.
Babycheeks Beignets
Online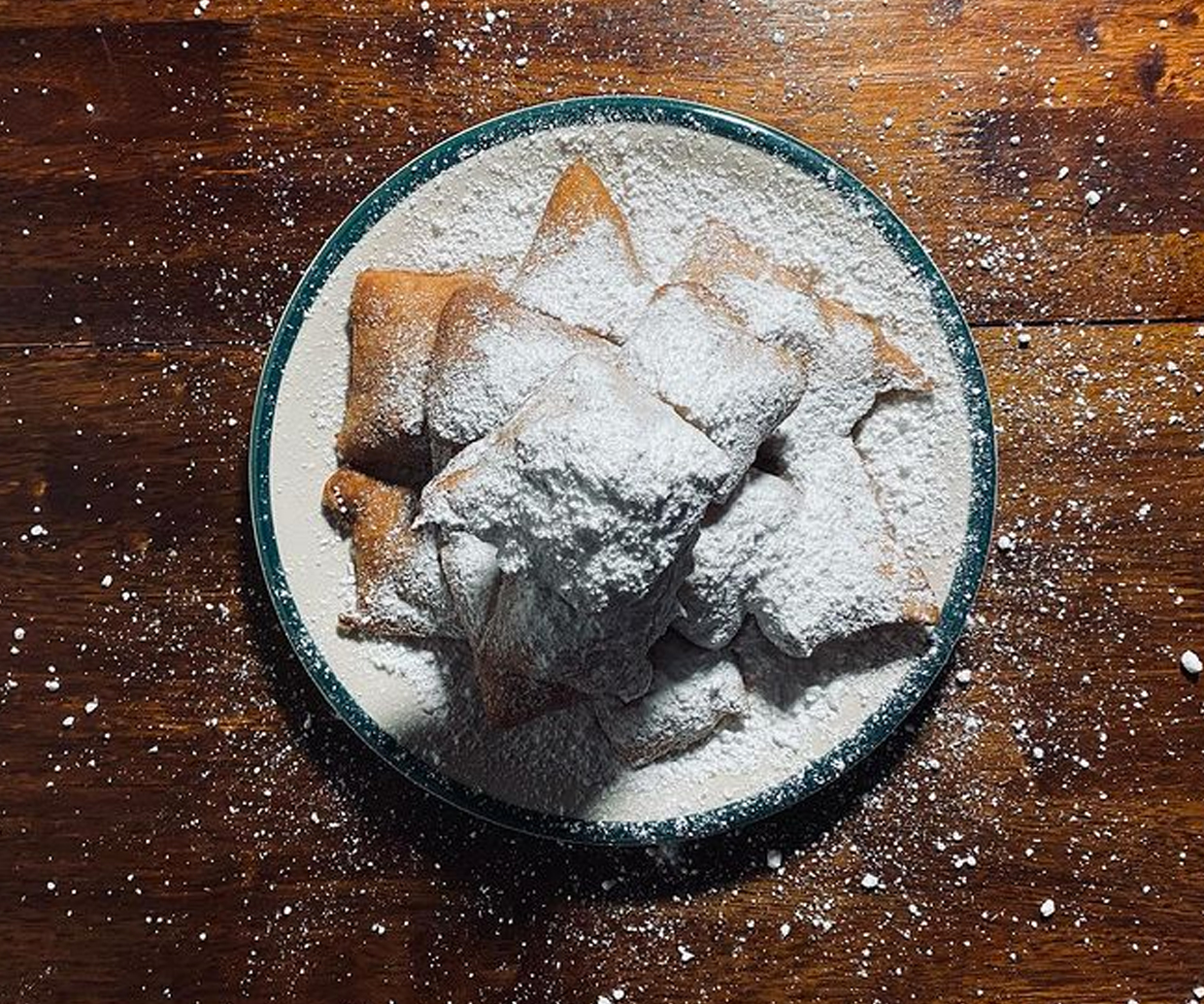 If you love anything fried, doughy or covered in sugar then listen up. Beignets are a square-shaped New Orleans-style doughnut, and they are making some serious rounds in Sydney thanks to a brand new Instagram dessert delivery concept called Babycheeks Beignets. Spoiler alert, if you've never had this style of doughnut before, you're in for unholy enlightenment of the best kind.
Started by cousins Bec Deasy and Joshua Dinata, Babycheeks Beignets is all about paying homage to the one place that really put these square goodies on the map— New Orleans' Cafe du Monde. While beignets have French origins, the deep-fried golden pastry really popped onto the rest of the world's sweet radar all thanks to this legendary 24-hour restaurant located in NOLA's French Quarter.
"The texture is chewier than other doughnuts yet still crispy on the outside," explains Deasy. "We always had a deep appreciation for the simple doughnut and with so many exciting and adventurous flavours already on offer in Sydney, we saw a hole in the market—pun intended—and thought we'd try to fill it by going back to good fried dough and a whole lot of powdered sugar."
There are batch order cut off dates so make sure you keep an eye out on Babycheek's Beignet's Instagram account for those too.
Rude Boy Doughnuts
Online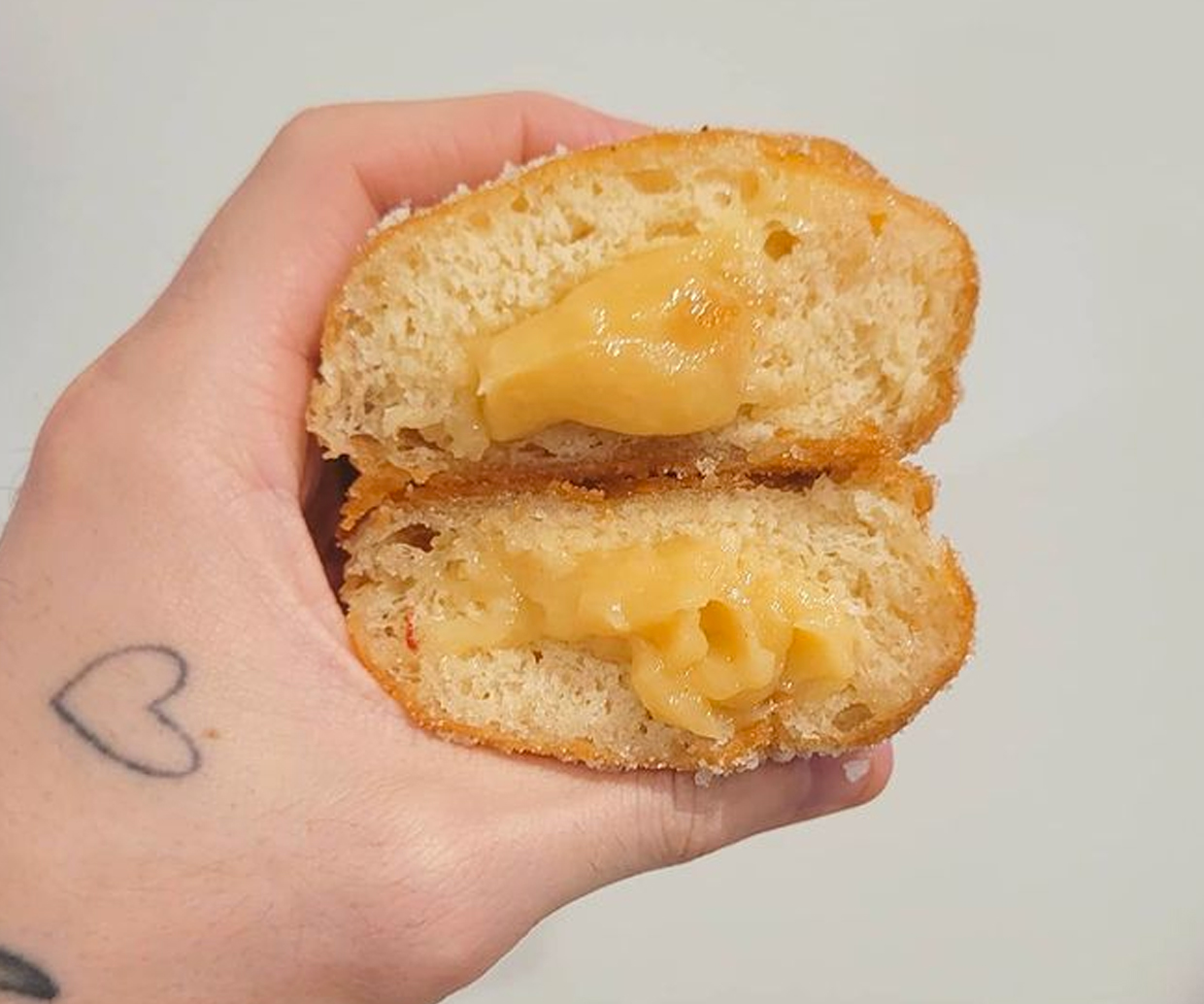 If you need vegan, nut free, soy free and Euro-style doughnuts—you've come to the right place. Rude Boy Doughnuts, started by Ash Straney (a certified CE-dough), is an ode to all things simple and classic. Don't expect gimmick flavours, the doughnut line-up here looks like fruity staples including raspberry jam, lemon curd, blackberry, grape jelly, mango-coconut and strawberry and rhubarb. There's also vanilla custard and chocolate ganache for good measure.
Rude Boy Doughnuts is currently takeaway only (order by 5pm and get next day delivery) with regular cameos at markets in Darlinghurst, Glebe and Rosebery.
Tuga Pastries
Clovelly And Alexandria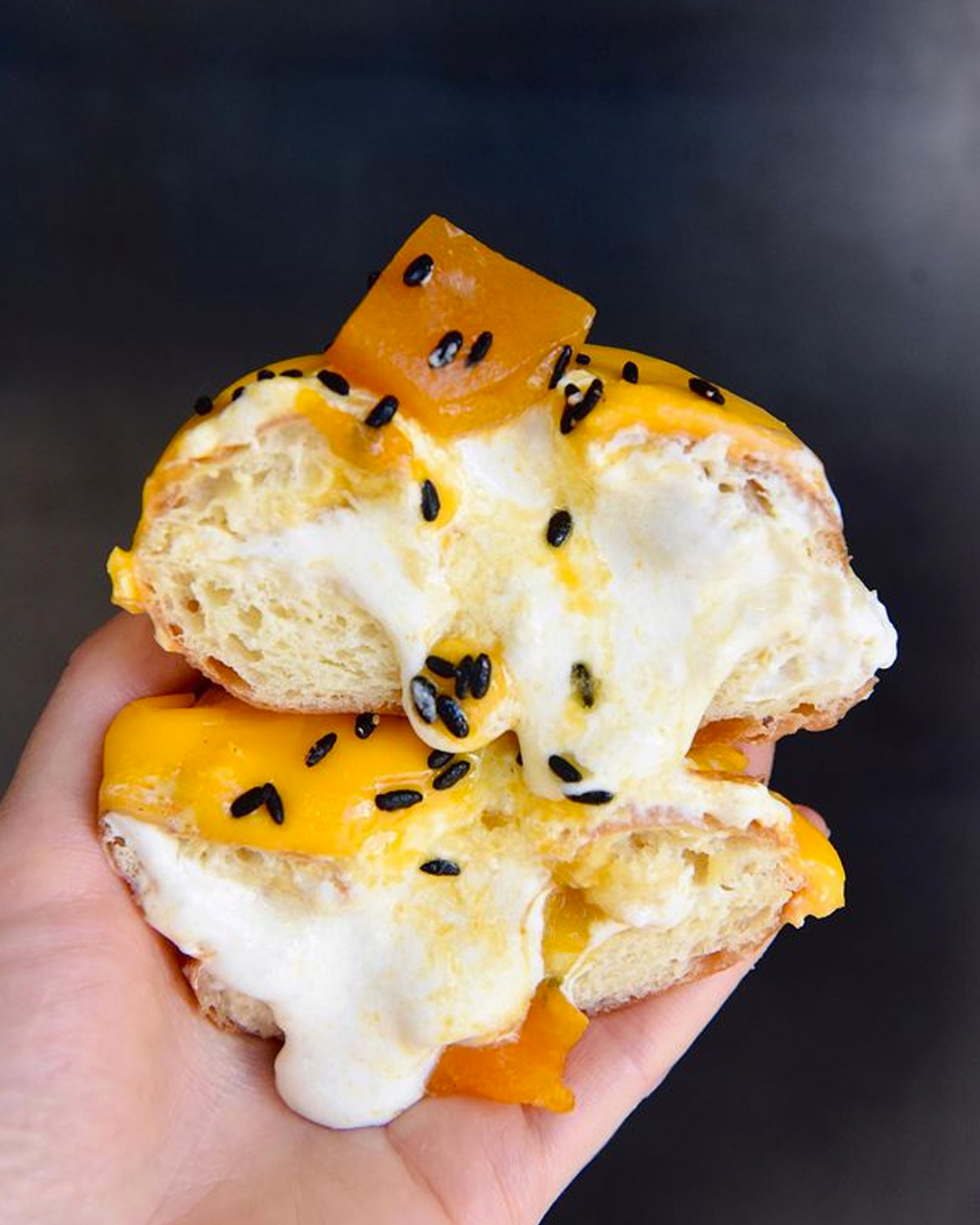 If you're a serious bakery bandit, you've most definitely heard the word that Tuga's Pastel de Nata is some of the absolute best in Sydney (the proper Portuguese name for our beloved Portuguese tarts). What you might not know though, is that Tuga Pastries is a serious contender when it comes to frying up some of Sydney's best doughy halos too. This bakery has been known to whip up lemon and ricotta doughnuts, hojicha doughnuts filled with hojicha creme patissiere and even a mango sticky rice beauty.
L.A. Donuts
Beverly Hills
When you've got a serious craving for LA-style doughnuts, it goes without saying this this heavenly slice of doughnut utopia does not disappoint. Every treat is created to take you back to sweets crafted by mums, grandmas, nonnas, omas and babushkas with some serious clout in the glazed and jam doughnut department. Alongside this, you'll find a hefty selection of vegan doughnuts here with flavours spanning the classic 'Homer', cinnamon sugar, passionfruit, lemon and lamington.
Elsewhere, L.A. Donuts also conjurs up some pretty tasty novelty flavours like biscoff and banana, Snickers, Boston creme, creme brulee, vanilla slice, fairy bread, knafa, cookies and cream cheesecake and coffee and cream.
Sweet Belem
Petersham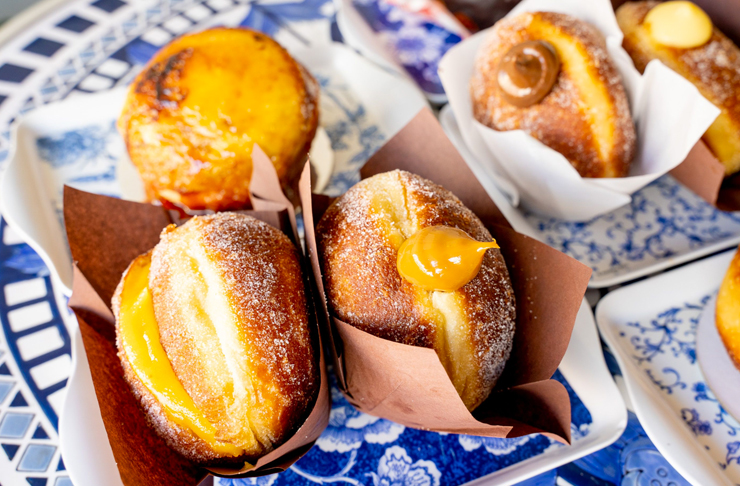 This boutique Portuguese bakery is dedicated to both traditional and modern takes on Portuguese tarts and pastries—but when you're not busy filling up on pastel de nata, you ought to give the doughnut fare here a red-hot crack. Sweet Belem has been known to whip up custard, dulce de leche, Nutella, vanilla, crème brûlée, and salted caramel-stuffed doughnuts, each bursting with filling and doused in a shower of powdered sugar. These guys are pillowy soft and ordering anything less than a box would be downright criminal. On top of this, Sweet Belem has also just dropped lemon meringue doughnuts loaded with lemon curd. Don't worry, our jaws just dropped to the floor too.
Lukumades
Chippendale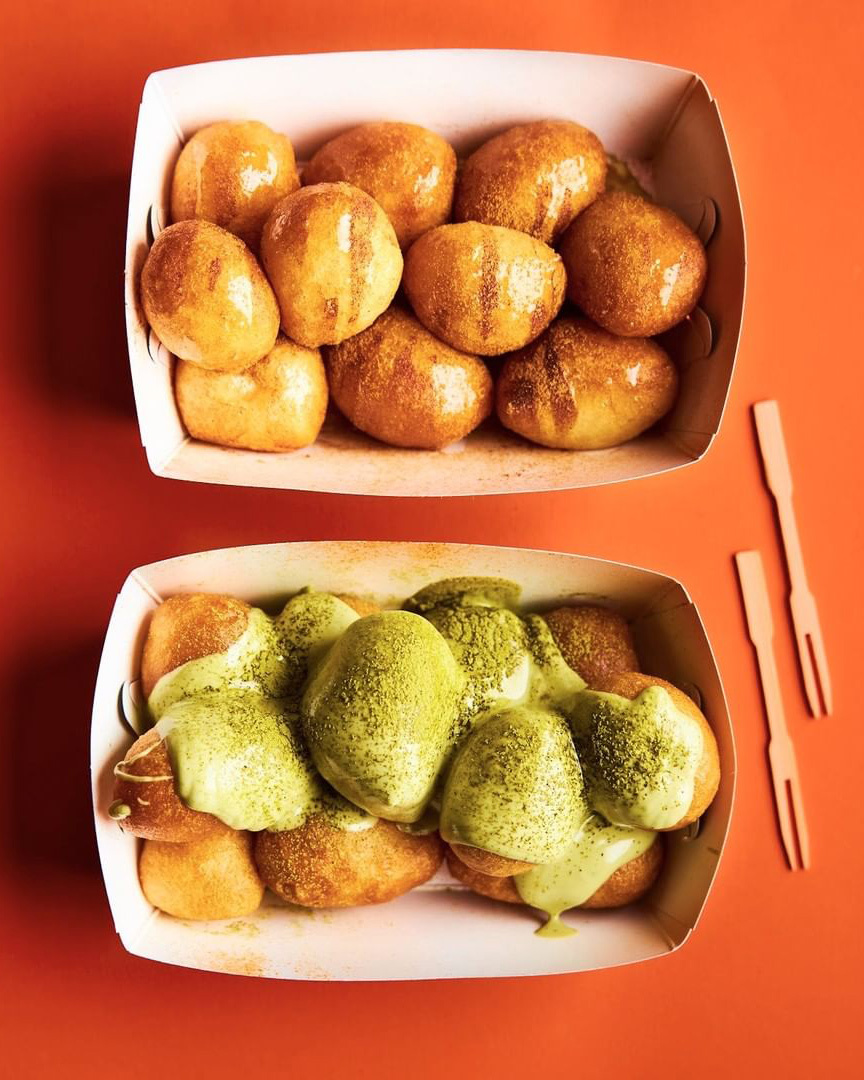 Lukumades is Australia's first franchise dedicated to loukoumades, AKA Greek doughnuts. Also known as honey balls, these deep-fried, bite-sized puffs of perfection are soaked in honey syrup and dusted with cinnamon and yes, you'll want to eat them by the handful.
Lukumades started in Melbourne and opened a Sydney store in 2019. Their Greek doughnut recipe is the combination of the traditional Greek method, along with tightly held fried bread secrets that have been topped off with a little modern flair. Think doughnuts topped with white chocolate and cookies and cream gelato, or salted caramel sauce and biscuit crumb. And, word on the street is that Lukumades is also currently perfecting a new GF Greek doughnut.
Now, check out the best desserts you can get delivered in Sydney.
Image credit: Don't Doughnuts, Don't Doughnuts, Grumpy Donuts, Donut Papi, Nutie, Shortstop, Comeco Foods, Babycheeks Beignets, Rude Boy Doughnuts, Tuga Pastries