Warning: You should only visit the cave at low tide and always visit with caution and care. Tides can rise suddenly and become very dangerous. You can check tides here.
Living in Sydney, we're always on the lookout for our next weekend adventure, and, lucky for you, we've found the next trip you need to tick off your adventure bucket list.
Yep, there just so happens to be a magical set of dreamy sea caves that glow bright bubblegum pink, and the good news is, they're only a two-hour drive from the heart of Sydney. Along with this natural work of art, you'll also find a slew of protected lagoons, rugged beaches, and coastal trails ready for all the exploring.
Here's your guide to the cotton candy caves and Munmorah State Conservation Area.
Need To Know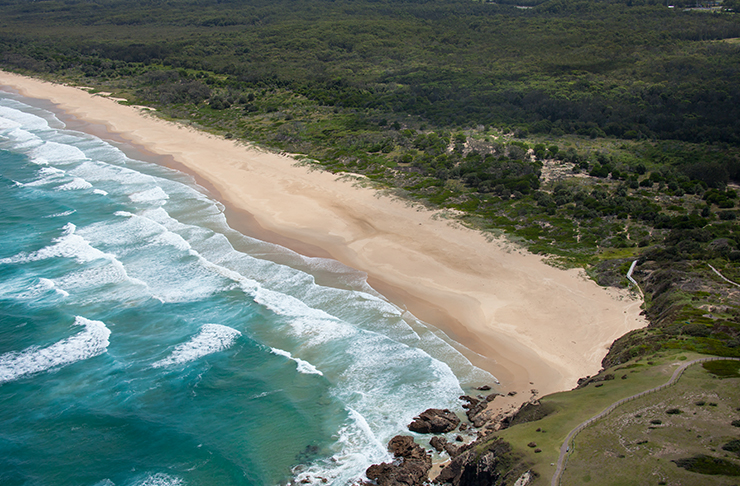 So you're packed and ready to take a weekend adventure all the way to the Central Coast's dreamy pink sea caves. Well, for starters, here are some things you need to know. The "cotton candy" caves are actually known as the Munmorah Sea Caves and they're located inside the Munmorah State Conservation Area.
This particular area is the traditional home of the Awabakal people. This indigenous tribal group had clans dotted all along the coastal area of what we now know as the Mid North Coast region with their traditional territory spreading from Wollombi in the south to the Lower Hunter River near Newcastle and Lake Macquarie in the north. We've touched on it a bit more here, but "Awaba" is a word part of the Awabakal language which loosely translates to "flat" or "plain surface".
Within Munmorah State Conservation Area, the Awabakal people were pretty much surrounded by bushland abundant with food including Lilly Pillies, acacia seeds, and cabbage palms, and were known to visit Moon Island to collect muttonbird chicks and eggs as well as hunt a number of reptiles and mammals too.
How To Get There
Heading up to Munmorah State Conservation Area is a pretty easy feat if you're coming from Sydney. You'll basically just want to follow the M1 and M2 straight out of Sydney, bypass Gosford and The Entrance, and then take the exit at Doyalson Link Rd (also known as the A43 turnoff).
From here, it's a straightforward journey towards Munmorah because the Pacific Highway basically takes you all the way there.
Things To Do
Moonee Beach Trail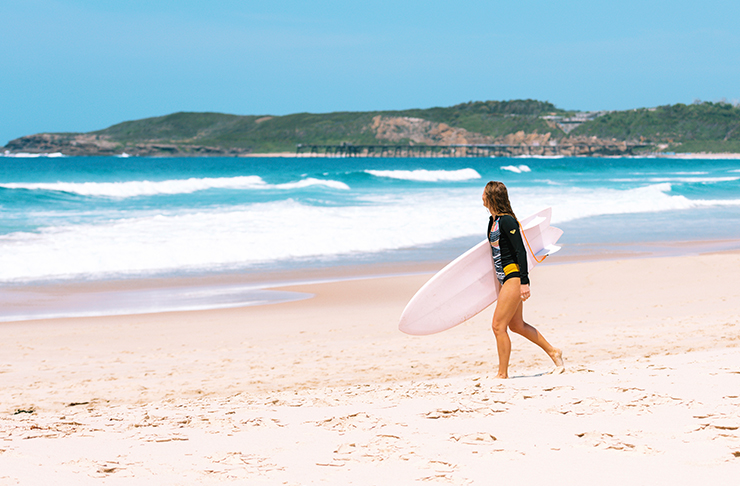 Treat Moonee Beach Trail like it's your golden ticket to Willy Wonka's chocolate factory. This stunning coastal walk will lead you to the famous pink sea caves and offers up sweeping views over Timber Beach, Ghosties Beach, and Moonee Beach. The entire trail spans around four kilometres and can take anywhere from 45 minutes to two hours (pending how long you lap up the sunshine and explore rock pools for).
Rainbow Caves
For the real reason we're all here, Rainbow Caves is a secret spot at the northern part of Moonee Beach (and it's squished between Budgewoi and Catherine Hill Bay). They've been dubbed everything from the "cotton candy" caves to the "bubble-gum" caves and while that may sound pretty fantastical, the caves really do live up to the hype.
The grotto here basically sports pink-tinged rocks and glowing blue rock pools. The pink hue on the rocks is down to a rock platform, which has been split and is the work of the constant pummeling of waves chipping away at the rock's surface to reveal an even layer of all shades of brown, pink, and purple.
Like most cave adventures, it's really important to visit safely and check the tides before you go. You should only go at low tide and even then you'll want to be extremely careful.
Frazer Campground
Frazer Campground is one of the most intimate campgrounds in NSW, sporting only six sites. The campsite sits about 50 metres from Frazer Beach and clocks in as a great base for a weekend of fishing, diving, surfing, and, of course, swimming. If the beach gets too choppy, there's also a nearby lagoon to make the most of.
Tea Tree Lookout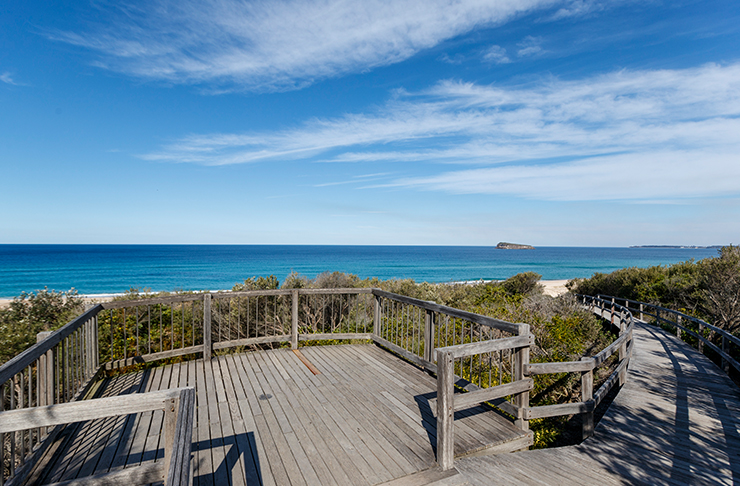 We all know a coastal lookout is one of the best ways to start the day and Tea Tree Lookout is one of the best in NSW. A short walk to Birdie Beach, this boardwalk is a top place to scour the surf, take in the sunrise, or spot a whale or two on the horizon. If you're here later in the day, you can also pack a picnic and make the most of the BBQs.
Palms Circuit Track
When you want to take your hiking a little further inland, Munmorah State Conservation Area's Palms Circuit Track is a great walk to hit. Much like its name suggests, this walk will involve a whole lot of palm trees (the cabbage tree kind) and is a short loop that won't tire you out for the rest of the day. This track will easily take you around 30 minutes to do.
Rather go south? Check out this enchanted blue pool.
Image credit: Trilynaire, Destination NSW