With the long weekend upon us (yay!), we know that you want to make the most of your Monday off. Aside from lots of fun things to do this labour day long weekend, we have also found some great restaurants, cafes, and bars that are open this labour day in Sydney, for your drinking and dining pleasure.
If you're looking for what's open in Sydney on the public holiday, you've come to the right place.
Enjoy your long weekend, Listers!
Restaurants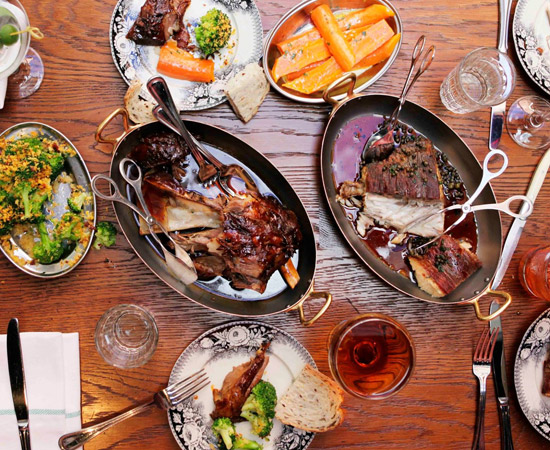 Mediterranean flavours made with local produce.
Open for dinner from 6pm
Communal dining with plenty of delicious oysters.
Open from 11:30am till late
Fresh produce, tasty food, and refreshing cocktails.
12pm – 11pm
Eat and drink in a former hardware store.
5pm – 11pm
Gorgeous seafood and steak with an equally gorgeous view.
11am – 11pm
BBQ meats, burgers, and an all-round good time.
11.30am – 9pm
The Clock Hotel | Surry Hills
Enjoy a little slice of Italy at The Clock Hotel's Salumeria.
12pm – 3pm and 5pm – 10pm
Cafés

Get your Sydney brunch fix at this cute little café near Central Station.
8am – 3pm
Bills

| Darlinghurst
For some of the best breakfast (and coffee!) in Sydney, head to Bills.
8am – 2:30pm
Farm-to-plate deli food.
7am – 4pm
Perfectly poached eggs and glorious coffee.
7:30am – 4pm
All day breakfasts (the soft baked eggs are amazing!) and adventurous milkshakes.
8am – 4pm
Just in case you're in the mood for pie.
12pm – 5pm
Did someone say eggs benedict with pulled pork? We did. And they're goooood.
6:30am – 4pm
Head to Fika Swedish Kitchen before (or after) visiting Manly Jazz Festival.
7am – 5pm
Some of the best coffee in Sydney and darn good breakfasts, as well!
7am – 4pm
Bars
A great place for a beer or to tackle their triple decker burger.
10am till late
Newly refurbished, enjoy a couple of rosé spritzers and while away your Monday!
7am – 12am
A little Sydney wine bar that feels like a little country house.
12pm – 12am
Enjoy the sunshine and have a few beers in their tree-filled beer garden.
10am – 12am
Charing Cross Hotel | Waverley
Check out the newly renovated Charing Cross Hotel, complete with a European-inspired restaurant.
10am – 10pm
Watch the ferries come in while enjoying some great food and wine.
11am – 12am
Do a bit of people watching from this classic Paddington Pub.
12pm – 10pm
Some of the best cocktails in Sydney, great food, and a relaxed vibe.
11am – 12am
Soak up the sun and the views of Bondi Beach at this popular Sydney bar.
11am – 12am
Image credit: The Morrison Bar & Oyster Room, Fika Swedish Kitchen and The Bucket List