The Reuben sandwich is without doubt one of America's greatest culinary creations. The deli stack is traditionally made with corn beef, Swiss cheese, sauerkraut, pickles, and some version of thousand island or Russian dressing, all between rye bread.
Although, we're quite happy to see variations on that recipe, with pastrami a common sub-in meat and other subtle tweaks. As long as it hits big flavours of saltiness, acidity, a touch of sour, and some cheesiness to bring it all together.
It's also usually toasted for extra crunch, warmth and to help contain it all (two hands always required). But again, we'll take them as they come—just like the fresh bread monster Reuben from famed NYC purveyor of meats and sandos, Katzs Delicatessen.
Sydney has finally caught up, so we couldn't be happier to bring you the best spots to score a Reuben sandwich around town.
Frank's Deli
Waverly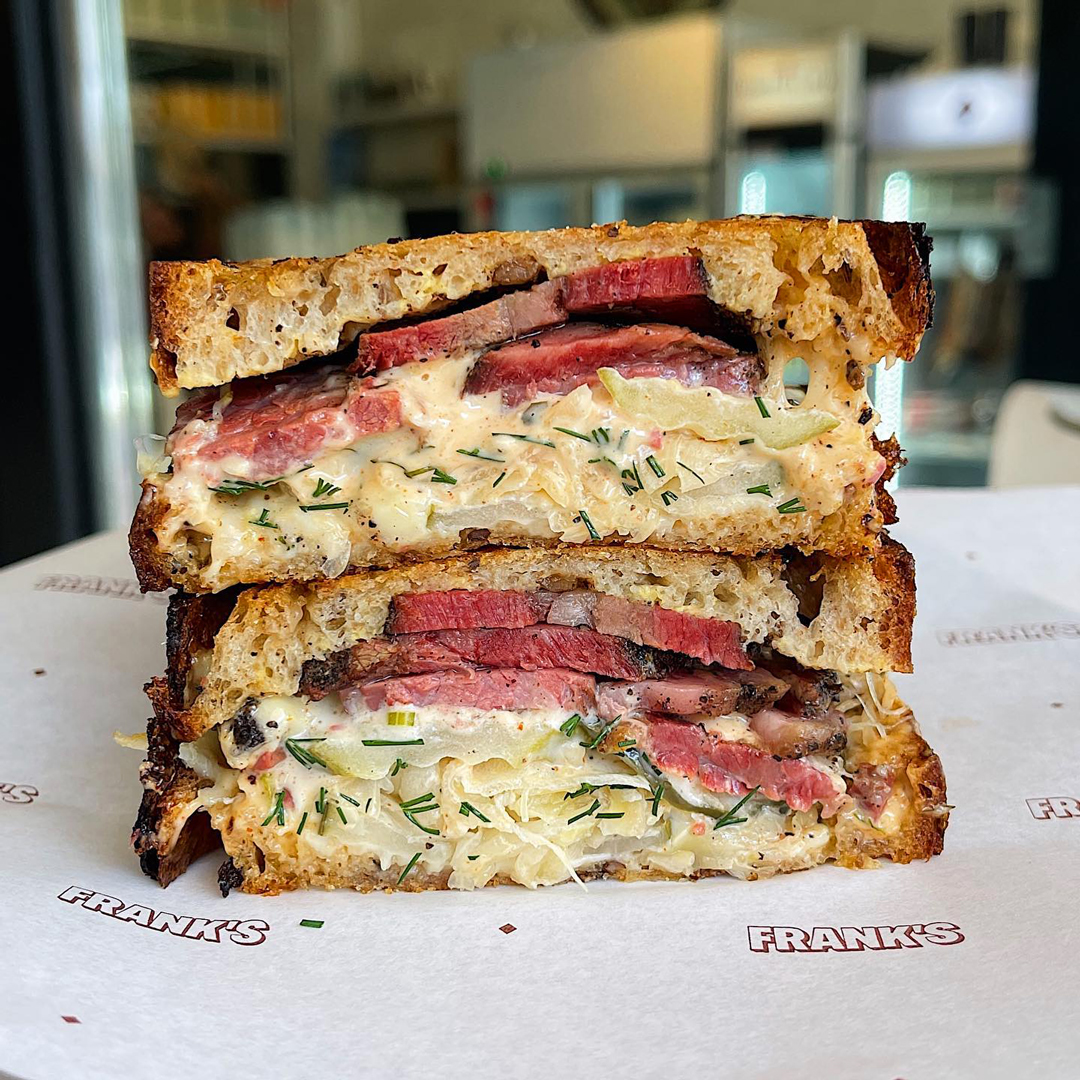 It seems a new benchmark is set every time a new deli opens in Sydney. Frank's Deli made a quick impression on our city with hefty lines outside the Waverly shop an immediate and common occurrence after it opened in 2021. Blending classic NYC deli vibes with the owner's Polish heritage, Frank's offers plenty of reasons to head east. But perhaps none more so than their Reuben sandwich. The warm, toasted rye bread creation is made with LP's Quality Meats brisket pastrami, sauerkraut, cheddar, dill pickle, and Frank's Polish dressing.
Brooklyn Bridge Deli
CBD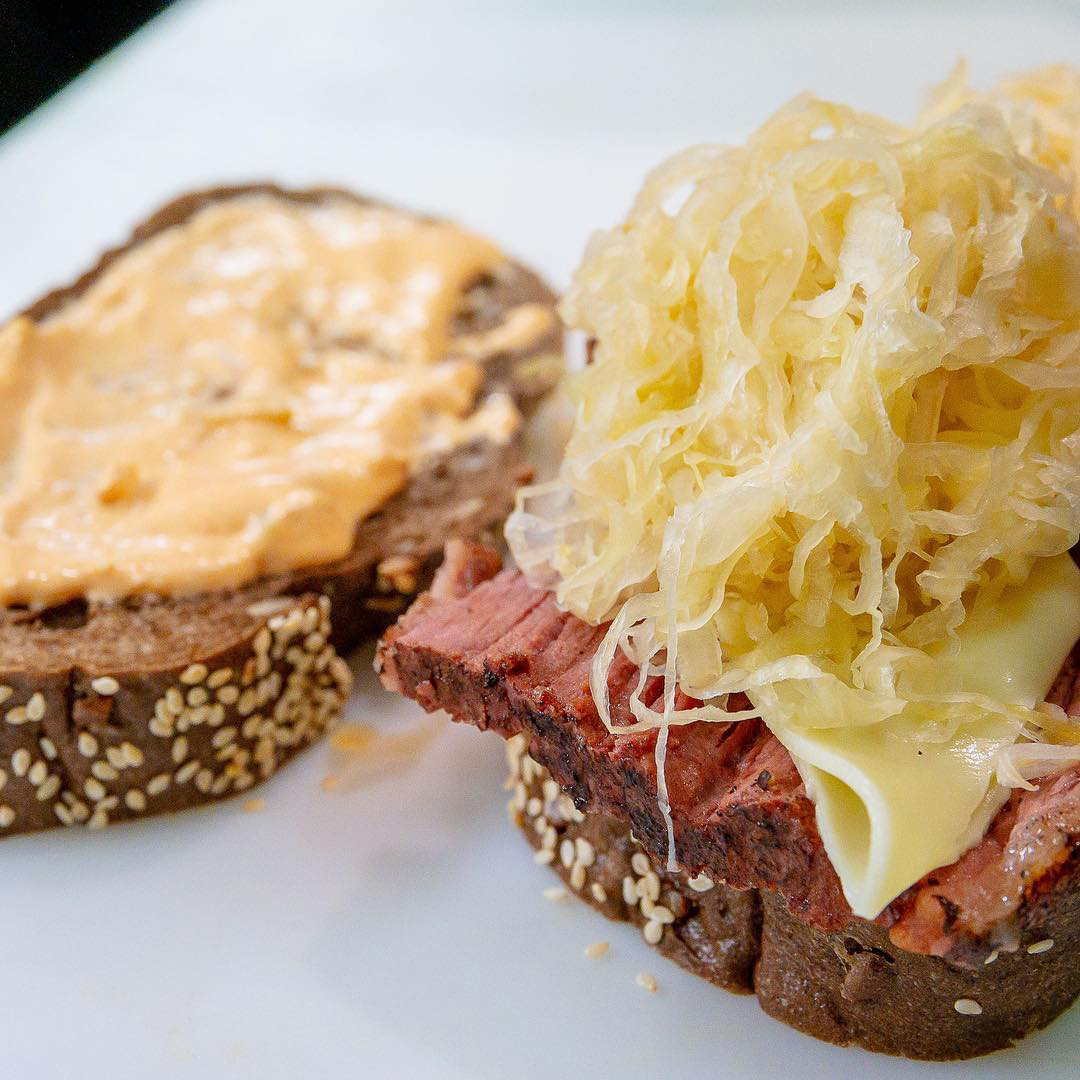 As you might imagine, the CBD's Brooklyn Bridge Deli is plating up some pretty legit NYC-style deli offerings. We highly recommend heading in on your lunch break and ordering yourself anything from a bagel with cream cheese schmear and a lox bagel to a Cubano and Philly cheesesteak. But what better midday meal than a traditional Reuben sandwich? This one is classic, with corned beef, house-made Russian dressing, Swiss cheese, sauerkraut, and pickles between two slices of New York rye.
Theo's Deli
Surry Hills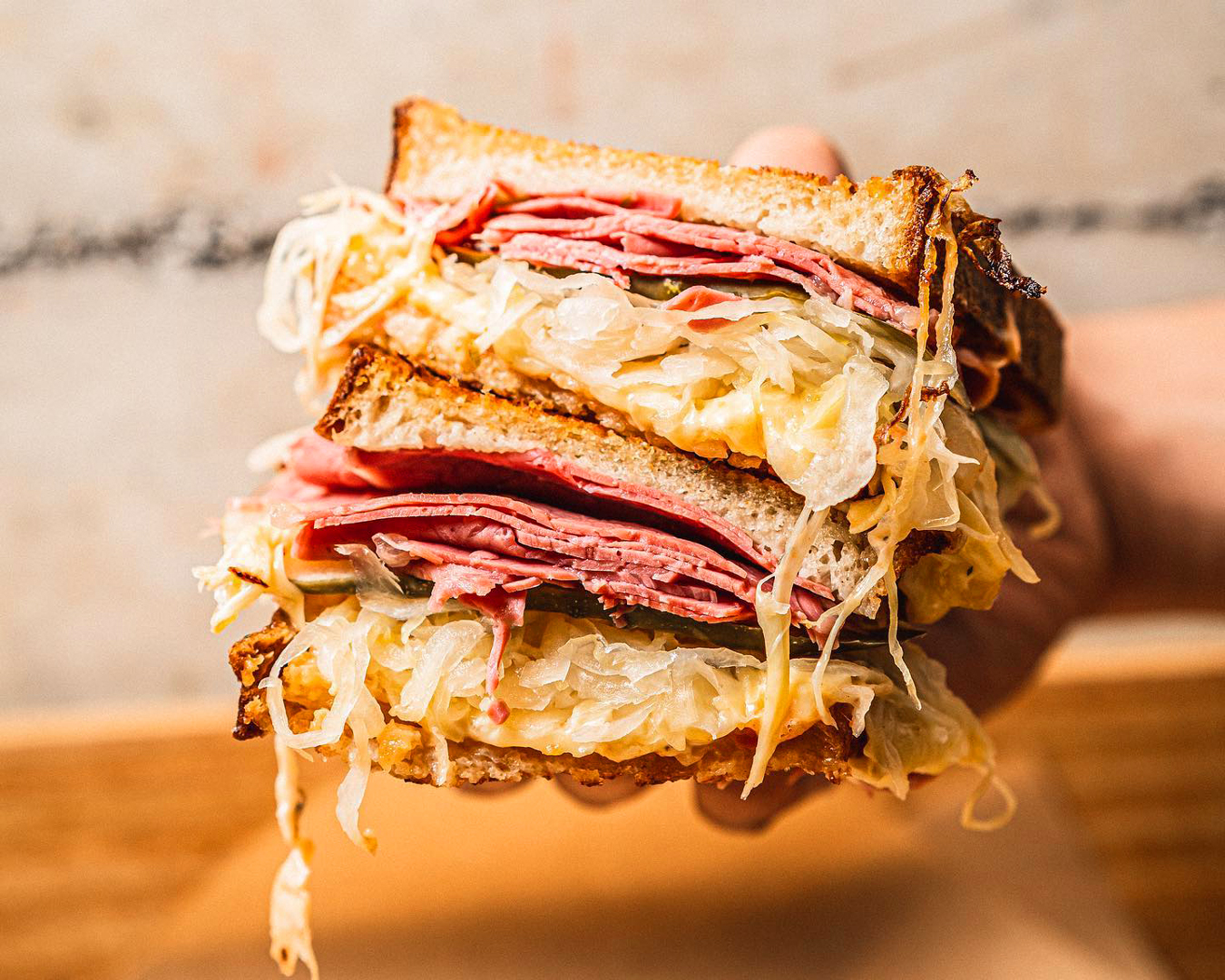 Another 2021 addition to Sydney's delicatessen sandwich scene is Foveaux Street's Theo's Deli. The sanga and coffee shop comes from the legends behind Tokki, Marble BBQ, and Kinhboy. Head to Theo's if you're looking for a simplistic and nostalgic approach to the humble art of slinging sandwiches. You'll quickly find your favourite on the board, from a standout smoky ham hock, fried egg, and chip brekkie sandwich to a panko-crumbed schnitty option. But as you could have guessed, we love the Reuben, made with a classic and nicely salted corned beef, fresh and crunchy sauerkraut, melted Swiss cheese, "Theo's Sauce" as a Russian dressing stand-in, and dill pickles between toasted light rye.
Joe's Sandwich Bar
CBD
We said we were open to interpretations of the classic Reuben formula—well, how about a vegan version? That's precisely what you'll find at the CBD's Joe's Sandwich Bar. The Kent Street hole-in-the-wall pumps out vegan sandos like miso eggplant, chipotle pumpkin, or a meatless B.L.A.T., all between Iggy's bread. But it's their spin on the Reuben we're interested in—made with smoked tempeh in replacement of a protein, fennel, apple slaw, cashew cream, and mustard pickles.
Lenny Briskets
Food Truck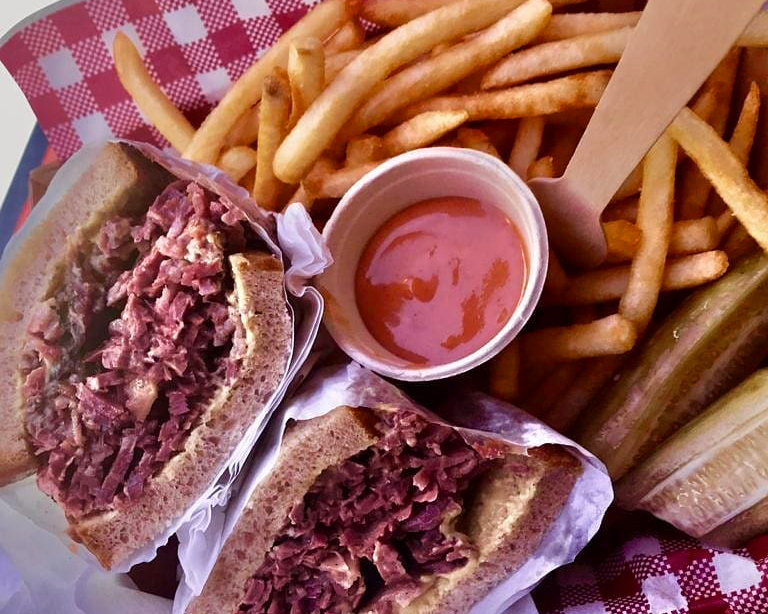 We had to shout out Sydney's food truck scene, with one stand out when it comes to the almighty Reuben sandwich. Although most commonly found at a Botany loading dock, Lenny Briskets moves around with its gigantic meat sandos. We're not exaggerating with that size description—these are jam-packed with NYC deli-style meat. The Reuben is no exception, with rye bread, filled with corned beef brisket, sauerkraut, Swiss cheese, and Russian dressing. With some easy instructions, you can even order the sando as a take-home, make-your-own kit.
Reuben Hills
Surry Hills
We simply had to include this iconic Surry Hills cafe; after all, Reuben is in the name. Although, the Reuben sandwich here isn't what you'd expect—especially being called "The Not Reuben". This is once again a total reimagining of our featured sanga, instead made with 5+ wagyu salt brisket, pickled slaw, Manchego cheese, and horseradish mayo on toasted rye. We highly recommend ordering it alongside some of Reuben Hills' own coffee roast and an AP Bakery pastry to finish.
Tothy Brothers Deli
Wheeler Heights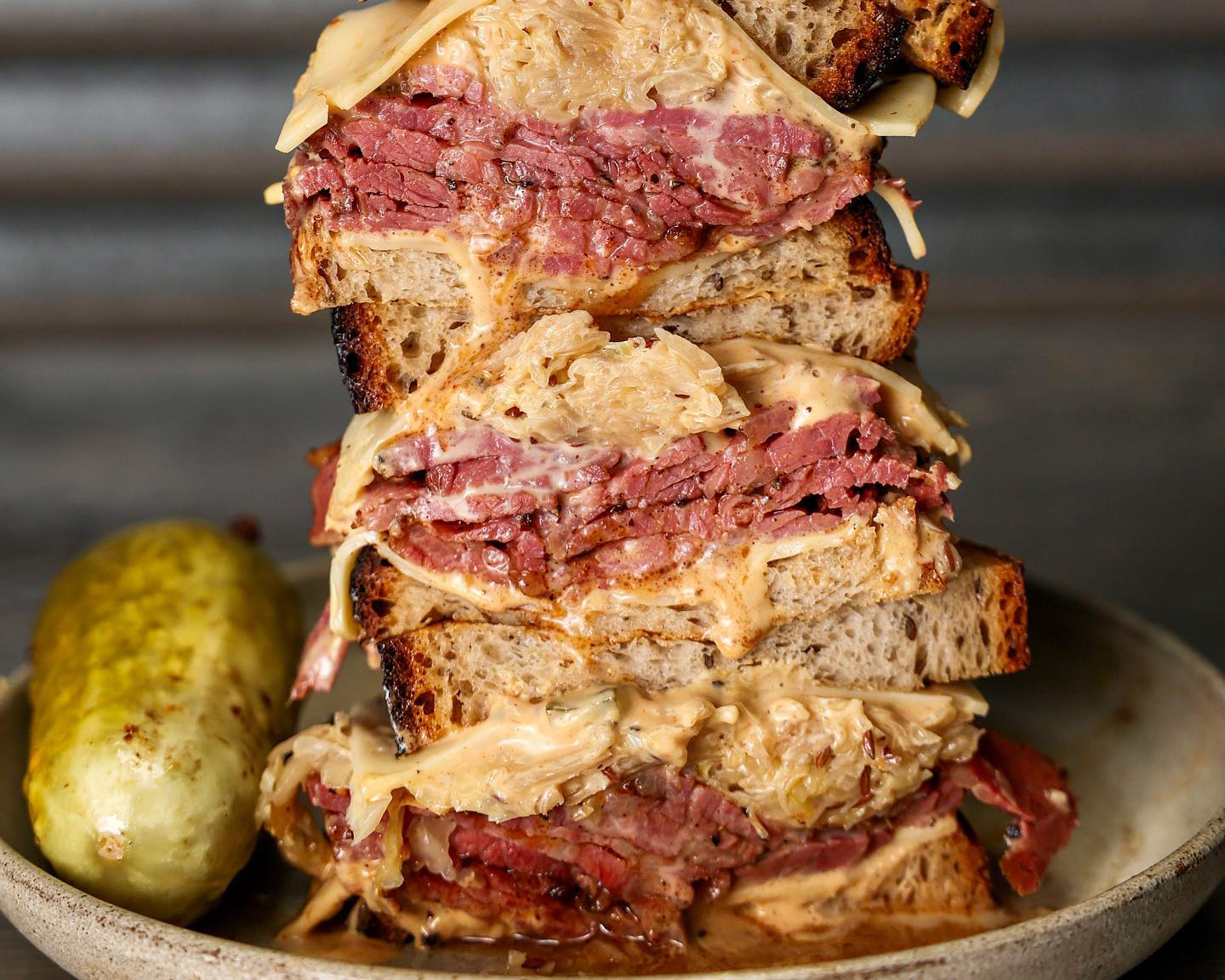 Northern Beaches locals know exactly why Tothy Brothers Deli finds a well-deserved spot on this list. Owned by two local brothers, the Wheeler Heights gem delivers big on juicy and tender stacks of meat between bread. Their pastrami is smoked for 12-hours and brined in 18 different spices, with some added secret rub. You'll be delighted to find out that signature pastrami is on Tothy's Reuben, alongside Swiss cheese, sauerkraut, and house-made Russian dressing, all squeezed between rye bread.
Lox Stock & Barrel
Bondi
Another must-add New York-style deli to add to your Reuben itinerary is Lox Stock & Barrel. Opened in 2013, the Bondi eatery also blends classic European delis and Jewish comfort foods, with plenty prepared in-house. We're talking on-site bread baking, in-house pickling, and on-location smoking of meats and fish. Lucky for us, these legends also deliver a killer Reuben, which you can have served on either bread or a bagel. After that, it's the usual wagyu corned beef, Swiss cheese, pickles, and sauerkraut.
Sir Reuben
Rozelle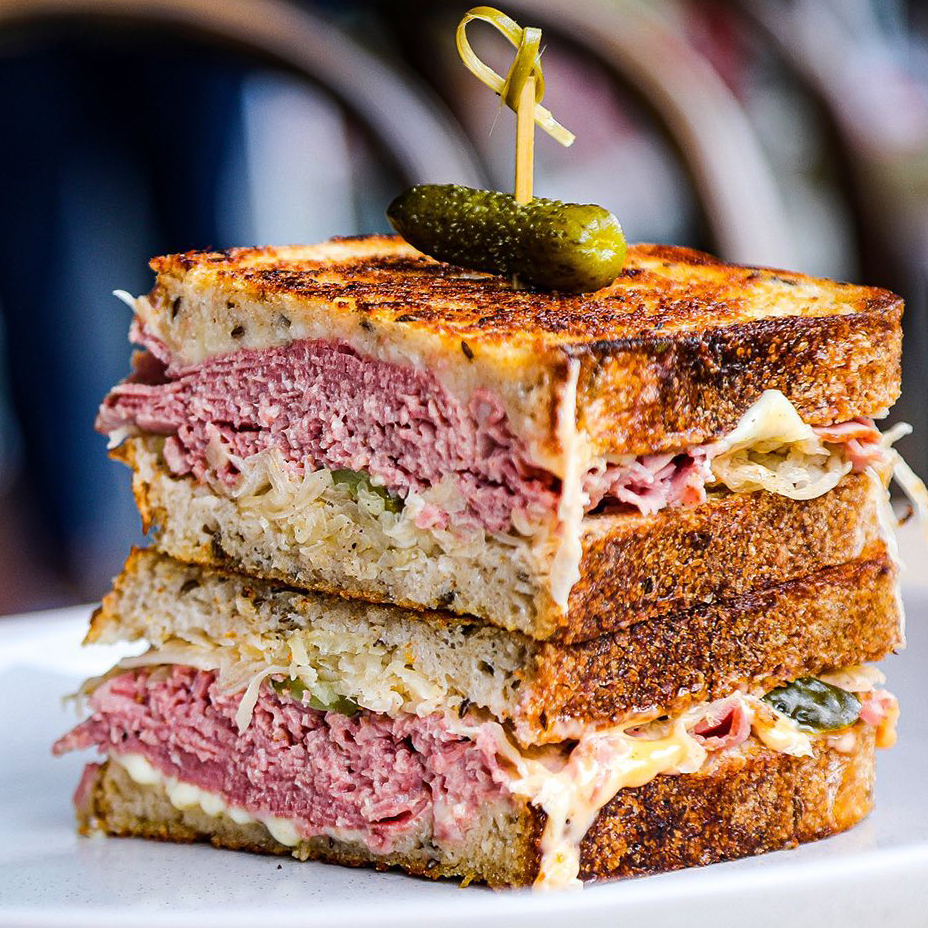 We have to shout out another Sydney cafe that headlines the Reuben within its name. Rozelle's Sir Reuben is a Darling Street local's favourite with plenty of European influence. You can make your way through for some legit brekkie options or a burger, but for the purposes of this list, we're only looking at its small and considered sandwich menu—most of all, it's headlining Reuben. The must-order sandwich is stacked with long slices of 12-hour slow-cooked corned beef, mustard, pickles, sauerkraut, and Swiss cheese on toasted light rye.
Three Seagulls
Freshwater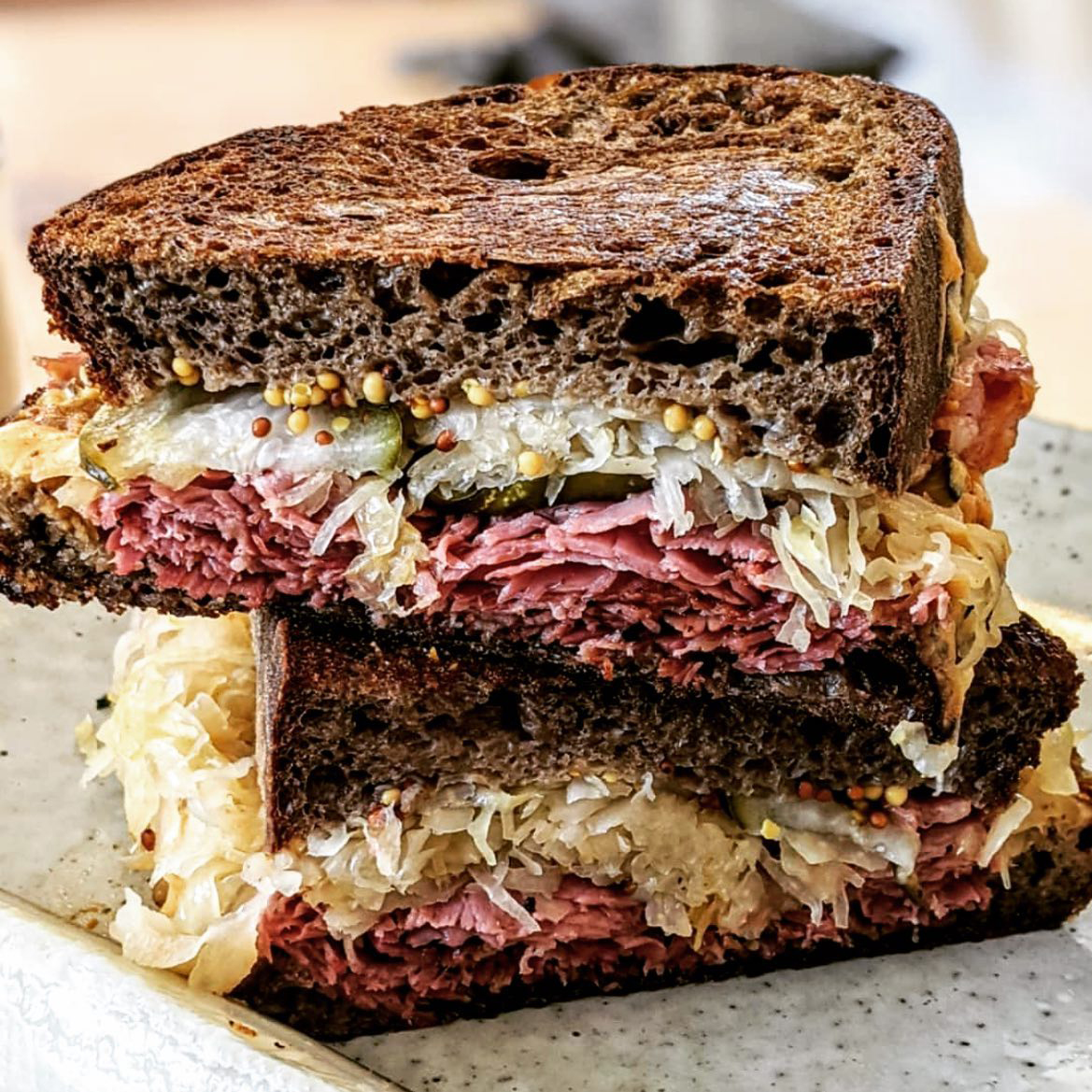 How do a coffee and a sanga not far from one of Sydney's best beaches sound? Pretty good, if you ask us. And even better if that sando happens to be a Reuben. Located in the beachside suburb of Freshwater, Three Seagulls is the laid-back brainchild of three mates looking to put a modern spin on the local Aussie corner store. Although you can choose from plenty of healthy plates, superfood smoothies, and a slew of tasty toasties, we love the "New Yorker" (aka, the Reuben). This one comes with Tothy Brothers' smoked pastrami, sauerkraut, Swiss cheese, and Russian dressing on rye, with a side pickle.
For even more of Sydney's best sandwiches, head over here.
Image credit: Tothy Brothers Deli, Frank's Deli, Brooklyn Bridge Deli, Theo's Deli, Lenny Briskets, Tothy Brothers Deli, Sir Reuben, Three Seagulls