There's something special happening out West, and it's calling out to us all. Billed as Sydney's second CBD, Parramatta and its new dining precinct is giving us plenty of reasons to jump on the train and visit. Only a 30-minute ride from Central station, the $3.2 billion Parramatta Square project includes commercial buildings, a library, a new University of Western Sydney campus, a refurbished town hall, but most exciting of all, plenty of new restaurants.
One addition to the area worthy of your time is Ruse Bar & Brasserie, both conveniently close to the train station and yet wholly undisturbed by it. Ruse, the west-side sister venue to the CBD's District Brasserie, headlines an inviting slate of restaurants lining the bustling, open-air Parramatta Square dining precinct.
Opening last December and helping give new life to the area after a difficult year for Sydney hospitality, the restaurant is named after ex-convict James Ruse who received 30 acres in Parramatta from Governor Phillip in 1791, becoming the first person in NSW to officially receive a land grant.
The Vibe
Making the most of Sydney's inviting temperatures, as well as open spacing enviable to any crammed city establishment, the European-inspired bar and restaurant offers a relaxed indoor-outdoor dining experience. Depending on the season or the daily forecast, Ruse can open itself to the elements, making under-cover tables feel al fresco, or close up with the heaters on for a cosy indoor dinner.
With the modern look of wood and marble, a clean mixture of light and dark shades, hanging plants and eclectic woven basket pendant light fixtures falling from the ceiling—every detail feels refined and well thought out. The venue's eye-catching open-plan kitchen brings a flare of showmanship to the experience, making us feel invited and involved with the sound, smells, and sight of the fiery ovens. Expect some flames and embers in the distance.
The Food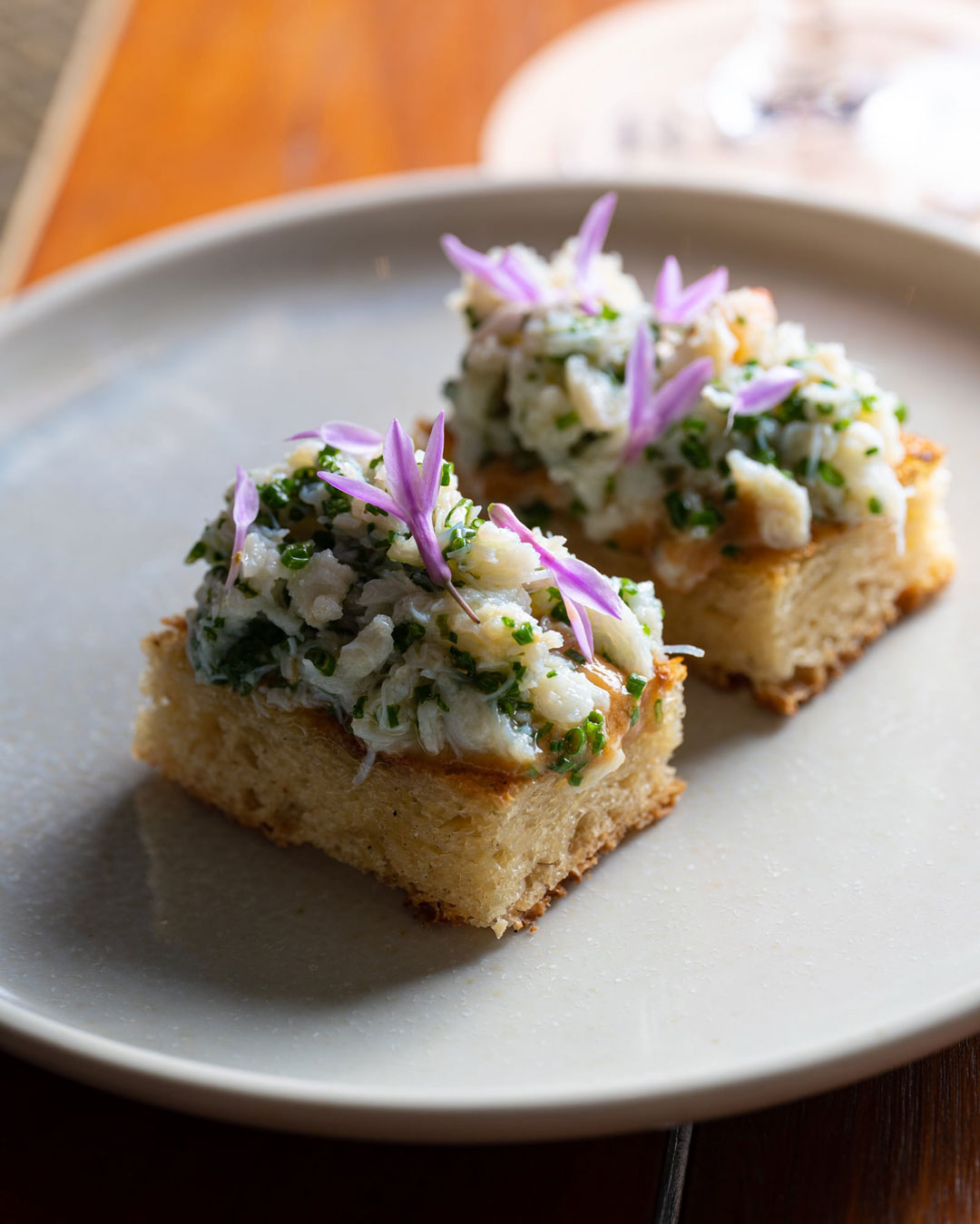 Like District Brasserie, the Ruse menu showcases and champions protein—entering, you'll immediately notice the open ice bar keeping fresh fish and oysters at the ready. Don't worry, a protein focus doesn't only mean big and heavy dishes; the range lets you decide. Similarly to the venue itself, the menu and its offerings feel meticulously thought out in their play of flavours and textures, without being alienatingly extravagant.
Meat, poultry, and fish, prepared over the kitchen's giant wood-fired and charcoal ovens and Basque grill, come in varying dishes. From the soft, melt-in-your-mouth texture of the raw fish cold starter with tuna, kingfish, and trevally served with burnt orange and lemon dressing, to the gigantic 2GR full blood wagyu tomahawk shared beef cut, which you can load up with sides like macaroni and cheese bake or heirloom tomatoes, aged feta, balsamic, and olive oil.
While we can't force you into anything, let's just say that going to Ruse without trying the mud crab on toast (house-made bread) to kick off your meal is an absolute crime. Another favourite is the torched beef, a tender starter dish sitting somewhere between beef tartare and cooked steak presented in a bed of creamy mushroom puree and crunchy mushroom soil. It even comes with a house-made cracker prepared with beef fat—a "beef cracker".
Don't fret if you're vegetarian. Dishes like the eggplant with chickpea miso, hazelnuts, and warrigal greens or the hand-cut in-house made ravioli filled with a roasted pumpkin puree and stracciatella with butter and sage are both delicate and jam-packed full of flavour.
You can expect more casual eats like a schnitzel, a cheeseburger, and sharing starters like beef cheek croquettes and fried mozzarella sticks in the separated bar section.
One last tip: leave room for dessert. Despite whatever childhood feelings you might have towards liquorice lollies, we recommend ordering up the liquorice custard dessert, set as a bed to fresh blackberries and black puree topped off with a yoghurt granita "snow".
The Drinks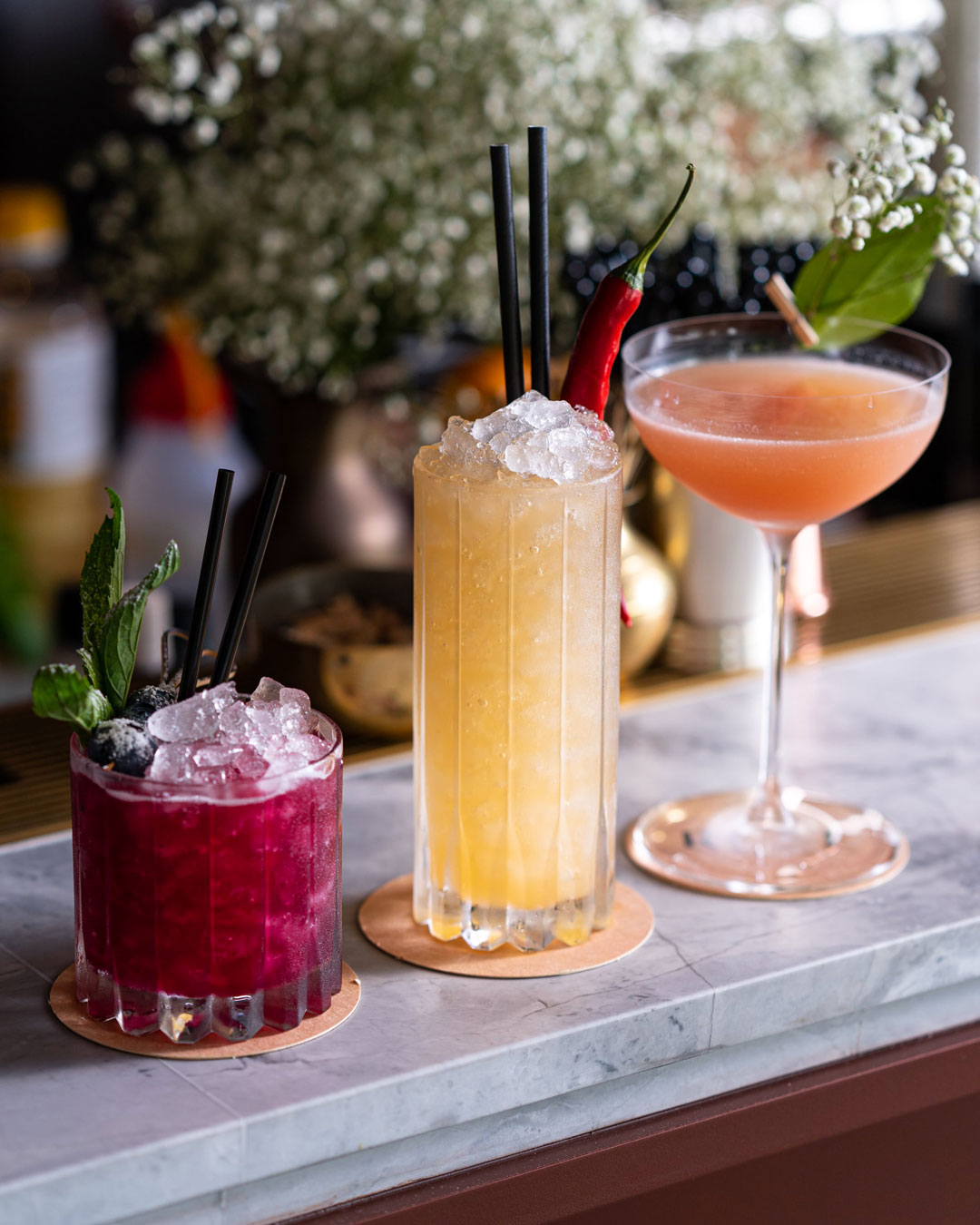 You were probably already thinking it, but with protein usually comes a wine list to match—and this is a good one. However, in keeping with the venue's vibe, Ruse lets you decide how you want to spend and how fancy you feel like being. They keep a strong selection of wines by the glass if you're considering matching vino with every dish you order.
In fact, if you're up for it, place your trust in your server and let them recommend precisely how to proceed. They also keep their cellar teeming with bottles to match any palate, from local Aussie vineyards to the finest French and Italian drops.
If it's a cocktail you're after, then you're also in luck. If you're looking for something refreshing and a little sweet—the "Paloma", made with reposado tequila, pomegranate, hibiscus, grapefruit, and soda, should hit the spot. Or maybe a slight twist on a restaurant favourite? Then try the "Sour", made with Poor Tom's dry gin straight from Marrickville, jasmine, peach, lemon and egg whites.
But for us, the pick of the lot is the barrel-aged Negroni, made with a blend of Tanqueray and Four Pillars rare dry gin, Campari, a special house blend of vermouths and a dash of pink grapefruit bitters. The cocktail classic is aged for a minimum of four weeks before serving, while the "mother" of the Negroni is never poured out of the cask, kept rotating through for its unique flavour. Good luck only ordering one.
For more info on Ruse, including opening hours and how to book, head over here.
Still hungry? Check out more of the best restaurants and bars in Parramatta here.
Image credit: Leigh Griffiths