Parramatta is Sydney's soon-to-be second or "central" CBD. It's the heart of Greater Western Sydney with a buzzy nightlife and a big long list of excellent places to eat and drink. As it's a university town, it has a younger feel to it, while also catering to the swathes of young families who dominate the surrounding suburbs. This means cheap eats and serious indulgence reigns supreme in Parramatta.
Equally, the government has been pouring millions into the area in an attempt to reinvigorate this riverside region—which means Parramatta is home to a growing artistic-creative scene, something that will hopefully continue to evolve and thrive as inner-city transport improves.
If you've yet to explore this Western haven, or you're a local keen to see what's new and what's good in your hood, here's where you need to hit up to get a taste of what Parramatta has to offer.
Best Restaurants in Parramatta
Temasek
Temasek is a giant in the Western Sydney food scene set amongst a modest backdrop. Temasek is a family-run institution that has been serving up Singaporean-Malay dishes with a pan-Asian influence since 1992. They do excellent Indonesian nasi goreng, fried Hainanese chicken rice, as well as a fragrant King Prawn Hae Mee, but the main attraction here is the award-winning Singapore-style laksa. The Chinese fried rice is particularly good too, even out of a takeaway container the next day, which may be necessary as the portions are large.
Chefs Gallery Parramatta
The bustling Westfield Centre has many retreats from the chaos for shoppers to fuel up, but Chefs Gallery is one of the best. Serving modern, experimental Chinese and Asian-inspired dishes, the team here have been smashing out awesome flavour combos since 2010 and are behind a number of key venues in the Asian food scene across Sydney. Expect melt-in-your-mouth crispy honey eggplant and crowd-favourite duck pancakes dripping in hoisin sauce.
Pho Pasteur
Good pho has the ability to bring you back from the dead. This simple Vietnamese dish is honed to perfection by Mr & Mrs Pham who came to Parramatta as refugees in the early 90s. At Pho Pasteur, they replicate an extensive range of traditional Southern Vietnamese dishes including the iconic noodle soup, which comes loaded with herbs and spices and a selection of tender beef cuts for their house special but can also be made vegan with soy chicken which is something of a welcome rarity.
The Coffee Emporium Restaurant & Bar
What began as a dream in Blacktown has expanded to a city-wide caffeine empire. The exposed brick Emporium Restaurant, situated in a picturesque courtyard in Parramatta under fairy-lit Jacaranda trees is the jewel in the business' crown. It serves upmarket modern Aussie replete with Tasmanian salmon poke bowls and brunch staples like smashed avo and feta on sourdough. The creamy wild mushroom risotto is a must-try and if you can manage it, finish off with a crunchy burnt-butter cheesecake.
Lilymu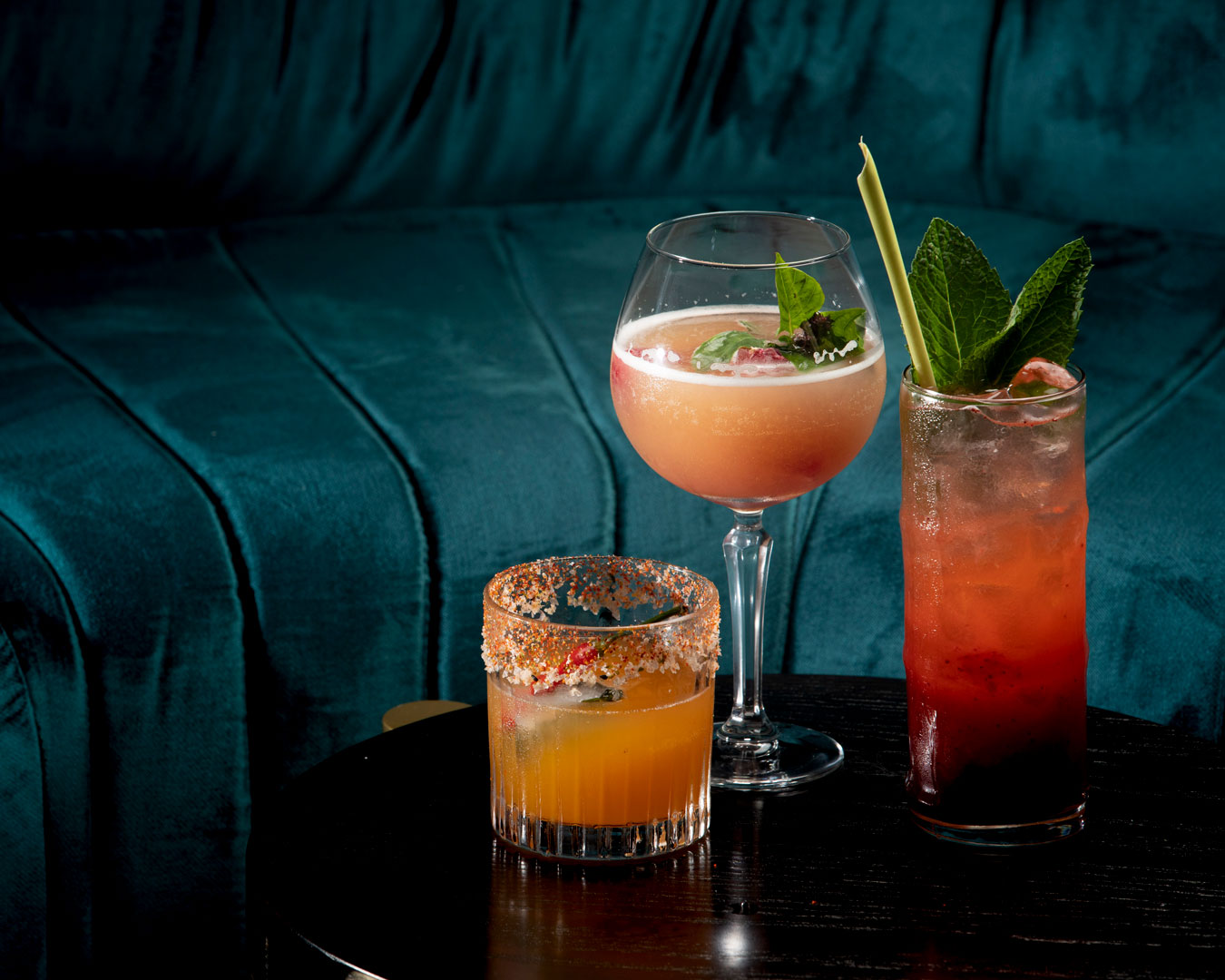 Lilymu is a sign of things to come. Recently opened by Nour's Ibby Moubadder and Jorge Farah, they've brought former Mr Wong's chef Brendan Fong to head the menu in Parramatta's new dining precinct. A Chinese-centred menu with strong South Asian vibes, the food is fresh, light, and varied enough to keep you coming back for more. They've got succulent snapper ceviche and black bean mi goreng nestled in crispy bean sprouts topped with egg yolk. The bespoke cocktail menu here is extensive too and worth exploring.
CICCIABELLA TRATTORIA + BAR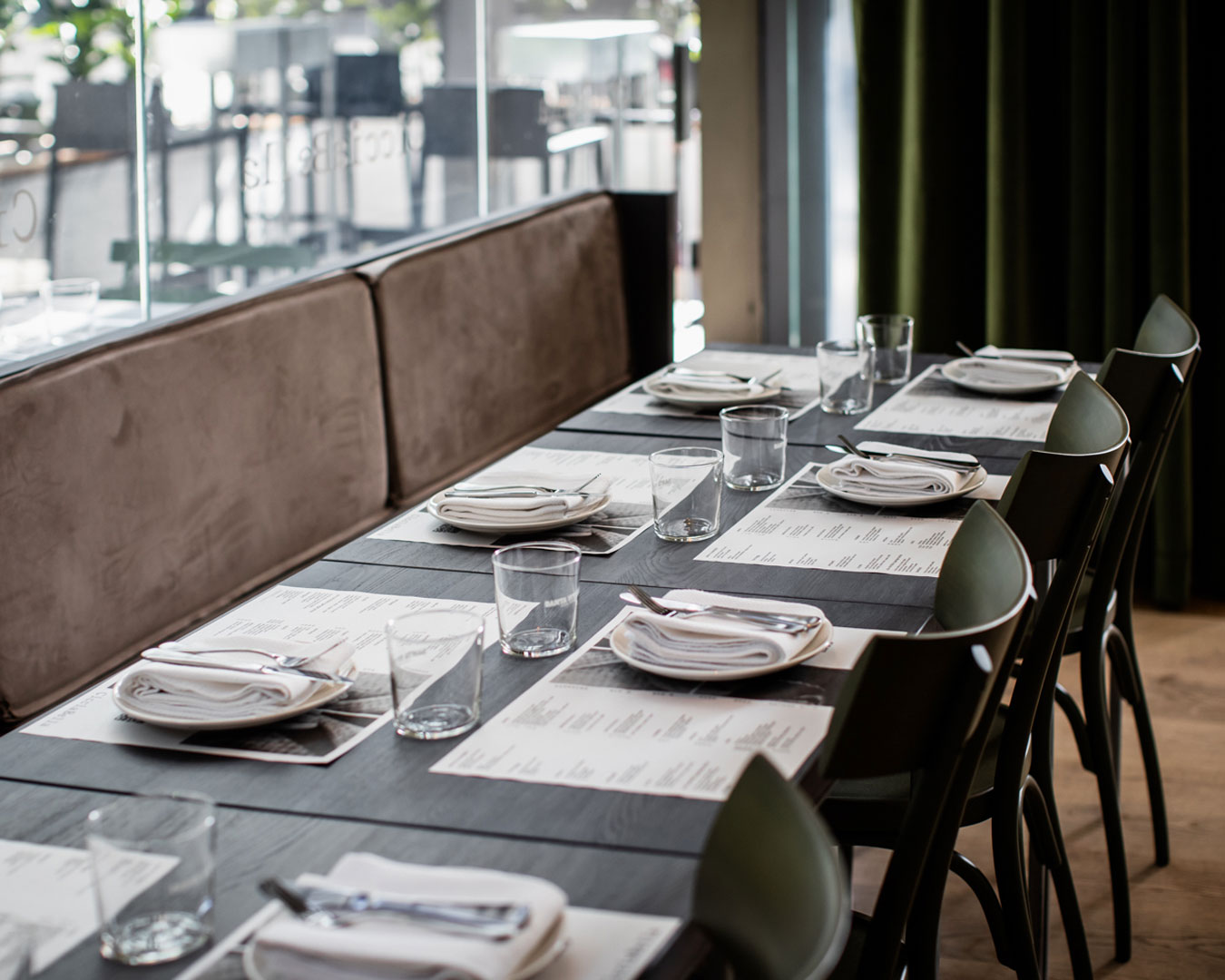 Also at the shiny new Parramatta Square precinct is a sister outpost of Maurice Terzini's Bondi Beach Italian. CicciaBella Trattoria + Bar is headlined by chef Nic Wong (Cho Cho San, Appollo), sommelier James Hird on wines, and Scout London's Matt Whiley on cocktails. Bondi's pop-orange chairs have been swapped for sleek, earthy olive greens, but hand-made pasta is still the main event.
"The food will have our DNA but it takes inspiration from the great trattoria's of cities such as Milan," Terzini told us. "Most importantly, like Bondi, quality and simplicity are key… the same inspiration; Cucina Povera from Southern Italy."
EL Phoenician
Standard-setting Lebanese in a schmick setting, El Phoenician do Middle Eastern in a fun, friendly way right up to the weekend belly dancers (who—fair warning—will expect you to join in). It's not overly traditional and draws on local influences too by offering light seafood plates like the tomato-soaked sizzling prawns alongside juicy, tender kebab selections. El Phoenician's dip selection with smoky baba ganoush and soft vine leaves is superb—something no Lebanese joint could be without.
Bay Vista Dessert Bar
For dessert, there's nowhere better than Bay Vista. It's a sugary powerhouse like something out of a Roald Dahl novel with a menu running to 44 pages and filled with whipped cream and chocolate sprinkle-covered indulgence. It's very much a family-friendly vibe but if you can manage to get a table, it's perfect for rounding off an evening. The Inca Gold and Africa Wild ice cream bowls are real showstoppers and our recommendation if you're not worried about dropping into a food coma.
Harvey's Hot Sandwiches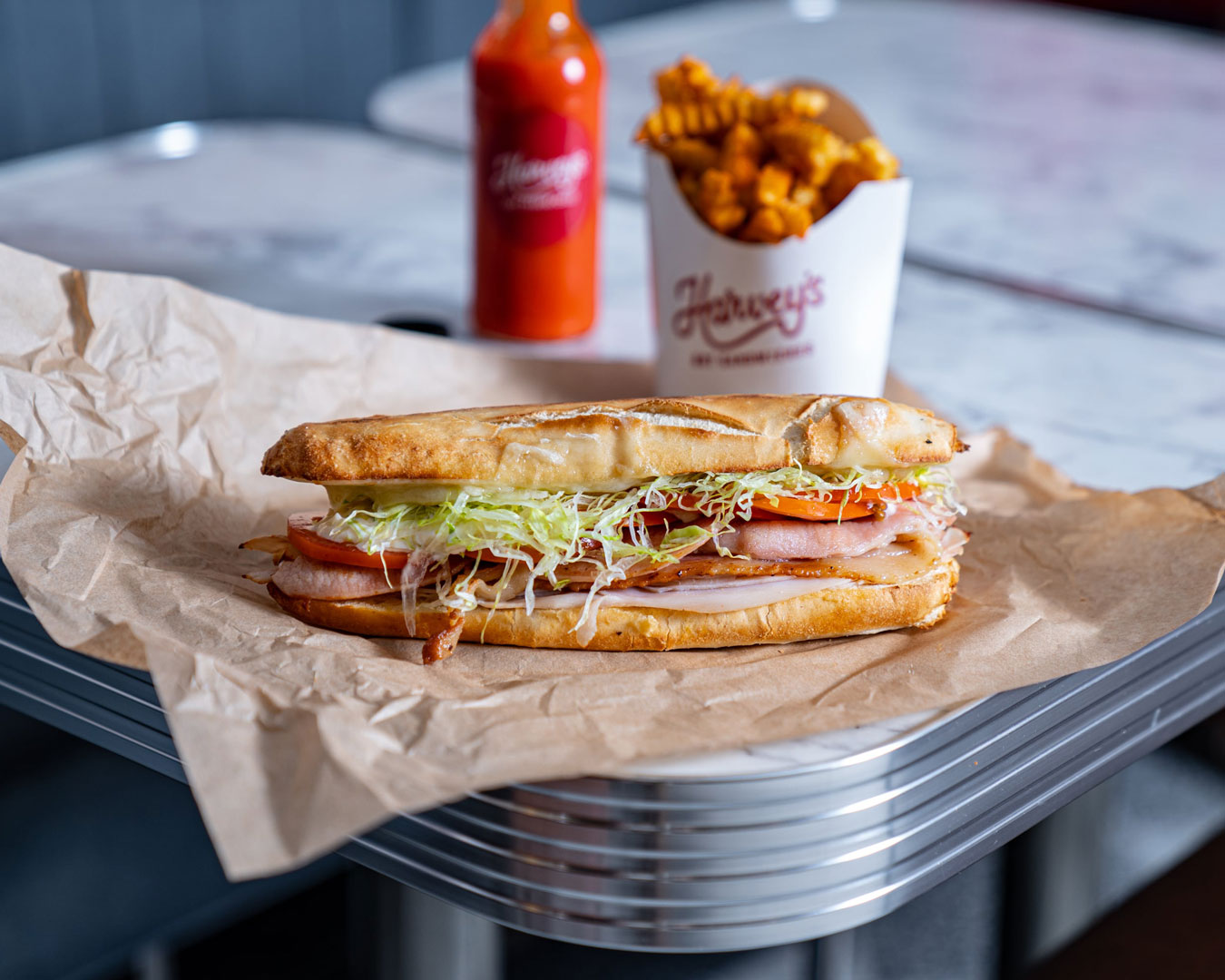 Adding to Sydney's growing sando scene is Harvey's Hot Sandwiches. Also in the new Parramatta Square precinct, expect a retro, Grease-era American diner serving made-to-order signature subs served simple (with mustard and swiss cheese) or sloppy (with Russian dressing, coleslaw, and swiss cheese). Our favourite is the Muffuletta, made with mortadella, ham, salami, Harvey's olive spread, provolone cheese and Swiss cheese. It's a lot—but that's the vibe here. Did we mention there's a Nutella fountain?
Best Bars in Parramatta
Uncle Kurt's
Uncle Kurt's takes the "hidden bar" concept to brave new heights. This place is situated underneath a car park and is a one-of-a-kind in the area. With absolutely no signage it's a wonder they have any customers at all but the place is usually packed with in-the-know people drawn to their awesome bespoke cocktails and extensive back bar. Espresso martinis with a blueberry twist and a Westside gin and citrus mix with crystallized ginger garnish are our go-to's.
The Albion Hotel
Your typical Aussie boozer but done really well, Albie's caters to all tastes with its polished wooden furnishings, expansive outdoor beer garden, and sticky late-night dance floors. It's a heritage building dating back to the late 1800s and stocks your classic range of Aussie brews on tap while spicing it up with a modern cocktail list including a fairy floss-topped tropical vodka mix and jugs of pornstar martini. It's ideal for hanging out and shooting some pool on a lazy weekend.
Nick and Nora's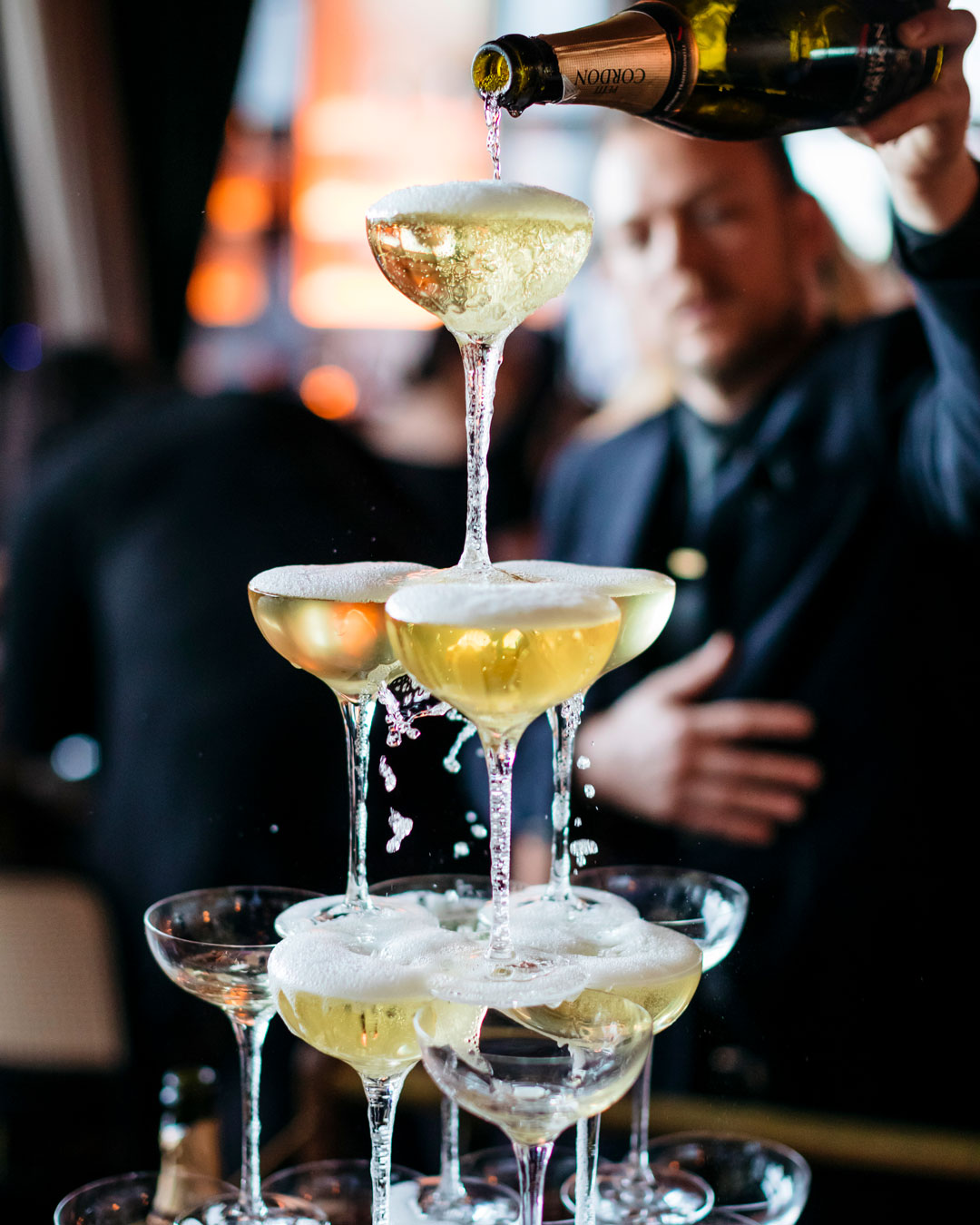 Situated high above the city on the 26th floor of the V building is exactly where you should indulge in a 1920's noir-themed champagne and cocktail bar. It's pricey with a capital P but for stepping out into high society in Parramatta you should look no further than Nick and Nora's. Their cocktail range is murder-mystery inspired and includes tipples such as the French Conspiracy tinged with Earl Grey tea and a Burnt-Butter Old Fashioned. Cheers, old sport.
Riverside Brewing Company
The brewery that opened the door to craft beer in Sydney's Greater West, Riverside has been brewing absolute crowd-pleasers for almost a decade now. Their core range is geared toward the drinkable with the 33 Golden Ale and the 77 IPA coming in as strong contenders for best-in-show. They also churn out an exciting range of small-batch experimental concoctions which the friendly bar staff here will be more than happy to talk you through.
Best Cafes in Parramatta
Circa Espresso
We're not going to lie; good coffee, like, really great coffee, can be hard to come by out west. Circa Espresso has been changing all of that for a decade now with their own blends of premium beans from hotspots across the globe. Built around Melbourne coffee house principles, the place serves hearty seasonal fare using local and native ingredients with sides of home-made focaccia and sourdough. It's exactly what you want from a top-quality local cafe.
Paper Plane Cafe
Walk by Paper Plane on any given day and you'll wonder if it's worth trying to get a seat as this boutique establishment is always heaving. Thankfully, the friendly staff here can always squeeze you in and you'll quickly realise why the cafe draws such a crowd. It does gorgeous, fresh cafe staples and big breakfasts which, we can confirm, are perfect for mopping up any morning-after dustiness. The truffle scrambled eggs here are so good.
Lil Miss Collins
A total Instagram-magnet, Lil Miss Collins is a vibrant, pastel-coloured plant oasis in a concrete desert. They do over-the-top creations like the lamington French toast or the eggplant and halloumi stack for feeding your inner-child while also offering caffeine and Young Henry's beverages on the side. Until March next year, they've got El Cartel's Mexican pop up dishing up tacos and tequila cocktails until late that you can sample while puffing on a shisha pipe, something of a local delicacy round here.
Mëraki Merchants
Mëraki is a classic example of doing one thing and doing it really well. They've crammed themselves into a fairly nondescript glass-fronted corner of Parramatta to bash out silky coffees and simple treats and become local legends in their own rights. They infuse Middle-Eastern influences throughout by, for example, blending milo with rosewater, or making slow-roasted lamb and hummus jaffles to create these amazing cross-cultural mashups. Truly punching well above their weight.
Best Things To Do In Parramatta
Riverside Theatre
Theatre—and the arts in general—have been under fire across Sydney for some time now. Fortunately, things are still kicking along nicely over at Riverside who has a three-space venue for large and small touring shows. They get everything from touring musicals to quirky one-person comedies and put a real emphasis on supporting local and First Nations artists. There's always something good on here so if you're in the mood to indulge your cultural side, a visit should certainly be on the cards.
Parramatta Park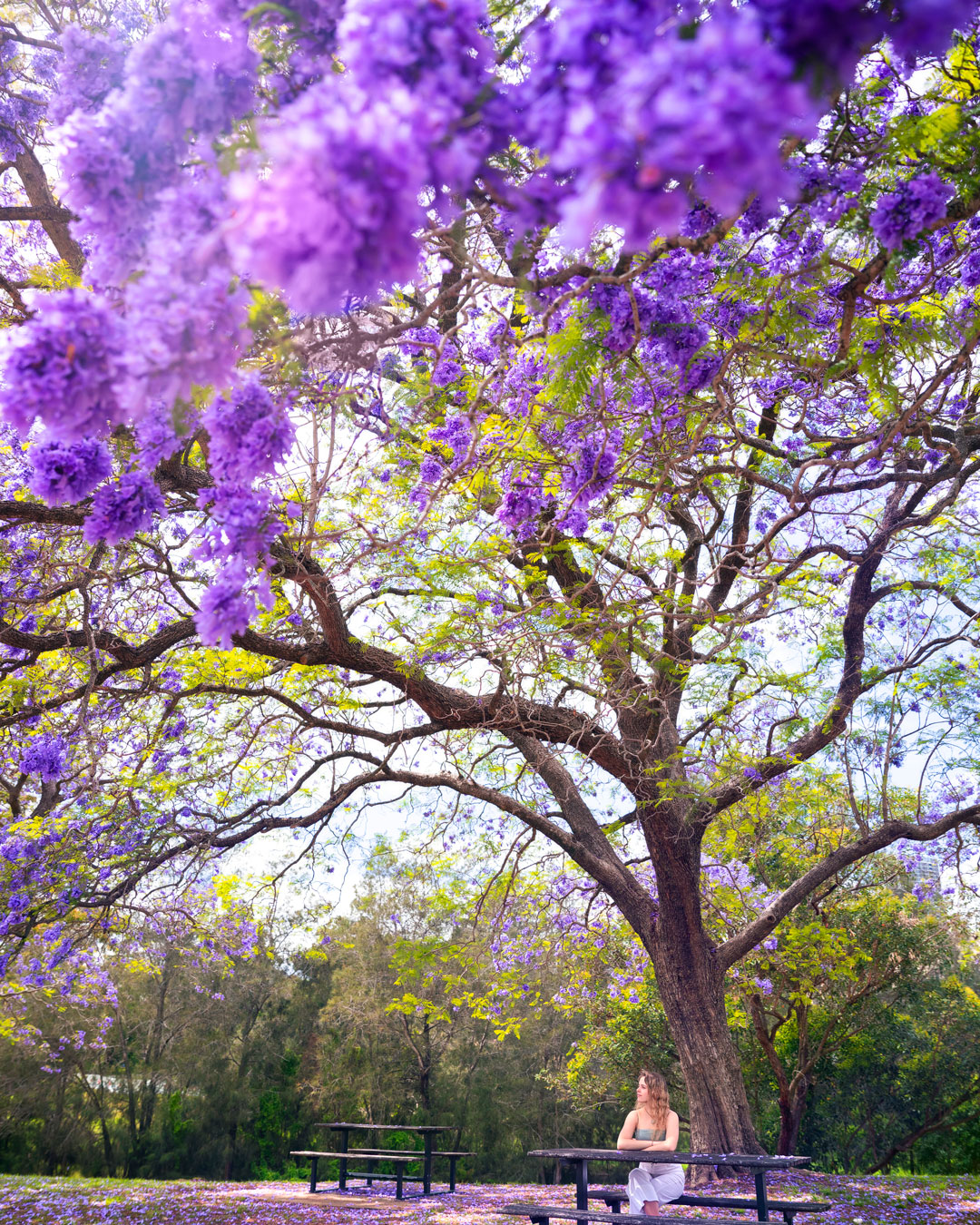 Sometimes, you just need a big wide leafy space to get away from the hustle and bustle of urban traffic. Parramatta Park is a great place for a post-lunch stroll or reading a book in the sun. If you're in need of supplies, Georgie Boy cafe at the George Street entrance will do an excellent mushroom toastie which can be made gluten-free on charcoal bread. It's run by the Circa Espresso crew, so you know you're in good hands.
Lake Parramatta
Lake Parramatta is a bit of a hidden gem. Just north of the city, you'll find beautiful bushwalking tracks, overhanging sandstone caves, and an imposing masonry dam wall which is (obscure pub quiz fact incoming) the first engineered dam built by settlers in Australia. There are also water dragons darting about and if you're feeling thirsty after your walk, Riverside Brewing Co is just 'round the corner for a refreshing top-up.
And seeing as you're in the area—why not check out Parramatta Square, Sydney's newest dining precinct.
Image credit: Leigh Griffiths, Lilymu, Nikki To, Leigh Griffiths, Destination NSW (Nick and Nora's), Destination NSW