How we view holidays, renting and working from home has changed dramatically. More of us are opting to reimagine travelling and working in tandem by finding short term rentals for an extended stay, a "workation", or even a suburb switch.
But what exactly makes an Airbnb suitable for your short term stay or extended getaway in Sydney? Ideal location, comfortable space, all the homely comforts of your apartment or house—and some legit discounts if you rent for more than a month.
We've rounded up some of the best short term rentals in Sydney, giving you prime access to some of our city's best suburbs and helping you create a home for a few weeks or as long as needed. We'll also mention a few around NSW if you're doing the reverse and looking to get out of town.
The Best Short Term Rentals In Sydney
Urban Chic Terrace House
Paddington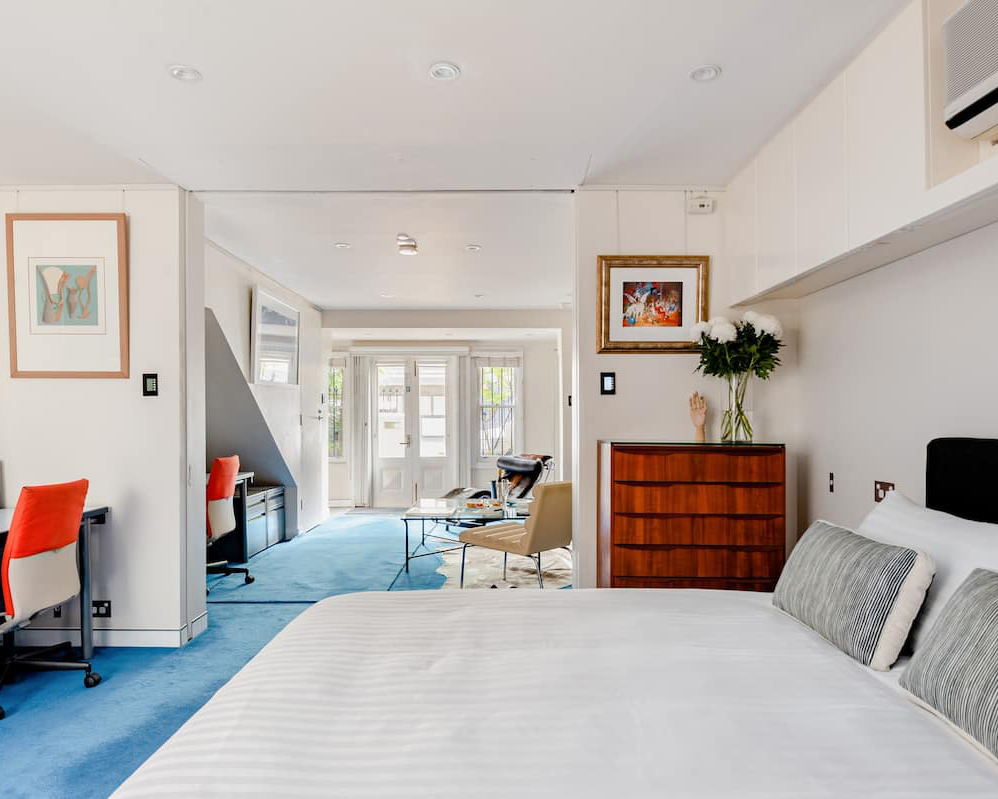 There may not be more enviably quiet streets so close to the Sydney CBD than those in Paddington. This is exactly what makes this charming Paddo terrace house, surrounded by restaurants, bars and shopping galore, so desirable for an extended stay. That, along with its chic and quirky interior stylings and an entirely stocked kitchen ideal for those at-home feels. A recent guest review described a "cornucopia of breakfast offerings", which says it all. Book your stay here.
New York-Style Suite
Surry Hills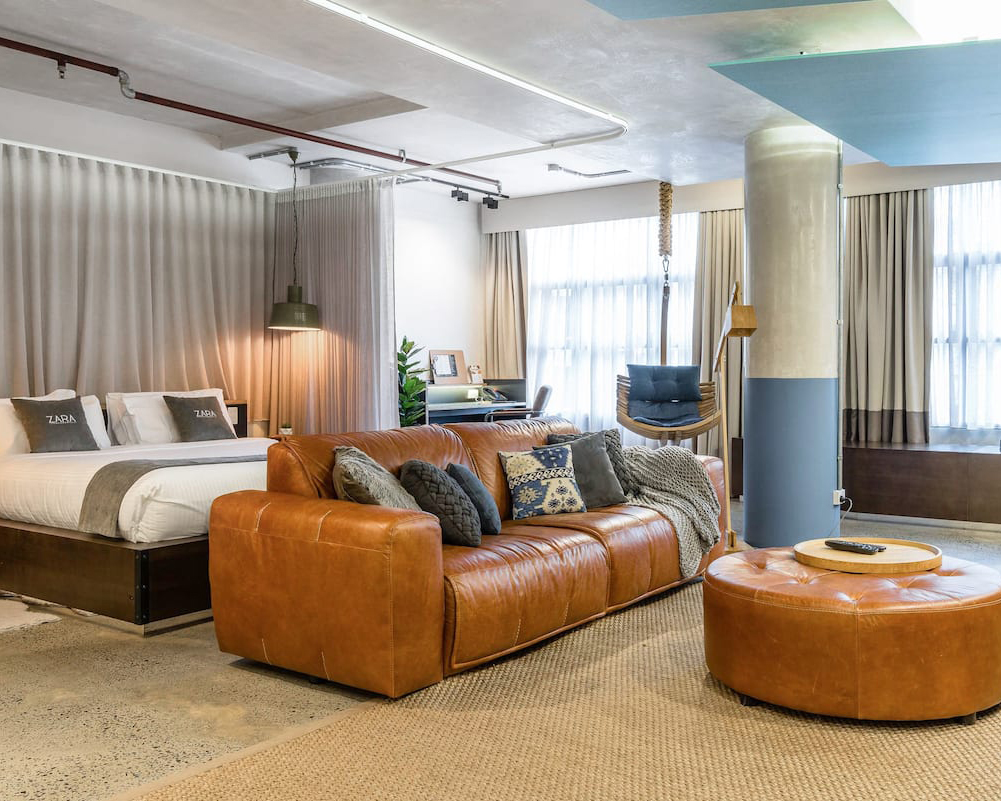 Dreaming of that some NYC vibes? This stylish and luxe Surry Hills apartment, located inside Zara Tower, places you right in the centre of Sydney's inner-city with a king-sized bed and every needed amenity. This is the perfect spot to work and play. And don't worry if your short term stay involves plenty of eating out and drinking because your accommodation includes a fully equipped gym that'll help you keep that usual fitness routine. While this accommodation is definitely in boujee price tag territory, the monthly discount offered is a whopping 40% off. Book your stay here.
Luxury One-Bedroom Apartment
Darlinghurst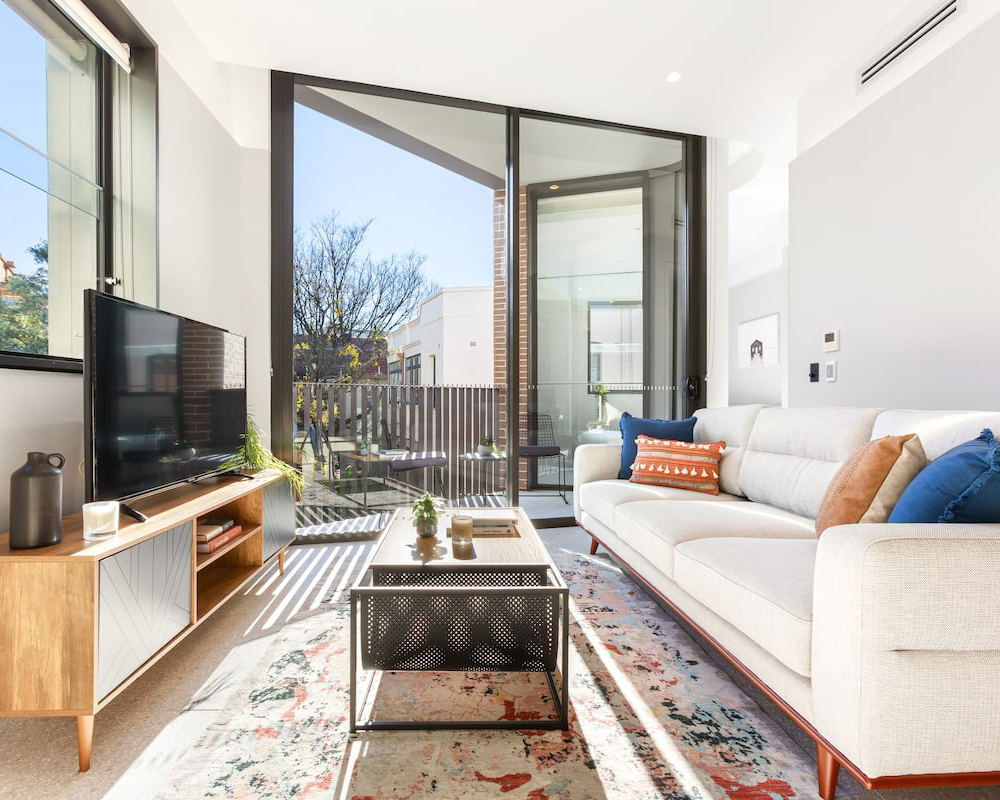 Nothing says luxe inner-city living in Sydney like a cute apartment in the heart of Darlinghurst—walking distance to the CBD, amongst some of the city's best hospo joints and an easy bus to the east and its beaches. This newly renovated apartment offers a bright space, plenty of light and all the comforts of home, including a 55-inch smart TV for those nights in with a bottle of wine and some local takeout. Book your stay here.
Large Private Studio
Chippendale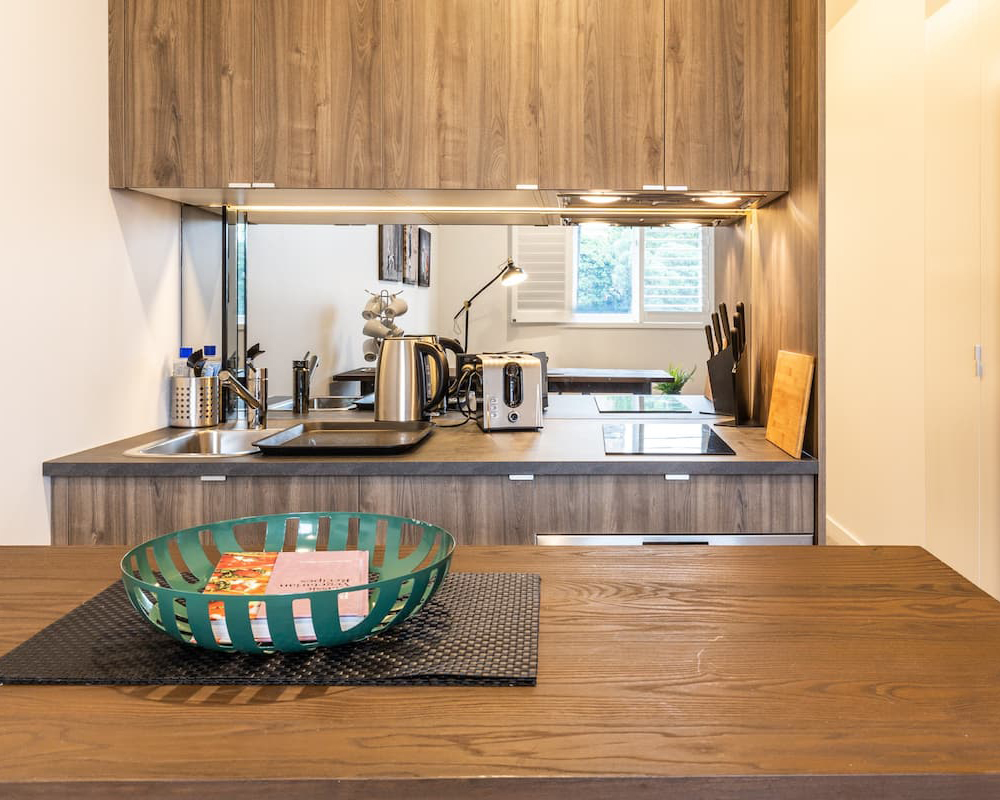 This cosy Chippendale studio is a favourite of the short term stay roamers. This is the ideal location if you're looking to do plenty on your Sydney stay, placing you in the perfect traveller's spot near Broadway. You're a short walk from suburbs like Glebe, Newtown, Surry Hills, and a short walk to Central Station, which provides access to every other corner of Sydney. Book your stay here.
Modern Bondi Apartment
Bondi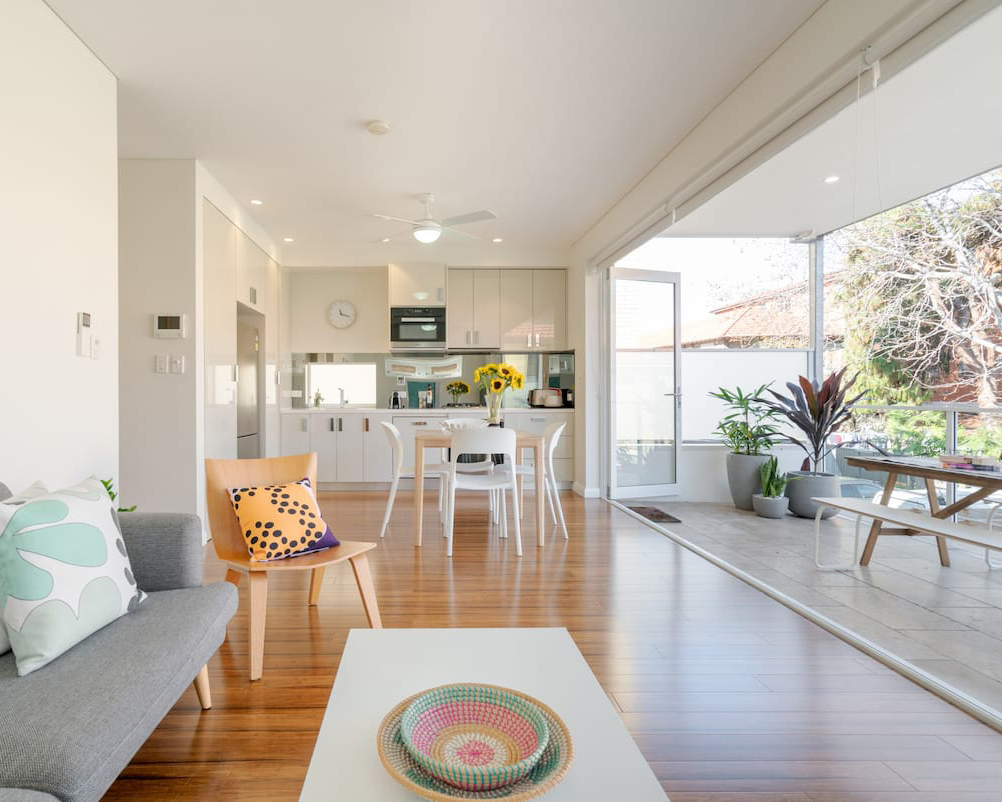 Why not bring a few mates along for your Sydney short term stay? It won't take much convincing once you tell them you found this ultra-sleek, bright three-bedroom apartment a stone's throw from Bondi Beach. When you're not swimming along the world-famous 1km stretch of sand down the road or spending your mornings out for brunch thanks to the area's excellent cafe scene—make the most of the giant retractable floor to ceiling doors opening up the living space and outdoor balcony. Book your stay here.
Amari Five Zero Four
Bondi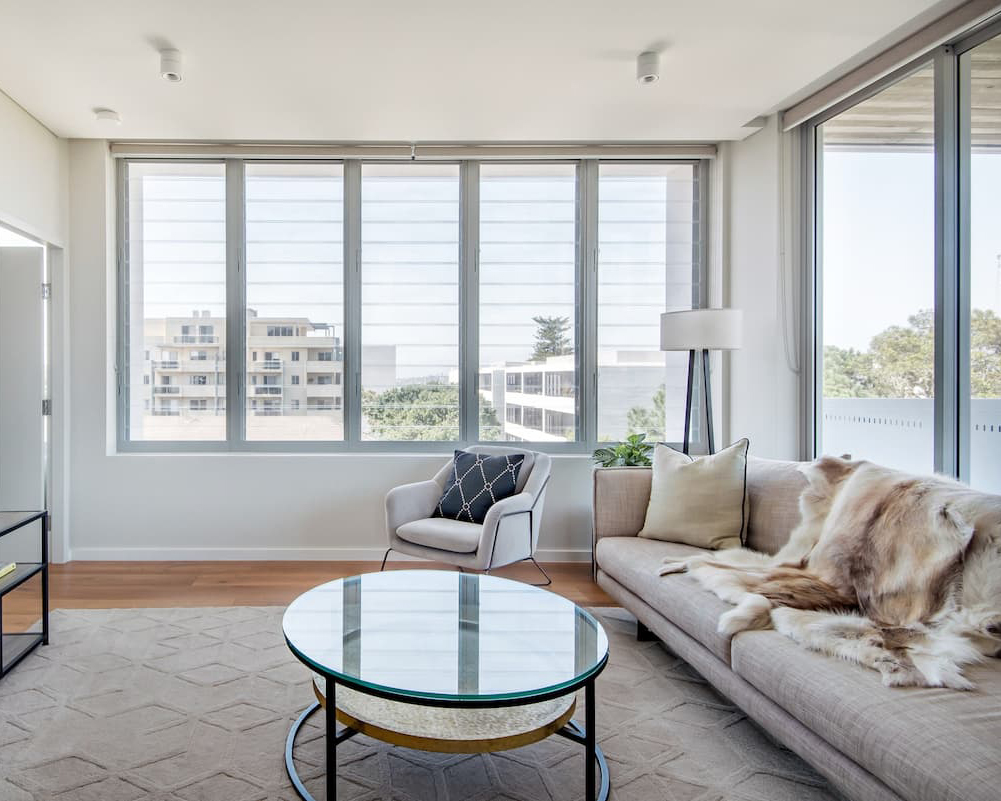 If you're looking to stay in Bondi, you might want somewhere with some ocean views, right? This modern Bondi stay offers real deal vibes of a home apartment, filled with boutique furnishings and neutral tones, along with a corner balcony that sees the great big blue. You should have no problem staying a month or two here, amongst one of Sydney's most famous and highly sought-after suburbs. Book your stay here.
The Little Spa
Manly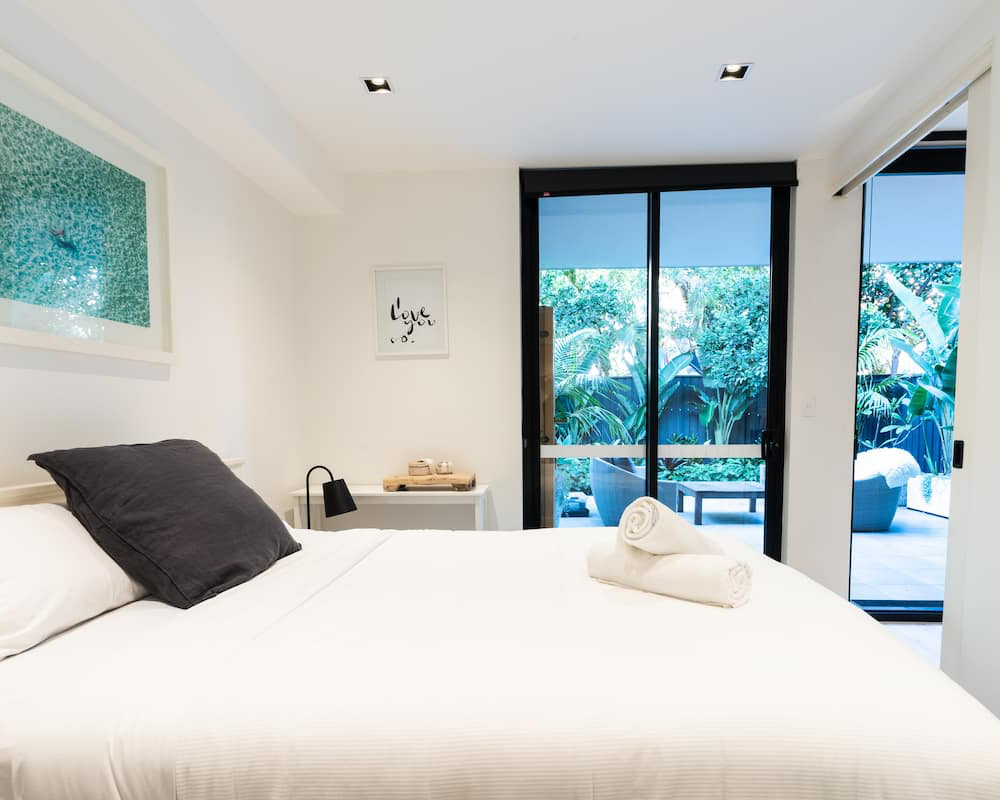 If we're rattling off amazing beachside locations in Sydney for an extended stay, Manly is somewhere near the very top of that list. You're either a 30-minute ferry ride to the CBD or in the middle of the Northern Beaches bubble with no reason to leave. There's a good reason this beach house-style unit is called "The Little Spa"–it comes equipped with an actual sauna room. Enjoy a drink amongst the lush green garden outdoor patio and work up a sauna sweat before heading down to Manly Beach for a refreshing dip. Book your stay here.
Modern City Pad
Darlinghurst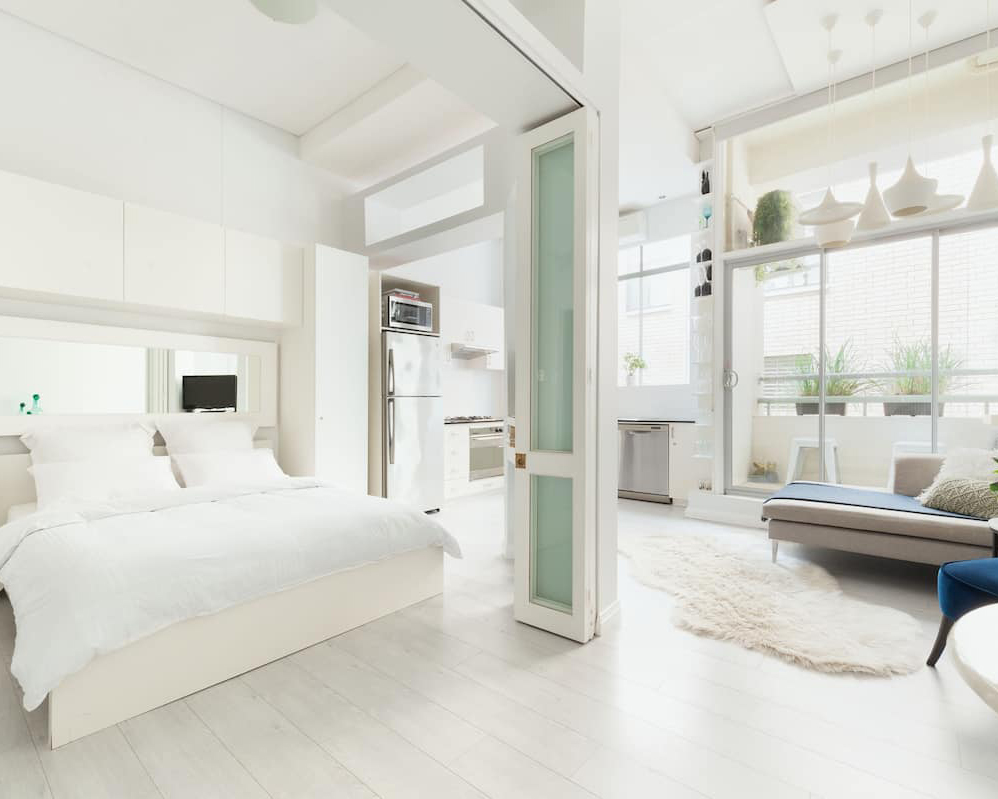 If you're looking for a place that says refresh, offers plenty of white tones and light, sandwiched between the CBD and inner-city suburb life–this Darlinghurst pad is for you. This architecturally-designed studio offers all the necessary comforts, an outdoor balcony and access to restaurants, pubs, bars, museums, sights and more. Plus, the proximity to Gelato Messina can't be beaten. Book your stay here.
Luxury Seidler Apartment
Potts Point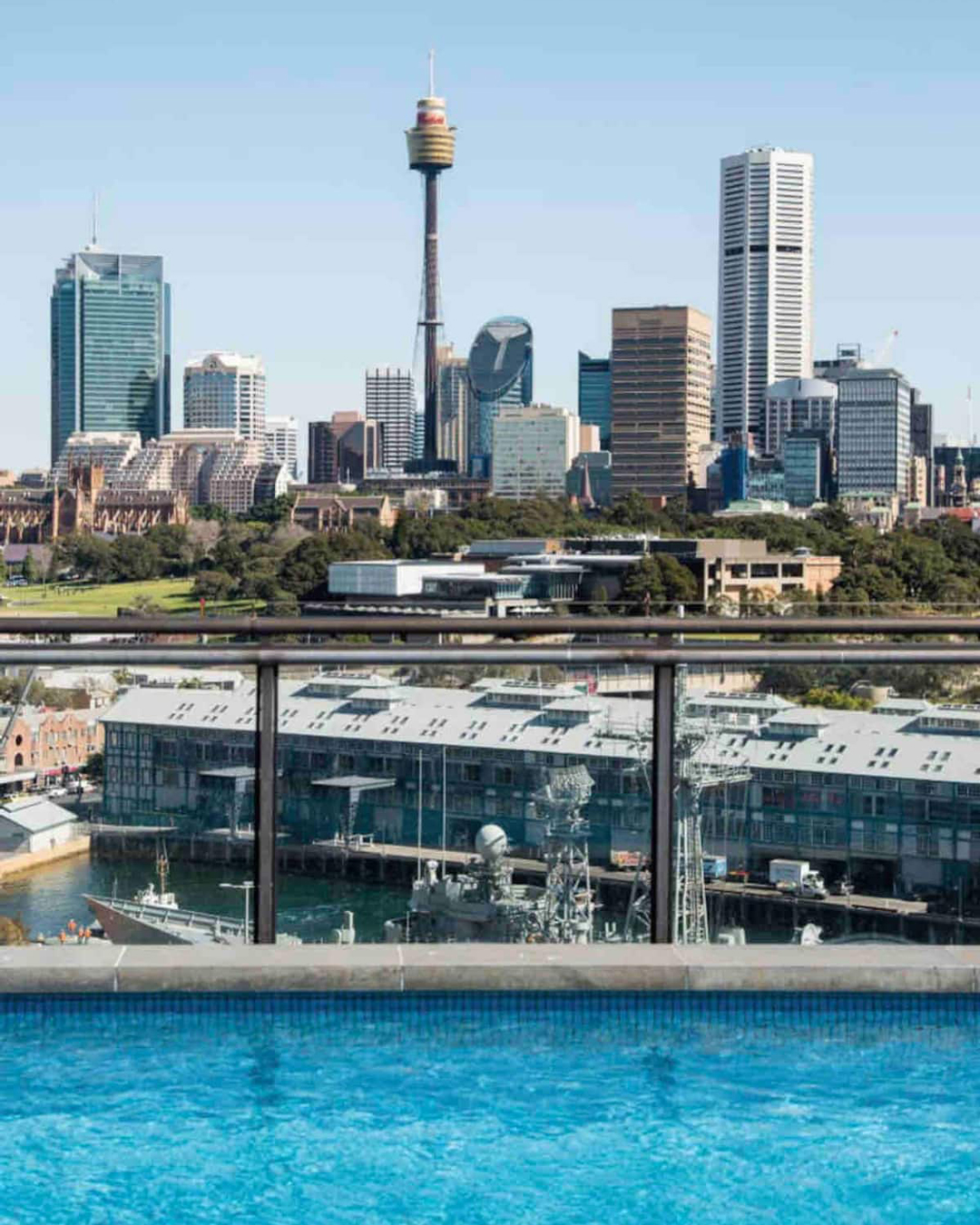 In all seriousness, some of these places sell themselves. Firstly, imagine calling the charming and restaurant-filled suburb of Potts Point your home for a month, close to the city and anything you might need. Now, imagine if the cute pad you're staying in happens to be in a building with a rooftop pool that is smack bang above the harbour and some of the best city views in Australia. If you needed reminding, Sydney's weather pairs pretty well with rooftop pools. Book your stay here.
Bondi Beach Penthouse
Bondi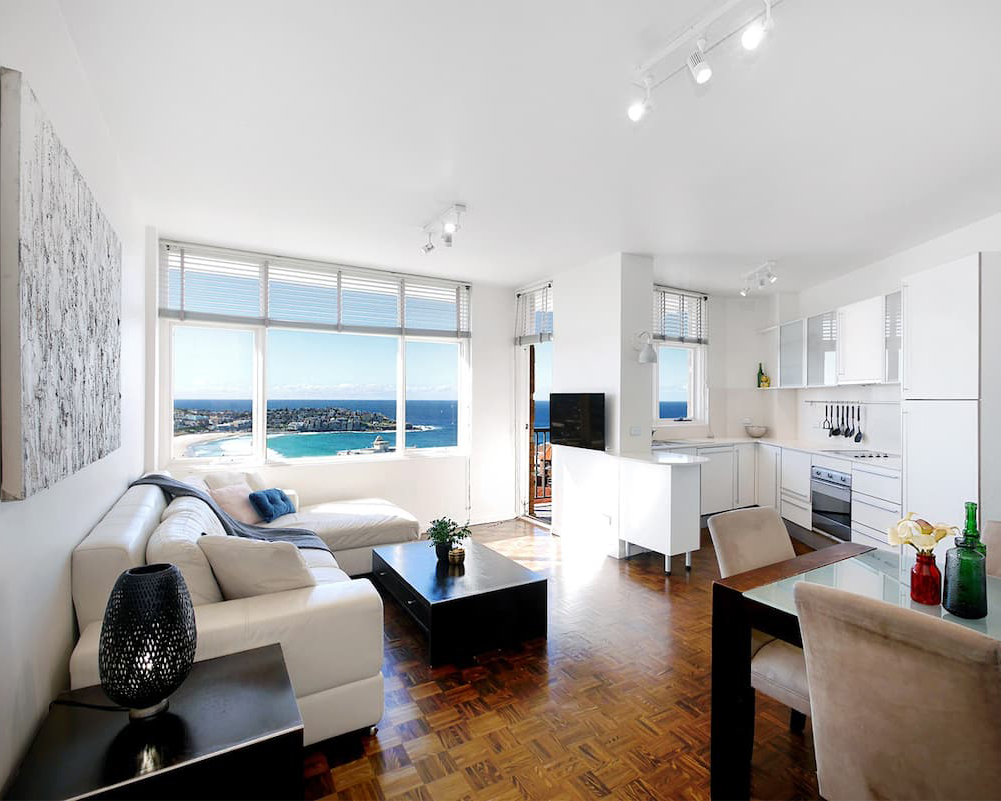 This is the mother of all beachside views and a must book if you want to be right above Sydney's most iconic swimming spot. This two-bedroom penthouse sits at the highest point in Bondi, with each room soaking up killer views of the sun rising over the Sydney coastline. The modern pad comes equipped with everything you could need, like an outdoor balcony, within walking distance of Bondi's main strip, restaurants like Icebergs Dining Room and Bar, and the Bondi to Coogee coastal walk. Book your stay here.
The Best Short Term Rentals In NSW
Family Home
Ewingsdale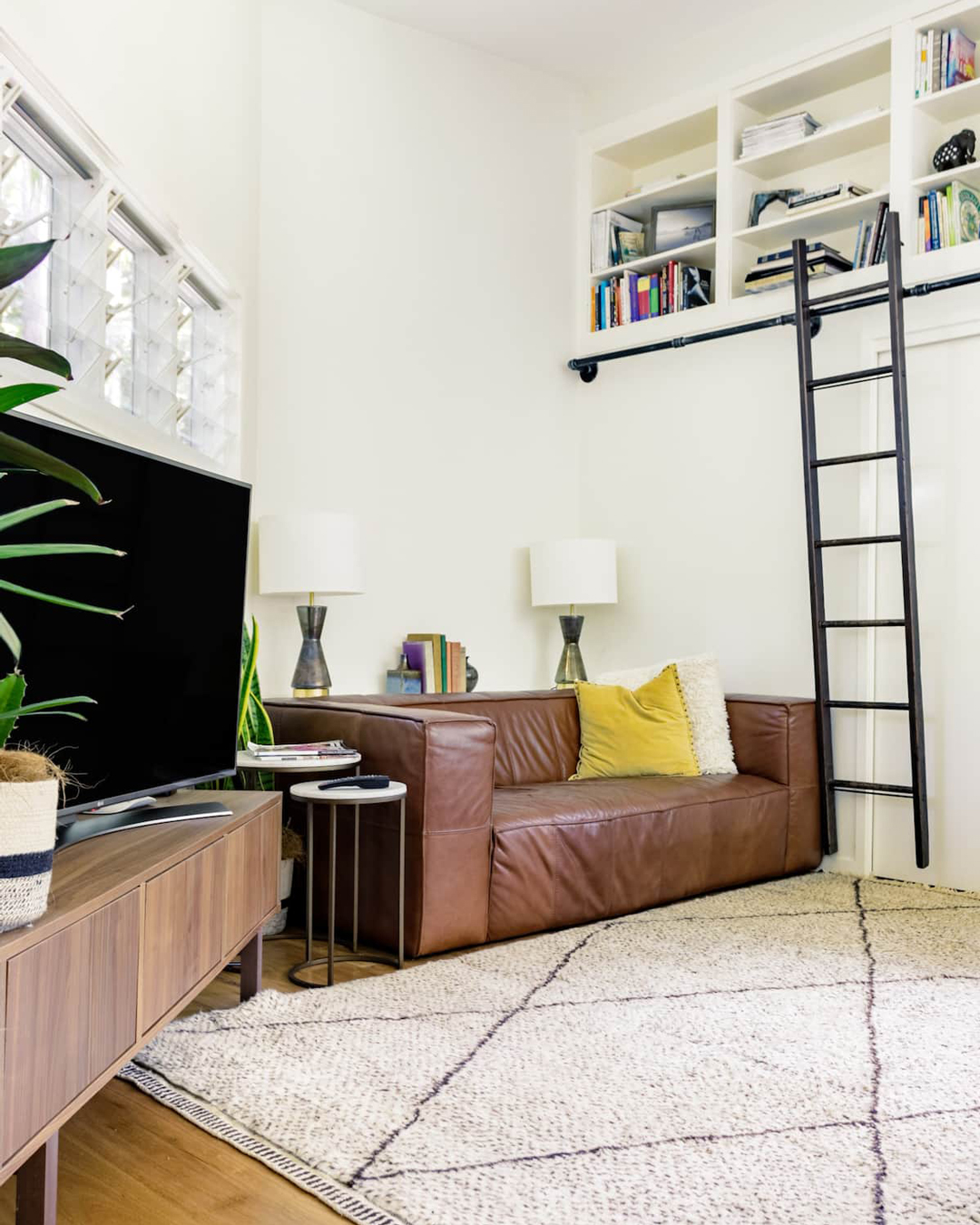 Where would you rather stay for a month, to live, work and relax, than the Byron Bay region? This luxurious two-bedroom home in Ewingsdale, just west of the famed NSW north coast town, offers just that. This ultra-modern home is as comfy and stylish as it gets, with plenty of space, natural light and outdoor wraparound deck space, backgrounded by green bushland. The space even comes with a dedicated home office space and kid's room with a cubby house and bunk beds if you're travelling as a family. Throw in a 10-minute drive to Byron's Main Beach, and that should more than seal the deal. Book your stay here.
Airline-Themed Tiny House
Knights Hill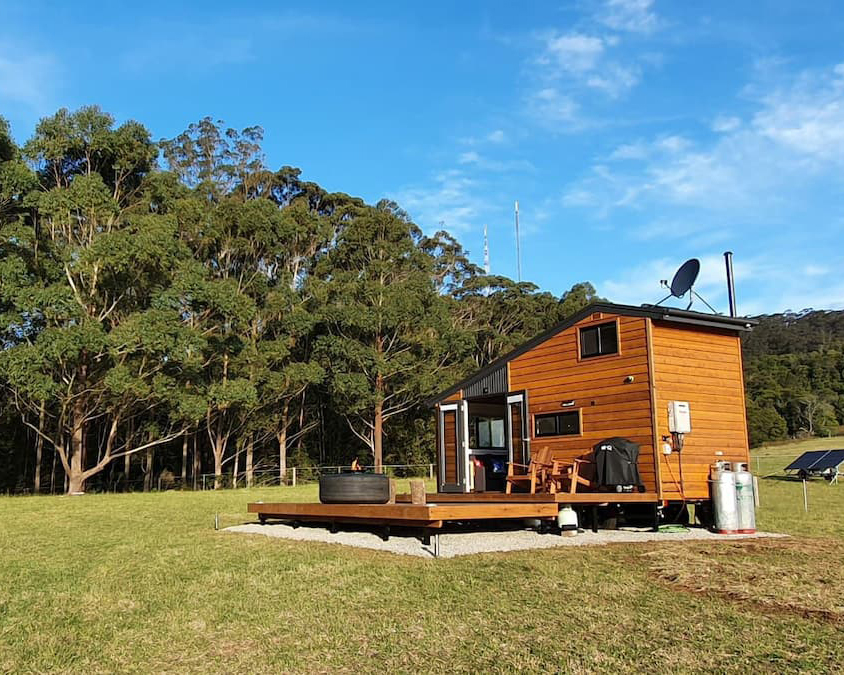 If you think tiny houses only exist for weekend stays—think again, my friend. As this Knights Hill tiny house on the outskirts of the picturesque and tranquil Southern Highlands can attest. Filled with airline memorabilia, this off-grid, eco-friendly, and modern tiny home sits on a secluded farm surrounded by bush and native wildlife. Explore nearby rainforest hikes and waterfalls or stay by the outdoor fire–you can't go wrong here. Book your stay here.
Jetty Beach House
Coffs Harbour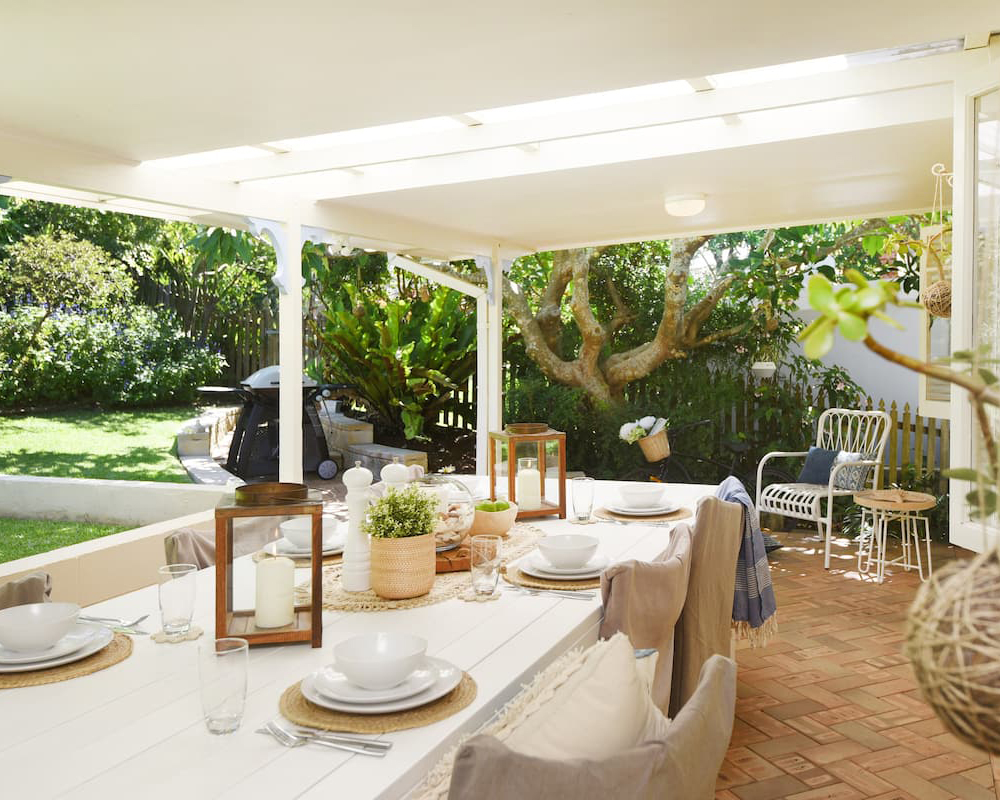 Again, the NSW north coast and beach-rich regions like Coffs Harbour sell themselves when looking for short term stays. We couldn't think of a better place to spend a few weeks than this 1920's beach house, just a short walk to beaches, wine bars, cafes and restaurants. This spacious two-storey, two-bedroom bungalow offers a proper home experience to settle into, with a luscious backyard, back patio, water views and even a charger if you're bringing the electric car. Book your stay here.
Nulla Nulla Blacksmith's Cabin
Bellbrook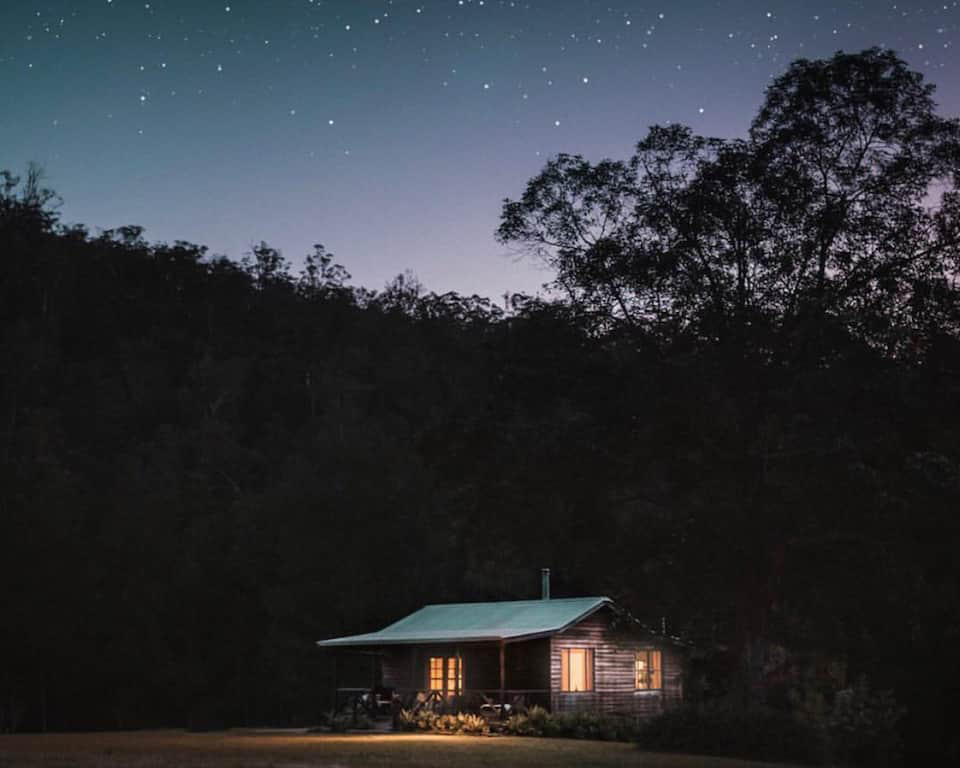 Bellbrook is bout a five-hour drive north of Sydney, inland from Nambucca Heads. And hidden within its forest is the Nulla Nulla Blacksmith's Cabin, an ideal home for those looking for quiet serenity and nature. This off-the-grid farm retreat nestled by a creek is as cosy and comfortable as it gets, giving you the much sought-after opportunity to unwind completely in a natural setting. End your day with a swim, a hike, dinner under the stars, or curling up in front of the fireplace. Book your stay here.
Travelling? Check out more great local escapes in our travel section.
Image credit: Airbnb
Editor's note: Urban List editors independently select and write about stuff we love and think you'll like too. Urban List has affiliate partnerships, so we get revenue from your purchase.