When it comes to working out, we're more of the 'easy does it' kind of people. And since we're surrounded by beaches in Sydney, there's no better way to get fit (or have a gossip) than by hitting the pavement for a good old fashioned walk.
Chase that weekend sunshine and take the scenic route, salt spray included. Here are Sydney's best coastal walks.
Hermitage Foreshore Track
We'll ease you in with a, shall we say, not so challenging walk first. The family-friendly Hermitage Foreshore walk may be simple, but it's also simply spectacular. Start at either Bayview Hill Road or Nielsen Park then stop to snap some shots of the Harbour Bridge, Strickland House and Shark Island along the way.
The Balconies To Marley Beach
If you're up for nine-kilometre god damn beautiful coastal walk, be sure to check this one out. It takes, on average, about three to four hours to complete so once we account for the photo opps along the way, let's just say you should keep the whole arvo free. We would hit this one up on a sunny Sydney day with a bag filled with water, snacks and a whole lotta sunscreen. Don't say we didn't warn you.
Botany Bay Coastal Walk Kurnell To Cronulla
Okay, so we all know there are loads to see in the Shire but we're pretty sure this one will pack a punch. With a 12.7km track (bear with us) you'll have plenty of time to soak up the sunshine, sea breeze and take a casual pause for an shot at the Boat Harbour Aquatic Reserve on the way.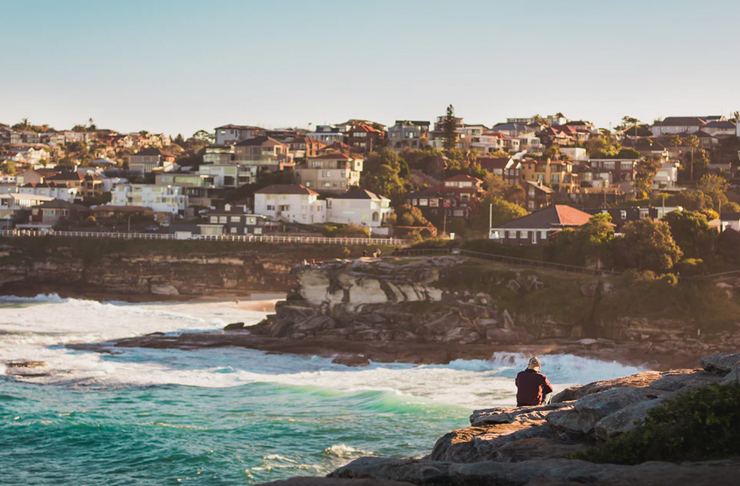 Bondi To Coogee Walk
We know you're well-acquainted with this coastal walk, but we'll tell you all about it anyway. This iconic six-kilometre walk starts at Icebergs, winds up past Mark's Park then on to Tamarama, Bronte and Clovelly, and from there, it's al about Wylies Baths and Coogee. There's a reason this one is packed every single day of the week—because it's damn beautiful.
Bradleys Head To Chowder Bay Walk
This leafy track weaves around the harbour headlands from Taronga Zoo Wharf and it's an easy way to combine the best of the bush with the Northern Sydney 'burbs. Dotted with heritage-listed buildings, historic sites and harbour views along the way—this one is a quintessential Sydney stroll.
Bundeena To Otford
Now, this walk is for the committed and the serious fitness and nature junkies—this two-day walk (perhaps trek is more accurate) is a truly special way to see South Sydney. The 26km walk will see you camping overnight at North Era Campground which is just off North Era beach, so don't forget to pack your swimmers. To top off the walk, whales are often seen off the shore between May and November.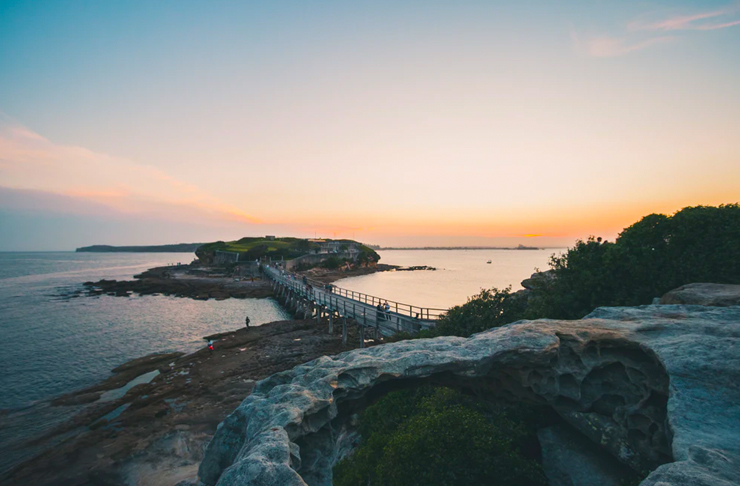 La Perouse To Yarra Bay
Are some of these walks sounding a little exhausting? We're thinking it's about time you take it easy with this three-kilometre walk from La Perouse to Yarra Bay. The panoramic views over Botany Bay are exactly what your Sunday needed, along with a salty breeze (exactly what your hangover needed, too). This walk is also perfect for a little family bonding with wheelchair and pram accessibility and calm beaches perfect for sandcastle competitions.
Barrenjoey To Avalon
This track impresses all of your out of town visitors. Kick off the walk by climbing to Barrenjoey lighthouse before making the walk over to Avalon. The views along this walk will alternate between Pittwater and the Pacific Ocean and there'll be plenty of beach views along the way. Plus, any respectable Home & Away fan will consider a trip to this part of Sydney an absolute must.
Balmain To Circular Quay
Sure you could drive this one, flag down a ferry, or board a bus, but none of these involves fresh air or a cheeky beer at the end. If you have 40 minutes to spare this weekend or just want to pace yourself between drinks, we suggest starting this walk between the Inner West's unofficial "pub-urb", pound the pavement past Pyrmont and finish at Opera Bar.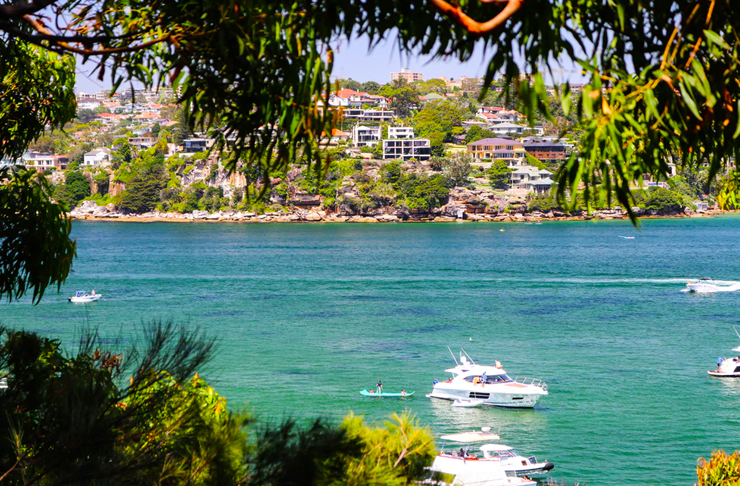 Spit Bridge To Manly Walk
This trail ticks all the boxes so we're giving the 10-kilometre trek a big fat thumbs up. Start by boarding the ferry for a ride across the harbour to Manly before hitting the track. If you stay on the track then you'll wind past Dobroyd Head, wander through the Sydney Harbour National Park at Castle Rock before passing Clontarf Beach, Sandy Beach and Fisher Bay. If you're a rule-breaker, take a detour to see the Aboriginal rock engravings at Grotto Point Lighthouse; the Arabanoo Lookout and Forty Baskets in Balgowlah. If the season's right, you might spot a whale at this last spot too.
Brighton-Le-Sands To Sans Souci
This little gem of a walk features flat paths along the beach and spectacular views the Shire has on offer. FYI this path is perfect for families with strollers, bikes and all the little ones straggling behind. For those looking for an extra health kick on top of the 4km walk there's also outdoor exercise equipment along the way and a dog-friendly vibe which is perfect for your little pooch to stretch their legs.
Ready for a swim? Here are a few of Sydney's best natural swimming spots.
Image credit: Matyna Bober, Laura Cros, Quentin Grignet, Dalal Nizam