Whether you're a hot dessert person, a cold dessert person, an iced dessert person or a room temperature dessert person—Sydney has a lot to love when it comes to satisfying your sweet tooth.
And is it just us or has Sydney gotten sweeter? Our city is committed to making sure that dessert truly is the best meal of your day—or your month, or even your year. It seems like salted caramel is here to stay, and retro desserts are on the rise—kept simple, but packed with top-notch seasonal ingredients.
The days of Peter Gilmore's iconic Snow Egg might be behind us, but fear not—new players are waiting in the wings to become dessert superstars. Best of all, with an Urban Feast card, you'll basically get dessert for free at any of the participating venues—do you really need another excuse?
So without further ado, here are nine of Sydney's most delicious desserts. We think we've hit the sweet spot here—how many will you try?
Ricotta Cannoli | Pasticceria Papa
Haberfield, Five Dock, Bondi
Pasticceria Papa's wear the proverbial cannoli crown in Sydney, and while the make three flavours—ricotta, chocolate and vanilla, the one you'll want to indulge in time and time again is undoubtedly the ricotta. It's light and crispy on the outside, smooth and velvety on the inside.
Strawberry And Watermelon Cake | Blackstar Pastry
Rosebery, Newtown, CBD, Moore Park
If you live in Sydney and you haven't indulged in a slice of Blackstar Pastry's strawberry and watermelon cake, who even are you? Stop reading this article immediately and get yourself to the closest Blackstar bakery. Whether you're a sweet tooth or not, this dish has become the sweetheart of Sydney—one wealthy overseas investor loved it so much, he bought the whole business because he truly believed the strawberry and watermelon cake would outstep the lamington as an Aussie cultural and culinary icon. Still need convincing? It's made of layers of dacquoise, watermelon and rose-scented cream and topped with rose petals, strawberries—meaning it looks as good as it tastes.
Bread Pudding | NOLA Smokehouse And Bar
Barangaroo
NOLA heroes the dreamy Southern decadence of New Orleans and Louisiana. If you don't have time to shoot over to the fried chicken centre of the world to sample their infamous sweets (a peach cobbler or a key lime pie, for example)—NOLA has you covered with some delightful, modern spins on Southern classics. Our favourite has to be the bread pudding—it's basically oven-baked brioche bread pudding, plated up with black currant poached pear and liquorice ice cream. Divine. Pair it with a proper bourbon at sunset, and you're in dessert heaven, Southern-style.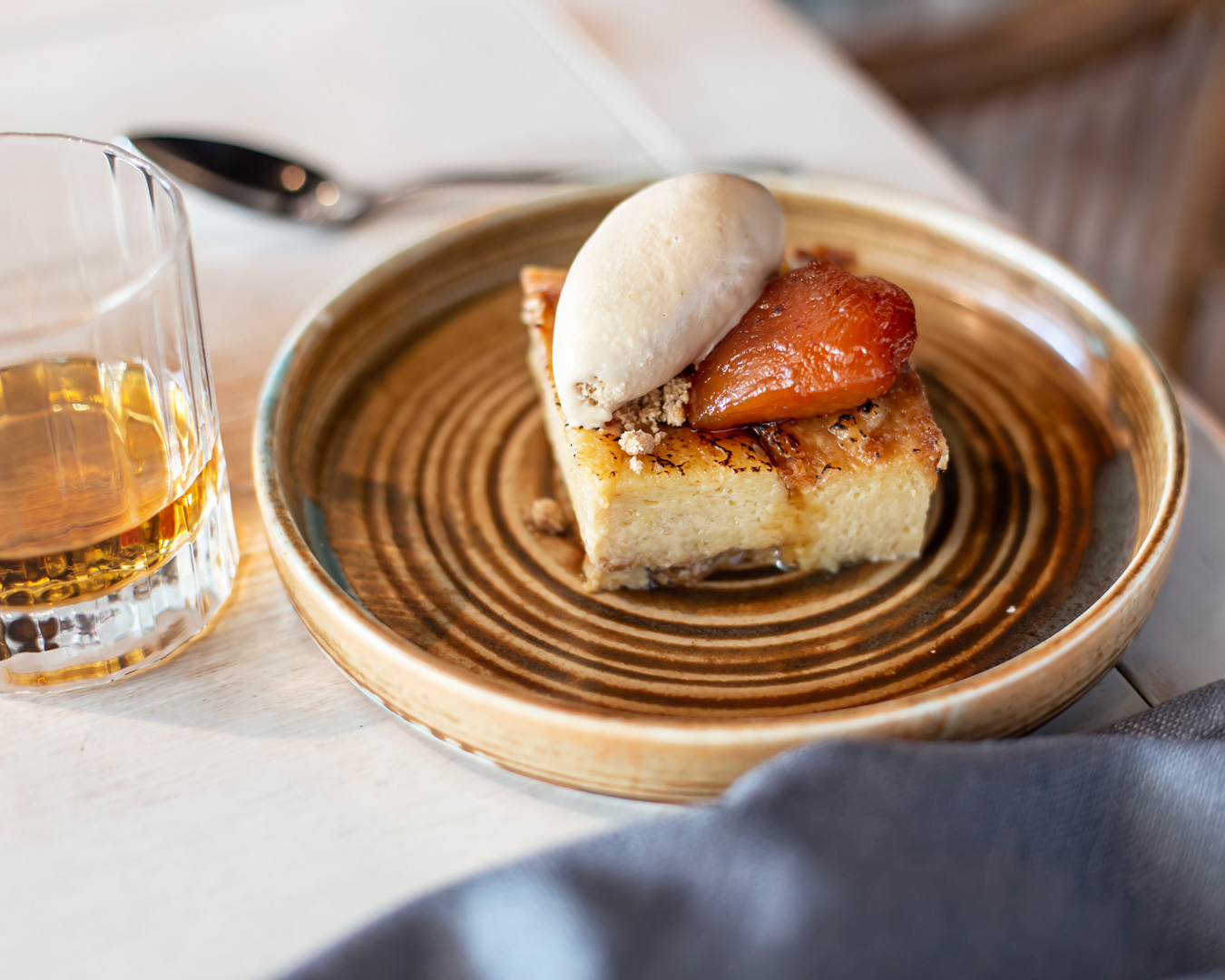 Black Sticky Rice And Coconut Slice | Long Chim
CBD
While Long Chim pretty much owns Thai food in Sydney thanks to its founder, chef and Thai culture expert, David Thompson—the desserts here are maybe the unsung heroes on its spicy menu. The neat select of sweets is very (very) good and there's one standout that definitely deserves a spot on our list. The Thai coffee ice cream and banana roti are must-tries, sure—but it's the black sticky rice and coconut slice that takes the cake, so to speak. More of a slice than a traditional sticky rice pudding, it's perfectly balanced. You'll want to order seconds, trust us.
Dulce De Leche | Gelato Messina
Various Locations
Yes, we'd be remiss to not include Sydney's OG gelato legends on this list, Messina. They've pretty much taken the world by storm with their next-level ice cream and wacky dessert creations, the hardest part is simply choosing a favourite flavour. We might have said pistachio, but then this pale green idol can be polarising. What about apple pie? Bounty? Or humble Hazlenut? After much deliberation—our money is on the iconic Dulce De Leche. Made in-house with Argentinian caramelised milk, if you've got out of towners in tow that are keen to take the Messina plunge, steer them this way.
Bergamot And Rum Baba | Pilu
Freshwater Beach
While Freshwater's beautiful beachside cottage, Pilu follows a mostly Sardinian bent, pastry chef Marco has blurred the lines a little with a Neapolitan-style dessert, because, he says, it's his favourite. His citrus rum baba is served with mascarpone cream, and is just one of a few dishes that show off Pilu's well-deserved two-hat status. Book your date night or special occasion in here (and don't skip dessert).
Floating Pavlova | Bar M
Rushcutters Bay
This one is a newbie in town, putting a little modern magic on the classic pav. It's from the culinary creative genius of Bar M's owner and head chef, Paola Toppi and features seasonal fruit and Chantilly cream, floating on a bed of fairy floss. A simple upgrade, that goes a long way.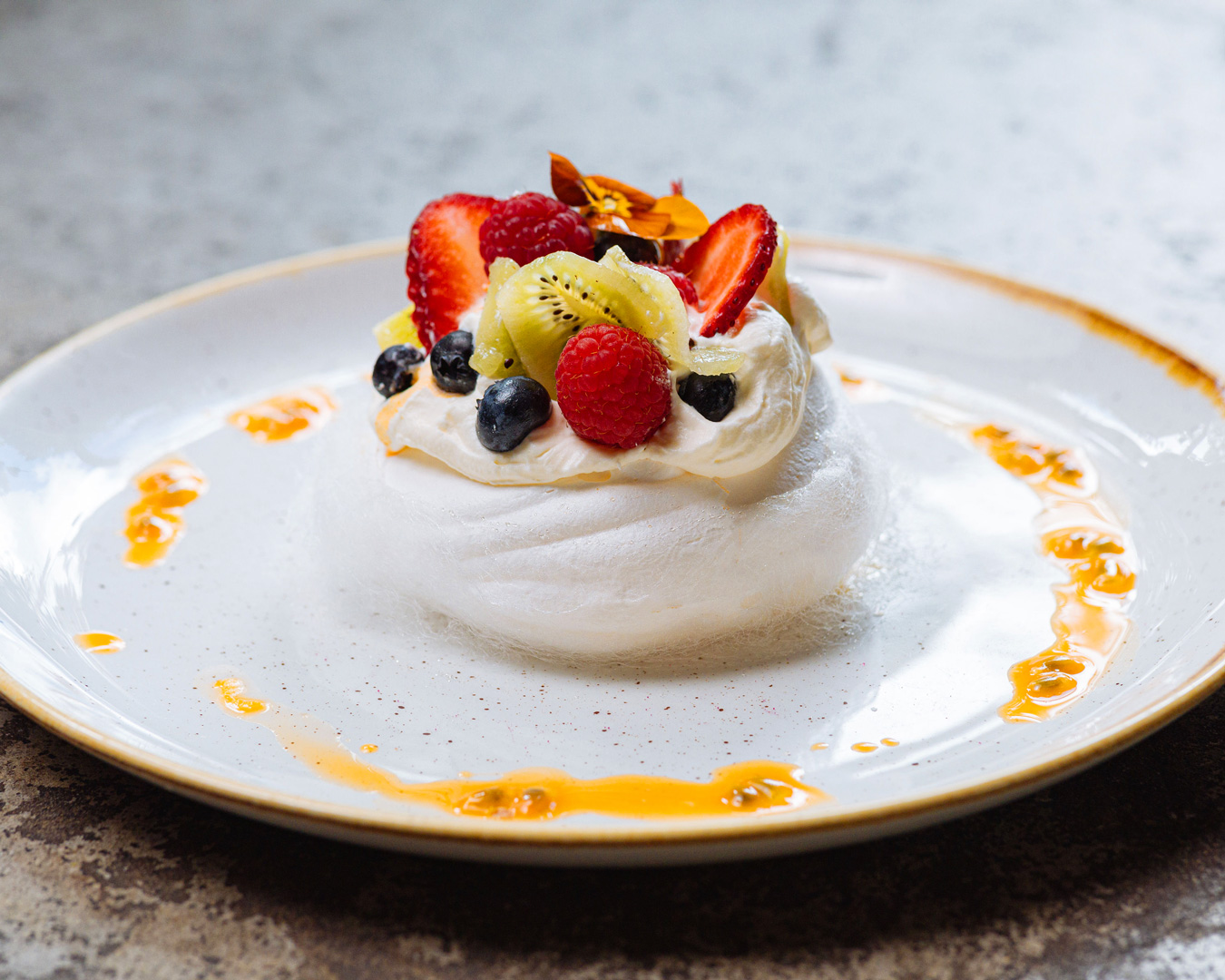 Boozy Banana Cream Pie | Saga Enmore And Saga Lyte
Enmore, Darling Square
Dessert and pastry king Andy Bowdy won us over with his oozing, stacked cakes and American-style comfort food when he launched into our lives as part of the original Hartsyard kitchen crew way back in 2015. His dessert kingdoms—Saga in Enmore, and the newly-opened Saga Lyte at Darling square are something of a dream. From his Tiramisu-to-go, to his apple turnover, lime pie and Instagram-ready mini cakes—if you're into desserts and pastries, Saga's cabinet will be a vision of heaven for you. Our favourite of Bowdy's brilliant creations has to be the boozy banana cream pie, made with Jack Daniels gel, fresh banana, a chocolate biscuit base and shaved chocolate.
Dark Chocolate Coconut Malabi | Tayim
The Rocks
If you're feeling adventurous and after something slightly lighter to cap off your meal—you need to try Tayim's dark chocolate coconut malabi. This historic dish dates back to the Middle Ages and Sassanid Persia, though Tayim's version is far more modern. Made with peanuts, berries and pomegranate syrup, it's delicate and not overly sweet. Fans of Turkish delight will love.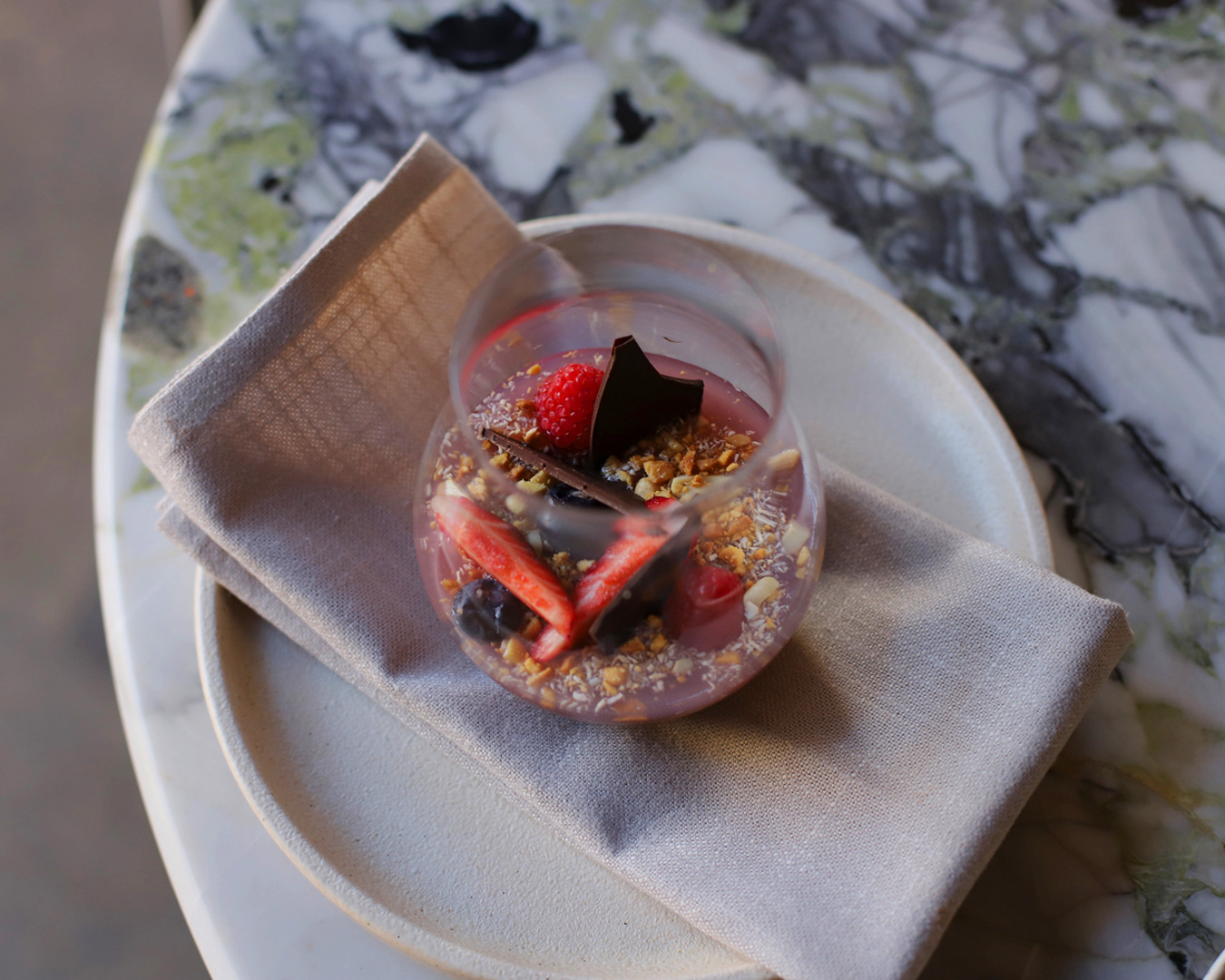 Want to sample all the desserts in this article but can already hear your wallet screaming? That's what Urban Feast is for; if you see an icon next to a restaurant's name, then you can get $25 off your bill. Learn more about Urban Feast here.
Looking for cakes? Check out some of our favourite Sydney cake shops right here.
Image credit: Nikki To