Whether you're a hot dessert person, a cold dessert person, an iced dessert person or a room temperature dessert person (there are more than you think), we have literally taken every temperature into consideration to round up everything your sweet tooth desires.
Is it just us or has Sydney gotten sweeter? Our city is committed to making sure that dessert truly is the best meal of your day… or your month, or even your year. It seems like salted caramel is here to stay, and the motto of the minute is that if it's not deconstructed, it's reconstructed. And we sure ain't complaining because however you want to serve it, it's always delicious.
Without further ado, here are 50 desserts you must try in Sydney. We think we've hit the sweet spot. How many can you tick off?
1. The gelato burger at Cremeria De Luca.
2. Nutella balls from Tella Balls Dessert Bar.
3. The infamous strawberry watermelon cake from Black Star Pastry.
4. Belgian waffles with mixed berry compote and, of course, maple syrup from Ironwood Coffee.
5. The ritzy four-course set dessert menu from Koi Dessert Bar.
6. Double fudge chocolate cookies from Kurtosh (drool-worthy).
7. Stoner's delight part three (doughnut ice cream, peanut dulce de leche, peanut & pretzel brittle, crispy bacon, mars bar brownie, passionfruit curd, potato chips and deep fried Nutella) at Ms. G's.
8. Sea salt soft serve from Aqua S.
9. Baked ricotta cake from Papa Pasticceria.
10. One Penny Red's banana and salted caramel beignets with chocolate sauce.
11. The salted caramel gelato at Messina. It isn't exactly original, but would it be a Sydney dessert article without it? No, it wouldn't.
12. The most Instagram-able cakes ever from Andy Bowdy.
13. Pistachio macaron, toasted oats, goats chevre sorbet, raspberry jam and pistachio chantilly Kensington St Social.
14. The Pana pop at Pana Chocolate.
15. A slice of OTTO's giant tiramisu (because giant tiramisu).
16. Chocolate warm couverture ganache, hazelnut mousse, amarena, cherry sorbet BLACK Bar & Grill.
17. Failed fig cheesecake made with burnt butter crumbs, strawberry wine, grape molasses from Thievery.
18. Strawberry and champagne at Owl House. AKA spiced mascarpone cheese with cacao, pistachio, and strawberry sorbet.
19. Coconut sago at The Morrison.
20. Raw cacao mousse cake at Orchard Street Dispensary
21. Popcorn flavoured macaron by Adriano Zumbo (trust us).
22. Apple tart at Bar Machiavelli (okay, two).
23. Hotcakes with caramelized banana, Earl Grey custard and maple popcorn at Left of Field.
24.A brewnut from Brewtown Newtown because it's a damn classic.
25. Milky Lane's red velvet churros bowl. 'Nuff said.
26. Knafeh Bakery's signature dish, the sweet cheese semolina cake. Just try not to dance while waiting for your order, we dare you.
27. A Homer Simpson-looking doughnut from Donut Papi.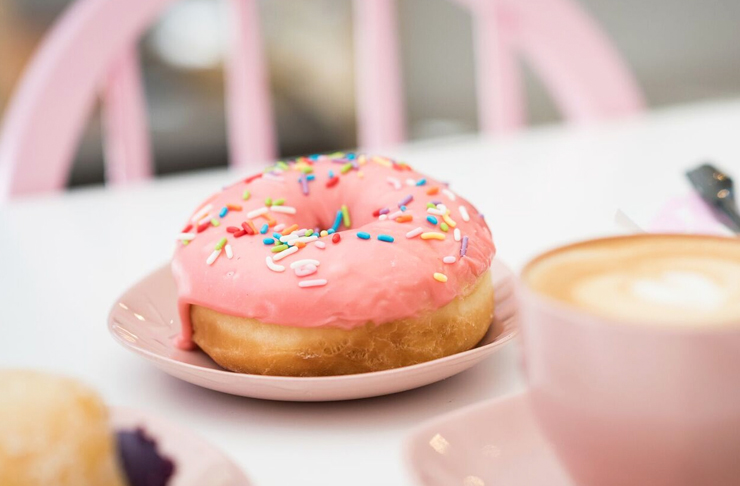 28. ANY cake from Bourke Street Bakery, but particularly the flourless Belgian chocolate cake (oldie but a goodie).
29. We only need the white chocolate sandwich with dulche de leche from 4Fourteen and you do too.
30. Flower shaped gelato at i-creamy is everything your insta-feed needs.
31. Dessert bao at Belly Bao, but especially the Golden Gaytime Bao.
32. The crème brulee gelato from Ciccone and Sons is as authentic as creme brulee gelato can be TBH.
33. The words 'keep it simple stupid' come to mind when eating the chocolate pot at Dead Ringer. Because it's freaking good, okay.
34. The matcha soft serve from Cho Cho San is juuuuust extra enough.
35. The best snickers slider with chocolate, caramel and peanut nougat at Riley St Garage.
36. A big jiggly stack of matcha hotcakes at LABLD.
37. Ricotta e fiche by the Italian stallions at Rivareno.
38. A fried chocolate doughnut at Smoke in Barangaroo #yas.
39. Lamington waffles stacked with cream and fruit compote is a go at Paperboy because dessert for brunch is always a win.
40. A big ol' scoop of deep-fried ice cream from Sydney's freshest food truck, Duo Duo Ice Cream.
41. Uncle Tetsu's Japanese cheesecake has hopped to Sydney and you need it.
42. The phattest Lindt chocolate brownie by our favourite Italians at Fourth Village in Mosman.
43. Apple Crumble Gyoza with apple compote, vanilla custard, blackberry puree and crumble from the newbies at Sunset Sabi.
44. Muffins, doughnuts and cookies the size of your head by Butter Boy Bakery; track his locations on his Instagram page.
45. Salted caramel Danish from Mrs Jones the Baker at Freshy beach.
46. The sweeter-than-sweet bagel from Smoking Gun (hint: it's topped with honeycomb and Nutella).
47. Banoffee Pie packed with banana, toffee, biscuit, cream and chocolate by the fabulous 3 Weeds in Rozelle.
48. Violet cake from Cirrus in Barangaroo with blueberry and buckwheat.
49. White peach dessert with yuzu, mandarin, passionfruit and meringue by the babes at North Bondi Fish.
50. Mercado's doughnuts and coffee. We're talking Spanish doughnuts with coffee granita and custard (it's fancier than you think).
Prefer crazy over the top burgers? Read this.
LABLD | Image credit: Caitlin Hicks