Food trucks are having a bit of a renaissance right now. Maybe it's because in 2020—with all our pent-up wanderlust—we're so keen to start travelling that we're looking for restaurants that can literally hit the road. Maybe we are just looking for reasons to get out of our house, or potentially it's just that some food tastes better when it's cooked in a movable kitchen in a jazzed-up van.
Whatever the reason, we're fully prepared to chase down Sydney's best meals on wheels this spring and summer, and here we've got the inside scoop on all the best food trucks in town, where to find them, and what they are serving up.
From breakfast spots to schnitzel vans, taco trucks, and roaming ice cream, eat your way through the day with the ten best food trucks in Sydney.
Scramble and Bean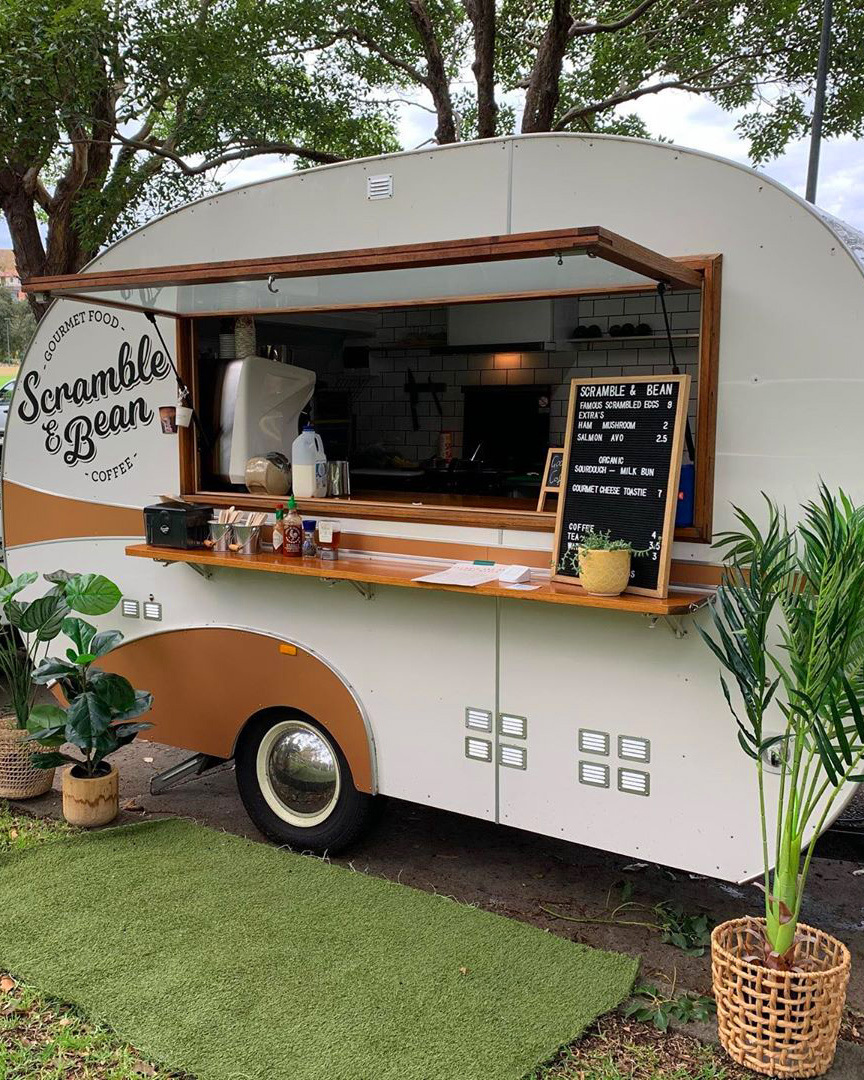 Scramble and Bean is a cute little caravan churning out fluffy, buttery, cheesy scrambled eggs topped with parmesan served with delicious organic sourdough bread from Brickfields or, for $2 extra, you can get your scramble on a croissant. They're also dishing up delicious gourmet four-cheese toasties which make the perfect comfort food or hangover cure. You can also pick up delectable specials like blue cheese, cauliflower and pancetta soup, and sweet treats like carrot cake, chocolate brownies, and croissants.
Where To Find It
The caravan is parked down on Waratah Street in Rushcutters Bay right next to Reg Bartley Oval from Saturday to Monday from 9am to 1pm, so you can get your brunch and eat on a bench in one of the prettiest parks in Sydney. You can check up on the exact location of the van by checking out their Instagram.
Rico's Taco Truck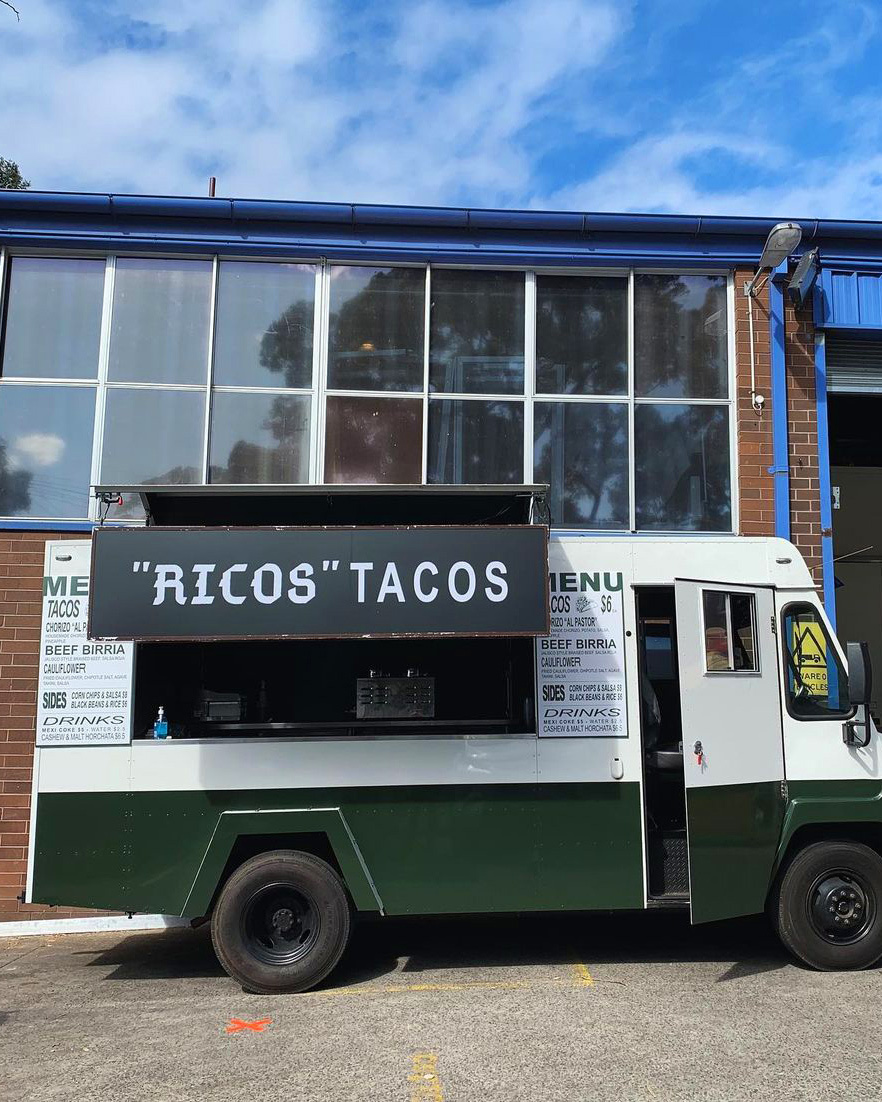 Taco King, AKA Toby Wilson, has never found a venue—big or small—that he couldn't shake up. The chef behind Ghostboy Cantina and Taco King is now taking his game on the road (literally). Wilson is the brains behind Rico's Taco Truck, which is currently parked outside the Messina HQ. The tacos from Rico's will set you back a very reasonable $6. There are three tacos on the menu—the chorizo "al pastor" taco, which is filled with spicy house-made chorizo, potato, salsa verde, and pineapple; a Jalisco-style braised-beef taco with salsa Roja; and a cauliflower taco with salsa macha and tahini.
Also on the menu, there's corn chips and salsa ($8) and black beans and rice ($6), which will help you to take this little take away feed and make it into a whole damn feast. On the drinks front, there's a couple of soft drinks and cashew and malt horchata. Plus, the benefits of being based in the Gelato Messina parking lot speaks for itself—you're mere metres away from a scoop of Sydney's finest.
Where To Find It
Rico's Taco Truck will be serving up the goods from Gelato Messina HQ at 58 Mentmore Avenue, Rosebery until the end of the year. Opening hours are Thursday 5pm to 9pm, Friday and Saturday 12pm to 9pm, and Sunday from 12pm until sold out. Head here to check them out on Instagram.
Mister Gee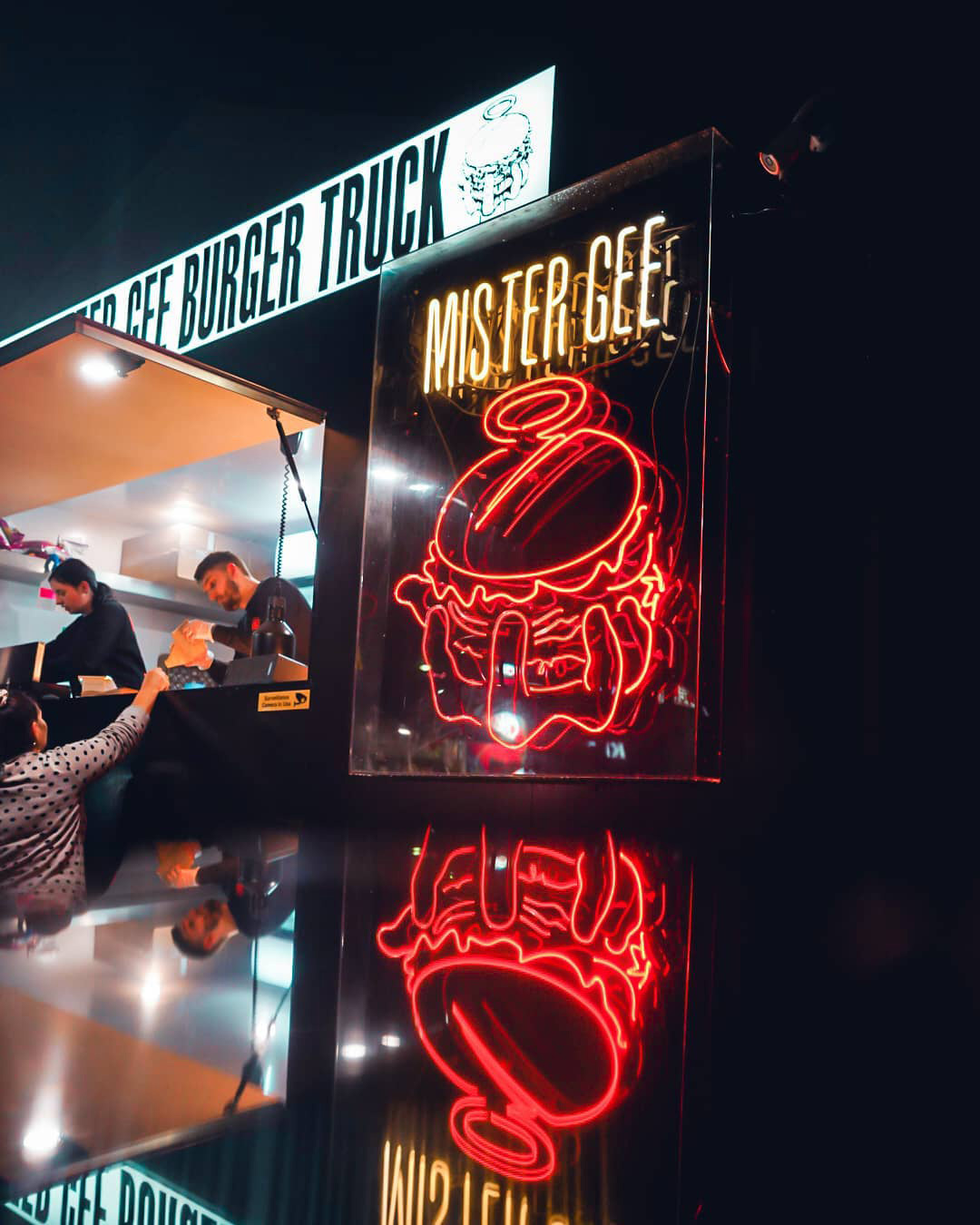 Burgers and food trucks go together like milk and honey, like hangovers and Macca's runs, like wine and more wine… We reckon these delicious, greasy, soul-satisfying burgers taste that much better for being made in a food truck. The Mister Gee Burger Truck does not disappoint—our faves on the menu include the "1-900-Burger", which is made up of hand-pressed beef patty, double cheese, grilled onions, burnt pineapples, bacon jam, sriracha-maple mayo; the "OG Truffle" with a perfectly seasoned patty, havarti cheese, caramelized onions, and truffle mayo; and the "Stoners Revenge" burger with a grass-fed patty, double cheese, dill pickles, pickled onions, salt and vinegar chips, streaky bacon, and stoner sauce.
Now, let's talk sides! To start, so many types of fries. They've got staples such as plain, truffle fries, and chilli cheese fries, and rotating specials like jerk fries, harajuku fries, and bacon boy fries. You can wash it all down with a shake and one (or ten) of their hot cinnamon donuts.
Where To Find It
Mister Gee has a physical location at North Strathfield and their truck sets up shop at 315 Parramatta Road, Haberfield. You can check out their Instagram here.
Superior Burger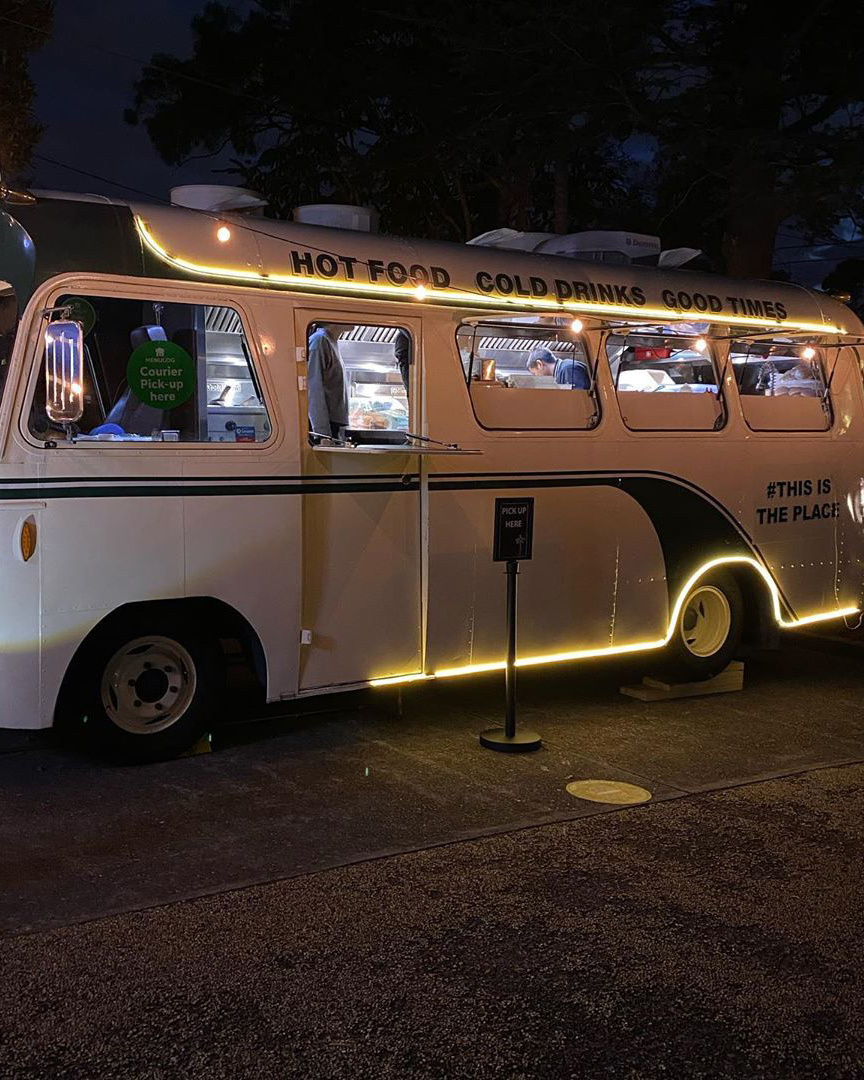 We love it when Sydney can still surprise us. Superior Burger is just that—a wonderful, wonderful surprise. Their homebase in Wakely has been open since 2016 and a year later they found Sullo, a 1950s school bus, and converted him into a food truck, which they used to sell their burgers at local markets and festivals. Sadly due to COVID, Sullo has been out of commission, however, his wonderful owners decided they simply couldn't stand for that! They found an empty warehouse space in Mortlake and have transformed it into a home for Sullo! The vintage bus takes pride of place out front, inside the car park there's a beautifully designed space with palm trees, pastel vibes, and a vintage turquoise and white caravan (a friend for Sullo!) where punters can place their orders.
Speaking of orders, the menu here is great. By and large Sullo churns out the same offerings as the Wakely venue with their signature Superior Burger with two hand-pressed patties, cheese, the typical fixings and a secret sauce; a juicy chicken burger; a vegetarian field mushroom burger, and a rotating menu of specials. Their sides are also legendary. They've got delicious loaded fries, coleslaw and mash—but the real showstopper here is the potato scallops. They might be some of the best in Sydney.
Where To Find It
Sullo is now parked at 162/1 Bertram St, Mortlake, and is open Wednesday 6pm to 9pm, and Thursday through Sunday for lunch from 12pm to 3pm, and dinner from 6pm to 9pm.
Urban Pasta
We all love pasta, for some of us it's practically a religion and we should be able to get our hands on a good bowl of pasta no matter where we are—and with Urban Pasta that's exactly what you can do. Once you rock up at the food truck you simply choose between penne, potato gnocchi, or ravioli and then select your sauce from napolitana, creamy pesto, bolognese, or boscaiola, topped with parmesan cheese or chilli.
Where To Find It
This food truck tends to roam around a whole hell of a lot so if you're looking to find out where this truck is popping up next, take a look at their Instagram.
Firepop
This food truck from Raymond Hou has long been a mainstay in Chinatown where they've been trading, under one name or another, for the last 13 years. Firepop does one thing and it does it damn well: skewers. What makes the skewers at Firepop stand out from the crowd is the quality of their ingredients. Hou cares deeply about the meat that makes up his "pops"—he's known to hand out pamphlets to each customer with detailed information about how he sources his meat.
The grilled lamb skewers here are the showstopper, lovingly coated in cumin and chilli (you can pick up five for $13.50—bargain!). Recently, Firepop has also expanded its repertoire and they're skewering up eel and fried tofu.
Where To Find It
They tend to base themselves in Chinatown and it's usually a safe bet that you'll catch them doing their thing on Friday nights at the Dixon Street markets, but for up-to-date info on their whereabouts, you can head here.
Veggie Patch Van
The local legends behind Yulli's have teamed up with the TMOD design studio to bring us the Veggie Patch food van. The Veggie Patch is all about providing high-quality, vegetarian food made with seasonal produce sourced from local growers. The vibe here is very much "paddock to plate", minimally processed with maximum flavour.
The van itself is dressed up to look like a barn house surrounded by a veggie patch. Expect crispy enoki bao buns, tom yum, curry puffs, and eggplant katsu burgers as well as amazing seasonal salads.
Where To Find It
The van is located in Byron Bay and represents everything we love about Byron. The team is committed to keeping their environmental impact to an absolute minimum with compostable packaging, solar panels, and a van that literally runs on vegetable oil. To keep up to date on what they're doing lately you can check out their Instagram.
Wholly Schnit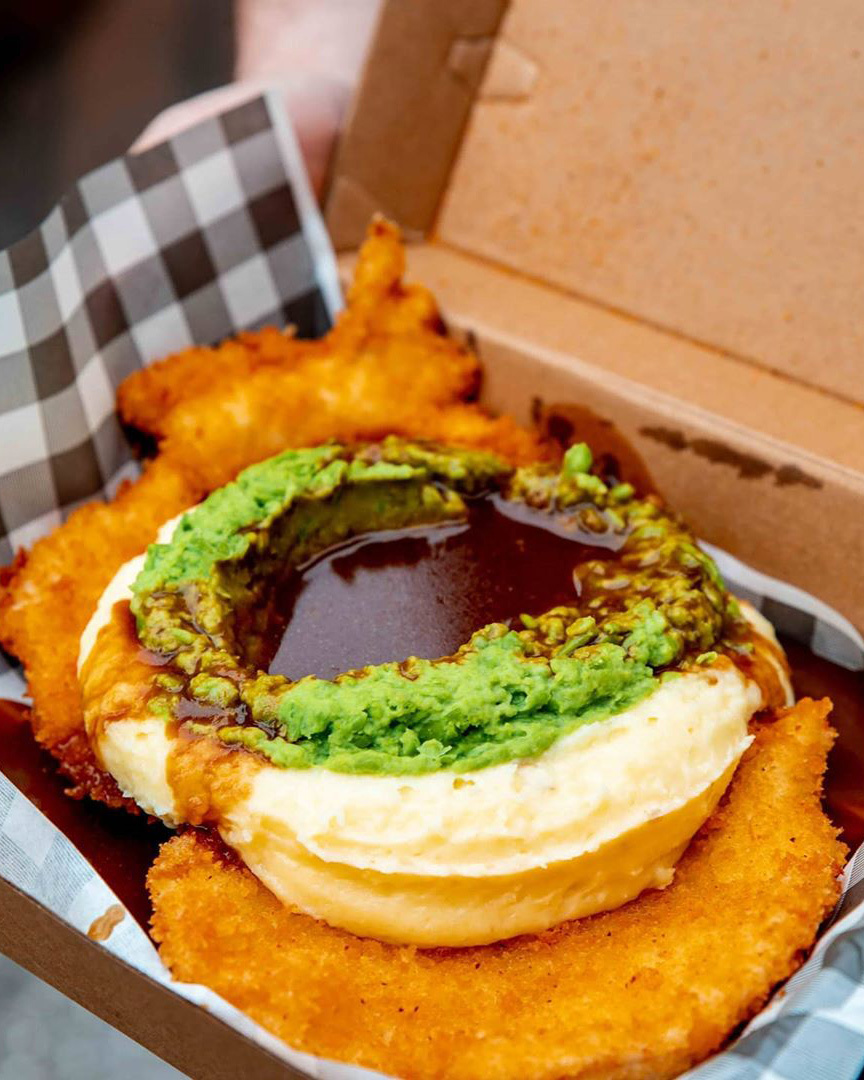 As its name might suggest, Wholly Schnit is a mobile schnitzel factory. Built into an old 1994 Isuzu van turned rolling schnitzel shrine, the menu includes staples like plain schnitzel made to order, or, if you're the go big or go home type, you can get about half a kilos-worth of schnitty on a bed of fries and, of course, the OG schnitzel, chips, and gravy.
If you want to amp up your feasting even more, there's a handmade chicken schnitzel loaded with chips, mozzarella, and gravy; a "Schnit Between Your Buns" packed with coleslaw, cheese, mayo, and your choice of chilli; and the food truck's signature "Wholly Schnit". Think a mammoth chicken schnitzel topped with mash potato, mushy peas, and gravy. In our humble opinion, this little van is home to some of Sydney's best schnitzel.
Where To Find It
This food truck can be found wheeling around the suburbs of Waterloo (at 5 Potter Street on Tuesdays) and Chifley (18 Warburton Street from Wednesday through Sunday).
Kerbside Creamery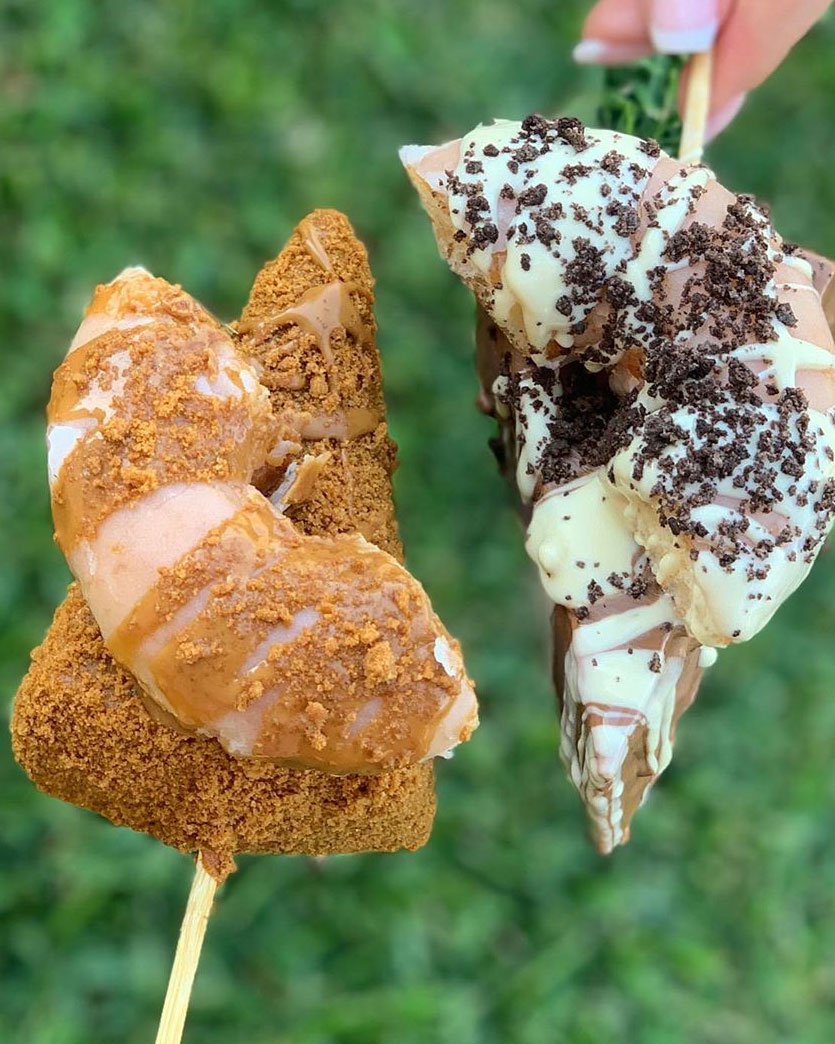 In the "food on a stick" world, this is the holy grail. Looking to be convinced? We have one simple phrase: Biscoff cheesecake on a stick. The good folks at Kerbside Creamery see our kebabs and chips on a stick and they raise you dessert on a stick. This entire food truck is a dessert dream, dedicated to chunky cheesecake slices served on a stick otherwise known as "cakesicles".
Expect cheesecake covered in Belgium chocolate, peanut butter, Reese's pieces, Golden Gaytime, and 's'mores. There's also tricked out strawberries on a stick if you're looking for something just a little bit healthy.
Where To Find It
Check the Kerbside Creamery Instagram here.
Messina Van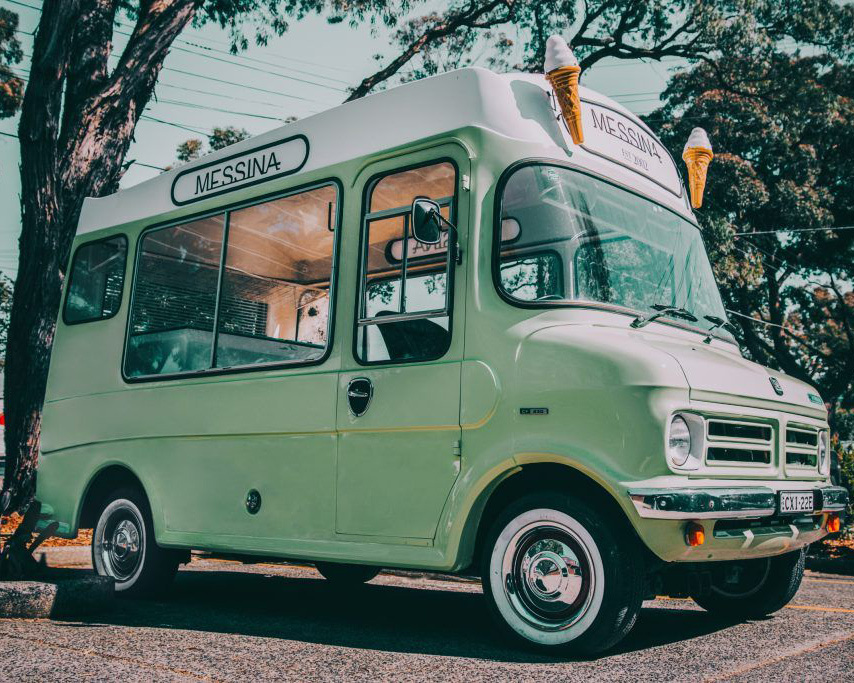 The following food truck needs no introduction. If you live in Sydney, you probably love and worship Messina: it's a Sydney institution. The start of summer signals its Messina season again and their bougie as heck ice cream van will begin circling Sydney. This adorable retro orange and green ice cream van comes out of hibernation at the end of the winter and makes her way around Sydney to offer you the "cream of your dreams".
Where To Find It
The van tends to hang out near Bondi Beach because, let's face it, you can't beat that view, but it's been known to pop-up at other locations around Sydney. Check Messina's Instagram here.
While you're here, check out this list of Sydney's best burgers.
Image credit: Messina, Scramble and Bean, Rico's Food Truck, Mister Gee, Superior Burger, Wholly Schnit, Kerbside Creamery, Messina