Spring has sprung ladies and gentlemen so you have no excuse to stay in bed because flu season is long gone… don't even try. September has a whole lot in store for you so take it from us, you and the group chat will have no shortage of things to do.
This month is all about faarshun, an unhealthy consumption of chocolate, a brand new dedicated food truck precinct and a one-metre vegan pizza you're going to stuff yourself silly with.
Here are 19 things to do in Sydney this September.
Sydney Fringe Festival
You've been blessed by the independent art gods, Sydney, because the Sydney Fringe Festival is everything you've been looking for. Spread across 50 venues, 300 productions celebrate local artists and you are invited. The line-up is pretty off chops but we're rounded up a few things right here. For more deets head over here.
When: Saturday 1 until Sunday 30 September
Where: 50 venues
Cost: varies
The Vegan Godfather At The Italian Bar Pizza
Every Sunday, these guys are serving up a slathering of the ultimate vegan toppings on a metre-long woodfired pizza aptly named The Vegan Godfather. The tasty affair is a glorious amalgamation of their regular vegan pizzas called The Cicciolina, Papa Smurf and Vittorio's Secret.To sum it up, you'll be packing your bellies with all the notzarella, roasted zucchinis, mushrooms, truffle oil, roast potatoes and grilled eggplant every Sunday from here on out. For more, jump over here.
When: Every Sunday, 12pm-2:30pm
Where: The Italian Bar Pizza, Willoughby
Truck Stop At The Park House
The first permanent food truck destination (equipped with all the vintage vibes) has launched Northside as the latest addition to The Park House concept in Mona Vale and we're absolutely friggin' ready to get our snooker on. Think multiple handball courts, snooker, croquet, ping pong tables and plenty more combined with a rolling programme of food trucks, live acoustic entertainment, markets and festivals. FYI, this joint is also pet-friendly. Truck Stop will be open Fridays through to Sundays and we're thinking this just may be your go-to weekend hang-out destination. For more info, head on over here.
When: Fridays through to Sundays
Where: The Park House, Mona Vale
Shakespeare Pop-Up Globe
Previously, it's popped up in Melbourne, and over a period of six weeks the three-storey, 900 person theatre put on Shakespeare classics such as Much Ado About Nothing, As You Like It, Othello and Henry V—and if you went along, you would have caught epic battles, laugh-out-loud comedy, special effects, elaborate costumes, spectacular dances, and sword fights in full suits of armour. Pretty sure things will be bigger and better this time around too (because we're Sydney guys). Jump here for more.
When: Every night until November 4
Where: Entertainment Quarter, Moore Park
Cost: Varies
John Russell: Australia's French Impressionist
Friends with Vincent Van Gogh himself and taught impressionist colour theory to Henri Matisse and dined with Claude Monet (absolutely star struck if you ask us), John Russell is our very own true blue, 'French' Impressionist. Head to the Art Gallery of NSW to see 120 of Russell's extraordinary paintings, drawings and watercolours from the French avant-garde period of the late 19th and early 20th centuries. Check here for more.
When: Saturday 1- Sunday 30 September
Where: Art Gallery of NSW, Art Gallery Road, Sydney
Cost: from $16 per person
Reigning Men: Fashion in Menswear
This exhibition screeeaaams hallelujah, exploring the history of men's fashionable dress from the 18th century to the present. There is no sign of restraint here as names such as Alexander McQueen, Giorgio Armani, Gucci, Yves Saint Laurent and old mate Calvin Klein, reveal what it is really like to be a fashion god. Whether you're already all up in it or if you need a helping hand, we can hear Reigning Men screaming your name from here.
When: until Sunday 14 October
Where: Powerhouse Museum, 500 Harris Street, Ultimo
Cost: $20 per person
Learn Leathermaking, Tailoring and Bourbon with Russell's Reserve
Russell's Reserve is teaming up with local artisans Bas and Lokes and Zink & Sons to host two Bond Made in Bourbon masterclasses. You'll basically get schooled on everything there is to know about creating handcrafted leather goods plus learn how to perfect Russell's Reserve Boulevardier (and there's a sneaky tasting of the 10-year-old good stuff too). And you should know the menu for the night includes pulled beef, buttermilk fried chicken wings and almond, bourbon orange cake.
When: Learn leathermaking on Thursday 6 and tailoring on Thursday 20 September.
Where: Kittyhawk, CBD
Cost: $49 per person

The Turk in Italy
Simon Phillips' comedic adaptation of The Turk in Italy is enough to make you never need to laugh again. Ever. Watch a waaay flirtatious Fiorilla decide between her boring old husband, envious young lover or the handsome Turkish prince…if only we all had that problem). Did we mention it's a comedic masterpiece?
When: Saturday 1 September, 7.30pm
Where: Joan Sutherland Theatre, Sydney Opera House
Cost: from $46 per person
Langton's Classification VII Wine Experience
Released once every four years, The Langton Classification is back again to present to you the pinnacle of Australian fine wine. Classification VII features 136 of Australia's finest wines, valued at over $10,000 and a copy of the VII Classification book and Riedel tasting glass to take home. Remember, swirl, smell, taste… because you're sophisticated like that.
When: Saturday 1 September, 2pm
Where: International Convention & Exhibition Centre, The Gallery, Level 2, 14 Darling Drive, Darling Harbour
Cost: $150 per person
The Slow Fashion Market
Say hello to the latest project from Emma Morris and Lee Glezos (aka the geniuses behind The Makers & Shakers Market and the Round She Goes Preloved Fashion Market). This new market is dedicated to ethical and sustainable fashion and accessories made from non-toxic materials, showcasing more than 40 independent brands. It might be called the Slow Fashion Market, but trust us, the rate you will be spending your money at certainly will not be.
When: Saturday 1 September, 10am-3pm
Where: Petersham Town Hall, 107 Crystal St, Petersham
Cost: $2 entry
Smooth Festival of Chocolate
We thought this was just in our dreams but boy, were we wrong. Yes, a whole entire two-day celebration dedicated to decadent desserts aaaaand choccy! Find yourself drooling over hand-made chocolate bars, melted chocolate desserts, chewy macaroons and hand piped profiteroles. This one is answering all of our dessert prayers.
When: Saturday 1 and Sunday 2 September, 10am-6pm
Where: Sydney Showground
Cost: $23 per adult, $17 per child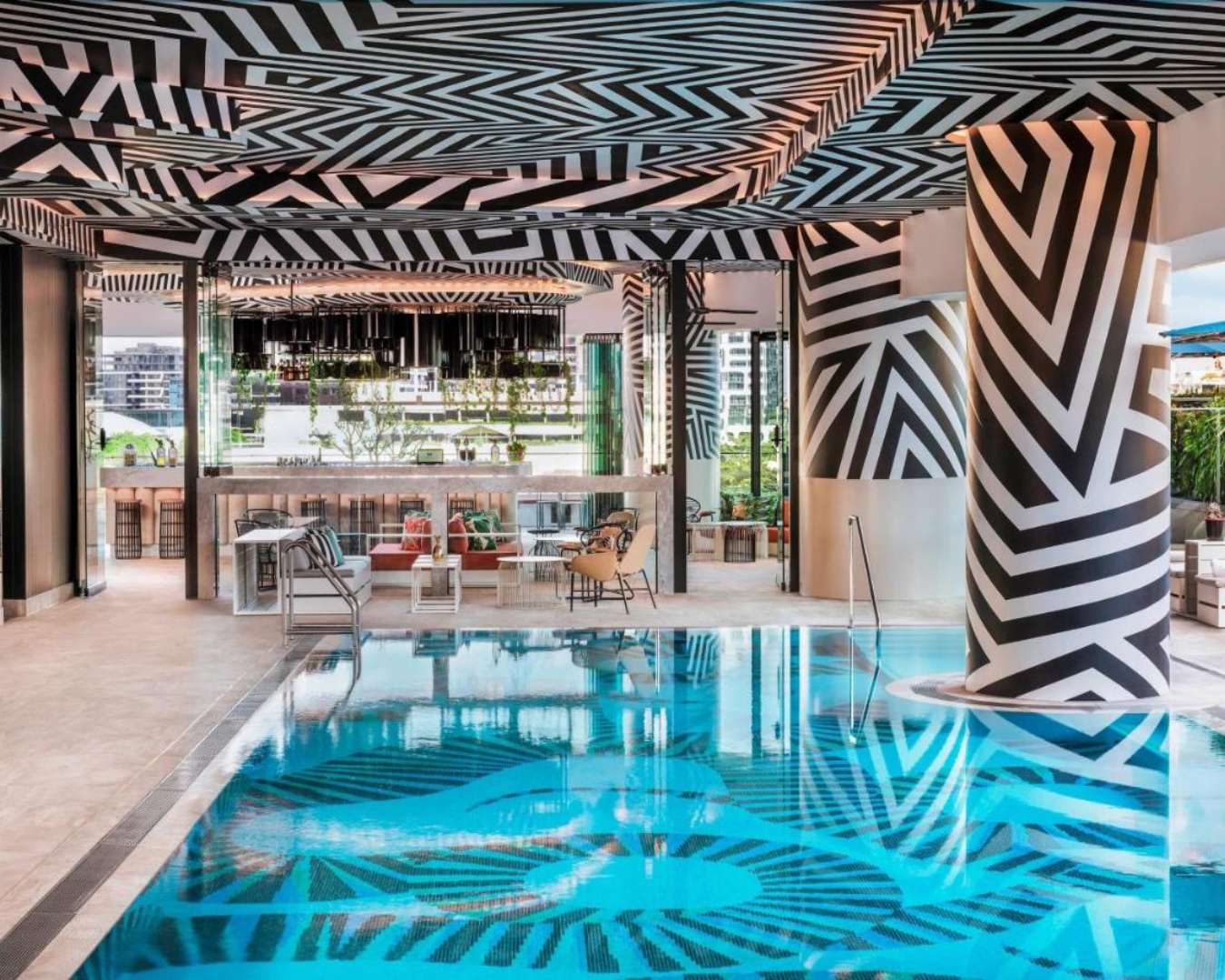 Sydney Underground Film Festival
Back again for its 12th year, the Sydney Underground Film Festival is looking hotter than ever before. With films such as An Evening with Beverly Luff Linn and The Misandrists being showcased, you will have guaranteed FOMO if you give this one a miss. Head here for more.
When: Thursday 13 until Sunday 16 September
Where: Factory Theatre
Cost: $16 per individual session
Philippine Food Festival
Exquisite and authentic Filipino food without travelling the 8 hours? Yesssss, please. Café Mix at the Shangri-La is donating $2 for every person that dines to Operation Restore Hope. So, whip on your stretchy pants and come along for some authentic kare-kare, pork sisig and chicken inasal. Click right here for all the deets.
When: Friday 16 September, 12-3.30pm
Where: Shangri-La Hotel, 176 Cumberland Street, Sydney
Cost: $52 per person
A Midnight Visit
We're talking a two-storey abandoned warehouse, awaiting demolition, with 30 rooms set up in Edgar Allan Poe fashion. Uh huh, an eerie tribute to Poe's chilling tales, guaranteed to have you on your toes the entire time. What's more? 'The Ravens Rest' is a bar set up by Studio Neon inside the warehouse, perfect to quench your thirst after the adventure you will be sure to have. Don't believe us? Go see for yourself. We dare you.
When: from Wednesday 19 September
Where: 655 King Street, Newtown
Cost: from $25 per person
The Story of Netflix: Marc Randolph
She's reliable, she's damn entertaining, she's Netflix. We owe oh-so-much to Netflix CEO, Marc Randolph, for providing us with our one true love, and this is your time to do it. Disrupting one of the world's largest industries, Randolph tells the tale of one of the world's most successful startups in a keynote and Q&A session. Love ya, Marc. Bump over here for more.
When: Thursday 20 September, 6.30pm
Where: State Theatre
Cost: from $99 per person
Spring High Tea at Hyde Park
There is no more satisfying way to wave goodbye to winter than indulging in Doltone House's Spring High Tea at Hyde Park. We hope you've been practising your jam to cream ratio to make the most of the classic and date scones that you will dream about for weeks (take it from scone connoisseurs like us). So, go on and treat yourself to an afternoon of house-made finger foods and sweets, complemented by sparkling wine and French teas, because you're worth it. Check here for more.
When: Sunday 23 September, 11am-1pm
Where: Doltone House Hyde Park, Lv 3 181 Elizabeth Street, Sydney
Cost: $57 per adult, $35 per child
Skepta
Joseph Junior Adenuga (aka Skepta) is in Sydney and OMG are we excited. Making his Sydney Opera House debut this month, he is the first artist in history to unleash a grime performance on the Concert Hall stage. If you don't know who Skepta is, think ferocious British rhyme, grinding basslines and a whole lotta fun. Jump over here for more.
When: Thursday 27 September
Where: Concert Hall, Sydney Opera House
Cost: from $69 per person
Oz Comic-Con
Welcoming Australia's premier pop culture and comic-con event in Sydney. Get ready to have your mind blown by the latest studio activations, comics, anime and video games. Head to the International Convention Centre to check it out for yourself.
When: Saturday 29 until Sunday 30 September
Where: International Convention Centre, Sydney
Cost: $35 per person
Suitcase Rummage Sydney
Yes, it is exactly what it sounds like. A row of suitcases filled to the brim with second-hand and handmade wares, ready to be rummaged through. You will be able to dig out vintage artworks, clothing, books, jewellery, records and whatever else you can find really. It's like a giant lucky dip for adults. Can't get much better than that. Click here for more.
When: Sunday 30 September, 11am-4pm
Where: The Goods Line, Ultimo
Cost: $25 per person
Check out this new speakeasy hidden behind a bookcase in Newtown.
Image credit: Supplied