It's pretty much a given with every national cuisine that what you're getting outside the country of origin is nowhere near the authenticity or complexity of that region's typical home-cooking or street food.
That doesn't mean we're not hungry for the real deal. Arguments about what makes "authentic" cuisine have been raging for decades—but when it means missing out on some tasty national dishes, we often wish places would stop holding out on us and give us the goods. This is more relevant than ever during this international travel time-out period when the closest we can get to a foodie escapade is through the menus of our local restaurants.
Enter the birria taco. This saucy little spin on the Mexican staple we all know and love hails from the city of Jalisco, the capital of Guadalajara on Mexico's central western coast. It's hugely popular in LA where Mexican migration has brought the dish to national attention and affection and has recently been blowing up on TikTok with hungry viewers desperate for a bite.
Typically, birria is a slow-cooked rich meat stew traditionally made with goat, but beef has become a contemporary substitute for its higher fat content. Slap a good serving of this in a tortilla and you've got birria tacos. The raw meat is cooked in a hot bath of chillies, paprika, oregano, garlic, and salt and served warm and dripping in a corn tortilla with onion, cilantro, and a squeeze of lime. Some enterprising birrierias add jalapeno sauce and structure the whole thing with a layer of crispy melted cheese for that extra pop.
While it's not the easiest to find in Sydney, there are a few Mexican joints currently spinning this delicious dish and we're here to guide you through them.
Chula
Potts Point
Brought to you by the team behind Fei Jai and Barrio Cellar, this terracotta palace has been subverting Sydney's fast food Mexican scene with authentic goodness since 2017. Primarily, Chula draws from the local offerings by angling their menu towards light and fresh seafood but they also serve the fabled birria taco too. Head chef Alvaro Valenzuela keeps it super traditional here with the classic slow-braised beef, salsa, onion, and cilantro combination. Crispy cheese can be added for an extra charge. It's your frame of reference for the saucy dish.
Rico's Taco Truck
Rosebury
Rico's Taco Truck has been situated outside of the eternally pumping Messina in Rosebury for the past few months offering the Mexican street food experience in the middle of Sydney suburbia. The beef birria is one of just four tacos they sell here and comes with the regulation braised beef, onion, and a good whack of cilantro all drizzled in their signature salsa roja. It's a fiery and subtly sweet mix and while the beef can sometimes be a little less soupy than it ought to be—mainly due to the constraints of the kitchen here—it pairs super well with their smoky fried cauliflower option. Suss Rico's opening hours via Instagram.
Chololo
Fairfield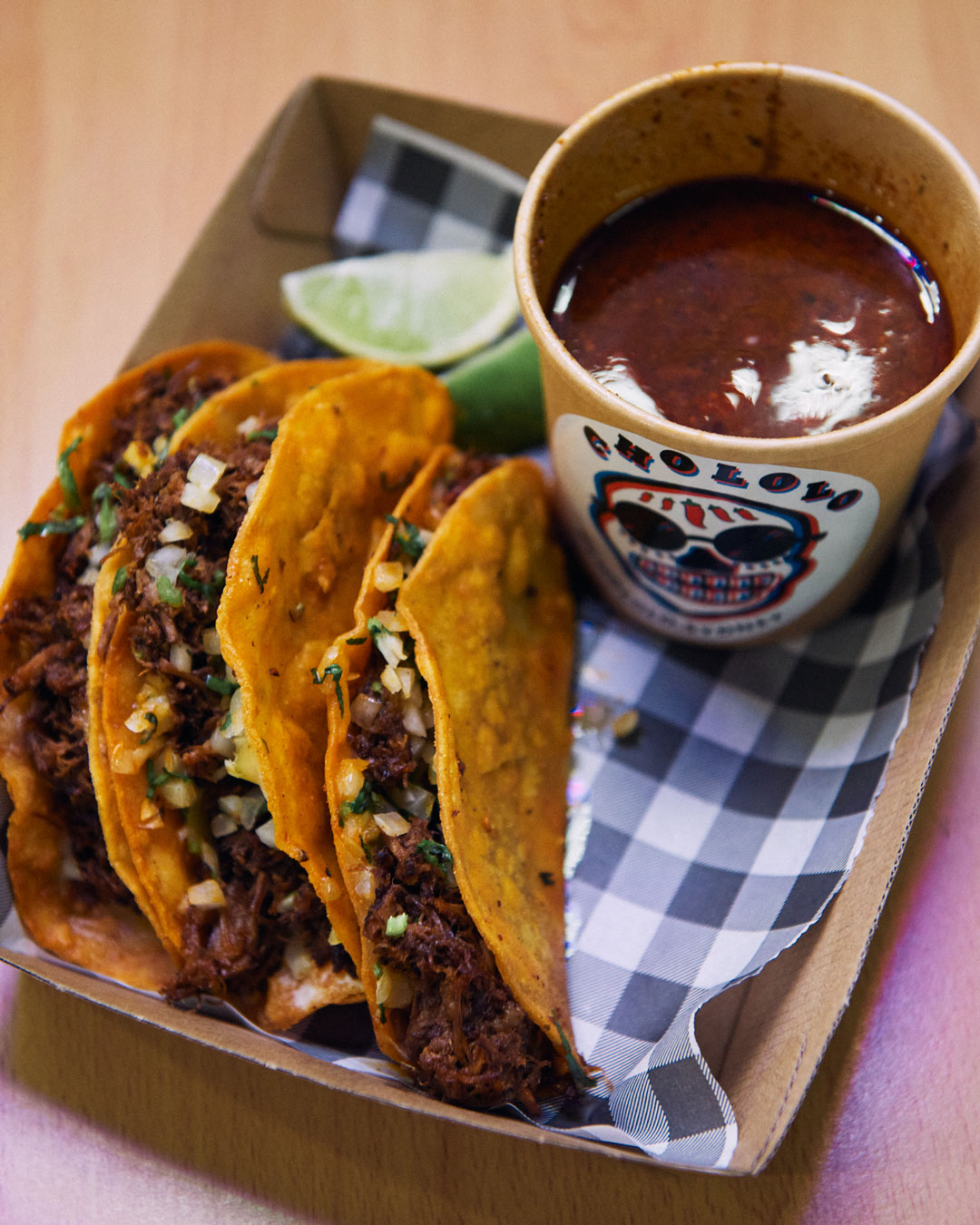 Taking the game to new heights is Chololo in Fairfield Chase Plaza. They tell us they decided to hop on the birria taco train after seeing the digital frenzy. "It initially started as a craving fueled by a bombardment of birria tacos on social media. We decided to make our own and after a while and saw that a lot of other Sydneysiders wanted to try it too. That's when we decided we should open up shop!"
Opening from 5.30pm - 10.30pm, Chololo targets the street food crowd, which is where birria tacos really shine (although, in Tijuana, where a lot of the LA scene draws inspo, this is breakfast food).
Chololo serves up birria beef stew encased in a warm tortilla brushed with soupy goodness and fried to crispy perfection with onion and coriander. If the crispy cheese casing and fresh lime aren't enough, you'll also get a dipping cup of birria stew to soak your tortilla in. Ooof. These guys are not hardline traditionalists either and have concocted a birria ramen too, which is just the pinnacle of cross-cultural mash-ups.
Taco Kartel
Potts Point
Finally, we have another street food option for you where the birria taco is front and centre. Taco Kartel sets up every week at the Potts Point market in Fitzroy Garden, home of the dandelion water fountain statue. The birria stew here takes 72 hours to cook and his respect for the concept took him a year of research and practice to perfect. The three kinds of cheesy tacos they serve are dipped in chilli oil before frying and come out crunchy. Pair these with a cup of birria dipping soup and a traditional cheese, chili, and lime corn cob and you're south of the border. They'll also switch it up with the occasional special just for fun. "I love to surprise people with what they are eating," owner Tony tells us and his dedication is evident. Incredible stuff.
Love tacos? Check out this new Chippendale mezcal bar, where the tacos and empanadas are milled in-house.
Image credit: Maclay Heriot, Rico's Taco Truck, Maclay Heriot, Taco Kartel