Forget hitting the gym, it's time to hit up Sydney's best sweet breakfasts—by which we mean waffles.
If you're a fiend for a waffle, the good news is that Sydney has some standout breakfast spots serving this syrup-laced delicacy, including Korean takes, Belgian staples, and puffy bubble waffles too. But don't let the waffle's breakfast food only rep fool you, we say you can chow down on these tasty stacks any time of the day.
Check out 10 of the best waffles in Sydney.
Quick Brown Fox Eatery
Pyrmont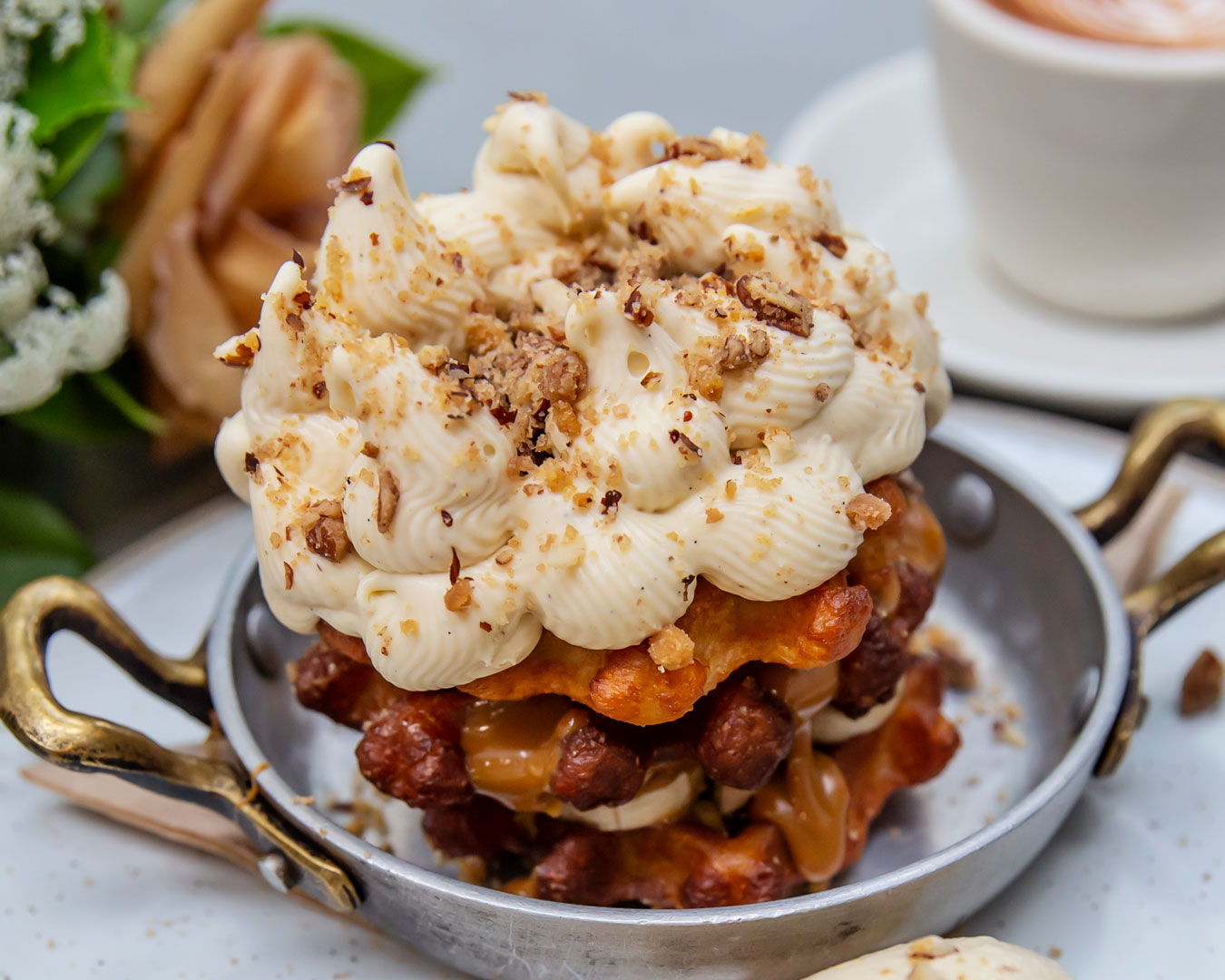 It goes without saying that the breakfast waffles at Quick Brown Fox are some of the best in Sydney. Looking like a sweet stack of banoffee pie waffles, this guy is sandwiched with mascarpone cream, fresh bananas, caramel, and chocolate ganache, topped with biscuit crumbs and, wait for it, served with golden syrup ice cream.
Little Shop Of Waffles
Manly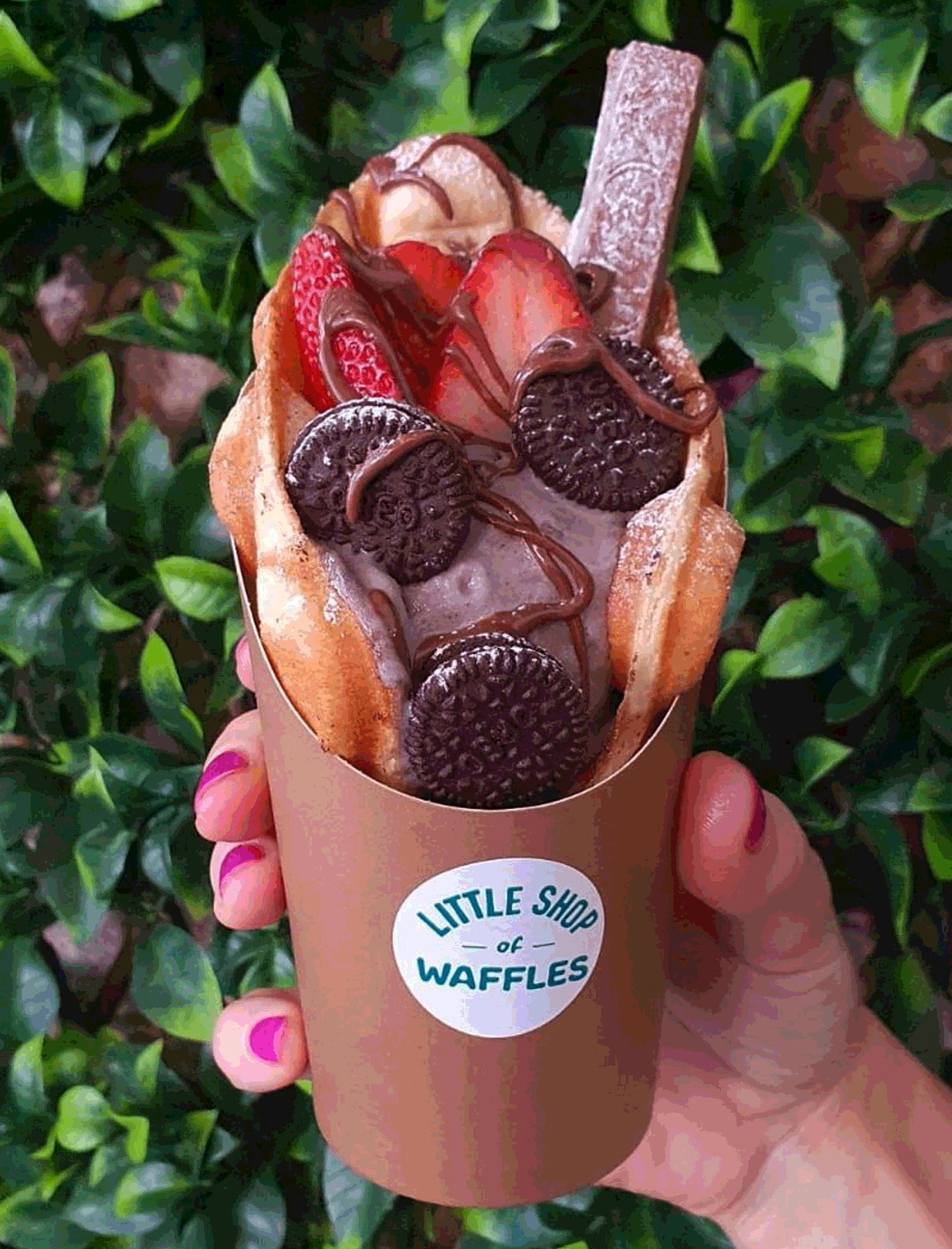 Not all waffles are created equal and bubble waffles are in a league of their own. Sydney's first bubble waffle cafe recently opened in Manly and it's a big ode to the famous Hong Kong street snack. Started by four legends, Little Shop Of Waffles churns out big orders of the good stuff on the daily. Made using flour, eggs, evaporated milk, and sugar, which then gets poured into moulds to assume their bubbly shape—these guys are crunchy and crispy on the outside, with a soft, pillowy centre. You'll also be stoked to know that the handmade waffle batter can be made to suit vegan and gluten-free needs (it also contains no palm oil which is a big yay).
On the menu at Little Shop of Waffles, you'll find flavours like Pavlova, which mixes Pavlova gelato, fresh fruit, and meringue all inside an original waffle. There's also Chocberry, which sports choc-cookie gelato and fresh strawberries, and then a Kit Kat finger in an original waffle that gets drizzles in a choco sauce.
Belles Hot Chicken
Various Locations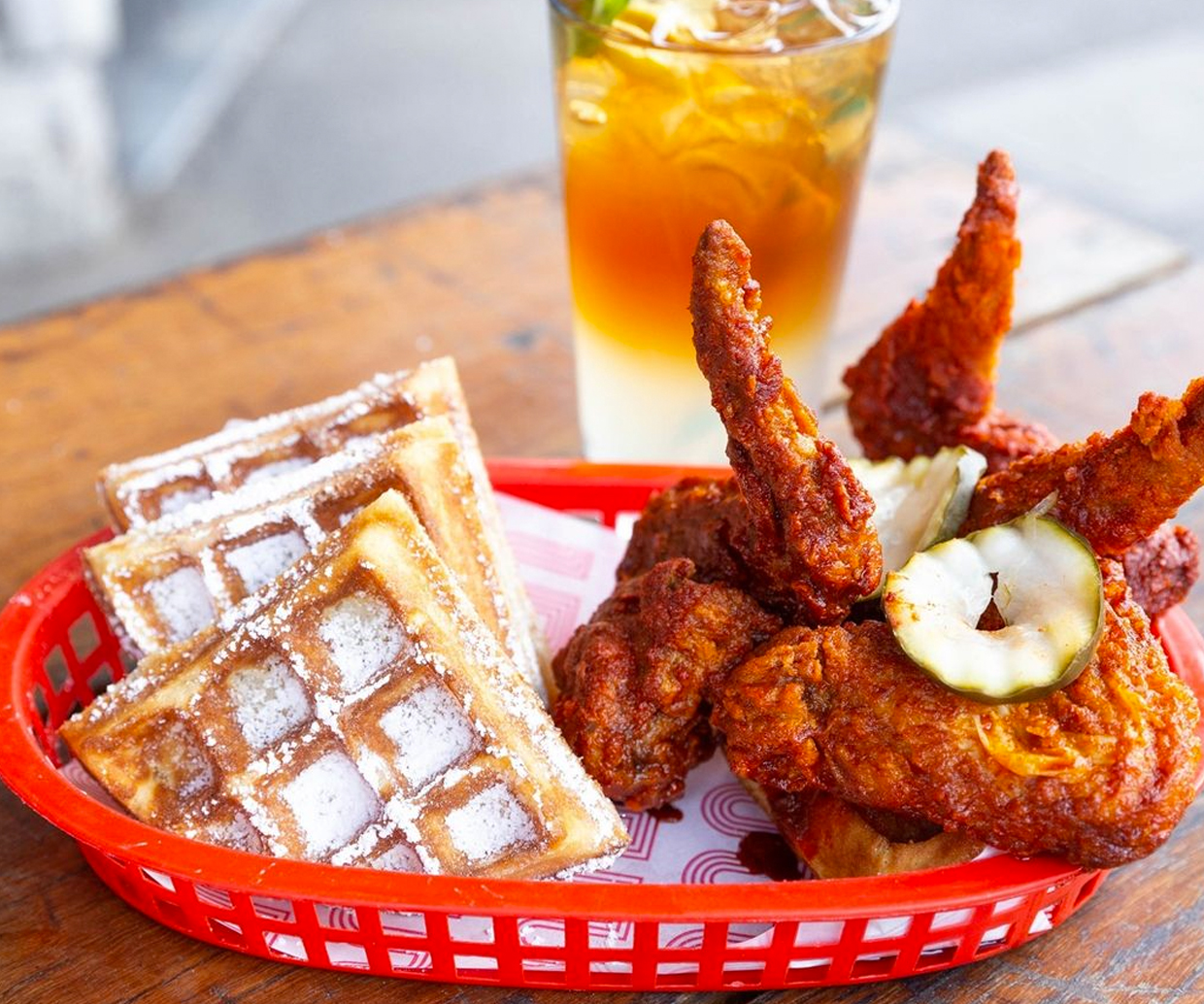 While it might seem odd that one of Sydney's top fried chicken joints could also clock in with Sydney's best waffles, the waffle feed here is nonetheless one of the best around. Belles plates up a Sunday breakfast like no other packed with square waffles, fried chicken, and of course the glitter glue that holds it all together—maple syrup. This is a feed made especially for your weekend feasting and you'll find Belles whipping it up from 12pm to 3pm every Saturday and Sunday.
Roastville
Marrickville
A list of Sydney's absolute best waffles wouldn't be complete without the iconic creation at Roastville known as the kimchi waffle. Packed with crunchy fried chicken, chilli mayo, rocket, and parmesan, we'd go so far as to say this is the only way to kick off your weekend the right way. And while you're here you may as well scoop up a serving of the "Dirty Bird Benedict" and green chilli scrambled eggs.
Kansas City Shuffle
The Rocks
Kansas City Shuffle serves not one, but four dedicated waffle creations—and you need to try them all. The first is an OG fried chicken waffle with maple hot sauce. The second is a vegan waffle with smoked jackfruit, pumpkin, and smoked chilli sauce.
The third pays homage to all the sweet tooth folk out there and comes in hot as an ice cream, berry, and maple bacon waffle tower. The fourth and final waffle beauty here really has to be seen to be believed. She's a smoked beef brisket and waffle combo with smoked chilli butter and two poached eggs. Really, it should be illegal for something to taste so dangerously good.
The Tiny Giant
Petersham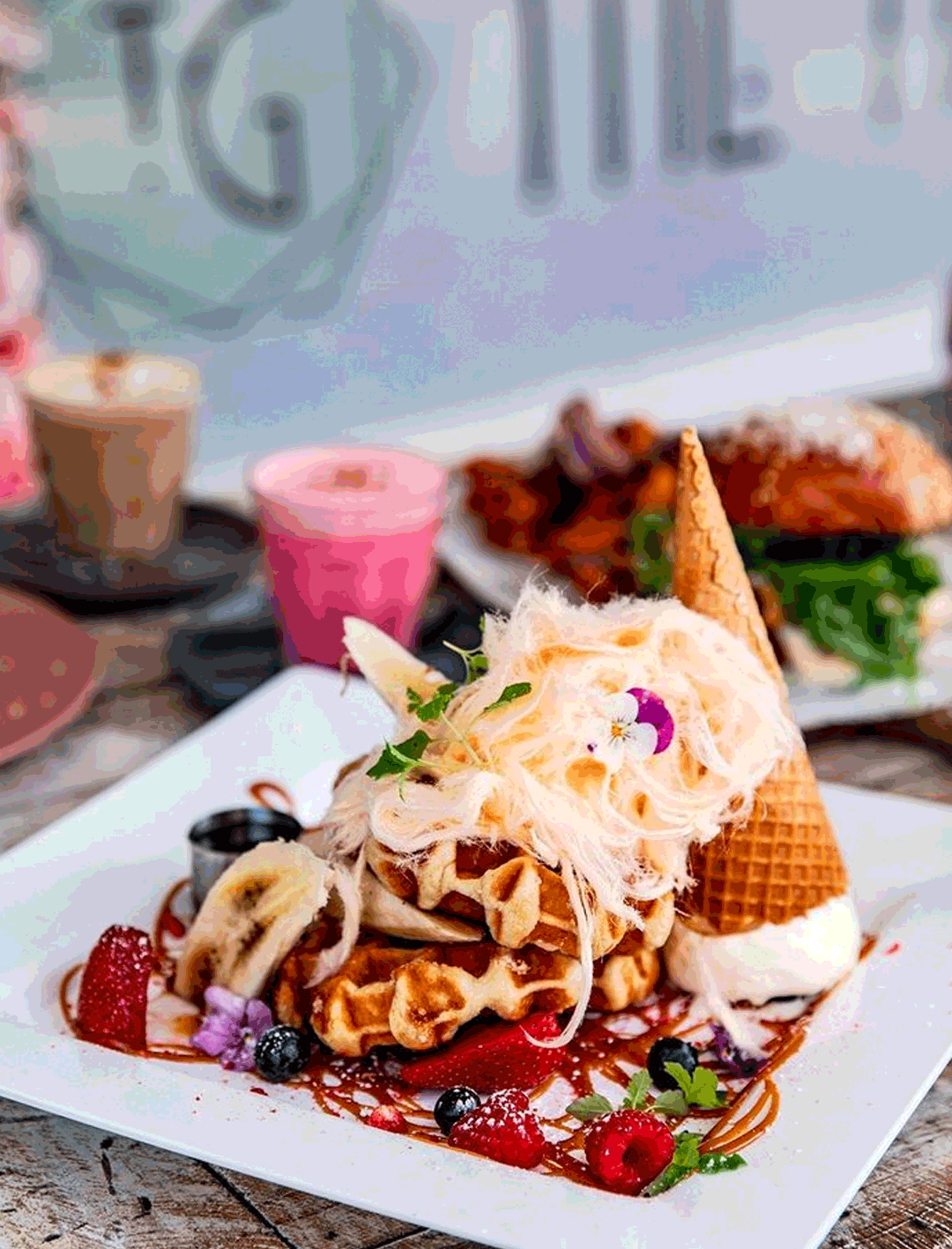 While this kaleidoscopic Petersham cafe is famed for being Sydney's "haus" of brioche toast, rainbow bagels, and designer drinks (it's not uncommon to order up a pink latte with a chocolate Chanel logo powered on top), the team here knows a thing or two about plating up Sydney's best Belgian waffles.
The heavy hitter here is by no means an easy feat to conquer on your own—if there was a Regina George of waffles, these would be it. The Belgian waffles here are served with fresh strawberries, banana, mixed berries, Canadian maple, salted caramel, pistachio, ice-cream, and (yes there's more), Persian pashmak.
Fresko Gelato And Waffle House
Marrickville
Say it with us: handmade gelato and made-to-order waffles. The word "fresko" in Greek means "fresh" and that's exactly the type of waffle affair you'll score at this dessert house. The Fresko crew has created over 36 flavours of gelato inspired by the Aegean. They also make some of the best loukoumades around and whip up a legendary baklava frappe, but the specialised waffle menu is where Fresko really shines.
Creations span everything from Oreos and white chocolate, peanut butter and banana, Nutella and strawberries, crushed Tim Tams, smashed pavlova, Kinder Bueno, and just pure unadulterated chocolate gelato waffles topped with chocolate sauce.
Taste Of Belgium
Seaforth
The waffle situation at the Taste of Belgium is one that's known far and wide across Sydney. You'll find a generous list of savoury waffles including a chicken mix with Ohio maple syrup and hot sauce, a "McWaffle" with egg, bacon, and gruyere, a ham and brie waffle, and a southwestern waffle with turkey, pepper jack, lettuce, tomato, chipotle mayo, and frites.
On the sweeter side of things, Taste Of Belgium sports an unforgiving line-up of these textured treats. You'll find a banana Nutella stack, a s'more twist with toasted marshmallows, classic Belgian waffles with whipped cream, strawberries and cream waffles, the big Speculoos and cookie butter waffles, and the fluffiest ricotta cream waffles known to humankind.
Dine And Dezerts
Brighton Le Sands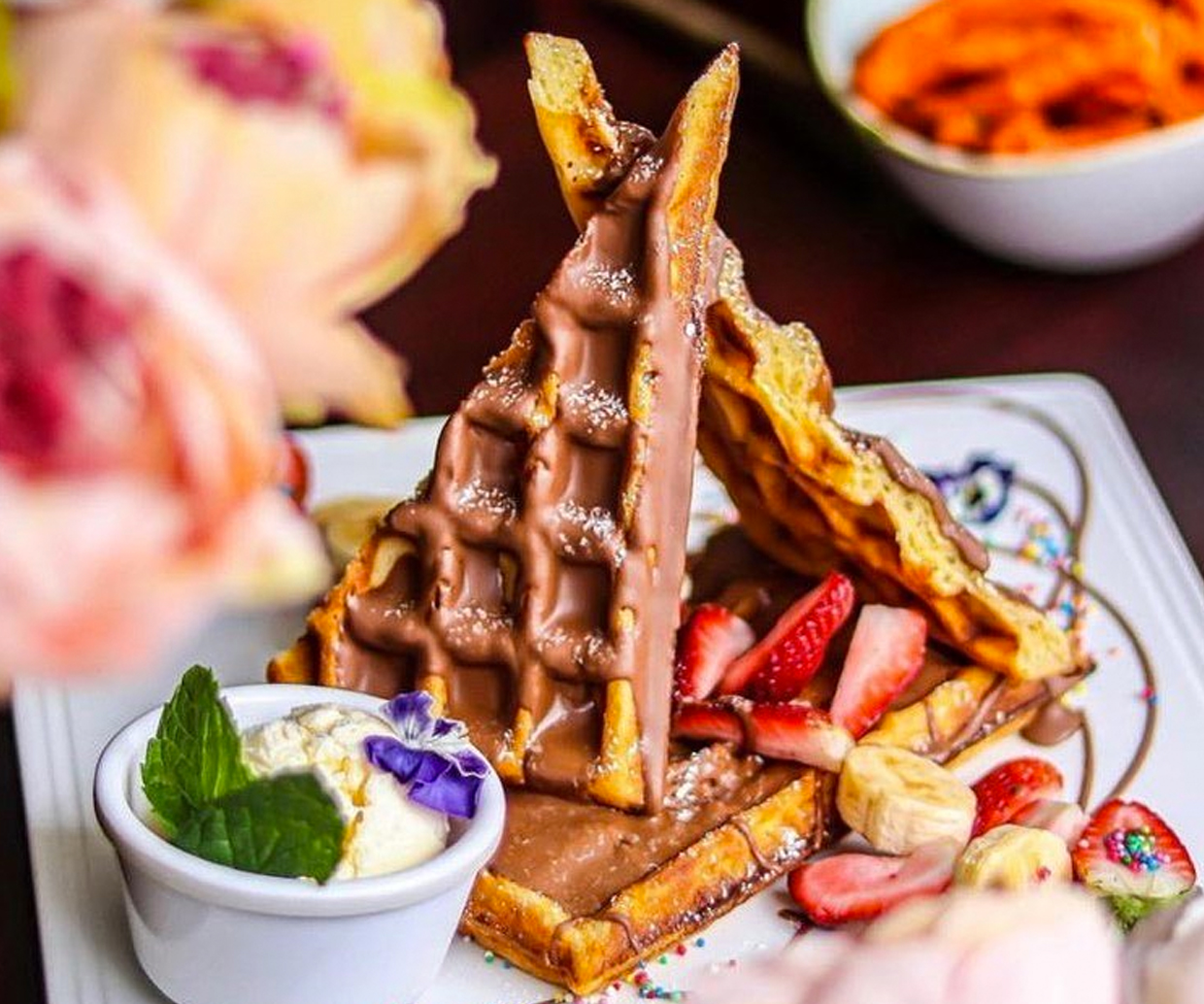 Crepes. Pancakes. Waffles. Fondue. Dessert pizzas. If this sounds like all your sweet tooth dreams come true, then you've come to the right place. At Dine & Dezerts, you can tuck into an actual waffle pyramid drenched in Nutella, hundreds and thousands, and fresh fruit. You can also go for gold with a loaded waffle drenched in Belgian milk chocolate, white chocolate, banana, strawberry, and crushed Oreos, or waffle sticks lathered in your choice of decadent poison.
Blackbird & Co
San Souci and Erskineville
Bring your attention over to the waffle feasting at Blackbird & Co and you won't be in the least bit disappointed. On the one hand, you've got a Southern fried chicken and waffle dish topped with maple and parmesan cheese. On the other, you can down the staple Blackbird & Co dessert waffle packed with seasonal berries, fresh fruit, vanilla ice cream, Oreo crumble, and maple syrup. It's a win-win whichever you choose.
Still hungry? Check the best cheesecakes in Sydney.
Image credit: Quick Brown Fox, Quick Brown Fox, Little Shop Of Waffles, The Tiny Giant, Dine & Dezerts