I'm sure you knew this, but just in case you need reminding, Amsterdam is the greatest city in the whole damn world. Grab your bags, your can-do attitude, and don't bloody worry about being tired. You can sleep later.
There's a helluvalot more to this glorious city than smart shops and those cafes. You've only got 48 hours, so you gotta make the most of it. I'm talking beer, cocktails, steaks, cheese, wine, galleries, picnics, the whole shebang.
Here are some awesome things to do in Amsterdam that you can cram into just two days. Let's do it.
Can I get a hell yeah?
Thanks.

4pm
Check into your AirBnB. Sure, you could stay in a hotel, but for the purposes of this article and because pretty much all of the residences in Amsterdam come straight out of Vogue Living, I highly recommend finding one. Also, The 'Dam is expensive, so save your pennies where you can. First things first, book your spot at Anne Frank House. It books up quicker than Taylor Swift's relationships end (Soz TayTay).
Now, grab yourself a bike. Partly because you don't have long, and also because trying to walk around and dodge the cyclists is asking for a sprained ankle and a serious case of FOMO. Don't panic, there's always a bike lane. To make sure you look as much like a local as possible, keep an eye out for Black Bike rentals. With one of these bad boys it will only be your cycling that will giveaway the fact you're not from around here. www.black-bikes.com/ourlocations/
While you're exploring, try to track down one of the many herring carts. And don't be shy about asking the proper way to eat it. If you're game, dip it in salt, tip your head back and bite in… You'll get the nod of approval. If you're not keen on that, try it in a sandwich.
6pm
You know what's fun? Alcohol. And views. So head to one of my favourite bars in the city and try not to snigger at the name (come on, you're better than that): Waterkant, and settle in, friends. It's a waterfront bar (duh) that is just perfect for getting the beers in and watching the evening go by. If you want something snacky, the burger is the stuff of legends. So damn cheesy. But share it, because dinner is on the horizon.
8pm
Now it's time for the fun bit. Put on your best and hightail it over to Mr Porter, the best damn steakhouse in the city, for a dinner you'll never forget. It ain't cheap, but what are you here for if not to indulge? It's got amazing views of the city, delicious cocktails, and a cheeky paddlin' pool if it's summer and you're feeling splashy. If you're not, it will still be one of the best steaks you've ever had. In your whole damn life.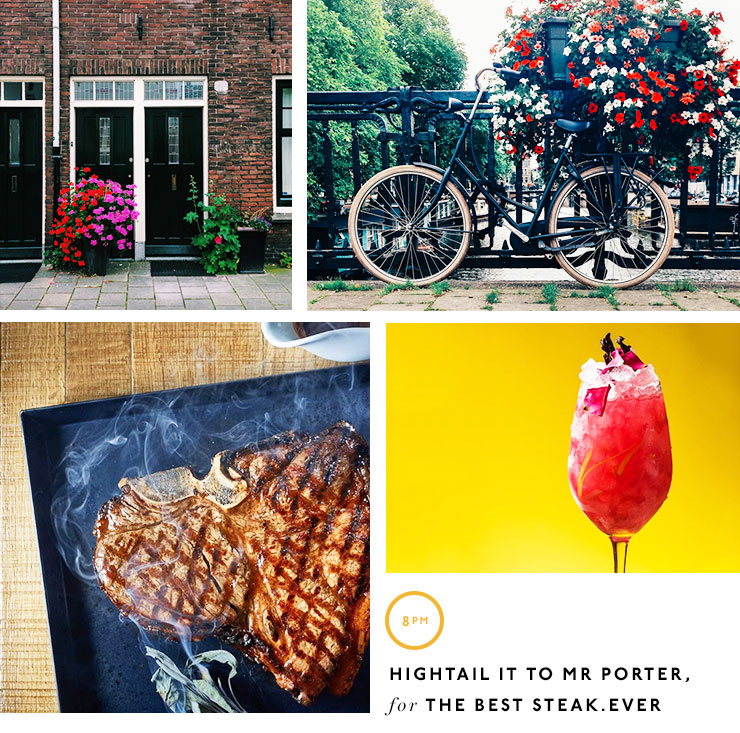 11pm
It's the part you've been waiting for. Come on guys, let's do it: let's hit up the Red Light District. Forget everything you thought you knew about it, and prepare to be amazed. It is, without question, one of the most jaw-dropping things you will ever see. Take your time, make some friends. Hell, you only live once.
12am
This might be bed time for some, and that's okay. But for others, what time is it? Club time. You heard me. Forget everything you know about Antepodean nightclubs, because this shit is going to blow your mind (again). There are a friggin' plethora of amazing nightclubs in Amsterdam, so there's no wrong one to visit, but we're partial to Disco Dolly, which spans two floors and has a burger joint open until 4am if you need a power snack.

8am
Good morning sunshine! Pop some Panadol, jump in the shower, and hit the damn road, we've got exploring to do! This is your cultural day, so wake up at sparrow fart and get your shit together. Hop on your bike and ride down to Cafe de Prins for some of the best poffertjes in the city. What are poffertjes? *scoffs* they're only the best thing in the whole damn world. Tiny, fluffy Dutch pancake things that are topped with powdered sugar and butter for Pete's sake. These guys do some of the best in the city, so get the most important meal of the day properly.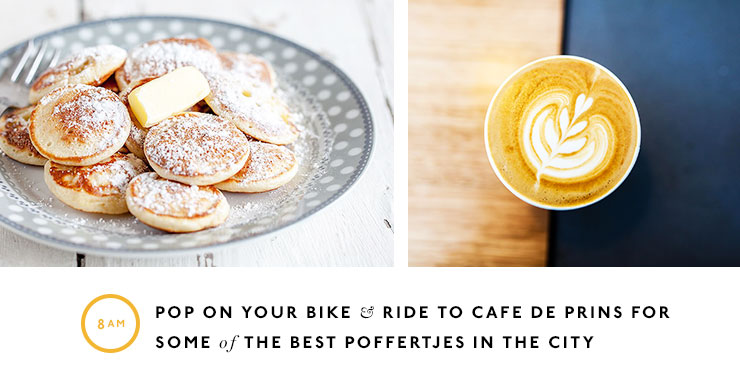 9:30am
Weren't they amazing? Told you. Now, pick up your bike and head to Anne Frank House to marvel in its sheer historical significance. Prepare for your mind to be blown; it's much smaller than you'd expect, and you're not allowed to take photos, but make it the top of your list for the trip. Intimate groups are recommended, and be sure to look for the original diary on display.
Extra points if you can track down Justin Bieber's douchey mcdouchelord comments in the guest book.
11am
Keeping on the cultural route, jump on your bike and get to the I Amsterdam sign. Unlike most tourist centres, this place is lush and perfectly groomed. Take a photo and then decide which gallery you're going to hit. There's always an amazing exhibition going on, so don't panic. The Van Gough Museum is incredible, while Rijksmuseum boasts some of the oldest artefacts in the world. On your way out, follow that gosh darn delicious scent to the nearest food cart and share a fresh Stroopwafel. You'll know why this is important after the first bite.
1pm
You must be hungry. How about some proper Dutch cuisine? That's what I thought. We're staying on the street food wagon for now, so go track down some piping hot patatje oorlog, a Dutch specialty snack featuring crunchy fries, satay sauce, diced onions and mayo. Most decent street food vendors will do them, but Mannekenpis in Centrum's are pretty boss too. It comes served in a purple cardboard cone with a fork, so no sticky fingers here.
2pm
Sounds like as good a time as any to have a few bevvies, yeah? Yeah. Combine culture with consumption and hire a canal boat. If you can get a group together, it's a steal. Plus, you can buy your own (local) beers and bring 'em on board. Dump the bikes for the afternoon and get a new perspective on the city.
5pm
Bit merry now, are you? Attaboy/girl. Make your way to the famous 'brewery in the windmill', or Brouwerij 't IJ, find yourself a seat and get ready to drink all of the beers. You might still be a little peckish after lunch (and beers), so feel free to indulge in a 'lil bit of cheese and sausage. Don't bother asking for some bread or crackers, because you'll be met with a "beer is the only carb we serve", but you won't need it. Just order everything and be prepared for a whole new world... of cheese.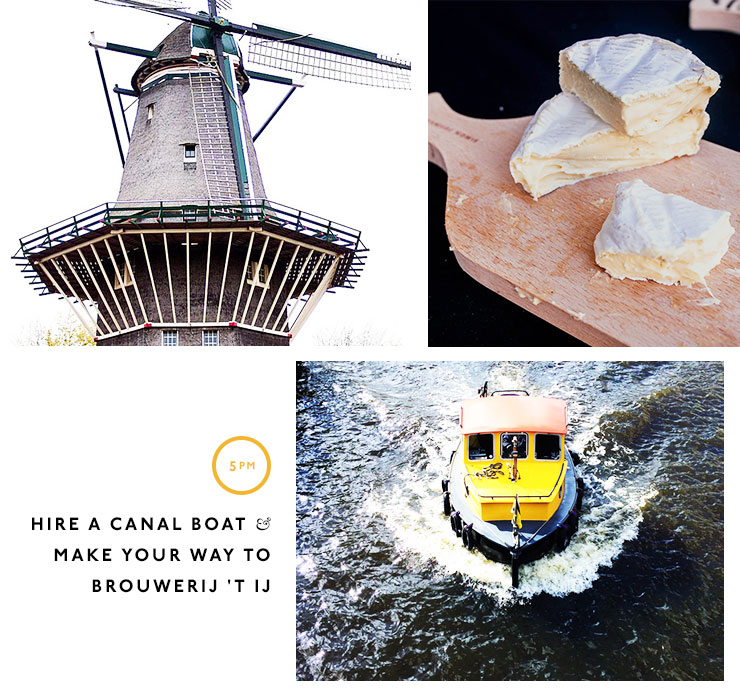 8pm
Dinner time is a'calling. And Haesje Claes is the answer. For a typically Dutch feast that you won't forget in a hurry, order the Stamppot, a traditional dish made with mashed potatoes and vegetables, often served with meatballs, sausage and bacon. Talk about comfort food. Also… It's a great way to line your stomach (spoiler alert).
11pm
All recovered now? For those that are keen to kick on into the evening, it would be rude not to hit another club with all your might. We're big fans of the extended pop up De Marktkantine, but feel free to befriend some locals and ask them where to head. The great thing about Amsterdam is, that everything is, well, great.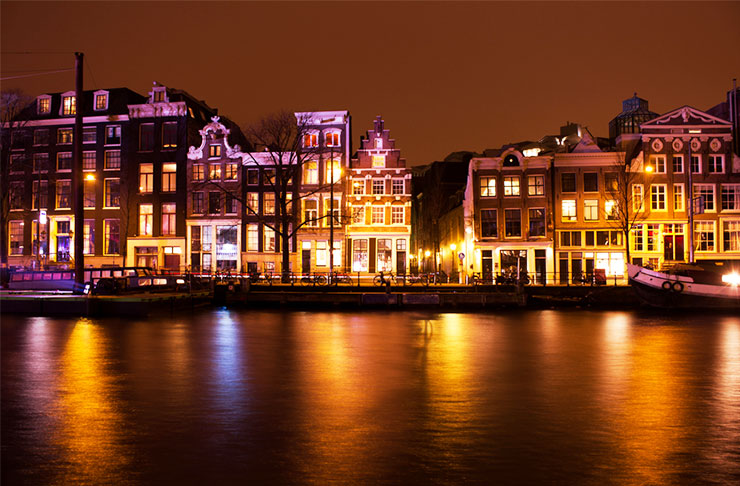 4am
If you're finished partying or simply need a mid-boogie snack, find one of the many late-night eateries that cater to the party goers. Chipsy King is a locally-loved heaven for crispy fries slathered in your choice of sauce (and it's open until 6am on weekends), while MAOZ will satisfy your kebab-type cravings without the questionable meat. You also haven't lived (or even been to Holland) until you've eaten at the glorious hole in the wall that is FEBO. Imagine deep fried morsels of tasty goodness, like Dutch croquettes, just waiting for you to pop that euro in, drizzle with mustard and stuff into ya gob. Don't walk, run.

9am
I know, I know, so early. You're in Amsterdam, so drink a cup of cement and harden the F up. First things first, coffee. Head to Black Gold Coffee & Vinyl for a flat white that will sort you out quick smart. If you need something a little more, ahem, stomach lining, Gs will sort you out with a Bloody Mary and a delicious brunch. If you just loooved the canal ride and want another, you can pre-book a brunch boat that will have you back on the alcohol bandwagon (or boat) in no time.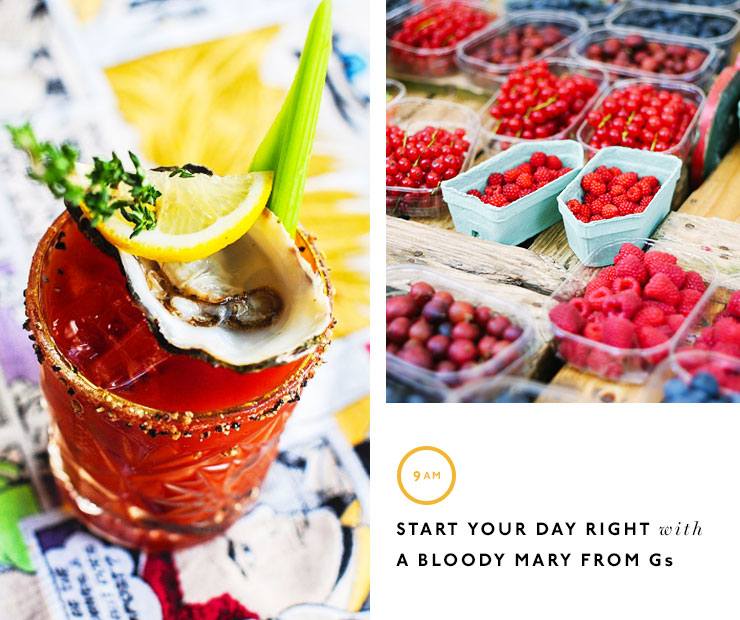 11am
It's time for some more culture, so make your way to De Pjjp and get ready to see some of the most incredible markets of your life: Albert Cuypmarkt. Bask in the glory of over 300 stalls that are offering pretty much anything you could want, from fresh food to clothing and general bric-a-brac. Give yourself a few hours here at least.
2pm
I know you've been sitting here reading this article wondering when I'm going to mention the famous Vondelpark. And the answer is right now… I've saved the best until last. Gather up your troops, go and find as many local craft beers as you can, raid the cheese stores for all of the Gouda, find a legit bakery for some amazing bread, and hit the local delis and supermarkets for the rest. Or, you can make a game out of finding everything you need at Albert Cuypmarket. After all that, you'll have yourself one bad as MF of a picnic. Sit here until you physically have to drag yourself up and head out and head off.
---
Design credit: Gabrielle Stjernqvist