When it comes to shows that aren't afraid to tackle the big issues in an accessible and entertaining way, we reckon no one is doing it quite as well as the crew at The Bold Type. Celebrating female friendship, empowerment and diversity, it's never been afraid to shy away from today's issues. Which is precisely why we cried a river when they announced earlier this year that the upcoming season will be its last.
That's right, after five incredible seasons, Kat, Jane, and Sutton will bid farewell to Scarlet Magazine with the final six episodes dropping on Stan on 27 May. To commemorate (and commiserate) what an epic ride this show has been, we caught up with Aisha Dee, who plays Scarlet's social media guru turned podcast host Kat, from her home in LA.
The Aussie actor (she hails from the Gold Coast) revealed what playing Kat for five seasons has taught her, her proudest moment on set and what really went down when they heard 'cut' for the last time.
Let's go back to your very first day on set—what was your first scene like and did you have any idea back then how successful it would be?
I do remember my very first day on the pilot, I was filming with Nikohl (Boosheri) who plays Adena. We were filming a scene where we packed a bunch of dildos into a suitcase by candlelight. The writers kept saying, 'this is a will they? won't they? moment'. And I was like, 'oh they will!' I mean, we are packing dildos by candlelight, I'm pretty sure they will.
In terms of how I thought it would do? I don't know. I'm typically quite a cynical person and even though I was like, this is really special, in order to protect my heart I had to tell myself to prepare for the absolute worst, that this could go nowhere. But now I'm so grateful it's gone where it has. But honestly, I didn't expect it.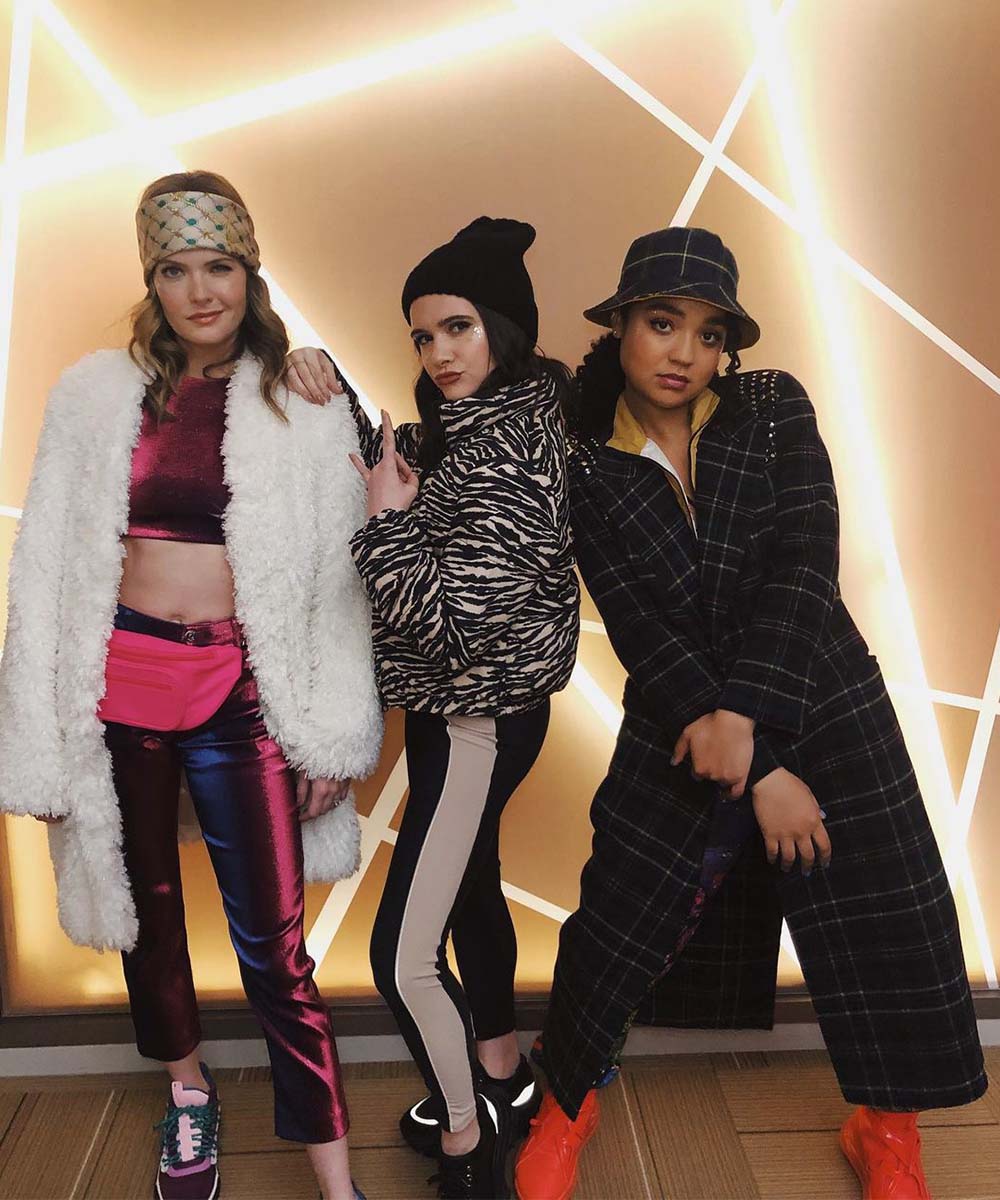 Kat has had one of the biggest character arcs of anyone on the show—what do you think of her journey so far and how much did you get a say in where she ended up?
The ending for Kat was not something that I knew about or contributed to. I heard rumours of, 'this is going to happen to Kat at the end' but I didn't really believe it. I kind of wanted it to be a surprise. I'm a fan of the show, so I wanted to experience it like everyone else was going to experience it. So I will say I was very surprised where she ended up but I think fans will be happy, not just for Kat but for all three of them. It feels right.
The theme of female empowerment runs so strong in the show, it's also been a champion of the queer community and covered the #MeToo movement—what's been one of your proudest moments either on set or because of the show?
Oh wow that's tough, I would say all of the above. The show occupies so many spaces and continually subverts people's expectations of what to expect from a show like this. I think actually what I love the most, is talking to people in the world—back when we could actually be in the world—about the show. I have lost count of the amount of times that someone has said 'Kat's journey and her coming out story motivated me to come out to my parents' or 'tell the person I love that I'm in love with them'. That's not something that I ever expected this show to do, but the fact that it has is so amazing. I also feel like it's done similar things for me. It's taught me a lot and motivated me to be braver, take chances and live more authentically.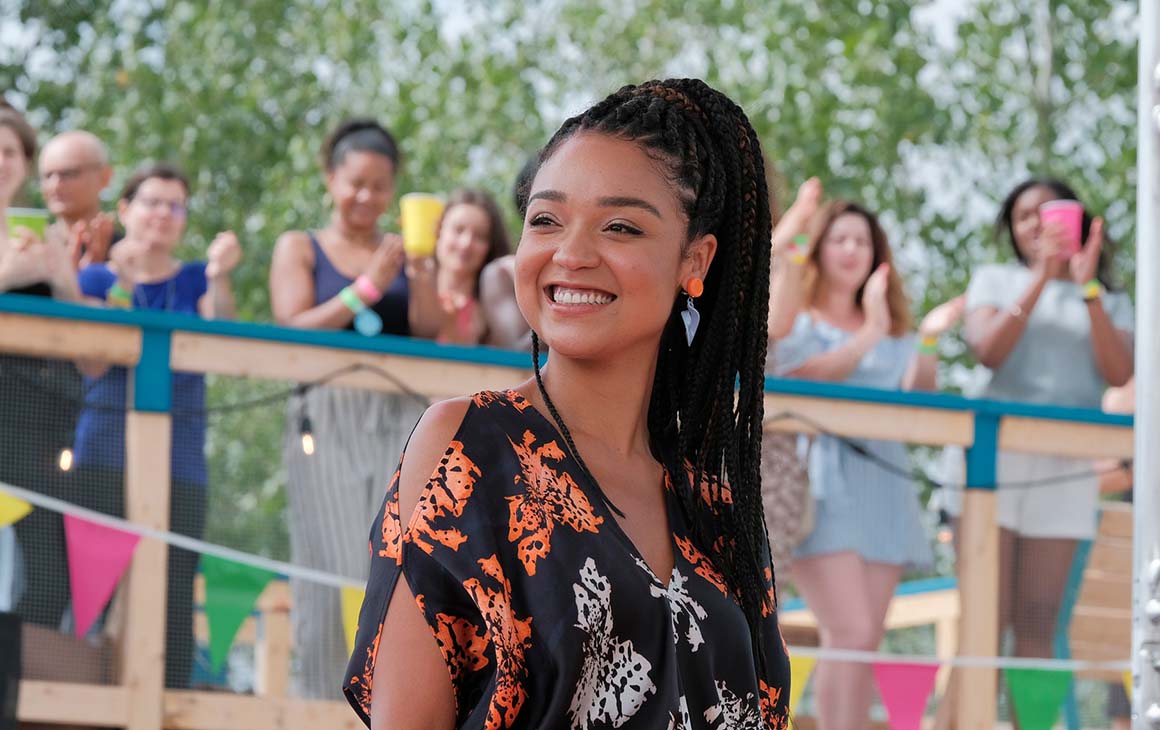 What will you miss most about Kat?
Aww. It's so sad to think about. The other day my little brother called me and he said 'oh you're close to 30' and I was like 'excuse me? what?' but I guess I am close to 30 and I've been doing this since I was 14 years-old, so it's been a long time and there's been a lot of different characters that have come into my life. I definitely feel like Kat has occupied a very specific space in my heart.
Oh you know what I'll really miss about being Kat? Having someone tell me what to wear every day (laughs). I'm such a child. I just want to wear the same jeans and swap out a t-shirt or crop top and wear the same sneakers until they basically fall off my feet. I think I've worn my Blundstone boots for literally three years. I think I might have to retire them, they're looking really raggedy right now.
Talk to me about the last day on set, did you three (Katie Stevens and Meghann Fahy) do something special to commemorate it?
Luckily on the last day, everyone was actually filming. It was a big party scene so we had the whole cast there. A lot of our crew is the same crew we've had since season one so we got to spend it with them as well which was special.
I feel like Katie, Meghann and I—every occasion we were like 'well, we have to commemorate it' so we'd have sushi delivered or have our orange wine and really made a whole deal of it. At the time of filming, Montreal was also in lockdown so we couldn't really do anything except to eat and drink our wine. I always have my ukulele with me anywhere I go so we would just sing songs. Oh, and we watched The Hills (laughs). We might have gone to a club if it was open but nothing was open so that was about it.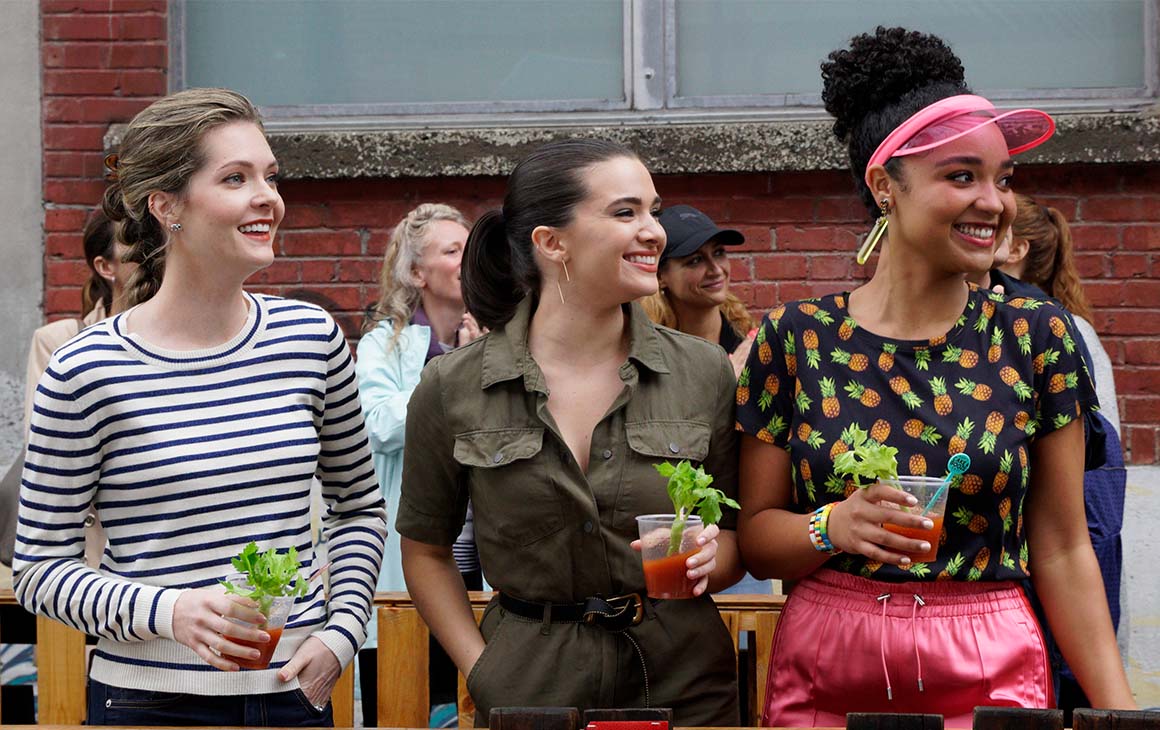 Last question, did you take any keepsakes from the set?
I did steal a couple of things... and steal is a very strong word because I did ask for permission from our producers. I took a mug from the conference room that has Scarlet on it. And a couple of seasons ago when they were packing down Kat's apartment I was sad about it and it caught me off guard a little bit. I think I realised I'd spent so much time on this particular set and now I'll never be here again. Kat had this teal-coloured fridge with a magnetic kitchen timer on the front, so our producer pulled the kitchen timer off the fridge and put it in my bag, so it's now on my fridge at home which I love.
The final (sobs) season of The Bold Type drops on 27 May on Stan. Peep the teaser trailer below.
If you're after more feel good, female-empowerment shows, check out our round up of the best feminist series out there.
Image Credit: Stan, Aisha Dee Instagram