While Australia has a lot of stunning scenery to take in above ground, some of the most incredible natural wonders our sunburned country has to offer exist deep below its surface. Packed with crystallised stalactites and stalagmites, these are some of the best caves in Australia for some low key spelunking.
FYI: Be sure to check the local conditions before you set out on your adventure, sites have been known to close due to Covid restrictions, fires and floods. And be sure to bring a jacket, it can get a little chilly underground.
Best Caves In Queensland
Cathedral Cave, Rockhampton
Often used for weddings and underground opera performances, Cathedral Cave offers a different experience than the rest of the caves on this list. You'll want to move in once you get a glimpse of the beautifully lit cave walls and experience the natural acoustics the cave has to offer. Walk along zig-zag passages and across a suspension bridge on this tour that offers insight into the rich geological history of the area.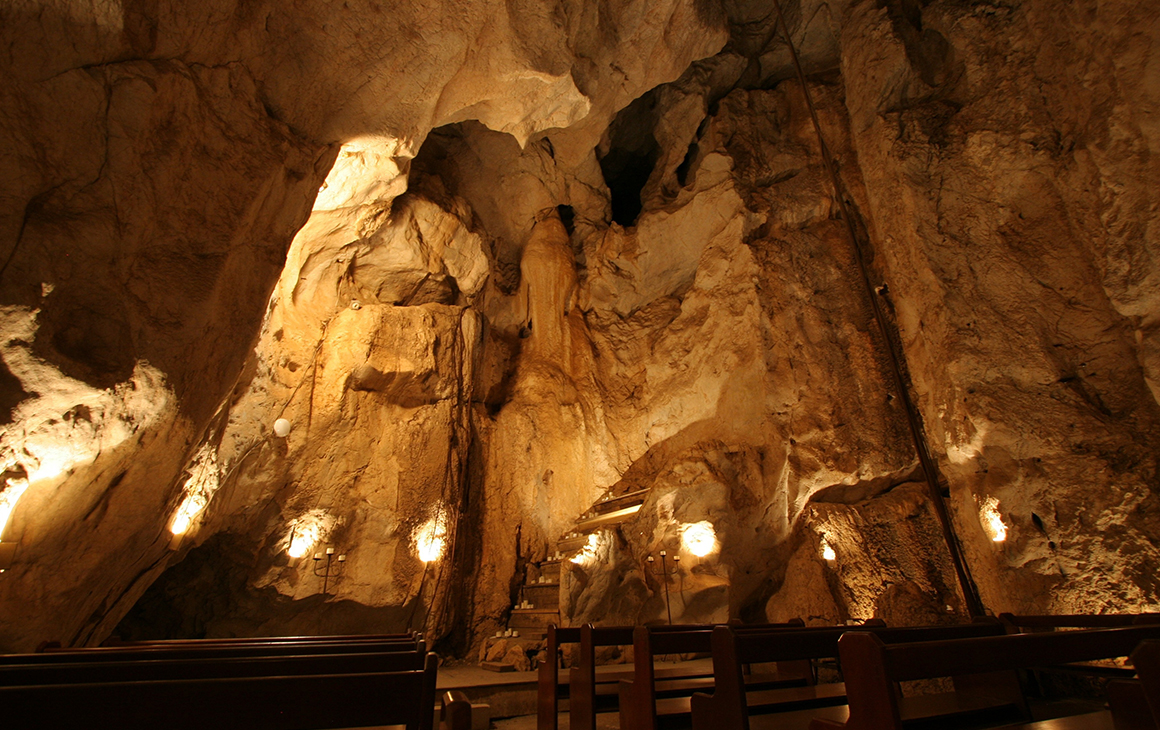 Glow Worm Caves, Tamborine Mountain
Tamborine Mountain's Glow Worm Caves prove that even fly larvae can be beautiful. Hop on a daytime tour and you'll get to see thousands of these little insect babies light up the stalagmites and stalactites of this man-made cave. You'll learn why they're so integral to the Australian rainforest ecosystem and how the caves help to protect and foster growth among Queensland's local glow worm colonies.
Chillagoe-Mungana Caves National Park, Mareeba Shire
Found in the Atherton Tablelands, the Chillagoe-Mungana Caves are around 400 million years old. Take a ranger-guided tour of the limestone caves and you'll be swept away by the stunning calcite crystals, natural columns and cave decorations as you traverse the steep ramps, stairs and ladders underground. With 11 chambers, fig trees, shafts of daylight and a fossilised giant kangaroo, you'll have plenty of breathtaking moments in store.
Best Caves In New South Wales
Jenolan Caves, Blue Mountains
With five unique caves to tour, Jenolan Caves are some of the best in Australia. Choosing favourites is difficult, but if we could choose to visit only one it would be Orient Cave thanks to its dramatic stalactites that hang overhead as you delve deeper underground. Lucas Cave is the biggest in the network and houses the Instagrammable "Broken Column" as well as an underground river.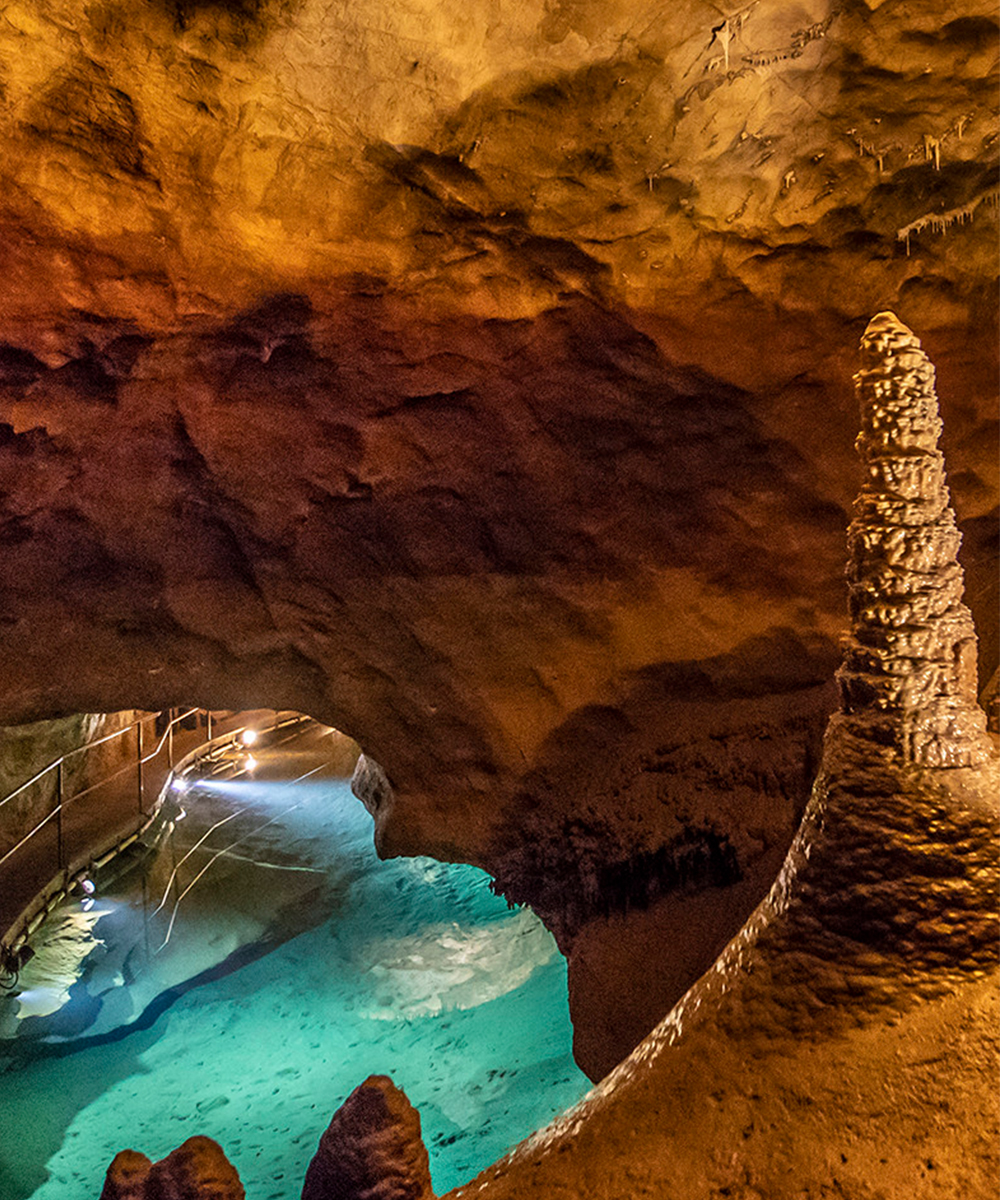 Wombeyan Caves, Wombeyan Karst Conservation Reserve
Don a hard hat and prepare those hamstrings, Dennings Labyrinth, part of the Wombeyan Caves network, presents you with an opportunity to get a little sweaty, without invoking The Decent vibes. If that's a bit too intense, check out Fig Tree Cave for a self-guided tour you can take at your own pace. Keep your eyes peeled for bats.
Abercrombie Caves, Abercrombie Karst Conservation Reserve
Yet another network of picturesque caves, Abercrombie Caves require a little more effort to explore, but the payoff is huge. Complete with narrow passages and huge cavernous chambers, tours of Belfry Cave will see you climbing ladders and traversing across suspension bridges. Archway Cave is home to the southern hemisphere's biggest natural arch, as well as wallabies, lizards and lyrebirds.
Yarrangobilly Caves, Kosciuszko National Park
With caves of easy, medium and hard difficulty, whichever option you choose you can reward your weary bones with a soak in the Yarrangobilly Caves thermal pool afterwards. South Glory, Jersey, Jillabenan and North Glory caves all offer something a little different, so rather than picking and choosing, you might want to plan an overnight stay so you can experience them all. When you're ready to resurface, hit the Castle Cave walking track for some stunning views of Kosciuszko National Park.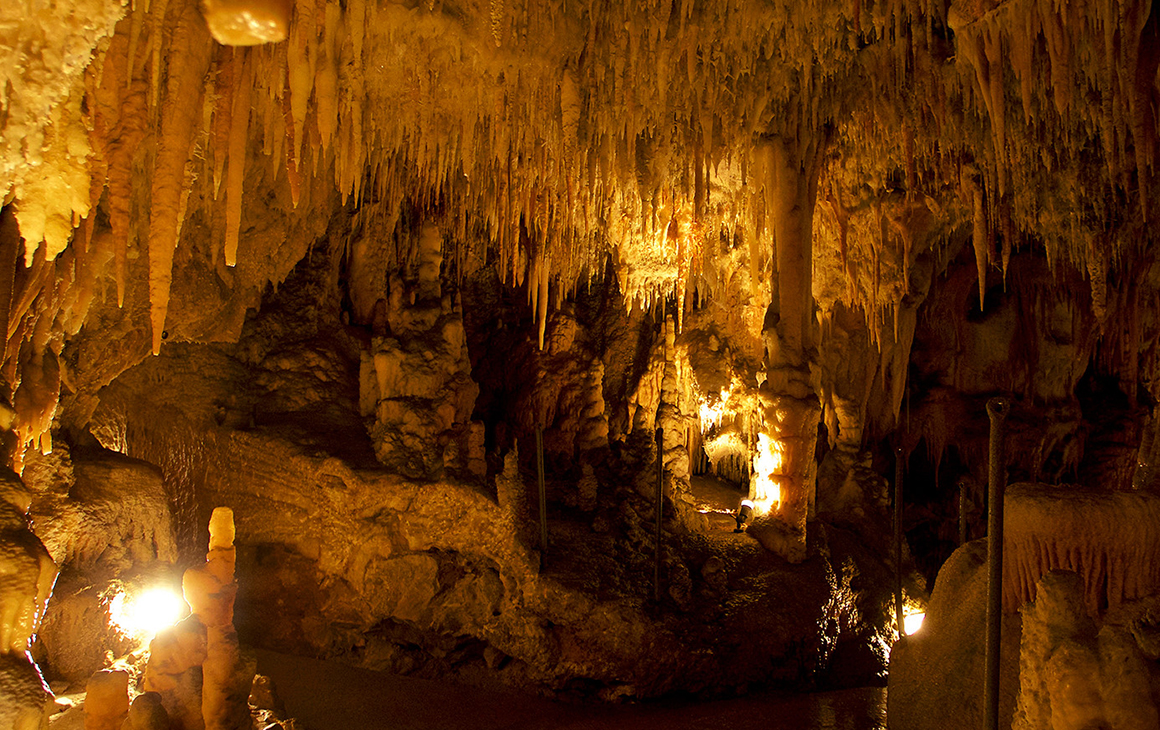 Best Caves In Western Australia
Lake Cave, Margaret River
Lake Cave is the deepest cave you can visit in the Margaret River region. The one-hour tour kicks off in spectacular fashion with entry via a sinkhole crowded by a forest of karri trees. Inside you'll be guided to a tranquil lake that when still reflects the crystal formations hanging from the cave's roof. You'll get a chance to sit down and take in the serenity and witness water gently dripping from the crystals above.
Jewel Cave, Augusta
Expect to see cave coral, pendulites, stalagmites, flowstone and helictites within this bejewelled cave which also happens to be the largest show cave in Western Australia. On the one-hour tour (the only way you can see the cave) you'll even get to peek at 3000-year-old fossils of Tasmanian Tigers. The tour is $22.50 and takes you through the cave's three huge chambers.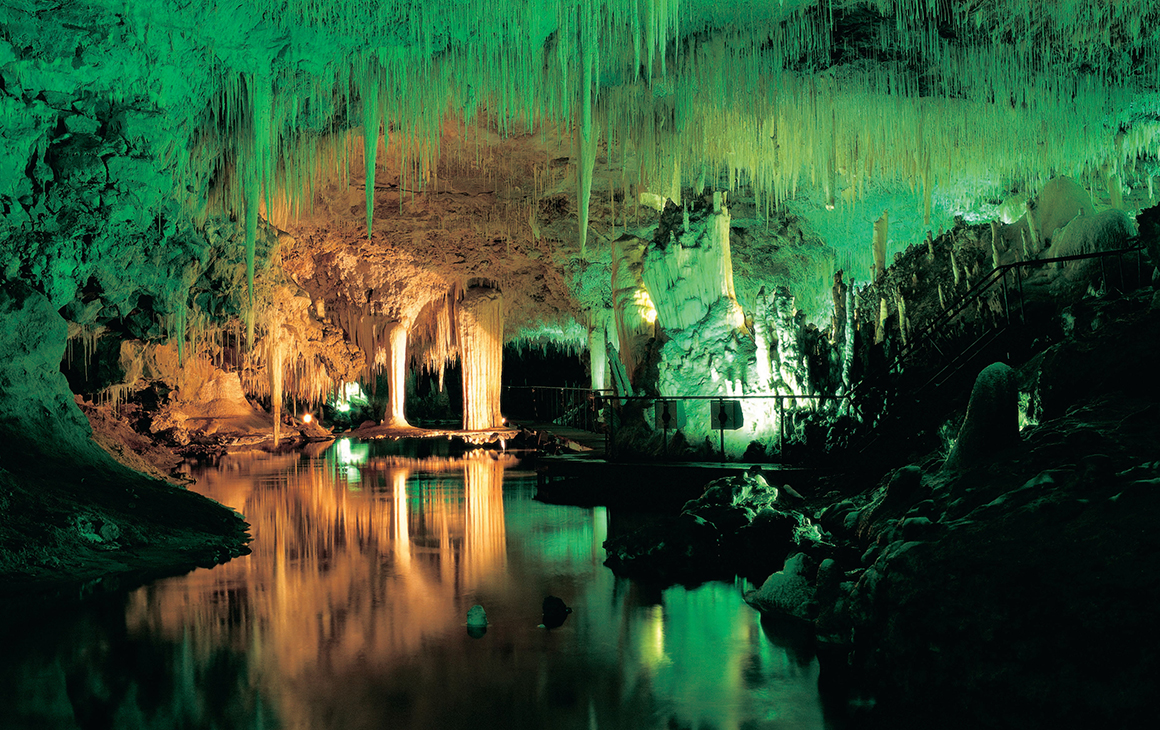 Mammoth Cave, Margaret River
Mammoth Cave was once home to mammoth-sized marsupials as proven by the giant fossilised jawbone that can be seen embedded in the limestone below. Take in the majesty of the cave's underground chambers as you meander along the boardwalks and platforms, and if you're keen to get into the nitty-gritty there are self-guided audio tours available. Parts of the cave are also wheelchair accessible.
Ngilgi Cave, Yallingup
One of WA's first tourist attractions, Ngilgi Cave offers up semi-guided tours with some extra time for solo exploring built in afterwards. You'll get to have hands-on experience with some of the cave's crystals and hear some interesting stories of romantic escapades that took place in the cave in years gone by. Squeezing through some of the cave's tight spots will reward you with even more beauty.
Best Caves In South Australia
Naracoorte Caves, Naracoorte
Naracoorte Caves offer up a bunch of under (and above) ground experiences to suit any explorer. Stick-Tomato Cave can be enjoyed sans-tour guide, while tours of Alexandra Cave take 30 minutes and offer up loads of geological facts that you can use at your next quiz night. Spend some more time down under on a one-hour tour of Victoria Fossil Cave, the UNESCO recognised site that is home to loads of fossilised bones. If that's all too claustrophobia-inducing you can always opt for the Roof Top Loop Walk where you can peek down into the caves below. For the more adventurous, take a bat tour and get up close to the winged mammals in Blanche Cave.
Engelbrecht Cave, Mount Gambier
Engelbrecht Cave is a feat of natural and human wonder, the latter because people actually dive into the cave's underground waterways and swim through underground passages which sounds a little too horror movie for our tastes. Sane people can take in the beauty of the two caverns from viewing platforms or take guided tours to learn more about these geological wonders.
Tantanoola Caves, Mount Gambier
Tucked into a cliff face, Tantanoola Cave is one of the best in South Australia. Pink and brown speleothems decorate the cave's walls and ceilings and among these you can spot fossilised shells, pebbles and seal bones that are thought to have formed when the ocean retreated many years ago. Wheelchair accessible, your host will give you an in-depth look at the cave's history and geology before leaving you free to roam the chambers at your leisure. Take a stroll along the cliff top walking trail to round out the speccy experience.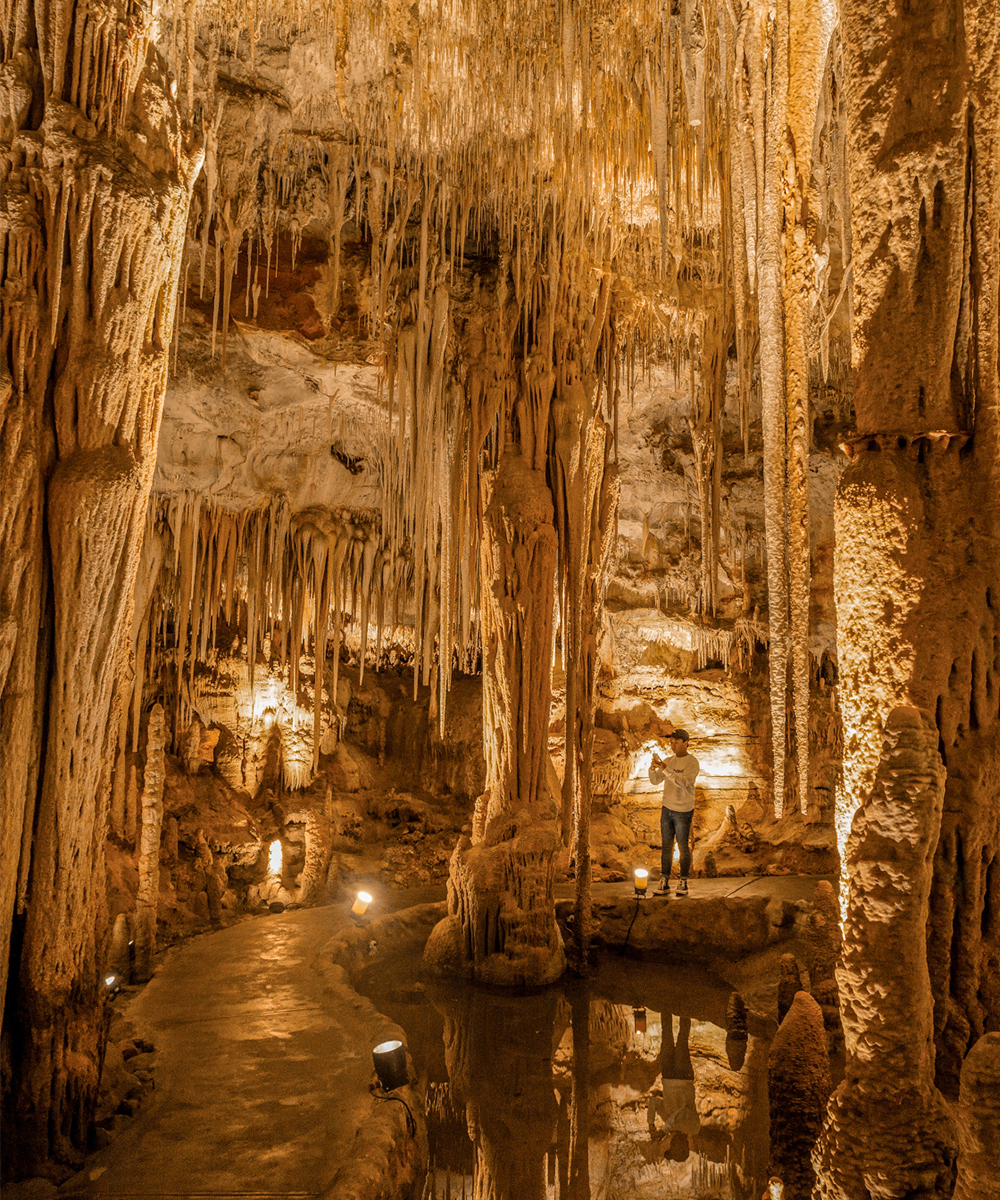 Best Caves In Victoria
Princess Margaret Rose Cave, Mumbannar
A below-ground rose gold wonderland, Princess Margaret Rose Cave boasts the most decorated cave walls in the country (per square metre) and is teeming with stalactites, stalagmites, helictites, cave coral and rimstone pools. Book a bush cabin and stay a night to make the most of your caving experience.
Buchan Caves, Buchan
Home to Fairy Cave and Royal Cave, it's well worth a stop at the Buchan Caves on your Aussie caving adventure. Both caves are as beautiful as the other, but Fairy Cave is a little tougher on the body with an extra 100 stairs and a bit of bending involved. You can book a double or single cave tour depending on how much underground action you're after, either way you'll get to glimpse calcite-rimmed pools and extraordinary stalagmites.
Best Caves In Northern Territory
Cutta Cutta Caves, Katherine
Open from April to October each year, the Cutta Cutta Caves sit 15 metres below ground and are home to ghost and horseshoe bats, as well as friendly brown tree snakes that cosy up on the cave's ledges. Millions of years old, you'll want to take a Nitmiluk Tour of the cave to better understand the rich Indigenous history of the site. On your way out take a short walk through the lovely tropical woodland.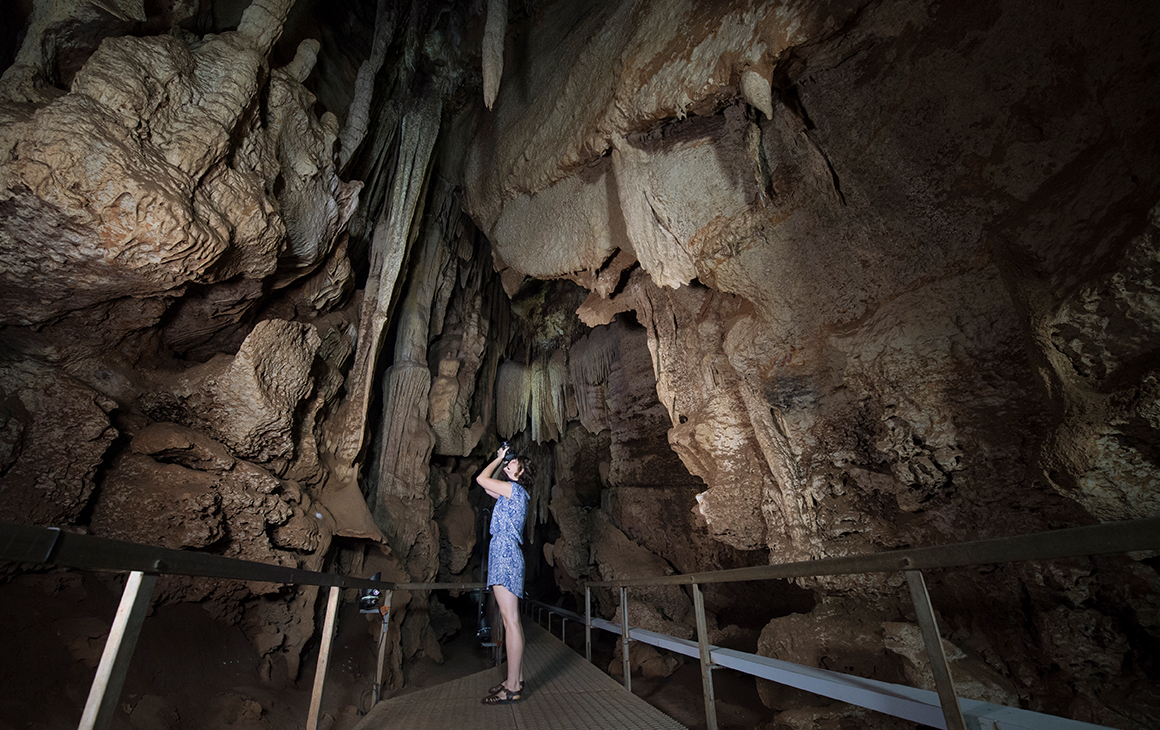 Best Caves In Tasmania
Mole Creek Caves, Mole Creek Karst National Park
Offering up a bunch of speccy caves that can be explored by tour, the Mole Creek Caves are well worth a visit. The King Solomons Cave tour is suitable for all ages and fitness levels, while the Great Cathedral and Glow Worms Tour of Marakoopa Cave requires a little bit more gusto. It's well worth the extra effort though, especially when you get to climb into the cathedral chamber and have a go belting out your favourite karaoke song to experience the natural acoustics. Book ahead so you're not disappointed.
Hastings Caves, Huon Valley
Described as magical, the Hastings Caves are buried beneath thick green ferny glades and forests which fits the theme to a tee. Explore the dolomite Newdegate Cave—the biggest show cave in Aus—before taking a dip in the natural thermal pool above. You might even get lucky and spot platypus, quolls and pademelons on your adventure.
Prefer to travel with your furry friend? Check out the best pet-friendly stays in Australia.
Image Credit: Rhisang Alfarid/South Australia Tourism, TEQ, Tourism NT/Shaana McNaught, Tourism WA