Having a kitchen full of excellent knives can be the difference between a great meal, and one that's just so-so.
When you move out on your own you're no doubt heading out to buy the cheapest knife block that you can afford, and there it is, still sitting in the corner of your kitchen, dirty, blunt and out of action. We've all been there. But it's time to ditch those tired old knives and sharpen your kitchen game right up with these top knives.
From budget buys to the ultimate splurge pieces, here are the best kitchen knives to shop in 2021.
The Best Chef's Knives
Baccarat Wolfgang Starke Stainless Steel Chef's Knife 20cm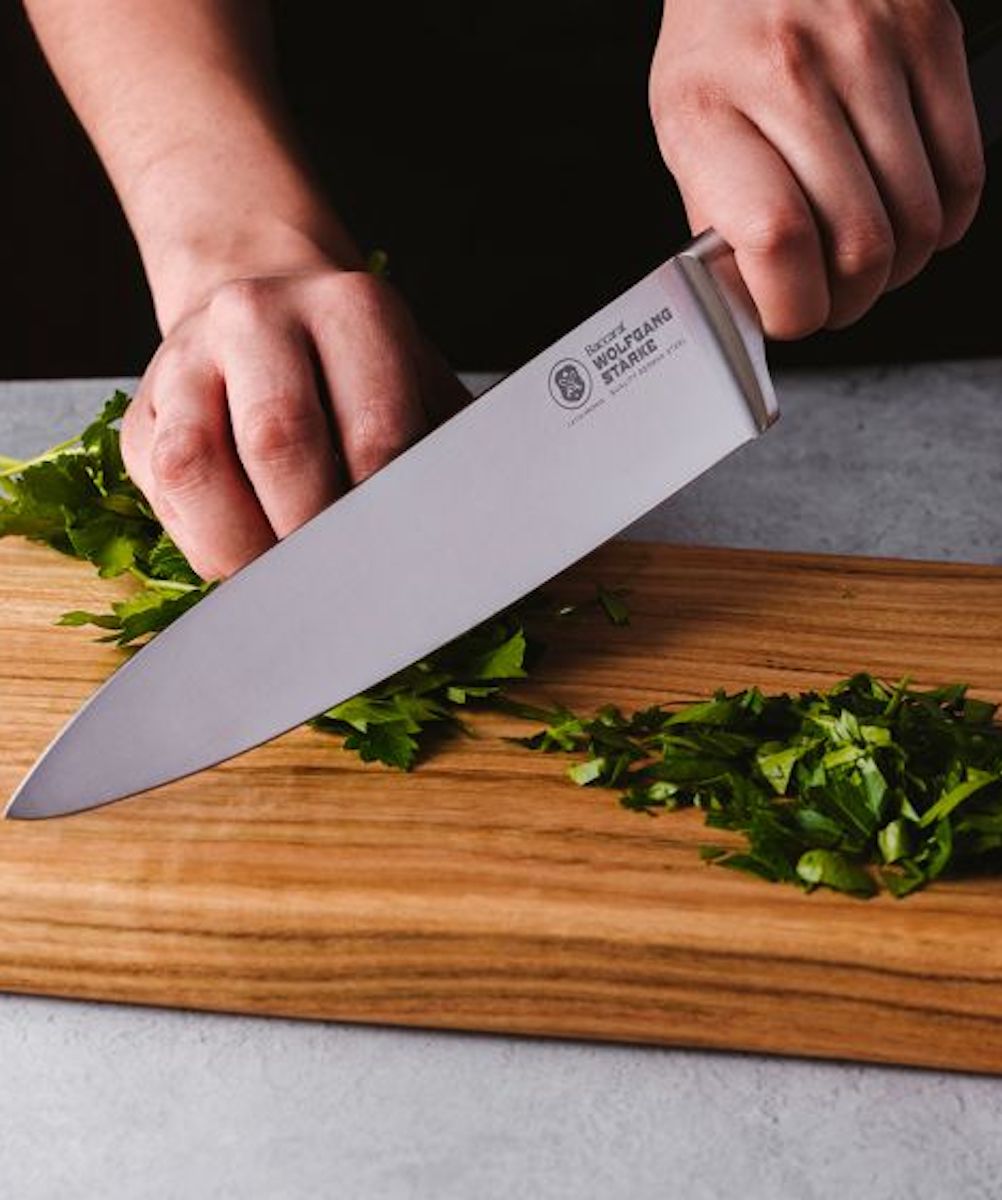 If you're the kind of cook that prefers to just have one knife that rules them all, let it be this great-value Wolfgang Starke Chef's Knife. German made, this blade is built to perform. It also handles like a dream and provides unbeatable precision thanks to its perfectly weighted design and expertly moulded polymer handles. Trust us, you'll be reaching for this one again and again.
Global Cook's Knife 20cm
Looking for the next step up? This cook's knife from Global is an absolute allrounder, with its double-tempered stainless steel helping maintain long-lasting sharpness and dimpled handle providing the right amount of grip to keep you chopping, slicing and dicing without a care in the world.
The Best Knife Sets
Wusthof Classic Ikon Black 3 Piece Knife Set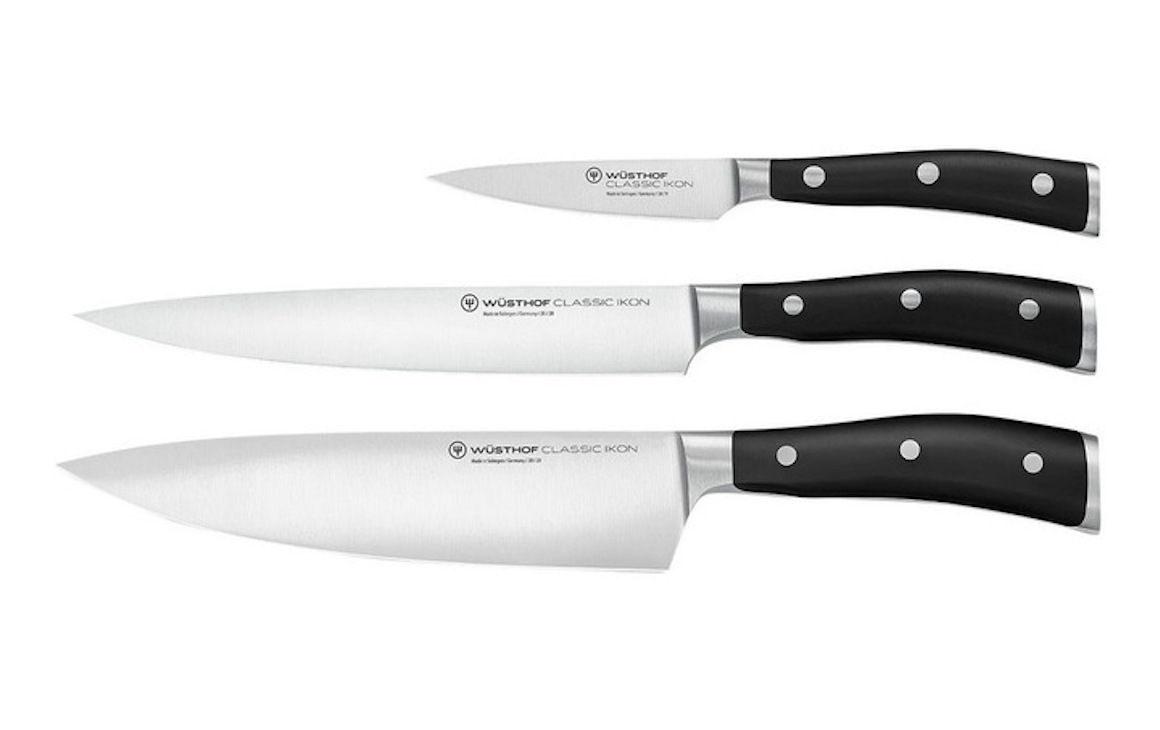 Wusthof is one of the leading names in German knives and for good reason. Forged from high quality stainless steel, their knives are globally recognised for being super robust and boast superior long lasting sharpness thanks to their laser certified Precisions Edge Technology. A full knife block can cost you your first born, so we reckon this three piece set, which features a few of your most commonly used blades (a paring knife, carving knife and cooks knife), is the ideal starting kit for anyone not willing to compromise on quality, but not cashed enough to go the full hog just yet.
Miyabi 5000MCD 2 Piece Knife Set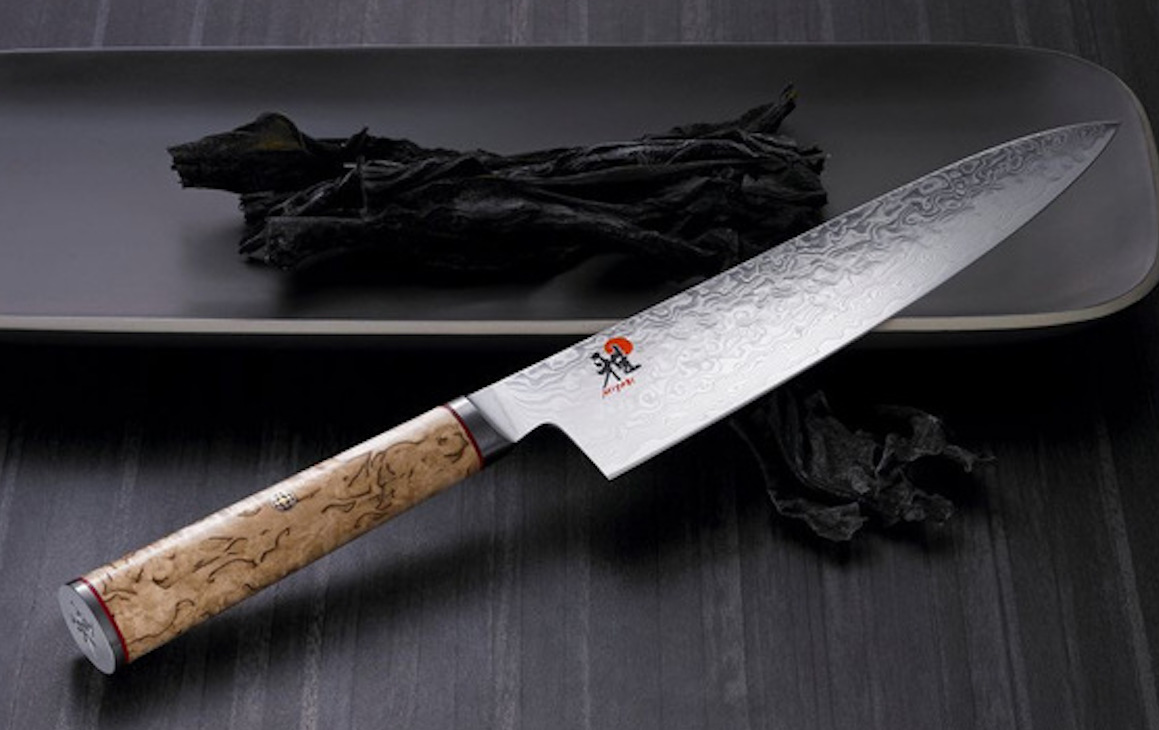 With a lifetime warranty on the steel, you better believe these authentic Japanese knives are no joke. Made in Seki, Japan, each of these Miyabi knives feature SG2 super-steel hardened by a four-step ice hardening process and protected by a 100-layer Damascus pattern so expect razor sharpness and unbeatable craftsmanship. And if spending this much on two knives seems a little much, take solace in the fact that these two premium pieces will get you through almost any kitchen task you throw at them.
The Best Knife Blocks
Baccarat ID3 Tora 7 Piece Knife Block
This set of stainless steel Japanese blades from Baccarat is one of the best value knife blocks around, especially right now. You can get the seven piece set (five knives, a pair of kitchen scissors and matching knife block) for a measly $199. I mean it'll pay for itself in no time, even if you only cook at home on the odd occasion.
Scanpan Classic 8 Piece Knife Block Set
We couldn't get through this list without mentioning one of the trusty Scanpan knife sets. With German stainless steel, genuine Danish design and a 10 year warranty, you really can't go wrong with this eight piece knife set, especially at the price point. It includes all you need, with six kitchen knives to cover all your chopping, slicing and dicing needs, plus a pair of kitchen scissors and a classic wood knife block to keep them in.
Bugatti Trattoria Ergo Knife Block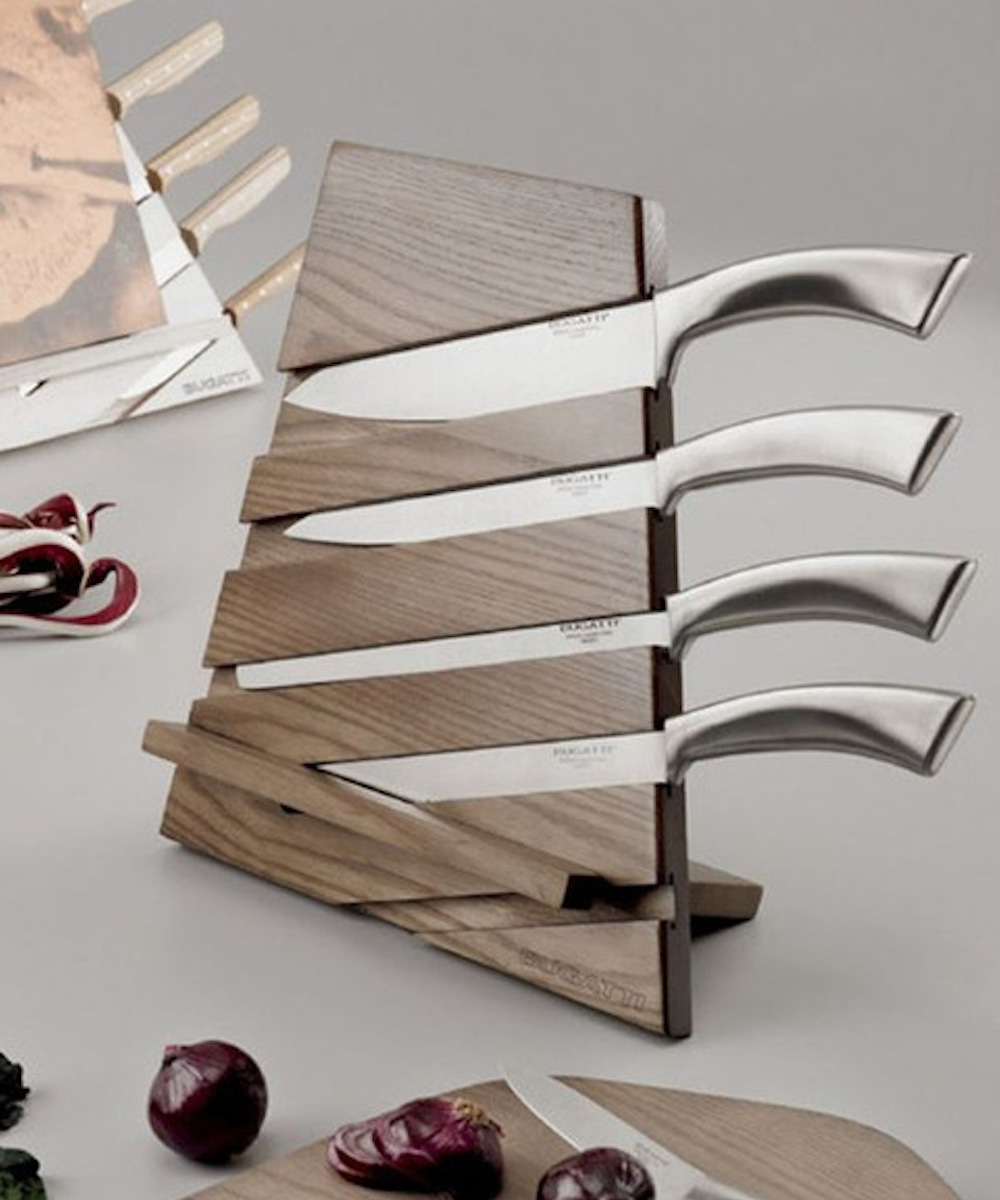 Sometimes you just want a knife block that'll look super schmick on your kitchen counter, and for those occasions, you'll want to reach for the Bugatti Trattoria Ergo Knife Block. Featuring five beautifully designed stainless steel knives that slot effortlessly into a light wood block, complete with matching chopping board, it's bound to cop plenty of compliments at your next dinner party.
Baccarat Damashiro Bodo 10 Piece Japanese Steel Knife Block With Chopping Board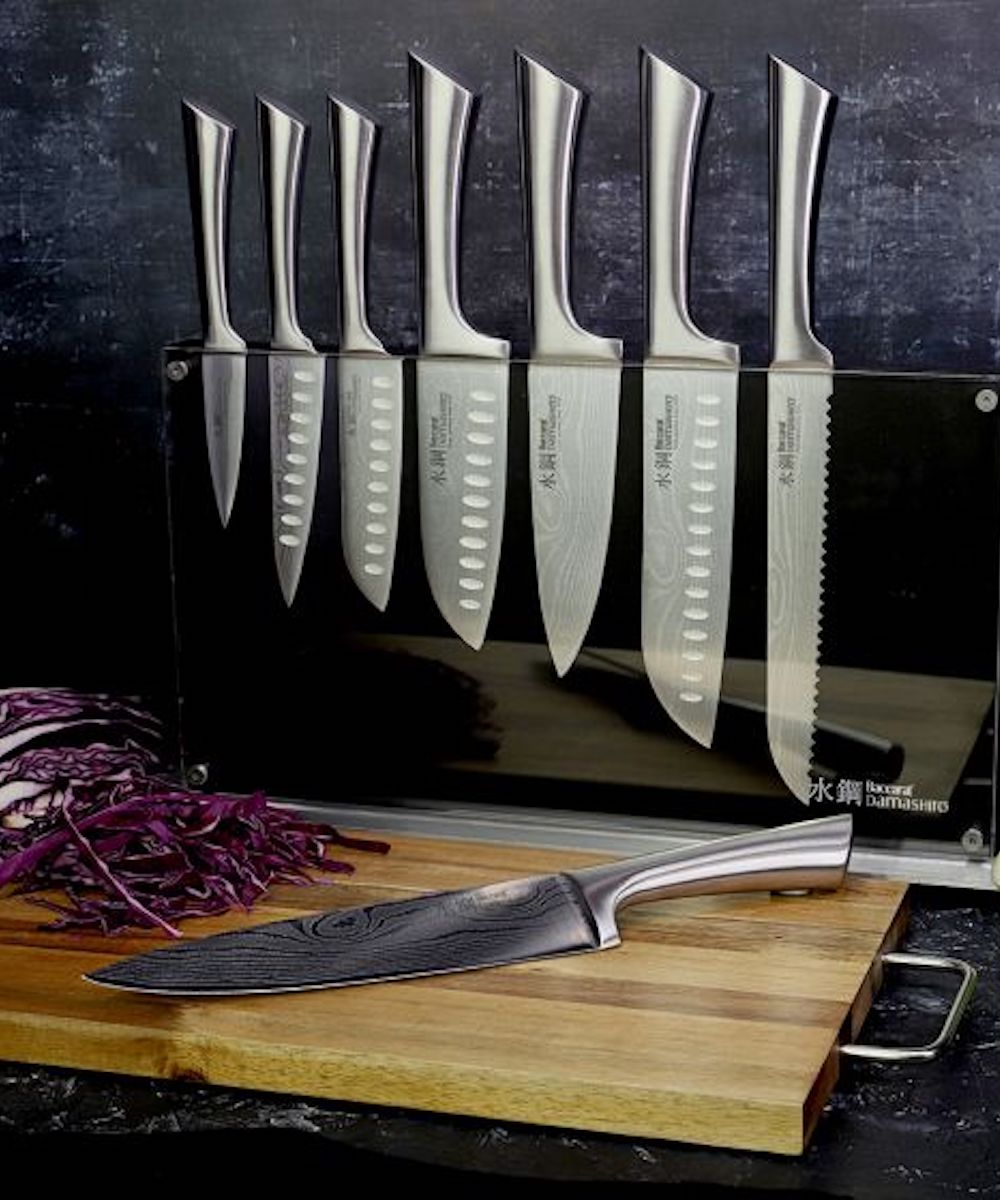 When you've outgrown your entry level knives and are ready to splurge on a set a little better suited to your premium kitchen skills—say hello to this Damashiro Bodo 10 Piece Japanese Steel Knife Block. Serious home cooks love these blades for their enduring strength and tapered edges, making for a thinner and more precise chop. Inspired by traditional Japanese Samurai swords, each blade also features distinctive Damascus inspired designs which will look great on show in its clear magnetic knife block, complete with bonus magnetic chopping board.
Feel like cooking up a storm now? Check out our Recipes section for some kitchen inspiration.
Image credit: Viacheslav Bublyk
Editor's note: Urban List editors independently select and write about stuff we love and think you'll like too. Urban List has affiliate partnerships, so we get revenue from your purchase.