It's no question sandwiches are having somewhat of a renaissance at the moment, and there are some damn good options out there. Try to recreate that magic at home, however, and one quickly realises there's a little more two it than just slapping three fillings between some bread.
We're here to tell you, though, that it can be done—at least with a little help from head chef/owner at Sydney's Sandoitchi, Pureephat 'Bhas' Kraikangwan, who's sharing the recipe on his Buttermilk Fried Chicken Sando.
Ingredients
First Marinade
1kg Maryland deboned with skin

20ml fish sauce

10g palm sugar pound into small pieces

30g coriander roots

20g garlic

Whole white pepper

One punnet of lemongrass

Sea salt a pinch

Water 100g
Second Marinade
800ml Buttermilk

10g Cajun spice

5g Garlic powder

5g Onion powder

5g Cinnamon powder

3g Clove powder

10g Smoked paprika powder

10g Black pepper powder

10g Coriander seed powder

5g Chill powder
Chill Mayo Sauce
200g Japanese mayonnaise

50g chilli Sriracha

1tsp of mixed spices from second marinade
Bread
Thick cut milk-white bread or wholemeal

Unsalted Butter
Pickled Cucumber (Optional)
200g Baby cucumber

10g Salt

100g Sugar

100ml White vinegar

500ml Water

5g Limestone paste

One small sheet of Konbu

10ml Yuzu juice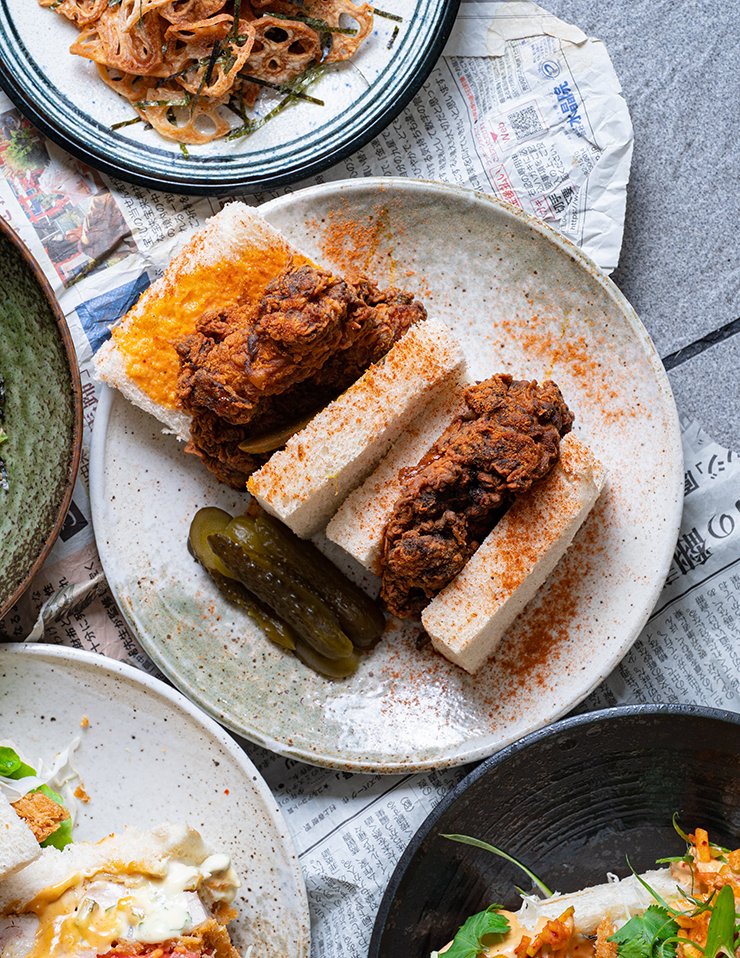 Method
First Chicken Marinade
Clean the chicken with vinegar and drain it well.

Pound the garlic, coriander roots, whole white pepper, a pinch salt and lemongrass with mortar and pestle until it becomes a fine paste.

Marinate chicken with the paste and then add the fish sauce, palm sugar, and water.

Remove chicken and marinated liquid into a vacuum pack and leave in the fridge. Marinate for one day.
Second Chicken Marinade
Mix all the powder together.

Remove chicken from the vacuum pack, add buttermilk and add spices. Mix well.

Marinate for another day.
Chicken
Coat the chicken all over in plain flour and leave in the fridge for 10 minutes before frying.

Deep fry at 190 degrees until cooked.
Chill Mayo Sauce
Mix the Japanese mayonnaise, chilli Sriracha and mixed spices.

Keep in a small bowl for preparation.
Pickled Cucumber (Optional)
Wash the baby cucumber and drain well.

Bring water to the boil, add sugar, white vinegar, limestone paste mix until sugar is dissolved.

Set the side of the liquor until cold.

Add liquid to cover the baby cucumber, pickle at room temperature for 2 days.
Preparation
Trim crusts off bread.

Spread the butter on both sides of the bread, add the chill mayo on both sides and place the cooked chicken on the bread.

Cut in half, then garnish with mixed spices and add the pickled cucumber to the plate.
Now, head down to Melbourne and make Capitano's famed vodka pasta.
Image credit: Sandoitchi