Nothing says Christmas Day more than a plastic-lined outdoor setting and a big ol' pavlova sitting atop. There's also nothing more satisfying than hearing Aunty June whispering "Blimey, the pav is great, Bruce" while eyeing off that dessert you brought to the table.
This year, let baking Queen Miss Trixie Drinks Tea help you level up your pav game with her Cherry Ripe-inspired Christmas monolith. Bruce, June, let us introduce to you the Pavlova MKII.
Chocolate Cherry Ripe Christmas Pavlova
Makes: One Hefty Pavlova
Ingredients
Chocolate Pavlova Base

6 egg whites, at room temperature

300g caster sugar

50g Dutch cocoa powder, sifted

75g dark chocolate finely chopped

1 tsp balsamic vinegar

Pinch of salt
Decoration Ingredients
2 x 400g coconut cream, refrigerated

60g Dutch cocoa powder, sifted

45g pure icing sugar, sifted

½ tsp vanilla bean paste or extract

1kg fresh cherries

Gold leaf, to decorate
Method
Pre-heat oven to 16

0°c for a fan-forced over or 180°c for a conventional oven.​

Draw a 20cm circle onto a piece of baking paper, turn it upside down and place onto a baking tray.

In the bowl of an electric mixer, place egg whites and a pinch of salt and beat on a medium speed until soft peaks start to form.

Add caster sugar one tablespoon at a time and continue to beat until the egg whites form a stiff, glossy meringue.

You should be able to turn the bowl upside down and there be no movement at all.

Add sifted cocoa powder, finely chopped chocolate and balsamic and using a large metal spoon, gently fold through

Spoon meringue onto the baking paper and using your circle as a guide,

shape the meringue into a round pavlova base.

Place in the oven and immediately turn the oven down to 130°c for a fan-forced oven or 150°c conventional oven and cook for 75 minutes. Do not open the oven door after this point.

​

After 75 minutes, turn the oven off and allow the pavlova to cool in the oven. Do not open the door, just switch the oven off. Ideally leave the pavlova in the oven overnight to cool, otherwise for at least 4 hours.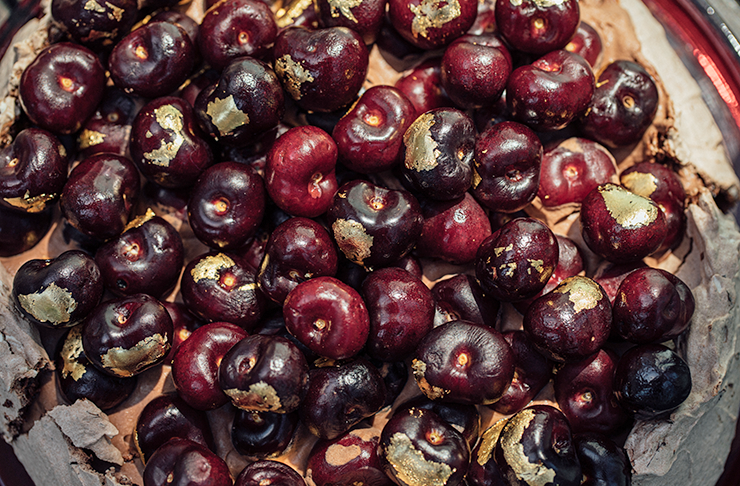 Decoration Method
Spoon coconut cream from the can into the bowl of an electric mixer, leaving any water behind—you only want the thick cold coconut cream.

Add sifted cocoa powder, icing sugar and vanilla and beat for a few minutes until combined. Refrigerate until use.

Spoon the chocolate coconut cream onto your pavlova base and decorate with cherries.

If you wish, you can add some gold leaf to the cherries before you pop them on your pav.
Tips
Provided you have the time, it's recommended to make your pavlova base the day before you're eating it so it can cool in the oven overnight.
The base should be a little bit molten in the centre, soft to touch. Cherries are the fruit of the Christmas season and there are some wonderful cherry suppliers where you can buy premium cherries directly from the farmers. For the Victorian's, Cherry Hill Orchards in the Yarra Valley are some of the best in the business.
You can find gold leaf in your supermarket aisles—just head the baking section.
Check out more information about Miss Trixie, and order her cakes, at misstrixiedrinkstea.com.
Image credit: Annika Kafcaloudis