When you think about what you dreamt of being when you grew up (marine biologist, astronaut, princess) few of us actually make it a reality. And therein lies the difference between much of the population and the inspiring Linn Sandstrom.
Born in Brazil and raised in Sweden, Sandstrom had big dreams of making sport her career. From playing soccer in the boys team for seven years before going on to become Sweden's biggest and brightest table tennis player, she is the epitome of making life what you want.
Fast forward to today, Sandstrom, 29, now lives in Sydney and is about to fight for the Super Fly Title belt in boxing. How did she get there and score such a sweet gig? We caught up with her ahead of her fight on 7 July to find out.
You went from table tennis pro to a boxer—what moment inspired you to make the change?
I played table tennis at a pro level for many years, but because I was a female I couldn't make any money from the sport. I trained just as hard as the boys, played in the same leagues as them but I just didn't get paid to play. So it got to a stage where I thought, that's enough, I'm not going to be able to do this full-time so I had to walk away from the sport.
When I moved to Sydney from Sweden I had a bachelor of marketing so the plan was to work in that area. But one day I walked past Bondi Boxing Club and although I actually never had any interest in boxing I just walked in and got hooked. I felt like I needed a new challenge and that's what boxing gave me.
That must have been pretty intimidating?
Oh yeah. I walked in and there were only boys there at that stage. I was wearing my pink boxing gloves and I was a bit chubby because I didn't play table tennis anymore but I got stuck in and started doing all the classes. I remember seeing my coach—he's a bad ass Italian with tattoos, the definition of a boxing coach—and I knew I wanted him to train me. At the time I was thinking of that quote 'nothing good ever comes out of comfort zones' and I thought I'll take the risk, there's no way he'll actually train me but I have to ask. And then he said yes because he saw my commitment to the sport and within three months of that day I had my first ammatuer fight.
How were those first few match ups in training?
He actually paired me up with girls that were three kilos heavier and had more experience than me in the beginning because he wanted to test my commitment. If I'm being honest, I got completely bashed. But the first time he actually put me in with a girl that was a similar weight and experience to me I got my first win. I was buzzing, it was the best feeling in the world and proved to me that I was exactly where I needed to be.
How did you feel going into your first professional fight?
It was terrifying. I was so nervous. Going into the actual ring is a shock to the system. We train extremely hard daily but nothing we do can prepare you for the shock of getting punched in the face. Especially in the beginning when you're not really used to it.
What's been one of the biggest challenges you've encountered so far in boxing and how did you get through it?
I'm a female in a male-dominated sport and that can be really hard. I feel like I need to prove myself double the amount the boys do. On the flipside there is a benefit because it gives me a lot of opportunities to prove people wrong.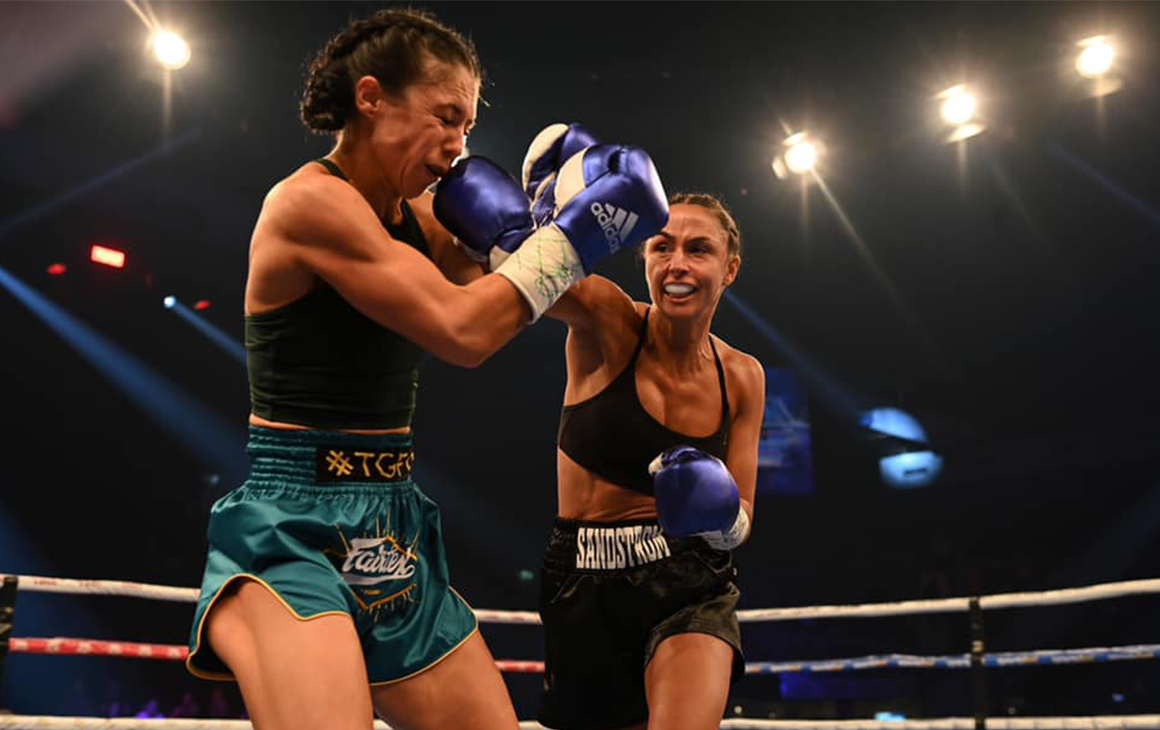 Are people quick to underestimate you?
Absolutely. In the beginning I got a lot of sponsors backing me straight away, which is great but it means you have to justify why they want to back you. I do that with my hard work but I feel like sometimes people think it's just going to get handed to you but that's not the way that it works. I was lucky to come from an elite sport beforehand so I knew what it was going to take for me to get sponsors. What I would say to people is that you really need to work hard yourself to get what's coming for you, no one is going to do it for you. I have to prove them wrong, every time I get into that ring.
What's an average day like for you right now?
Right now I'm just a few weeks out from my fight so we're training super hard. In the mornings I sit on the bike for 45 minutes with a sauna suit on to make weight. Then at lunchtime I box with my coach and in the afternoon I do another cardio or strength session or even sparring. So I'm training around three times a day.
Is there a sports person who inspires you?
Absolutely Katie Taylor—she's breaking barriers in the sport. She's such a good boxer and all around athlete.
How do you deal with criticism after a loss?
Losing is extremely hard. For me the toughest one was when I lost my pro debut. It was a really overwhelming experience. It was the best thing I've ever done but walking out in your first ever pro fight, competing in front of 16,000 people in an arena with your name on it—it's a lot. And you put in all the work to win that fight but then to lose… well it's a shock at first. But I'm really proud of myself because I went straight back into the gym. I was fortunate enough to have people that believed in me so they gave me a second shot and I fought on the same stage and managed to win. Losing was probably the best thing that could ever happen to me because I'm so much stronger now. I worked really hard on my mindset and I've learnt so much from that loss.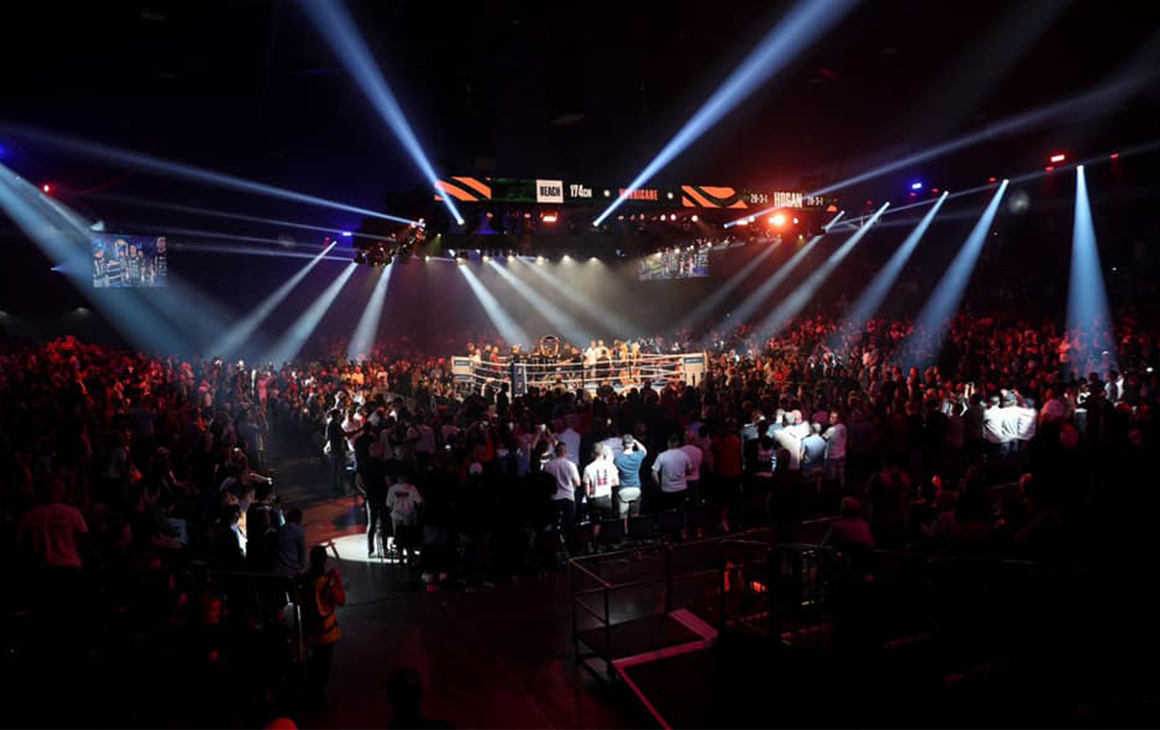 Are you your toughest critic?
No, I think my coach is (laughs). Because I don't have my family here in Australia, he's also like family to me. He's training me extra hard because we have a point to prove. I'm a female fighter in a male-dominated sport. I want to create waves and he's there to help me to do it.
What's been your biggest career highlight so far?
For me it's that I have never ever given up. I've gone through some really hard times but every single day I have shown up in that gym and I have given it 100%. I have never taken a day off or let anyone stop me.
Finally, what would you say to women out there who want to get into sport?
Just go for it! Get out there and follow your dreams. Dare to dream big, it's yours for the taking.
Next up, find out how Anna Ross created the world's first B Corp beauty empire.
Image Credit: Supplied