We've all been there before. You're tearing through your stash of swimmers only to find that none of them makes you feel like the goddess you really are. There's the pair that cuts in a little too tight; the one piece that now sags after too many wears; or the one that has material that makes you feel like you're wearing a pair of suffocating Spanx. None of which spell a good time for you or your self confidence at the beach.
Enter swimwear guardian angels, Elise Wallbank and Julian Tali, who founded Youswim—a truly game-changing swimwear label that creates no size bikinis and one-pieces. Nope, that's not a typo. They stock one size, in a rainbow of colours and cuts that adapts to fit a range of different shapes and sizes. Yes, they've basically created the swimwear version of the Sisterhood Of The Travelling Pants.
Inspired by their career journey, we caught up with the London-based entrepreneurs while they were back in their hometown of Perth to chat about all things design, inclusion and sustainability in fashion.
Let's rewind a little, talk me through what you were doing for work before Youswim was created?
Julian: Elise was part-way through her architecture degree, working in the London legal sector, and feeling pretty uninspired. I'd spent 10+ years in tech and loved the challenges, but was burnt out. We both knew that corporate life wasn't for us, and we'd started then exited some small digital brands prior to Youswim that allowed us to test the water—but nothing we felt compelled to leave our day jobs for.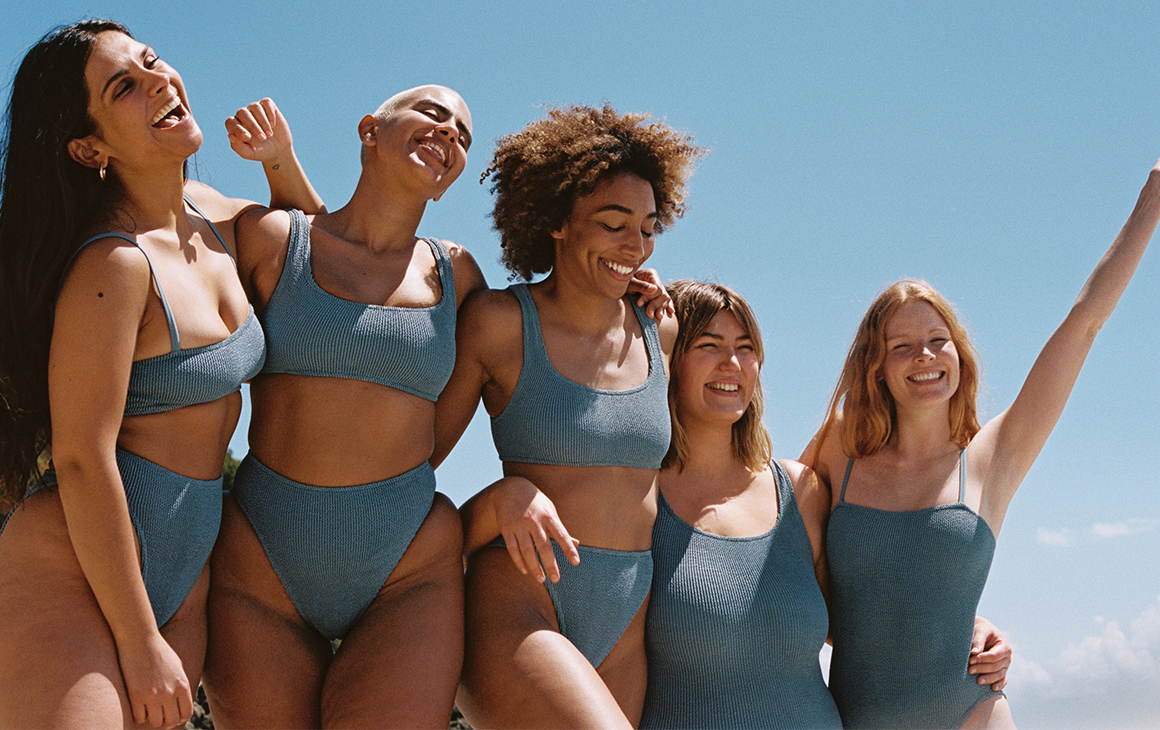 What was the lightbulb moment that inspired you to create Youswim?
Elise: We discovered this incredibly stretchy fabric and were totally blown away by the functionality it could offer in a swimsuit. We looked at each other as we held it in our hands for the first time, and it was as though we thought the same thing at the same time—wait, no more sizes?! It seemed obvious. For me, swimwear has always been this frustrating thing that comes around each summer when you try on your swimsuit and are reminded that your body has changed in some way and that your favourite suit now doesn't fit quite how it used to. I immediately saw that this fabric could alleviate so many of the stresses and feelings of inadequacy that we feel each summer when trying on our swimmers. It would be the beginning of swimwear that empowered women to love their bodies just as they are.
How did you initially get the business off the ground?
Elise: Julian and I started a couple of side-gigs which were acquired for a modest sum not long before starting Youswim. We loved working on these projects together and we'd spend every night and weekend learning the ropes of online business, navigating product design, production, branding, packaging, websites, and all the pieces of the puzzle you need to get a great product to peoples doorsteps with a nice online experience. This funded Youswim's early design and manufacturing costs, and aside from using a fulfilment partner from day one, we did everything ourselves from our kitchen table—even packaging the first few production runs.
As launch day got closer in June 2018, I realised that Youswim would need more time than we could give it while also working 9-5 for someone else and I quickly left my full-time job to focus on the big day. People were so intrigued by the idea of a sweatshop-free swimsuit, available in just one size that would adapt to fit their changing body, that a little crowd had gathered around us on social media leading up to launch. We were totally humbled by the response! Julian joined me full-time a few months later and at the same time, we dragged as many friends and family into our little London home as we could to help pack our swimsuits.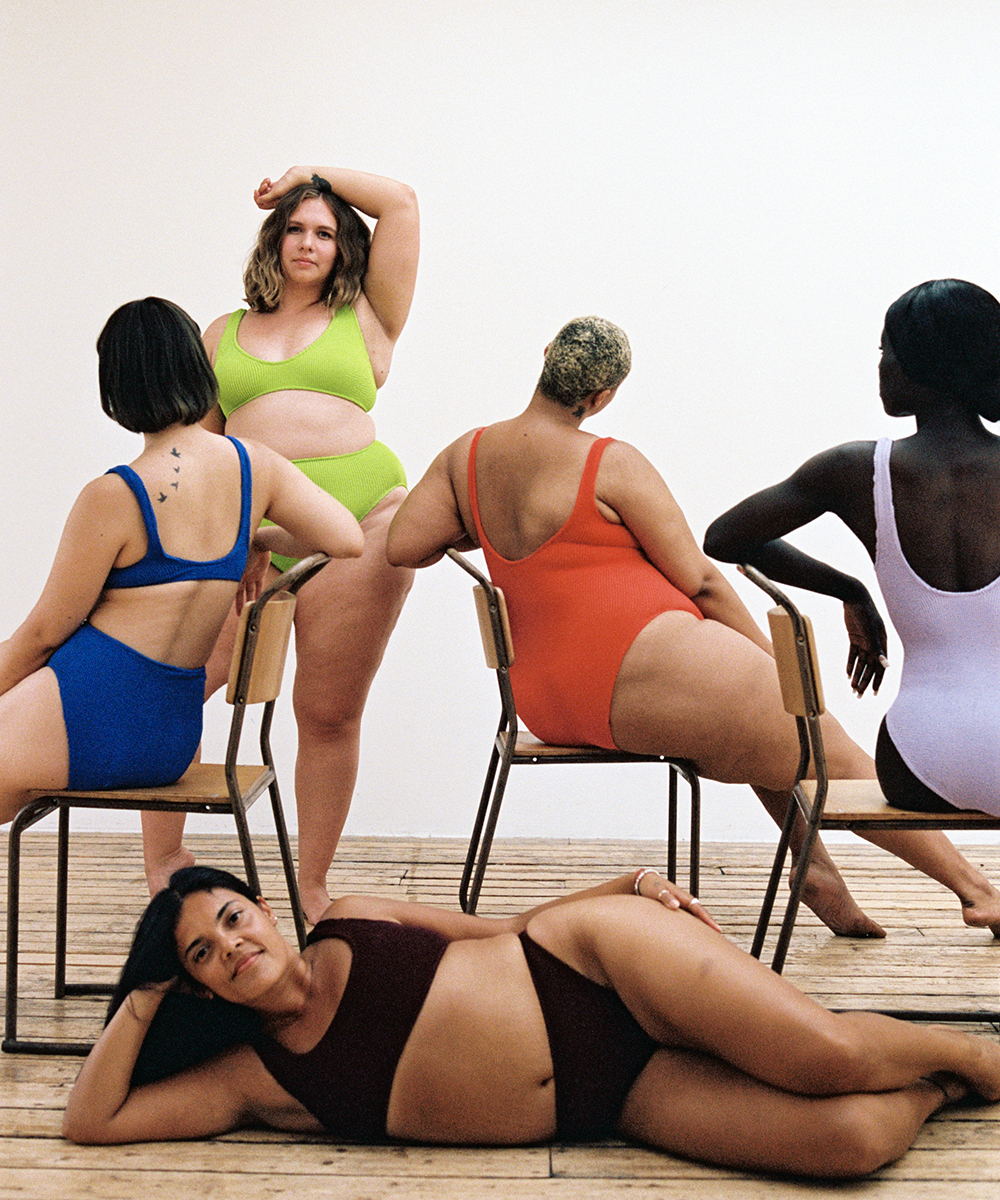 What is one of the biggest hurdles you had to overcome?
Elise: We've always faced a lot of scepticism about the concept of a sizeless and adaptable swimsuit, and it's totally understandable when many women have felt terrorised by sizing for so long—but it was a little overwhelming in the early days. The benefits were totally clear to us, but in a world where any mention of 'one size' has people rolling their eyes and imagining something poorly made and just as poorly fitting, it's been a huge challenge to articulate. We're learning to communicate this better every day, and we do everything we can to be up-front about our size support, our efforts to expand it, and the amazing but pretty unusual benefits of our swimsuits.
I love that your models are so diverse and really celebrate all shapes and sizes, how important was that to you when it came to developing the brand?
Elise: It's ultimately what Youswim is all about, a celebration of our differences. From the outset, we wanted our swimmers to be worn by people of all backgrounds, shapes and sizes. Youswim was built to allow us to really lean into ourselves and embrace our differences and our naturally changing bodies in a way that traditional, fixed sizing could never do.
Your IG page is so fun and full of happy, healthy women rocking their swimmers with confidence—how much does social media play a part in your business?
Julian: As a platform to get our idea out into the world, it's definitely played a huge role! There's no denying that it's also played a big role in creating the unhealthy body-consciousness and size-obsession that's so pervasive today. Rather than shy away from social media for all the negative aspects, we're really proud to be putting an alternative narrative into the world, one where some arbitrary size-number isn't the focus.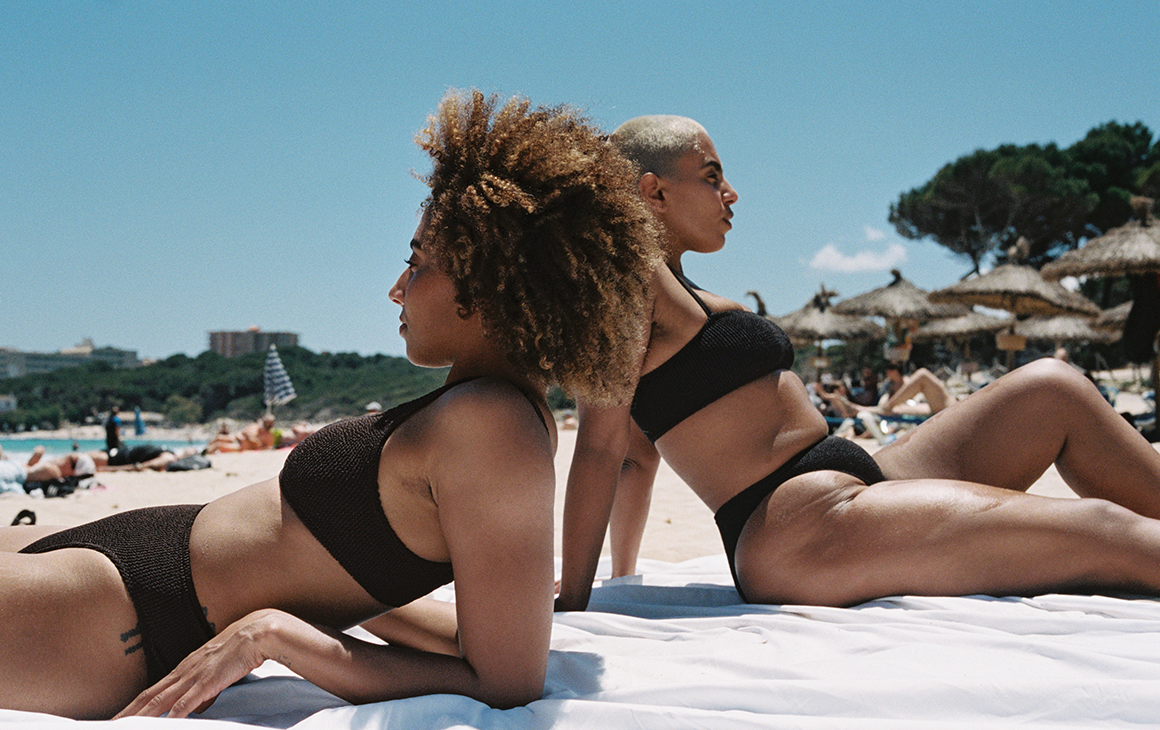 What's the best piece of business advice you've ever received and from whom?
Julian: Being self-funded, we don't have a panel of investors to turn to for their wisdom, but Ricardo Semler once said that "only two things grow for the sake of growth: businesses and tumors." It's easy to get caught up in big numbers, it's what everyone wants to hear. We're more focussed on doing the right thing by our community and our team. Their lives should be better for Youswim existing. If growth comes off the back of that, we celebrate it.
What has been your biggest 'f*ck yea' moment with Youswim so far?
Elise: We launched our Eva style for summer 2020 and there was quite a bit of hype around the launch—more than we'd ever experienced before. On launch day, we were all busily working away with butterflies in our stomach—how would 6+ months work be received by our community? As it went live, Julian and I went for a walk around our local square, glued to our phones and in total disbelief. The collection sold out in a few hours and each restock for the entire summer sold out within minutes. There's been more than one time on our Youswim journey that we wondered if this was what people really needed, or if it was all in our heads, so this was definitely a 'f*ck yea' moment!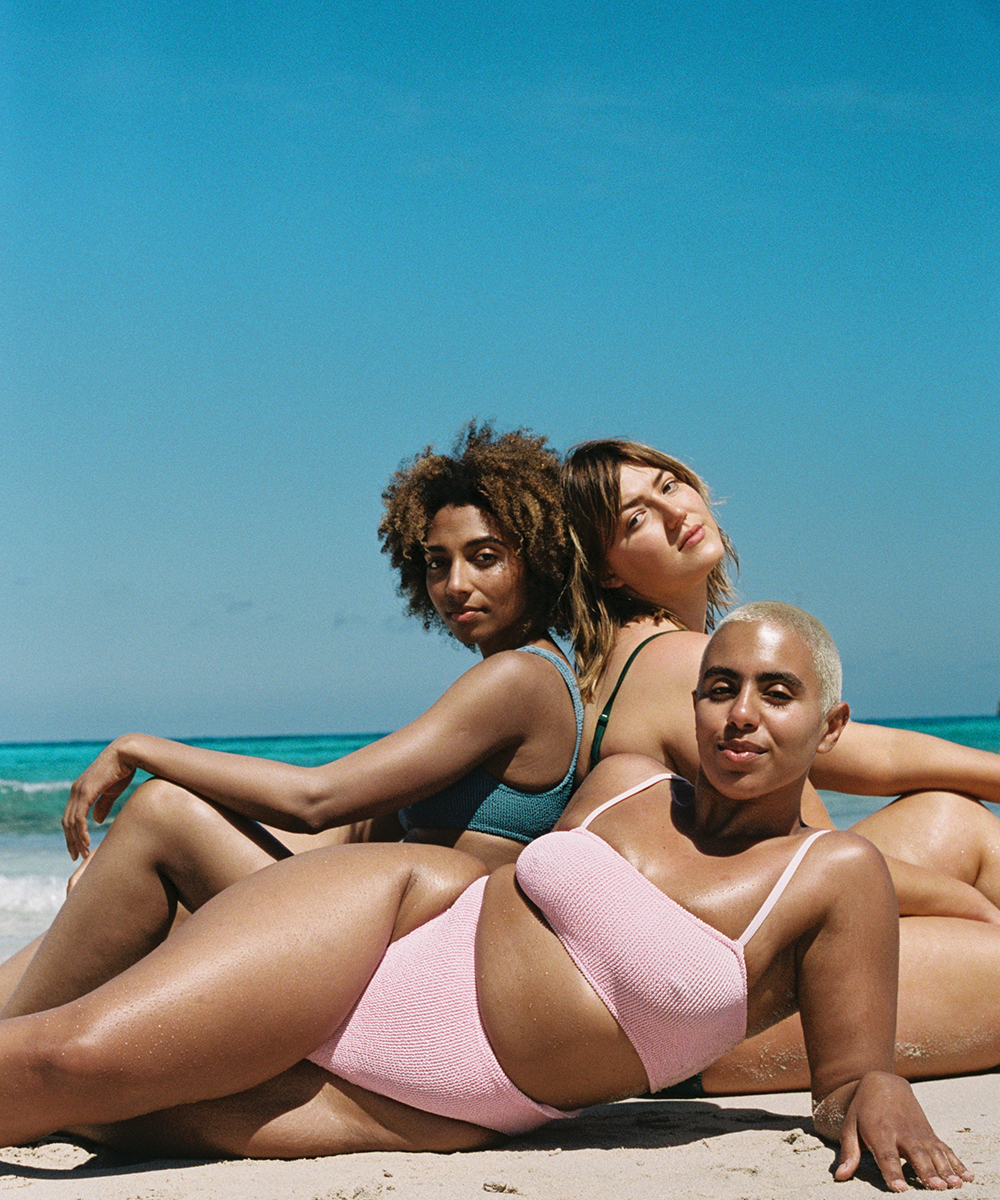 What's the biggest misconception about being an entrepreneur?
Julian: We hear from a lot of people who are drawn to entrepreneurship for the freedom it could bring them. It's true that when you create your own business you're designing your own world with your own rules and free of corporate bs, but it's also true that you're responsible for the business itself being sustainable, for the livelihoods of your team, and for the promises you've made to your customers. These aren't responsibilities that you can easily outsource, and they come with a bunch of personal sacrifices that aren't part of the romantic idea of being an entrepreneur.
What's next for Youswim?
Elise: In 2021, we're focussing on two things: our sustainability and our size support. Youswim's mission is to break down the distinction in body shapes created by fixed sizing through swimwear that adapts to fit you as you are—so making our suits accessible to an even greater range of bodies is critical to achieving that mission.
Sustainability is a blurry idea that's overused, particularly in fashion, but for Youswim it's about reducing our overall environmental footprint with a focus on our packaging, raw materials and manufacturing processes. Our packaging is already plastic-free and totally biodegradable, but we think we can do better by localising its production and using more recycled raw materials, for example. As far as our swimsuits go, we're currently developing a version made using recycled waste material which is so exciting. At the same time, it's important that we achieve these goals at an attainable price point for our customers while remaining sustainable as a business. After all, what's the point of sticking to a price point if it means we're not here to stand by the product in years to come?
Finally, what's your best piece of advice to budding designers and entrepreneurs?
Julian: If you have an idea that could bring people joy, just get to work—show up for it each day with some kind of will and things will grow out of that activity itself. You'll bump into all kinds of possibilities and the empty corners of the idea will begin to fill in. Keep showing up and keep making the small decisions that make it more real. The difference between your idea and a business with customers is just the time you put into making that string of small decisions.
Check out the Youswim range here.
After more inspiring career stories? Check out more Getting The Gig features over here.
Image Credit: Ebony Talijancich