Welcome to 30 Faces, a celebration of 30 individuals changing the world by 2030. A destination to unearth how they got here, what fuels their passion, and to educate and inspire your own journey towards a future made better.
As part of our 30 Faces campaign, we recently called upon Urban List readers to nominate someone working towards a better future by 2030 for the chance to win $1,000 towards their cause.
Now, we're thrilled to announce Hannah Diviney as our 30th Face.
Hannah Diviney is a disability advocate, writer, media disruptor, speaker and the Editor In Chief of Missing Perspectives, a global publication dedicated to addressing the marginalisation of women and girls around the world by putting their lived experiences front and centre.
Diviney is also the powerhouse behind the "Create a Disney Princess With Disabilities" petition that has amassed more than 60k signatures so far. The power of Diviney's petition is twofold. A Disney princess would give people with disabilities the invaluable chance to see themselves having adventures, rich full lives and being the hero of their own stories. And secondly, it's a tool of understanding and education for non-disabled people.
Here, we chat with Diviney about how she recently influenced Lizzo to remove an ableist lyric slur from her new song Grrrls, her petition and gaining support from the likes of Blake Lively and Mark Hamill, the launch of her debut book, and the power of representation.
Can you tell us about yourself and your career journey to date?
I'm 22, I have a physical disability called Cerebral Palsy which affects my gross and fine motor skills; that's everything from walking and balancing to being able to use a knife and fork properly, handwrite neatly or play a musical instrument. It means I use a wheelchair to navigate the world and a lot of the experiences I've had as the result of being disabled have informed the career I have now.
On June 14, Lizzo announced she was removing her ableist slur from her new song Grrrls after hearing pleas from yourself and many others on social media. How did that all go down?
I heard about the song through Twitter where I noticed a number of my friends and fellow disability advocates posting about the harmful lyric. I've been a fan of Lizzo's for a number of years now, she's released some of the smartest pop songs of the last few years and occupies a really important space in the music industry.
I just tweeted, the way I normally would, I often use my Twitter to call out ableism and to advocate for the disabled community, where I've built up a bit of a following, the same as on Instagram. I tagged her but I never expected any sort of response or to go viral. It became obvious pretty quickly that the Tweet was exploding and even though I understand the power of the Internet, it still shocks me.
When I found out she'd changed the lyric, I was blown away. She immediately validated and accepted the feelings of our community without doubling down or getting defensive. She responded exactly as I'd hoped she might, seeing my callout for the gentle but firm education it was always intended to be. Lizzo gave us all a masterclass in how to be a true ally, course-correcting without fuss and really showing she cares deeply about all of her fans.
What was the lightbulb moment that led you to start the "Create A Disney Princess With Disabilities" petition?
OK, first of all, you have to understand that I grew up not seeing anyone who looked like me in the movies or TV I watched, the books I read or the games I played. I spent so much of my childhood searching for representation I never found. I've been thinking about a Disabled Disney Princess since I saw the Pixar movie Inside Out, a beautiful film about a child's mental health, with my family in 2014. I tried writing Disney letters and publishing articles online. But the idea for the petition specifically came from a conversation I noticed the Internet was having around when disabled representation in media can be harmful. You might remember a couple of years ago there was a lot of backlash because the musician Sia had made a film, Music about a person with autism, except the actress didn't have autism, and she hadn't properly consulted the autistic community. The reaction to that conversation gave me a window of opportunity and I jumped through it.
Your petition has received 60k signatures—incredible! What have been your biggest 'pinch me' moments and challenges that you've encountered along the way?
The biggest 'pinch me moments' have been when celebrities I admire have either acknowledged or signed the petition. I think in terms of, like my top moment, it's probably a tie between Blake Lively signing it and Mark Hamill who plays Luke Skywalker in Star Wars acknowledging it on Twitter and kind of giving it his seal of approval. In terms of the challenges, though, the hardest has been not knowing what it's going to take for Disney to say yes or even acknowledge all my hard work and the emotional labour of all the things I've done for this campaign that people haven't seen. The unanswered messages. The unresponsive tags. For every bit of success I've had, there've been 10 things that haven't worked out.
I haven't heard from Disney yet, but apparently, they do know I exist. I really don't know what it's going to take for them to want to talk to me, and that's the frustrating thing about the campaign is that there's no like magic number that we can hit where they have to make this movie, or they have to pay me any attention. But yeah, I'd really love to hear from them, I'd take their call in a heartbeat.
What have you learnt throughout this journey so far?
Oh my gosh, so much! I've learned that we are probably in the best time in history for people's openness and willingness to learn from marginalised communities, although we still have so far to go. I've also learned that you have to take risks, big ones and that people with profiles and power in this world aren't as far away as they once were, thanks to social media. No dream is too big and if people try to scare you away from or react badly to you making change, that means it's working. If not you, then who?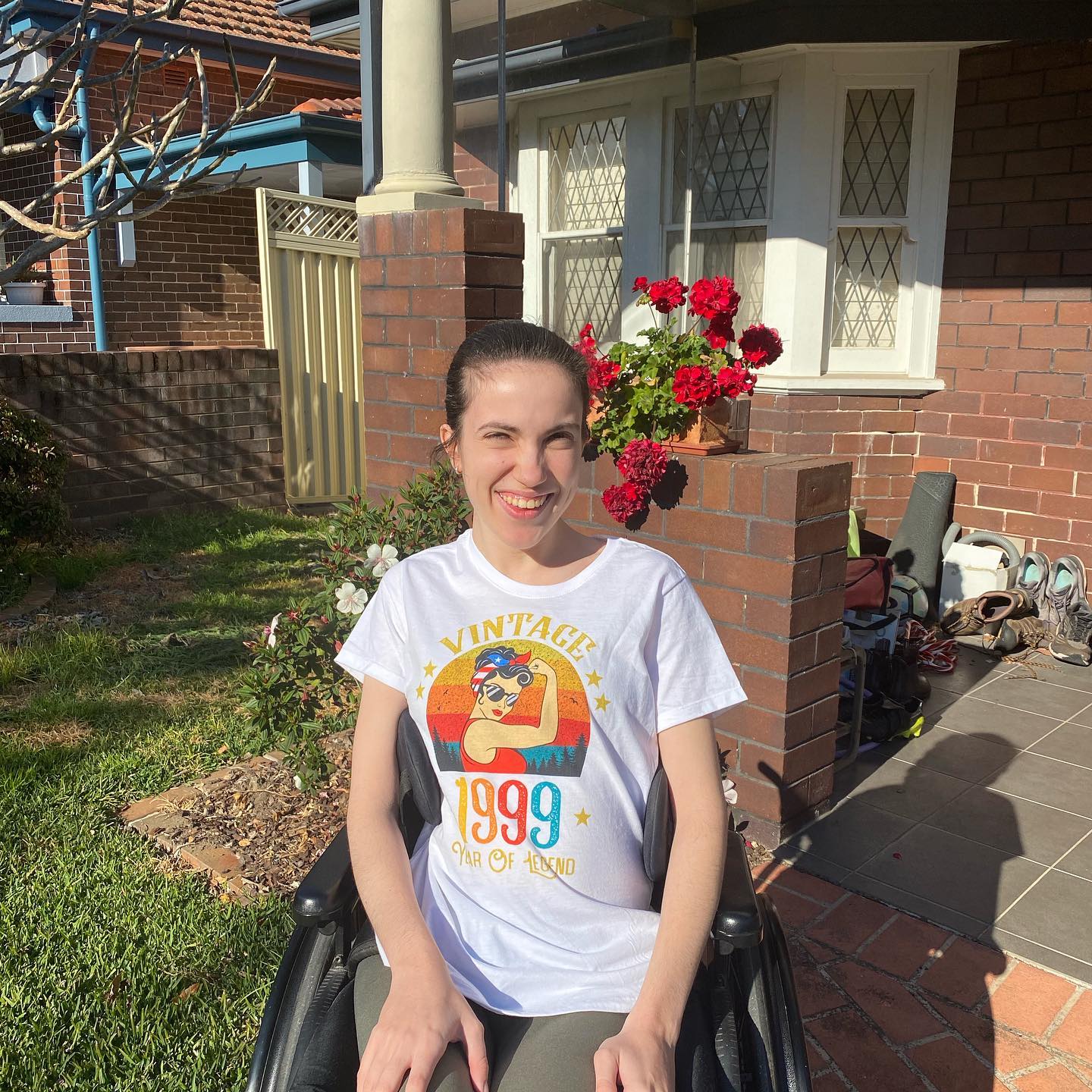 According to AIHW, there are 20 per cent of Australians with a disability yet ableism is prevalent in society. What does real inclusivity mean for you and a huge portion of Australians?
Real inclusivity means equity in terms of opportunity, it means representation done properly and without tokenism. It means accessibility without fanfare, struggle or drawing unnecessary attention. It means accepting and expecting that disabled people have whole, rich, and full lives outside of their disability that they want to live—they might just need some extra help to do so.
The power of representation in media is undeniable. How else can brands, businesses and people do better to ensure that people with disabilities see themselves in these spaces?
Hire us! Pay us for our expertise in consulting and advocacy, give us opportunities in your catalogues, at your boardroom tables, wherever the decisions, power, money and the audience are. Don't just 'wheel us out'—pun intended—to tick a box or make a show of being an ally. That's not helpful so when you include us, it doesn't have to be disability-specific. Normalise us being seen as whole full people with interests and skills outside being disabled. Another really easy tool is diversifying your social media feeds. There are so many incredible disabled people on Instagram and Twitter you can learn from.
Some of my fave Instagram accounts run by disability advocates include:
@carlyfindlay
@edesmarchelier
@petahooke
@akii_ngo
@jamila_main
@ramblingravioli
Now, aside from your incredible career and advocacy work, let's dig a little deeper into you. How do you like to spend your spare time?
I love reading, finding a new TV show to fall in love with on Netflix, watching movies, listening to music, going to concerts and hanging out with the people who see me for me.
You were nominated and then selected as the winner of the Urban List x Kiehl's 30 Faces campaign. Can you share any exciting projects or what you have planned next?
I think for the immediate future the projects I'm prioritising are building Missing Perspectives into a really meaningful and impactful media company, and working on my debut book, a collection of essays about growing up disabled, pop culture and coming of age in this weird world which I really hope will be in people's bookshelves next year! Other than that, I'm always creating and trying new things, so all I can say is watch this space…
When it comes to carving out a better future, what do you see and hope for?
I mean, that's a huge question! But, I see and hope for a future where more than ever, marginalised voices are being listened to and where the people who have power and influence don't all look the same. Where women are believed, where everybody has the right to agency over their body and feels like their mind is protected, where everyone can feel safe moving through the world and where we find a way to protect and preserve our planet.
There's so much systemic change we have to make right now and I know it can be overwhelming, so I just want to remind everyone that it's OK that you don't have the answers or can't help everything. Pick a place to start and trust that from little things, big things will always grow.
Continue feeding your inspiration and discover more individuals shaping the next decade at 30 Faces, and uncover Kiehl's commitment to the clean beauty movement and Future Made Better.
Image credit: Hannah Diviney Instagram
Editor's note: This article is sponsored by Kiehl's and proudly endorsed by Urban List. Thank you for supporting the sponsors who make Urban List possible. Click here for more information on our editorial policy.