One of our all-time favourite pastimes is long lunching. We lovesettling in for the afternoon with a sprawling spread of food, drink in hand and your nearest and dearest in tow.
Luckily for us, Smirnoff Seltzer has come to the party again, teaming up with some of the hottest homegrown acts right now, to share their personal guides to switching up the ordinary this season. At home or out and about, take inspiration right here. So, tune in while we sit down with Australian singer-songwriter Thandi Phoenix to uncover what makes a luxe long lunch, thanks to Smirnoff Seltzer.
What makes a long lunch more memorable OR special than a regular lunch?
Well, it gives you more time to settle in, unwind and relax in one another's company. It allows you to delve deeper into the conversation and just really enjoy the time together and let loose. Also, longer lunches mean longer periods to graze—which I am all for!
When it comes to creating a vibe, what's your perfect long lunch background music?
I want the vibe to be chill but have a good grove to it with a mixture of old school and new RnB, disco and funk. My playlist would probably include a bit of Masego, Kali Uchis, Roy Ayers, Tom Misch, Amber Mark, Lord Echo, Kaytranada & Patrice Rushen.
Who are you inviting? Do you prefer intimate and comfortable or more the merrier?
As time goes by I'm realising that I actually enjoy more intimate settings and especially if I'm hosting. It just means that you're able to have more quality time with the people that are there and everyone is able to interact a lot easier.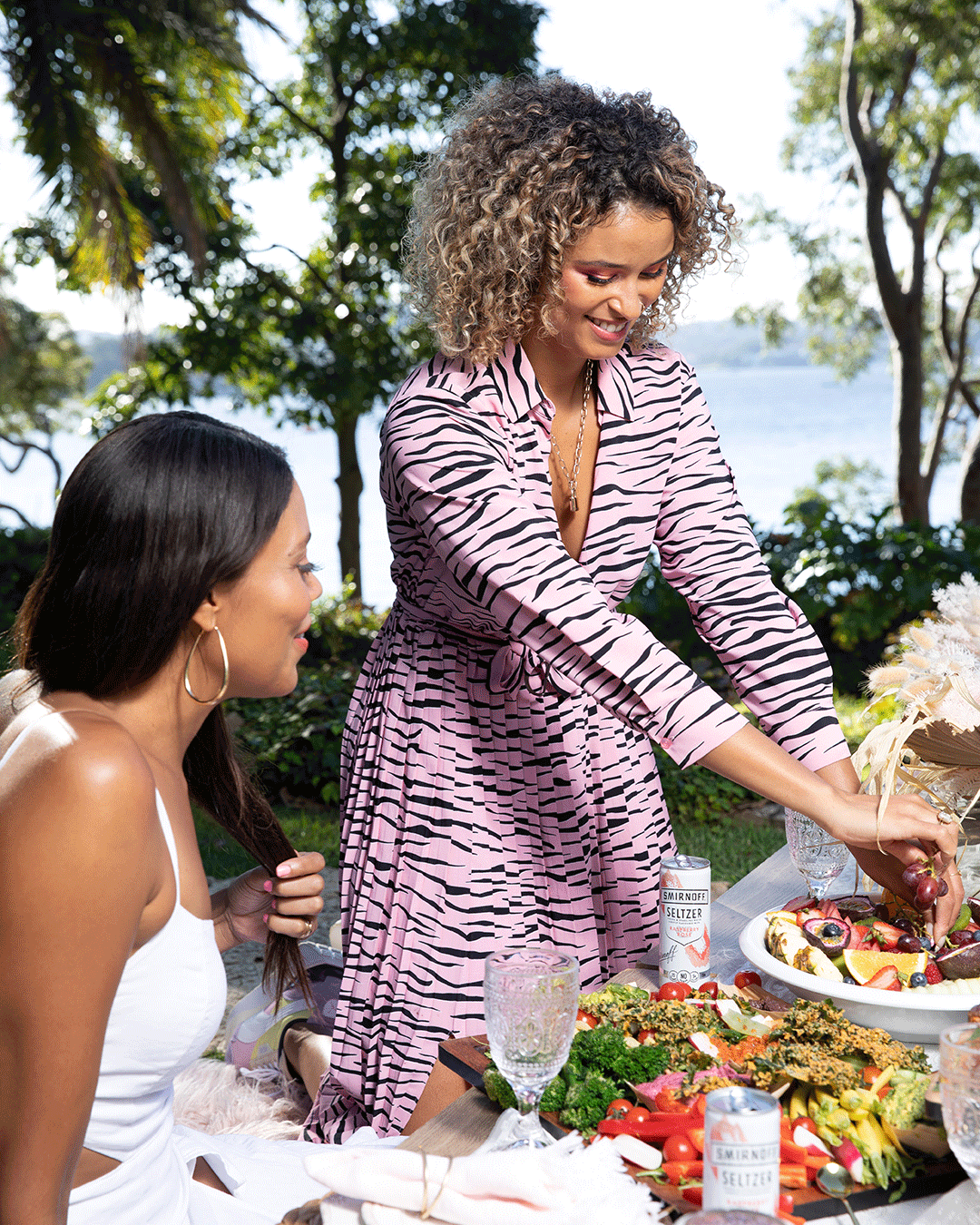 When it comes to the perfect setting, where is your ultimate long lunch picnic spot?
Somewhere with a view! I love being in nature, surrounded by ash greenery or by the sea so anywhere that can combine either of those is perfect.
What's your long lunch drink of choice and why?
It has to be light, fresh-tasting and crisp to complement the food. A Smirnoff Seltzer Raspberry Rosé is ideal.
From grazing boards to a potluck, what's on your go-to long lunch menu?
The key for me is variety. I want there to be a beautiful selection of bright, colourful and fresh ingredients that look as delicious as they taste. Having lots of different options to graze between.
Are you keeping it casual or dressing to impress? Talk us through your go-to threads.
I forever dress to impress myself—ha! That's a given... but a long lunch has slightly different criteria. I'm a woman who loves her food, so the first thing I'm thinking of is comfort. We don't want no tight jeans or high wasted pants digging in when I'm going for my third serve. So I'd be going for something a little more flowing like a beautiful dress or something that has a slightly looser fit that won't stop me from enjoying myself.
What is your number one tip to ensuring an epic long lunch?
Quality! From the food to music, setting and the company. It all comes down to the details. If you're spending this time together you want it to be memorable, fun and different. Combining the best of these elements will absolutely make it that. Plan ahead so once you're there you can just enjoy.
Who would be on your dream long lunch invite list?
Ilana Glazer from Broad City, Trevor Noah, Elton John, Lizzo and Tayce from Ru Paul's Drag Race UK.
If you could describe your ultimate long lunch in three words, what would they be?
Stunning, joyous and delectable.
Whether you're cosying in for a movie night or indulging in a luxe long lunch, Smirnoff Seltzer is the perfect drink choice for any occasion.
This article is sponsored by Smirnoff Seltzer and proudly endorsed by Urban List. Thank you for supporting the sponsors who make Urban List possible. Click here for more information on our editorial policy.