If you're a young person in Australia right now, the thought of owning your own home could feel like an unattainable dream. With rising house prices and an inflated rental market, joining the property ladder is no easy feat. Which is just one of the many reasons we're swooning over tiny homes which have surged in popularity recently. And if there's one thing we love more than tiny homes, it's when said structure is made using 90% Australian products and is 70% recyclable. Who is creating such an epic, sustainable solution to the housing crisis you ask?
Enter: ModnPods, the Queensland-based business that is crafting 'gram-worthy tiny homes and setting them up across the country. Created as first homes, granny flats, extensions and even home office spaces, ModnPods are kitted out with only the best in Aussie-made materials that are both aesthetically pleasing and safer for the environment. Think: dreamy Concrete Nation sinks in the bathroom and oak timber decks for you to recline on with a beer in hand. But perhaps the sweetest bit? The price tag. With their medium-sized pod, The Pass, costing just $95K (read: that's for a full home) we're already dreaming of moving in.
Intrigued? We caught up with ModnPods founder John Christie, who ditched the corporate world to pursue his dream of sustainable homes, to find out what inspired him to create the business, how sustainability remains their core value and what the future holds for the tiny home revolution.
What Inspired You To Create ModnPods?
I saw the housing prices skyrocket around 2016/2017 and I thought there has got to be an alternate solution. People were doing tiny homes but they weren't doing them the way I thought they should be—using as many Australian materials as possible and making the entire process really simple. Here, we do all the council approvals if you are in QLD and, if you're within 150km from the Gold Coast we do the full build, delivery and install. Outside these areas we supply the Pod but work with local builders to help with the installation process. One of our big points of difference is that a lot of people flat pack, but we deliver the Pods complete. We don't leave you hanging.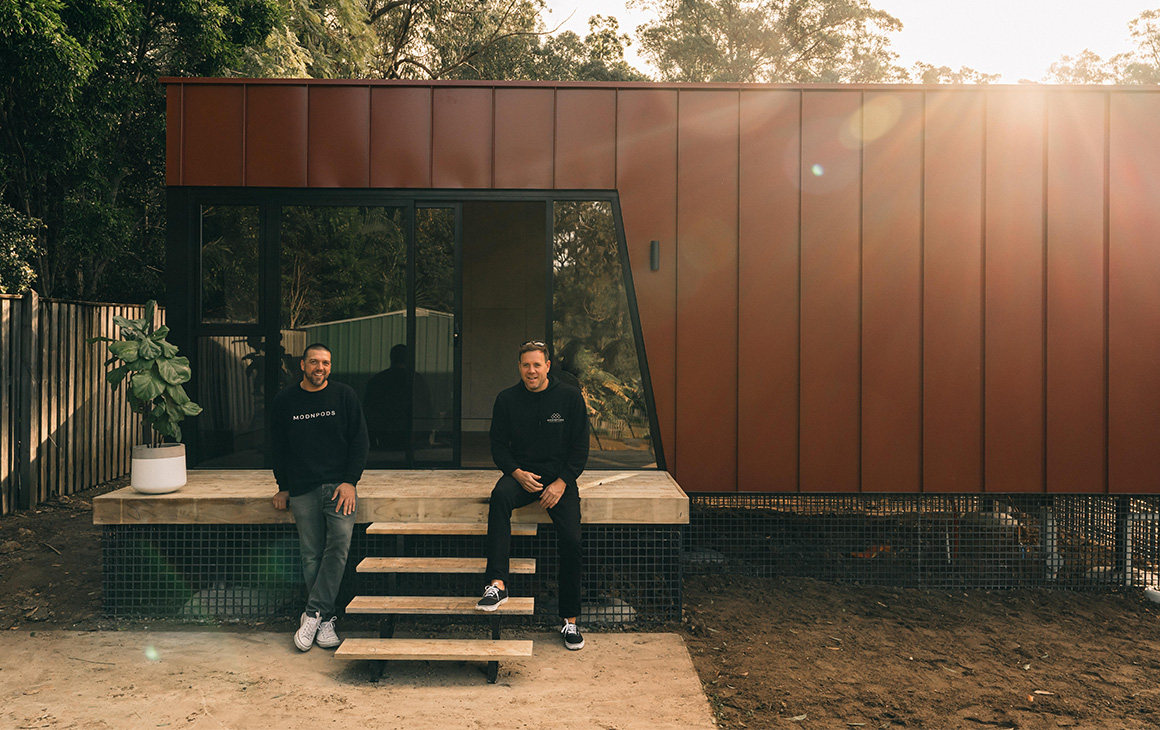 Sustainability clearly plays a big part in your business—can you talk us through why it's so important to you?
The health and wellbeing of the occupants of our ModnPods has and always will be the main priority. The spaces we live and work in can be a significant player in the quality of our short and long term health which is why we are committed to reducing our use of toxic or hazardous materials in manufacturing. All paints, coatings, sealants are no VOC and contain no isocyanates. Carpets are 100% pure wool to aid allergy sufferers, while all materials and surfaces have been selected to ensure easy cleaning creating a healthy, easily maintained space.
Many products we have sourced have been manufactured using recycled materials, and some even possess the properties to be completely recycled at the end of their life. 90% of ModnPods products are sourced here in Australia, and 70% of those are fully recyclable at the end of their life. Advancements in manufacturing technologies have seen a more comprehensive range of these sustainable products available here in Australia. An example of this healthier offering is the material we use for our benchtops and shower lining, which is made from 100% recycled glass with the capability of being fully recycled at the end of its life. We refer to this as cradle to the grave and always strive to find products and materials aligned with ModnPods core values.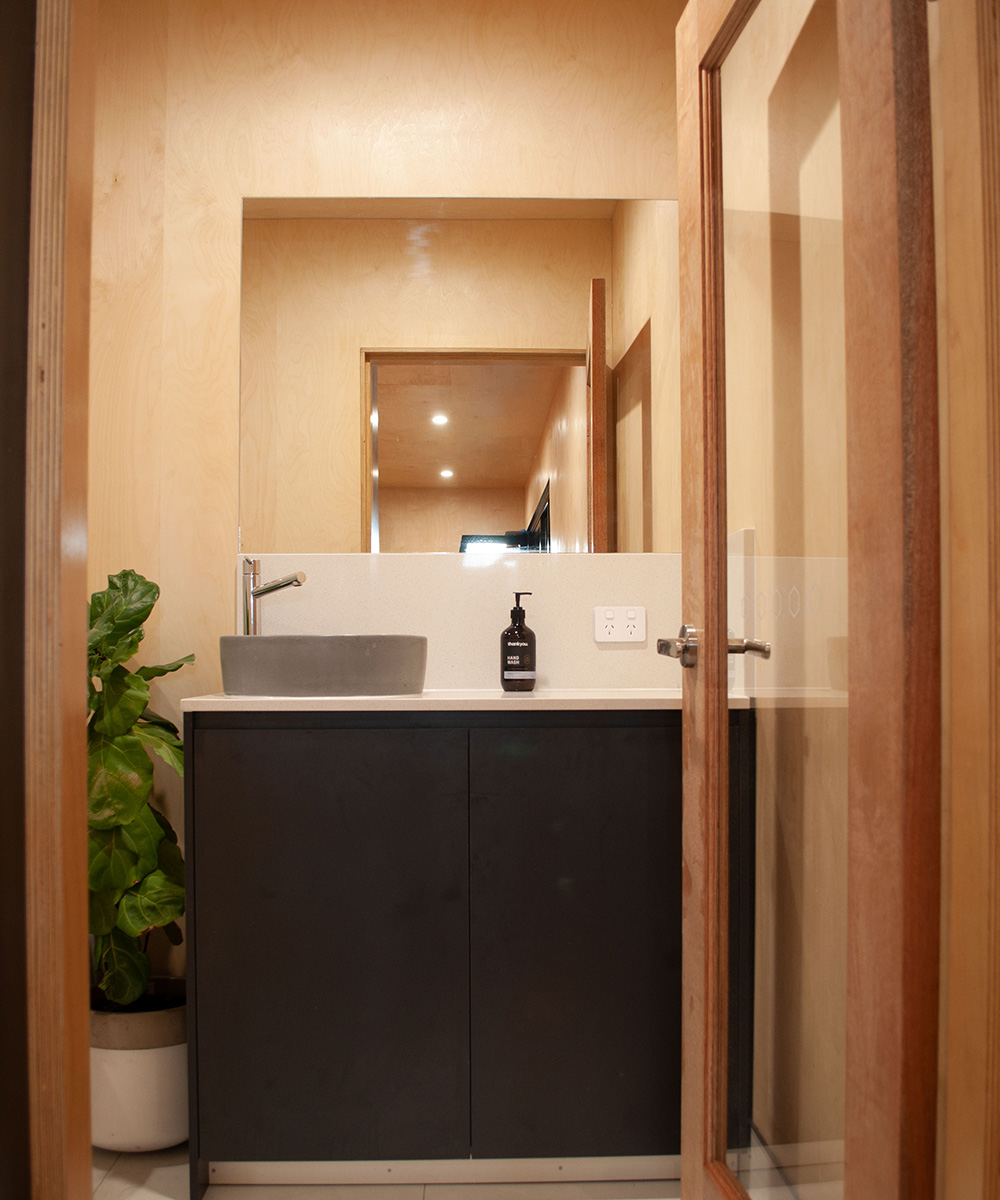 90% Aussie made products in all of your builds is a seriously impressive stat—was it hard to source it all?
Yeah it's quite hard and I would challenge anyone when they're shopping around to really look at what they're buying. We choose suppliers that are close to the factory, so that means a smaller carbon footprint and we're giving back to the community as well. The more we grow here the more people we can employ and businesses we can engage with. We're not really so worried about how many employees we have here as such, but if we're using an electrician in Brisbane, then he can hire more people—it's not just about us.
In Texas, they have built tiny home estates for the less fortunate community, is that something that you'd like to do here in Australia?
I would love that. Our first goal was to get the product right, which we have, and then distribute the product, get client feedback and go from there. The next is making them fully accessible for everyone, so having disabled access and making them bushfire and cyclonic rated. We went ahead and checked every single box we could, so we can move onto the next step which is dedicating 30 to 40 per cent of the business to help with housing for the less fortunate.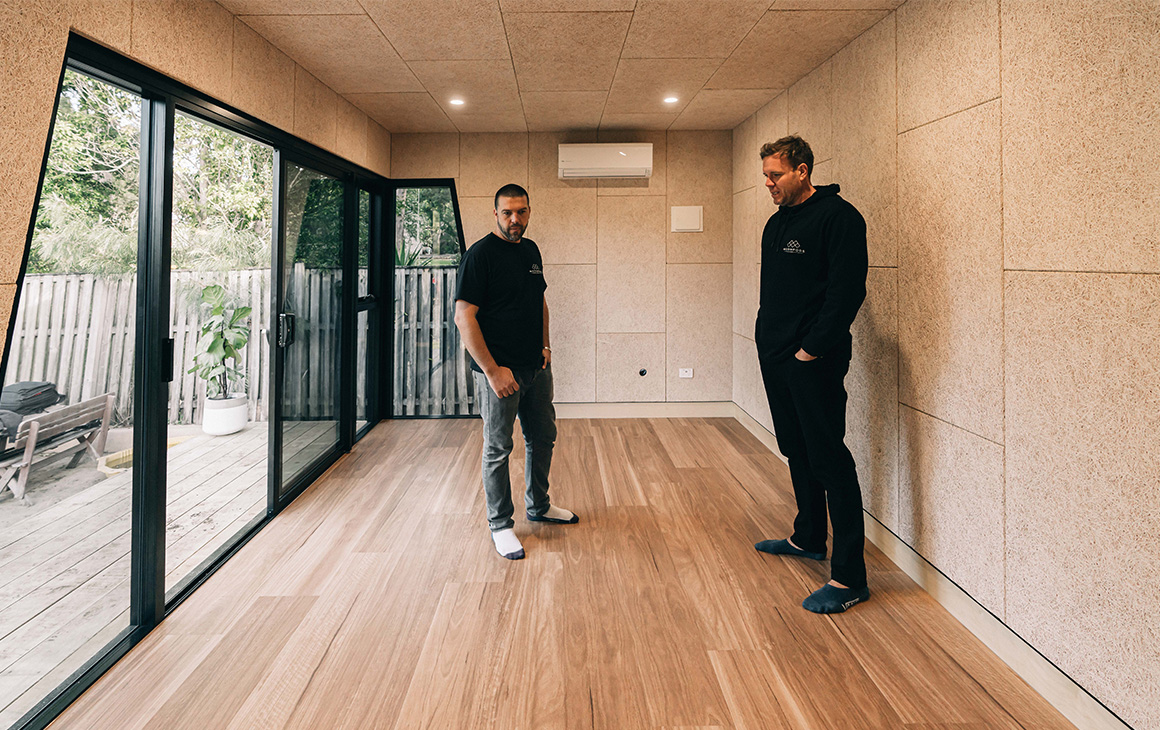 You guys have grown at rapid speed, what's been one of your biggest f*ck yeah moments so far?
Honestly, just last week when we had a pod installed in 37 minutes. We drove it to Coffs Harbour, put it on the slab, bolted it down, put on the awning and connected it to electricity in under 40 minutes. The builder at the property had five of his tradesmen there and he said he didn't even need any of them.
Finally, let's talk prices—how much will one of these babies set people back?
They start out at $48K (for a 4 x 3.35m) and go all the way to $131K (12 x 3.35m) which includes a full kitchen, bathroom and one bedroom which we think is a pretty good deal.
And so do we! For more info on ModnPods—aka to place an order—head here.
In the meantime, expand your mind with these thought-provoking, sustainable docos.
Image Credit: Kiel Wode