The Great Southern Land is spoilt for choice when it comes to big open spaces; all you really need to do is head toward the red centre and you'll likely find yourself in a salt lake, at some sort of canyon, or amidts the arid surrounds of the filming locations from Mad Max.
But with a smorgasbord of deserts, unfathomable rock formations and dusty plains available, one must consider which is right for them. Regardless of your selection, you're guaranteed a day's drive at minimum, so fill up the tank and stock up on supplies for the moment those restrictions are lifted.
Lake Mungo
NSW
The Mungo Lady, The Mungo Man, 2008 Aussie flick Lake Mungo. You've probably heard about it, but chances are you haven't visited. Lake Mungo National Park is a casual 110,967 hectares rich in history, dry lake beds and vast expanses of sweet nothingness. Dig a little deeper and you'll learn that Lake Mungo holds a significant place in archaeology, with the 42,000-year-old remains of Mungo lady and man being the oldest in Australia.
A visit to the age-old lunettes, aka 20-metre high sand and clay towers, is recommended. It's where Mungo lady and man were discovered, and they make for some epic snaps, too. If you know how to read a map and/or you've got yourself some sort of sat-nav, you can go it alone in Lake Mungo, otherwise, there are plenty of guided tours that run regularly throughout the park.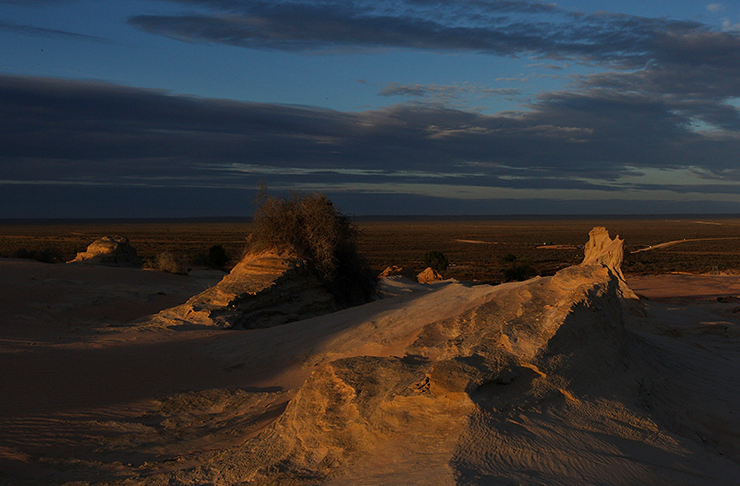 Lake Eyre
SA
That salt lake you've seen on your mates' Instagram account is probably South Australia's Lake Eyre. It's a terminal lake, meaning it has no outflow to the ocean, and it's the fourth biggest of its kind coming in at 144km x 77km.
Usually, the lake is dry, meaning it's primed for exploring the endless plains and taking those photos that completely disregard perspective. Roughly once every three years, however, Lake Eyre floods and brings with it a host of wildlife, temporary river channels along with striking hues of orange and pink you're unlikely to see anywhere else in the world.
You're also just a stone's throw from the famed Oodnadatta track, which is dotted with outback accommodation and pubs, like the William Creek Hotel. Find out more here.
Kings Canyon & Watarrka National Park
NT
Let's be real, any chance of international travel is a hot minute away yet, so you can forget about any vague plans of visiting the USA's Grand Canyon any time soon. Good news is we have our own version up in the Northern Territory, and it's incredible.
Kings Canyon is about a three-hour drive from Uluru, and there are plenty of ways to check it out depending on your preferences and budget. The four hour Rim Walk is primed for the wannabe hiker in us all, or you can take a trek by camel if the leg-work sounds a little too much. If you've got the cash, take a tour via helicopter for a truly unforgettable ride.
Find out more about Kings Canyon and Watarrka National Park here.
Little Desert National Park
VIC
Little Desert National Park is about as arid as things are going to get in the southern state. If you just want to test the waters, there are plenty of short walks you can take within the day. If you'd prefer the full experience, lace up your boots and pack accordingly for the four-day Discovery Walk that winds through heathlands, salt lakes and dry woodlands.
There are plenty of camping spots throughout the walk, but make sure you pitch a tent at Horseshoe bend by Wimmera River. Get the details here and keep an eye out for emus which are known to frequent the track.
Murray Sunset National Park
VIC
If you're keen for more after Little Desert, head up and you'll find yourself in Murray Sunset National Park. This one's in the north-west pocket of Victoria, so things start to get very dry in summer.
During the warmer months, you can walk the famous pink lake beds almost in their entirety; the vast open space makes for unrivalled sunsets (hence the name), and with this in mind, camping is recommended. In the wet seasons, you can canoe your way around the national park before pitching your tent under the night sky.

See if you can spot the salt mine relics during your expedition. Get the details on Murray Sunset National Park here.
Wave Rock
WA
Sure, Western Australia's wave made of rock is a certified tourist trap, but there's a good reason for it. The 110 long granite wave has been in the works for a casual 2.7 million years and is well worth the three-hour drive from Perth. It's recommended that you make the most out of your mission to wave rock by sticking about for the day and checking out the ancient rock paintings in Mulka's Cave once you're done riding the wave.
A must for any Western Australian adventure itinerary. Find out more here.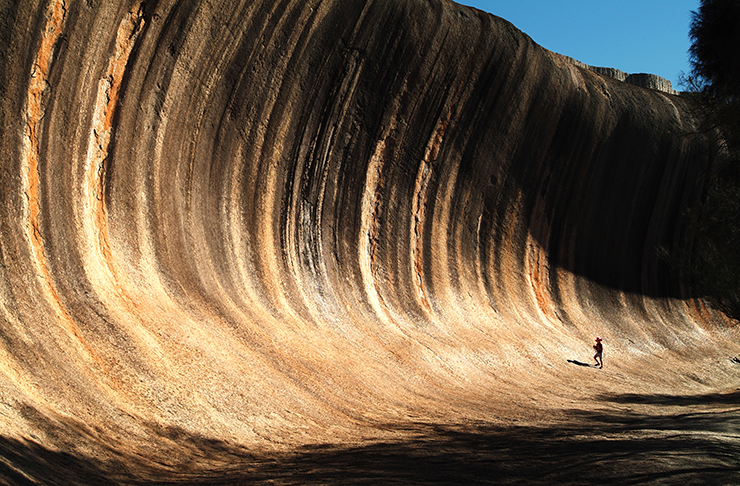 Lake Gairdner National Park
SA
Arguably Australia's salt lake with the most aesthetic, the gigantic Lake Gairdner is nestled at the foothills of South Australia's Gawler Ranges. The park is comprised of a saline lake system, and contributes to Lake Gairdner's salty bed, and in some areas the salt layer can be over two metres thick which results in a highly reflective surface that spans almost as far as the eye can see. Suss out your trip to Lake Gairdner here.

Check out other Aussie escapes for when restrictions ease at our Travel section.
Image credit: Lisa Maree Williams, Eye Ubiquitous, Universal Images Group