The Great Southern Land is spoilt for choice when it comes to big open spaces; all you really need to do is head toward the red centre and you'll likely find yourself in a salt lake, at some sort of canyon, or amidts the arid surrounds of the filming locations from Mad Max.
But with a smorgasbord of deserts, unfathomable rock formations and dusty plains available, one must consider which is right for them. Regardless of your selection, you're guaranteed a day's drive at minimum, so fill up the tank and stock up on supplies—these are the most impressive natural wonders in Australia.
Cobbold Gorge
North West Queensland
Set amid ancient sandstone formations that stretch over 80 square kilometres of Aussie outback lies Cobbold Gorge, a breathtaking demonstration of the power of Mother Nature. The gorge is said to be the youngest in the state, and yet its geological history spans over 1,700 million years. Surrounded by spectacular cliffs towering 19m above the waterline, access to the area is by guided tour only. That isn't to say your options are limited—tours come in the form of a boat cruise, stand-up paddle boarding, or even a scenic helicopter flight. Keep an eye out for crocs, but don't fret about being bitten: unlike their saltwater cousins, these bad boys are harmless to humans.
Jervis Bay
NSW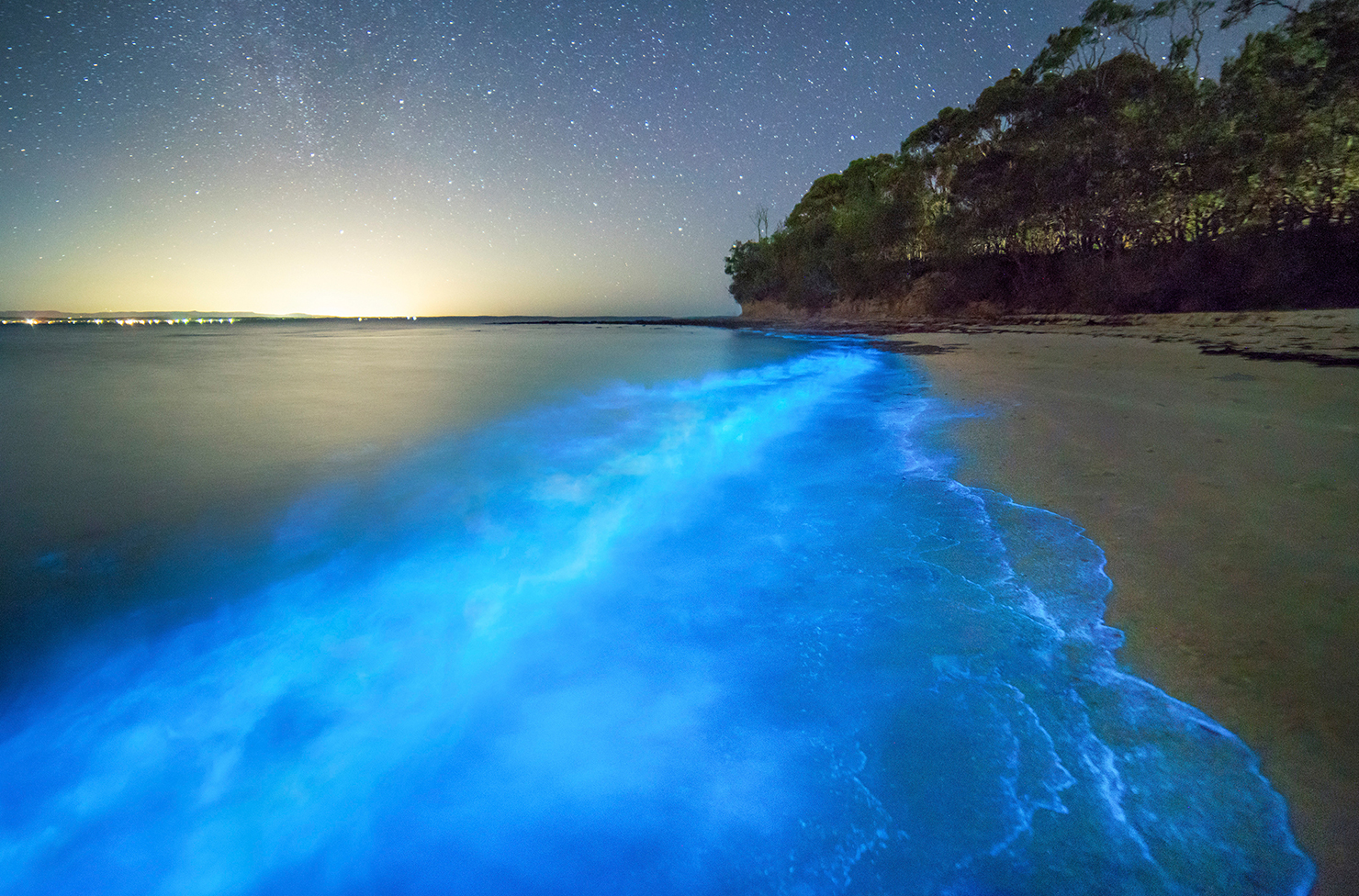 If spotting the phenomenon that is bioluminescense is not hot on your to-do list, it is now. While Jervis Bay is famous for its white sand beaches and whale-watching a lone, it's also home to some of the brightest bioluminesence in Australia. If you're not quite sure what that is, it's basically a chemical reaction in water that generates a glowing light, mostly blue or green, caused by an influx of algae. You can spot this spectacular light show around Jervis Bay in places like Barfluer Beach, Callala Bat and Blenheim Beach. Just note that it's pretty unpredictable and only shows at certain temperatures.
Kings Canyon
Northern Territory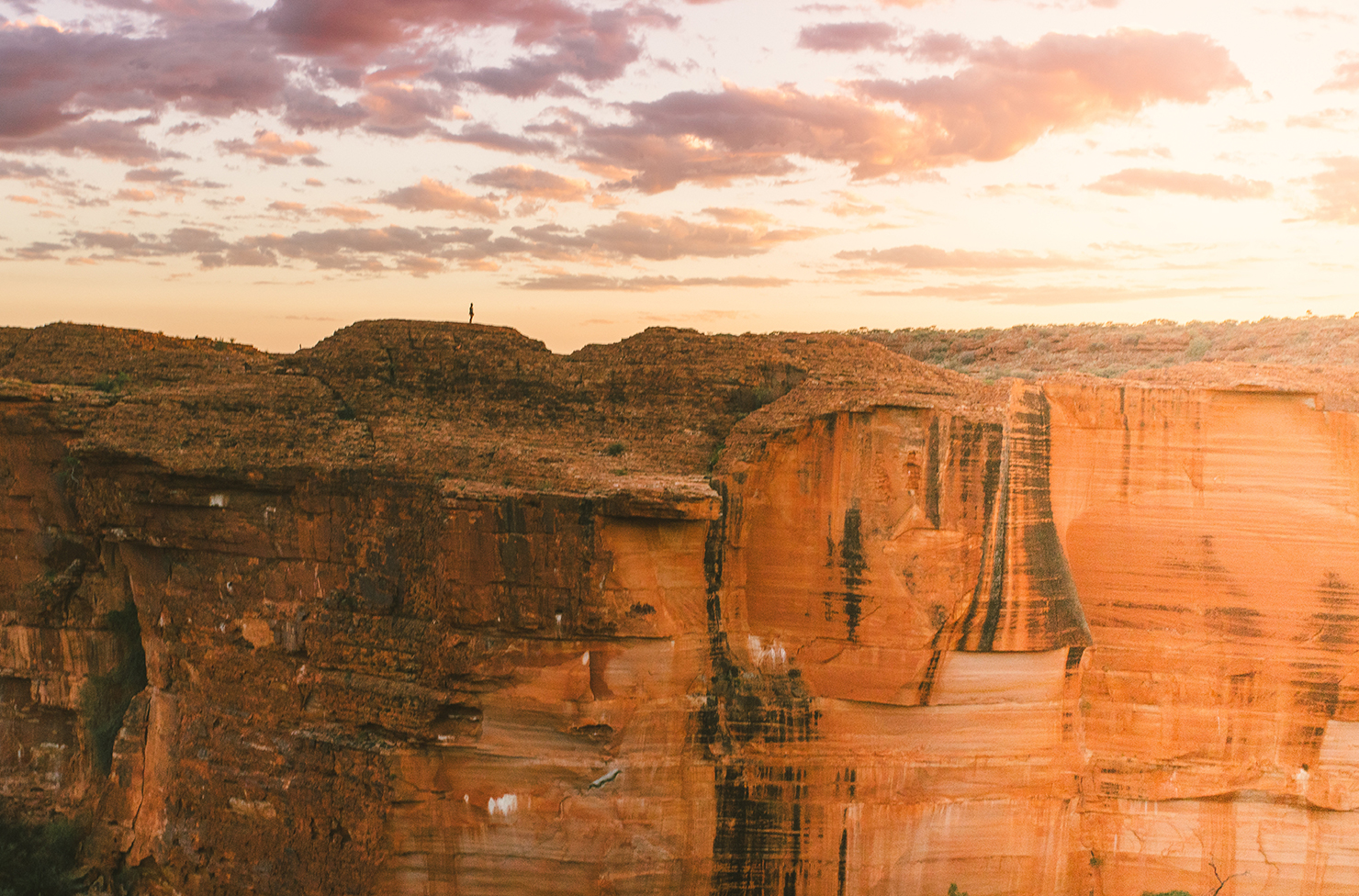 About a three-hours drive from Uluru is Watarrka National Park, home to the Luritja and Arrente people. Inside this national park, you'll find a myriad of natural wonders and the heavy-hitter would have to be Kings Canyon. This magical place features a 300-metre high sandstone wall, with palm-filled crevices and of course, casual views that span the entire desert. We suggest making the most of this one by strapping on your hiking boots and hitting the kings Canyon Rim Walk, a 6km circuit that descends into the Garden of Eden, past a rockhole surrounded by rare plants and up into a panoramic view over red sand dunes.
Lorde Howe Island
NSW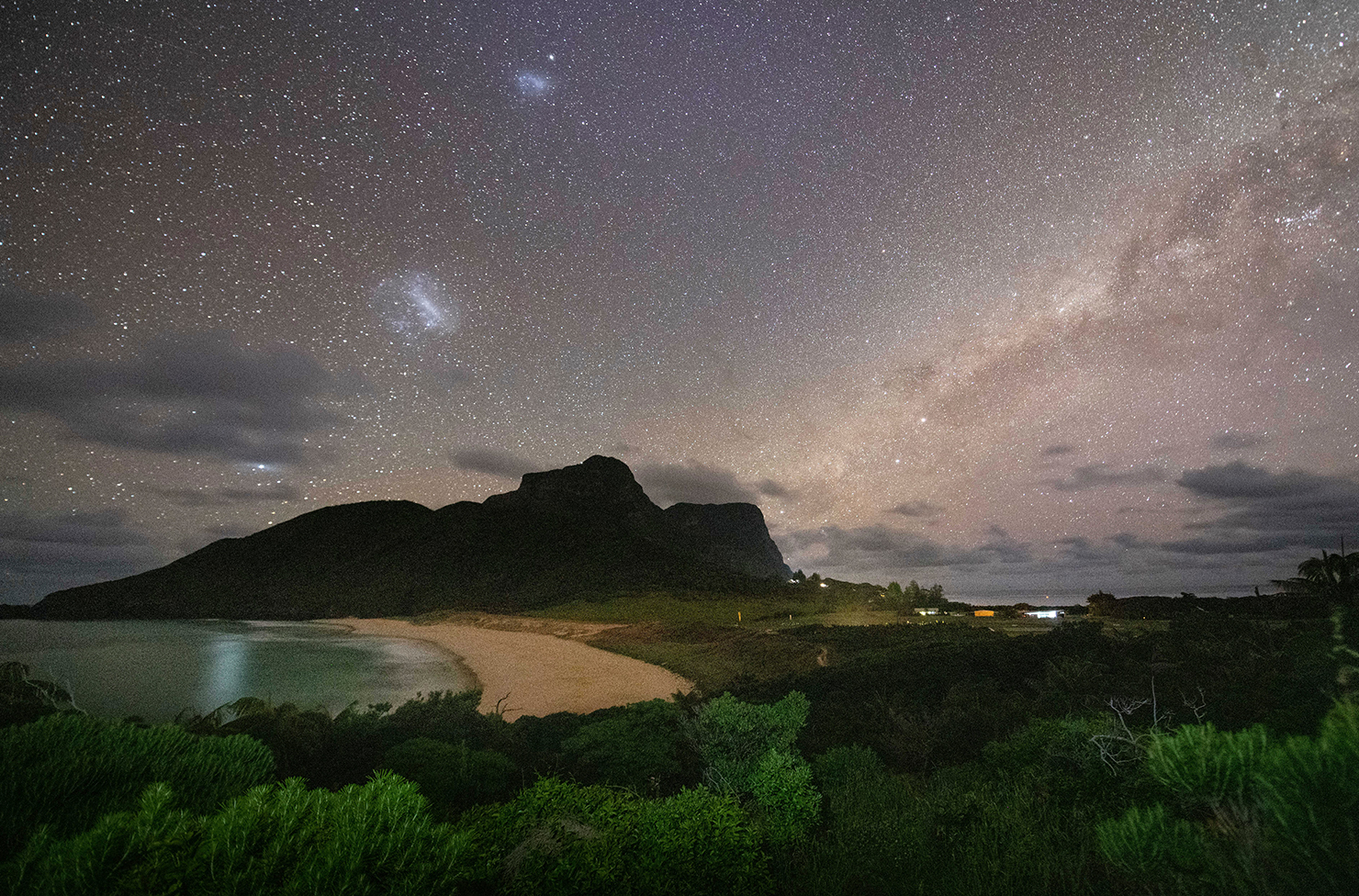 Looking like something straight out of Jurassic Park (the beautiful parts, minus the dinosaurs), Lord Howe Island is packed with jaw-dropping rugged beauty that has to be seen IRL. This slice of paradise, found around 600km off the NSW coast, is best discovered by bike. On two wheels (and two feet) you can take in most of the island's World Heritage-listed beauty, from rainforest-clad volcanic mountains to fern-laced gullies. The other way to explore is by boat, zipping you over a blindingly blue lagoon to the world's most southern coral reef. Be sure to check out Ball's Pyramid, a dramatic hunk of basalt that is the planet's tallest sea stack. Perhaps our fave thing about Lord Howe is that you'll likely have it to yourself: the permanent population of 360 people enforce a quota of 400 visitors at any given time.
The Pinnacles
Western Australia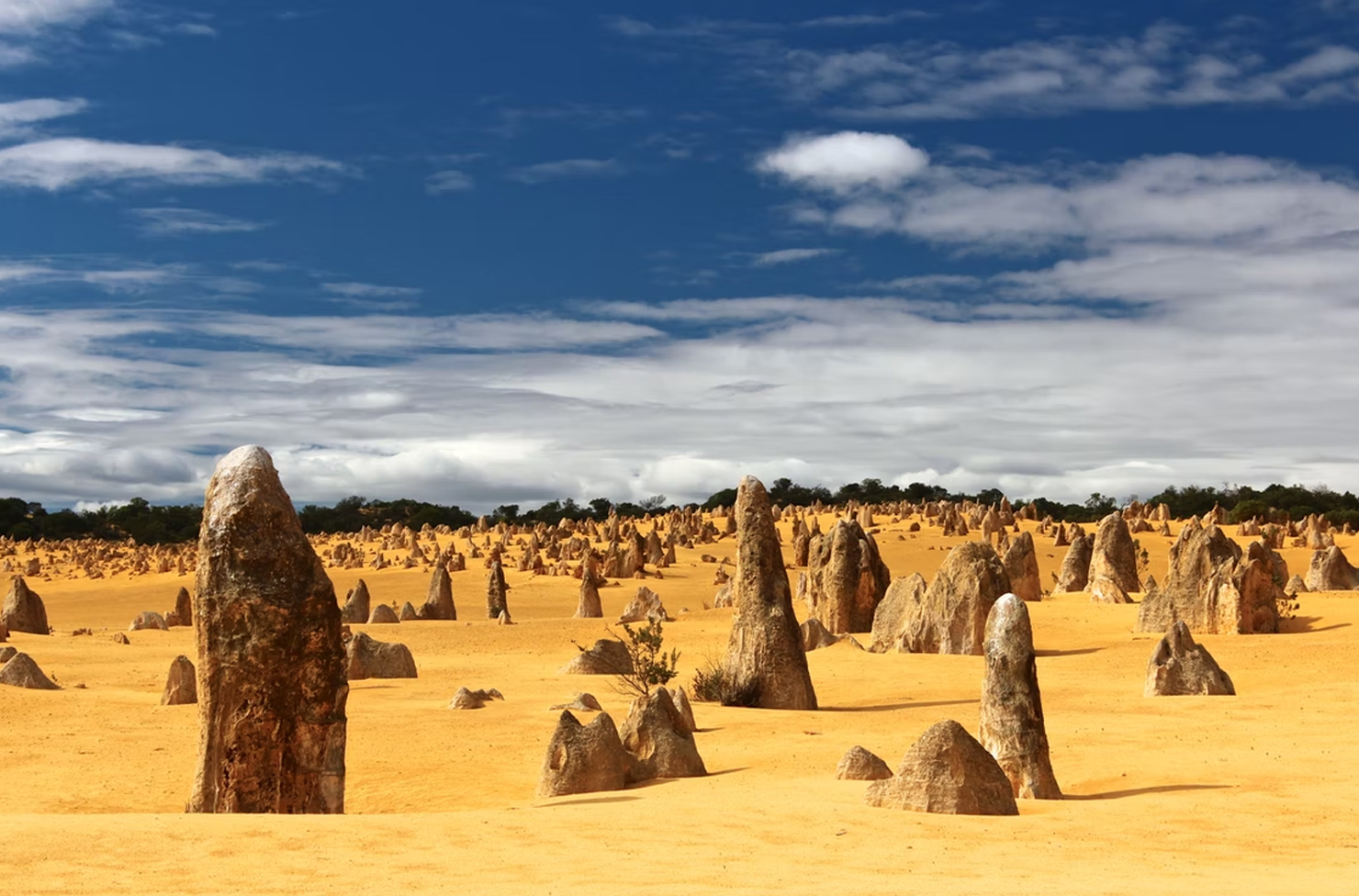 Home to the Nyoongar people, The Pinnacles is probably one of the most enchanting places to visit in Australia. You'll find this natural landmark in Nambung National Park, the limestone formations standing as tall as five metres. Taking a scenic walk or drive around the Pinnacles will give you the best vantage point and we highly recommend hitting these parts around sunrise or sunset so you can spot the eerie silhouettes and shadows they form.
Simpson Desert
Queensland, Northern Territory, South Australia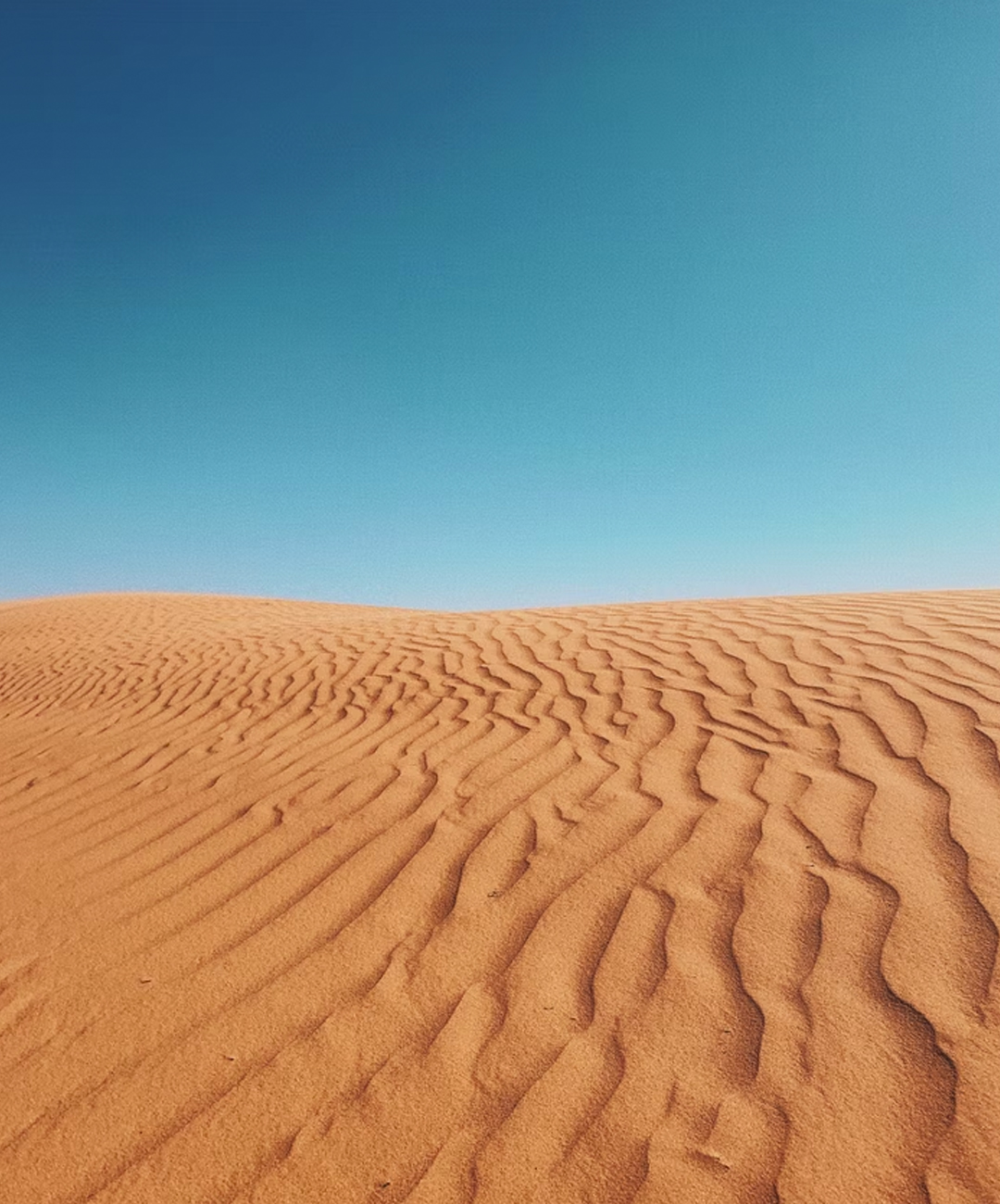 Filled with rolling dunes, wildflowers, pine trees, the Simpson Desert is one of the best nature experiences in Australia. Spanning Queensland, the Northern Territory and South Australia, this remarkable expanse is the result after 350 million years of wind and rain erosion—pretty special. There's a few spots you should definitely soak up too including Rainbow Valley, Chambers Pillar (a 50-metre colum of pebbly sandstone) and Ewainga Rock Carvings Conservation Reserve which sports ancient rock carvings and petroglyphs from the Arrernte people.
Purnululu National Park
Western Australia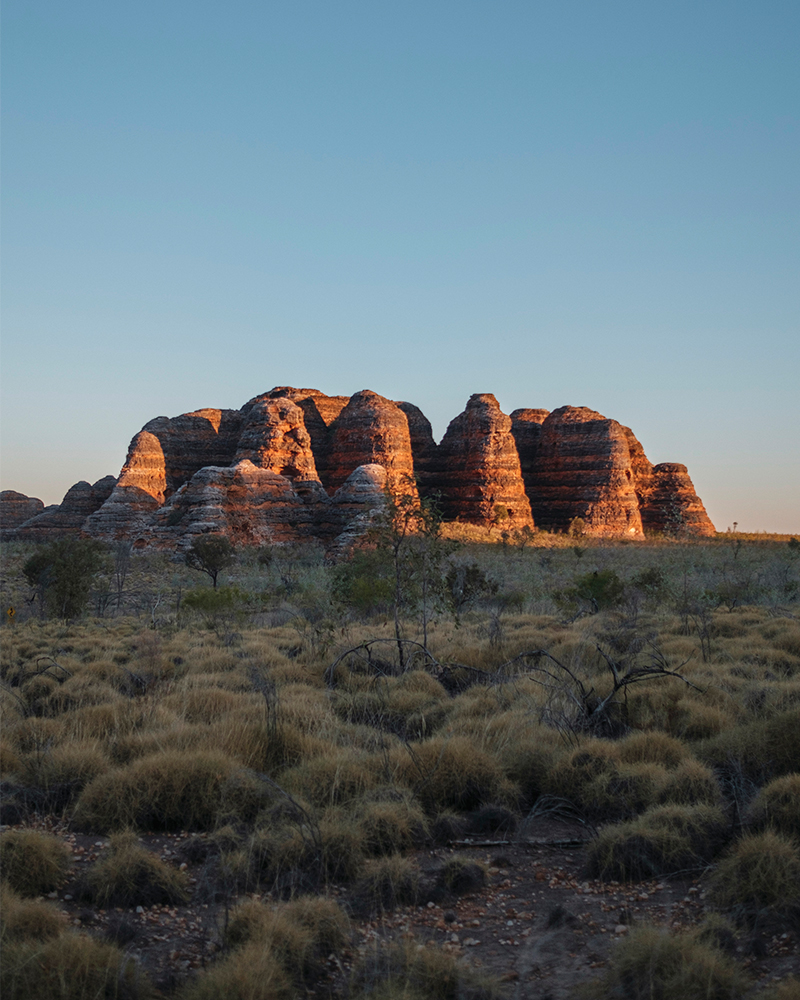 With gorgeous gorges galore, if you're brave enough to travel the 3,100 kilometres up there, Purnululu National Park's stunning scenery will not disappoint. This one-of-a-kind rock formation, also known as the Bungle Bungles, is so vividly striped it looks like it could have been painted. It's best scene from the air on a scenic flight, but you can also take in the view from Walangindji Sunset Lookout or hike through Cathedral Gorge, Piccaninny Creek Walk, Mini Palms Gorge and Echidna Chasm.
Lake Mungo
NSW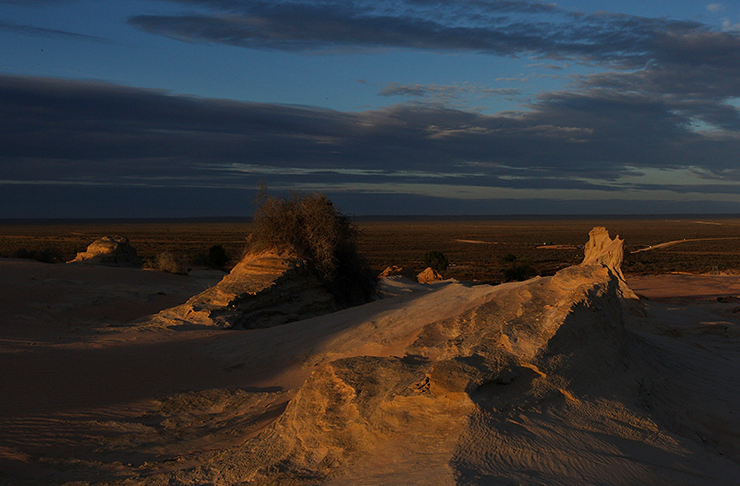 The Mungo Lady, The Mungo Man, 2008 Aussie flick Lake Mungo. You've probably heard about it, but chances are you haven't visited. Lake Mungo National Park is a casual 110,967 hectares rich in history, dry lake beds and vast expanses of sweet nothingness. Dig a little deeper and you'll learn that Lake Mungo holds a significant place in archaeology, with the 42,000-year-old remains of Mungo lady and man being the oldest in Australia.
A visit to the age-old lunettes, aka 20-metre high sand and clay towers, is recommended. It's where Mungo lady and man were discovered, and they make for some epic snaps, too. If you know how to read a map and/or you've got yourself some sort of sat-nav, you can go it alone in Lake Mungo, otherwise, there are plenty of guided tours that run regularly throughout the park.
Lake Eyre
South Australia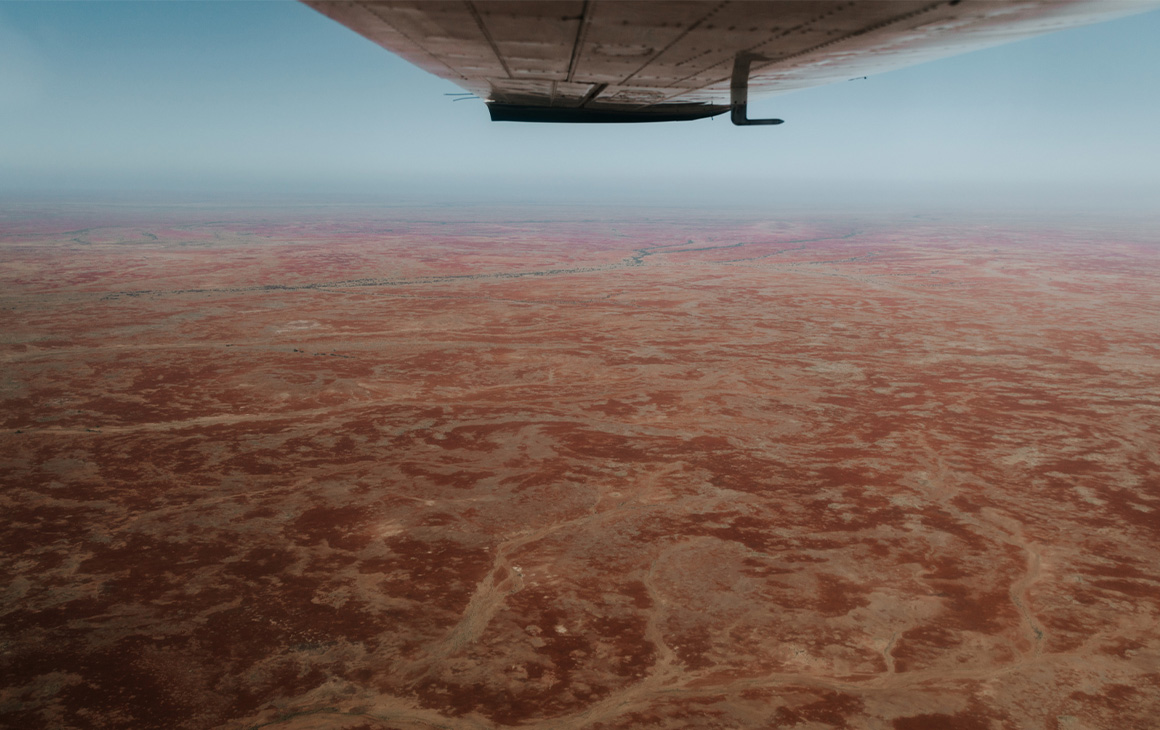 That salt lake you've seen on your mates' Instagram account is probably South Australia's Lake Eyre. It's a terminal lake, meaning it has no outflow to the ocean, and it's the fourth biggest of its kind coming in at 144km x 77km. Usually, the lake is dry, meaning it's primed for exploring the endless plains and taking those photos that completely disregard perspective. Roughly once every three years, however, Lake Eyre floods and brings with it a host of wildlife, temporary river channels along with striking hues of orange and pink you're unlikely to see anywhere else in the world.
Murray Sunset National Park
Victoria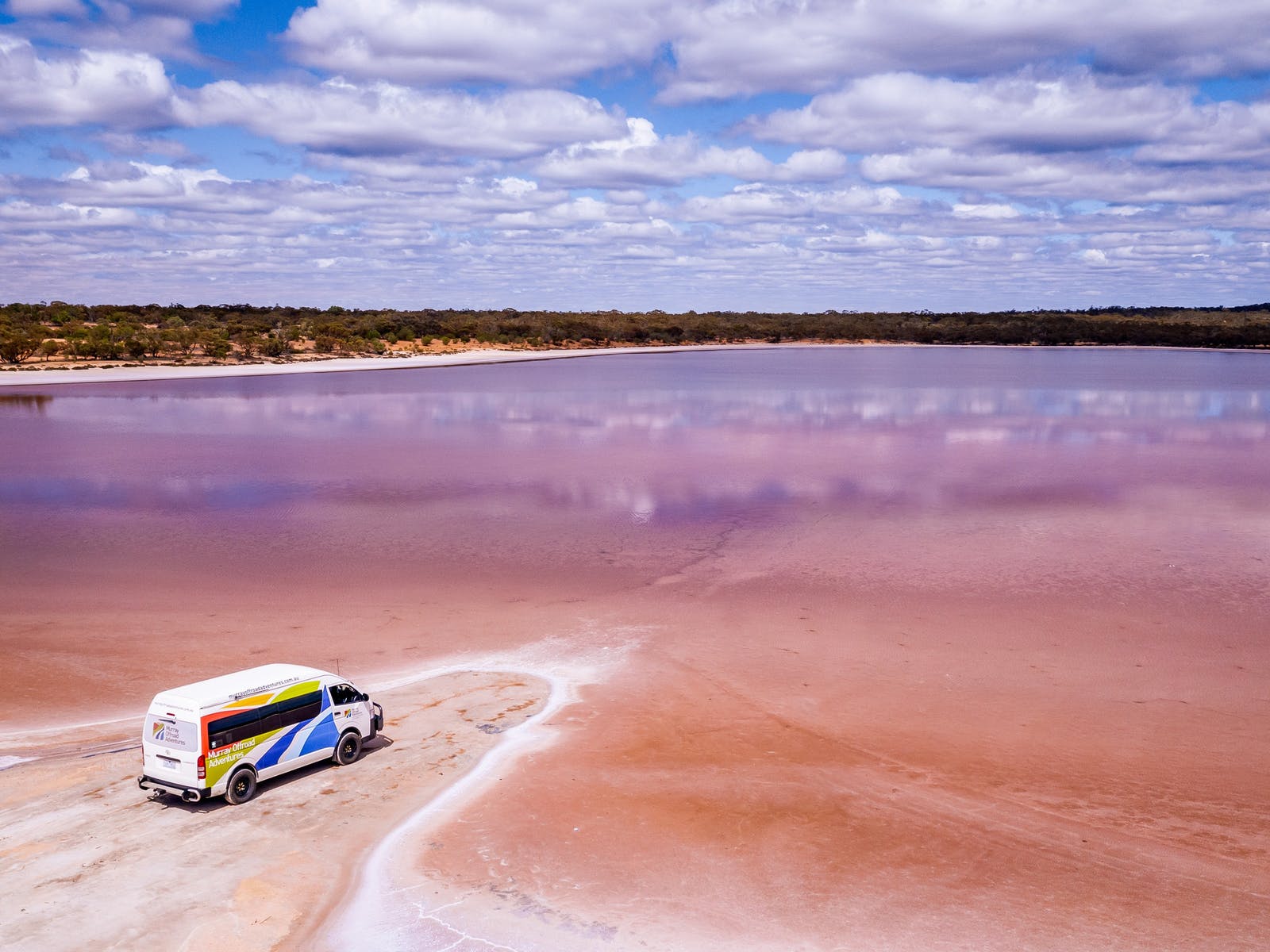 If you're after one of the Insta-famous pink lakes, head up and you'll find yourself in Murray Sunset National Park. This one's in the north-west pocket of Victoria, so things start to get very dry in summer. During the warmer months, you can walk the famous pink lake beds almost in their entirety; the vast open space makes for unrivalled sunsets (hence the name), and with this in mind, camping is recommended. In the wet seasons, you can canoe your way around the national park before pitching your tent under the night sky. See if you can spot the salt mine relics during your expedition. Get the details on Murray Sunset National Park here.
Wave Rock
Western Australia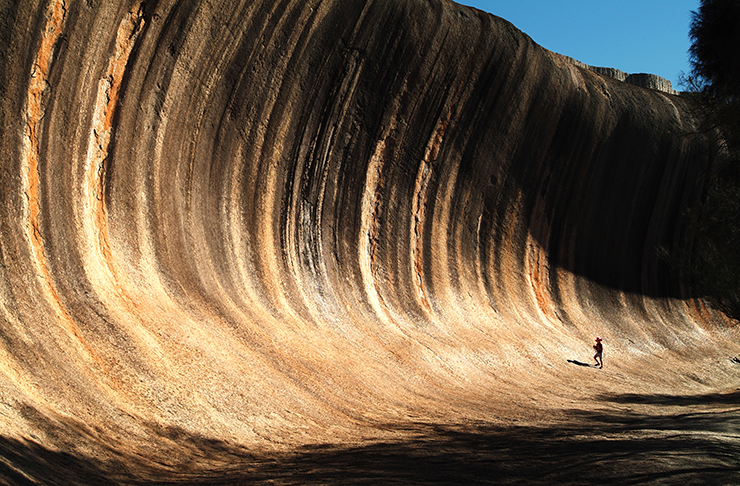 Sure, Western Australia's wave made of rock is a certified tourist trap, but there's a good reason for it. The 110 long granite wave has been in the works for a casual 2.7 million years and is well worth the three-hour drive from Perth. It's recommended that you make the most out of your mission to wave rock by sticking about for the day and checking out the ancient rock paintings in Mulka's Cave once you're done riding the wave. A must for any Western Australian adventure itinerary. Find out more here.
Lake Gairdner National Park
South Australia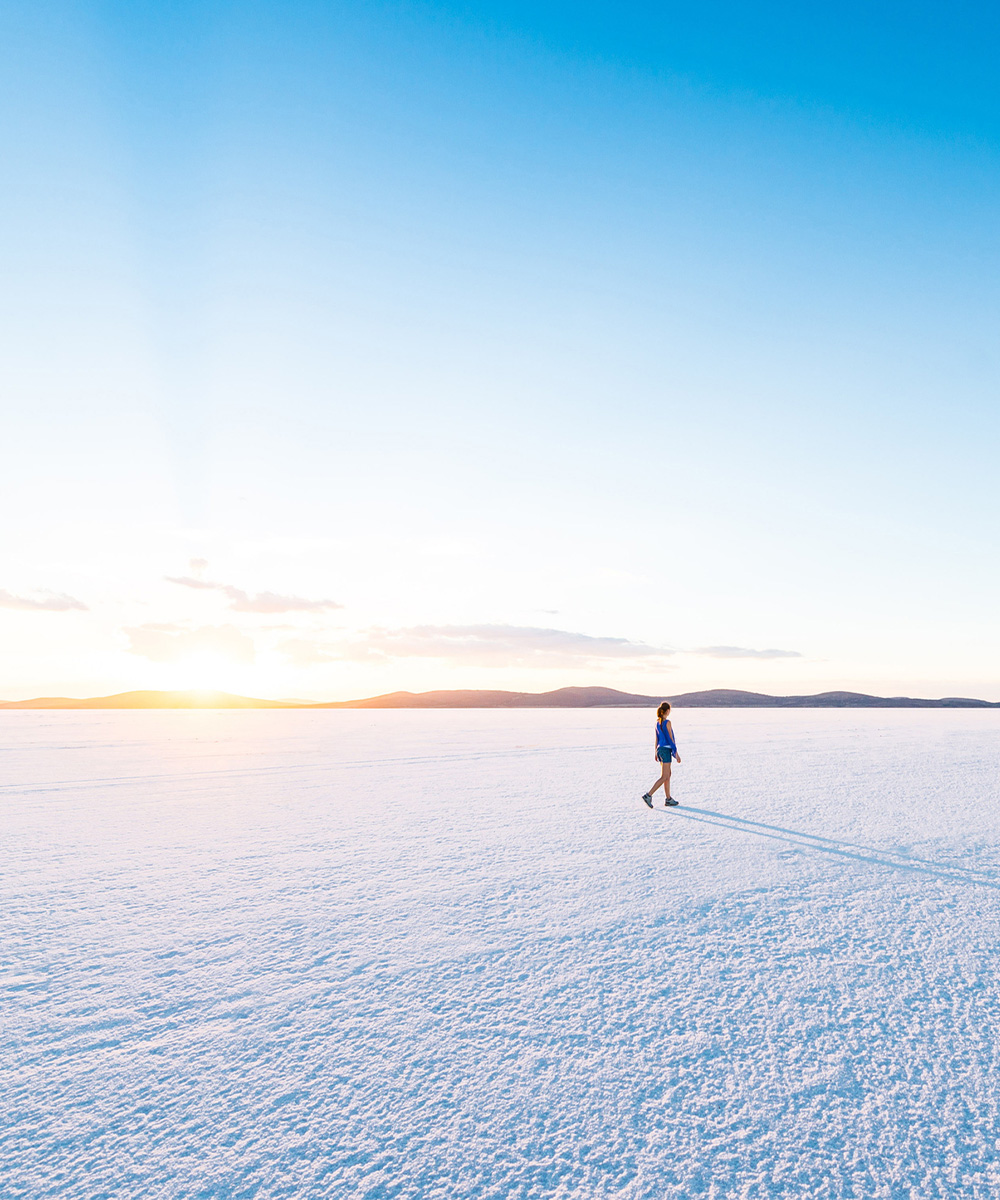 Arguably Australia's salt lake with the most aesthetic, the gigantic Lake Gairdner is nestled at the foothills of South Australia's Gawler Ranges. The park is comprised of a saline lake system, and contributes to Lake Gairdner's salty bed, and in some areas the salt layer can be over two metres thick which results in a highly reflective surface that spans almost as far as the eye can see. Suss out your trip to Lake Gairdner here.

Check out other Aussie escapes in our Travel section.
Image credit: Destination NSW, Tourism NT/Mitchell Cox, Destination NSW, Tobias Keller, Henrique Felix, Eye Ubiquitous, Universal Images Group, Visit Melbourne, South Australia Tourism Commision