While live music was effectively cancelled in 2020, one of Australia's most successful exports, Amy Shark, was putting together her sophomore album, Cry Forever. Featuring collaborations with the likes of Ed Sheeran, Blink 182's Travis Barker and Keith Urban, the album debuted at No. 1 on the ARIA Albums Chart. Packed with a slew of bangers and bittersweet tunes that will rip your heart out, the result is a body of work that cements Shark's status as one of the most influential musicians right now.
We caught up with Shark ahead of her national tour (which kicks off Friday 11 June in Newcastle) to talk about her new album, hitting the road again and the song that makes her feel the most vulnerable.
First up, a massive congrats because your new track Love Songs Ain't For Us (featuring Keith Urban) recently went GOLD. You co-wrote it with Ed Sheeran—what was that like?
I have to say it was pretty wild. Anytime I'm reminded of it, I still can't believe that it actually happened. And even when his name pops up in my emails, I'm like, I can't believe this guy is working with me, he's such a superstar. But I think that's the reason why he's so successful is because he is so professional and yet such a lovely guy and he has this amazing team around him that's so warm and welcoming. That's how he draws the goods out of people, he's so kind and normal.
Talk to me about the process for putting together and recording your new album Cry Forever compared to your debut, Love Monster?
Recording it was awesome, because I got to build a studio in my house—so that was really cool. Writing-wise I actually started that process when I was touring Europe for Love Monster. It was freezing cold and I was sitting on the tour bus watching the snow. At the time I had a lot going on in my life and back at home so I just let it all out and wrote so many songs on that bus.
So, by the time I started recording, I was more than ready to do it—so it was exciting and fun. I had more than enough songs and, and even when I thought the album was wrapped, I went on another trip to the states and worked with a few other people just to see if there was any more magic left. And there was and it was amazing. When I came back I had to try and squeeze everything on the album.
that must be hard cutting songs that you love?
It's absolutely heartbreaking. For me, it felt like I was leaving a child behind in another country.
You're very vulnerable in it, especially in the track 'Amy Shark'—h

ow does it feel to be so raw in your music? Is it a cathartic experience or is it still a bit scary?

It's cathartic when I'm doing it. But it's a real challenge because I don't think about the aftermath as I'm writing—if I start doing that, I'm just going to kill anything that I have in me. That's the reason people like my music, because I don't really edit much out and I try to tell the story as much as I can without filtering anything.

Then (once the song is recorded) I have to figure out if releasing it is really worth it because of what I'll have to say and do around explaining it. Amy Shark the song was worth it. I wasn't going to put it on the album but the more people on my team heard it the more they wanted it on the album. I'm glad I did because I have a lot of people reaching out saying they've connected with it and are using it to get through so many things in their life.
You have some epic collaborations on Cry Forever, and as a massive Blink182 fan I have to ask how you came to work with Travis Barker on C'Mon?
Yeah, it was crazy. I mean, just to even have Travis's number in my phone is wow. So, he sent me a DM on Twitter and said 'hey, if you want to collab on anything like let me know'. I was like, I've got to play this card right and make sure he's on the most perfect song. So when I wrote C'Mon, I was like, oh God this is a Travis song. He's a sweetheart and obviously a superstar so I didn't expect him to really give me as much time as he did. He sent me so many amazing drum ideas for the song and started out with a real Prodigy vibe—like it was a crazy kind of beat. I loved it but my label freaked out because even though it was awesome, they weren't sure if it was right for the album. So there was a lot of back and forth and he was more than happy to get it right. He's just such a calm, soft-spoken creature and I just love him so much.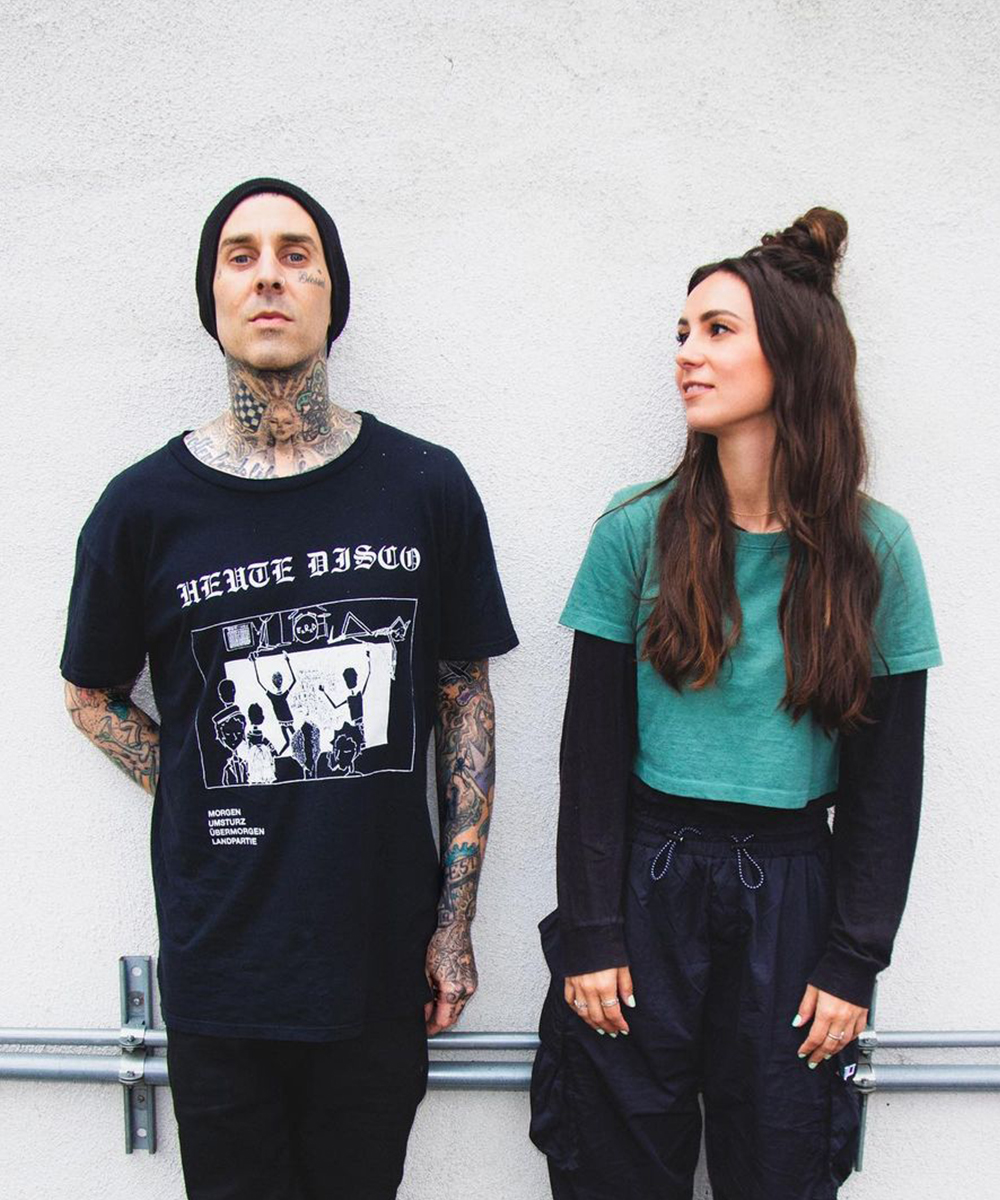 You've got the national tour coming up. After 2020 essentially cancelled live gigs, how pumped are you to get out there and perform live again?
The one good thing COVID offered was time to really get everyone across the songs. I'm really excited to play them and my band's super excited to get back out there— the whole crew is pumped. The show is actually looking sleek. The stage is amazing, there are so many colours and the sound is huge. The show will be like a bit of a rollercoaster and so much fun.
You have vibing songs like Everybody Rise that make you want to move, and then the intimate, just you and your guitar tunes like You'll Never Meet Anyone Like Me Again —which do you prefer to perform live more?
I love it all to be honest. I think that's why I'm obsessed with this tour because I enjoy when I look down and I get to connect with the crowd just myself and the guitar. Or when there's a bigger song like Wolves, seeing everyone react is sick. It's a really good balance—I get to do all the things I love, playing guitar and then running around the stage.
You're going all over the country, performing on some big stages—how do you keep yourself centred and creatively charged on the road?
I mean, this is easy compared to what I've done before. I remember the days when it would be like, we've got the North American tour, and then we're going to go straight to Europe, and you've got like one day to get on the timezone. And then we shoot on the European leg, we're going to New Zealand, and then we'll end in Australia. And it's like, and I do that quite easily. So really, compared to going on 50 million flights this is good, this is nice. We just got to do it COVID safe and pray that everything can go ahead.
Last question, what surprising things might we find on your tour rider?
I've really cut it down because I spend less time in [the green room] otherwise I start psyching myself out. I'll go there and maybe spend an hour or so before the show. I usually have some Jameson, bananas and Skittles and some beer for the crew. I try to keep it pretty minimal but these big venues are ridiculous, so there's like a whole catering section that I don't usually see that's really boujee.
Amy Shark's national tour kicks off , Friday 11 June in Newcastle before heading to Sydney (Qudos Bank Arena) 12 June; Melbourne (Rod Laver Arena) 18 June; Hobart (Wrest Point Lawns) 19 June; Gold Coast (HOTA) 25 June; Brisbane (Riverstage) 26 June; Adelaide (AEC Theatre) 1 July and Perth (RAC Arena) on 3 July.
For more deets, head here.
Image Credit: Supplied, Amy Shark Instagram