The flip phone is iconic. Zoolander. Paris Hilton. Keanu Reeves. We were obsessed.
Thrillingly, this style is making a big comeback but this time, you have the power of the future in your hand.
Let us introduce you to the most stylish and futuristic phones to drop: the Samsung Galaxy Z Fold3 5G and Z Flip3 5G available at Optus.
Firstly, they're both damn cool and they're both foldable devices but they come with some big differences. Whether you're a professional who is forever firing off emails and fine-tuning presentations, or you're a creative snapping and uploading videos on the go, here are the features and benefits of the flip and fold phones to get excited about. And best of all, you can pick them up at Optus completely interest-free with OptusPay on a device repayment plan.
Samsung Galaxy Z Flip3 5G With Optus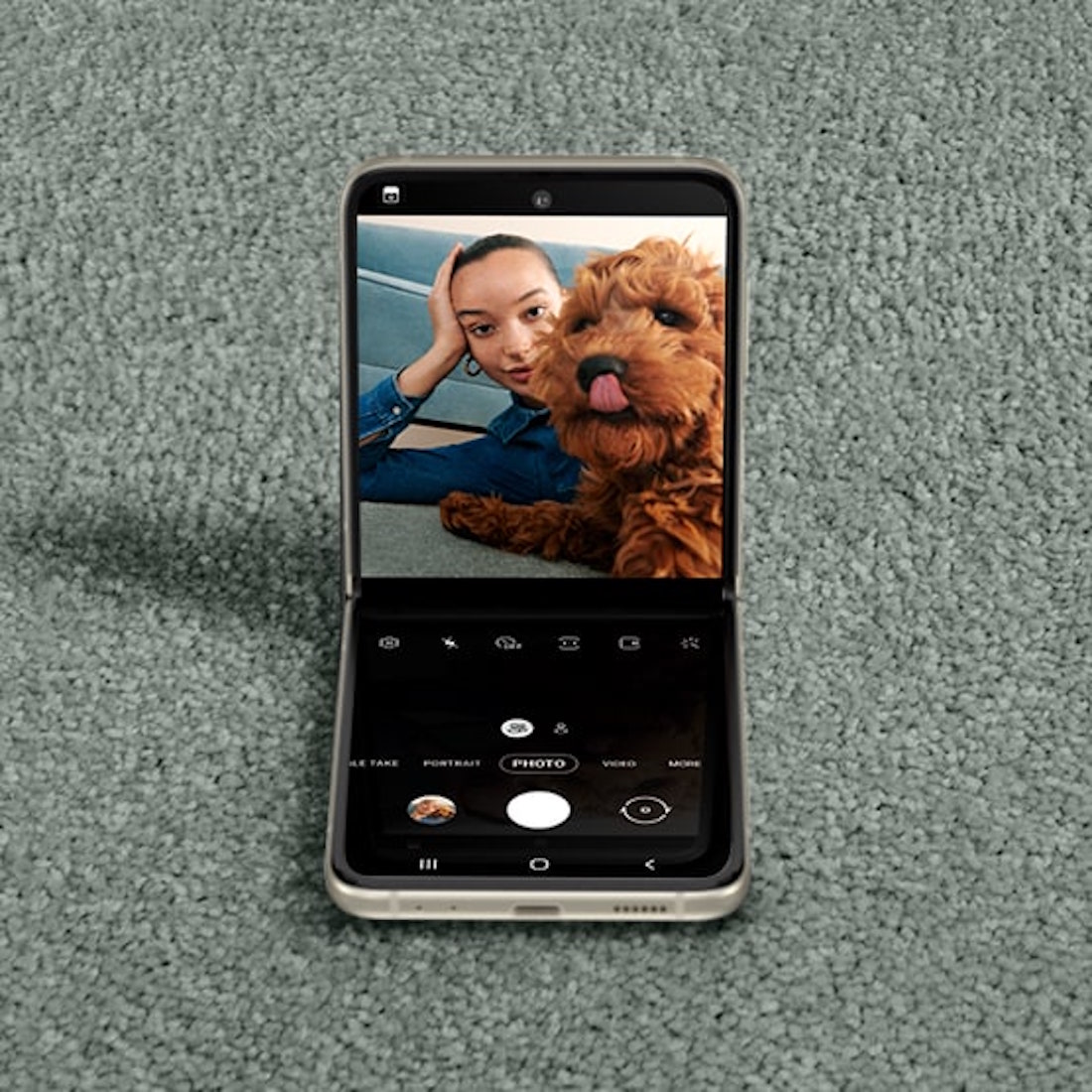 This flip phone is perfect for creatives and the style-savvy. Firstly, it's pretty. Like, really pretty. It comes in four colourways but our pick goes to lavender. The real drawcard though is, of course, the revolutionary flexible glass. The device is the size of a normal smartphone but you can flip in half so it's compact and easy to slip into your pocket or mini handbag.
But aside from its good looks, this device is purpose-driven and built with futuristic tech. Thanks to the Freestop Folding technology, you can unfold the phone to any angle and enjoy hands-free video calls and snap selfies at epic angles. This is a game-changer for anyone looking to level up the way they shoot content.
The ease of social media sharing is a big win for this phone too. The dual-screen means you can multitask by snapping shareable moments, quickly selecting the best takes, editing, and uploading to socials all at once.
You also don't need to constantly flip it open and shut to use key features if you don't want to. There's a screen on the cover of the phone so when it's folded you can still get notifications, check the time and even take photos or record videos. That way, you can quickly capture daily pics without missing memorable moments.
Samsung Galaxy Z Fold3 5G With Optus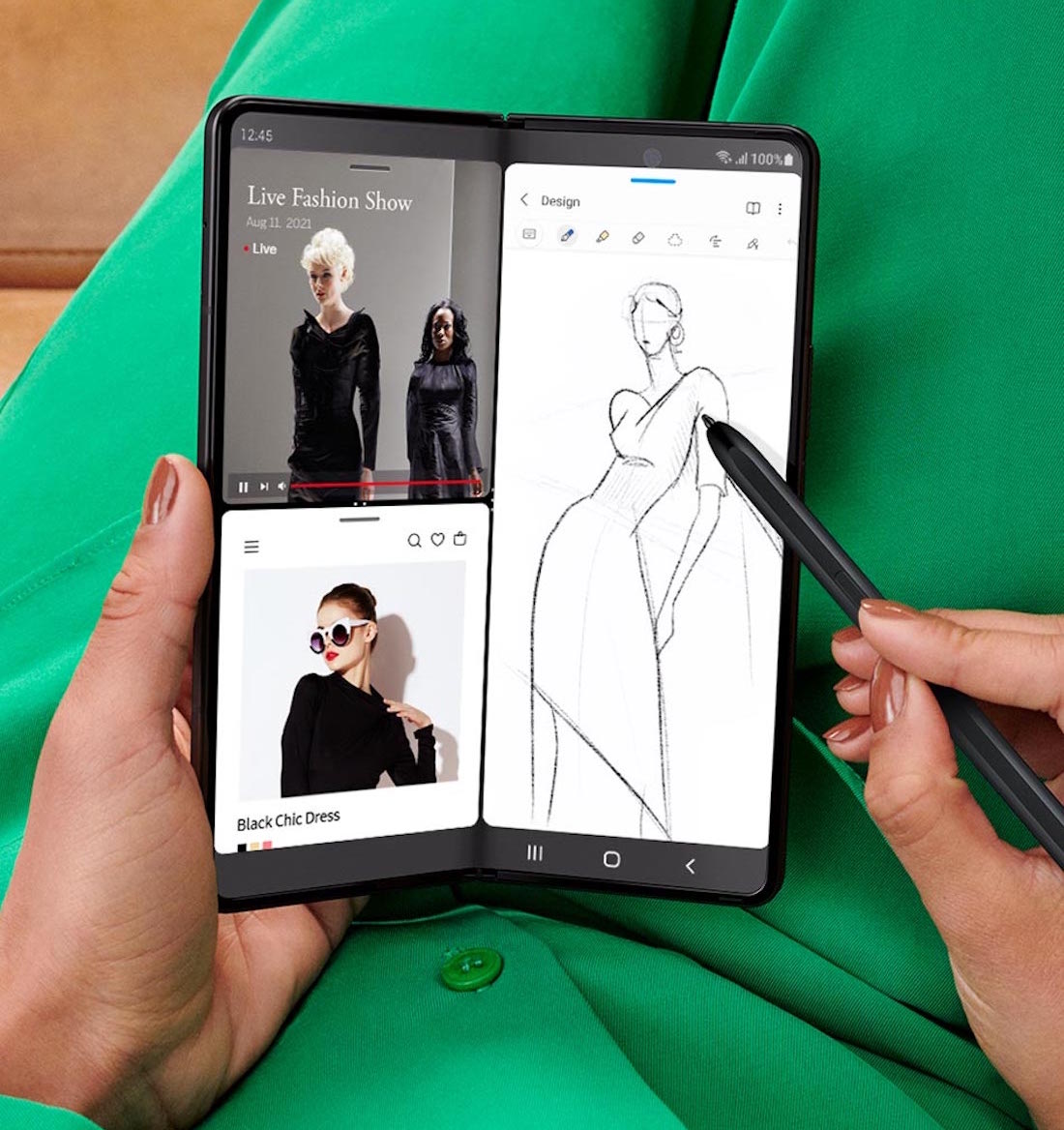 Touted as a 'theatre, workspace and game room', Samsung's new Galaxy Z Fold3 5G is like having the power of the future folded in your pocket, making it the perfect device for professionals, gamers, and basically anyone who enjoys a commute or bedtime binge.
Our favourite feature of this phone is the foldable 7.6-inch tablet-like screen. With this device, your productivity is bound to soar. Unfold it and run multiple apps simultaneously, and choose how the apps are laid out to personalise your experience. Now you can fire up the 'gram, check your emails while viewing an attachment, and text all at the same time.
The Samsung Galaxy Z Fold3 5G is also compatible with an S Pen (sold separately) so you can handwrite notes and have them automatically converted into text. We don't know about you, but that's a real timesaver next time you're squiggling down notes on paper in a meeting, only to then transcribe them onto your laptop. Better still, you can fire up a video on one half of your phone, while taking notes on the other. Multitasking at its best.
Once you're done with work for the day and ready for some downtime, thanks to the phone's mammoth screen you can jump straight from smartphone to a theatre-like experience. Hello, endless binge sessions.
Across both devices, you can expect Samsung Galaxy's fastest chip ever and a dual, long-lasting battery paired with access to Optus' fast 5G mobile network, so you can upload memorable moments to socials in a flash.
Pop over here to read up on all the other fancy features for both the new smartphones.
Editor's note: This article is sponsored by Optus and proudly endorsed by Urban List. Thank you for supporting the sponsors who make Urban List possible. Click here for more information on our editorial policy.