Stockholm is sort of an archipelago city. Dozens of islands and little urban peninsulas divided by oceanic canals that freeze solid in mid-winter. Bridges are a big deal here.
The most famous and popular island is Gamla Stan, the city's Old Town, where Stockholm began back in 1252. It's where you'll find the national cathedral, the Nobel Museum… and pretty much all of the tourists. Like any Old Town in any European city, Gamla Stan is more like a well-preserved, open-air museum than a living, breathing neighbourhood. It's pretty, sure, but it's also stuffed with tat shops selling Swedish fridge magnets, and it's not where Stockholm locals actually choose to hang out.
Here are four Stockholm neighbourhoods you really need to visit.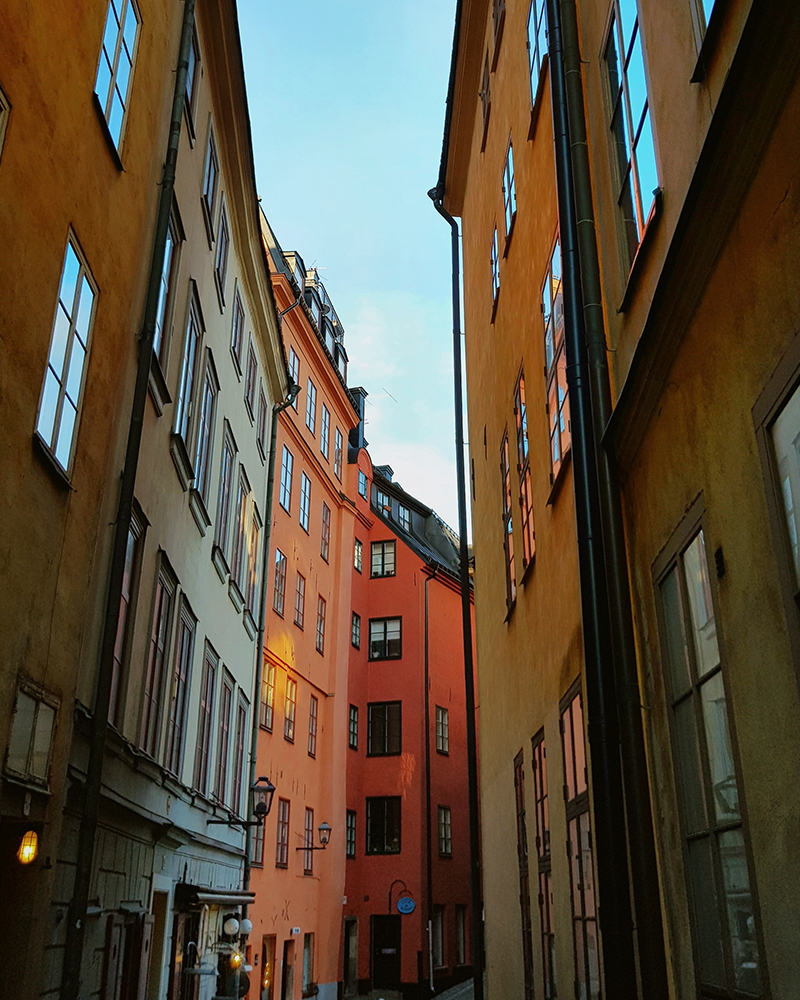 Södermalm
The secret's pretty much out about Södermalm (often just 'Söder' to the locals). This is Stockholm's version of Williamsburg or Brixton: the creative hub where 20-somethings sip lattes and plot ride-sharing scooter companies. Right in the middle of Södermalm you'll find 'SoFo' (short for 'South of Folkungagatan'), a vague geographic area which is pretty much the epicentre of Stockholm swagger. Visit Södermalm for vintage clothes, coffee, galleries and late-stage hipster vibes.
Stay
Hotel Hornsgatan
Pretty much the perfect stay in Södermalm. Hotel Hornsgatan a family-run boutique hotel on the north side of the neighbourhood, which means it's an easy walk over to Gamla Stan and Norrmalm. Rooms start from around $200 with a shared bathroom, which isn't too bad in Sweden (you'll quickly realise that the Australian dollar is about as valuable as Monopoly money over here).
Hotel Rival
Just down the road from Hotel Hornsgatan you'll find Hotel Rival, its… err, rival. This place is set inside a 1930s Art Deco building next to Mariatorget Square, and the décor is the sort that makes you quietly depressed about your own lack of interior taste. The bar downstairs is classy as hell and a good spot for Södermalm pre-drinks.
Eat
Fabrique
Everyone has their opinion and I'm sure I'll get flamed for this, but Fabrique does the best cinnamon kanelbullar (cinnamon roll) in Stockholm. Trust me, I did the legwork. Fabrique is a bakery chain with a cosy spot on Götgatan, just near Slussen station—you can't miss it. Their kanelbullar are so, so, so, so freaking damn delicious, I'm telling you. Sticky sweet on the outside, just enough crust, still warm and doughy on the inside. The ultimate fika snack (fika is Sweden's term for cake and coffee time. They take it very seriously).
Greasy Spoon
Greasy Spoon does all-day breakfasts and don't take bookings. They don't need to. It's generally packed from dawn to 5pm. Try and come mid-week, if you can, to avoid the Saturday/Sunday brunch rush. Bonus: during the week they do a 45kr toasted banana bread with maple syrup and walnuts. The perfect way to start your Stockholm day.
Drink
Laika
If you're staying a few nights, make sure you spend at least one of them at Laika, Södermalm's industrial live music venue. This place usually has some resident DJ spinning the decks, or maybe a local electronica act or stand-up comedy. Gets really busy after 11pm, even on weekdays, but the board games and solid cocktails are worth the queues.
Himlen
You'd never just stumble on Himlen. It's hidden on the 26th floor a random 1960s office block-cum-student accommodation. But hot damn, them views… You get floor-to-ceiling panoramic vistas of Tantolunden park and the green spires of Sofia Church. Fantastic cocktails here too—boozy and creative and really interesting. Come in summer and you can watch the sunset very, very, very slowly while you sip dry martinis.
Vibes
Nytorget
All visits to Södermalm should start at Nytorget—specifically the park in the middle of the square. This is the triple-distilled essence of Södermalm. A place for hip young Swedes with androgynous haircuts to read and people-watch and do a little shopping. Make sure you check out Stockholm's Stadsmission while you're there; it's probably the best vintage shop in the whole city.
Grandpa
Just try to walk out of Grandpa without dropping several hundred krona. It can't be done. This is one of Södermalm's more famous boutiques, slinging everything from impossible chic bed linen to summer dresses and handmade jewellery. It is much, much cooler than you. And that's okay. You can shop Grandpa online these days, but the store on Södermannagatan is way more fun.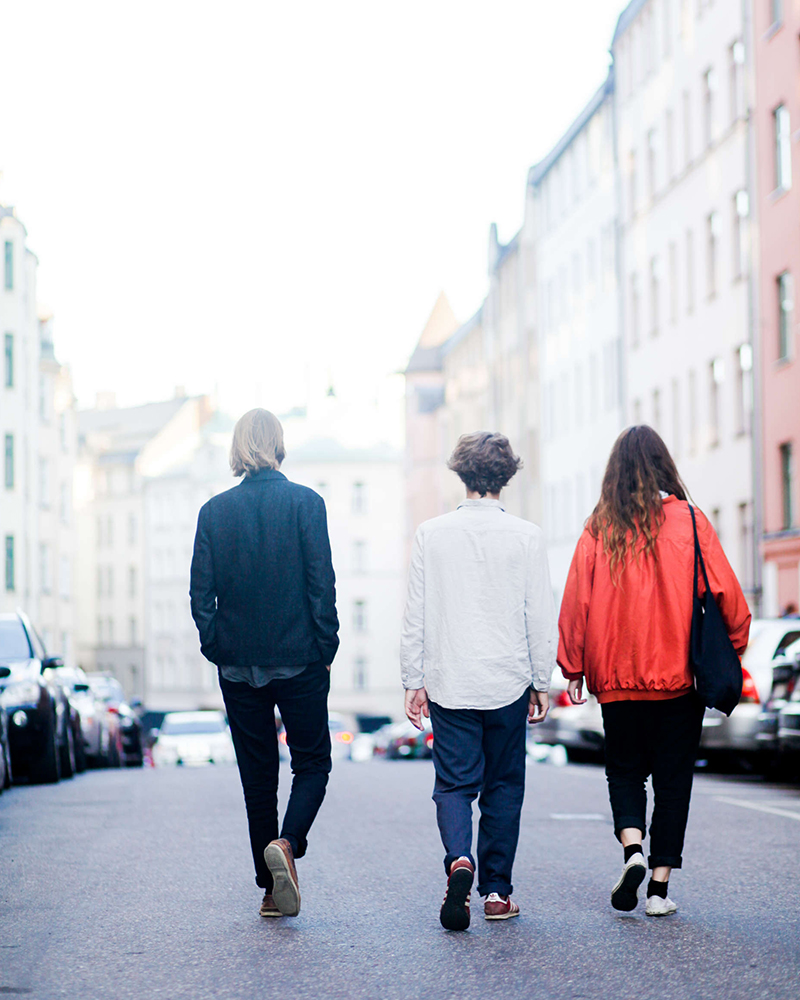 Vasastan
In every city, there's a suburb which gives you a proper snapshot of how locals really live. In Rome, it's Trastevere. In Melbourne, it's Brunswick or Northcote. In Stockholm, it's probably Vasastan. You'll find Vasastan north-west of the city centre. Most tourists can't be fucked walking anywhere north of Olof Palmes gata, so you'll have the streets mostly to yourself up here. It's not a neon-lit, sexy neighbourhood, but the architecture is beautiful, the cafes are reasonably priced, and there are some pretty parks if the weather's good.
Stay
Hotel Tegnerlunden
This is a good hotel for couples. It's plush, modern, and breakfast comes with a view of Tegnerlunden park. The rooms generally start around AUD$200 per night, but they run a lot of specials and deals on most booking sites, so make sure you hunt around. Rådmansgatan metro station is really close too.
Stockholm Generator
Stockholm Generator hostel is technically just outside Vasastan, but it's such a short walk that I'm chucking it into the mix. The rooms are cheap, clean and a bit more spacious than your average hostel (I can confirm it's much better than Generator Copenhagen). What clinches this place is the food: they have a cafe running downstairs that does seriously good breakfast and dinner. Pro tip: try the Swedish meatballs.
Eat
Grill
Gril represents one of the big perks of staying in Vasastan: the food. This neighbourhood has some of the city's best restaurants, and while Grill may not be the fanciest, it arguably has the most character. Expect wacky Parisian décor, moody candlelight and smoky barbecue everything. Highly recommend for Date Night.
Farang
If you want to splurge while you're in Vasastan, check out Farang. It's got a reputation as the best Asian fusion restaurant in the city. Inside it's all sleek black metal and brushed concrete, very industrial chic, with bartenders mixing highballs and chefs serving up cutting-edge Thai food. The dining room is actually part of the old Stockholm Electric Company.
Drink
Tiki Room
A tropical cocktail bar in Stockholm? Yep, it does exist. Tiki Room has been a Vasastan staple for a while now, dishing up fake palm trees, blasting reggae music and rum-based fruity drinks with tiny umbrellas. We really like this place in winter, when it's snowing outside and all you want is somewhere warm and fun and unpretentious.
Erlands
This hole-in-the-wall bobbed up in 2013, and it didn't take long for word to spread. Erlands blends 1950s Mad Men vibes, smooth jazz and Scandinavian urban style to create something kind of awesome. Cocktails are delicious, but bloody expensive. Save up your pennies and enjoy.
Vibes
Observatorielunden
Don't even try to pronounce it. Observatorielunden is a 300-year-old former observatory smack bang in the middle of Vasastan. There's a great little waffle bar inside (Kafé Himlavalvet), but the main attraction is really the park next door. I hate the phrase 'urban oasis', but it does the job here: Observatorielunden is very green, very cute, and a popular spot with locals in summer.
Stockholms Stadsbibliotek
You know that scene in Beauty and the Beast where Belle sees the castle's library for the first time? Stockholms Stadsbibliotek is a bit like that. This is the city's national library, designed by famous architect Gunnar Asplund. Architecture nerds will get a kick out of the strange cylindrical design, but it's a good spot to check out local exhibitions and artist talks too.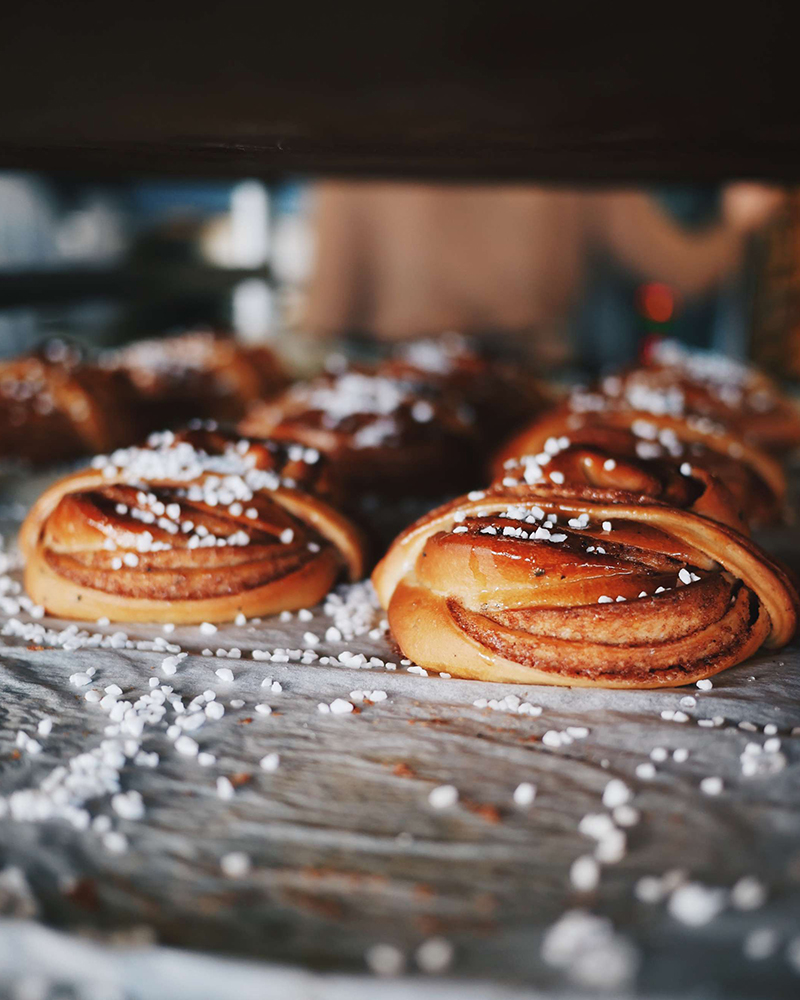 Midsommarkransen
If Södermalm is Stockholm's capital of cool, Midsommarkransen is where all the really cool people go to talk about how Södermalm's become all mainstream and hipsterised and basically 'bourgeois crap'. Midsommarkransen is a fair hike on foot, but you can easily catch the train from the centre of town all the way to Midsommarkransen T-bana station (ETA 12 minutes). You will find approximately zero tourists in Midsommarkransen, which is an essential part of its coolness.
Stay
Aparthotel Telefonplan
Part of the problem with being edgy and cool is that major hotels haven't yet realized they can make money off you. Which means your accommodation options in Midsommarkransen are limited. The best bet is Aparthotel Telefonplan: an apartment-style hotel, built in 2017. The apartments all look like schmick IKEA catalogues, and there's a gym, sauna and billiards room on-site.
Hotel Hellstens Malmgård
If you're happy to stay just outside Midsommarkransen, try Hotel Hellstens Malmgård across the bridge in Södermalm. It's an 18th-century mansion with four-poster beds and breakfast is served inside a brick vault in the basement. Kind of cool. The prices are reasonable too (as 18th-century mansions go… ) You can usually get a small double room for around AUD$130 per night.
Eat
Nalle & Kroppkakan
Midsommarkransen is full of students, and therefore also full of student-friendly budget food. Nalle & Kroppkakan specialise in Kroppkakor, which is basically a Swedish version of a potato-dumpling, stuffed with onions and pork and served with butter and lingonberry jam. The dumplings are delicious (there are several other, non-traditional flavours if lingonberry isn't your jam) and you can munch them in Svandammsparken park, just next door.
A.B.Cafe
A.B. Cafe is like travelling back in time to Stockholm in the 1950s. The décor is outrageously cute (like, so cute you'll seriously consider stealing everything from the flower vases to the vintage cutlery) and you can sit among Stockholm's young, bohemian artists while sipping coffee and eating cinnamon rolls. It's pretty awesome.
Drink
Landet
Landet doubles as one of Midsommarkransen's best restaurants and its classiest bar. Start the night downstairs with a ridiculous meal of Swedish-French fusion, then head upstairs to the swanky cocktail bar, where very loud very Swedish bands play after-dark on weekends. This place oozes cool.
Vibes
Colour By Numbers
Colour By Numbers is kind of cool. It's an interactive art installation inside an old Ericsson tower (Midsommarkransen was home to Ericsson manufacturing until 2000, when the money dried up). The interesting bit is that the tower lights up at night, and YOU control the lighting. It's all done via an app. You'll find it right by the Telefonplan train station (incidentally, a good area for cafes and bars and just general pottering about).
Mimmi Staaf Möbelmakeri
There's a bunch of really interesting design shops in Midsommarkransen (check out 2 Little Spoons, Dunke Design and Vintagefabriken if you're interested). Our favourite is Mimmi Staaf's Möbelmakeri store: which is like a colourful temple to Scandi furniture, cool upholstery and boutique interior design.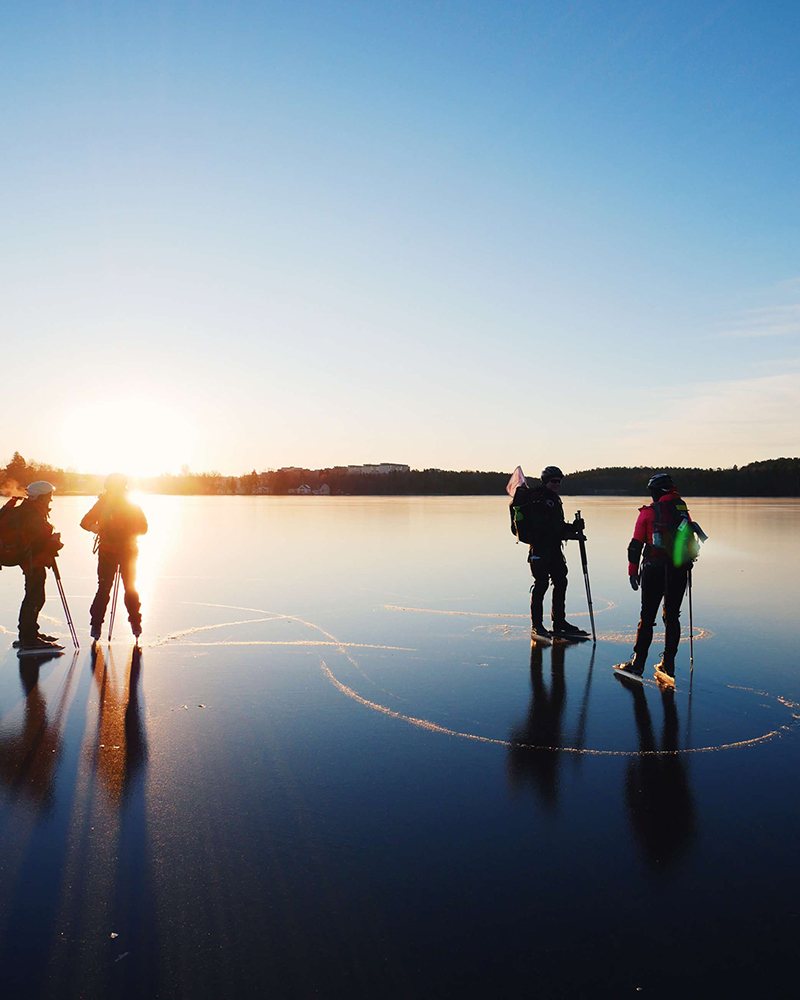 Farsta
It's a weird thought, but Stockholm actually gets quite beachy in summer. Even with a nipple-tweaking average temperature of just 22 degrees Celsius. Farsta strand is one of the most popular summer swim spots for locals, set along the shores of Lake Magelungen, and about 15-minutes south of the city centre (on the green line). These days Farsta is getting pretty trendy, with galleries and cafes and tasteful graffiti murals popping up everywhere.
Stay
To be honest, there aren't really any decent hotels in Farsta, and it's not an area where you HAVE to stay close by. Farsta is more of a Stockholm day-trip, grab-the-beach-towel sort of destination. If you want to sleep reasonably close (like 5 to 10 minutes by train), you can find dozens of trendy boutique hotels in Södermalm to the north. Otherwise it's Airbnb or the Best Western. Godspeed.
Eat
Bun Meat Bun
Bun meat bun, geddit? This is officially Stockholm's seventh-best burger bar (according to Sweden's Burger Dudes, anyway) and they do smashed patties! If you've ever tried a propper smashed patty, you'll understand the exclamation mark. The buns are interesting too: Bun Meat Bun describes them as a 'classic American potato role'. We have no idea what that means, but can confirm they are delicious.
Konditorn & Bagarn
You'll find Konditorn & Bagarn in Hökarängen, which is a cute little mini-suburb inside Farsta. It's the best bakery in the area. Seriously, you can smell the wafting ambrosia of kanelbullar cinnamon roles from down the street, and there's usually a queue of hungry locals here on weekends. Owner and head baker Cajsa cooks everything by hand in a giant stone oven, and she is very, very talented.
Vibes
Lake Magelungen
This is pretty much why you come to Farsta in the first place. Lake Magelungen. It's a huge inland body of water, surrounded by forests and beaches and even Hindu temples (check out Ganesha Temple if you're in the area). When you get to Farsta strand station, walk over the Ågesta Bridge and onto the Ågesta peninsula. There's an outdoor pool there where you can swim in the lake. Check here for more info.
Konsthall C
We're going to go out on a limb and say only 0.002% of Stockholm's tourists ever set foot inside Konsthall C. It's a communal laundry-turned modern art gallery in Hökarängen that's trying to make Swedish art more accessible. Every exhibition is free, and there's a big focus on local artists from Farsta and Hökarängen in particular. Well worth a look when you're down for the beaches at Farsta strand.
Looking for more travel inspiration? We have you covered here.
Image credit: Damir, Tove Freij and Visit Stockholm