As we edge our way closer to the final chapters of 2021, a year dominated by snap lockdowns and subsequent digital connectivity, we sat down with Melbourne stylist and creative director Ella Murphy to discuss the future of fashion.
Having cut her teeth in advertising, marketing and working for iconic Australian labels like Ksubi, Shakuhachi and Ginger and Smart, Murphy has always had her finger on the pulse when it comes to fashion. From her favourite style pieces, like her Ebony Munro empire earring (left ear only, always!) and the new Samsung Galaxy Z Flip3 5G available at Optus, to virtual gaming and local labels, she's forever hunting down the freshest trends while making them her own.
Here's what the future of fashion has in store for us, according to Ella Murphy.
The Future Faces Of Fashion
If you thought the future of fashion lay with huge conglomerates, think again. As the world came to a collective halt, we finally opened our eyes to fast fashion and how it plays a major role in our climate crisis. Across the next decade, the fashion industry's carbon footprint is set to increase to 2,791 million tonnes and will create 148 million tonnes of waste. The good news is the power lies with consumers supporting local designers who are paving the way with future tech and sustainability, something that Murphy is an advocate for.
"I am really passionate about supporting local artists, artisans, and brands. My wardrobe and home are filled with these local brands and designers. I am so inspired by fresh creative talent, I believe they are the engine room to the industry," says Murphy.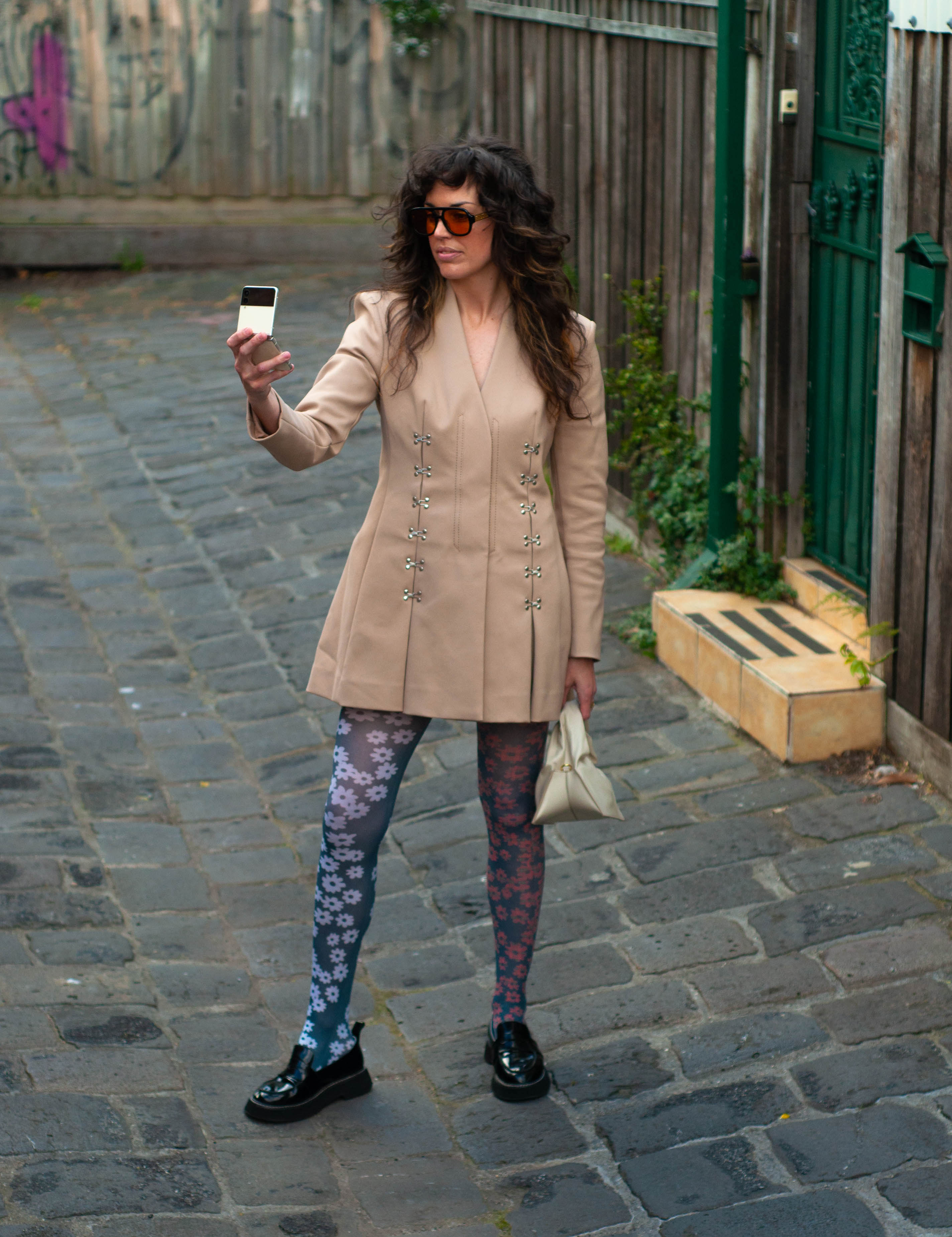 Jacket dress by Dion Lee and bag by YUZEFI from The New Trend, stockings by Lauren Perrin from Jolie Laide, phone Samsung Galaxy Z Flip3 5G, image credit Arjun Sohal
Consumers have been crying out for authenticity, sustainability and diversity and this is what the next-gen of designers and brands are providing. Their influence has been so profound that it's forcing creatives in power positions to rethink their old-school game. Gucci, arguably one of the most influential fashion houses, launched their Culture of Purpose and promised sustainable changes like "low-impact alternative and sustainable materials in our collections and switching to renewable energy and implementing energy-saving methods".
Murphy says design extraordinaire Virgil Abloh has been a pioneer for the movement. "He's paving the way for a more democratic and inclusive industry. Disrupting the industry by collaborating with the younger generation to drive luxury engagement. An important trend for all to attach to, in my opinion."
Virtual Fashion
There's no denying fashion's trajectory was steering digital but as we escaped our physical worlds and sought connection and togetherness in digital spaces throughout the pandemic, it's clear our digital revolution isn't around the corner, it's already here.
"We are living a digital life, co-existing between virtual and the real world. We have our social media profiles, for example; Instagram which looks different to your LinkedIn. This means identities are being altered depending on the platform, and these multiple personalities need to be dressed according to their identity, and virtual fashion is a more accessible way for people to create these identities," explains Murphy.
"In particular, gaming, with a market comprising billions of people across the world. Virtual fashion and tech is an undeniable market for brands that I am extremely passionate about driving awareness to," she says.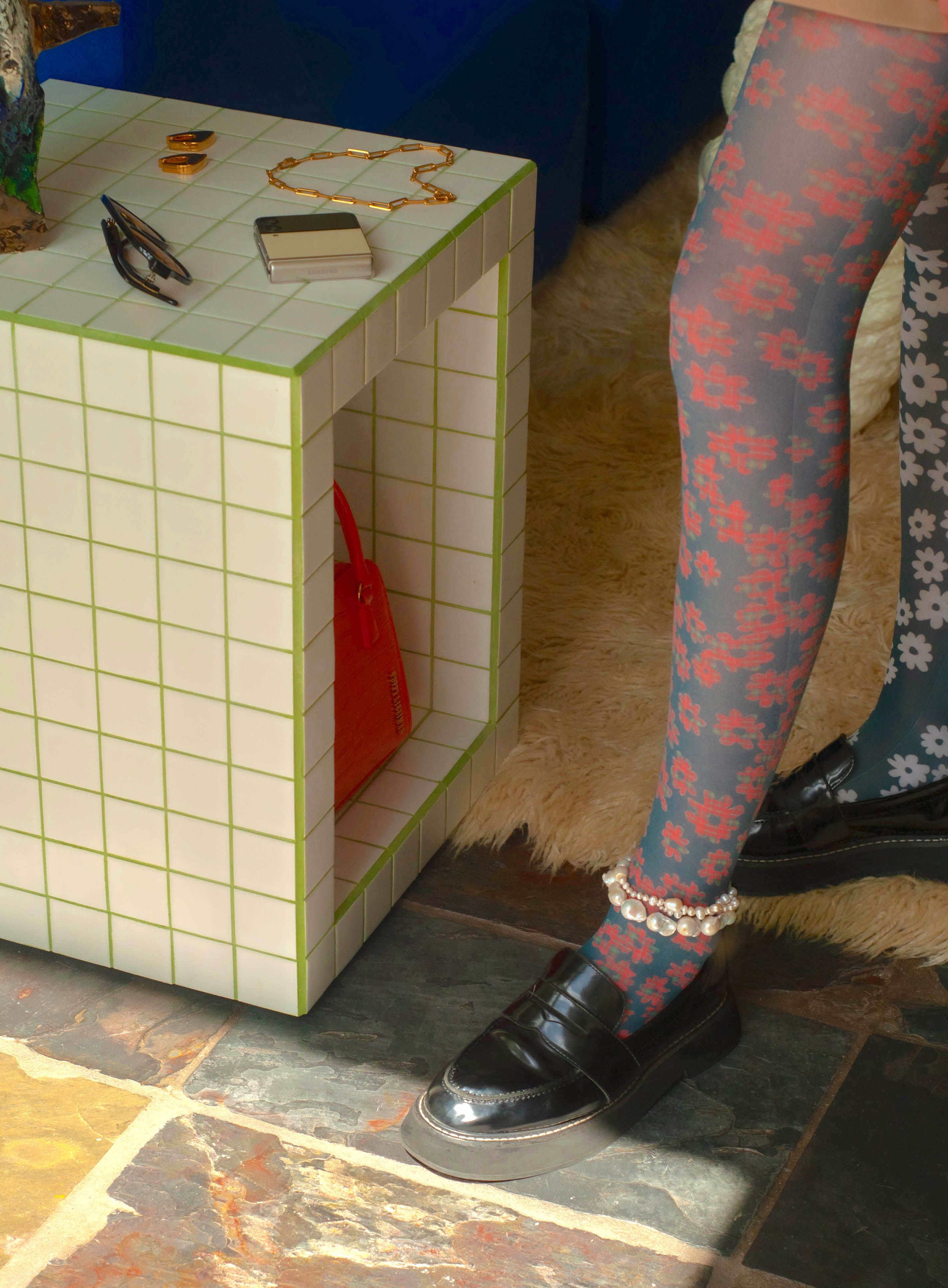 Stockings by Lauren Perrin from Jolie Laide, anklet by Peiyi, plinths by P0ly Designs, sunglasses and bag by Poppy Lissiman, jewellery by Oroton, phone Samsung Galaxy Z Flip3 5G, image credit Arjun Sohal
As for Murphy's personal Instagram, well, as expected it's a dreamy wonderland showcasing of some of Australia's best artists and designers. For Murphy, capturing content for brands is the bread and butter of what she does, and she leans on the new Samsung Galaxy Z Flip3 5G available at Optus to get the job done.
"I love using the hands-free and Flex Mode when shooting selfies, it achieves the perfect angle every time, saving so much time," Murphy says.
"Plus, editing my pics is minimal. The built-in filter, Lolli, is a no-fuss dream. I also love a tiny bag or no bag at all, so the design and pocketability are perfect for me."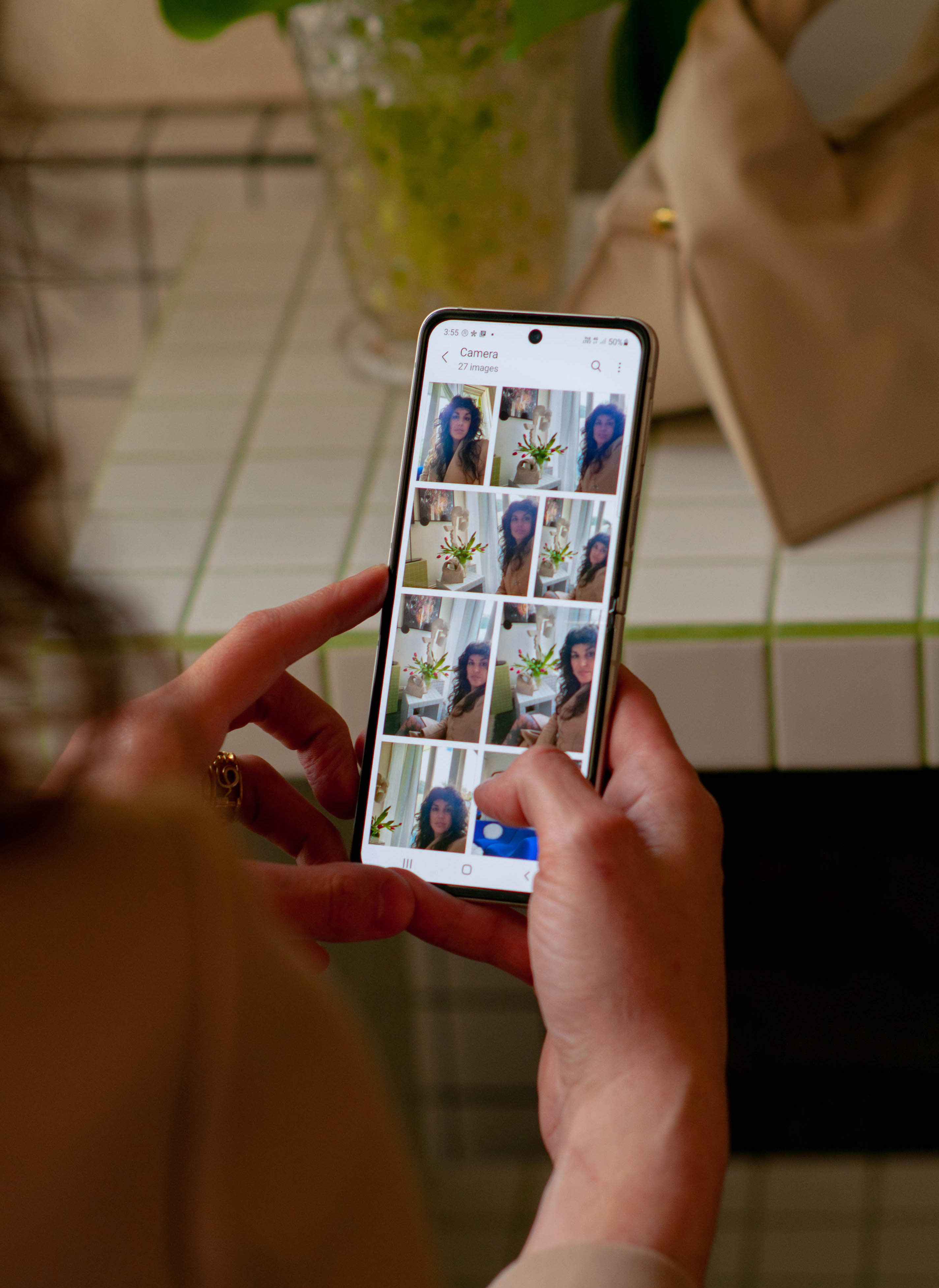 Image credit Arjun Sohal
History Will Always Repeat Itself
The future of fashion will forever be a perfect mix of history paired with cutting-edge global trends. It's safe to say what goes around comes around, evident by the past few years being dominated by 90s and early noughties style trends reconceptualised with a modern twist.
"In general, the art world and history are crucial to conceptualising my creative direction. However, with a background in marketing, I am invested in keeping up with global trends to inspire my work. Vogue Runway and Business Of Fashion serve as the core of this."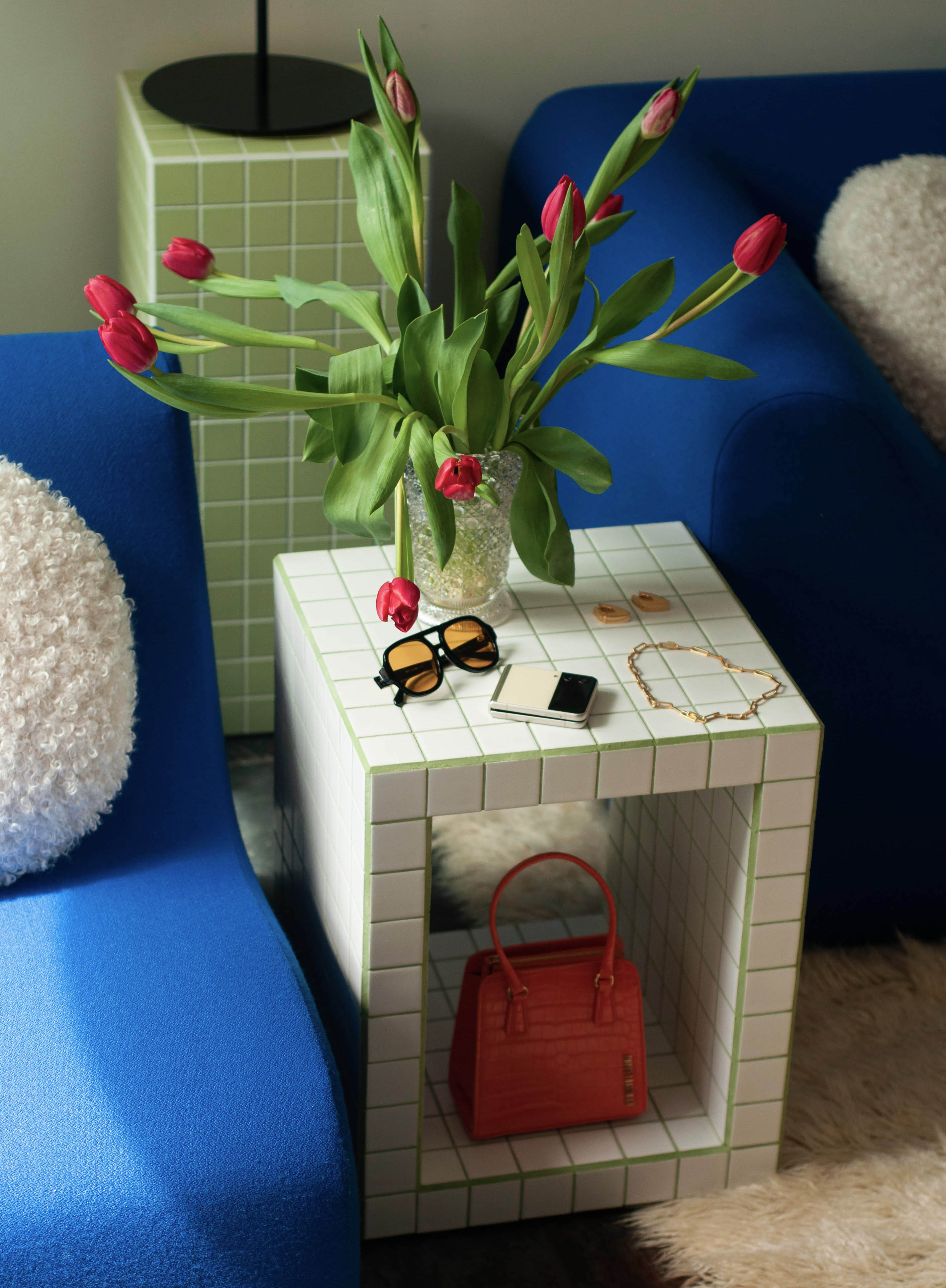 Couch by Monde, cushions by Mood Objects, plinths by P0ly Designs, lamp by Nicole Lawrence Studio, ceramic vase by Ara Dolatian, sunglasses and bag by Poppy Lissiman, jewellery by Oroton, phone Samsung Galaxy Z Flip3 5G, image credit Arjun Sohal
Fashion and design is a fast-moving beast so Murphy also looks to retail futurists like Doug Stephens to keep abreast of trends.
"Doug Stephens is an educator that I look up to. His knowledge and forecasting help my communication with clients for why I think a certain positioning or creative direction is in their best interest. Whatever client I am working for, I draw parallels to moments in history, current trends and physical locations to inspire my creative direction."
Culture And Community
Building a community is no longer a 'nice to have' but crucial to a brand's success story and for Murphy, culture and community is what she loves most about Melbourne and how it fuels her inspiration, "The undercurrent for creativity is at your fingertips. Inspiration everywhere," she says.
"Perks and Mini (P.A.M) are my go-to fashion label bringing angles on positivity, community spirit, connection and joy. I will write home about these local heroes forever."
This rings true for the likes of Melbourne store Error404 that have built a community around their physical store and digital spaces. Through workshops, artist Q&As, launches, DJ nights, poetry readings, and more, they've successfully brought together creative communities to raise awareness for the future of a healthier, more collaborative, forward-thinking planet.
Likewise, collaborations have been huge for brands to successfully cross-pollinate audiences and continue to build inspired communities. Call it the Virgil Abloh effect—or call it what you will—but we go nuts for a brand collab.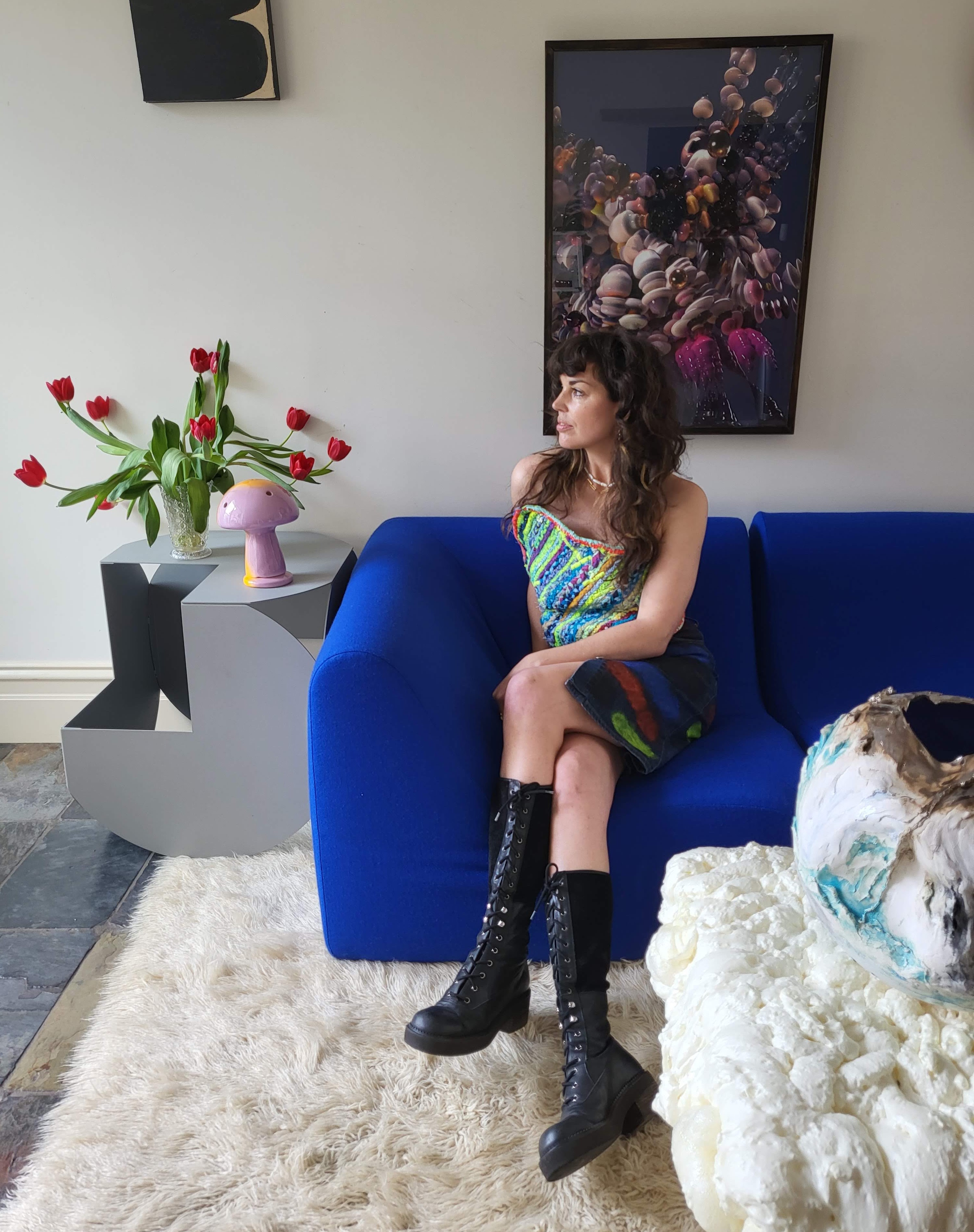 Side table and top by Iordanes Spyridon Gogos, skirt by Moss Tunstall, earring by Ebonny Munro, pearl necklace by Par-Moi, gold necklace and rings by Oroton, 3D wall art by Mikaela Stafford, mushroom ceramic by Comfy, couch by Monde, cushion by Outer Leaves, coffee table by Ella Murphy, ceramic orb by Ara Dolatian, photo taken on the Samsung Galaxy Z Flip3 5G
"Collaboration is the essence of what I do. I will open my own studio soon, a showroom and collaborative space to foster growth as a community. I'm super excited to be housing Iordanes Spyridon Gogos by Jordan Gogos. If you haven't heard of him, look him up. He is a force and an icon disrupting the system for the better! I encourage any brand looking to collaborate to reach out and explore possibilities."
For those who are navigating the fashion and design world, Murphy recommends finding your community, "Find a network—Instagram is amazing for this—and build your portfolio with them. Be transparent and honest and your community will take you to the top."
As for Murphy's top styling tips, she assures it's all about experimentation, "Don't worry about what other people think. First instincts are usually the winner. Be different."
Style your way with the digital-first Samsung Galaxy Z Flip3 5G available at Optus. With its compact size and dual screens to take selfies and edit at the same time, there are so many reasons why it's the must-have tech accessory for the style-savvy.
And the best part is, you can buy it now and pay over a 12, 24 or 36 month period on a device payment plan with OptusPay completely interest-free.
Editor's note: This article is sponsored by Optus and proudly endorsed by Urban List. Thank you for supporting the sponsors who make Urban List possible. Click here for more information on our editorial policy.