If you've ever seen a picture of Cappadocia's dreamy hot air balloons we're guessing that it's probably on high your travel bucket list, and rightly so. But you might be wondering what else there is to do in this Turkish hot spot, and fret not; there's plenty. With some of Turkey's most unique landscapes thanks to the whimsical fairy chimneys and crazy rock formations, Cappadocia is a pretty spectacular place to explore. There's also beautiful hikes, the best sunrises and sunsets and so much delicious food to get your hands on.
Here are eight of the best things to do in Cappadocia.
Go Hot Air Ballooning
Let's start with the most obvious. Whether you take to the skies yourself or simply watch with both feet firmly on the ground, the hot air balloons in Cappadocia should be at the top of your list. With such a unique landscape, the sunrises here are already pretty enchanting but add 100 or so hot air balloons to the mix and it's absolutely out of this world. And yes, we can confirm it's even more spectacular in real life. If you're planning on going up then be sure to book in advance, especially if you're only staying in Cappadocia for a few nights. If you want to see the action from the ground, talk to a local for the best spots close to your accommodation—Cappadocia is spread out and you'll want to find somewhere close by at sunrise.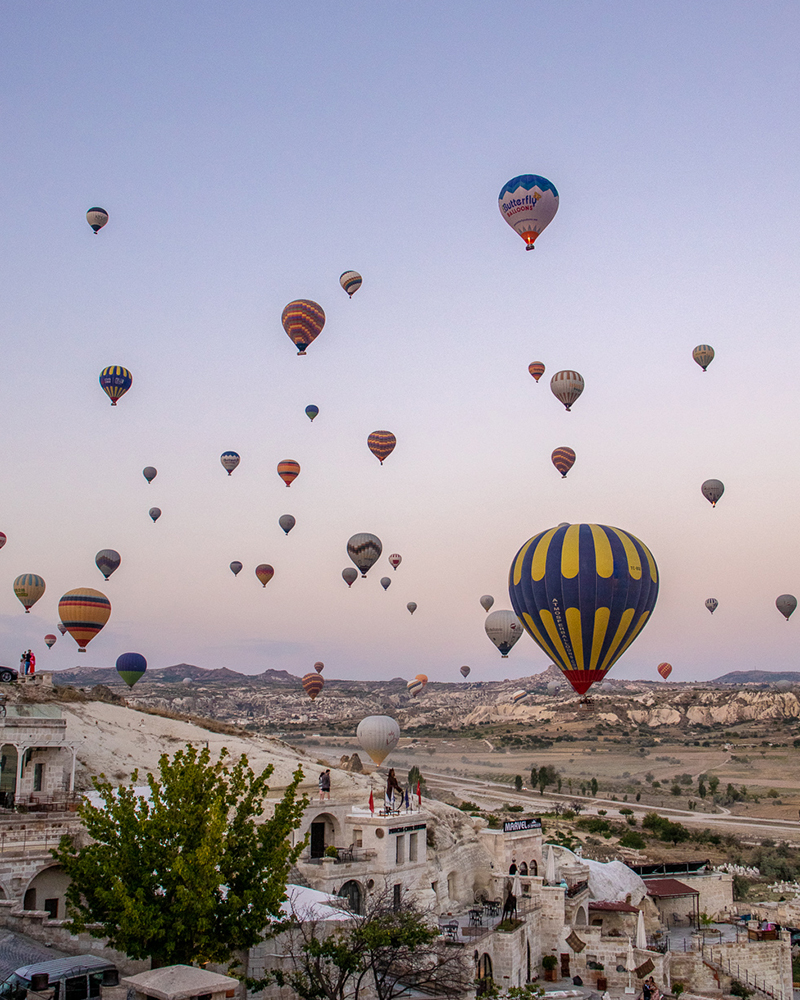 Stay In A Cave Hotel
Cappadocia is full to the brim with cave hotels and the good ones are nothing short of spectacular, but before you decide on which cave hotel to call home, you need to decide where to stay. Cappadocia is spread out but the main areas people tend to stay in are Goreme, Cavusin and Uchisar. Goreme has the best access to restaurants, cafes, shops and tour operators, but is also the most crowded. Cavusin and Uchisar, on the other hand, are quieter and have just enough restaurants each to keep you entertained for a few nights, plus it's easy and cheap to get taxis and buses between the towns. Hotels usually provide pretty epic breakfasts and the staff are more than happy to help you book activities, which is why we generally prefer to stay outside of Goreme. Our top pick is Seki Cave Hotel in Cavusin, not only because its terrace offers one of the best views for watching the hot air balloons, but also because of the super-luxurious rooms and its proximity to Seyyah Han—one of our favourite Turkish restaurants in Cappadocia. If you want to stay in amongst the action in Goreme, check out Artemis Cave Suites for pure luxury complete with a traditional Turkish bath.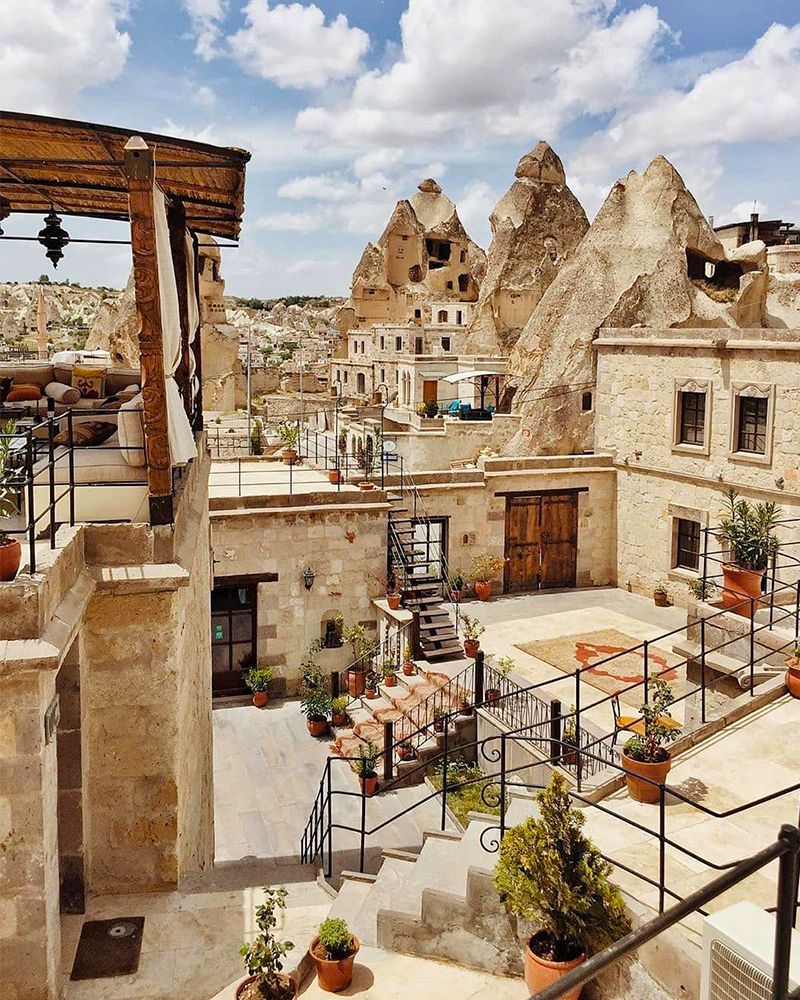 Go Underground
There are more than 36 underground cities in Cappadocia and 10 of them are open to the public, so you'd better get exploring. Derinkuyu is the deepest at 85m below the ground and 18 levels (eight of which are open to the public) and makes for a pretty interesting excursion. It's believed that the cave cities were built by various persecuted groups over the centuries as a place to hide from enemies, with each group adding more levels and rooms to accommodate their people.
Explore The Valleys
If you don't mind stretching the legs then you're in luck because Cappadocia has some pretty awesome hikes through its many valleys. It's hard to pick a favourite so make time to visit a few, whether you walk, go by horseback or take the lazy man's option and head in on an ATV. You absolutely can't miss Love Valley, if only to witness the comically shaped rock formations which aren't quite safe for work. Rose and Red Valleys can easily be done at the same time as the trails join in the middle, just try and time your visit around sunset as the pink tone of the rocks becomes even more pronounced. Pigeon Valley is good if you don't have a gut-wrenching fear of pigeons and the Ilhara Valley is absolutely worth a wander.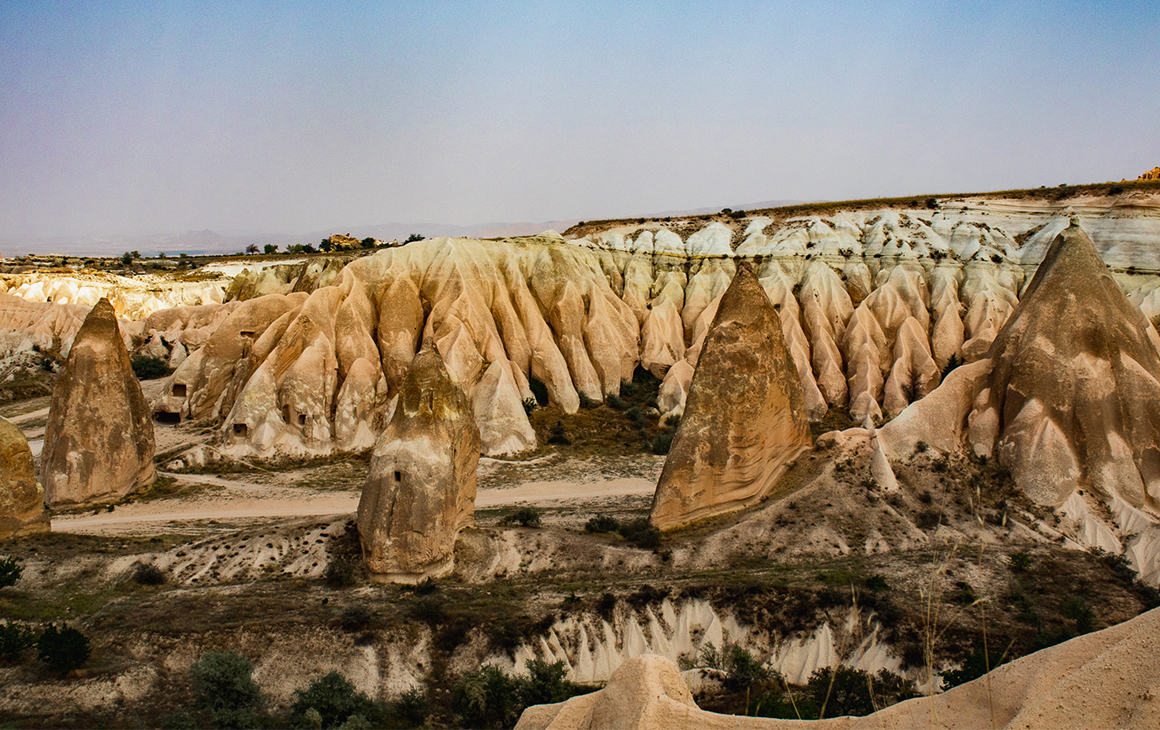 Find The Fairies
Fairy chimneys that is. Thanks to a bit of volcanic ash and millions of years of erosion, Cappadocia is littered with huge rock formations—fondly known as fairy chimneys—many of which were excavated and used as homes from as long ago as the 3rd century. There's no real need to go and seek the fairy chimneys out, you'll see them wherever you go in Cappadocia, but a walk amongst the mushroom-shaped chimneys in Pasabag Valley is not a bad way to spend a morning.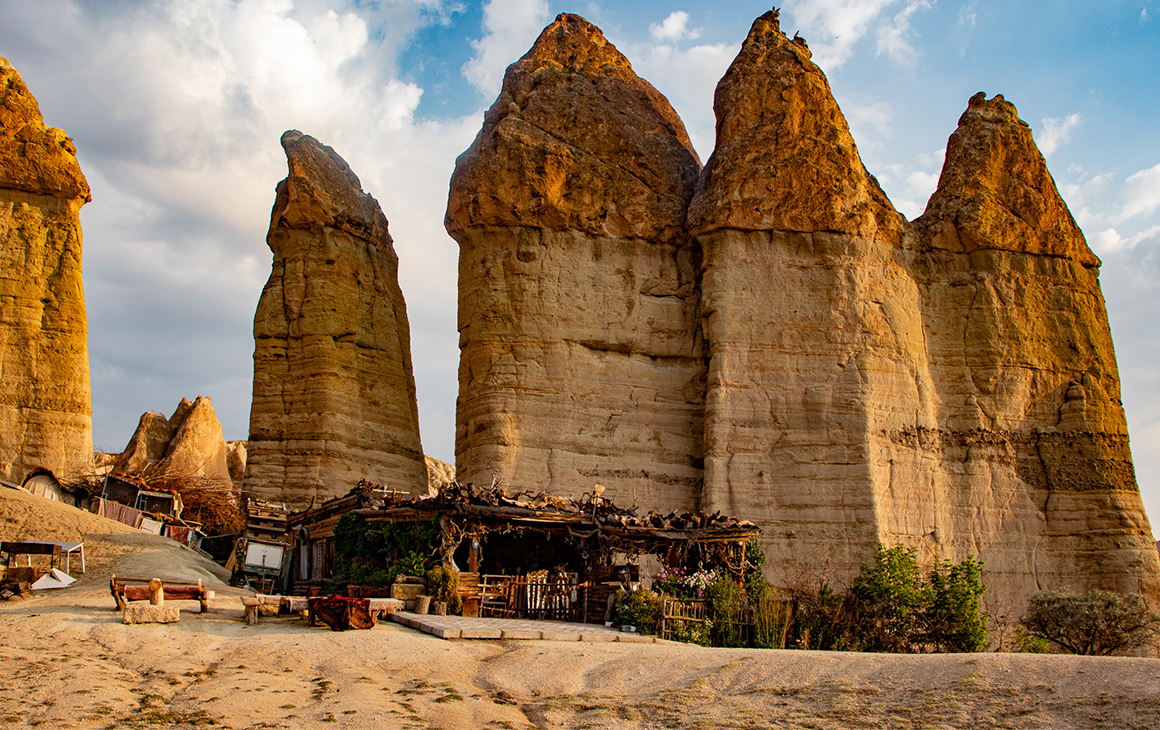 Check Out The Castles And Monasteries
After all this chat about living in fairy chimneys and underground cities, it shouldn't come as much of a shock that the castles and monasteries are all carved out of stone too. Head to Uchisar Castle to explore the excavated rock formation and head right to the top for one of the best views in town. When it comes to monasteries, it's hard to beat Selime Monastery which also offers impressive views that Star Wars fans will find familiar (this area is where the inspiration came from, but it wasn't filmed here sorry guys) and fascinating history. A walk through the UNESCO World Heritage Listed Goreme Open Air Museum is also pretty impressive.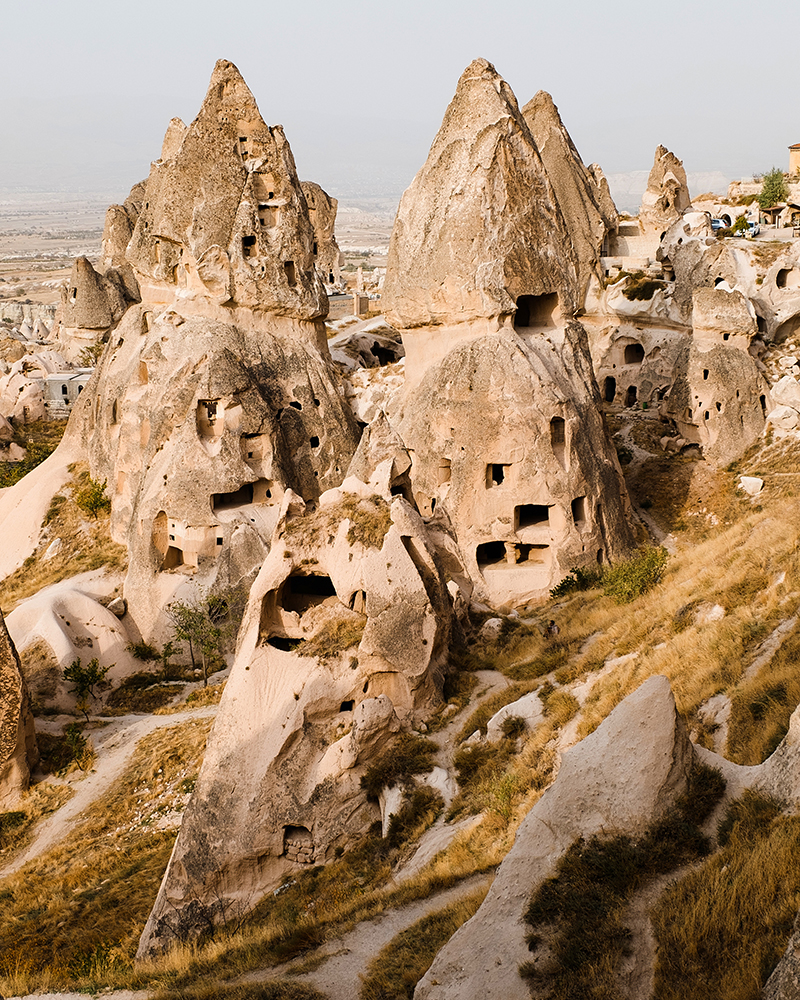 Cook Up Some Turkish Cuisine
You've slept in a cave, explored an underground cave city, seen cave castles, monasteries and homes. Now it's time to learn to cook authentic Turkish food in a cave. Cafe Safak pours the best coffee in town but they also run the best cooking classes, so if you have any interest in learning to cook Turkish food to impress your mates back home, this is the place to do it. Book by asking at the cafe, you'll only need to book a day in advance and no doubt you'll be here most days getting your caffeine fix.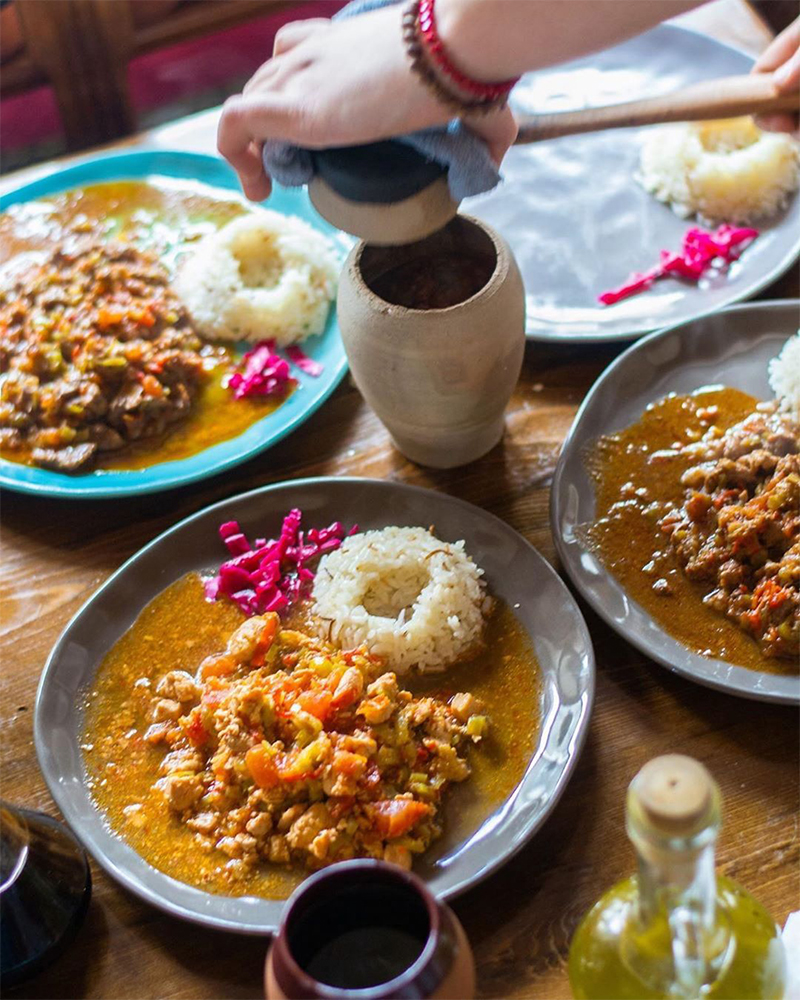 Eat A Testi Kebap
Cappadocia is famous for its Testi Kebap; a dish cooked and served inside a clay pot which you have to crack open in order to get to the food inside. Don't worry, it's not just a novel idea that doesn't deliver on flavour. It's cooked for at least four hours, allowing the meat to become nice and tender and absorb all of the flavours of the dish—think eggplant, tomato, garlic and peppers. Get one at Dibek Restaurant and thank us later.
Once you've picked your jaw up off the floor, it's time to check over to Istanbul with this cracking first-timers guide.
Image Credit: Anna Franklyn, Artemis Cave Suites, Shvets Anna