There are some pairings that are just total matches made in heaven. The Duke of Hastings and Daphne Bridgerton, chocolate and strawberries, pineapple on pizza (don't at us) and now there is another to add to the list—TWOOBS and Cungelella Art.
That's right, the vegan shoe queens have joined forces with the achingly talented Glenda McCulloch of Cungelella Art to create a truly stunning capsule collection and yes you're going to want a pair stat!
The collection features three lycra sandals made from vegan and recycled materials, fusing McCulloch's beautiful Indigenous art with two classic TWOOBS silhouettes.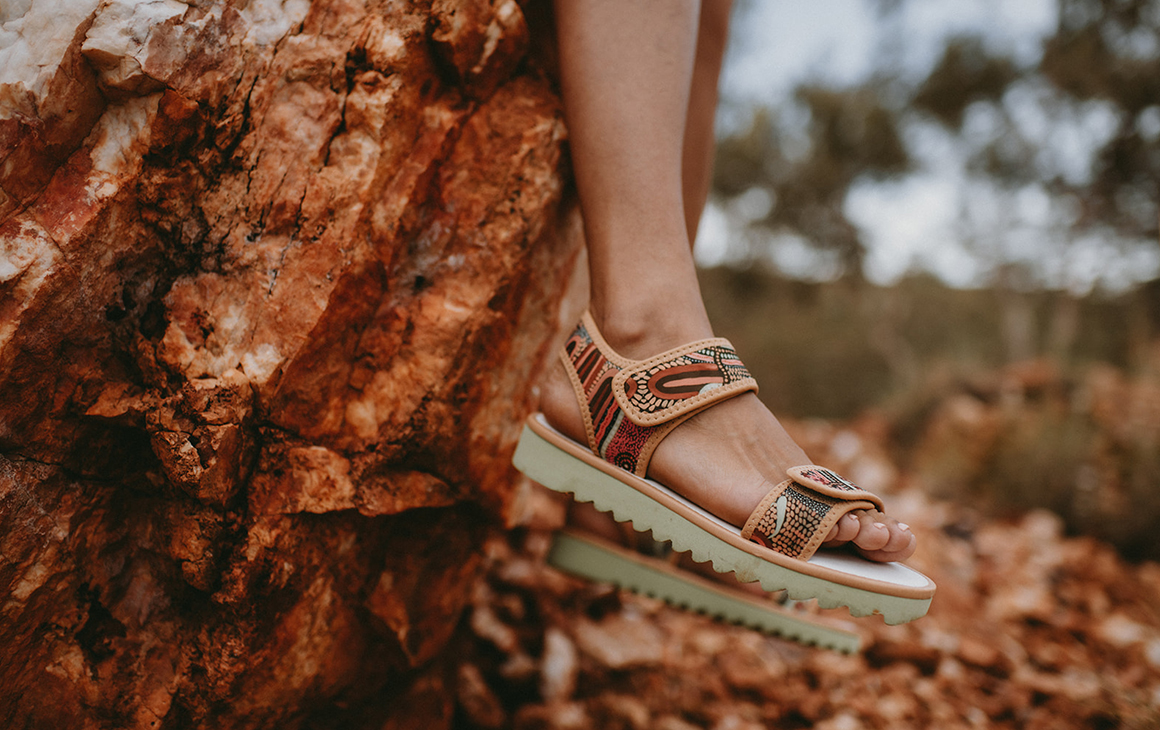 TWOOBS founders Jess and Stef Dadon said the pairing up with Glenda was a no brainer.
"Our team had been talking about doing a collab with an artist for quite a while, but we hadn't really found one that felt like the right fit," explains Stef. "Then at the beginning of 2020 Glenda popped into TWOOBS' DMs saying she'd just purchased her first pair of TWOOBS, and asked if we'd be interested in collaborating."
"We instantly fell in love with Glenda's contemporary take on traditional Australian Indigenous art so wrote back saying we were keen, she DMed us back her phone number, and then all it took was a phone call to realise this was going to be something epic! When the alignment feels just right it's really as easy as that. It's a pretty cool reminder of how anything can happen if you take the leap and reach out."
McCulloch, a proud descendent of the Kalkadoon people of Mount Isa founded Cungelella Art back in 2019 as a way to share her culture through modern Aboriginal art. It soon expanded to include her sisters Jaunita Doyle, Dale Bruce and Cheryl Perez. The siblings now live on Kalkatungu Country and paint the story of their homelands in their work.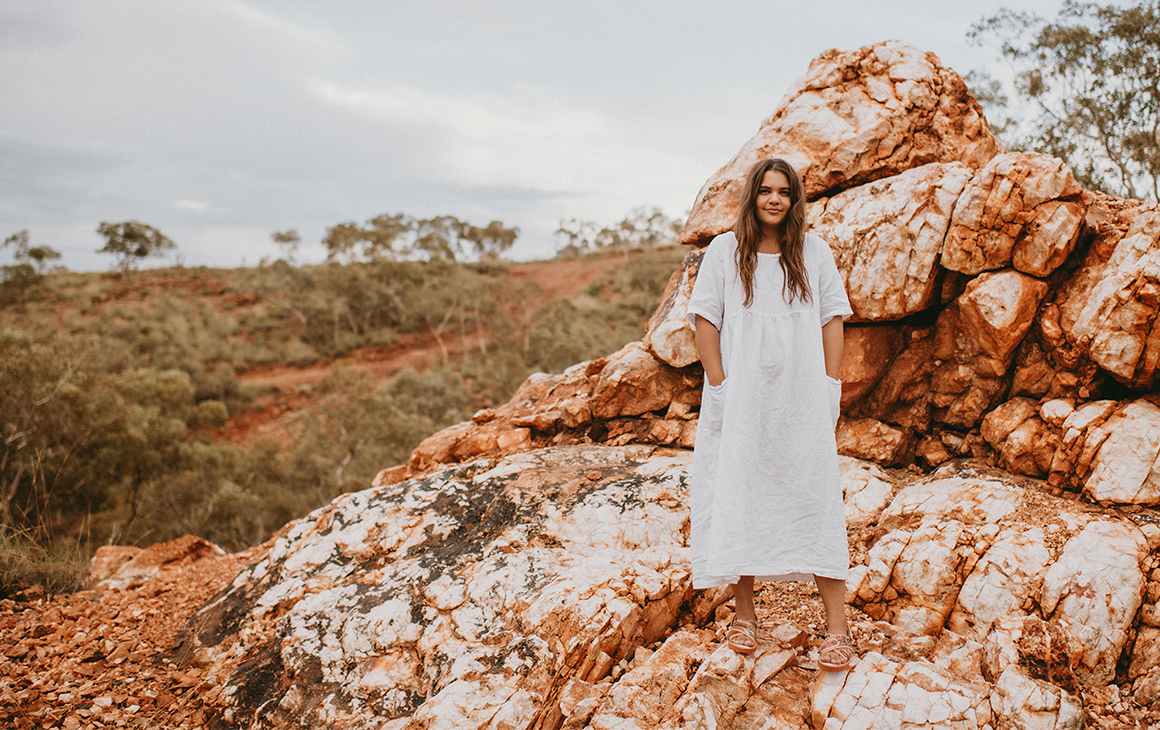 "Our home has one of the most beautiful landscapes in the world, the colours and textures of Kalkatungu country is like nowhere else," explains McCulloch.
"[For the artwork on the shoes] I have depicted wild flowers, the rough rocky hills and also a special meeting place. This meeting place represents my family gathered together at home on country. The end product blew my sisters and I away, we absolutely love fashion and art so this is the perfect combination."
As with everything created by the Dadon sisters, sustainability is at the forefront, which is why the collection contains just three, exclusive styles.
"We were able to print [the art] onto the recycled materials that we had sourced for the rest of our collection, and considering that Glenda's artwork is all about honouring the land on which she lives, we feel like there's such an incredible synergy that these shoes were made with minimising environmental impact in mind. Like with all our shoes, once these reach the end of their lives customers will be able to return them to us to be turned into something new like playground mats."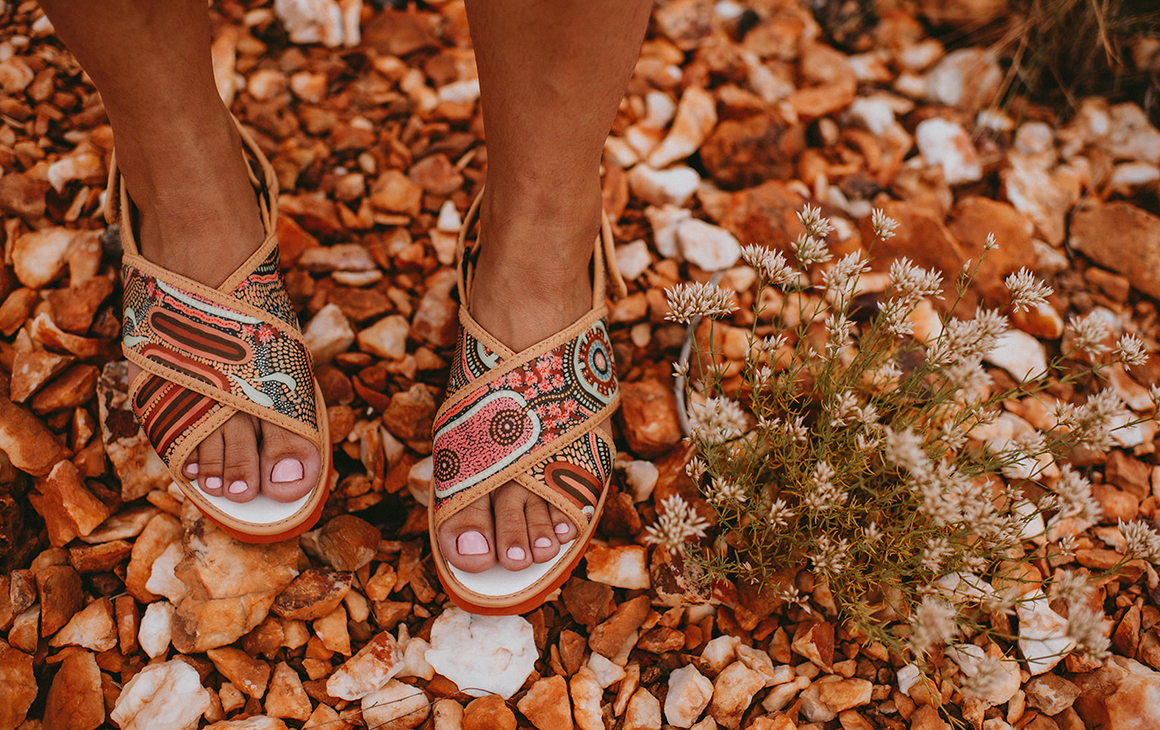 The result is a truly special collection that culminated in a gorgeous photo shoot with McCulloch and her sisters modeling the designs on Kalkatungu Country.
"The shoot is something as young girls we dreamt of because from a young age we always loved dressing up and would be fake models for our parents with crazy outfits we had put together," says McCulloch. "Being able to do it together was so exciting and the shoes blended beautifully in with the red rugged landscape."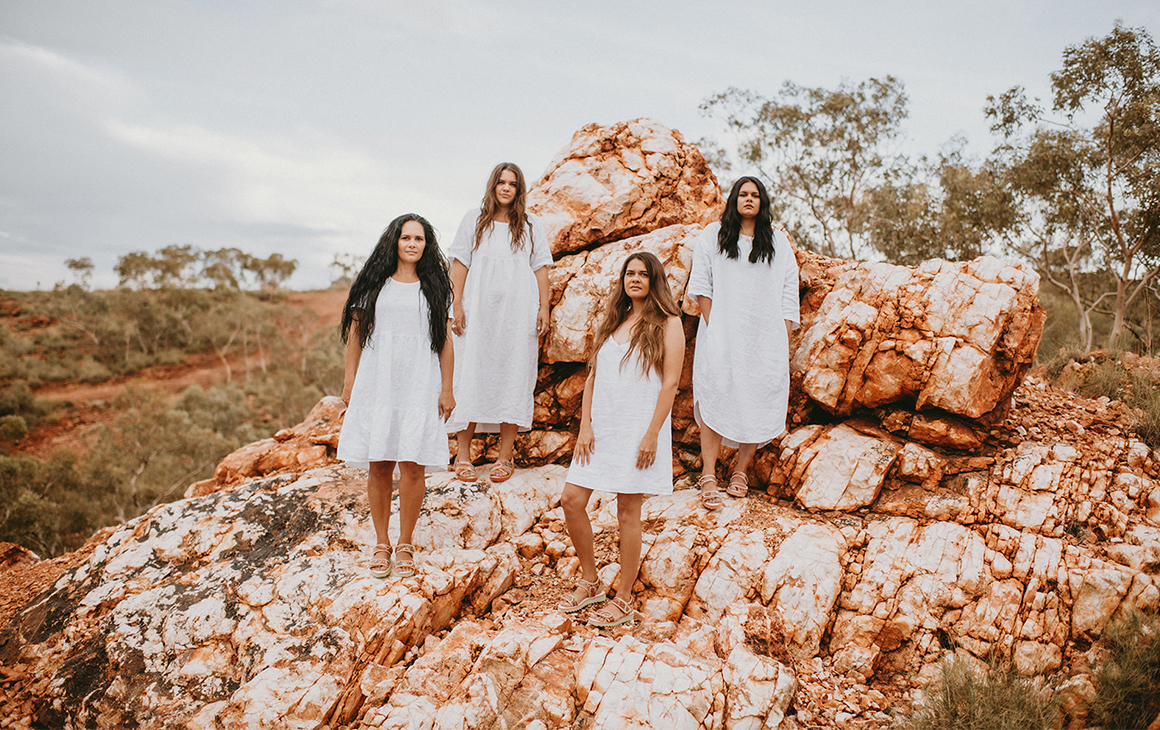 Given how heavenly this partnership has been, can we expect any future collabs with TWOOBS?
"Definitely," says Jess. "Our customers have gone crazy for printed TWOOBS in the past, with our last print collab selling out in a matter of hours, so it's certainly something we're going to be doing more of. We love to support emerging artists, so who knows, maybe someone will read this and DM us and that will be the beginning of another exciting collab…"
You know what to do guys! Head here to shop the collection, it drops Thursday 18 February.
Image Credit: Vida Images