Someone once said, "it's always a good day for a doughnut," and we wholeheartedly agree. In their humble origins, doughnuts were simply fried and coated in sugar, but fast forward to 2022, and many a cafe are pumping out house made doughnuts that boast bold new flavours, new dough-making techniques and an all new type of sweet sensation.
For the best doughnuts in Brisbane that will really knock your socks off, look into our round up of some local cafes and bakeries churning out the sweet treats, and then tell us if you prefer Krispy Kremes.
Doughluxe Doughnuts
Various Locations
Made in small batches for the ultimate slow rise creation, Doughluxe Doughnuts are the most sought after doughnut in Brisbane right now, no thanks to their array of darn tasty flavours. We're talking creme brûlée, Nutella and honeycomb, lemon meringue, salted caramel and strawberry jam, all perfected by the dough that so perfectly surrounds the filling. You can order them online for delivery, stop by their market stall at the Brisbane City Markets on Wednesdays or hunt them down at a heap of local cafes around town.
Flour & Chocolate
Morningside, Northgate And Redcliffe
It's important you visit Flour & Chocolate with an empty stomach and a full wallet, because you will want to buy one of everything they are selling, especially their donuts (sold on Wednesdays) and gonuts (sold on Thursdays). Just a few of the mouth-watering flavours which change every week include salted caramel, dark-chocolate pistachio, toffee, creme brûlée and passionfruit curd. Woah mama, clear my schedule.
Bella & Tortie
Grange
Canelés might be Bella & Tortie's signature sweet, but their doughnuts are developing quite the cult-following too. Every Friday you'll find soft and fluffy housemade bomboloni doughnuts stuffed with flavours like salted caramel, raspberry jam, passionfruit curd, lemon curd and mascarpone and more.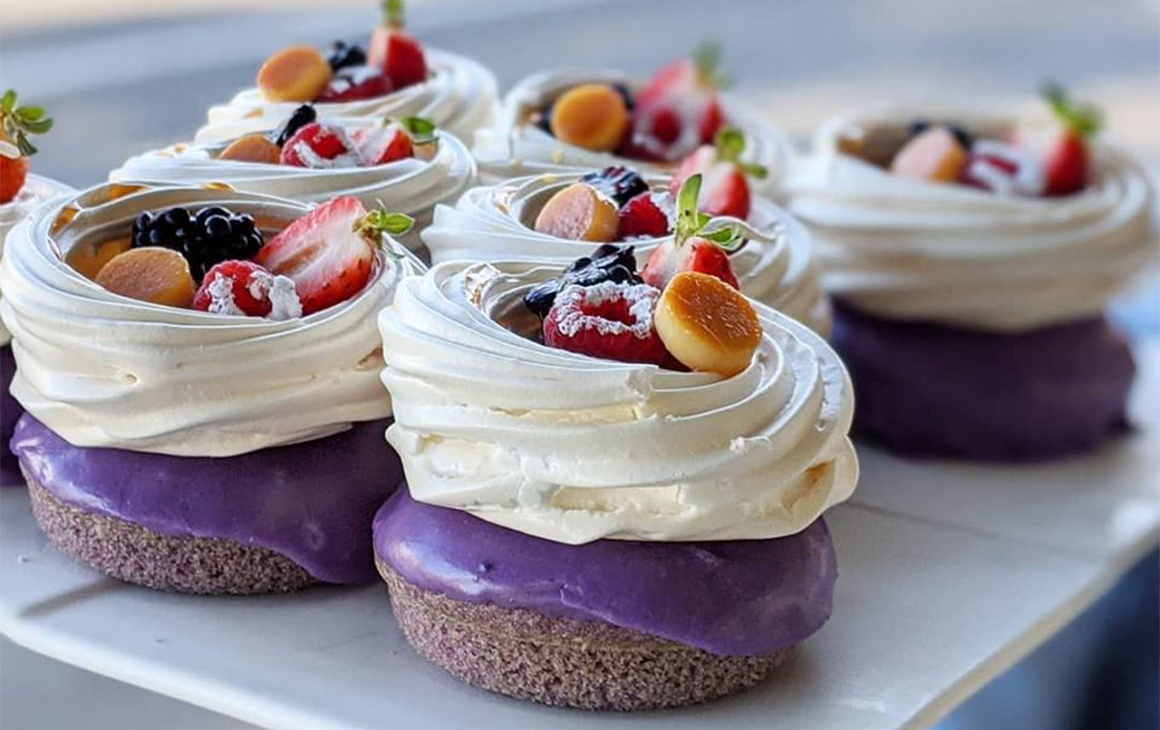 Dovetail Social
Norman Park And Highgate Hill
With a menu that's entirely gluten free (but adjustable), the team at Dovetail Social (or Dovetail On Overend in Norman Park) are baking masters, seen in their absolute favourite ube pavlova doughnut. Dovetail definitely live up to things tasting as good as they look, so if you can picture the purple baked good, just imagine how great it tastes. But if you're after different flavours, you can also expect passionfruit, lamington and Oreo doughnuts, all of which hit the spot.
Harris Farm Markets
West End
Inside Harris Farm Markets you'll find Rebel Donuts, who are slinging every kind of doughnut you could want. You want a classic cinny doughnut? They've got it. Cream filled? They've got that too. How about glazed and covered in sprinkles? Yep, and they come in a heap of flavours too. The only hard part will be coming out of Harris Farm Markets with just a box of doughnuts.
Doughma
Upper Mt Gravatt
Coming out of a hole-in-the-wall spot in Mt Gravatt, Dough Ma doughnuts are some of the fluffiest, most cream-filled doughnuts you'll find in all of Brisbane, and they come in more flavours than you can imagine. Walk up to their counter and you'll be treated to the sight of an array of rainbow-coloured round doughnuts filled with sweet whipped cream in flavours like Lotus Biscoff, triple choc Timtam, salted caramel Nutella cheesecake, Golden Gaytime, taro and vanilla slice, just to name a few.
Brooklyn Donut
Various
There's no missing Brooklyn Donut's locations inside their shopping centre homes—if the bright orange branding doesn't reel you in, the epic filled and glazed round treats definitely will. Flavours include apple crumble, chocolate brownie, golden Ferrrero, red velvet and cafe latte, as well as the OG glaze, jam and caramel.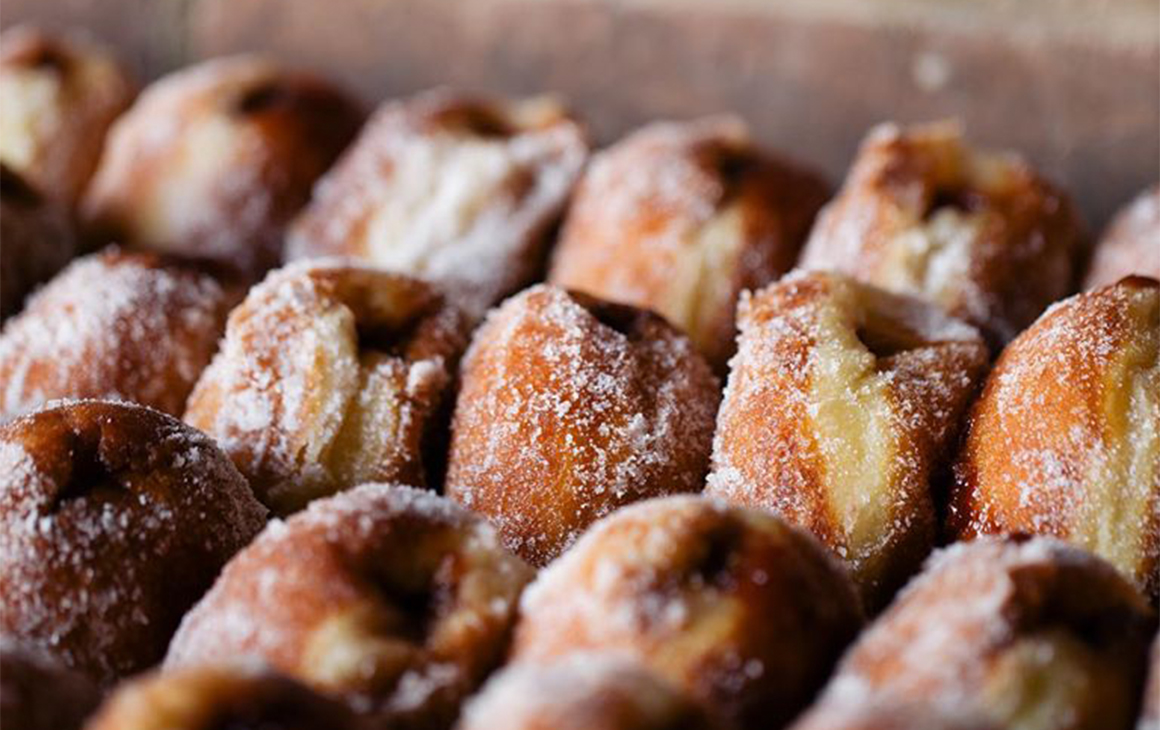 Agnes Street Bakery
Fortitude Valley
If you prefer your doughnuts to have a smokier, woodfired flavour, then Agnes Street Bakery is the outpost for you. All of their baked goods, including their doughnuts, are made in a woodfired oven, and the flavour, texture and appearance imparted by the woodfire gives Agnes's doughnuts an impeccable point of difference. Imagine the taste of sugar dusted, butterscotch filled doughnuts, caramelised and charred by the heat of the oven. Excuse our dribble.
Nodo Donuts
Various Locations
All hail the royal family of doughnut makers, Nodo. Rotating new flavours monthly, Nodo are no doubt the pinnacle of gluten-free doughnut making in Brisbane, with their mouth-watering baked doughnut flavours including apple and native cinnamon sugar, strawberry hazelnut, raspberry and white chocolate, blueberry lemon cheesecake and a vegan mylk and mylo doughnut, just to name a few.
Crusty Devil Bakehouse
Carina
Get your hands on a box of Crusty Devil's cream-filled or iced doughnuts and you'll have yourself a box of heaven. These freshly made goodies come in flavours like rhubarb and cream, Caramilk, cookies and cream, custard cream beesting and rocky road, so whatever your preference, you're covered.
If you need more sugar, these are the sweetest desserts to get takeaway right now.
Image credit: Doughluxe Doughnuts, Dovetail Social, Agnes Bakery