Someone once said, "it's always a good day for a doughnut," and we wholeheartedly agree. In their humble origins, doughnuts were simply fried and coated in sugar, but fast forward to 2020, and many a cafe are pumping out house made doughnuts that boast bold new flavours, new dough-making techniques and an all new type of sweet sensation.
For the best doughnuts in Brisbane that will really knock your socks off, look into our round up of some local cafes and bakeries churning out the sweet treats, and then tell us if you prefer Krispy Kremes.
Doughluxe Doughnuts
VARIOUS LOCATIONS
Made in small batches for the ultimate slow rise creation, Doughluxe Doughnuts are the most sought after doughnut in Brisbane right now, no thanks to their array of darn tasty flavours. We're talking creme brûlée, Nutella and honeycomb, lemon meringue, salted caramel and strawberry jam, all perfected by the dough that so perfectly surrounds the filling. Stocked at local cafes, you can hunt down these next-level doughnuts at Lil Gypsy Van, Morning After, Yolk and St Coco Cafe, among plenty of other locations.
Flour & Chocolate
Morningside
It's important you visit Flour & Chocolate with an empty stomach and a full wallet, because you will want to buy one of everything they are selling, especially their donuts (sold on Wednesdays) and gonuts (sold on Thursdays). Just a few of the mouth-watering flavours which change every week include salted caramel, dark-chocolate pistachio, toffee, creme brûlée and passionfruit curd. Woah mama, clear my schedule.
OMG Decadent Donuts
DELIVERED
Plating up gluten free and vegan doughnuts, OMG Decadent Donuts set themselves apart by delivering their freshly baked goods directly to your door. With coating flavours like choc mint bliss, strawberry patch and classic cinnamon, you're never going to be more excited for a delivery to arrive.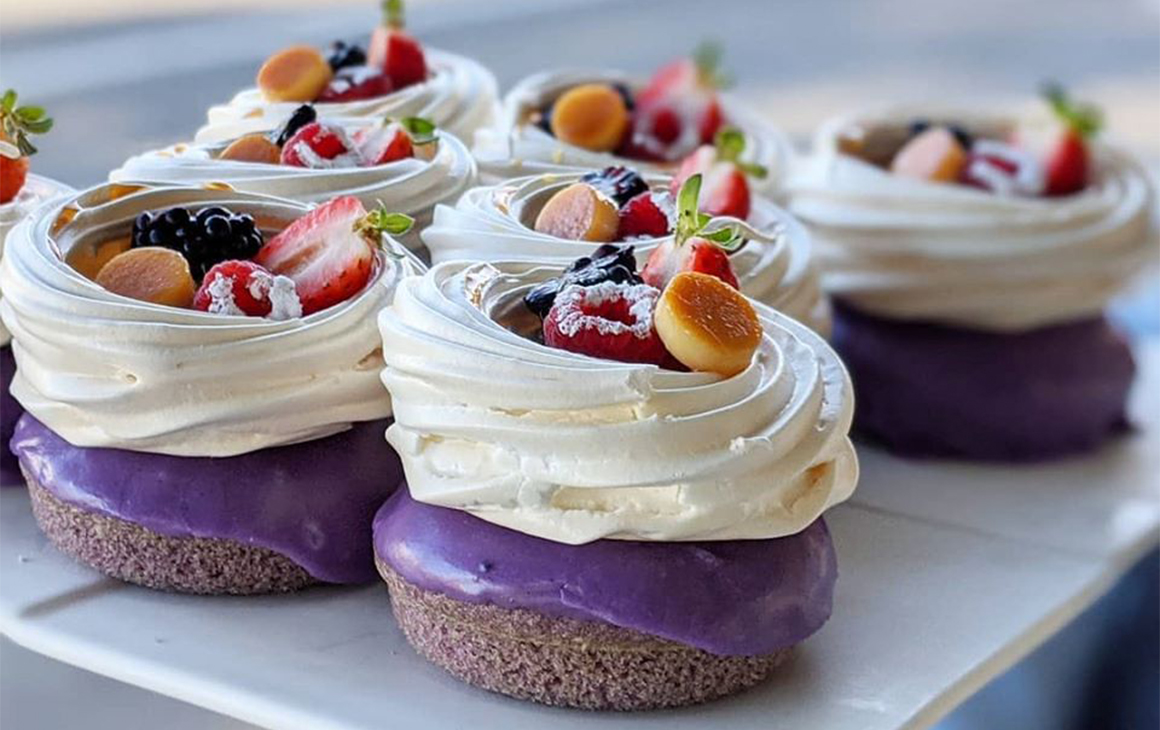 Dovetail On Overend
Norman Park
With a menu that's entirely gluten free (but adjustable), the team at Dovetail on Overend are baking masters, seen in their absolute favourite ube pavlova doughnut. Dovetail definitely live up to things tasting as good as they look, so if you can picture the purple baked good, just imagine how great it tastes. But if you're after different flavours, you can also expect passionfruit and apple crumble doughnuts, all of which hit the sweet spot.
Brewbakers
Albion
For sourdough donuts that will make your mouth explode with anticipation, Brewbakers are the bakery to seek out. With jam, chocolate and caramel filled doughnuts, with the added bonus of the sourdough tang, Brewbakers's doughnuts are just one of the reasons you should jump in the car and get to their Albion store as fast as possible.
Pawpaw Cafe
Woolloongabba
Offering up cinnamon coated and filled donuts, Pawpaw Cafe's latest weekend bakery pop up is just another reason why this Woolloongabba eatery is doing so well. Whether you want a caramel fix, enveloped in fluffy dough with a crispy exterior, or a passionfruit glazed doughnut that has a zing to keep things exciting, Pawpaw Cafe will have your sweet cravings satisfied instantly.
Agnes Street Bakery
FORTITUDE VALLEY
If you prefer your doughnuts to have a smokier, woodfired flavour, then Agnes Street Bakery is the outpost for you. All of their baked goods, including their doughnuts, are made in a woodfired oven, and the flavour, texture and appearance imparted by the woodfire gives Agnes's doughnuts an impeccable point of difference. Imagine the taste of sugar dusted, butterscotch filled doughnuts, caramelised and charred by the heat of the oven. Excuse our dribble.
Nodo Donuts
Various Locations
All hail the royal family of doughnut makers, Nodo. Rotating new flavours monthly, Nodo are no doubt the pinnacle of doughnut making in Brisbane, with their mouth-watering flavours including strawberry hazelnut, raspberry and white chocolate, blueberry lemon cheesecake and strawberry shortcake, just to name a few. The key part to Nodo's gluten-free baked goods is the care and love put into their creation, as every Nodo doughnut is equally delicious, and perfectly proportioned.
Joedy's Cafe
New Farm
Dishing up everything from doughnuts to waffles, it's no surprise local favourite Joedy's Cafe have perfected the pastry artform. With their salted caramel doughnuts selling out almost instantly each weekend, Joedy's goods are highly sought after, so make sure you're there early to sink your teeth into the crispy, but light pastry and the oozy filling.
If you need more sugar, these are the sweetest desserts to get takeaway right now.
Image credit: Lil Gypsy Van, Dovetail on Overend, Agnes Restaurant