If your limbs are cracking with your every move and you've got a pinch that just won't budge, you could use some professional assistance. But we know finding a good massage joint in Brisbane you can trust with your sore spots ain't easy—and recommendations help—so we've put together a list of our faves.
If you're twitching with nervous exhaustion, read on for the skinny on where to get a damn good massage, Brisbane.
Healing Stone
Paddington and South Bank
As one of the few places offering ganbanyoku (a variety of sauna treatment that involves lying on heated stones), Healing Stone in Paddington and the Emporium Hotel in South Bank is our go-to for traditional Japanese spa treatments. Their ganbanyoku packages are designed to give you a good couple of hours to reset and relax, combining a massage treatment with time in the salt-lined ganbanyoku sauna, but you can also opt for a pure massage treatment, be it reflexology, acupoint or traditional Japanese shiatsu style.
No More Knots
Greenslopes, Newmarket and Taringa
If you're after some hardcore pummelling, look no further. At No More Knots, they're pretty much sticking by the credo on the sign out front and specialise in remedial and sports massage therapies that'll really work out your aches and pains, with locations on the northside and southside to ensure you don't need to travel far to find relief. Designed to restore function to overworked muscles, nerves and connective tissues, deep tissue massage is your best bet at getting the rig back to prime function, especially if you've been spending too much time slouching at your desk. The massage therapists at No More Knots will even give you tips for self-treatment, so you can enjoy the benefits of your visit long after your consult.
Health Place
Fortitude Valley
This Brisbane massage clinic has a very sporty client list (they count Cirque de Soleil acrobats, Wallabies, and Broncos among their devotees), and while they certainly cater for the more active among us, they can also take care of the rest of us with their massage offerings. Health Place takes a holistic approach to recovery, and can help with any aches, pains or strains you might be grappling with. Their vast array of massage therapies includes sports massage, pregnancy massage, dry needling, myotherapy and active release technique for soft tissue and repetitive strain injuries. Their therapists will even make a house call within 13kms of the city so you don't need to sacrifice your lunch break for a treatment.
Heavenly Spa
Brisbane City
Tucked inside The Westin, Heavenly Spa is truly an escape in the heart of the city. Offering loads of treatments from algae body wraps to nourishing facials, the massages are completely blissful, with options including hot stone and aromatherapy massages, remedial and pregnancy massages, and even a glorious couples massage session for a romantic retreat.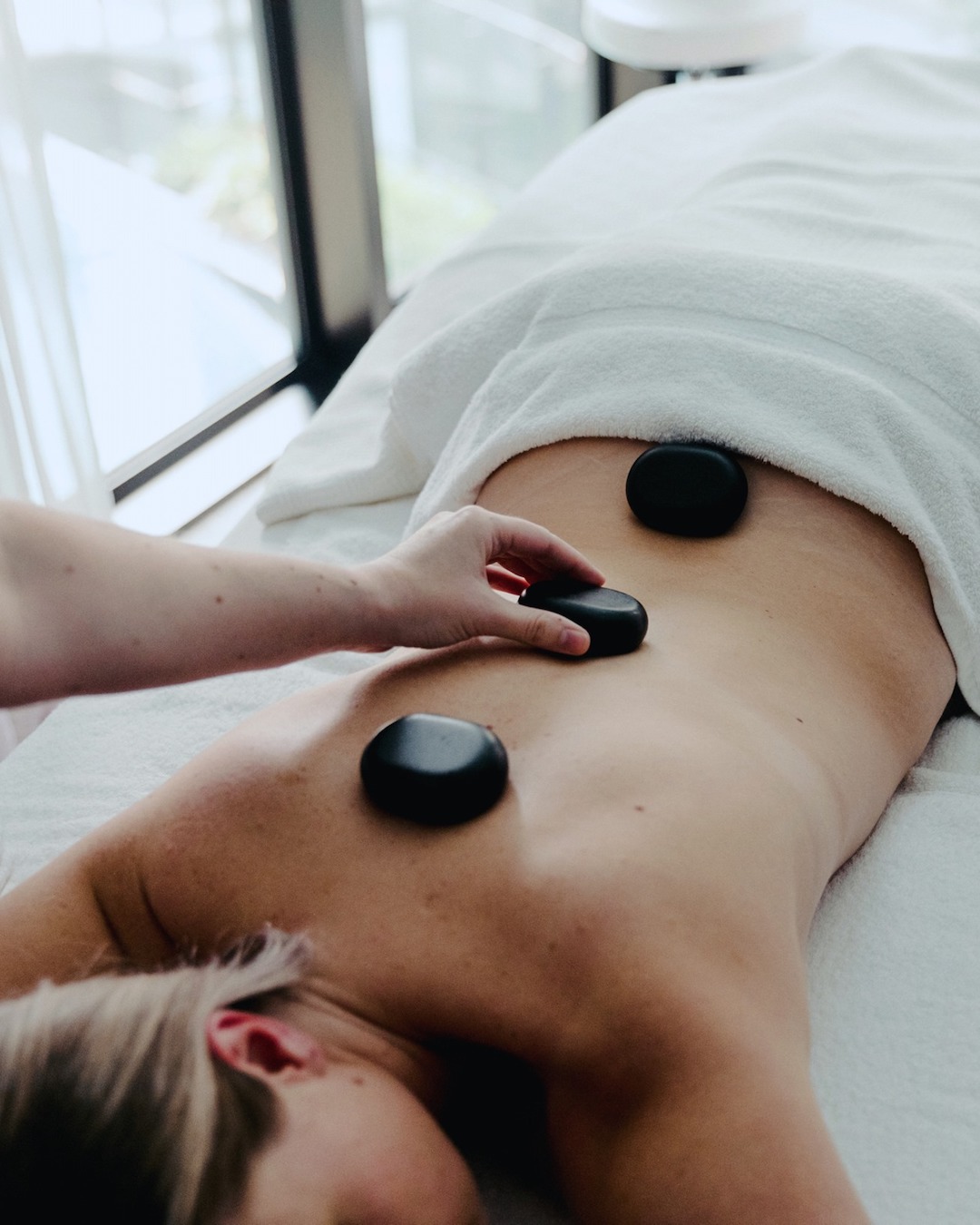 SkinSpirit Day Spa
Tarragindi
An all-in day spa, SkinSpirit is best known for its luxurious beauty treatments, and also happens to offer a selection of mighty fine massage therapies. For an exercise in absolute relaxation, try their Swedish massage or the hot stone massage, which is perfect if you're experiencing some muscle tension. Their wellbeing massage, using aromatherapy oil, is high-key pampering, and includes a pressure point scalp massage and a hot towel wrap for your feet. Before you jump on the massage table (if you want to get really hardcore) opt for the pure Fiji body exfoliation treatment, which gets you a body brush followed by a full-body exfoliation and jet shower that'll get your body pumped and make the massage that much more relaxing.
Endota Spa
Various Locations
Endota Spa has five locations across Brisbane, which offer a range of all-Australian treatments, delivered in calming and friendly eco-modern surroundings. Your chosen location might be just one of the hundred-odd Endota Spas Australia wide, but you won't feel like just a number once you're lying on a table here—every one of their massage therapists is highly trained and will customise a treatment to meet your needs. You'll walk out feeling like a whole new person.
Healing House
Teneriffe And Paddington
Can't leave your desk for too long but got a knot in your neck the size of a small boulder? Healing House's 15-minute head, neck and shoulders massage might be just the antidote you need. If you've got a little longer, the Thai day spa also does everything from aromatherapy massage to sports massage, and if you really want to treat yourself, a hot stone massage or herbal hot compress balls will have those tense muscles turning to jelly (in a good way).
The Body Refinery
New Farm
While the gang at The Body Refinery appreciate the power of pilates to heal a hurting bod, they also offer massages for when you and your muscles need some one-on-one attention. Between pilates reformer classes, get all those knots and niggles worked out with one of their remedial massages, where your consultant will also recommend dry needling, heat and aromatherapy if needed.
Away Spa
Brisbane CBD
There aren't many places in the centre of Brisbane where you feel like you can truly, unwind and release yourself of the day-to-day stresses of your workday. Enter: Away Spa, tucked inside the glam setting of the W Hotel, where you'll find a range of massage treatments on offer, though whether you choose to pair them with a glass of bubbles and a visit to the spa's relaxation pods is up to you. If it were us, we'd be calling in sick to just spend the day getting stretched out and loosened up.
KAILO Wellness Medispa
Fortitude Valley
Inside the bougie Calile Hotel you'll find Kailo Wellness Medispa and its menu of spa, beauty, skin and cosmetic treatments. A relaxing oasis for facials and full body wraps, you can also book in for a jet-lag (or hangover) banishing vitamin therapy treatment, intensive skin treatments like their signature vampire facials and medical skin needling. It's their massages that will send you deep into relaxation mode though, with relaxation, hot stone, remedial, deep tissue and myotherapy treatments available in their luxe massage rooms.
Want more pampering? Find Brisbane's best day spas here.
Image credit: Kailo Medispa, Heavenly Spa