Yoga offers many physical benefits—a strong, lean bod, increased flexibility, and increased vitality, just to name a few—but it's the mental bliss that comes with a Vinyasa or Bikram session that really has us sold. And when you throw a beautiful Brisbane yoga studio into the mix we are all the more blissed out (great decor tends to have that effect).
If you've been looking for an excuse to try a yoga class or get back into it, we've found some of Brisbane's most beautiful yoga studios to help you out.
Pilgrim Yoga
South Brisbane
After a night or two on the town, more often than not your body feels like it's been run over by a steamroller. A surefire way to get ahead of the descent into darkness is absolutely hot yoga. Sweating out your deepest darkest sins mixed with a big helping of meditative mindfulness? CURE. It's even better when you can do it all in a stunning studio like Pilgrim Yoga. Industrial chic meets tranquil escape here thanks to the polished concrete floors, mesmerising feature wall and immersive sound bathing through six powerful ceiling speakers and subwoofers. The cherry on top is the lush urban rain garden. When you emerge from your class dripping in sweat, lean into an endorphin rush with an outdoor shower. It's basically a little post-inferno city oasis—and the ticket to kicking off your day with a positive mind and strong body.
Harlow Hot Yoga
Newstead
Situated in the inner-city suburb of Newstead, Harlow Hot Yoga presents the perfect blend of heat, flexibility, tranquility, and style. The New York loft-style atmosphere is enriched with strong beats, a unique white tea aroma piped throughout, and a moody, dimly lit room bathed in darkness and illuminated by flickering candlelight. This enchanting setting is designed for stretching, unwinding, and opening both the mind and muscles, while the carefully curated music further enhances the de-stressing experience. With climate-controlled rooms, elegant blackout curtains, and French-style doors, Harlow Hot Yoga offers an unparalleled serene aesthetic. Catering to all levels of expertise and even featuring ballet-inspired classes for a distinctive twist, Harlow Hot Yoga stands out as one of the most beautiful yoga studios in Brisbane.
TotalFusion Platinum
Newstead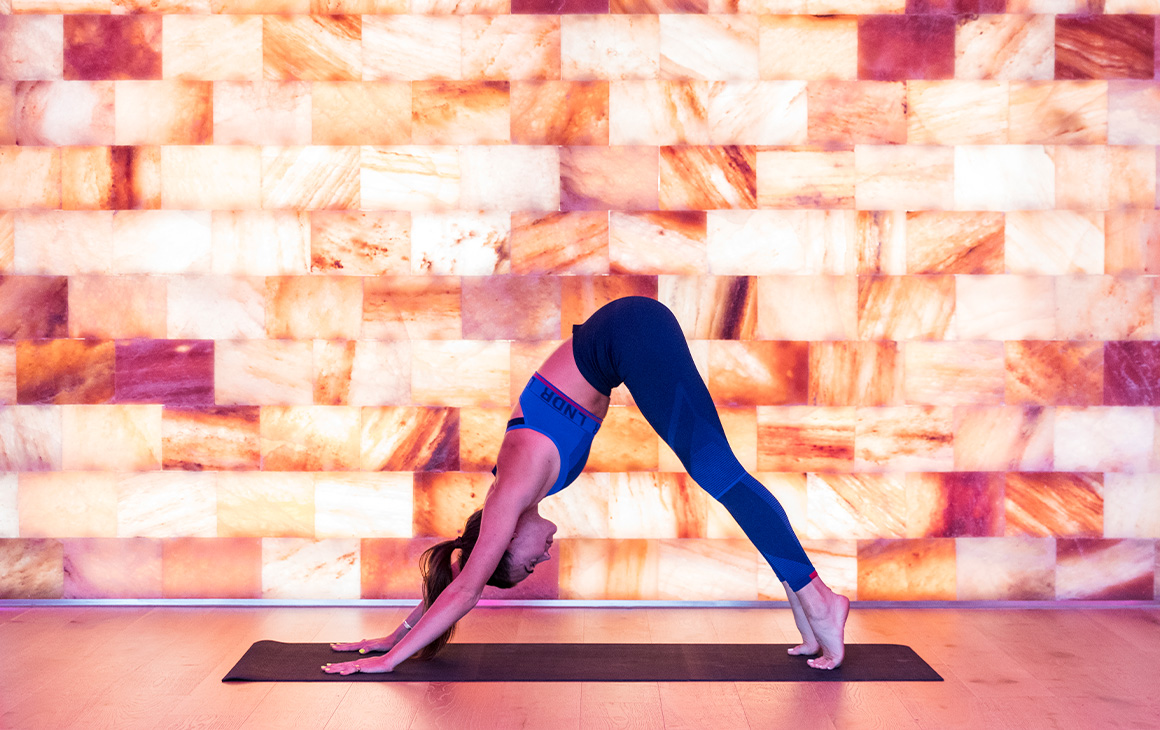 If you like your yoga with a side of luxury, TotalFusion Newstead is a good bet. Located in the new Lucent building, the TotalFusion yoga studio features a stunning salt wall (yep!) and virtual reality classes on demand, in addition to their instructor-led sessions. Offering a variety of heated classes including Total Flow, Hot Total Flow, Hot Power Vinyasa, Roll and Release, and the more relaxed Flow Restore Meditate class, there's something for everyone, whether you're a yoga junkie or just getting into it. And when you're done tapping into that golden river of auspicious chi, TotalFusion has a refuel bar dishing up natural snacks and beverages.
Yoga In Daily Life
Newstead
An urban oasis where you can escape the hustle and bustle of inner city life, Yoga In Daily Life's classes take place in a huge old barn-like hall with a curved ceiling. Bright yellow walls and colourful mats lining the floor for every class ensure the whole vibe is just one of sunshine and joy, and you'll find classic yoga classes for beginners to experts on the schedule, along with guided meditation sessions.
Brisbane Yoga Space
Rosalie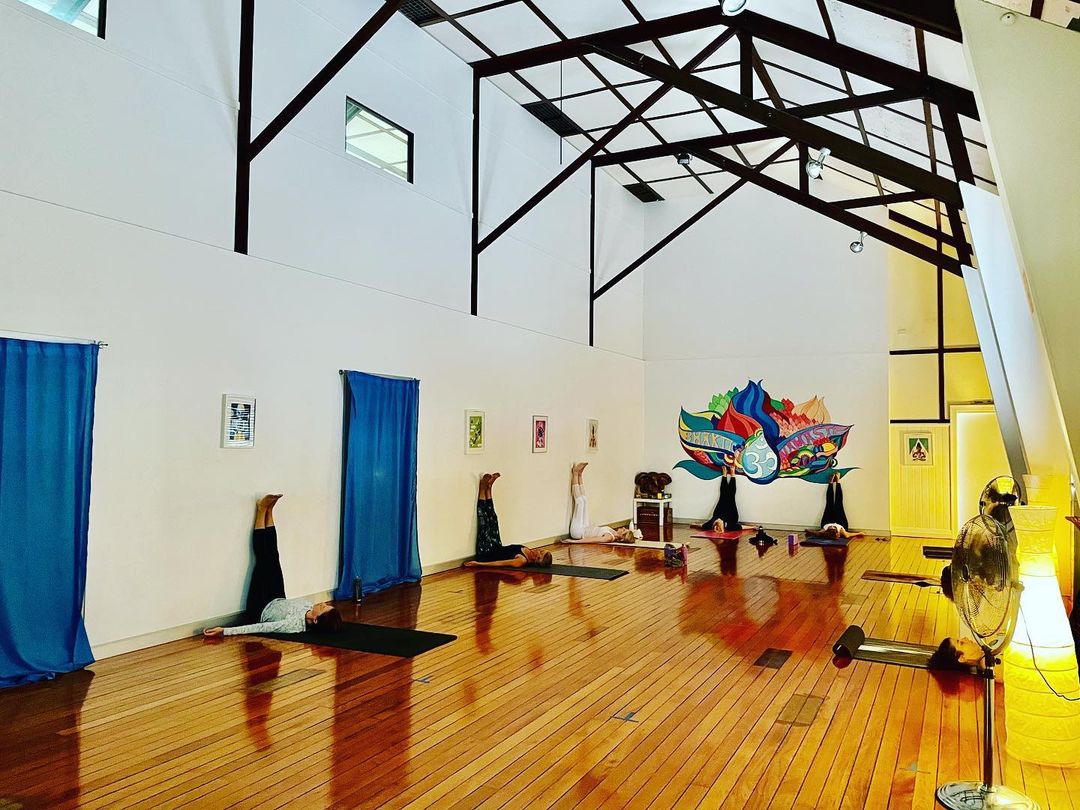 There's something about taking a proper, big deep breath in a yoga studio with a nice high ceiling. Combined with a bright and welcoming mural, warm wooden floors and calming blue drapes over the doors, the whole studio feels friendly and non-intimidating—the studio's location in the lovely suburb of Rosalie doesn't hurt either. The team's yoga practices combine breath and postures fused with mindfulness and conscious movement to help silence the chatter in your mind and bring you a sense of inner peace while developing greater flexibility, strength, rejuvenation and relaxation. They have classes from beginner to super advanced, which you can book in here.
Bend & Fly Yoga
West End
Not only does West End's Bend and Fly Yoga take place in an airy, sheer curtain lined studio full of greenery, it's also hung with aqua green apparatuses that you'll find yourself hanging from throughout the class, which, while intimidating, definitely add to chilled vibes. Not your average lie on the floor and streeeeeetch yoga, this class will (hopefully) have you swinging around upside down looking as graceful as the setting itself.
Stretch Yoga
CBD and Holland Park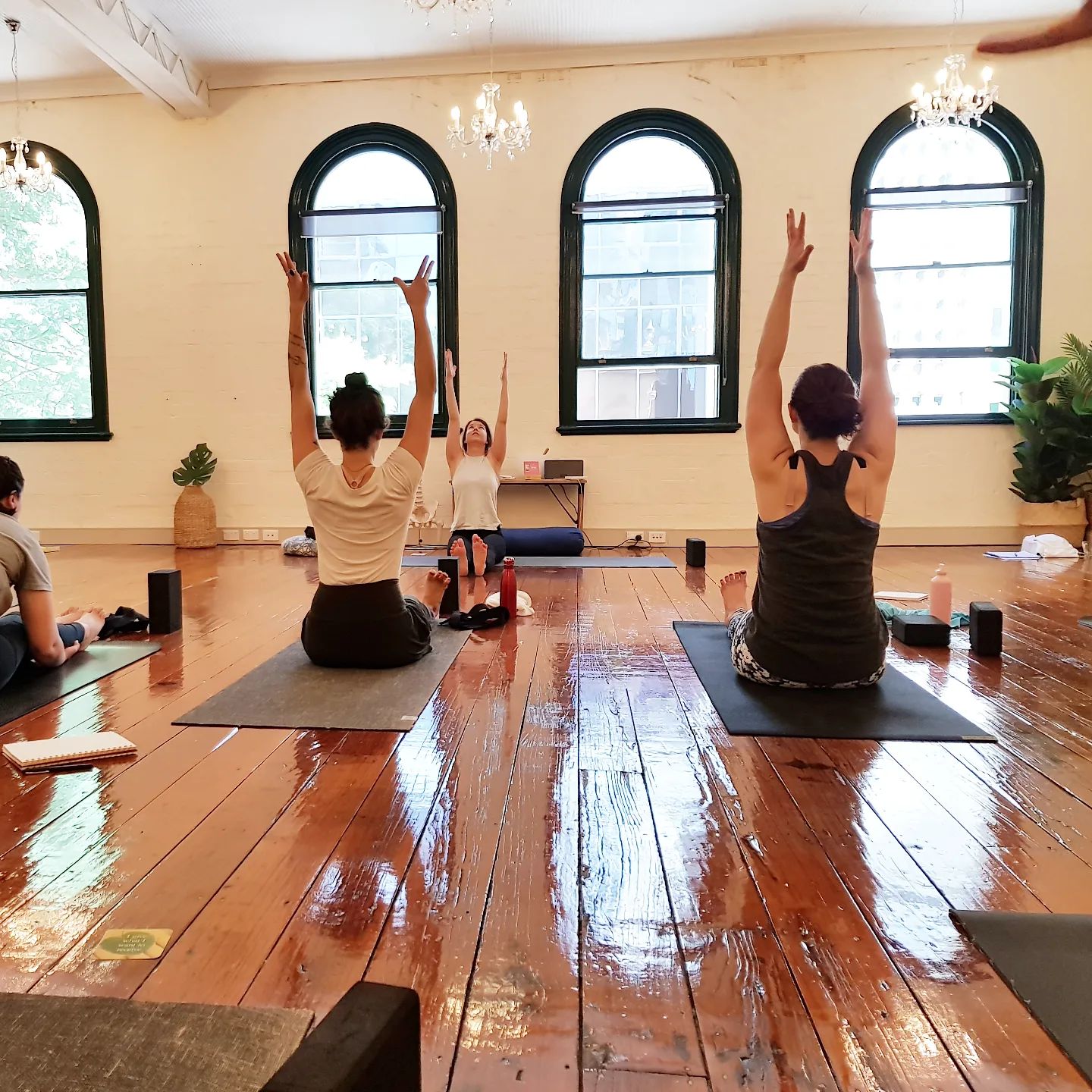 You'll find Stretch Yoga studios in Brisbane's CBD and Holland Park, oozing an ethereal, tranquil vibe that is perfect for working on your Downward Dog. The spaces here are open and welcoming, with soft lighting and a simple colour palate that soothes your senses. They offer Hatha, Yin, Vinyasa and Power Vinyasa, renamed to help you choose the right class for you, from beginners to serious Yogi!
Inna Bliss
Bulimba And Camp Hill
Inna Bliss have two Brisbane locations, at Bulimba and Camp Hill and both are just as light and airy as each other, with fresh breezes, flowing curtains and timber floors. See? Bliss! The focus here is on building strength and reconnecting with the mind through Vinyasa Yoga, and they offer classes for beginners, pregnancy yoga, and teacher training.
Raw Power Yoga
Albion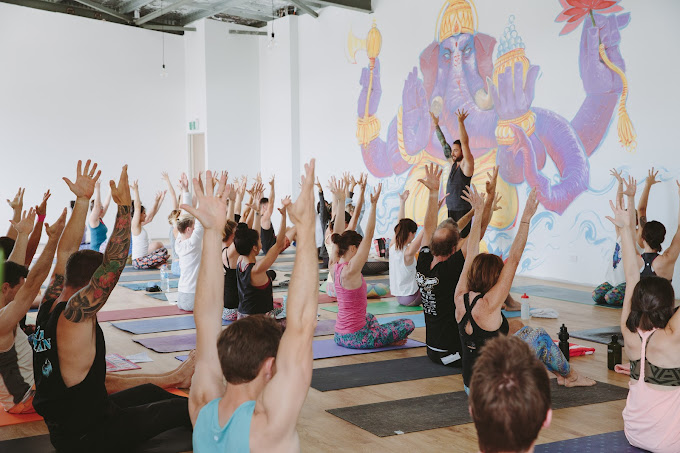 A crowd favourite, Raw Power Yoga studios have a distinctly community feel about them. Their Albion studio boasts a gorgeous space with high ceilings, hanging pendant lights and a vibrant murial, all combining to create a relaxing ambiance ideal for perfecting your poses. Classes include Raw Yin, Raw Power, Long, Slow & Deep and Raw Alignment, to name a few.
Cultivate Calm Yoga
East Brisbane
As the name suggests, Cultivate Calm focusses on easing tension through movement and breathing, but the beautiful studio doesn't hurt, either. A delightfully open loft-like space with high ceilings, wooden floors and splices of timber set among hanging lights, it creates an ethereal vibe that is instantly both relaxing and rejuvenating. Based in East Brisbane, Cultivate offers meditation, Yin and Vinyasa Yoga classes from beginners' level to pro-Yogi.
SoHo Yoga
Grange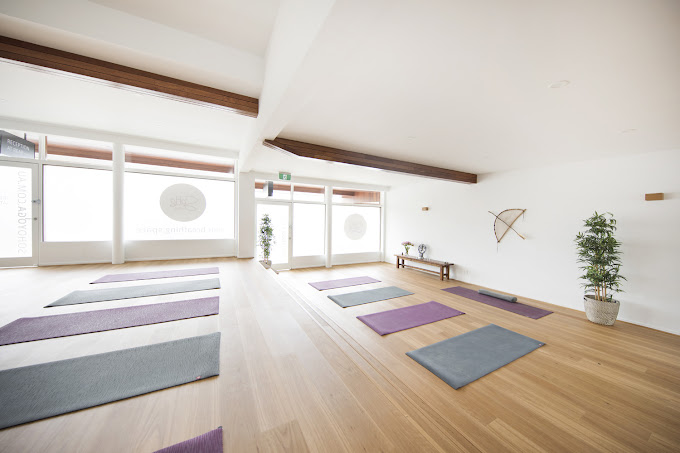 Home to some of the most beautiful yoga studios in Brisbane, SoHo Yoga's stunning Grange digs offer a premium Brisbane yoga experience. Serving up a mix of Vinyasa, Relax and Restore, Roll and Release, and Vinyin classes, and catering to all skill levels and types of attendees (they offer pregnancy and kids classes, too), it has something for everyone.
Budhi Yoga
Milton
With a sky blue instructor podium, dangling planters and wooden flooring, you'll feel calmer just walking through the doors of Budhi Yoga. With 20 classes a week and regular workshops and retreat, there's something for everyone, including Vinyasa, Hatha, Ashtanga, restorative and deep stretch. Some classes are heated, but only to a comfortable 26-28 degrees, just enough to get you feeling loose and limber.
Not one for rolling around on the floor? How about a long walk instead? Find the best places to go here.
Image credit: Supplied, Grace Elizabeth Smith