Place your bets, whip out your classiest outfits and slap on your most extravagant fascinators because the Melbourne Cup is less than a month away. It's the day to dress classy, followed by a night you'll most likely forget and we're here to help you snatch the best seats in Brisbane. So mark the date, Tuesday 3 November, and saddle up to have a ball at the best Melbourne Cup events in Brisbane.
Mr Percival's
Howard Smith Wharves
This riverside bar is hosting its second ever Melbourne Cup party but they're doing things a little different this year. Instead of booking per person, you'll need to book per table, with tables of four, six, eight or 10 on offer. Once you've rounded up your crew, you can book in for a three and a half-hour package with free flowing champagne, wine, beer, spirits and of course, a cheeky cocktail selection. Plus, you'll dive into their delicious Italian-inspired shared-style feast.
Price: $285pp
Find out more
here.
The Boom Boom Izakaya
Brisbane CBD
Descend the staircase into the underground Boom Boom Izakaya to spend the afternoon beneath the streets of Brisbane. As you cheer on your favourite horse, indulge in a four course Omakase banquet, specially curated by Head Chef Zac Skyes, accompanied by a four hour beverage package. Whether you prefer cocktails, spirits, champagne, wine or beers, The Boom Boom Izakaya will keep you endlessly stocked on drinks and Japanese cuisine. Contact info@boomboomizakaya.com.au or call (07) 3243 4800 to nab tickets.
Price: $200pp
Find out more
here
.
Hello Gorgeous
Newstead
Celebrating the Melbourne Cup at Hello Gorgeous is a guaranteed good time, with prizes for the best dressed and lucky door prizes up for grabs. The stylish bar is offering a $79 package consisting of a two course meal with a complimentary French Champagne on arrival. However, if you're in the mood to party a little harder, you can upgrade to the three hour drinks package, which includes premium Asahi beers, wines and a selection of premium spirits. So, dress competitively and arrive with an appetite for fun.
Price: $79pp or $139pp
Find out more
here
.
Donna Chang
BRISBANE CBD
After their sellout Melbourne Cup event in 2019, Donna Chang is back this year promising another race day lunch of epic proportions. The modern Chinese restaurant is dishing up a four-hour package that includes a four course banquet designed by Head Chef Lyndon Tyers, a deluxe beverage package, live entertainment and charity sweepstakes. Providing ample coverage of the race, all you have to do is pick your poison out of their range of French Champagnes, premium wines, spirits or cocktails, and don't forget your hat.
Price: $250pp
Find out more
here
.
Gerard's Bistro & Gerard's Bar
Fortitude Valley
Gerard's Bistro and Gerard's Bar are once again throwing their annual laneway party, only this time there'll be a sit down Middle Eastern Feast to tuck into. Executive Chef Adam Wolfers has crafted a drool-worthy three-course menu featuring the finest local seafood and a selection of his personal favourite dishes. Of course, the Melbourne Cup celebration would be incomplete without drinks, so you can expect free-flowing Louis Roederer champagne, signature cocktails and premium beer, wine and spirits to keep you hydrated.
Price: $220pp
Find out more
here
.
The Bavarian
Brisbane CBD
The Bavarian at Eagle Street Pier is one place with particularly fantastic seats for watching the race with eight large TVs live screening the race. If you grab the balcony seats, you'll also get unrestricted views of the Brisbane River and Story Bridge—an even better sight than the sporting action. While you gaze, tuck into their Spring Fest menu, a three-course share-style meal that will have your mouth watering, that also includes two hours of beers, ciders, wines and four spring cocktails. Best of all, it's only $69pp for the lot—so you've got more to bet on the winning horse.
Price: $69pp
Find out more
here.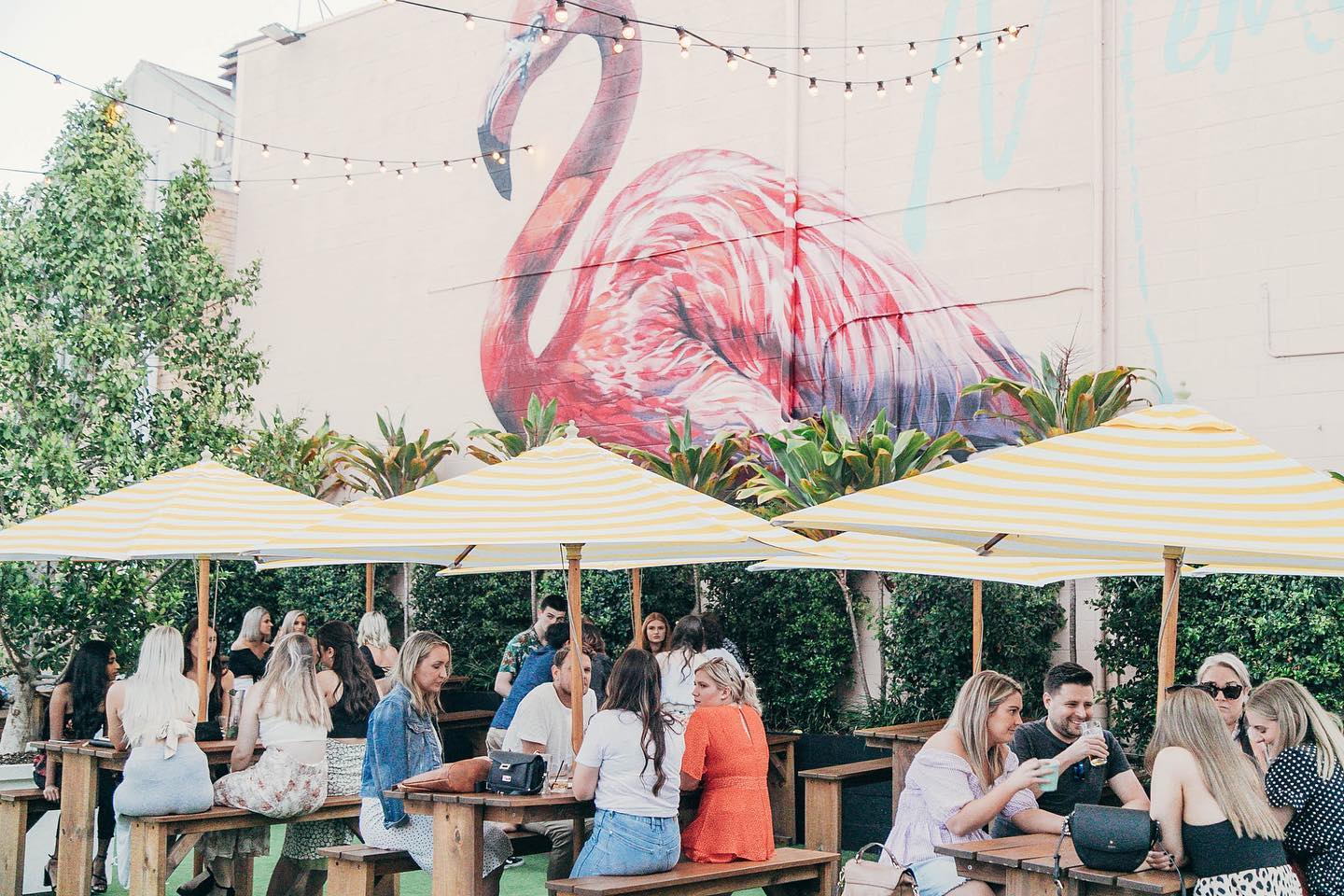 X Cargo
Fortitude Valley
X Cargo, Fortitude Valley's favourite outdoor adult playground, is having a garden party and you're invited. Amongst their stacked white shipping containers, astro-turfed surrounds and plenty of street art, you'll be 'gramming the day away while you take advantage of their three-hour food and beverage package and soak up the sunshine.
Price: $99pp
Find out more
here
.
Ivory Tusk
Fortitude Valley
Ivory Tusk has thrown itself into the Melbourne Cup dining mix this year bringing a choice of two great packages to the table. Their two-hour House Package offers Mexican canapés alongside tap beer and cider and house wine, but if you want to take things up a notch go for the three-hour package which includes frose, Pimms and cocktails. So if you're in the mood for a Palm Springs-inspired bar and dining experience, this is the place to be for Melbourne Cup.
Price: $55pp or $90pp
Find out more
here
.
Ling Lings
Fortitude Valley
This edgy South Asian bar promises to woo your senses with a delicious nine-course banquet starring the likes of sweet chilli lime chicken karaage, suk mi pork belly, steaming dumplings and more. Accompanied by a three-hour premium beverage package and a complimentary glass of Veuve Clicquot when you arrive, Ling Lings Bar is a delicious option for celebrating The Cup. They're also doing vegan and gluten-free options on request, so you can have a feast regardless of these dietary requirements.
Price: $110pp
Find out more
here
.
The Boundary Hotel
West End
If you're vibing relaxation and soaking in the sunshine, The Boundary Hotel's Gordon's Backyard package is for you. You'll be seated in the chic outdoor dining area and treated to a two-course meal and three-hour drinks package, with a Gordon's Sicilian Lemon Cocktail on arrival. If you're feeling slightly more glamorous, score yourself a private air-conditioned event space in the Hardgrave Room with the premium Veuve Clicquot package. With this a-list experience you will be dining on a three-course meal and three-hour premium drinks package, with free-flowing Veuve french champagne. The dishes in both packages will have you drooling with a menu that includes gin and blueberry cured kingfish and wagyu beef with truffle mash and red wine jus. But that's just a sneak peak, so we suggest you snatch one of these packages fast before everyone else catches wind.
Price: $129pp or $199pp
Find out more
here
.
Nostimo
West End
Nostimo's all-white interiors and Mediterranean vibes make for a stylish lunch on any day of the week, so it makes sense that their Melbourne Cup party would be one not to miss. You'll start with a glass of champagne on arrival and follow it up with an epic Greek banquet matched with three hours of wines and beers, plus get a glass of Mastiha to finish. Dress to impress, because there's prizes for the most stylish.
Price: $140pp
Find out more
here
.
Motorwagen
Brisbane CBD
Go for gold this Melbourne Cup Day at Motorwagen. Their luxe setting will set you up for a day of delectable cuisine with a premium selection of the absolute finest beverages. Indulge in a three-course lunch while beer, wine and bubbles flow freely all afternoon and the race plays on the big screens—you definitely won't be going back to the office after this event. Contact Motorwagen to book.
Price: $129pp
Find out more here.
Looking for the perfec Cup Day outfit? We've got a few ICONIC discount codes that might come in handy.
Image credit: Mr Percival's