Whether you are looking for somewhere to catch the tennis, the cricket (or the AFL, NRL, State of Origin, NBA, World Cup or any number of sporting activities), or are just looking for a pub packed with rowdy revelers to liven up your Saturday night, Brisbane's coolest sports bar are always a good time. These are the bars that have big screen TVs, but haven't neglected the other essentials that make for a good watering hole—because nothing ruins an edge-of-your-seat match more than sad beer and soggy fries. We've bar-hopped between Brisbane's sportiest gin joints to find the coolest places to watch the game—good vibes guaranteed.
WingHAÜS
BRISBANE CBD
For a sports bar straight out of the American South (yeehaw), set yours sights on WingHAÜS by Bavarian. With a focus on wings, the bar's nostalgic signage and vintage sports memorabilia give off some serious Texan diner vibes, so lasso the gang and prepare to drink like they do down in cowboy country. Pair one of the forty beers on tap with wings drenched in one of eight dipping sauces, with heat ranging from traditional to face melting (if you're looking for something that burns). Burn off the carbs with a round of foosball while you watch the game on one of 20 odd big screen TVs, and celebrate the end of a hectic work week.
The Fox Hotel
South Brisbane
The Fox's art deco charm may seem a little too sophisticated for sport, but head inside on game night and all the footy fans come out to play. Find yourself a table inside or out and chow down on a burger or pizza before the game, when hopefully you'll have frothy beer in hand, ready to slam down on the table at the first sign of a try. And if you aren't a beer drinker, treat yourself to a cocktail jug and show your support the old fashioned way—a night of drunken revelry.
The Boundary Hotel
West End
This pub-dining staple is the perfect place to watch the AFL or NRL, or to don your fanciest fascinator for the Melbourne Cup. Of course, a night at The Boundary Hotel is a good time any day of the week, so even if there isn't a game on, head on down to see what you can do with a pool cue, or sit back and enjoy the music every Friday, Saturday and Sunday night.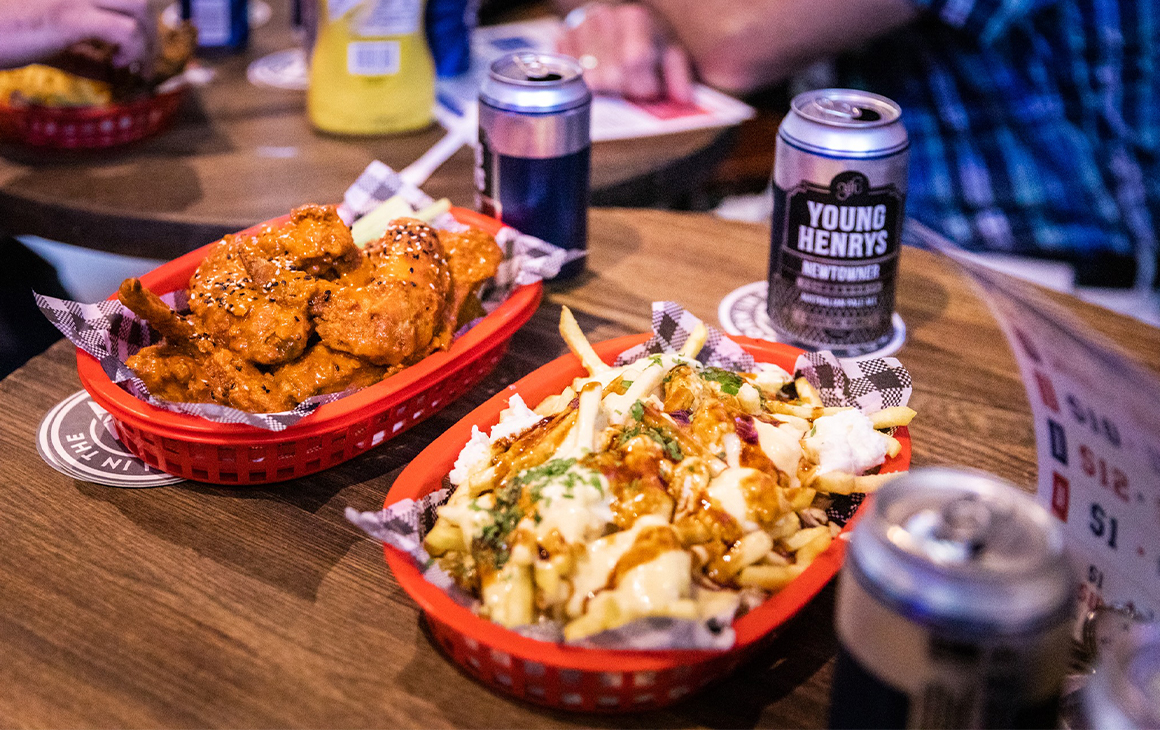 Fat Angel Sports Bar & Grill
Brisbane CBD
Tucked down a CBD laneway, Fat Angel will lure you in with the promise of classic American sports-bar snacks like jalapeno poppers, tater tots, fried chicken and Philly cheesesteaks. But drool-worthy American comfort food isn't the only thing on the menu—Fat Angel is stocked with all your fave American beers on tap (plus a few Aussie ones, too). Kick back and watch the NFL on one of the bar's eight massive screens, or swing by to catch the start of the ice hockey season in October (we're rooting for the Blackhawks, and we could use a little Aussie sporting spirit).
Buffalo Bar
Brisbane CBD
Bringing the best of the US of A down under in a big way, Buffalo Bar will transport your taste buds Stateside without the need for a travel exemption request. Gorge on hearty American feeds like succulent ribs, double foot-long hotdogs, and of course, buffalo wings. Sip on boozy milkshakes as you watch the NBA, NFL, NHL, and just about every other sporting acronym you can think of. Their high-quality screens make getting into the game that much easier—the players look even more ripped in HD.
The Defiant Duck
Newstead
With 24 craft and local beers on tap (not to mention three wine taps—because being wine-drunk is the only way to spend your weekend) The Defiant Duck is the perfect place to ruffle your feathers come game day. This inner-city gem has plenty of mouth-watering delights on the menu, from Coca Cola beef ribs to loaded fries to slow-cooked lamb shoulder. If you're in the mood for a sweet treat, you won't want to miss the mighty Duck Sundae, made with creamy neapolitan ice cream, strawberry syrup, a swirl of whipped cream and a dash of peanuts. Because cheering on the team is a hell of a lot more fun with a spoonful of ice cream.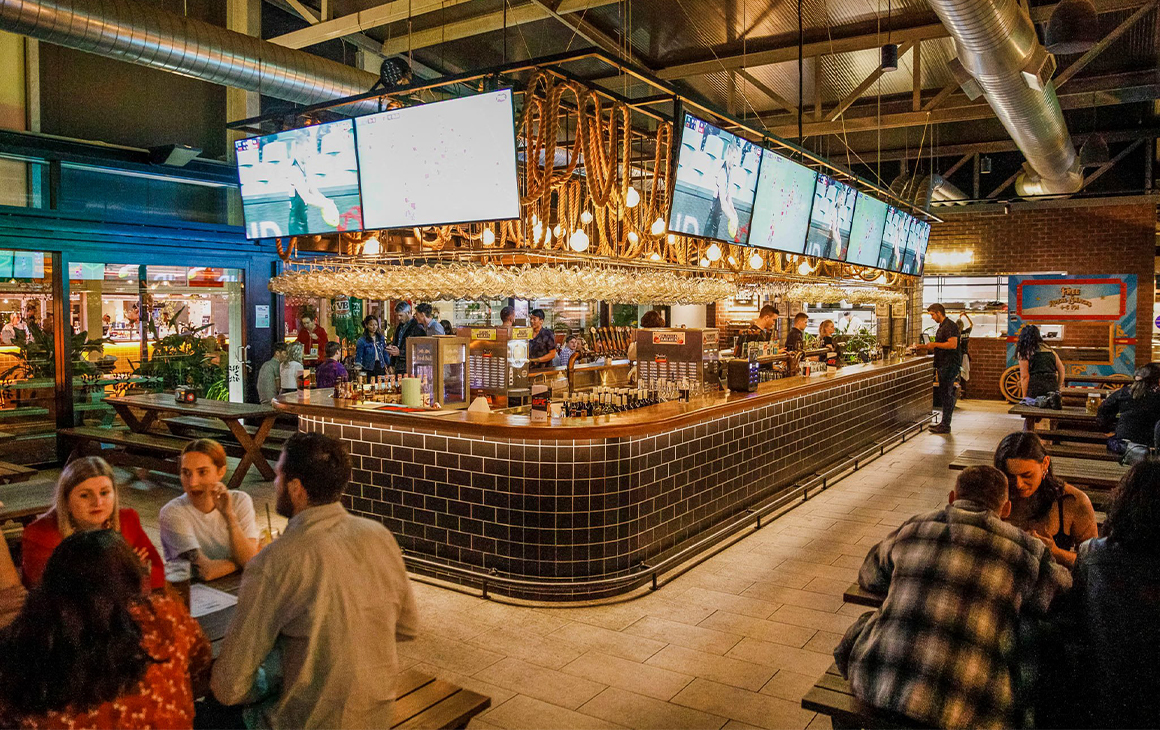 BeerHAÜS
Bowen Hills
If you can't watch the game without a beer in hand, you'll want to check out the Bavarian's latest venture, BeerHAÜS. This supercharged social emporium is serving up beer-friendly American fare alongside hearty German dishes, so there's something to suit every palate. Think giant pretzels, mac and cheese croquettes, and flamin' hot wings drenched in a delicious blue-cheese sauce. Delish. Root for the Raiders on NRL nights, or watch LeBron James shoot for gold as the Lakers take on the Miami Heat. Whatever your game, BeerHAÜS has you covered, with live (and loud) broadcasts spread across 20 big screen TVs.
Brewhouse
Woolloongabba
Brewhouse is Brisbane's king of classic pub grub. Roasts, wings, steaks, schnittys—you name it, Brewhouse has it. This heritage-listed Brissy icon combines a craft beer house, bistro, bottle shop and sports bar into one, serving up the ultimate pub experience just a few minutes walk from everyone's favourite sporting hub: The Gabba. It's the perfect place to get right in amongst the action without the exxy entry fee.
The QA Hotel
Fortitude Valley
Set in the ultra-luxe James St precinct, the newly-refurbed QA Hotel is every sports fan's home base. The sports bar is packed with screens and premium TAB facilities, not to mention plenty of beers on tap to wash down the chef's top-tier pub food. Step out to the laneway to sip cocktails and watch the game from the comfort of a plush leather dining booth, and dine on fresh and sophisticated fare made with socialites in mind.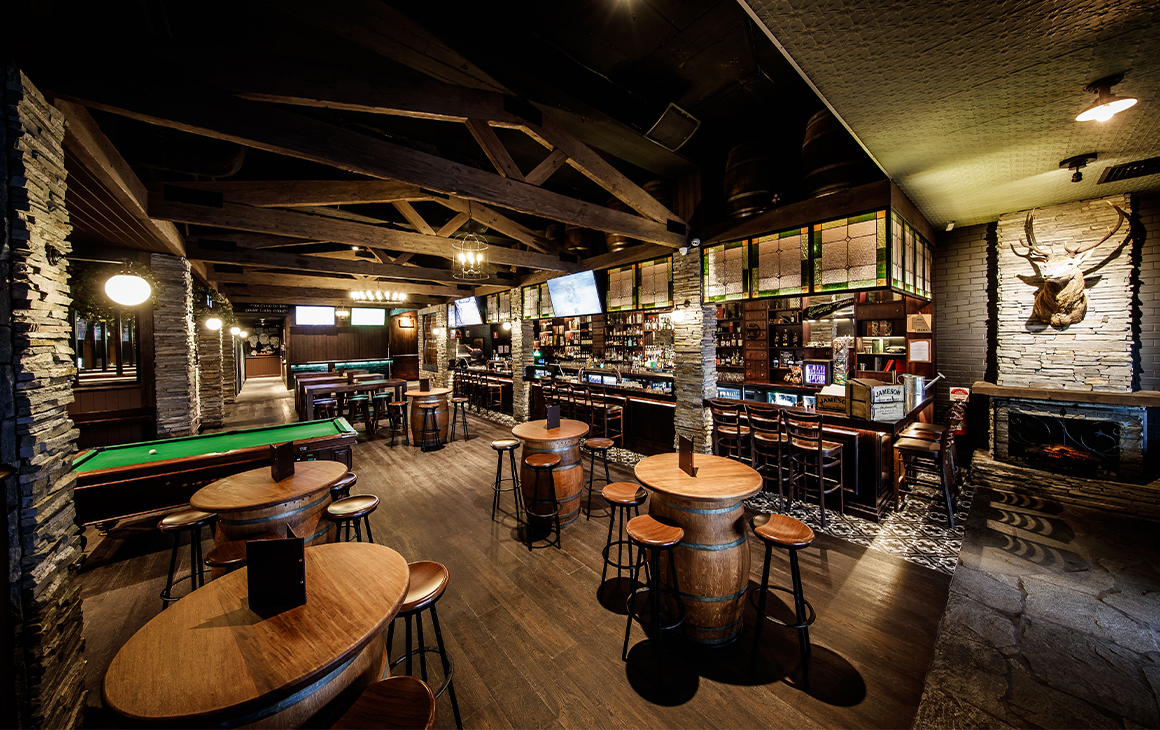 Finn McCools
Fortitude Valley
Cool is literally in the name—how much cooler could you get? Finn McCools may be an Irish bar, but it's got all the hallmarks of a great sports bar too. Big screens visible from every corner, a crisp parmy on the menu, ice cold beers on tap and pool tables to keep you busy until the action starts. Plus, being an Irish bar, you won't find a better atmospher anywhere—or a louder one.
Stock Exchange
Brisbane CBD
Stockies is no stranger to sports fans, with marquee matches played live and loud on their massive projector screen. Head upstairs for a lively evening under the fairy lights, while chowing down on classic pub fare at wallet-friendly prices. We're talking $20 for a cheeky chicken parmy and a glass of house wine—the perfect combo for a midweek pick-me-up.
The Osbourne Hotel
Fortitude Valley
One of the first hotels in Brisbane back in the 1800s (that's proper OG Brisbane vibes right there gang) we've officially declared The Osbourne Hotel one of the city's most beautiful beer gardens. The vaulted glass ceiling and lush greenery give this space some serious balmy alfresco vibes, and its relaxed atmosphere makes it ideal for sipping a cider without missing the game. The hotel has a pretty packed itinerary for celebrating Oktoberfest, so grab your lederhosen and head to their site to see what's in store.
If you're after some tunes, you'll find Brisbane's best live music bars here.
Image credit: Winghaus, Fat Angel, Beerhaus, Fin McCools