The reign of the cupcake is over, guys. Say goodbye to biting into perfectly piped buttercream adorned with edible unicorns and say hello to handfuls of sugary, doughy goodness. This is the summer of the donut in all its iced, glazed, jam-filled, cinnamon-covered glory and ever since we started eating them, we haven't been able to stop.
I apologise in advance to anyone who had plans to start shredding for Stereo, you may want to re-think that strategy and start bulking for your cat's bar mitzvah instead, because this is the era of the donut. Come at me, bro! Here's where to find some of the best donuts in Brisbane. You can thank me later.
Chester Street Bakery
Newstead's bakery wunderkind is more than just a pretty face, the perfect white picket fence and dreamy festoon lights invite you in to try the selection of sweet treats and tasty donuts on offer. Donut flavours at Chester Street include blueberry crumble, key lime, coconut and the infamous Nutella donut. It's not just a myth guys, it's real. Nutella… in a donut.
Gramercy Espresso & Eats
Tucked into the Edward Street side of the Wintergarden, Gramercy Espresso & Eats is the perfect hiding spot from the hustle and bustle of the CBD. Not only do the fun-loving Gramercy gang serve great coffee, they also serve moreish donuts, made fresh on the day using quality ingredients. Light, fluffy, sugar-coated pillows of donut goodness are stuffed with fillings including cookies and cream, dulce de leche, and creme patissiere.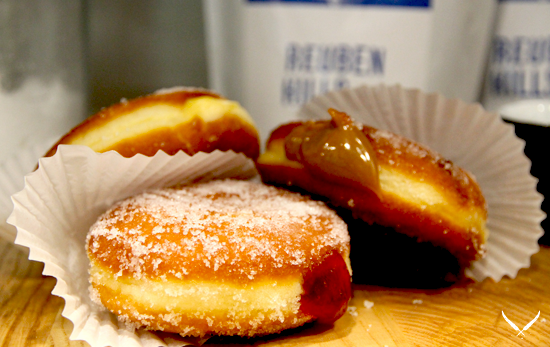 Flour & Chocolate
It's important you visit flour and chocolate with an empty stomach and a full wallet, because you will want to buy one of everything they are selling, especially their donuts (sold on Wednesdays) and gonuts (sold on Thursdays). Owner and pastry-genius Lachlan is giving the power back to the people and takes flavour suggestions via the F&C Facebook page. Just a few of the mouth-watering flavours available include salted caramel, dark-chocolate pistachio, toffee, creme brûlée and passionfruit curd. Woah mama, clear my schedule.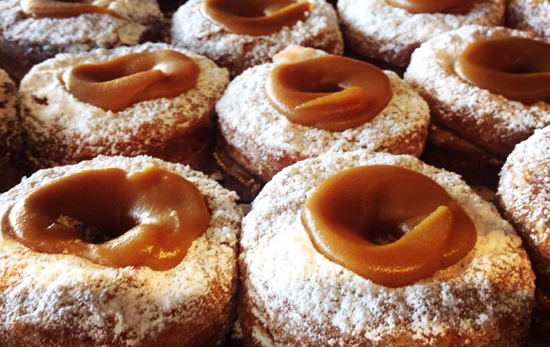 Dovetail On Overend
Norman Park's own hole-in-the-wall cafe offers a refuge for the gluten dodgers among us. Laid-back cafe, Dovetail serves great coffee and plays host to a very tasty weekend treat, Nodo Donut Saturday. These delicious morsels are gluten-free, organic, free from preservatives, artificial colours and flavours and are baked (not fried), made locally by the Brisbane based company Nodo Donuts. Flavours to-die-for include cold-pressed coffee, coconut and fresh raspberry, and blueberry and ricotta with lemon cream cheese and pistachio crumb.
The Single Guys Coffee Co.
If you hail from Kenmore, you'll be very pleased to know the delicious range of gluten-free Nodo Donuts is also stocked by The Single Guys. This cafe and coffee roaster combination serve out-of-this-world coffee and food, complimented by a range of cakes, pastries and donuts. Get there early to snap up a tasty guilt-free donut treat including caramelised banana with maple cream cheese and raspberry, and white chocolate with vanilla bean glaze.
Le Bon Choix
Not that you needed another reason to visit Le Bon Choix, but it just so happens this French patisserie is also serving some of the tastiest donuts around town. Try to keep those wandering eyes off all the sticky, shiny, sugary things calling your name and focus on the big round puffs of donut goodness. The flavours of fillings are kept simple and done very well, they include chocolate, jam, custard and the highly-recommended caramel.
La Vosh Patisserie
Stop into the lovely La Vosh Patisserie in Red Hill for a Belgian donut ring or jam filled variety. The team at La Vosh pride themselves on steering away from the mass-produced madness and, instead, focusing on freshly made, good quality sweets and treats made with passion and love.
Markets
Don't worry guys, if you find yourself on the move over the weekend and don't have time to stop at one of the bakeries I've mentioned, I've got your back! Just stop in at one of the great markets around town. You can find Divine Doughnuts at Eagle Farm Markets on Sunday mornings and Davies Park Market every Saturday selling traditional donuts stuffed with winning jams and Belgian chocolate. You can also find the Chocolate Komberry Co. selling heavenly cronuts at Eat Street Markets and various locations around Brisbane, out of their tricked-out Kombi. Cyber-stalk their Facebook page to stay up-to-date on locations.
Click here for more of Brisbane's best donuts!
Phoebe Lee is a freelance writer and travel blogger who loves dogs, Tupac and warm, tropical holiday destinations. Never happy to be tied down or standing still, Phoebe loves the feeling of freedom that comes with travel. Instagram: @littlegreybox_phoebe.
Image credits: Mels Sweet Life, Phoebee Lee