A step up from your garden variety mozzarella, burrata is a treat for all the senses and, without doubt, one of Italy's greatest culinary exports. Thanks to the silky creaminess of the exterior to the satisfaction of spilling the soft stracciatella inside, it's safe to say that Brisbane's love affair with burrata is going to be a long-lasting one.
We put it to our followers to share their picks of the best burrata in Brisbane, and they came through with everything from burrata-topped pizzas to servings with fresh peaches—read on for ten of their top picks (and apologies for the mouthwatering side effects).
Ciao Papi
Howard Smith Wharves
If you squint, you could be on the Italian Riviera… especially with a selection of antipasti available including Ciao Papi's creamy burrata with delicately charred wood-fired bread. Pair it with a spritz and those primo river views, and the Italo-holiday vibes are laid on thick.
Lupa Pizza Bar
West End
This suburban gem offers a range of antipasti and pizza but, for the burrata lovers, it has to be Lupa's Calabro pizza combining nduja, hot salami and burrata on a tomato base. The creamy burrata balances perfectly with the spicy goodness, all balanced on a perfectly fluffy Roman-style base. They also serve a perfect orb of burrata with fig jam and prosciutto for a tasty starter.
Pasta Club
West End
While their small-but-mighty menu changes often, burrata is a mainstay on the menu at Pasta Club. Theirs comes dressed up with punchy salsa verde, and makes a great appetiser before diving into a house-made pasta.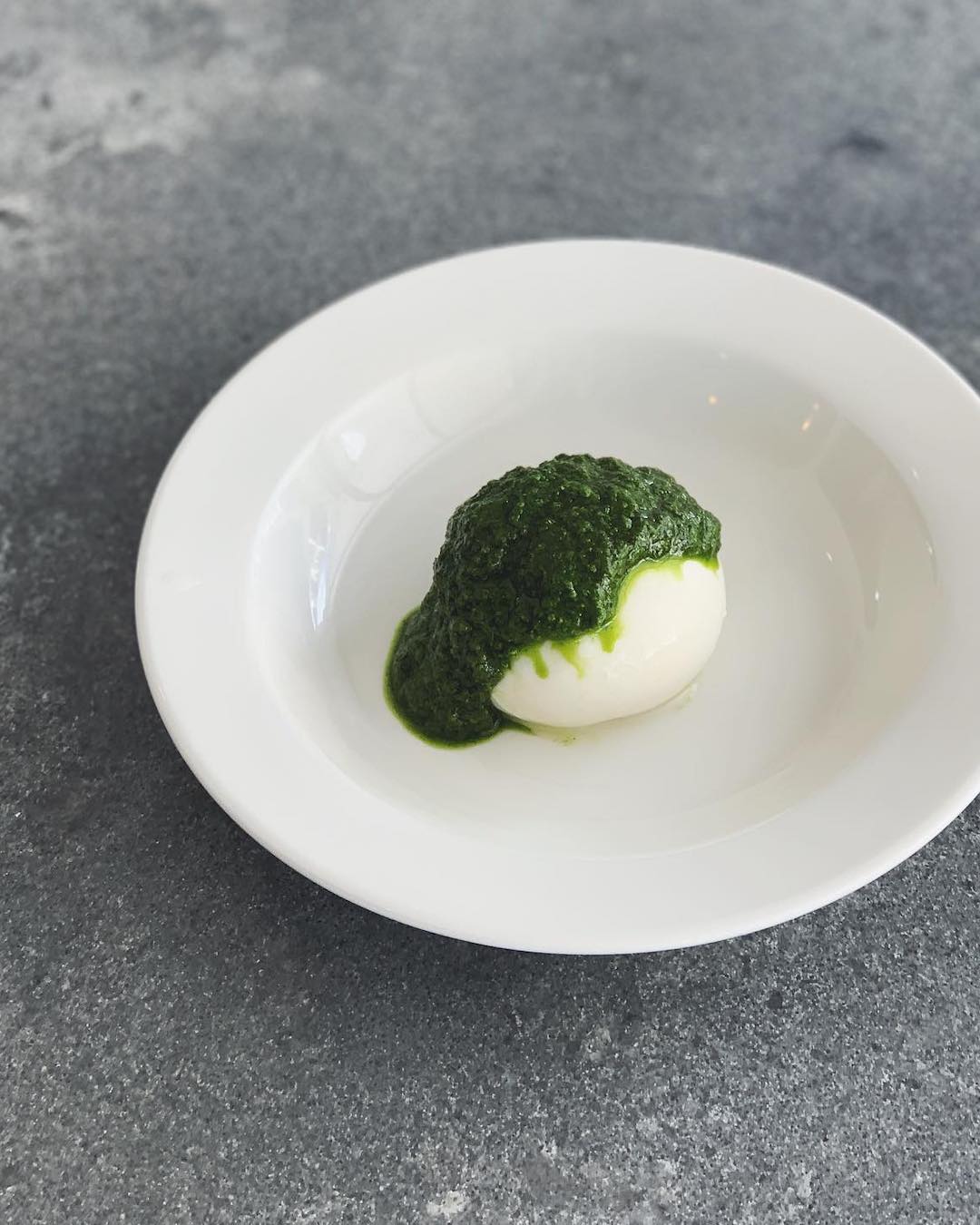 Mosconi
Fortitude Valley
A classic take on bistro dining off elegant James Street, Mosconi's burrata dish, as beloved by our readers, combines the good stuff with fresh peach, heirloom tomato and a bright basil pangrattato for an ideal entrée.
Sasso
Woolloongabba
One of the most unique preparations of burrata in Brisbane, Sasso's is served on their take on bagna cauda, topped with capers, bread crumbs and (the best bit) a liberal sprinkling of deep green wakame dust. Nothing pairs better with one of their house Negronis!
Ripiena
Fortitude Valley
This hole in the wall serves not one, but two kinds of burrata on their lunch menu. Opt for the classic, paired with your choice of accompaniments from the menu including olives and cold cuts, or go with Ripiena's decadent truffled burrata for something fancy.
Antica Pizzeria
Wilston
Our readers think this one's a big deal… and we mean that literally. The burrata gigante at Antica is one hefty ball of cheese, serving 4–8 people, and decked out with fresh figs, San Daniele prosciutto, walnuts and honey. Their signature half-and-half pizza also comes with one side topped with a tomato base, whole burrata and balsamic pearls, and the other with fig, honey and goats cheese—a killer combo.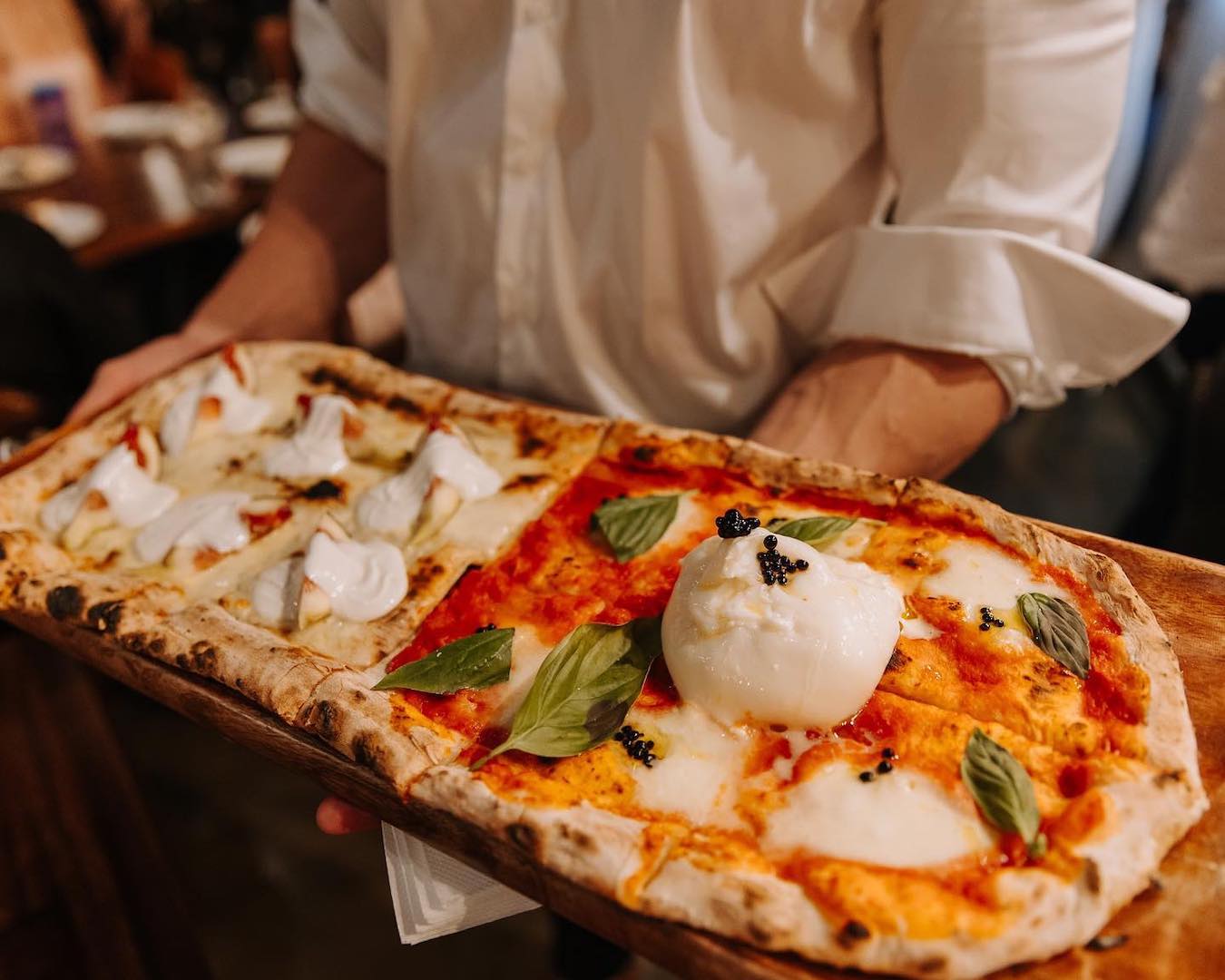 Ombra Italian Bar
New Farm
This family-style spot offers a large menu of classic Italian antipasti, pizzas and pastas, and Ombra's truffle burrata with prosciutto di Parma on a rocket and cherry tomato salad is a delicious place to start.
Bianca
Fortitude Valley
A name that popped up again and again in our readers' picks, Bianca's range of mix-and-match antipasti is crowned with their burrata, served simply in fragrant olive oil perfect for dipping in to with your freshly fired pizza bianca or pizza fritta.
Elementi
Paddington
From a team with experience in some of Brisbane's top Italian eateries, Elementi offers some unique takes on Italian flavours in addition to their wood-fired pizzas. Their burrata comes with punchy nduja and roasted leek for the perfect spicy/creamy/sweet combo.
Image credit: Ciao Papi, Pasta Club, Antica